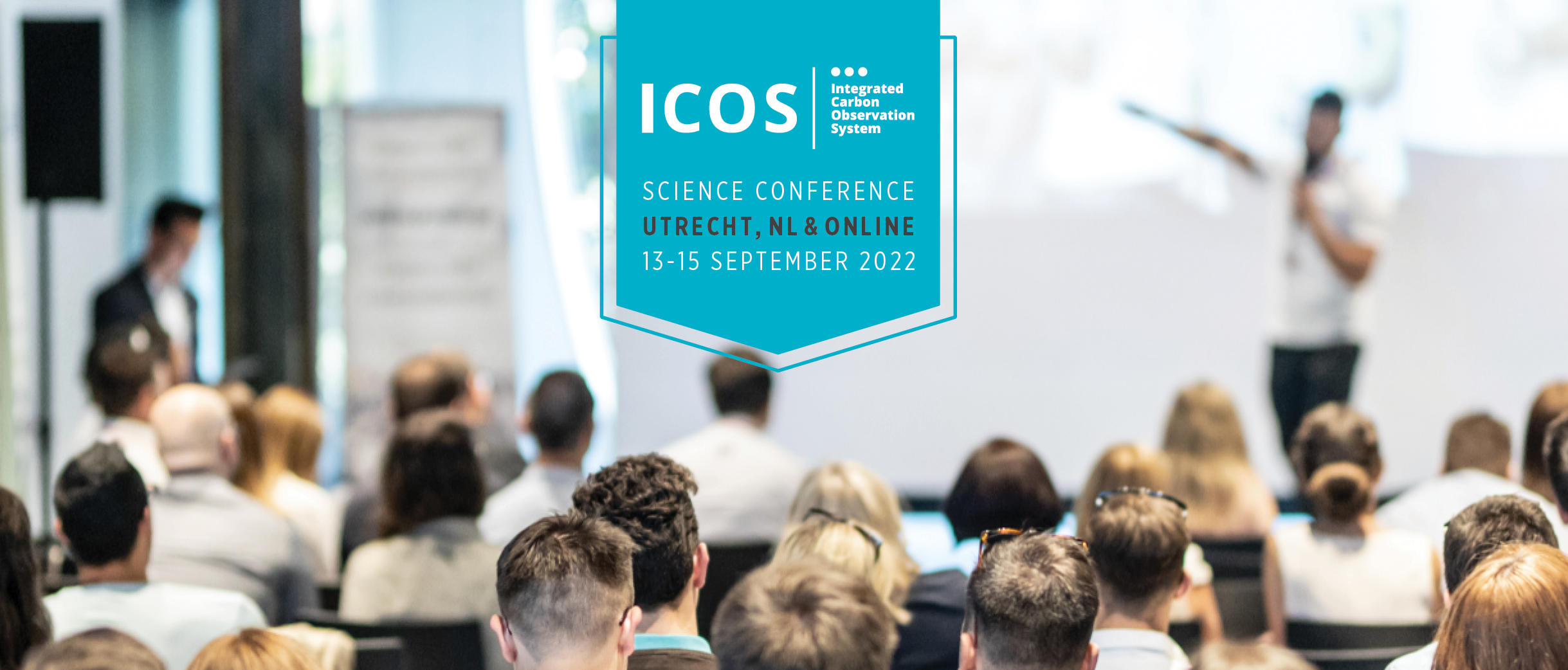 The ICOS Science Conference registration is open. The conference is fully hybrid, and takes place 13-15 September 2022 at Tivoli, Utrecht, Netherlands, and online.  
Participation Fees
There are two options for participation - in person and remotely. In both options attendees are able to listen and ask questions during the plenaries, parallel and poster sessions. Both types of attendees have equal opportunities to present their accepted research work explained in their abstracts either as Oral or Poster presentations, depending on the results of the Abstract Evaluation.

370€ - participation in person at Tivoli Utrecht
Full access to all the conference content on-site
Icebreaker Event on Monday 12th of September 4-6pm in the RONDA Foyer
Two coffee breaks and lunches included during the conference 13-15th of September
There will also be a conference dinner organised on Wednesday evening for interested on-site participants for a separate additional fee.
190€ - carbon friendly remote participation
Includes full access to all conference content and equal opportunities to follow all of the presentations and asking questions online.
Special notice: To show our support for Ukraine and in accordance with current European sanctions, ICOS ERIC will not accept any payment of ICOS Science Conference 2022 registration fees from Russian or Belarusian institutions paid on behalf of researchers based at or affiliated with them. Already paid fees will be directly and completely donated to the UN Crisis Relief Fund for Ukraine. 
Registration
Click here to register for the ICOS Science Conference 2022.
The participant registration is organised through a platform called Oxford Abstracts. In order to get access to the registration form, the participant needs to create an account on the platform. We recommend you use your professional email address to create this (note: if you already have an account on the platform, for example because you have also submitted an abstract for the conference, please do not create a new account).
 
Participation policy and rules of conduct
By registering, participants acknowledge and agree that their contributions (comments on the online platform, questions asked during the sessions in person or online, etc.) during their attendance at the Science Conference may be recorded by a member of the conference organising team. This content may be distributed or published at the discretion of the organisers.
The ICOS Science Conferences encourages open discussion on social media (Twitter, Facebook, etc.) and blogging platforms during the Conference.
The participants and presenters are allowed and encouraged to discuss ICOS Science Conference presentations on social media. Be sure to include the official hashtag, #ICOS2022SC when sharing photos or other snippets of your time at the conference on Twitter and elsewhere on social media.
By participating in the conference, the presenter acknowledges and agrees that their presentation slides may be photographed and shared on social media by other attendees. Should they wish to not share their presentation with outside audiences, the author should include this image in their presentation slides or poster.
In order to avoid the spread of COVID-19 and to guarantee a safe conference for all participants, all on-site attendees agree to strictly follow the guidelines and regulations issued by the local authorities as well as any additional hygiene rules that may be imposed by the organisers during the Conference. The contact details of on-site attendees will be recorded for possible contact tracing.

Cancelation Policy
Registration fees will only be refunded if the notice of cancellation is received by the Science Conference organising team before 12 August 2022. The cancellation fee is €50. Cancellations after this date and no-shows are not eligible for a refund.

DISCLAIMER
Due to the unpredictable circumstances, ICOS ERIC may decide to cancel the on-site part of ICOS Science Conference 2022 with short notice and turn the conference into a virtual one. In such case, attendees who acquired an on-site registration for the hybrid ICOS Science Conference 2022 will be turned into a virtual registration for a purely virtual ICOS Science Conference 2022. Such attendees will get reimbursement for the difference in registration fees. Even in this case, ICOS ERIC would not be liable for any subsequent claims for any other reimbursements (e.g. attendee's travel or accommodation costs).
Presentations
All presentations will be uploaded to the to the conference platform regardless whether the presenter will be attending in person or remotely. The same online conference platform is used both on site in Utrecht and remotely to ask questions to the presenters. The conference platform has an accompanying mobile app where all attendees can set up their own unique programme composed of their favourites. 
The draft programme for ICOS Science Conference 2022 has been published! Click here for the full programme and accompanying abstracts. Please note that this is a draft programme, and is subject to change.