On this page you can access and download the ICOS logos, ICOS Word and Powerpoint templates and a selection of photos from various ICOS stations around Europe.

If you have questions regarding the use of the resources, please contact us by email: icos-comms (at) icos-ri.eu
Word and Powerpoint templates
Please note that the templates are available only for registered users of ICOS Nextcloud – ICOS Fileshare system.
> Download the ICOS Word template here (path: ICOS RI groupdisk >Communications > Logos, templates, graphic guidelines)
> Download the ICOS PowerPoint template here (path: same as above)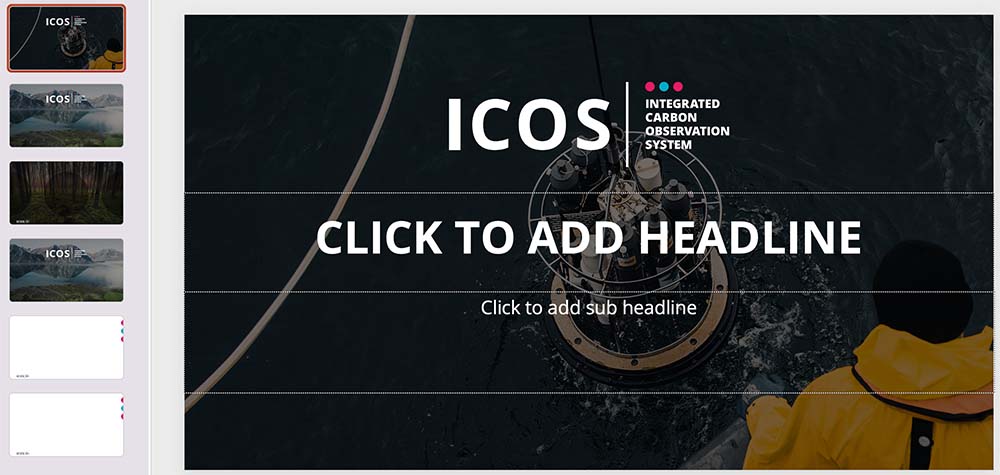 Photos
The ICOS photo gallery showcases pictures from the various stations located around Europe. 
Click here to view or download ICOS photos on Flickr



Logos
ICOS logo can be used either in Color version, in Black, or in Negative. The logo can also be used is in White Color version, in which the text is white, but the dots are still colored.
White Color and Negative versions are to be used on top of picture background, or on top of dark or bright colour backgrounds. Do not use Black or Color versions on top of pictures or on top of dark or very bright color surfaces. When using the logo, leave su fficient empty area around the logo. The empty area should be at least half of the height of the large letters ICOS in the logo you are placing.
The ICOS logo is also available in other formats (for screen / print), please contact us by email: icos-comms (at) icos-ri.eu