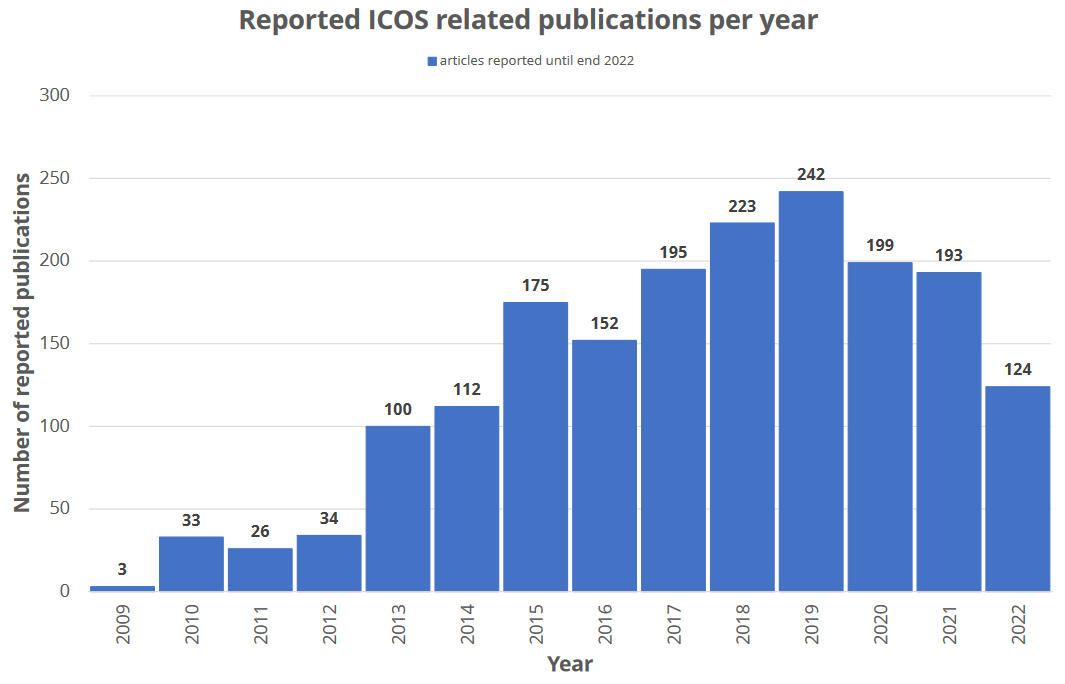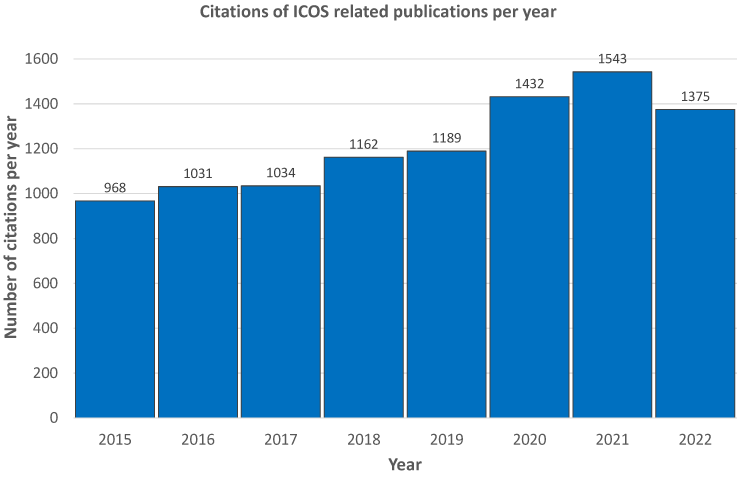 Please note that publications for a certain year often only are published in the following year, with a delay of half a year or even longer. And citations of the publications again have a delay of at least one year before then the next paper is written, edited, reviewed and published. Therefore one can expect that publication and citation counts still increase from year to year, but also appear to fall in the latest one to two years. If downward trends exist we will have to wait at least one or two years before they become really apparent.
Please upload your additional ICOS related publications through the upload form.
ICOS related publications are publications that used ICOS data or knowledge based on ICOS data, or is based on science that is relevant for ICOS and to which persons from the large ICOS community have contributed.
This list is updated only a few times per year. Last update: 2 March 2023.
Download this info as BibTeX
Author
Title
Year
Journal/Proceedings
Reftype
DOI/URL
Peichl, M., Martínez-García, E., Fransson, J.E.S., Wallerman, J., Laudon, H., Lundmark, T. and Nilsson, M.B.
Landscape-variability of the carbon balance across managed boreal forests
 
Global Change Biology
Vol. n/a(n/a) 
article
DOI URL 
Pluntke, T., Bernhofer, C., Grünwald, T., Renner, M. and Prasse, H.
Long-term climatological and ecohydrological analysis of a paired catchment – flux tower observatory near Dresden (Germany). Is there evidence of climate change in local evapotranspiration?
2023
Journal of Hydrology
Vol. 617, pp. 128873 
article
DOI URL 
Agustí-Panareda, A., McNorton, J., Balsamo, G., Baier, B.C., Bousserez, N., Boussetta, S., Brunner, D., Chevallier, F., Choulga, M., Diamantakis, M., Engelen, R., Flemming, J., Granier, C., Guevara, M., Denier van der Gon, H., Elguindi, N., Haussaire, J.-M., Jung, M., Janssens-Maenhout, G., Kivi, R., Massart, S., Papale, D., Parrington, M., Razinger, M., Sweeney, C., Vermeulen, A. and Walther, S.
Global nature run data with realistic high-resolution carbon weather for the year of the Paris Agreement
2022
Scientific Data
Vol. 9(1), pp. 160 
article
DOI URL 
Ahlberg, E., Ausmeel, S., Nilsson, L., Spanne, M., Pauraite, J., KlenøNøjgaard, J., Bertò, M., Skov, H., Roldin, P., Kristensson, A., Swietlicki, E. and Eriksson, A.
Measurement Report: Small effect of regional sources on black carbon properties and concentrations in Southern Sweden background air
2022
Atmospheric Chemistry and Physics Discussions
Vol. 2022, pp. 1-20 
article
DOI URL 
Ala-Könni, J., Kohonen, K.-M., Leppäranta, M. and Mammarella, I.
Validation of turbulent heat transfer models against eddy covariance flux measurements over a seasonally ice-covered lake
2022
Geoscientific Model Development
Vol. 15(12), pp. 4739-4755 
article
DOI URL 
Bao, S., Wutzler, T., Koirala, S., Cuntz, M., Ibrom, A., Besnard, S., Walther, S., Šigut, L., Moreno, A., Weber, U., Wohlfahrt, G., Cleverly, J., Migliavacca, M., Woodgate, W., Merbold, L., Veenendaal, E. and Carvalhais, N.
Environment-sensitivity functions for gross primary productivity in light use efficiency models
2022
Agricultural and Forest Meteorology
Vol. 312, pp. 108708 
article
DOI URL 
Belviso, S., Abadie, C., Montagne, D., Hadjar, D., Tropée, D., Vialettes, L., Kazan, V., Delmotte, M., Maignan, F., Remaud, M., Ramonet, M., Lopez, M., Yver-Kwok, C. and Ciais, P.
Carbonyl sulfide (COS) emissions in two agroecosystems in central France
2022
PloS one
Vol. 17(12), pp. e0278584 
article
DOI  
Bergamaschi, P., Segers, A., Brunner, D., Haussaire, J.-M., Henne, S., Ramonet, M., Arnold, T., Biermann, T., Chen, H., Conil, S., Delmotte, M., Forster, G., Frumau, A., Kubistin, D., Lan, X., Leuenberger, M., Lindauer, M., Lopez, M., Manca, G., Müller-Williams, J., O'Doherty, S., Scheeren, B., Steinbacher, M., Trisolino, P., V\itková, G. and Yver Kwok, C.
High-resolution inverse modelling of European CH_4 emissions using the novel FLEXPART-COSMO TM5 4DVAR inverse modelling system
2022
Atmospheric Chemistry and Physics
Vol. 22(20), pp. 13243-13268 
article
DOI URL 
Bhattacharjee, S., Mortikov, E., Debolskiy, A., Kadantsev, E., Pandit, R., Vesala, T. and Sahoo, G.
Direct Numerical Simulation of a Turbulent Channel Flow with Forchheimer Drag
2022
Boundary-Layer Meteorology
Vol. 185(2), pp. 259-276 
article
DOI URL 
Boeing, F., Rakovec, O., Kumar, R., Samaniego, L., Schrön, M., Hildebrandt, A., Rebmann, C., Thober, S., Müller, S., Zacharias, S., Bogena, H., Schneider, K., Kiese, R., Attinger, S. and Marx, A.
High-resolution drought simulations and comparison to soil moisture observations in Germany
2022
Hydrology and Earth System Sciences
Vol. 26(19), pp. 5137-5161 
article
DOI URL 
Bogena, H.R., Schrön, M., Jakobi, J., Ney, P., Zacharias, S., Andreasen, M., Baatz, R., Boorman, D., Duygu, M.B., Eguibar-Galán, M.A., Fersch, B., Franke, T., Geris, J., González Sanchis, M., Kerr, Y., Korf, T., Mengistu, Z., Mialon, A., Nasta, P., Nitychoruk, J., Pisinaras, V., Rasche, D., Rosolem, R., Said, H., Schattan, P., Zreda, M., Achleitner, S., Albentosa-Hernández, E., Akyürek, Z., Blume, T., del Campo, A., Canone, D., Dimitrova-Petrova, K., Evans, J.G., Ferraris, S., Frances, F., Gisolo, D., Güntner, A., Herrmann, F., Iwema, J., Jensen, K.H., Kunstmann, H., Lidón, A., Looms, M.C., Oswald, S., Panagopoulos, A., Patil, A., Power, D., Rebmann, C., Romano, N., Scheiffele, L., Seneviratne, S., Weltin, G. and Vereecken, H.
COSMOS-Europe: a European network of cosmic-ray neutron soil moisture sensors
2022
Earth System Science Data
Vol. 14(3), pp. 1125-1151 
article
DOI URL 
Brümmer, C., Rüffer, J.J., Delorme, J.-P., Wintjen, P., Schrader, F., Beudert, B., Schaap, M. and Ammann, C.
Reactive nitrogen fluxes over peatland and forest ecosystems using micrometeorological measurement techniques
2022
Earth System Science Data
Vol. 14(2), pp. 743-761 
article
DOI URL 
Brunner, C., Brem, B.T., Collaud Coen, M., Conen, F., Steinbacher, M., Gysel-Beer, M. and Kanji, Z.A.
The diurnal and seasonal variability of ice-nucleating particles at the High Altitude Station Jungfraujoch (3580,m,a.s.l.), Switzerland
2022
Atmospheric Chemistry and Physics
Vol. 22(11), pp. 7557-7573 
article
DOI URL 
Conen, F., Einbock, A., Mignani, C. and Hüglin, C.
Measurement report: Ice-nucleating particles active ge -15,degreeC in free tropospheric air over western Europe
2022
Atmospheric Chemistry and Physics
Vol. 22(5), pp. 3433-3444 
article
DOI URL 
Crisp, D., Dolman, H., Tanhua, T., McKinley, G.A., Hauck, J., Bastos, A., Sitch, S., Eggleston, S. and Aich, V.
How Well Do We Understand the Land-Ocean-Atmosphere Carbon Cycle?
2022
Reviews of Geophysics
Vol. 60(2), pp. e2021RG000736 
article
DOI URL 
Cronin, M.F., Swart, S., Marandino, C.A., Anderson, C., Browne, P., Chen, S., Joubert, W.R., Schuster, U., Venkatesan, R., Addey, C.I., Alves, O., Ardhuin, F., Battle, S., Bourassa, M.A., Chen, Z., Chory, M., Clayson, C., de Souza, R.B., du Plessis, M., Edmondson, M., Edson, J.B., Gille, S.T., Hermes, J., Hormann, V., Josey, S.A., Kurz, M., Lee, T., Maicu, F., Moustahfid, E.H., Nicholson, S.-A., Nyadjro, E.S., Palter, J., Patterson, R.G., Penny, S.G., Pezzi, L.P., Pinardi, N., Reeves Eyre, J.E.J., Rome, N., Subramanian, A.C., Stienbarger, C., Steinhoff, T., Sutton, A.J., Tomita, H., Wills, S.M., Wilson, C. and Yu, L.
Developing an Observing Air–Sea Interactions Strategy (OASIS) for the global ocean
2022
ICES Journal of Marine Science 
article
DOI URL 
Daghino, S., Martino, E., Voyron, S. and Perotto, S.
Metabarcoding of fungal assemblages in Vaccinium myrtillus endosphere suggests colonization of above-ground organs by some ericoid mycorrhizal and DSE fungi
2022
Scientific Reports
Vol. 12(1), pp. 11013 
article
DOI URL 
Davies, P., Baatz, R., Bogena, H.R., Quansah, E. and Amekudzi, L.K.
Optimal Temporal Filtering of the Cosmic-Ray Neutron Signal to Reduce Soil Moisture Uncertainty
2022
Sensors
Vol. 22(23) 
article
DOI URL 
Davila, X., Gebbie, G., Brakstad, A., Lauvset, S.K., McDonagh, E.L., Schwinger, J. and Olsen, A.
How Is the Ocean Anthropogenic Carbon Reservoir Filled?
2022
Global Biogeochemical Cycles
Vol. 36(5), pp. e2021GB007055 
article
DOI URL 
De Cannière, S., Vereecken, H., Defourny, P. and Jonard, F.
Remote Sensing of Instantaneous Drought Stress at Canopy Level Using Sun-Induced Chlorophyll Fluorescence and Canopy Reflectance
2022
Remote Sensing
Vol. 14(11) 
article
DOI URL 
Demol, M., Wilkes, P., Raumonen, P., Moorthy, S.M., Calders, K., Gielen, B. and Verbeeck, H.
Volumetric overestimation of small branches in 3D reconstructions of Fraxinus excelsior
2022
Silva Fennica
Vol. 56(1), pp. 1-26 
article
DOI  
Dorodnikov, M., Knorr, K.-H., Fan, L., Kuzyakov, Y. and Nilsson, M.B.
A novel belowground in-situ gas labeling approach: CH4 oxidation in deep peat using passive diffusion chambers and 13C excess
2022
Science of The Total Environment
Vol. 806, pp. 150457 
article
DOI URL 
Erdbrügger, J., van Meerveld, I., Seibert, J. and Bishop, K.
Shallow groundwater level time series and a groundwater chemistry survey from a boreal headwater catchment
2022
Earth System Science Data Discussions
Vol. 2022, pp. 1-40 
article
DOI URL 
Eriksson Stenström, K., Skog, G., Bernhardsson, C., Mattsson, S., Nielsen, A.B., Rundgren, M., Muscheler, R., Linderson, H., Pédehontaa-Hiaa, G. and Rääf, C.
Environmental Levels of Radiocarbon in Lund, Sweden, Prior To the Start of the European Spallation Source
2022
Radiocarbon
Vol. 64(1), pp. 51-67 
article
DOI  
Etzold, S., Sterck, F., Bose, A.K., Braun, S., Buchmann, N., Eugster, W., Gessler, A., Kahmen, A., Peters, R.L., Vitasse, Y., Walthert, L., Ziemi'nska, K. and Zweifel, R.
Number of growth days and not length of the growth period determines radial stem growth of temperate trees
2022
Ecology Letters
Vol. 25(2), pp. 427-439 
article
DOI URL 
Friedlingstein, P., O'Sullivan, M., Jones, M.W., Andrew, R.M., Gregor, L., Hauck, J., Le Quéré, C., Luijkx, I.T., Olsen, A., Peters, G.P., Peters, W., Pongratz, J., Schwingshackl, C., Sitch, S., Canadell, J.G., Ciais, P., Jackson, R.B., Alin, S.R., Alkama, R., Arneth, A., Arora, V.K., Bates, N.R., Becker, M., Bellouin, N., Bittig, H.C., Bopp, L., Chevallier, F., Chini, L.P., Cronin, M., Evans, W., Falk, S., Feely, R.A., Gasser, T., Gehlen, M., Gkritzalis, T., Gloege, L., Grassi, G., Gruber, N., Gürses, Ö., Harris, I., Hefner, M., Houghton, R.A., Hurtt, G.C., Iida, Y., Ilyina, T., Jain, A.K., Jersild, A., Kadono, K., Kato, E., Kennedy, D., Klein Goldewijk, K., Knauer, J., Korsbakken, J.I., Landschützer, P., Lefèvre, N., Lindsay, K., Liu, J., Liu, Z., Marland, G., Mayot, N., McGrath, M.J., Metzl, N., Monacci, N.M., Munro, D.R., Nakaoka, S.-I., Niwa, Y., O'Brien, K., Ono, T., Palmer, P.I., Pan, N., Pierrot, D., Pocock, K., Poulter, B., Resplandy, L., Robertson, E., Rödenbeck, C., Rodriguez, C., Rosan, T.M., Schwinger, J., Séférian, R., Shutler, J.D., Skjelvan, I., Steinhoff, T., Sun, Q., Sutton, A.J., Sweeney, C., Takao, S., Tanhua, T., Tans, P.P., Tian, X., Tian, H., Tilbrook, B., Tsujino, H., Tubiello, F., van der Werf, G.R., Walker, A.P., Wanninkhof, R., Whitehead, C., Willstrand Wranne, A., Wright, R., Yuan, W., Yue, C., Yue, X., Zaehle, S., Zeng, J. and Zheng, B.
Global Carbon Budget 2022
2022
Earth System Science Data
Vol. 14(11), pp. 4811-4900 
article
DOI URL 
Fu, Z., Ciais, P., Makowski, D., Bastos, A., Stoy, P.C., Ibrom, A., Knohl, A., Migliavacca, M., Cuntz, M., Šigut, L., Peichl, M., Loustau, D., El-Madany, T.S., Buchmann, N., Gharun, M., Janssens, I., Markwitz, C., Grünwald, T., Rebmann, C., Mölder, M., Varlagin, A., Mammarella, I., Kolari, P., Bernhofer, C., Heliasz, M., Vincke, C., Pitacco, A., Cremonese, E., Foltýnová, L. and Wigneron, J.-P.
Uncovering the critical soil moisture thresholds of plant water stress for European ecosystems
2022
Global Change Biology
Vol. 28(6), pp. 2111-2123 
article
DOI URL 
Fu, Z., Ciais, P., Prentice, I.C., Gentine, P., Makowski, D., Bastos, A., Luo, X., Green, J.K., Stoy, P.C., Yang, H. and Hajima, T.
Atmospheric dryness reduces photosynthesis along a large range of soil water deficits
2022
Nature Communications
Vol. 13(1), pp. 989 
article
DOI URL 
Ganeva, D., Chanev, M., Filchev, L., Jelev, G. and Valcheva, D.
Evaluation of PhenoCam phenology of barley
2022

Vol. 12262Remote Sensing for Agriculture, Ecosystems, and Hydrology XXIV, pp. 1226208 
inproceedings
DOI URL 
Gutiérrez-Loza, L., Nilsson, E., Wallin, M.B., Sahlée, E. and Rutgersson, A.
On physical mechanisms enhancing air--sea CO_2 exchange
2022
Biogeosciences
Vol. 19(24), pp. 5645-5665 
article
DOI URL 
Haberstroh, S., Werner, C., Grün, M., Kreuzwieser, J., Seifert, T., Schindler, D. and Christen, A.
Central European 2018 hot drought shifts scots pine forest to its tipping point
2022
Plant Biology
Vol. 24(7), pp. 1186-1197 
article
DOI URL 
Hallgren, C., Arnqvist, J., Nilsson, E., Ivanell, S., Shapkalijevski, M., Thomasson, A., Pettersson, H. and Sahlée, E.
Classification and properties of non-idealized coastal wind profiles -- an observational study
2022
Wind Energy Science
Vol. 7(3), pp. 1183-1207 
article
DOI URL 
Harris, E., Yu, L., Wang, Y.-P., Mohn, J., Henne, S., Bai, E., Barthel, M., Bauters, M., Boeckx, P., Dorich, C., Farrell, M., Krummel, P.B., Loh, Z.M., Reichstein, M., Six, J., Steinbacher, M., Wells, N.S., Bahn, M. and Rayner, P.
Warming and redistribution of nitrogen inputs drive an increase in terrestrial nitrous oxide emission factor
2022
Nature Communications
Vol. 13(1), pp. 4310 
article
DOI URL 
Hase, N., Doktor, D., Rebmann, C., Dechant, B., Mollenhauer, H. and Cuntz, M.
Identifying the main drivers of the seasonal decline of near-infrared reflectance of a temperate deciduous forest
2022
Agricultural and Forest Meteorology
Vol. 313, pp. 108746 
article
DOI URL 
Havu, M., Kulmala, L., Kolari, P., Vesala, T., Riikonen, A. and Järvi, L.
Carbon sequestration potential of street tree plantings in Helsinki
2022
Biogeosciences
Vol. 19(8), pp. 2121-2143 
article
DOI URL 
Heistermann, M., Bogena, H., Francke, T., Güntner, A., Jakobi, J., Rasche, D., Schrön, M., Döpper, V., Fersch, B., Groh, J., Patil, A., Pütz, T., Reich, M., Zacharias, S., Zengerle, C. and Oswald, S.
Soil moisture observation in a forested headwater catchment: combining a dense cosmic-ray neutron sensor network with roving and hydrogravimetry at the TERENO site Wüstebach
2022
Earth System Science Data
Vol. 14(5), pp. 2501-2519 
article
DOI URL 
Helbig, M., Živković, T., Alekseychik, P., Aurela, M., El-Madany, T.S., Euskirchen, E.S., Flanagan, L.B., Griffis, T.J., Hanson, P.J., Hattakka, J., Helfter, C., Hirano, T., Humphreys, E.R., Kiely, G., Kolka, R.K., Laurila, T., Leahy, P.G., Lohila, A., Mammarella, I., Nilsson, M.B., Panov, A., Parmentier, F.J.W., Peichl, M., Rinne, J., Roman, D.T., Sonnentag, O., Tuittila, E.-S., Ueyama, M., Vesala, T., Vestin, P., Weldon, S., Weslien, P. and Zaehle, S.
Warming response of peatland CO2 sink is sensitive to seasonality in warming trends
2022
Nature Climate Change
Vol. 12(8), pp. 743-749 
article
DOI URL 
Hollós, R., Fodor, N., Merganičová, K., Hidy, D., Árendás, T., Grünwald, T. and Barcza, Z.
Conditional interval reduction method: A possible new direction for the optimization of process based models
2022
Environmental Modelling & Software
Vol. 158, pp. 105556 
article
DOI URL 
Hough, M., McCabe, S., Vining, S.R., Pickering Pedersen, E., Wilson, R.M., Lawrence, R., Chang, K.-Y., Bohrer, G., Coordinators, T.I., Riley, W.J., Crill, P.M., Varner, R.K., Blazewicz, S.J., Dorrepaal, E., Tfaily, M.M., Saleska, S.R. and Rich, V.I.
Coupling plant litter quantity to a novel metric for litter quality explains C storage changes in a thawing permafrost peatland
2022
Global Change Biology
Vol. 28(3), pp. 950-968 
article
DOI URL 
Hu, Z., Piao, S., Knapp, A.K., Wang, X., Peng, S., Yuan, W., Running, S., Mao, J., Shi, X., Ciais, P., Huntzinger, D.N., Yang, J. and Yu, G.
Decoupling of greenness and gross primary productivity as aridity decreases
2022
Remote Sensing of Environment
Vol. 279, pp. 113120 
article
DOI URL 
Huang, Y., Wei, J., Jin, J., Zhou, Z. and Gu, Q.
CO Fluxes in Western Europe during 2017–2020 Winter Seasons Inverted by WRF-Chem/Data Assimilation Research Testbed with MOPITT Observations
2022
Remote Sensing
Vol. 14(5) 
article
DOI URL 
Jaakkola, E., Gärtner, A., Jönsson, A.M., Ljung, K., Olsson, P.-O. and Holst, T.
Spruce bark beetle (Ips typographus) infestation cause up to 700 times higher bark BVOC emission rates from Norway spruce (Picea abies)
2022
Biogeosciences Discussions
Vol. 2022, pp. 1-32 
article
DOI URL 
Jakobi, J., Huisman, J.A., Fuchs, H., Vereecken, H. and Bogena, H.R.
Potential of Thermal Neutrons to Correct Cosmic-Ray Neutron Soil Moisture Content Measurements for Dynamic Biomass Effects
2022
Water Resources Research
Vol. 58(8), pp. e2022WR031972 
article
DOI URL 
Jakobsson, J.K.F., Waman, D.B., Phillips, V.T.J. and Bjerring Kristensen, T.
Time dependence of heterogeneous ice nucleation by ambient aerosols: laboratory observations and a formulation for models
2022
Atmospheric Chemistry and Physics
Vol. 22(10), pp. 6717-6748 
article
DOI URL 
Jia, M., Li, F., Zhang, Y., Wu, M., Li, Y., Feng, S., Wang, H., Chen, H., Ju, W., Lin, J., Cai, J., Zhang, Y. and Jiang, F.
The Nord Stream pipeline gas leaks released approximately 220,000 tonnes of methane into the atmosphere
2022
Environmental Science and Ecotechnology
Vol. 12, pp. 100210 
article
DOI URL 
Jiang, N., Shen, M., Ciais, P., Campioli, M., Peñuelas, J., Körner, C., Cao, R., Piao, S., Liu, L., Wang, S., Liang, E., Delpierre, N., Soudani, K., Rao, Y., Montagnani, L., Hörtnagl, L., Paul-Limoges, E., Myneni, R., Wohlfahrt, G., Fu, Y., Šigut, L., Varlagin, A., Chen, J., Tang, Y. and Zhao, W.
Warming does not delay the start of autumnal leaf coloration but slows its progress rate
2022
Global Ecology and Biogeography
Vol. 31(11), pp. 2297-2313 
article
DOI URL 
Jongen, H.J., Steeneveld, G.J., Beringer, J., Christen, A., Chrysoulakis, N., Fortuniak, K., Hong, J., Hong, J.W., Jacobs, C.M.J., Järvi, L., Meier, F., Pawlak, W., Roth, M., Theeuwes, N.E., Velasco, E., Vogt, R. and Teuling, A.J.
Urban Water Storage Capacity Inferred From Observed Evapotranspiration Recession
2022
Geophysical Research Letters
Vol. 49(3), pp. e2021GL096069 
article
DOI URL 
Jordan, A., Schumacher, M. and ICOS CAL - FCL
ICOS CAL - Quality Control Report 2021
2022
 
article
DOI URL 
Juutinen, S., Aurela, M., Tuovinen, J.-P., Ivakhov, V., Linkosalmi, M., Räsänen, A., Virtanen, T., Mikola, J., Nyman, J., Vähä, E., Loskutova, M., Makshtas, A. and Laurila, T.
Variation in CO_2 and CH_4 fluxes among land cover types in heterogeneous Arctic tundra in northeastern Siberia
2022
Biogeosciences
Vol. 19(13), pp. 3151-3167 
article
DOI URL 
Kohonen, K.-M., Dewar, R., Tramontana, G., Mauranen, A., Kolari, P., Kooijmans, L.M.J., Papale, D., Vesala, T. and Mammarella, I.
Intercomparison of methods to estimate gross primary production based on CO_2 and COS flux measurements
2022
Biogeosciences
Vol. 19(17), pp. 4067-4088 
article
DOI URL 
Korkiakoski, M., Määttä, T., Peltoniemi, K., Penttilä, T. and Lohila, A.
Excess soil moisture and fresh carbon input are prerequisites for methane production in podzolic soil
2022
Biogeosciences
Vol. 19(7), pp. 2025-2041 
article
DOI URL 
Korrensalo, A., Mammarella, I., Alekseychik, P., Vesala, T. and Tuittila, E.-S.
Plant mediated methane efflux from a boreal peatland complex
2022
Plant and Soil
Vol. 471(1), pp. 375-392 
article
DOI URL 
Kou, D., Virtanen, T., Treat, C.C., Tuovinen, J.-P., Räsänen, A., Juutinen, S., Mikola, J., Aurela, M., Heiskanen, L., Heikkilä, M., Weckström, J., Juselius, T., Piilo, S.R., Deng, J., Zhang, Y., Chaudhary, N., Huang, C., Väliranta, M., Biasi, C., Liu, X., Guo, M., Zhuang, Q., Korhola, A. and Shurpali, N.J.
Peatland Heterogeneity Impacts on Regional Carbon Flux and Its Radiative Effect Within a Boreal Landscape
2022
Journal of Geophysical Research: Biogeosciences
Vol. 127(9), pp. e2021JG006774 
article
DOI URL 
Kováč, D., Ač, A., Šigut, L., Peñuelas, J., Grace, J. and Urban, O.
Combining NDVI, PRI and the quantum yield of solar-induced fluorescence improves estimations of carbon fluxes in deciduous and evergreen forests
2022
Science of The Total Environment
Vol. 829, pp. 154681 
article
DOI URL 
Krasnova, A., Mander, Ü., Noe, S.M., Uri, V., Krasnov, D. and Soosaar, K.
Hemiboreal forests' CO2 fluxes response to the European 2018 heatwave
2022
Agricultural and Forest Meteorology
Vol. 323, pp. 109042 
article
DOI URL 
Krejza, J., Haeni, M., Darenova, E., Foltýnová, L., Fajstavr, M., Jan Světlík, Nezval, O., Bednář, P., Šigut, L., Horáček, P. and Zweifel, R.
Disentangling carbon uptake and allocation in the stems of a spruce forest
2022
Environmental and Experimental Botany
Vol. 196, pp. 104787 
article
DOI URL 
Kuli'nski, K., Rehder, G., Asmala, E., Bartosova, A., Carstensen, J., Gustafsson, B., Hall, P.O.J., Humborg, C., Jilbert, T., Jürgens, K., Meier, H.E.M., Müller-Karulis, B., Naumann, M., Olesen, J.E., Savchuk, O., Schramm, A., Slomp, C.P., Sofiev, M., Sobek, A., Szymczycha, B. and Undeman, E.
Biogeochemical functioning of the Baltic Sea
2022
Earth System Dynamics
Vol. 13(1), pp. 633-685 
article
DOI URL 
Launiainen, S., Katul, G.G., Leppä, K., Kolari, P., Aslan, T., Grönholm, T., Korhonen, L., Mammarella, I. and Vesala, T.
Does growing atmospheric CO2 explain increasing carbon sink in a boreal coniferous forest?
2022
Global Change Biology
Vol. n/a(n/a) 
article
DOI URL 
Lelandais, L., Xueref-Remy, I., Riandet, A., Blanc, P.E., Armengaud, A., Oppo, S., Yohia, C., Ramonet, M. and Delmotte, M.
Analysis of 5.5 years of atmospheric CO2, CH4, CO continuous observations (2014–2020) and their correlations, at the Observatoire de Haute Provence, a station of the ICOS-France national greenhouse gases observation network
2022
Atmospheric Environment
Vol. 277, pp. 119020 
article
DOI URL 
Lento, J., Culp, J.M., Levenstein, B., Aroviita, J., Baturina, M.A., Bogan, D., Brittain, J.E., Chin, K., Christoffersen, K.S., Docherty, C., Friberg, N., Ingimarsson, F., Jacobsen, D., Lau, D.C.P., Loskutova, O.A., Milner, A., Mykrä, H., Novichkova, A.A., Ólafsson, J.S., Schartau, A.K., Shaftel, R. and Goedkoop, W.
Temperature and spatial connectivity drive patterns in freshwater macroinvertebrate diversity across the Arctic
2022
Freshwater Biology
Vol. 67(1), pp. 159-175 
article
DOI URL 
Limousin, J.-M., Roussel, A., Rodríguez-Calcerrada, J., Torres-Ruiz, J.M., Moreno, M., de Jalon, L., Ourcival, J.-M., Simioni, G., Cochard, H. and Martin-StPaul, N.
Drought acclimation of Quercus ilex leaves improves tolerance to moderate drought but not resistance to severe water stress
2022
Plant, Cell & Environment
Vol. 45(7), pp. 1967-1984 
article
DOI URL 
Lindberg, O., Lingfors, D. and Arnqvist, J.
Analyzing the mechanisms behind temporal correlation between power sources using frequency separated time scales: A Swedish case study on PV and wind
2022
Energy
Vol. 259, pp. 124817 
article
DOI URL 
Linkosalmi, M., Tuovinen, J.-P., Nevalainen, O., Peltoniemi, M., Tani, C.M., Arslan, A.N., Rainne, J., Lohila, A., Laurila, T. and Aurela, M.
Tracking vegetation phenology of pristine northern boreal peatlands by combining digital photography with CO_2 flux and remote sensing data
2022
Biogeosciences
Vol. 19(19), pp. 4747-4765 
article
DOI URL 
Liu, Y., Wu, C., Tian, F., Wang, X., Gamon, J.A., Wong, C.Y.S., Zhang, X., Gonsamo, A. and Jassal, R.S.
Modeling plant phenology by MODIS derived photochemical reflectance index (PRI)
2022
Agricultural and Forest Meteorology
Vol. 324, pp. 109095 
article
DOI URL 
Lucas-Moffat, A.M., Schrader, F., Herbst, M. and Brümmer, C.
Multiple gap-filling for eddy covariance datasets
2022
Agricultural and Forest Meteorology
Vol. 325, pp. 109114 
article
DOI URL 
Mahrt, L., Nilsson, E. and Rutgersson, A.
The Sea Surface Heat Flux at a Coastal Site
2022
Journal of Physical Oceanography
Vol. 52(12), pp. 3297-3307 
article
DOI URL 
Maier, F., Gerbig, C., Levin, I., Super, I., Marshall, J. and Hammer, S.
Effects of point source emission heights in WRF--STILT: a step towards exploiting nocturnal observations in models
2022
Geoscientific Model Development
Vol. 15(13), pp. 5391-5406 
article
DOI URL 
Maier, R., Hörtnagl, L. and Buchmann, N.
Greenhouse gas fluxes (CO2, N2O and CH4) of pea and maize during two cropping seasons: Drivers, budgets, and emission factors for nitrous oxide
2022
Science of The Total Environment
Vol. 849, pp. 157541 
article
DOI URL 
Mäki, M., Ryhti, K., Fer, I., Ťupek, B., Vestin, P., Roland, M., Lehner, I., Köster, E., Lehtonen, A., Bäck, J., Heinonsalo, J., Pumpanen, J. and Kulmala, L.
Heterotrophic and rhizospheric respiration in coniferous forest soils along a latitudinal gradient
2022
Agricultural and Forest Meteorology
Vol. 317, pp. 108876 
article
DOI URL 
Martínez-García, E., Nilsson, M.B., Laudon, H., Lundmark, T., Fransson, J.E.S., Wallerman, J. and Peichl, M.
Overstory dynamics regulate the spatial variability in forest-floor CO2 fluxes across a managed boreal forest landscape
2022
Agricultural and Forest Meteorology
Vol. 318, pp. 108916 
article
DOI URL 
Mathijssen, P.J.H., Tuovinen, J.-P., Lohila, A., Väliranta, M. and Tuittila, E.-S.
Identifying main uncertainties in estimating past and present radiative forcing of peatlands
2022
Global Change Biology
Vol. 28(13), pp. 4069-4084 
article
DOI URL 
Meusburger, K., Trotsiuk, V., Schmidt-Walter, P., Baltensweiler, A., Brun, P., Bernhard, F., Gharun, M., Habel, R., Hagedorn, F., Köchli, R., Psomas, A., Puhlmann, H., Thimonier, A., Waldner, P., Zimmermann, S. and Walthert, L.
Soil–plant interactions modulated water availability of Swiss forests during the 2015 and 2018 droughts
2022
Global Change Biology
Vol. 28(20), pp. 5928-5944 
article
DOI URL 
Munassar, S., Monteil, G., Scholze, M., Karstens, U., Rödenbeck, C., Koch, F.-T., Totsche, K.U. and Gerbig, C.
Impact of atmospheric transport on CO_2 flux estimates derived from the atmospheric tracer inversions
2022
Atmospheric Chemistry and Physics Discussions
Vol. 2022, pp. 1-26 
article
DOI URL 
Munassar, S., Rödenbeck, C., Koch, F.-T., Totsche, K.U., Gałkowski, M., Walther, S. and Gerbig, C.
Net ecosystem exchange (NEE) estimates 2006--2019 over Europe from a pre-operational ensemble-inversion system
2022
Atmospheric Chemistry and Physics
Vol. 22(12), pp. 7875-7892 
article
DOI URL 
Nicolini, G., Antoniella, G., Carotenuto, F., Christen, A., Ciais, P., Feigenwinter, C., Gioli, B., Stagakis, S., Velasco, E., Vogt, R., Ward, H.C., Barlow, J., Chrysoulakis, N., Duce, P., Graus, M., Helfter, C., Heusinkveld, B., Järvi, L., Karl, T., Marras, S., Masson, V., Matthews, B., Meier, F., Nemitz, E., Sabbatini, S., Scherer, D., Schume, H., Sirca, C., Steeneveld, G.-J., Vagnoli, C., Wang, Y., Zaldei, A., Zheng, B. and Papale, D.
Direct observations of CO2 emission reductions due to COVID-19 lockdown across European urban districts
2022
Science of The Total Environment
Vol. 830, pp. 154662 
article
DOI URL 
Oehri, J., Schaepman-Strub, G., Kim, J.S., Grysko, R., Kropp, H., Grünberg, I., Zemlianskii, V., Sonnentag, O., Euskirchen, E.S., Reji Chacko, M., Muscari, G., Blanken, P.D., Dean, J.F., di Sarra, A., Harding, R.J., Sobota, I., Kutzbach, L., Plekhanova, E., Riihelä, A., Boike, J., Miller, N.B., Beringer, J., López-Blanco, E., Stoy, P.C., Sullivan, R.C., Kejna, M., Parmentier, F.J.W., Gamon, J.A., Mastepanov, M., Wille, C., Jackowicz-Korczynski, M., Karger, D.N., Quinton, W.L., Putkonen, J., van As, D., Christensen, T.R., Hakuba, M.Z., Stone, R.S., Metzger, S., Vandecrux, B., Frost, G.V., Wild, M., Hansen, B., Meloni, D., Domine, F., te Beest, M., Sachs, T., Kalhori, A., Rocha, A.V., Williamson, S.N., Morris, S., Atchley, A.L., Essery, R., Runkle, B.R., Holl, D., Riihimaki, L.D., Iwata, H., Schuur, E.A., Cox, C.J., Grachev, A.A., McFadden, J.P., Fausto, R.S., Göckede, M., Ueyama, M., Pirk, N., de Boer, G., Bret-Harte, M.S., Leppäranta, M., Steffen, K., Friborg, T., Ohmura, A., Edgar, C.W., Olofsson, J. and Chambers, S.D.
Vegetation type is an important predictor of the arctic summer land surface energy budget
2022
Nature Communications
Vol. 13(1), pp. 21-27 
article
DOI  
Olin, M., Okuljar, M., Rissanen, M.P., Kalliokoski, J., Shen, J., Dada, L., Lampimäki, M., Wu, Y., Lohila, A., Duplissy, J., Sipilä, M., Petäjä, T., Kulmala, M. and Dal Maso, M.
Measurement report: Atmospheric new particle formation in a coastal agricultural site explained with binPMF analysis of nitrate CI-APi-TOF spectra
2022
Atmospheric Chemistry and Physics
Vol. 22(12), pp. 8097-8115 
article
DOI URL 
Pang, Y., Räsänen, A., Lindholm, V., Aurela, M. and Virtanen, T.
Detecting peatland vegetation patterns with multi-temporal field spectroscopy
2022
GIScience & Remote Sensing
Vol. 59(1), pp. 2111-2126 
article
DOI URL 
Patzner, M.S., Kainz, N., Lundin, E., Barczok, M., Smith, C., Herndon, E., Kinsman-Costello, L., Fischer, S., Straub, D., Kleindienst, S., Kappler, A. and Bryce, C.
Seasonal Fluctuations in Iron Cycling in Thawing Permafrost Peatlands
2022
Environmental Science & Technology
Vol. 56(7), pp. 4620-4631 
article
DOI URL 
Peltola, O., Aurela, M., Launiainen, S. and Katul, G.
Probing eddy size and its effective mixing length in stably stratified roughness sublayer flows
2022
Quarterly Journal of the Royal Meteorological Society
Vol. 148(749), pp. 3756-3773 
article
DOI URL 
Peng, S., Lin, X., Thompson, R.L., Xi, Y., Liu, G., Hauglustaine, D., Lan, X., Poulter, B., Ramonet, M., Saunois, M., Yin, Y., Zhang, Z., Zheng, B. and Ciais, P.
Wetland emission and atmospheric sink changes explain methane growth in 2020
2022
Nature
Vol. 612(7940), pp. 477-482 
article
DOI URL 
Petäjä, T., Tabakova, K., Manninen, A., Ezhova, E., O'Connor, E., Moisseev, D., Sinclair, V.A., Backman, J., Levula, J., Luoma, K., Virkkula, A., Paramonov, M., Räty, M., Äijälä, M., Heikkinen, L., Ehn, M., Sipilä, M., Yli-Juuti, T., Virtanen, A., Ritsche, M., Hickmon, N., Pulik, G., Rosenfeld, D., Worsnop, D.R., Bäck, J., Kulmala, M. and Kerminen, V.-M.
Influence of biogenic emissions from boreal forests on aerosol–cloud interactions
2022
Nature Geoscience
Vol. 15(1), pp. 42-47 
article
DOI URL 
Petersen, R.C., Holst, T., Mölder, M., Kljun, N. and Rinne, J.
Vertical distribution of sources and sinks of VOCs within a boreal forest canopy
2022
EGUsphere
Vol. 2022, pp. 1-30 
article
DOI URL 
Petersson Sjögren, M., Alsved, M., Šantl-Temkiv, T., Bjerring Kristensen, T. and Löndahl, J.
Measurement report: Atmospheric fluorescent bioaerosol concentrations measured during 18 months in a coniferous forest in the south of Sweden
2022
Atmospheric Chemistry and Physics Discussions
Vol. 2022, pp. 1-26 
article
DOI URL 
Pickers, P.A., Manning, A.C., Quéré, C.L., Forster, G.L., Luijkx, I.T., Gerbig, C., Fleming, L.S. and Sturges, W.T.
Novel quantification of regional fossil fuel CO2 reductions during COVID-19 lockdowns using atmospheric oxygen measurements
2022
Science Advances
Vol. 8(16), pp. eabl9250 
article
DOI URL 
Pieber, S.M., Tuzson, B., Henne, S., Karstens, U., Gerbig, C., Koch, F.-T., Brunner, D., Steinbacher, M. and Emmenegger, L.
Analysis of regional CO_2 contributions at the high Alpine observatory Jungfraujoch by means of atmospheric transport simulations and 13C
2022
Atmospheric Chemistry and Physics
Vol. 22(16), pp. 10721-10749 
article
DOI URL 
Pintér, K. and Nagy, Z.
Building a UAV Based System to Acquire High Spatial Resolution Thermal Imagery for Energy Balance Modelling
2022
Sensors
Vol. 22(9) 
article
DOI URL 
Platt, S.M., Hov, Ø., Berg, T., Breivik, K., Eckhardt, S., Eleftheriadis, K., Evangeliou, N., Fiebig, M., Fisher, R., Hansen, G., Hansson, H.-C., Heintzenberg, J., Hermansen, O., Heslin-Rees, D., Holmén, K., Hudson, S., Kallenborn, R., Krejci, R., Krognes, T., Larssen, S., Lowry, D., Lund Myhre, C., Lunder, C., Nisbet, E., Nizzetto, P.B., Park, K.-T., Pedersen, C.A., Aspmo Pfaffhuber, K., Röckmann, T., Schmidbauer, N., Solberg, S., Stohl, A., Ström, J., Svendby, T., Tunved, P., Tørnkvist, K., van der Veen, C., Vratolis, S., Yoon, Y.J., Yttri, K.E., Zieger, P., Aas, W. and Tørseth, K.
Atmospheric composition in the European Arctic and 30∼years of the Zeppelin Observatory, Ny-Ålesund
2022
Atmospheric Chemistry and Physics
Vol. 22(5), pp. 3321-3369 
article
DOI URL 
Poorter, H., Knopf, O., Wright, I.J., Temme, A.A., Hogewoning, S.W., Graf, A., Cernusak, L.A. and Pons, T.L.
A meta-analysis of responses of C3 plants to atmospheric CO2: dose–response curves for 85 traits ranging from the molecular to the whole-plant level
2022
New Phytologist
Vol. 233(4), pp. 1560-1596 
article
DOI URL 
Reitz, O., Graf, A., Schmidt, M., Ketzler, G. and Leuchner, M.
Effects of Measurement Height and Low-Pass-Filtering Corrections on Eddy-Covariance Flux Measurements Over a Forest Clearing with Complex Vegetation
2022
Boundary-Layer Meteorology
Vol. 184(2), pp. 277-299 
article
DOI URL 
Revenga, J.C., Trepekli, K., Oehmcke, S., Jensen, R., Li, L., Igel, C., Gieseke, F.C. and Friborg, T.
Above-Ground Biomass Prediction for Croplands at a Sub-Meter Resolution Using UAV–LiDAR and Machine Learning Methods
2022
Remote Sensing
Vol. 14(16) 
article
DOI URL 
Riddick, S.N., Cheptonui, F., Yuan, K., Mbua, M., Day, R., Vaughn, T.L., Duggan, A., Bennett, K.E. and Zimmerle, D.J.
Estimating Regional Methane Emission Factors from Energy and Agricultural Sector Sources Using a Portable Measurement System: Case Study of the Denver–Julesburg Basin
2022
Sensors
Vol. 22(19) 
article
DOI URL 
Rocha, A.D., Vulova, S., Meier, F., Förster, M. and Kleinschmit, B.
Mapping evapotranspirative and radiative cooling services in an urban environment
2022
Sustainable Cities and Society
Vol. 85, pp. 104051 
article
DOI URL 
Röttger, S., Röttger, A., Grossi, C., Vargas, A., Karstens, U., Cinelli, G., Chung, E., Kikaj, D., Rennick, C., Mertes, F. and Radulescu, I.
Radon metrology for use in climate change observation and radiation protection at the environmental level
2022
Advances in Geosciences
Vol. 57, pp. 37-47 
article
DOI URL 
Rust, D., Katharopoulos, I., Vollmer, M.K., Henne, S., O'Doherty, S., Say, D., Emmenegger, L., Zenobi, R. and Reimann, S.
Swiss halocarbon emissions for 2019 to 2020 assessed from regional atmospheric observations
2022
Atmospheric Chemistry and Physics
Vol. 22(4), pp. 2447-2466 
article
DOI URL 
Salomón, R.L., Peters, R.L., Zweifel, R., Sass-Klaassen, U.G.W., Stegehuis, A.I., Smiljanic, M., Poyatos, R., Babst, F., Cienciala, E., Fonti, P., Lerink, B.J.W., Lindner, M., Martinez-Vilalta, J., Mencuccini, M., Nabuurs, G.-J., van der Maaten, E., von Arx, G., Bär, A., Akhmetzyanov, L., Balanzategui, D., Bellan, M., Bendix, J., Berveiller, D., Blaženec, M., Čada, V., Carraro, V., Cecchini, S., Chan, T., Conedera, M., Delpierre, N., Delzon, S., Ditmarová, Ľ., Dolezal, J., Dufrêne, E., Edvardsson, J., Ehekircher, S., Forner, A., Frouz, J., Ganthaler, A., Gryc, V., Güney, A., Heinrich, I., Hentschel, R., Janda, P., Ježík, M., Kahle, H.-P., Knüsel, S., Krejza, J., Kuberski, Ł., Kučera, J., Lebourgeois, F., Mikoláš, M., Matula, R., Mayr, S., Oberhuber, W., Obojes, N., Osborne, B., Paljakka, T., Plichta, R., Rabbel, I., Rathgeber, C.B.K., Salmon, Y., Saunders, M., Scharnweber, T., Sitková, Z., Stangler, D.F., Stere'nczak, K., Stojanović, M., Střelcová, K., Světlík, J., Svoboda, M., Tobin, B., Trotsiuk, V., Urban, J., Valladares, F., Vavrčík, H., Vejpustková, M., Walthert, L., Wilmking, M., Zin, E., Zou, J. and Steppe, K.
The 2018 European heatwave led to stem dehydration but not to consistent growth reductions in forests
2022
Nature Communications
Vol. 13(1), pp. 28 
article
DOI URL 
Schneider, M., Ertl, B., Tu, Q., Diekmann, C.J., Khosrawi, F., Röhling, A.N., Hase, F., Dubravica, D., Garc\ia, O.E., Sepúlveda, E., Borsdorff, T., Landgraf, J., Lorente, A., Butz, A., Chen, H., Kivi, R., Laemmel, T., Ramonet, M., Crevoisier, C., Pernin, J., Steinbacher, M., Meinhardt, F., Strong, K., Wunch, D., Warneke, T., Roehl, C., Wennberg, P.O., Morino, I., Iraci, L.T., Shiomi, K., Deutscher, N.M., Griffith, D.W.T., Velazco, V.A. and Pollard, D.F.
Synergetic use of IASI profile and TROPOMI total-column level 2 methane retrieval products
2022
Atmospheric Measurement Techniques
Vol. 15(14), pp. 4339-4371 
article
DOI URL 
Seiler, C., Melton, J.R., Arora, V.K., Sitch, S., Friedlingstein, P., Anthoni, P., Goll, D., Jain, A.K., Joetzjer, E., Lienert, S., Lombardozzi, D., Luyssaert, S., Nabel, J.E., Tian, H., Vuichard, N., Walker, A.P., Yuan, W. and Zaehle, S.
Are Terrestrial Biosphere Models Fit for Simulating the Global Land Carbon Sink?
2022
Journal of Advances in Modeling Earth Systems
Vol. 14(5) 
article
DOI  
Serk, H., Nilsson, M.B., Figueira, J., Krüger, J.P., Leifeld, J., Alewell, C. and Schleucher, J.
Organochemical Characterization of Peat Reveals Decomposition of Specific Hemicellulose Structures as the Main Cause of Organic Matter Loss in the Acrotelm
2022
Environmental Science & Technology
Vol. 56(23), pp. 17410-17419 
article
DOI URL 
Shahbaz, M., Bengtson, P., Mertes, J.R., Kulessa, B. and Kljun, N.
Spatial heterogeneity of soil carbon exchanges and their drivers in a boreal forest
2022
Science of The Total Environment
Vol. 831, pp. 154876 
article
DOI URL 
Shekhar, A., Buchmann, N. and Gharun, M.
How well do recently reconstructed solar-induced fluorescence datasets model gross primary productivity?
2022
Remote Sensing of Environment
Vol. 283, pp. 113282 
article
DOI URL 
Strebel, L., Bogena, H.R., Vereecken, H. and Hendricks Franssen, H.-J.
Coupling the Community Land Model version 5.0 to the parallel data assimilation framework PDAF: description and applications
2022
Geoscientific Model Development
Vol. 15(2), pp. 395-411 
article
DOI URL 
Sungmin, O., Bastos, A., Reichstein, M., Li, W., Denissen, J., Graefen, H. and Orth, R.
The Role of Climate and Vegetation in Regulating Drought-Heat Extremes
2022
Journal of Climate
Vol. 35(17), pp. 5677-5685 
article
DOI  
Sytiuk, A., Céréghino, R., Hamard, S., Delarue, F., Guittet, A., Barel, J.M., Dorrepaal, E., Küttim, M., Lamentowicz, M., Pourrut, B., Robroek, B.J.M., Tuittila, E.-S. and Jassey, V.E.J.
Predicting the structure and functions of peatland microbial communities from Sphagnum phylogeny, anatomical and morphological traits and metabolites
2022
Journal of Ecology
Vol. 110(1), pp. 80-96 
article
DOI URL 
Szatniewska, J., Zavadilova, I., Nezval, O., Krejza, J., Petrik, P., Čater, M. and Stojanović, M.
Species-specific growth and transpiration response to changing environmental conditions in floodplain forest
2022
Forest Ecology and Management
Vol. 516, pp. 120248 
article
DOI URL 
Thompson, R. and Pisso, I.
A Flexible Algorithm for Network Design Based on Information Theory
2022
EGUsphere
Vol. 2022, pp. 1-18 
article
DOI URL 
Thompson, R.L., Groot Zwaaftink, C.D., Brunner, D., Tsuruta, A., Aalto, T., Raivonen, M., Crippa, M., Solazzo, E., Guizzardi, D., Regnier, P. and Maisonnier, M.
Effects of extreme meteorological conditions in 2018 on European methane emissions estimated using atmospheric inversions
2022
Philosophical Transactions of the Royal Society A: Mathematical, Physical and Engineering Sciences
Vol. 380(2215) 
article
DOI  
Van Damme, F., Mertens, H., Heinecke, T., Lefevre, L., De Meulder, T., Portillo-Estrada, M., Roland, M., Gielen, B., Janssens, I.A., Verheyen, K. and Campioli, M.
The Impact of Thinning and Clear Cut on the Ecosystem Carbon Storage of Scots Pine Stands under Maritime Influence in Flanders, Belgium
2022
Forests
Vol. 13(10) 
article
DOI URL 
Varner, R.K., Crill, P.M., Frolking, S., McCalley, C.K., Burke, S.A., Chanton, J.P., Holmes, M.E., null Null, Saleska, S. and Palace, M.W.
Permafrost thaw driven changes in hydrology and vegetation cover increase trace gas emissions and climate forcing in Stordalen Mire from 1970 to 2014
2022
Philosophical Transactions of the Royal Society A: Mathematical, Physical and Engineering Sciences
Vol. 380(2215), pp. 20210022 
article
DOI URL 
Vesala, T., Kohonen, K.-M., Kooijmans, L.M.J., Praplan, A.P., Foltýnová, L., Kolari, P., Kulmala, M., Bäck, J., Nelson, D., Yakir, D., Zahniser, M. and Mammarella, I.
Long-term fluxes of carbonyl sulfide and their seasonality and interannual variability in a boreal forest
2022
Atmospheric Chemistry and Physics
Vol. 22(4), pp. 2569-2584 
article
DOI URL 
Vestin, P., Molder, M., Kljun, N., Cai, Z., Hasan, A., Holst, J., Klemedtsson, L. and Lindroth, A.
Impacts of stump harvesting on carbon dioxide, methane and nitrous oxide fluxes
2022
iForest - Biogeosciences and Forestry(3), pp. 148-162 
article
DOI URL 
Virkkala, A.-M., Natali, S.M., Rogers, B.M., Watts, J.D., Savage, K., Connon, S.J., Mauritz, M., Schuur, E.A.G., Peter, D., Minions, C., Nojeim, J., Commane, R., Emmerton, C.A., Goeckede, M., Helbig, M., Holl, D., Iwata, H., Kobayashi, H., Kolari, P., López-Blanco, E., Marushchak, M.E., Mastepanov, M., Merbold, L., Parmentier, F.-J.W., Peichl, M., Sachs, T., Sonnentag, O., Ueyama, M., Voigt, C., Aurela, M., Boike, J., Celis, G., Chae, N., Christensen, T.R., Bret-Harte, M.S., Dengel, S., Dolman, H., Edgar, C.W., Elberling, B., Euskirchen, E., Grelle, A., Hatakka, J., Humphreys, E., Järveoja, J., Kotani, A., Kutzbach, L., Laurila, T., Lohila, A., Mammarella, I., Matsuura, Y., Meyer, G., Nilsson, M.B., Oberbauer, S.F., Park, S.-J., Petrov, R., Prokushkin, A.S., Schulze, C., St. Louis, V.L., Tuittila, E.-S., Tuovinen, J.-P., Quinton, W., Varlagin, A., Zona, D. and Zyryanov, V.I.
The ABCflux database: Arctic--boreal CO_2 flux observations and ancillary information aggregated to monthly time steps across terrestrial ecosystems
2022
Earth System Science Data
Vol. 14(1), pp. 179-208 
article
DOI URL 
Walther, S., Besnard, S., Nelson, J.A., El-Madany, T.S., Migliavacca, M., Weber, U., Carvalhais, N., Ermida, S.L., Brümmer, C., Schrader, F., Prokushkin, A.S., Panov, A.V. and Jung, M.
Technical note: A view from space on global flux towers by MODIS and Landsat: the FluxnetEO data set
2022
Biogeosciences
Vol. 19(11), pp. 2805-2840 
article
DOI URL 
Wang, Q., Qu, Y., Robinson, K.-L., Bogena, H., Graf, A., Vereecken, H., Tietema, A. and Bol, R.
Deforestation alters dissolved organic carbon and sulfate dynamics in a mountainous headwater catchment—A wavelet analysis
2022
Frontiers in Forests and Global Change
Vol. 5(November), pp. 1-14 
article
DOI  
Wang, Y.-R., Buchmann, N., Hessen, D.O., Stordal, F., Erisman, J.W., Vollsnes, A.V., Andersen, T. and Dolman, H.
Disentangling effects of natural and anthropogenic drivers on forest net ecosystem production
2022
Science of The Total Environment
Vol. 839, pp. 156326 
article
DOI URL 
Wintjen, P., Schrader, F., Schaap, M., Beudert, B., Kranenburg, R. and Brümmer, C.
Forest--atmosphere exchange of reactive nitrogen in a remote region -- Part II: Modeling annual budgets
2022
Biogeosciences
Vol. 19(22), pp. 5287-5311 
article
DOI URL 
van der Woude, A.M., de Kok, R., Smith, N., Luijkx, I.T., Botia, S., Karstens, U., Kooijmans, L.M.J., Koren, G., Meijer, H., Steeneveld, G.-J., Storm, I., Super, I., Scheeren, B.A., Vermeulen, A. and Peters, W.
Near real-time CO_2 fluxes from CarbonTracker Europe for high resolution atmospheric modeling
2022
Earth System Science Data Discussions
Vol. 2022, pp. 1-38 
article
DOI URL 
Yu, X., Orth, R., Reichstein, M., Bahn, M., Klosterhalfen, A., Knohl, A., Koebsch, F., Migliavacca, M., Mund, M., Nelson, J.A., Stocker, B.D., Walther, S. and Bastos, A.
Contrasting drought legacy effects on gross primary productivity in a mixed versus pure beech forest
2022
Biogeosciences
Vol. 19(17), pp. 4315-4329 
article
DOI URL 
Yuan, K., Zhu, Q., Li, F., Riley, W.J., Torn, M., Chu, H., McNicol, G., Chen, M., Knox, S., Delwiche, K., Wu, H., Baldocchi, D., Ma, H., Desai, A.R., Chen, J., Sachs, T., Ueyama, M., Sonnentag, O., Helbig, M., Tuittila, E.-S., Jurasinski, G., Koebsch, F., Campbell, D., Schmid, H.P., Lohila, A., Goeckede, M., Nilsson, M.B., Friborg, T., Jansen, J., Zona, D., Euskirchen, E., Ward, E.J., Bohrer, G., Jin, Z., Liu, L., Iwata, H., Goodrich, J. and Jackson, R.
Causality guided machine learning model on wetland CH4 emissions across global wetlands
2022
Agricultural and Forest Meteorology
Vol. 324, pp. 109115 
article
DOI URL 
Zawilski, B.M.
The soil heat flux sensor functioning checks, imbalances' origins, and forgotten energies
2022
Geoscientific Instrumentation, Methods and Data Systems
Vol. 11(2), pp. 223-234 
article
DOI URL 
Zawilski, B.M.
Wind speed influences corrected Autocalibrated Soil Evapo-respiration Chamber (ASERC) evaporation measures
2022
Geoscientific Instrumentation, Methods and Data Systems
Vol. 11(1), pp. 163-182 
article
DOI URL 
Zenone, T., Vitale, L., Famulari, D. and Magliulo, V.
Application of machine learning techniques to simulate the evaporative fraction and its relationship with environmental variables in corn crops
2022
Ecological Processes
Vol. 11(1), pp. 1-14 
article
DOI URL 
Zhang, W., Yu, G., Chen, Z., Zhu, X., Han, L., Liu, Z., Lin, Y., Han, S., Sha, L., Wang, H., Wang, Y., Yan, J., Zhang, Y. and Gharun, M.
Photosynthetic capacity dominates the interannual variation of annual gross primary productivity in the Northern Hemisphere
2022
Science of The Total Environment
Vol. 849, pp. 157856 
article
DOI URL 
Zhao, J., Lange, H. and Meissner, H.
Estimating Carbon Sink Strength of Norway Spruce Forests Using Machine Learning
2022
Forests
Vol. 13(10) 
article
DOI URL 
Zhao, P., Chi, J., Nilsson, M.B., Löfvenius, M.O., Högberg, P., Jocher, G., Lim, H., Mäkelä, A., Marshall, J., Ratcliffe, J., Tian, X., Näsholm, T., Lundmark, T., Linder, S. and Peichl, M.
Long-term nitrogen addition raises the annual carbon sink of a boreal forest to a new steady-state
2022
Agricultural and Forest Meteorology
Vol. 324, pp. 109112 
article
DOI URL 
Zhu, X., Chen, L., Pumpanen, J., Ojala, A., Zobitz, J., Zhou, X., Laudon, H., Palviainen, M., Neitola, K. and Berninger, F.
The role of terrestrial productivity and hydrology in regulating aquatic dissolved organic carbon concentrations in boreal catchments
2022
Global Change Biology
Vol. 28(8), pp. 2764-2778 
article
DOI URL 
Affolter, S., Schibig, M., Berhanu, T., Bukowiecki, N., Steinbacher, M., Nyfeler, P., Hervo, M., Lauper, J. and Leuenberger, M.
Assessing local CO2 contamination revealed by two near-by high altitude records at Jungfraujoch, Switzerland
2021
Environmental Research Letters
Vol. 16(4), pp. 44037 
article
DOI URL 
Alekseychik, P., Korrensalo, A., Mammarella, I., Launiainen, S., Tuittila, E.-S., Korpela, I. and Vesala, T.
Carbon balance of a Finnish bog: temporal variability and limiting factors based on 6 years of eddy-covariance data
2021
Biogeosciences
Vol. 18(16), pp. 4681-4704 
article
DOI URL 
Aslan, T., Peltola, O., Ibrom, A., Nemitz, E., Rannik, Ü. and Mammarella, I.
The high-frequency response correction of eddy covariance fluxes -- Part 2: An experimental approach for analysing noisy measurements of small fluxes
2021
Atmospheric Measurement Techniques
Vol. 14(7), pp. 5089-5106 
article
DOI URL 
Awada, H., Di Prima, S., Sirca, C., Giadrossich, F., Marras, S., Spano, D. and Pirastru, M.
Daily Actual Evapotranspiration Estimation in a Mediterranean Ecosystem from Landsat Observations Using SEBAL Approach
2021
Forests
Vol. 12(2) 
article
DOI URL 
Badraghi, A., Ventura, M., Polo, A., Borruso, L., Giammarchi, F. and Montagnani, L.
Soil respiration variation along an altitudinal gradient in the Italian Alps: Disentangling forest structure and temperature effects
2021
PLOS ONE
Vol. 16(8), pp. e0247893 
article
URL 
Bai, Y., Zhang, S., Zhang, J., Wang, J., Yang, S., Magliulo, V., Vitale, L. and Zhao, Y.
Using remote sensing information to enhance the understanding of the coupling of terrestrial ecosystem evapotranspiration and photosynthesis on a global scale
2021
International Journal of Applied Earth Observation and Geoinformation
Vol. 100, pp. 102329 
article
DOI URL 
Bassiouni, M. and Vico, G.
Parsimony vs predictive and functional performance of three stomatal optimization principles in a big-leaf framework
2021
New Phytologist
Vol. 231(2), pp. 586-600 
article
DOI URL 
Bates, J.S., Montzka, C., Schmidt, M. and Jonard, F.
Estimating Canopy Density Parameters Time-Series for Winter Wheat Using UAS Mounted LiDAR
2021
Remote Sensing
Vol. 13(4) 
article
DOI URL 
Becker, M., Olsen, A. and Reverdin, G.
In-air one-point calibration of oxygen optodes in underway systems
2021
Limnology and Oceanography: Methods
Vol. 19(5), pp. 293-302 
article
DOI URL 
Bengtsson, F., Rydin, H., Baltzer, J.L., Bragazza, L., Bu, Z.-J., Caporn, S.J.M., Dorrepaal, E., Flatberg, K.I., Galanina, O., Gałka, M., Ganeva, A., Goia, I., Goncharova, N., Hájek, M., Haraguchi, A., Harris, L.I., Humphreys, E., Jiroušek, M., Kajukało, K., Karofeld, E., Koronatova, N.G., Kosykh, N.P., Laine, A.M., Lamentowicz, M., Lapshina, E., Limpens, J., Linkosalmi, M., Ma, J.-Z., Mauritz, M., Mitchell, E.A.D., Munir, T.M., Natali, S.M., Natcheva, R., Payne, R.J., Philippov, D.A., Rice, S.K., Robinson, S., Robroek, B.J.M., Rochefort, L., Singer, D., Stenøien, H.K., Tuittila, E.-S., Vellak, K., Waddington, J.M. and Granath, G.
Environmental drivers of Sphagnum growth in peatlands across the Holarctic region
2021
Journal of Ecology
Vol. 109(1), pp. 417-431 
article
DOI URL 
Boas, T., Bogena, H., Grünwald, T., Heinesch, B., Ryu, D., Schmidt, M., Vereecken, H., Western, A. and Franssen, H.J.H.
Improving the representation of cropland sites in the Community Land Model (CLM) version 5.0
2021
Geoscientific Model Development
Vol. 14(1), pp. 573-601 
article
DOI  
Brovkina, O., Hanuš, J. and Novotný, J.
Airborne remote sensing for forest inventory attributes assessment: experience of Flying Laboratory of Imaging Systems (FLIS) in the Czech Republic
2021
IOP Conference Series: Earth and Environmental Science
Vol. 806(1), pp. 12005 
article
DOI URL 
Brunner, C., Brem, B.T., Collaud Coen, M., Conen, F., Hervo, M., Henne, S., Steinbacher, M., Gysel-Beer, M. and Kanji, Z.A.
The contribution of Saharan dust to the ice-nucleating particle concentrations at the High Altitude Station Jungfraujoch (3580,m,a.s.l.), Switzerland
2021
Atmospheric Chemistry and Physics
Vol. 21(23), pp. 18029-18053 
article
DOI URL 
Bukowiecki, N., Brem, B.T., Wehrle, G., Močnik, G., Affolter, S., Leuenberger, M., Coen, M.C., Hervo, M., Baltensperger, U. and Gysel-Beer, M.
Elucidating local pollution and site representativeness at the Jungfraujoch, Switzerland through parallel aerosol measurements at an adjacent mountain ridge
2021
Environmental Research Communications
Vol. 3(2), pp. 21001 
article
DOI URL 
Cael, B.B., Bisson, K., Conte, M., Duret, M.T., Follett, C.L., Henson, S.A., Honda, M.C., Iversen, M.H., Karl, D.M., Lampitt, R.S., Mouw, C.B., Muller-Karger, F., Pebody, C.A., Smith Jr., K.L. and Talmy, D.
Open Ocean Particle Flux Variability From Surface to Seafloor
2021
Geophysical Research Letters
Vol. 48(9), pp. e2021GL092895 
article
DOI URL 
Cai, Z., Junttila, S., Holst, J., Jin, H., Ardö, J., Ibrom, A., Peichl, M., Mölder, M., Jönsson, P., Rinne, J., Karamihalaki, M. and Eklundh, L.
Modelling Daily Gross Primary Productivity with Sentinel-2 Data in the Nordic Region–Comparison with Data from MODIS
2021
Remote Sensing
Vol. 13(3), pp. 469 
article
DOI URL 
Campeau, A., Vachon, D., Bishop, K., Nilsson, M.B. and Wallin, M.B.
Autumn destabilization of deep porewater CO2 store in a northern peatland driven by turbulent diffusion
2021
Nature Communications
Vol. 12(1), pp. 6857 
article
DOI URL 
Chan, S.S., Seidenfaden, I.K., Jensen, K.H. and Sonnenborg, T.O.
Climate change impacts and uncertainty on spatiotemporal variations of drought indices for an irrigated catchment
2021
Journal of Hydrology
Vol. 601, pp. 126814 
article
DOI URL 
Chang, K.-Y., Riley, W.J., Knox, S.H., Jackson, R.B., McNicol, G., Poulter, B., Aurela, M., Baldocchi, D., Bansal, S., Bohrer, G., Campbell, D.I., Cescatti, A., Chu, H., Delwiche, K.B., Desai, A.R., Euskirchen, E., Friborg, T., Goeckede, M., Helbig, M., Hemes, K.S., Hirano, T., Iwata, H., Kang, M., Keenan, T., Krauss, K.W., Lohila, A., Mammarella, I., Mitra, B., Miyata, A., Nilsson, M.B., Noormets, A., Oechel, W.C., Papale, D., Peichl, M., Reba, M.L., Rinne, J., Runkle, B.R.K., Ryu, Y., Sachs, T., Schäfer, K.V.R., Schmid, H.P., Shurpali, N., Sonnentag, O., Tang, A.C.I., Torn, M.S., Trotta, C., Tuittila, E.-S., Ueyama, M., Vargas, R., Vesala, T., Windham-Myers, L., Zhang, Z. and Zona, D.
Substantial hysteresis in emergent temperature sensitivity of global wetland CH4 emissions
2021
Nature Communications
Vol. 12(1), pp. 2266 
article
DOI URL 
Choler, P., Bayle, A., Carlson, B.Z., Randin, C., Filippa, G. and Cremonese, E.
The tempo of greening in the European Alps: Spatial variations on a common theme
2021
Global Change Biology
Vol. 27(21), pp. 5614-5628 
article
DOI URL 
Christensen, T.R.
Arctic Permafrost and Ecosystem Functioning
2021
Arctic Ecology, pp. 81-101 
misc
DOI URL 
Conte, A., Otu-Larbi, F., Alivernini, A., Hoshika, Y., Paoletti, E., Ashworth, K. and Fares, S.
Exploring new strategies for ozone-risk assessment: A dynamic-threshold case study
2021
Environmental Pollution
Vol. 287, pp. 117620 
article
DOI URL 
Crill, P., Wik, M. and Jansen, J.
Temperatures in subarctic lakes on the Stordalen Mire, Abisko, Northern Sweden
2021
 
misc
DOI URL 
Cristofanelli, P., Arduni, J., Serva, F., Calzolari, F., Bonasoni, P., Busetto, M., Maione, M., Sprenger, M., Trisolino, P. and Putero, D.
Negative ozone anomalies at a high mountain site in northern Italy during 2020: a possible role of COVID-19 lockdowns?
2021
Environmental Research Letters
Vol. 16(7), pp. 74029 
article
DOI URL 
Cristofanelli, P., Gutiérrez, I., Adame, J.A., Bonasoni, P., Busetto, M., Calzolari, F., Putero, D. and Roccato, F.
Interannual and seasonal variability of NOx observed at the Mt. Cimone GAW/WMO global station (2165 m a.s.l., Italy)
2021
Atmospheric Environment
Vol. 249, pp. 118245 
article
DOI URL 
Curbelo-Hernández, D., González-Dávila, M., González, A.G., González-Santana, D. and Santana-Casiano, J.M.
CO2 fluxes in the Northeast Atlantic Ocean based on measurements from a surface ocean observation platform
2021
Science of The Total Environment
Vol. 775, pp. 145804 
article
DOI URL 
Curbelo-Hernández, D., Santana-Casiano, J.M., González, A.G. and González-Dávila, M.
Air-Sea CO2 Exchange in the Strait of Gibraltar
2021
Frontiers in Marine Science
Vol. 8 
article
DOI URL 
Dare-Idowu, O., Jarlan, L., Le-Dantec, V., Rivalland, V., Ceschia, E., Boone, A. and Brut, A.
Hydrological Functioning of Maize Crops in Southwest France Using Eddy Covariance Measurements and a Land Surface Model
2021

Vol. 13(11)Water 
misc
DOI  
Darenova, E., Kadavý, J., Knott, R., Kokrda, L. and Novotný, J.
Effect of tree harvest, silvopastoral practices, and microclimate conditions on forest floor CO2 efflux in a sessile oak (Quercus petraea agg. [Matt.] Liebl.) forest
2021
Annals of Forest Science
Vol. 78(3), pp. 80 
article
DOI URL 
Delwiche, K.B., Knox, S.H., Malhotra, A., Fluet-Chouinard, E., McNicol, G., Feron, S., Ouyang, Z., Papale, D., Trotta, C., Canfora, E., Cheah, Y.-W., Christianson, D., Alberto, M.C.R., Alekseychik, P., Aurela, M., Baldocchi, D., Bansal, S., Billesbach, D.P., Bohrer, G., Bracho, R., Buchmann, N., Campbell, D.I., Celis, G., Chen, J., Chen, W., Chu, H., Dalmagro, H.J., Dengel, S., Desai, A.R., Detto, M., Dolman, H., Eichelmann, E., Euskirchen, E., Famulari, D., Fuchs, K., Goeckede, M., Gogo, S., Gondwe, M.J., Goodrich, J.P., Gottschalk, P., Graham, S.L., Heimann, M., Helbig, M., Helfter, C., Hemes, K.S., Hirano, T., Hollinger, D., Hörtnagl, L., Iwata, H., Jacotot, A., Jurasinski, G., Kang, M., Kasak, K., King, J., Klatt, J., Koebsch, F., Krauss, K.W., Lai, D.Y.F., Lohila, A., Mammarella, I., Belelli Marchesini, L., Manca, G., Matthes, J.H., Maximov, T., Merbold, L., Mitra, B., Morin, T.H., Nemitz, E., Nilsson, M.B., Niu, S., Oechel, W.C., Oikawa, P.Y., Ono, K., Peichl, M., Peltola, O., Reba, M.L., Richardson, A.D., Riley, W., Runkle, B.R.K., Ryu, Y., Sachs, T., Sakabe, A., Sanchez, C.R., Schuur, E.A., Schäfer, K.V.R., Sonnentag, O., Sparks, J.P., Stuart-Haëntjens, E., Sturtevant, C., Sullivan, R.C., Szutu, D.J., Thom, J.E., Torn, M.S., Tuittila, E.-S., Turner, J., Ueyama, M., Valach, A.C., Vargas, R., Varlagin, A., Vazquez-Lule, A., Verfaillie, J.G., Vesala, T., Vourlitis, G.L., Ward, E.J., Wille, C., Wohlfahrt, G., Wong, G.X., Zhang, Z., Zona, D., Windham-Myers, L., Poulter, B. and Jackson, R.B.
FLUXNET-CH_4: a global, multi-ecosystem dataset and analysis of methane seasonality from freshwater wetlands
2021
Earth System Science Data
Vol. 13(7), pp. 3607-3689 
article
DOI URL 
Demol, M., Calders, K., Krishna Moorthy, S.M., Van den Bulcke, J., Verbeeck, H. and Gielen, B.
Consequences of vertical basic wood density variation on the estimation of aboveground biomass with terrestrial laser scanning
2021
Trees
Vol. 35(2), pp. 671-684 
article
DOI URL 
Demol, M., Calders, K., Verbeeck, H. and Gielen, B.
Forest above-ground volume assessments with terrestrial laser scanning: a ground-truth validation experiment in temperate, managed forests
2021
Annals of Botany
Vol. 128(6), pp. 805-819 
article
DOI URL 
Dimitriou, K., Bougiatioti, A., Ramonet, M., Pierros, F., Michalopoulos, P., Liakakou, E., Solomos, S., Quehe, P.-Y., Delmotte, M., Gerasopoulos, E., Kanakidou, M. and Mihalopoulos, N.
Greenhouse gases (CO2 and CH4) at an urban background site in Athens, Greece: Levels, sources and impact of atmospheric circulation
2021
Atmospheric Environment
Vol. 253, pp. 118372 
article
DOI URL 
Dogniaux, M., Crevoisier, C., Armante, R., Capelle, V., Delahaye, T., Cassé, V., De Mazière, M., Deutscher, N.M., Feist, D.G., Garcia, O.E., Griffith, D.W.T., Hase, F., Iraci, L.T., Kivi, R., Morino, I., Notholt, J., Pollard, D.F., Roehl, C.M., Shiomi, K., Strong, K., Té, Y., Velazco, V.A. and Warneke, T.
The Adaptable 4A Inversion (5AI): description and first X_CO_2 retrievals from Orbiting Carbon Observatory-2 (OCO-2) observations
2021
Atmospheric Measurement Techniques
Vol. 14(6), pp. 4689-4706 
article
DOI URL 
Dombrowski, O., Hendricks Franssen, H.-J., Brogi, C. and Bogena, H.R.
Performance of the ATMOS41 All-in-One Weather Station for Weather Monitoring
2021
Sensors
Vol. 21(3) 
article
DOI URL 
Dorigo, W., Himmelbauer, I., Aberer, D., Schremmer, L., Petrakovic, I., Zappa, L., Preimesberger, W., Xaver, A., Annor, F., Ardö, J., Baldocchi, D., Bitelli, M., Blöschl, G., Bogena, H., Brocca, L., Calvet, J.-C., Camarero, J.J., Capello, G., Choi, M., Cosh, M.C., van de Giesen, N., Hajdu, I., Ikonen, J., Jensen, K.H., Kanniah, K.D., de Kat, I., Kirchengast, G., Kumar Rai, P., Kyrouac, J., Larson, K., Liu, S., Loew, A., Moghaddam, M., Mart\inez Fernández, J., Mattar Bader, C., Morbidelli, R., Musial, J.P., Osenga, E., Palecki, M.A., Pellarin, T., Petropoulos, G.P., Pfeil, I., Powers, J., Robock, A., Rüdiger, C., Rummel, U., Strobel, M., Su, Z., Sullivan, R., Tagesson, T., Varlagin, A., Vreugdenhil, M., Walker, J., Wen, J., Wenger, F., Wigneron, J.P., Woods, M., Yang, K., Zeng, Y., Zhang, X., Zreda, M., Dietrich, S., Gruber, A., van Oevelen, P., Wagner, W., Scipal, K., Drusch, M. and Sabia, R.
The International Soil Moisture Network: serving Earth system science for over a decade
2021
Hydrology and Earth System Sciences
Vol. 25(11), pp. 5749-5804 
article
DOI URL 
Doro, L., Wang, X., Ammann, C., De Antoni Migliorati, M., Grünwald, T., Klumpp, K., Loubet, B., Pattey, E., Wohlfahrt, G., Williams, J.R. and Norfleet, M.L.
Improving the simulation of soil temperature within the EPIC model
2021
Environmental Modelling & Software
Vol. 144, pp. 105140 
article
DOI URL 
Dumortier, P., Gourlez de la Motte, L., Andriamandroso, A.L.H., Aubinet, M., Beckers, Y., Bindelle, J., De Cock, N., Lebeau, F. and Heinesch, B.
Beef cattle methane emission estimation using the eddy covariance technique in combination with geolocation
2021
Agricultural and Forest Meteorology
Vol. 297, pp. 108249 
article
DOI URL 
Dušek, J., Nguyen, V.X., Le, T.X. and Pavelka, M.
Methane and carbon dioxide emissions from different ecosystems at the end of dry period in South Vietnam
2021
Tropical Ecology
Vol. 62(1), pp. 1-16 
article
DOI URL 
Dyukarev, E., Zarov, E., Alekseychik, P., Nijp, J., Filippova, N., Mammarella, I., Filippov, I., Bleuten, W., Khoroshavin, V., Ganasevich, G., Meshcheryakova, A., Vesala, T. and Lapshina, E.
The Multiscale Monitoring of Peatland Ecosystem Carbon Cycling in the Middle Taiga Zone of Western Siberia: The Mukhrino Bog Case Study
2021
Land
Vol. 10(8) 
article
DOI URL 
Emerson, J.B., Varner, R.K., Wik, M., Parks, D.H., Neumann, R.B., Johnson, J.E., Singleton, C.M., Woodcroft, B.J., Tollerson, R., Owusu-Dommey, A., Binder, M., Freitas, N.L., Crill, P.M., Saleska, S.R., Tyson, G.W. and Rich, V.I.
Diverse sediment microbiota shape methane emission temperature sensitivity in Arctic lakes
2021
Nature Communications
Vol. 12(1), pp. 5815 
article
DOI URL 
Emmerichs, T., Kerkweg, A., Ouwersloot, H., Fares, S., Mammarella, I. and Taraborrelli, D.
A revised dry deposition scheme for land--atmosphere exchange of trace gases in ECHAM/MESSy v2.54
2021
Geoscientific Model Development
Vol. 14(1), pp. 495-519 
article
DOI URL 
Ferrara, R.M., Carozzi, M., Decuq, C., Loubet, B., Finco, A., Marzuoli, R., Gerosa, G., Di Tommasi, P., Magliulo, V. and Rana, G.
Ammonia, nitrous oxide, carbon dioxide, and water vapor fluxes after green manuring of faba bean under Mediterranean climate
2021
Agriculture, Ecosystems & Environment
Vol. 315, pp. 107439 
article
DOI URL 
Fischer, G., Romero, O.E., Karstensen, J., Baumann, K.-H., Moradi, N., Iversen, M., Ruhland, G., Klann, M. and Körtzinger, A.
Seasonal flux patterns and carbon transport from low-oxygen eddies at the Cape Verde Ocean Observatory: lessons learned from a time series sediment trap study (2009--2016)
2021
Biogeosciences
Vol. 18(24), pp. 6479-6500 
article
DOI URL 
Fodor, N., Pásztor, L., Szabó, B., Laborczi, A., Pokovai, K., Hidy, D., Hollós, R., Kristóf, E., Kis, A., Dobor, L., Kern, A., Grünwald, T. and Barcza, Z.
Input database related uncertainty of Biome-BGCMuSo agro-environmental model outputs
2021
International Journal of Digital Earth
Vol. 14(11), pp. 1582-1601 
article
DOI URL 
Foken, T., Babel, W., Munger, J.W., Grönholm, T., Vesala, T. and Knohl, A.
Selected breakpoints of net forest carbon uptake at four eddy-covariance sites
2021
Tellus, Series B: Chemical and Physical Meteorology
Vol. 73(1), pp. 1-12 
article
DOI URL 
Friedlingstein, P., Jones, M.W., O'Sullivan, M., Andrew, R.M., Bakker, D.C.E., Hauck, J., Le Quéré, C., Peters, G.P., Peters, W., Pongratz, J., Sitch, S., Canadell, J.G., Ciais, P., Jackson, R.B., Alin, S.R., Anthoni, P., Bates, N.R., Becker, M., Bellouin, N., Bopp, L., Chau, T.T.T., Chevallier, F., Chini, L.P., Cronin, M., Currie, K.I., Decharme, B., Djeutchouang, L., Dou, X., Evans, W., Feely, R.A., Feng, L., Gasser, T., Gilfillan, D., Gkritzalis, T., Grassi, G., Gregor, L., Gruber, N., Gürses, Ö., Harris, I., Houghton, R.A., Hurtt, G.C., Iida, Y., Ilyina, T., Luijkx, I.T., Jain, A.K., Jones, S.D., Kato, E., Kennedy, D., Klein Goldewijk, K., Knauer, J., Korsbakken, J.I., Körtzinger, A., Landschützer, P., Lauvset, S.K., Lefèvre, N., Lienert, S., Liu, J., Marland, G., McGuire, P.C., Melton, J.R., Munro, D.R., Nabel, J.E.M.S., Nakaoka, S.-I., Niwa, Y., Ono, T., Pierrot, D., Poulter, B., Rehder, G., Resplandy, L., Robertson, E., Rödenbeck, C., Rosan, T.M., Schwinger, J., Schwingshackl, C., Séférian, R., Sutton, A.J., Sweeney, C., Tanhua, T., Tans, P.P., Tian, H., Tilbrook, B., Tubiello, F., van der Werf, G., Vuichard, N., Wada, C., Wanninkhof, R., Watson, A., Willis, D., Wiltshire, A.J., Yuan, W., Yue, C., Yue, X., Zaehle, S. and Zeng, J.
Global Carbon Budget 2021
2021
Earth System Science Data Discussions
Vol. 2021, pp. 1-191 
article
DOI URL 
Gałkowski, M., Jordan, A., Rothe, M., Marshall, J., Koch, F.-T., Chen, J., Agusti-Panareda, A., Fix, A. and Gerbig, C.
In situ observations of greenhouse gases over Europe during the CoMet 1.0 campaign aboard the HALO aircraft
2021
Atmospheric Measurement Techniques
Vol. 14(2), pp. 1525-1544 
article
DOI URL 
George, J.-P., Yang, W., Kobayashi, H., Biermann, T., Carrara, A., Cremonese, E., Cuntz, M., Fares, S., Gerosa, G., Grünwald, T., Hase, N., Heliasz, M., Ibrom, A., Knohl, A., Kruijt, B., Lange, H., Limousin, J.-M., Loustau, D., Lukeš, P., Marzuoli, R., Mölder, M., Montagnani, L., Neirynck, J., Peichl, M., Rebmann, C., Schmidt, M., Serrano, F.R.L., Soudani, K., Vincke, C. and Pisek, J.
Method comparison of indirect assessments of understory leaf area index (LAIu): A case study across the extended network of ICOS forest ecosystem sites in Europe
2021
Ecological Indicators
Vol. 128, pp. 107841 
article
DOI URL 
Gharun, M., Klesse, S., Tomlinson, G., Waldner, P., Stocker, B., Rihm, B., Siegwolf, R. and Buchmann, N.
Effect of nitrogen deposition on centennial forest water-use efficiency
2021
Environmental Research Letters
Vol. 16(11), pp. 114036 
article
DOI URL 
Gomez, L.G., Loubet, B., Lafouge, F., Ciuraru, R., Bsaibes, S., Kammer, J., Buysse, P., Durand, B., Gueudet, J.-C., Fanucci, O., Zurfluh, O., Decuq, C., Truong, F., Gros, V. and Boissard, C.
Effect of senescence on biogenic volatile organic compound fluxes in wheat plants
2021
Atmospheric Environment
Vol. 266, pp. 118665 
article
DOI URL 
Grönholm, T., Mäkelä, T., Hatakka, J., Jalkanen, J.-P., Kuula, J., Laurila, T., Laakso, L. and Kukkonen, J.
Evaluation of Methane Emissions Originating from LNG Ships Based on the Measurements at a Remote Marine Station
2021
Environmental Science & Technology
Vol. 55(20), pp. 13677-13686 
article
DOI URL 
Groß-Schmölders, M., Klein, K., Birkholz, A., Leifeld, J. and Alewell, C.
Rewetting and Drainage of Nutrient-Poor Peatlands Indicated by Specific Bacterial Membrane Fatty Acids and a Repeated Sampling of Stable Isotopes (δ15N, δ13C)
2021
Frontiers in Environmental Science
Vol. 9 
article
DOI URL 
Gu, C., Tang, Q., Zhu, G., Ma, J., Gu, C., Zhang, K., Sun, S., Yu, Q. and Niu, S.
Discrepant responses between evapotranspiration- and transpiration-based ecosystem water use efficiency to interannual precipitation fluctuations
2021
Agricultural and Forest Meteorology
Vol. 303, pp. 108385 
article
DOI URL 
Guseva, S., Aurela, M., Cortés, A., Kivi, R., Lotsari, E., MacIntyre, S., Mammarella, I., Ojala, A., Stepanenko, V., Uotila, P., Vähä, A., Vesala, T., Wallin, M.B. and Lorke, A.
Variable Physical Drivers of Near-Surface Turbulence in a Regulated River
2021
Water Resources Research
Vol. 57(11), pp. e2020WR027939 
article
DOI URL 
Gutiérrez-Loza, L., Wallin, M.B., Sahlée, E., Holding, T., Shutler, J.D., Rehder, G. and Rutgersson, A.
Air–sea CO2 exchange in the Baltic Sea—A sensitivity analysis of the gas transfer velocity
2021
Journal of Marine Systems
Vol. 222, pp. 103603 
article
DOI URL 
Haesen, S., Lembrechts, J.J., De Frenne, P., Lenoir, J., Aalto, J., Ashcroft, M.B., Kopecký, M., Luoto, M., Maclean, I., Nijs, I., Niittynen, P., van den Hoogen, J., Arriga, N., Brůna, J., Buchmann, N., Čiliak, M., Collalti, A., De Lombaerde, E., Descombes, P., Gharun, M., Goded, I., Govaert, S., Greiser, C., Grelle, A., Gruening, C., Hederová, L., Hylander, K., Kreyling, J., Kruijt, B., Macek, M., Máliš, F., Man, M., Manca, G., Matula, R., Meeussen, C., Merinero, S., Minerbi, S., Montagnani, L., Muffler, L., Ogaya, R., Penuelas, J., Plichta, R., Portillo-Estrada, M., Schmeddes, J., Shekhar, A., Spicher, F., Ujházyová, M., Vangansbeke, P., Weigel, R., Wild, J., Zellweger, F. and Van Meerbeek, K.
ForestTemp – Sub-canopy microclimate temperatures of European forests
2021
Global Change Biology
Vol. 27(23), pp. 6307-6319 
article
DOI URL 
Hamard, S., Céréghino, R., Barret, M., Sytiuk, A., Lara, E., Dorrepaal, E., Kardol, P., Küttim, M., Lamentowicz, M., Leflaive, J., Le Roux, G., Tuittila, E.-S. and Jassey, V.E.J.
Contribution of microbial photosynthesis to peatland carbon uptake along a latitudinal gradient
2021
Journal of Ecology
Vol. 109(9), pp. 3424-3441 
article
DOI URL 
Han, Q., Wang, T., Wang, L., Smettem, K., Mai, M. and Chen, X.
Comparison of Nighttime With Daytime Evapotranspiration Responses to Environmental Controls Across Temporal Scales Along a Climate Gradient
2021
Water Resources Research
Vol. 57(7), pp. e2021WR029638 
article
DOI URL 
Harper, A.B., Williams, K.E., McGuire, P.C., Duran Rojas, M.C., Hemming, D., Verhoef, A., Huntingford, C., Rowland, L., Marthews, T., Breder Eller, C., Mathison, C., Nobrega, R.L.B., Gedney, N., Vidale, P.L., Otu-Larbi, F., Pandey, D., Garrigues, S., Wright, A., Slevin, D., De Kauwe, M.G., Blyth, E., Ardö, J., Black, A., Bonal, D., Buchmann, N., Burban, B., Fuchs, K., de Grandcourt, A., Mammarella, I., Merbold, L., Montagnani, L., Nouvellon, Y., Restrepo-Coupe, N. and Wohlfahrt, G.
Improvement of modeling plant responses to low soil moisture in JULESvn4.9 and evaluation against flux tower measurements
2021
Geoscientific Model Development
Vol. 14(6), pp. 3269-3294 
article
DOI URL 
Hartman, S.E., Bett, B.J., Durden, J.M., Henson, S.A., Iversen, M., Jeffreys, R.M., Horton, T., Lampitt, R. and Gates, A.R.
Enduring science: Three decades of observing the Northeast Atlantic from the Porcupine Abyssal Plain Sustained Observatory (PAP-SO)
2021
Progress in Oceanography
Vol. 191 
article
DOI  
Haszpra, L. and Prácser, E.
Uncertainty of hourly-average concentration values derived from non-continuous measurements
2021
Atmospheric Measurement Techniques
Vol. 14(5), pp. 3561-3571 
article
DOI URL 
He, Q., Ju, W., Dai, S., He, W., Song, L., Wang, S., Li, X. and Mao, G.
Drought Risk of Global Terrestrial Gross Primary Productivity Over the Last 40 Years Detected by a Remote Sensing-Driven Process Model
2021
Journal of Geophysical Research: Biogeosciences
Vol. 126(6), pp. e2020JG005944 
article
DOI URL 
Heiskanen, J., Brümmer, C., Buchmann, N., Calfapietra, C., Chen, H., Gielen, B., Gkritzalis, T., Hammer, S., Hartman, S., Herbst, M., Janssens, I.A., Jordan, A., Juurola, E., Karstens, U., Kasurinen, V., Kruijt, B., Lankreijer, H., Levin, I., Linderson, M.-L., Loustau, D., Merbold, L., Myhre, C.L., Papale, D., Pavelka, M., Pilegaard, K., Ramonet, M., Rebmann, C., Rinne, J., Rivier, L., Saltikoff, E., Sanders, R., Steinbacher, M., Steinhoff, T., Watson, A., Vermeulen, A.T., Vesala, T., Vítková, G. and Kutsch, W.
The Integrated Carbon Observation System in Europe
2021
Bulletin of the American Meteorological Society, pp. 1-54 
article
DOI URL 
Heiskanen, L., Tuovinen, J.-P., Räsänen, A., Virtanen, T., Juutinen, S., Lohila, A., Penttilä, T., Linkosalmi, M., Mikola, J., Laurila, T. and Aurela, M.
Carbon dioxide and methane exchange of a patterned subarctic fen during two contrasting growing seasons
2021
Biogeosciences
Vol. 18(3), pp. 873-896 
article
DOI URL 
Helbig, M., Gerken, T., Beamesderfer, E.R., Baldocchi, D.D., Banerjee, T., Biraud, S.C., Brown, W.O.J., Brunsell, N.A., Burakowski, E.A., Burns, S.P., Butterworth, B.J., Chan, W.S., Davis, K.J., Desai, A.R., Fuentes, J.D., Hollinger, D.Y., Kljun, N., Mauder, M., Novick, K.A., Perkins, J.M., Rahn, D.A., Rey-Sanchez, C., Santanello, J.A., Scott, R.L., Seyednasrollah, B., Stoy, P.C., Sullivan, R.C., de Arellano, J.V.-G., Wharton, S., Yi, C. and Richardson, A.D.
Integrating continuous atmospheric boundary layer and tower-based flux measurements to advance understanding of land-atmosphere interactions
2021
Agricultural and Forest Meteorology
Vol. 307, pp. 108509 
article
DOI URL 
Hermanns, F., Pohl, F., Rebmann, C., Schulz, G., Werban, U. and Lausch, A.
Inferring Grassland Drought Stress with Unsupervised Learning from Airborne Hyperspectral VNIR Imagery
2021

Vol. 13(10)Remote Sensing 
misc
DOI  
Holik, L., Vranova, V., Foltynova, L. and Acosta, M.
Forest soil properties under elevated CO2: A five-year experiment
2021
European Journal of Soil Biology
Vol. 106, pp. 103346 
article
DOI URL 
Holtmann, A., Huth, A., Pohl, F., Rebmann, C. and Fischer, R.
Carbon Sequestration in Mixed Deciduous Forests: The Influence of Tree Size and Species Composition Derived from Model Experiments
2021

Vol. 12(6)Forests 
misc
DOI  
Hrachowitz, M., Stockinger, M., Coenders-Gerrits, M., van der Ent, R., Bogena, H., Lücke, A. and Stumpp, C.
Reduction of vegetation-accessible water storage capacity after deforestation affects catchment travel time distributions and increases young water fractions in a headwater catchment
2021
Hydrology and Earth System Sciences
Vol. 25(9), pp. 4887-4915 
article
DOI URL 
Huber, R., D'Onofrio, C., Devaraju, A., Klump, J., Loescher, H.W., Kindermann, S., Guru, S., Grant, M., Morris, B., Wyborn, L., Evans, B., Goldfarb, D., Genazzio, M.A., Ren, X., Magagna, B., Thiemann, H. and Stocker, M.
Integrating data and analysis technologies within leading environmental research infrastructures: Challenges and approaches
2021
Ecological Informatics
Vol. 61, pp. 101245 
article
DOI URL 
Irvin, J., Zhou, S., McNicol, G., Lu, F., Liu, V., Fluet-Chouinard, E., Ouyang, Z., Knox, S.H., Lucas-Moffat, A., Trotta, C., Papale, D., Vitale, D., Mammarella, I., Alekseychik, P., Aurela, M., Avati, A., Baldocchi, D., Bansal, S., Bohrer, G., Campbell, D.I., Chen, J., Chu, H., Dalmagro, H.J., Delwiche, K.B., Desai, A.R., Euskirchen, E., Feron, S., Goeckede, M., Heimann, M., Helbig, M., Helfter, C., Hemes, K.S., Hirano, T., Iwata, H., Jurasinski, G., Kalhori, A., Kondrich, A., Lai, D.Y.F., Lohila, A., Malhotra, A., Merbold, L., Mitra, B., Ng, A., Nilsson, M.B., Noormets, A., Peichl, M., Rey-Sanchez, A.C., Richardson, A.D., Runkle, B.R.K., Schäfer, K.V.R., Sonnentag, O., Stuart-Haëntjens, E., Sturtevant, C., Ueyama, M., Valach, A.C., Vargas, R., Vourlitis, G.L., Ward, E.J., Wong, G.X., Zona, D., Alberto, M.C.R., Billesbach, D.P., Celis, G., Dolman, H., Friborg, T., Fuchs, K., Gogo, S., Gondwe, M.J., Goodrich, J.P., Gottschalk, P., Hörtnagl, L., Jacotot, A., Koebsch, F., Kasak, K., Maier, R., Morin, T.H., Nemitz, E., Oechel, W.C., Oikawa, P.Y., Ono, K., Sachs, T., Sakabe, A., Schuur, E.A., Shortt, R., Sullivan, R.C., Szutu, D.J., Tuittila, E.-S., Varlagin, A., Verfaillie, J.G., Wille, C., Windham-Myers, L., Poulter, B. and Jackson, R.B.
Gap-filling eddy covariance methane fluxes: Comparison of machine learning model predictions and uncertainties at FLUXNET-CH4 wetlands
2021
Agricultural and Forest Meteorology
Vol. 308-309, pp. 108528 
article
DOI URL 
Jackson, T.D., Sethi, S., Dellwik, E., Angelou, N., Bunce, A., van Emmerik, T., Duperat, M., Ruel, J.-C., Wellpott, A., Van Bloem, S., Achim, A., Kane, B., Ciruzzi, D.M., Loheide II, S.P., James, K., Burcham, D., Moore, J., Schindler, D., Kolbe, S., Wiegmann, K., Rudnicki, M., Lieffers, V.J., Selker, J., Gougherty, A.V., Newson, T., Koeser, A., Miesbauer, J., Samelson, R., Wagner, J., Ambrose, A.R., Detter, A., Rust, S., Coomes, D. and Gardiner, B.
The motion of trees in the wind: a data synthesis
2021
Biogeosciences
Vol. 18(13), pp. 4059-4072 
article
DOI URL 
Jacobs, E., Bittig, H.C., Gräwe, U., Graves, C.A., Glockzin, M., Müller, J.D., Schneider, B. and Rehder, G.
Upwelling-induced trace gas dynamics in the Baltic Sea inferred from 8∼years of autonomous measurements on a ship of opportunity
2021
Biogeosciences
Vol. 18(8), pp. 2679-2709 
article
DOI URL 
Johnston, A.S.A., Meade, A., Ardö, J., Arriga, N., Black, A., Blanken, P.D., Bonal, D., Brümmer, C., Cescatti, A., Dušek, J., Graf, A., Gioli, B., Goded, I., Gough, C.M., Ikawa, H., Jassal, R., Kobayashi, H., Magliulo, V., Manca, G., Montagnani, L., Moyano, F.E., Olesen, J.E., Sachs, T., Shao, C., Tagesson, T., Wohlfahrt, G., Wolf, S., Woodgate, W., Varlagin, A. and Venditti, C.
Temperature thresholds of ecosystem respiration at a global scale
2021
Nature Ecology & Evolution
Vol. 5(4), pp. 487-494 
article
DOI URL 
Junttila, S., Kelly, J., Kljun, N., Aurela, M., Klemedtsson, L., Lohila, A., Nilsson, M., Rinne, J., Tuittila, E.-S., Vestin, P., Weslien, P. and Eklundh, L.
Upscaling Northern Peatland CO2 Fluxes Using Satellite Remote Sensing Data
2021
Remote Sensing
Vol. 13(4), pp. 818 
article
DOI URL 
Jurečka, F., Fischer, M., Hlavinka, P., Balek, J., Semerádová, D., Bláhová, M., Anderson, M.C., Hain, C., Žalud, Z. and Trnka, M.
Potential of water balance and remote sensing-based evapotranspiration models to predict yields of spring barley and winter wheat in the Czech Republic
2021
Agricultural Water Management
Vol. 256, pp. 107064 
article
DOI URL 
Keane, J.B., Toet, S., Ineson, P., Weslien, P., Stockdale, J.E. and Klemedtsson, L.
Carbon Dioxide and Methane Flux Response and Recovery From Drought in a Hemiboreal Ombrotrophic Fen
2021
Frontiers in Earth Science
Vol. 8 
article
DOI URL 
Kelly, J., Kljun, N., Eklundh, L., Klemedtsson, L., Liljebladh, B., Olsson, P.-O., Weslien, P. and Xie, X.
Modelling and upscaling ecosystem respiration using thermal cameras and UAVs: Application to a peatland during and after a hot drought
2021
Agricultural and Forest Meteorology
Vol. 300, pp. 108330 
article
DOI URL 
Kim, D., Baik, J., Umair, M. and Choi, M.
Water use efficiency in terrestrial ecosystem over East Asia: Effects of climate regimes and land cover types
2021
Science of The Total Environment
Vol. 773, pp. 145519 
article
DOI URL 
Kluge, M., Wauthy, M., Clemmensen, K.E., Wurzbacher, C., Hawkes, J.A., Einarsdottir, K., Rautio, M., Stenlid, J. and Peura, S.
Declining fungal diversity in Arctic freshwaters along a permafrost thaw gradient
2021
Global Change Biology
Vol. 27(22), pp. 5889-5906 
article
DOI URL 
Kluge, M., Wurzbacher, C., Wauthy, M., Clemmensen, K.E., Hawkes, J.A., Einarsdottir, K., Stenlid, J. and Peura, S.
Community composition of aquatic fungi across the thawing Arctic
2021
Scientific Data
Vol. 8(1), pp. 221 
article
DOI URL 
Knox, S.H., Bansal, S., McNicol, G., Schafer, K., Sturtevant, C., Ueyama, M., Valach, A.C., Baldocchi, D., Delwiche, K., Desai, A.R., Euskirchen, E., Liu, J., Lohila, A., Malhotra, A., Melling, L., Riley, W., Runkle, B.R.K., Turner, J., Vargas, R., Zhu, Q., Alto, T., Fluet-Chouinard, E., Goeckede, M., Melton, J.R., Sonnentag, O., Vesala, T., Ward, E., Zhang, Z., Feron, S., Ouyang, Z., Alekseychik, P., Aurela, M., Bohrer, G., Campbell, D.I., Chen, J., Chu, H., Dalmagro, H.J., Goodrich, J.P., Gottschalk, P., Hirano, T., Iwata, H., Jurasinski, G., Kang, M., Koebsch, F., Mammarella, I., Nilsson, M.B., Ono, K., Peichl, M., Peltola, O., Ryu, Y., Sachs, T., Sakabe, A., Sparks, J.P., Tuittila, E.-S., Vourlitis, G.L., Wong, G.X., Windham-Myers, L., Poulter, B. and Jackson, R.B.
Identifying dominant environmental predictors of freshwater wetland methane fluxes across diurnal to seasonal time scales
2021
Global Change Biology
Vol. 27(15), pp. 3582-3604 
article
DOI URL 
Kooijmans, L.M.J., Cho, A., Ma, J., Kaushik, A., Haynes, K.D., Baker, I., Luijkx, I.T., Groenink, M., Peters, W., Miller, J.B., Berry, J.A., Ogée, J., Meredith, L.K., Sun, W., Kohonen, K.-M., Vesala, T., Mammarella, I., Chen, H., Spielmann, F.M., Wohlfahrt, G., Berkelhammer, M., Whelan, M.E., Maseyk, K., Seibt, U., Commane, R., Wehr, R. and Krol, M.
Evaluation of carbonyl sulfide biosphere exchange in the Simple Biosphere Model (SiB4)
2021
Biogeosciences
Vol. 18(24), pp. 6547-6565 
article
DOI URL 
Krich, C., Migliavacca, M., Miralles, D.G., Kraemer, G., El-Madany, T.S., Reichstein, M., Runge, J. and Mahecha, M.D.
Functional convergence of biosphere--atmosphere interactions in response to meteorological conditions
2021
Biogeosciences
Vol. 18(7), pp. 2379-2404 
article
DOI URL 
Lammirato, C., Wallman, M., Weslien, P., Klemedtsson, L. and Rütting, T.
Measuring frequency and accuracy of annual nitrous oxide emission estimates
2021
Agricultural and Forest Meteorology
Vol. 310, pp. 108624 
article
DOI URL 
Lau, D.C.P., Jonsson, A., Isles, P.D.F., Creed, I.F. and Bergström, A.
Lowered nutritional quality of plankton caused by global environmental changes
2021
Global Change Biology
Vol. 27(23), pp. 6294-6306 
article
DOI URL 
Laudon, H., Hasselquist, E.M., Peichl, M., Lindgren, K., Sponseller, R., Lidman, F., Kuglerová, L., Hasselquist, N.J., Bishop, K., Nilsson, M.B. and Ågren, A.M.
Northern landscapes in transition: Evidence, approach and ways forward using the Krycklan Catchment Study
2021
Hydrological Processes
Vol. 35(4), pp. e14170 
article
DOI URL 
Lembrechts, J.J., van den Hoogen, J., Aalto, J., Ashcroft, M.B., De Frenne, P., Kemppinen, J., Kopecký, M., Luoto, M., Maclean, I.M.D., Crowther, T.W., Bailey, J.J., Haesen, S., Klinges, D.H., Niittynen, P., Scheffers, B.R., Van Meerbeek, K., Aartsma, P., Abdalaze, O., Abedi, M., Aerts, R., Ahmadian, N., Ahrends, A., Alatalo, J.M., Alexander, J.M., Allonsius, C.N., Altman, J., Ammann, C., Andres, C., Andrews, C., Ardö, J., Arriga, N., Arzac, A., Aschero, V., Assis, R.L., Assmann, J.J., Bader, M.Y., Bahalkeh, K., Barančok, P., Barrio, I.C., Barros, A., Barthel, M., Basham, E.W., Bauters, M., Bazzichetto, M., Marchesini, L.B., Bell, M.C., Benavides, J.C., Benito Alonso, J.L., Berauer, B.J., Bjerke, J.W., Björk, R.G., Björkman, M.P., Björnsdóttir, K., Blonder, B., Boeckx, P., Boike, J., Bokhorst, S., Brum, B.N.S., Brůna, J., Buchmann, N., Buysse, P., Camargo, J.L., Campoe, O.C., Candan, O., Canessa, R., Cannone, N., Carbognani, M., Carnicer, J., Casanova-Katny, A., Cesarz, S., Chojnicki, B., Choler, P., Chown, S.L., Cifuentes, E.F., Čiliak, M., Contador, T., Convey, P., Cooper, E.J., Cremonese, E., Curasi, S.R., Curtis, R., Cutini, M., Dahlberg, C.J., Daskalova, G.N., de Pablo, M.A., Della Chiesa, S., Dengler, J., Deronde, B., Descombes, P., Di Cecco, V., Di Musciano, M., Dick, J., Dimarco, R.D., Dolezal, J., Dorrepaal, E., Dušek, J., Eisenhauer, N., Eklundh, L., Erickson, T.E., Erschbamer, B., Eugster, W., Ewers, R.M., Exton, D.A., Fanin, N., Fazlioglu, F., Feigenwinter, I., Fenu, G., Ferlian, O., Fernández Calzado, M.R., Fernández-Pascual, E., Finckh, M., Higgens, R.F., Forte, T.G.W., Freeman, E.C., Frei, E.R., Fuentes-Lillo, E., García, R.A., García, M.B., Géron, C., Gharun, M., Ghosn, D., Gigauri, K., Gobin, A., Goded, I., Goeckede, M., Gottschall, F., Goulding, K., Govaert, S., Graae, B.J., Greenwood, S., Greiser, C., Grelle, A., Guénard, B., Guglielmin, M., Guillemot, J., Haase, P., Haider, S., Halbritter, A.H., Hamid, M., Hammerle, A., Hampe, A., Haugum, S.V., Hederová, L., Heinesch, B., Helfter, C., Hepenstrick, D., Herberich, M., Herbst, M., Hermanutz, L., Hik, D.S., Hoffrén, R., Homeier, J., Hörtnagl, L., Høye, T.T., Hrbacek, F., Hylander, K., Iwata, H., Jackowicz-Korczynski, M.A., Jactel, H., Järveoja, J., Jastrzebowski, S., Jentsch, A., Jiménez, J.J., Jónsdóttir, I.S., Jucker, T., Jump, A.S., Juszczak, R., Kanka, R., Kašpar, V., Kazakis, G., Kelly, J., Khuroo, A.A., Klemedtsson, L., Klisz, M., Kljun, N., Knohl, A., Kobler, J., Kollár, J., Kotowska, M.M., Kovács, B., Kreyling, J., Lamprecht, A., Lang, S.I., Larson, C., Larson, K., Laska, K., le Maire, G., Leihy, R.I., Lens, L., Liljebladh, B., Lohila, A., Lorite, J., Loubet, B., Lynn, J., Macek, M., Mackenzie, R., Magliulo, E., Maier, R., Malfasi, F., Máliš, F., Man, M., Manca, G., Manco, A., Manise, T., Manolaki, P., Marciniak, F., Matula, R., Mazzolari, A.C., Medinets, S., Medinets, V., Meeussen, C., Merinero, S., Mesquita, R.d.C.G., Meusburger, K., Meysman, F.J.R., Michaletz, S.T., Milbau, A., Moiseev, D., Moiseev, P., Mondoni, A., Monfries, R., Montagnani, L., Moriana-Armendariz, M., Morra di Cella, U., Mörsdorf, M., Mosedale, J.R., Muffler, L., Muñoz-Rojas, M., Myers, J.A., Myers-Smith, I.H., Nagy, L., Nardino, M., Naujokaitis-Lewis, I., Newling, E., Nicklas, L., Niedrist, G., Niessner, A., Nilsson, M.B., Normand, S., Nosetto, M.D., Nouvellon, Y., Nuñez, M.A., Ogaya, R., Ogée, J., Okello, J., Olejnik, J., Olesen, J.E., Opedal, Ø.H., Orsenigo, S., Palaj, A., Pampuch, T., Panov, A.V., Pärtel, M., Pastor, A., Pauchard, A., Pauli, H., Pavelka, M., Pearse, W.D., Peichl, M., Pellissier, L., Penczykowski, R.M., Penuelas, J., Petit Bon, M., Petraglia, A., Phartyal, S.S., Phoenix, G.K., Pio, C., Pitacco, A., Pitteloud, C., Plichta, R., Porro, F., Portillo-Estrada, M., Poulenard, J., Poyatos, R., Prokushkin, A.S., Puchalka, R., Pușcaș, M., Radujković, D., Randall, K., Ratier Backes, A., Remmele, S., Remmers, W., Renault, D., Risch, A.C., Rixen, C., Robinson, S.A., Robroek, B.J.M., Rocha, A.V., Rossi, C., Rossi, G., Roupsard, O., Rubtsov, A.V., Saccone, P., Sagot, C., Sallo Bravo, J., Santos, C.C., Sarneel, J.M., Scharnweber, T., Schmeddes, J., Schmidt, M., Scholten, T., Schuchardt, M., Schwartz, N., Scott, T., Seeber, J., Segalin de Andrade, A.C., Seipel, T., Semenchuk, P., Senior, R.A., Serra-Diaz, J.M., Sewerniak, P., Shekhar, A., Sidenko, N.V., Siebicke, L., Siegwart Collier, L., Simpson, E., Siqueira, D.P., Sitková, Z., Six, J., Smiljanic, M., Smith, S.W., Smith-Tripp, S., Somers, B., Sørensen, M.V., Souza, J.J.L.L., Souza, B.I., Souza Dias, A., Spasojevic, M.J., Speed, J.D.M., Spicher, F., Stanisci, A., Steinbauer, K., Steinbrecher, R., Steinwandter, M., Stemkovski, M., Stephan, J.G., Stiegler, C., Stoll, S., Svátek, M., Svoboda, M., Tagesson, T., Tanentzap, A.J., Tanneberger, F., Theurillat, J.-P., Thomas, H.J.D., Thomas, A.D., Tielbörger, K., Tomaselli, M., Treier, U.A., Trouillier, M., Turtureanu, P.D., Tutton, R., Tyystjärvi, V.A., Ueyama, M., Ujházy, K., Ujházyová, M., Uogintas, D., Urban, A.V., Urban, J., Urbaniak, M., Ursu, T.-M., Vaccari, F.P., Van de Vondel, S., van den Brink, L., Van Geel, M., Vandvik, V., Vangansbeke, P., Varlagin, A., Veen, G.F., Veenendaal, E., Venn, S.E., Verbeeck, H., Verbrugggen, E., Verheijen, F.G.A., Villar, L., Vitale, L., Vittoz, P., Vives-Ingla, M., von Oppen, J., Walz, J., Wang, R., Wang, Y., Way, R.G., Wedegärtner, R.E.M., Weigel, R., Wild, J., Wilkinson, M., Wilmking, M., Wingate, L., Winkler, M., Wipf, S., Wohlfahrt, G., Xenakis, G., Yang, Y., Yu, Z., Yu, K., Zellweger, F., Zhang, J., Zhang, Z., Zhao, P., Ziembli'nska, K., Zimmermann, R., Zong, S., Zyryanov, V.I., Nijs, I. and Lenoir, J.
Global maps of soil temperature
2021
Global Change Biology
Vol. n/a(n/a) 
article
DOI URL 
Levin, I., Hammer, S., Kromer, B., Preunkert, S., Weller, R. and Worthy, D.E.
RADIOCARBON IN GLOBAL TROPOSPHERIC CARBON DIOXIDE
2021
Radiocarbon, pp. 1-11 
article
DOI URL 
Levin, I., Karstens, U., Hammer, S., DellaColetta, J., Maier, F. and Gachkivskyi, M.
Limitations of the radon tracer method (RTM) to estimate regional greenhouse gas (GHG) emissions -- a case study for methane in Heidelberg
2021
Atmospheric Chemistry and Physics
Vol. 21(23), pp. 17907-17926 
article
DOI URL 
Li, H., Claremar, B., Wu, L., Hallgren, C., Körnich, H., Ivanell, S. and Sahlée, E.
A sensitivity study of the WRF model in offshore wind modeling over the Baltic Sea
2021
Geoscience Frontiers
Vol. 12(6), pp. 101229 
article
DOI URL 
Lian, J., Bréon, F.-M., Broquet, G., Lauvaux, T., Zheng, B., Ramonet, M., Xueref-Remy, I., Kotthaus, S., Haeffelin, M. and Ciais, P.
Sensitivity to the sources of uncertainties in the modeling of atmospheric CO_2 concentration within and in the vicinity of Paris
2021
Atmospheric Chemistry and Physics
Vol. 21(13), pp. 10707-10726 
article
DOI URL 
Lin, S., Li, J., Liu, Q., Gioli, B., Paul-Limoges, E., Buchmann, N., Gharun, M., Hörtnagl, L., Foltýnová, L., Dušek, J., Li, L. and Yuan, W.
Improved global estimations of gross primary productivity of natural vegetation types by incorporating plant functional type
2021
International Journal of Applied Earth Observation and Geoinformation
Vol. 100, pp. 102328 
article
DOI URL 
Lindroth, A., Holst, J., Linderson, M.L., Aurela, M., Biermann, T., Heliasz, M., Chi, J., Ibrom, A., Kolari, P., Klemedtsson, L., Krasnova, A., Laurila, T., Lehner, I., Lohila, A., Mammarella, I., Mölder, M., Löfvenius, M.O., Peichl, M., Pilegaard, K., Soosaar, K., Vesala, T., Vestin, P., Weslien, P. and Nilsson, M.
Erratum: Effects of drought and meteorological forcing on carbon and water fluxes in Nordic forests during the dry summer of 2018 (Philosophical Transactions of the Royal Society B: Biological Sciences (2020) 375 (20190516) DOI: 10.1098/rstb.2019.0516)
2021
Philosophical Transactions of the Royal Society B: Biological Sciences
Vol. 376(1817) 
article
DOI  
Liu, Y., Wu, C., Liu, L., Gu, C., Andrew Black, T., Jassal, R.S., Hörtnagl, L., Montagnani, L., Moyano, F., Varlagin, A., Altaf Arain, M. and Govind, A.
Interannual and spatial variability of net ecosystem production in forests explained by an integrated physiological indicator in summer
2021
Ecological Indicators
Vol. 129, pp. 107982 
article
DOI URL 
Lunt, M.F., Manning, A.J., Allen, G., Arnold, T., Bauguitte, S.J.-B., Boesch, H., Ganesan, A.L., Grant, A., Helfter, C., Nemitz, E., O'Doherty, S.J., Palmer, P.I., Pitt, J.R., Rennick, C., Say, D., Stanley, K.M., Stavert, A.R., Young, D. and Rigby, M.
Atmospheric observations consistent with reported decline in the UK's methane emissions (2013--2020)
2021
Atmospheric Chemistry and Physics
Vol. 21(21), pp. 16257-16276 
article
DOI URL 
Mahrt, L., Nilsson, E., Rutgersson, A. and Pettersson, H.
Vertical Divergence of the Atmospheric Momentum Flux near the Sea Surface at a Coastal Site
2021
Journal of Physical Oceanography
Vol. 51(11), pp. 3529-3537 
article
DOI URL 
Maignan, F., Abadie, C., Remaud, M., Kooijmans, L.M.J., Kohonen, K.-M., Commane, R., Wehr, R., Campbell, J.E., Belviso, S., Montzka, S.A., Raoult, N., Seibt, U., Shiga, Y.P., Vuichard, N., Whelan, M.E. and Peylin, P.
Carbonyl sulfide: comparing a mechanistic representation of the vegetation uptake in a land surface model and the leaf relative uptake approach
2021
Biogeosciences
Vol. 18(9), pp. 2917-2955 
article
DOI URL 
Manco, A., Brilli, F., Famulari, D., Gasbarra, D., Gioli, B., Vitale, L., di Tommasi, P., Loubet, B., Arena, C. and Magliulo, V.
Cross-correlations of Biogenic Volatile Organic Compounds (BVOC) emissions typify different phenological stages and stressful events in a Mediterranean Sorghum plantation
2021
Agricultural and Forest Meteorology
Vol. 303, pp. 108380 
article
DOI URL 
Manning, A.J., Redington, A.L., Say, D., O'Doherty, S., Young, D., Simmonds, P.G., Vollmer, M.K., Mühle, J., Arduini, J., Spain, G., Wisher, A., Maione, M., Schuck, T.J., Stanley, K., Reimann, S., Engel, A., Krummel, P.B., Fraser, P.J., Harth, C.M., Salameh, P.K., Weiss, R.F., Gluckman, R., Brown, P.N., Watterson, J.D. and Arnold, T.
Evidence of a recent decline in UK emissions of hydrofluorocarbons determined by the InTEM inverse model and atmospheric measurements
2021
Atmospheric Chemistry and Physics
Vol. 21(16), pp. 12739-12755 
article
DOI URL 
Marañón-Jiménez, S., Radujković, D., Verbruggen, E., Grau, O., Cuntz, M., Peñuelas, J., Richter, A., Schrumpf, M. and Rebmann, C.
Shifts in the Abundances of Saprotrophic and Ectomycorrhizal Fungi With Altered Leaf Litter Inputs
2021
Frontiers in Plant Science
Vol. 12 
article
DOI URL 
Marshall, J.D., Laudon, H., Mäkelä, A., Peichl, M., Hasselquist, N. and Näsholm, T.
Isotopic Branchpoints: Linkages and Efficiencies in Carbon and Water Budgets
2021
Journal of Geophysical Research: Biogeosciences
Vol. 126(1), pp. e2020JG006043 
article
DOI URL 
Marttila, H., Aurela, M., Büngener, L., Rossi, P.M., Lohila, A., Postila, H., Saari, M., Penttilä, T. and Kløve, B.
Quantifying groundwater fluxes from an aapa mire to a riverside esker formation
2021
Hydrology Research
Vol. 52(2), pp. 585-596 
article
DOI URL 
Marttila, H., Lohila, A., Ala-Aho, P., Noor, K., Welker, J.M., Croghan, D., Mustonen, K., Meriö, L.-J., Autio, A., Muhic, F., Bailey, H., Aurela, M., Vuorenmaa, J., Penttilä, T., Hyöky, V., Klein, E., Kuzmin, A., Korpelainen, P., Kumpula, T., Rauhala, A. and Kløve, B.
Subarctic catchment water storage and carbon cycling – Leading the way for future studies using integrated datasets at Pallas, Finland
2021
Hydrological Processes
Vol. 35(9), pp. e14350 
article
DOI URL 
Matkala, L., Kulmala, L., Kolari, P., Aurela, M. and Bäck, J.
Resilience of subarctic Scots pine and Norway spruce forests to extreme weather events
2021
Agricultural and Forest Meteorology
Vol. 296, pp. 108239 
article
DOI URL 
Mauder, M., Ibrom, A., Wanner, L., De Roo, F., Brugger, P., Kiese, R. and Pilegaard, K.
Options to correct local turbulent flux measurements for large-scale fluxes using an approach based on large-eddy simulation
2021
Atmospheric Measurement Techniques
Vol. 14(12), pp. 7835-7850 
article
DOI URL 
Mbengue, S., Zikova, N., Schwarz, J., Vodička, P., Šmejkalová, A.H. and Holoubek, I.
Mass absorption cross-section and absorption enhancement from long term black and elemental carbon measurements: A rural background station in Central Europe
2021
Science of The Total Environment
Vol. 794, pp. 148365 
article
DOI URL 
Mejdová, M., Dušek, J., Foltýnová, L., Macálková, L. and Čížková, H.
Photosynthetic parameters of a sedge-grass marsh as a big-leaf: effect of plant species composition
2021
Scientific Reports
Vol. 11(1), pp. 3723 
article
DOI URL 
Mengen, D., Montzka, C., Jagdhuber, T., Fluhrer, A., Brogi, C., Baum, S., Schüttemeyer, D., Bayat, B., Bogena, H., Coccia, A., Masalias, G., Trinkel, V., Jakobi, J., Jonard, F., Ma, Y., Mattia, F., Palmisano, D., Rascher, U., Satalino, G., Schumacher, M., Koyama, C., Schmidt, M. and Vereecken, H.
The SARSense Campaign: Air- and Space-Borne C- and L-Band SAR for the Analysis of Soil and Plant Parameters in Agriculture
2021
Remote Sensing
Vol. 13(4) 
article
DOI URL 
Mensah, C., Šigut, L., Fischer, M., Foltýnová, L., Jocher, G., Acosta, M., Kowalska, N., Kokrda, L., Pavelka, M., Marshall, J.D., Nyantakyi, E.K. and Marek, M.V.
Assessing the Contrasting Effects of the Exceptional 2015 Drought on the Carbon Dynamics in Two Norway Spruce Forest Ecosystems
2021
Atmosphere
Vol. 12(8) 
article
DOI URL 
Mensah, C., Šigut, L., Fischer, M., Foltýnová, L., Jocher, G., Urban, O., Wemegah, C.S., Nyantakyi, E.K., Chawla, S., Pavelka, M. and Marek, M.V.
Environmental Effects on Normalized Gross Primary Productivity in Beech and Norway Spruce Forests
2021
Atmosphere
Vol. 12(9) 
article
DOI URL 
Merbold, L., Scholes, R.J., Acosta, M., Beck, J., Bombelli, A., Fiedler, B., Grieco, E., Helmschrot, J., Hugo, W., Kasurinen, V., Kim, D.-G., Körtzinger, A., Leitner, S., López-Ballesteros, A., Ndisi, M., Nickless, A., Salmon, E., Saunders, M., Skjelvan, I., Vermeulen, A.T. and Kutsch, W.L.
Opportunities for an African greenhouse gas observation system
2021
Regional Environmental Change
Vol. 21(4), pp. 104 
article
DOI URL 
Migliavacca, M., Musavi, T., Mahecha, M.D., Nelson, J.A., Knauer, J., Baldocchi, D.D., Perez-Priego, O., Christiansen, R., Peters, J., Anderson, K., Bahn, M., Black, T.A., Blanken, P.D., Bonal, D., Buchmann, N., Caldararu, S., Carrara, A., Carvalhais, N., Cescatti, A., Chen, J., Cleverly, J., Cremonese, E., Desai, A.R., El-Madany, T.S., Farella, M.M., Fernández-Martínez, M., Filippa, G., Forkel, M., Galvagno, M., Gomarasca, U., Gough, C.M., Göckede, M., Ibrom, A., Ikawa, H., Janssens, I.A., Jung, M., Kattge, J., Keenan, T.F., Knohl, A., Kobayashi, H., Kraemer, G., Law, B.E., Liddell, M.J., Ma, X., Mammarella, I., Martini, D., Macfarlane, C., Matteucci, G., Montagnani, L., Pabon-Moreno, D.E., Panigada, C., Papale, D., Pendall, E., Penuelas, J., Phillips, R.P., Reich, P.B., Rossini, M., Rotenberg, E., Scott, R.L., Stahl, C., Weber, U., Wohlfahrt, G., Wolf, S., Wright, I.J., Yakir, D., Zaehle, S. and Reichstein, M.
The three major axes of terrestrial ecosystem function
2021
Nature
Vol. 598(7881), pp. 468-472 
article
DOI URL 
Moderow, U., Grünwald, T., Queck, R., Spank, U. and Bernhofer, C.
Energy balance closure and advective fluxes at ADVEX sites
2021
Theoretical and Applied Climatology
Vol. 143(1), pp. 761-779 
article
DOI URL 
Mohammad Harmay, N.S., Kim, D. and Choi, M.
Urban Heat Island associated with Land Use/Land Cover and climate variations in Melbourne, Australia
2021
Sustainable Cities and Society
Vol. 69, pp. 102861 
article
DOI URL 
Montzka, C., Bogena, H.R., Herbst, M., Cosh, M.H., Jagdhuber, T. and Vereecken, H.
Estimating the Number of Reference Sites Necessary for the Validation of Global Soil Moisture Products
2021
IEEE Geoscience and Remote Sensing Letters
Vol. 18(9), pp. 1530-1534 
article
DOI  
Mowlem, M., Beaton, A., Pascal, R., Schaap, A., Loucaides, S., Monk, S., Morris, A., Cardwell, C.L., Fowell, S.E., Patey, M.D. and López-García, P.
Industry Partnership: Lab on Chip Chemical Sensor Technology for Ocean Observing
2021
Frontiers in Marine Science
Vol. 8 
article
DOI URL 
Müller, J.D., Schneider, B., Gräwe, U., Fietzek, P., Wallin, M.B., Rutgersson, A., Wasmund, N., Krüger, S. and Rehder, G.
Cyanobacteria net community production in the Baltic Sea as inferred from profiling pCO_2 measurements
2021
Biogeosciences
Vol. 18(17), pp. 4889-4917 
article
DOI URL 
Nadal-Sala, D., Grote, R., Birami, B., Lintunen, A., Mammarella, I., Preisler, Y., Rotenberg, E., Salmon, Y., Tatarinov, F., Yakir, D. and Ruehr, N.K.
Assessing model performance via the most limiting environmental driver in two differently stressed pine stands
2021
Ecological Applications
Vol. 31(4), pp. e02312 
article
DOI URL 
Nerobelov, G., Timofeyev, Y., Smyshlyaev, S., Foka, S., Mammarella, I. and Virolainen, Y.
Validation of WRF-Chem Model and CAMS Performance in Estimating Near-Surface Atmospheric CO2 Mixing Ratio in the Area of Saint Petersburg (Russia)
2021
Atmosphere
Vol. 12(3) 
article
DOI URL 
Neuwirth, B., Rabbel, I., Bendix, J., Bogena, H.R. and Thies, B.
The European Heat Wave 2018: The Dendroecological Response of Oak and Spruce in Western Germany
2021
Forests
Vol. 12(3) 
article
DOI URL 
Nilsson, H., Pilesjö, P., Hasan, A. and Persson, A.
Dynamic spatio-temporal flow modeling with raster DEMs
2021
Transactions in GIS
Vol. n/a(n/a) 
article
DOI URL 
Niu, B., Zhang, X., Piao, S., Janssens, I.A., Fu, G., He, Y., Zhang, Y., Shi, P., Dai, E., Yu, C., Zhang, J., Yu, G., Xu, M., Wu, J., Zhu, L., Desai, A.R., Chen, J., Bohrer, G., Gough, C.M., Mammarella, I., Varlagin, A., Fares, S., Zhao, X., Li, Y., Wang, H. and Ouyang, Z.
Warming homogenizes apparent temperature sensitivity of ecosystem respiration
2021
Science Advances
Vol. 7(15) 
article
DOI  
Oddi, L., Cremonese, E., Ascari, L., Filippa, G., Galvagno, M., Serafino, D. and di Cella, U.M.
Using UAV Imagery to Detect and Map Woody Species Encroachment in a Subalpine Grassland: Advantages and Limits
2021
Remote Sensing
Vol. 13(7) 
article
DOI URL 
Ogundare, M.O., Fransson, A., Chierici, M., Joubert, W.R. and Roychoudhury, A.N.
Variability of Sea-Air Carbon Dioxide Flux in Autumn Across the Weddell Gyre and Offshore Dronning Maud Land in the Southern Ocean
2021
Frontiers in Marine Science
Vol. 7 
article
DOI URL 
Öhrn, P., Berlin, M., Elfstrand, M., Krokene, P. and Jönsson, A.M.
Seasonal variation in Norway spruce response to inoculation with bark beetle-associated bluestain fungi one year after a severe drought
2021
Forest Ecology and Management
Vol. 496, pp. 119443 
article
DOI URL 
Ollivier, C., Olioso, A., Carrière, S.D., Boulet, G., Chalikakis, K., Chanzy, A., Charlier, J.-B., Combemale, D., Davi, H., Emblanch, C., Marloie, O., Martin-StPaul, N., Mazzilli, N., Simioni, G. and Weiss, M.
An evapotranspiration model driven by remote sensing data for assessing groundwater resource in karst watershed
2021
Science of The Total Environment
Vol. 781, pp. 146706 
article
DOI URL 
Osterwalder, S., Nerentorp, M., Zhu, W., Jiskra, M., Nilsson, E., Nilsson, M.B., Rutgersson, A., Soerensen, A.L., Sommar, J., Wallin, M.B., Wängberg, I. and Bishop, K.
Critical Observations of Gaseous Elemental Mercury Air-Sea Exchange
2021
Global Biogeochemical Cycles
Vol. 35(8), pp. e2020GB006742 
article
DOI URL 
Otu-Larbi, F., Conte, A., Fares, S., Wild, O. and Ashworth, K.
FORCAsT-gs: Importance of Stomatal Conductance Parameterization to Estimated Ozone Deposition Velocity
2021
Journal of Advances in Modeling Earth Systems
Vol. 13(9), pp. e2021MS002581 
article
DOI URL 
Oulehle, F., Fischer, M., Hruška, J., Chuman, T., Krám, P., Navrátil, T., Tesař, M. and Trnka, M.
The GEOMON network of Czech catchments provides long-term insights into altered forest biogeochemistry: From acid atmospheric deposition to climate change
2021
Hydrological Processes
Vol. 35(5), pp. e14204 
article
DOI URL 
Pace, R., Guidolotti, G., Baldacchini, C., Pallozzi, E., Grote, R., Nowak, D.J. and Calfapietra, C.
Comparing i-Tree Eco Estimates of Particulate Matter Deposition with Leaf and Canopy Measurements in an Urban Mediterranean Holm Oak Forest
2021
Environmental Science & Technology
Vol. 55(10), pp. 6613-6622 
article
DOI URL 
Pallandt, M., Kumar, J., Mauritz, M., Schuur, E., Virkkala, A.-M., Celis, G., Hoffman, F. and Göckede, M.
Representativeness assessment of the pan-Arctic eddy-covariance site network, and optimized future enhancements
2021
Biogeosciences Discussions, pp. 1-42 
article
DOI  
Park, S.-B., Knohl, A., Migliavacca, M., Thum, T., Vesala, T., Peltola, O., Mammarella, I., Prokushkin, A., Kolle, O., Lavrič, J., Park, S.S. and Heimann, M.
Temperature Control of Spring CO2 Fluxes at a Coniferous Forest and a Peat Bog in Central Siberia
2021
Atmosphere
Vol. 12(8) 
article
DOI URL 
Pastorello, G., Trotta, C., Canfora, E., Chu, H., Christianson, D., Cheah, Y.-W., Poindexter, C., Chen, J., Elbashandy, A., Humphrey, M., Isaac, P., Polidori, D., Reichstein, M., Ribeca, A., van Ingen, C., Vuichard, N., Zhang, L., Amiro, B., Ammann, C., Arain, M.A., Ardö, J., Arkebauer, T., Arndt, S.K., Arriga, N., Aubinet, M., Aurela, M., Baldocchi, D., Barr, A., Beamesderfer, E., Marchesini, L.B., Bergeron, O., Beringer, J., Bernhofer, C., Berveiller, D., Billesbach, D., Black, T.A., Blanken, P.D., Bohrer, G., Boike, J., Bolstad, P.V., Bonal, D., Bonnefond, J.-M., Bowling, D.R., Bracho, R., Brodeur, J., Brümmer, C., Buchmann, N., Burban, B., Burns, S.P., Buysse, P., Cale, P., Cavagna, M., Cellier, P., Chen, S., Chini, I., Christensen, T.R., Cleverly, J., Collalti, A., Consalvo, C., Cook, B.D., Cook, D., Coursolle, C., Cremonese, E., Curtis, P.S., D'Andrea, E., da Rocha, H., Dai, X., Davis, K.J., De Cinti, B., de Grandcourt, A., De Ligne, A., De Oliveira, R.C., Delpierre, N., Desai, A.R., Di Bella, C.M., di Tommasi, P., Dolman, H., Domingo, F., Dong, G., Dore, S., Duce, P., Dufrêne, E., Dunn, A., Dušek, J., Eamus, D., Eichelmann, U., ElKhidir, H.A.M., Eugster, W., Ewenz, C.M., Ewers, B., Famulari, D., Fares, S., Feigenwinter, I., Feitz, A., Fensholt, R., Filippa, G., Fischer, M., Frank, J., Galvagno, M., Gharun, M., Gianelle, D., Gielen, B., Gioli, B., Gitelson, A., Goded, I., Goeckede, M., Goldstein, A.H., Gough, C.M., Goulden, M.L., Graf, A., Griebel, A., Gruening, C., Grünwald, T., Hammerle, A., Han, S., Han, X., Hansen, B.U., Hanson, C., Hatakka, J., He, Y., Hehn, M., Heinesch, B., Hinko-Najera, N., Hörtnagl, L., Hutley, L., Ibrom, A., Ikawa, H., Jackowicz-Korczynski, M., Janouš, D., Jans, W., Jassal, R., Jiang, S., Kato, T., Khomik, M., Klatt, J., Knohl, A., Knox, S., Kobayashi, H., Koerber, G., Kolle, O., Kosugi, Y., Kotani, A., Kowalski, A., Kruijt, B., Kurbatova, J., Kutsch, W.L., Kwon, H., Launiainen, S., Laurila, T., Law, B., Leuning, R., Li, Y., Liddell, M., Limousin, J.-M., Lion, M., Liska, A.J., Lohila, A., López-Ballesteros, A., López-Blanco, E., Loubet, B., Loustau, D., Lucas-Moffat, A., Lüers, J., Ma, S., Macfarlane, C., Magliulo, V., Maier, R., Mammarella, I., Manca, G., Marcolla, B., Margolis, H.A., Marras, S., Massman, W., Mastepanov, M., Matamala, R., Matthes, J.H., Mazzenga, F., McCaughey, H., McHugh, I., McMillan, A.M.S., Merbold, L., Meyer, W., Meyers, T., Miller, S.D., Minerbi, S., Moderow, U., Monson, R.K., Montagnani, L., Moore, C.E., Moors, E., Moreaux, V., Moureaux, C., Munger, J.W., Nakai, T., Neirynck, J., Nesic, Z., Nicolini, G., Noormets, A., Northwood, M., Nosetto, M., Nouvellon, Y., Novick, K., Oechel, W., Olesen, J.E., Ourcival, J.-M., Papuga, S.A., Parmentier, F.-J., Paul-Limoges, E., Pavelka, M., Peichl, M., Pendall, E., Phillips, R.P., Pilegaard, K., Pirk, N., Posse, G., Powell, T., Prasse, H., Prober, S.M., Rambal, S., Rannik, Ü., Raz-Yaseef, N., Rebmann, C., Reed, D., de Dios, V.R., Restrepo-Coupe, N., Reverter, B.R., Roland, M., Sabbatini, S., Sachs, T., Saleska, S.R., Sánchez-Cañete, E.P., Sanchez-Mejia, Z.M., Schmid, H.P., Schmidt, M., Schneider, K., Schrader, F., Schroder, I., Scott, R.L., Sedlák, P., Serrano-Ortíz, P., Shao, C., Shi, P., Shironya, I., Siebicke, L., Šigut, L., Silberstein, R., Sirca, C., Spano, D., Steinbrecher, R., Stevens, R.M., Sturtevant, C., Suyker, A., Tagesson, T., Takanashi, S., Tang, Y., Tapper, N., Thom, J., Tomassucci, M., Tuovinen, J.-P., Urbanski, S., Valentini, R., van der Molen, M., van Gorsel, E., van Huissteden, K., Varlagin, A., Verfaillie, J., Vesala, T., Vincke, C., Vitale, D., Vygodskaya, N., Walker, J.P., Walter-Shea, E., Wang, H., Weber, R., Westermann, S., Wille, C., Wofsy, S., Wohlfahrt, G., Wolf, S., Woodgate, W., Li, Y., Zampedri, R., Zhang, J., Zhou, G., Zona, D., Agarwal, D., Biraud, S., Torn, M. and Papale, D.
Author Correction: The FLUXNET2015 dataset and the ONEFlux processing pipeline for eddy covariance data
2021
Scientific Data
Vol. 8(1), pp. 72 
article
DOI URL 
Paz, L., City, I., Oducado, R.M.F., Visayas, A.W., Paz, L. and City, I.
ot Pr ep rin pe er re vie we Pr ep rin t n ot pe er re vie we
2021

Vol. 14(2), pp. 1170-1177 
article
 
Peltola, O., Aslan, T., Ibrom, A., Nemitz, E., Rannik, Ü. and Mammarella, I.
The high-frequency response correction of eddy covariance fluxes -- Part 1: An experimental approach and its interdependence with the time-lag estimation
2021
Atmospheric Measurement Techniques
Vol. 14(7), pp. 5071-5088 
article
DOI URL 
Petrescu, A.M.R., Qiu, C., Ciais, P., Thompson, R.L., Peylin, P., McGrath, M.J., Solazzo, E., Janssens-Maenhout, G., Tubiello, F.N., Bergamaschi, P., Brunner, D., Peters, G.P., Höglund-Isaksson, L., Regnier, P., Lauerwald, R., Bastviken, D., Tsuruta, A., Winiwarter, W., Patra, P.K., Kuhnert, M., Oreggioni, G.D., Crippa, M., Saunois, M., Perugini, L., Markkanen, T., Aalto, T., Groot Zwaaftink, C.D., Tian, H., Yao, Y., Wilson, C., Conchedda, G., Günther, D., Leip, A., Smith, P., Haussaire, J.-M., Leppänen, A., Manning, A.J., McNorton, J., Brockmann, P. and Dolman, A.J.
The consolidated European synthesis of CH_{4} and N_{2}O emissions for the European Union and United Kingdom: 1990--2017
2021
Earth System Science Data
Vol. 13(5), pp. 2307-2362 
article
DOI URL 
Pisek, J., Erb, A., Korhonen, L., Biermann, T., Carrara, A., Cremonese, E., Cuntz, M., Fares, S., Gerosa, G., Grünwald, T., Hase, N., Heliasz, M., Ibrom, A., Knohl, A., Kobler, J., Kruijt, B., Lange, H., Leppänen, L., Limousin, J.-M., Serrano, F.R.L., Loustau, D., Lukeš, P., Lundin, L., Marzuoli, R., Mölder, M., Montagnani, L., Neirynck, J., Peichl, M., Rebmann, C., Rubio, E., Santos-Reis, M., Schaaf, C., Schmidt, M., Simioni, G., Soudani, K. and Vincke, C.
Retrieval and validation of forest background reflectivity from daily Moderate Resolution Imaging Spectroradiometer (MODIS) bidirectional reflectance distribution function (BRDF) data across European forests
2021
Biogeosciences
Vol. 18(2), pp. 621-635 
article
DOI URL 
Platt, S.M., Hov, Ø., Berg, T., Breivik, K., Eckhardt, S., Eleftheriadis, K., Evangeliou, N., Fiebig, M., Fisher, R., Hansen, G., Hansson, H.-C., Heintzenberg, J., Hermansen, O., Heslin-Rees, D., Holmén, K., Hudson, S., Kallenborn, R., Krejci, R., Krognes, T., Larssen, S., Lowry, D., Lund Myhre, C., Lunder, C., Nisbet, E., Nizetto, P.B., Park, K.-T., Pedersen, C.A., Aspmo Pfaffhuber, K., Röckmann, T., Schmidbauer, N., Solberg, S., Stohl, A., Ström, J., Svendby, T., Tunved, P., Tørnkvist, K., van der Veen, C., Vratolis, S., Yoon, Y.J., Yttri, K.E., Zieger, P., Aas, W. and Tørseth, K.
Atmospheric composition in the European Arctic and 30 years of the Zeppelin Observatory, Ny-Ålesund
2021
Atmospheric Chemistry and Physics Discussions
Vol. 2021, pp. 1-80 
article
DOI URL 
Pold, G., Baillargeon, N., Lepe, A., Rastetter, E.B. and Sistla, S.A.
Warming effects on arctic tundra biogeochemistry are limited but habitat-dependent: a meta-analysis
2021
Ecosphere
Vol. 12(10), pp. e03777 
article
DOI URL 
Poyatos, R., Granda, V., Flo, V., Adams, M.A., Adorján, B., Aguadé, D., Aidar, M.P.M., Allen, S., Alvarado-Barrientos, M.S., Anderson-Teixeira, K.J., Aparecido, L.M., Arain, M.A., Aranda, I., Asbjornsen, H., Baxter, R., Beamesderfer, E., Berry, Z.C., Berveiller, D., Blakely, B., Boggs, J., Bohrer, G., Bolstad, P.V., Bonal, D., Bracho, R., Brito, P., Brodeur, J., Casanoves, F., Chave, J., Chen, H., Cisneros, C., Clark, K., Cremonese, E., Dang, H., David, J.S., David, T.S., Delpierre, N., Desai, A.R., Do, F.C., Dohnal, M., Domec, J.-C., Dzikiti, S., Edgar, C., Eichstaedt, R., El-Madany, T.S., Elbers, J., Eller, C.B., Euskirchen, E.S., Ewers, B., Fonti, P., Forner, A., Forrester, D.I., Freitas, H.C., Galvagno, M., Garcia-Tejera, O., Ghimire, C.P., Gimeno, T.E., Grace, J., Granier, A., Griebel, A., Guangyu, Y., Gush, M.B., Hanson, P.J., Hasselquist, N.J., Heinrich, I., Hernandez-Santana, V., Herrmann, V., Hölttä, T., Holwerda, F., Irvine, J., Isarangkool Na Ayutthaya, S., Jarvis, P.G., Jochheim, H., Joly, C.A., Kaplick, J., Kim, H.S., Klemedtsson, L., Kropp, H., Lagergren, F., Lane, P., Lang, P., Lapenas, A., Lechuga, V., Lee, M., Leuschner, C., Limousin, J.-M., Linares, J.C., Linderson, M.-L., Lindroth, A., Llorens, P., López-Bernal, Á., Loranty, M.M., Lüttschwager, D., Macinnis-Ng, C., Maréchaux, I., Martin, T.A., Matheny, A., McDowell, N., McMahon, S., Meir, P., Mészáros, I., Migliavacca, M., Mitchell, P., Mölder, M., Montagnani, L., Moore, G.W., Nakada, R., Niu, F., Nolan, R.H., Norby, R., Novick, K., Oberhuber, W., Obojes, N., Oishi, A.C., Oliveira, R.S., Oren, R., Ourcival, J.-M., Paljakka, T., Perez-Priego, O., Peri, P.L., Peters, R.L., Pfautsch, S., Pockman, W.T., Preisler, Y., Rascher, K., Robinson, G., Rocha, H., Rocheteau, A., Röll, A., Rosado, B.H.P., Rowland, L., Rubtsov, A.V., Sabaté, S., Salmon, Y., Salomón, R.L., Sánchez-Costa, E., Schäfer, K.V.R., Schuldt, B., Shashkin, A., Stahl, C., Stojanović, M., Suárez, J.C., Sun, G., Szatniewska, J., Tatarinov, F., Tesař, M., Thomas, F.M., Tor-ngern, P., Urban, J., Valladares, F., van der Tol, C., van Meerveld, I., Varlagin, A., Voigt, H., Warren, J., Werner, C., Werner, W., Wieser, G., Wingate, L., Wullschleger, S., Yi, K., Zweifel, R., Steppe, K., Mencuccini, M. and Martínez-Vilalta, J.
Global transpiration data from sap flow measurements: the SAPFLUXNET database
2021
Earth System Science Data
Vol. 13(6), pp. 2607-2649 
article
DOI URL 
Qiao, W., Wu, L., Song, J., Li, X., Qiao, F. and Rutgersson, A.
Momentum Flux Balance at the Air-Sea Interface
2021
Journal of Geophysical Research: Oceans
Vol. 126(2), pp. e2020JC016563 
article
DOI URL 
Qu, Z.-L., Santalahti, M., Köster, K., Berninger, F., Pumpanen, J., Heinonsalo, J. and Sun, H.
Soil Fungal Community Structure in Boreal Pine Forests: From Southern to Subarctic Areas of Finland
2021
Frontiers in Microbiology
Vol. 12 
article
DOI URL 
Raoult, N., Ottlé, C., Peylin, P., Bastrikov, V. and Maugis, P.
Evaluating and Optimizing Surface Soil Moisture Drydowns in the ORCHIDEE Land Surface Model at In Situ Locations
2021
Journal of Hydrometeorology
Vol. 22(4), pp. 1025-1043 
article
DOI URL 
Reitz, O., Graf, A., Schmidt, M., Ketzler, G. and Leuchner, M.
Upscaling Net Ecosystem Exchange Over Heterogeneous Landscapes With Machine Learning
2021
Journal of Geophysical Research: Biogeosciences
Vol. 126(2), pp. 1-16 
article
DOI  
Resovsky, A., Ramonet, M., Rivier, L., Tarniewicz, J., Ciais, P., Steinbacher, M., Mammarella, I., Mölder, M., Heliasz, M., Kubistin, D., Lindauer, M., Müller-Williams, J., Conil, S. and Engelen, R.
An algorithm to detect non-background signals in greenhouse gas time series from European tall tower and mountain stations
2021
Atmospheric Measurement Techniques
Vol. 14(9), pp. 6119-6135 
article
DOI URL 
Reuter, M., Bovensmann, H., Buchwitz, M., Borchardt, J., Krautwurst, S., Gerilowski, K., Lindauer, M., Kubistin, D. and Burrows, J.P.
Development of a small unmanned aircraft system to derive CO_2 emissions of anthropogenic point sources
2021
Atmospheric Measurement Techniques
Vol. 14(1), pp. 153-172 
article
DOI URL 
Rivera Martinez, R., Santaren, D., Laurent, O., Cropley, F., Mallet, C., Ramonet, M., Caldow, C., Rivier, L., Broquet, G., Bouchet, C., Juery, C. and Ciais, P.
The Potential of Low-Cost Tin-Oxide Sensors Combined with Machine Learning for Estimating Atmospheric CH4 Variations around Background Concentration
2021

Vol. 12(1)Atmosphere 
misc
DOI  
Robroek, B.J.M., Martí, M., Svensson, B.H., Dumont, M.G., Veraart, A.J. and Jassey, V.E.J.
Rewiring of peatland plant–microbe networks outpaces species turnover
2021
Oikos
Vol. 130(3), pp. 339-353 
article
DOI URL 
Rothfuss, Y., Quade, M., Brüggemann, N., Graf, A., Vereecken, H. and Dubbert, M.
Reviews and syntheses: Gaining insights into evapotranspiration partitioning with novel isotopic monitoring methods
2021
Biogeosciences
Vol. 18(12), pp. 3701-3732 
article
DOI URL 
Saiz, E., Sgouridis, F., Drijfhout, F.P., Peichl, M., Nilsson, M.B. and Ullah, S.
Chronic Atmospheric Reactive Nitrogen Deposition Suppresses Biological Nitrogen Fixation in Peatlands
2021
Environmental Science & Technology
Vol. 55(2), pp. 1310-1318 
article
DOI URL 
dos Santos, T., Keppel-Aleks, G., De Roo, R. and Steiner, A.
Can Land Surface Models Capture the Observed Soil Moisture Control of Water and Carbon Fluxes in Temperate To Boreal Forests?
2021
Journal of Geophysical Research (Biogeosciences)
Vol. 126(4), pp. e05999 
article
DOI  
Sathyanadh, A., Monteil, G., Scholze, M., Klosterhalfen, A., Laudon, H., Wu, Z., Gerbig, C., Peters, W., Bastrikov, V., Nilsson, M.B. and Peichl, M.
Reconciling the Carbon Balance of Northern Sweden Through Integration of Observations and Modelling
2021
Journal of Geophysical Research: Atmospheres
Vol. 126(23), pp. e2021JD035185 
article
DOI URL 
Say, D., Manning, A.J., Western, L.M., Young, D., Wisher, A., Rigby, M., Reimann, S., Vollmer, M.K., Maione, M., Arduini, J., Krummel, P.B., Mühle, J., Harth, C.M., Evans, B., Weiss, R.F., Prinn, R.G. and O'Doherty, S.
Global trends and European emissions of tetrafluoromethane (CF_4), hexafluoroethane (C_2F_6) and octafluoropropane (C_3F_8)
2021
Atmospheric Chemistry and Physics
Vol. 21(3), pp. 2149-2164 
article
DOI URL 
Scheller, J.H., Mastepanov, M., Christiansen, H.H. and Christensen, T.R.
Methane in Zackenberg Valley, NE Greenland: multidecadal growing season fluxes of a high-Arctic tundra
2021
Biogeosciences
Vol. 18(23), pp. 6093-6114 
article
DOI URL 
Schiestl-Aalto, P., Stangl, Z.R., Tarvainen, L., Wallin, G., Marshall, J. and Mäkelä, A.
Linking canopy-scale mesophyll conductance and phloem sugar δ13C using empirical and modelling approaches
2021
New Phytologist
Vol. 229(6), pp. 3141-3155 
article
DOI URL 
Schneider, J., Groh, J., Pütz, T., Helmig, R., Rothfuss, Y., Vereecken, H. and Vanderborght, J.
Prediction of soil evaporation measured with weighable lysimeters using the FAO Penman–Monteith method in combination with Richards' equation
2021
Vadose Zone Journal(April 2020), pp. 1-20 
article
DOI  
Schneider, M., Ertl, B., Diekmann, C.J., Khosrawi, F., Röhling, A.N., Hase, F., Dubravica, D., Garc\ia, O.E., Sepúlveda, E., Borsdorff, T., Landgraf, J., Lorente, A., Chen, H., Kivi, R., Laemmel, T., Ramonet, M., Crevoisier, C., Pernin, J., Steinbacher, M., Meinhardt, F., Deutscher, N.M., Griffith, D.W.T., Velazco, V.A. and Pollard, D.F.
Synergetic use of IASI and TROPOMI space borne sensors for generating a tropospheric methane profile product
2021
Atmospheric Measurement Techniques Discussions
Vol. 2021, pp. 1-37 
article
DOI URL 
Seiler, C., Melton, J.R., Arora, V.K. and Wang, L.
CLASSIC v1.0: the open-source community successor to the Canadian Land Surface Scheme (CLASS) and the Canadian Terrestrial Ecosystem Model (CTEM) -- Part 2: Global benchmarking
2021
Geoscientific Model Development
Vol. 14(5), pp. 2371-2417 
article
DOI URL 
Serk, H., Nilsson, M.B., Figueira, J., Wieloch, T. and Schleucher, J.
CO2 fertilization of Sphagnum peat mosses is modulated by water table level and other environmental factors
2021
Plant, Cell & Environment
Vol. 44(6), pp. 1756-1768 
article
DOI URL 
Siewert, M.B. and Olofsson, J.
UAV reveals substantial but heterogeneous effects of herbivores on Arctic vegetation
2021
Scientific Reports
Vol. 11(1), pp. 19468 
article
DOI URL 
Sim, T.G., Swindles, G.T., Morris, P.J., Baird, A.J., Cooper, C.L., Gallego-Sala, A.V., Charman, D.J., Roland, T.P., Borken, W., Mullan, D.J., Aquino-López, M.A. and Gałka, M.
Divergent responses of permafrost peatlands to recent climate change
2021
Environmental Research Letters
Vol. 16(3), pp. 34001 
article
DOI URL 
Simin, T., Tang, J., Holst, T. and Rinnan, R.
Volatile organic compound emission in tundra shrubs – Dependence on species characteristics and the near-surface environment
2021
Environmental and Experimental Botany
Vol. 184, pp. 104387 
article
DOI URL 
Simpson, J.E., Holman, F., Nieto, H., Voelksch, I., Mauder, M., Klatt, J., Fiener, P. and Kaplan, J.O.
High Spatial and Temporal Resolution Energy Flux Mapping of Different Land Covers Using an Off-the-Shelf Unmanned Aerial System
2021

Vol. 13(7)Remote Sensing 
misc
DOI  
Strand, S.M., Christiansen, H.H., Johansson, M., Åkerman, J. and Humlum, O.
Active layer thickening and controls on interannual variability in the Nordic Arctic compared to the circum-Arctic
2021
Permafrost and Periglacial Processes
Vol. 32(1), pp. 47-58 
article
DOI  
Sun, J., Hermann, M., Yuan, Y., Birmili, W., Collaud Coen, M., Weinhold, K., Madueño, L., Poulain, L., Tuch, T., Ries, L., Sohmer, R., Couret, C., Frank, G., Brem, B.T., Gysel-Beer, M., Ma, N. and Wiedensohler, A.
Long-term trends of black carbon and particle number concentration in the lower free troposphere in Central Europe
2021
Environmental Sciences Europe
Vol. 33(1), pp. 47 
article
DOI URL 
Tang, Y., Xu, X., Zhou, Z., Qu, Y. and Sun, Y.
Estimating global maximum gross primary productivity of vegetation based on the combination of MODIS greenness and temperature data
2021
Ecological Informatics
Vol. 63, pp. 101307 
article
DOI URL 
Tarvainen, L., Wallin, G., Linder, S., Näsholm, T., Oren, R., Ottosson Löfvenius, M., Räntfors, M., Tor-Ngern, P. and Marshall, J.D.
Limited vertical CO2 transport in stems of mature boreal Pinus sylvestris trees
2021
Tree Physiology
Vol. 41(1), pp. 63-75 
article
DOI URL 
Tenkanen, M., Tsuruta, A., Rautiainen, K., Kangasaho, V., Ellul, R. and Aalto, T.
Utilizing Earth Observations of Soil Freeze/Thaw Data and Atmospheric Concentrations to Estimate Cold Season Methane Emissions in the Northern High Latitudes
2021

Vol. 13(24)Remote Sensing 
misc
DOI  
Trepekli, K. and Friborg, T.
Deriving Aerodynamic Roughness Length at Ultra-High Resolution in Agricultural Areas Using UAV-Borne LiDAR
2021
Remote Sensing
Vol. 13(17) 
article
DOI URL 
Trisolino, P., di Sarra, A., Sferlazzo, D., Piacentino, S., Monteleone, F., Di Iorio, T., Apadula, F., Heltai, D., Lanza, A., Vocino, A., di Torchiarolo, L., Bonasoni, P., Calzolari, F., Busetto, M. and Cristofanelli, P.
Application of a Common Methodology to Select in Situ CO2 Observations Representative of the Atmospheric Background to an Italian Collaborative Network
2021
Atmosphere
Vol. 12(2) 
article
DOI URL 
Vainio, E., Peltola, O., Kasurinen, V., Kieloaho, A.-J., Tuittila, E.-S. and Pihlatie, M.
Topography-based statistical modelling reveals high spatial variability and seasonal emission patches in forest floor methane flux
2021
Biogeosciences
Vol. 18(6), pp. 2003-2025 
article
DOI URL 
Van Dam, B., Polsenaere, P., Barreras-Apodaca, A., Lopes, C., Sanchez-Mejia, Z., Tokoro, T., Kuwae, T., Loza, L.G., Rutgersson, A., Fourqurean, J. and Thomas, H.
Global Trends in Air-Water CO2 Exchange Over Seagrass Meadows Revealed by Atmospheric Eddy Covariance
2021
Global Biogeochemical Cycles
Vol. 35(4), pp. e2020GB006848 
article
DOI URL 
Vanikiotis, T., Stagakis, S. and Kyparissis, A.
MODIS PRI performance to track Light Use Efficiency of a Mediterranean coniferous forest: Determinants, restrictions and the role of LUE range
2021
Agricultural and Forest Meteorology
Vol. 307, pp. 108518 
article
DOI URL 
Virkkala, A.-M., Aalto, J., Rogers, B.M., Tagesson, T., Treat, C.C., Natali, S.M., Watts, J.D., Potter, S., Lehtonen, A., Mauritz, M., Schuur, E.A.G., Kochendorfer, J., Zona, D., Oechel, W., Kobayashi, H., Humphreys, E., Goeckede, M., Iwata, H., Lafleur, P.M., Euskirchen, E.S., Bokhorst, S., Marushchak, M., Martikainen, P.J., Elberling, B., Voigt, C., Biasi, C., Sonnentag, O., Parmentier, F.-J.W., Ueyama, M., Celis, G., St.Louis, V.L., Emmerton, C.A., Peichl, M., Chi, J., Järveoja, J., Nilsson, M.B., Oberbauer, S.F., Torn, M.S., Park, S.-J., Dolman, H., Mammarella, I., Chae, N., Poyatos, R., López-Blanco, E., Christensen, T.R., Kwon, M.J., Sachs, T., Holl, D. and Luoto, M.
Statistical upscaling of ecosystem CO2 fluxes across the terrestrial tundra and boreal domain: Regional patterns and uncertainties
2021
Global Change Biology
Vol. 27(17), pp. 4040-4059 
article
DOI URL 
Wang, F., Maksyutov, S., Janardanan, R., Tsuruta, A., Ito, A., Morino, I., Yoshida, Y., Tohjima, Y., Kaiser, J.W., Janssens-Maenhout, G., Lan, X., Mammarella, I., Lavric, J.V. and Matsunaga, T.
Interannual variability on methane emissions in monsoon Asia derived from GOSAT and surface observations
2021
Environmental Research Letters
Vol. 16(2), pp. 24040 
article
DOI URL 
Wang, J., Bogena, H., Süß, T., Graf, A., Weuthen, A. and Brüggemann, N.
Investigating the controls on greenhouse gas emission in the riparian zone of a small headwater catchment using an automated monitoring system
2021
Vadose Zone Journal
Vol. 20(5), pp. e20149 
article
DOI URL 
Wilson, R.M., Zayed, A.A., Crossen, K.B., Woodcroft, B., Tfaily, M.M., Emerson, J., Raab, N., Hodgkins, S.B., Verbeke, B., Tyson, G., Crill, P., Saleska, S., Chanton, J.P., Rich, V.I., Coordinators, I.P. and Team, I.P.F.
Functional capacities of microbial communities to carry out large scale geochemical processes are maintained during ex situ anaerobic incubation
2021
PLOS ONE
Vol. 16(2), pp. 1-33 
article
DOI URL 
Wu, D., Liu, S., Wu, X., Yang, X., Xu, T., Xu, Z. and Shi, H.
Diagnosing the Temperature Sensitivity of Ecosystem Respiration in Northern High Latitude Regions
2021
Journal of Geophysical Research (Biogeosciences)
Vol. 126, pp. e05998 
article
DOI URL 
Wu, J., Peichl, M., Luan, J., Connolly, J. and Xu, L.
Editorial: Wetland Ecology and Biogeochemistry Under Natural and Human Disturbance
2021
Frontiers in Earth Science
Vol. 9 
article
DOI URL 
Yazbeck, T., Bohrer, G., Gentine, P., Ye, L., Arriga, N., Bernhofer, C., Blanken, P.D., Desai, A.R., Durden, D., Knohl, A., Kowalska, N., Metzger, S., Mölder, M., Noormets, A., Novick, K., Scott, R.L., Šigut, L., Soudani, K., Ueyama, M. and Varlagin, A.
Site Characteristics Mediate the Relationship Between Forest Productivity and Satellite Measured Solar Induced Fluorescence
2021
Frontiers in Forests and Global Change
Vol. 4 
article
DOI URL 
Yin, T., Papadimitriou, S., Rérolle, V.M.C., Arundell, M., Cardwell, C.L., Walk, J., Palmer, M.R., Fowell, S.E., Schaap, A., Mowlem, M.C. and Loucaides, S.
A Novel Lab-on-Chip Spectrophotometric pH Sensor for Autonomous In Situ Seawater Measurements to 6000 m Depth on Stationary and Moving Observing Platforms
2021
Environmental Science & Technology
Vol. 55(21), pp. 14968-14978 
article
DOI URL 
Yver-Kwok, C., Philippon, C., Bergamaschi, P., Biermann, T., Calzolari, F., Chen, H., Conil, S., Cristofanelli, P., Delmotte, M., Hatakka, J., Heliasz, M., Hermansen, O., Kominkova, K., Kubistin, D., Kumps, N., Laurent, O., Laurila, T., Lehner, I., Levula, J., Lindauer, M., Lopez, M., Mammarella, I., Manca, G., Marklund, P., Metzger, J.M., Mölder, M., Platt, S.M., Ramonet, M., Rivier, L., Scheeren, B., Kumar Sha, M., Smith, P., Steinbacher, M., Vítková, G. and Wyss, S.
Evaluation and optimization of ICOS atmosphere station data as part of the labeling process
2021
Atmospheric Measurement Techniques
Vol. 14(1), pp. 89-116 
article
DOI  
Zhang, H., Tuittila, E.-S., Korrensalo, A., Laine, A.M., Uljas, S., Welti, N., Kerttula, J., Maljanen, M., Elliott, D., Vesala, T. and Lohila, A.
Methane production and oxidation potentials along a fen-bog gradient from southern boreal to subarctic peatlands in Finland
2021
Global Change Biology
Vol. 27(18), pp. 4449-4464 
article
DOI URL 
Zhang, S., Rutgersson, A., Philipson, P. and Wallin, M.B.
Remote Sensing Supported Sea Surface pCO2 Estimation and Variable Analysis in the Baltic Sea
2021
Remote Sensing
Vol. 13(2) 
article
DOI URL 
Zhang, Z., Zhang, H., Cui, Z., Tao, F., Chen, Z., Chang, Y., Magliulo, V., Wohlfahrt, G. and Zhao, D.
Global consistency in response of terrestrial ecosystem respiration to temperature
2021
Agricultural and Forest Meteorology
Vol. 308-309, pp. 108576 
article
DOI URL 
Zhou, H., Shao, J., Liu, H., Du, Z., Zhou, L., Liu, R., Bernhofer, C., Grünwald, T., Dušek, J., Montagnani, L., Tagesson, T., Black, T.A., Jassal, R., Woodgate, W., Biraud, S., Varlagin, A., Mammarella, I., Gharun, M., Shekhar, A., Buchmann, N., Manco, A., Magliulo, E., Billesbach, D., Silberstein, R.P., Ohta, T., Yu, G., Chen, Z., Zhang, Y. and Zhou, X.
Relative importance of climatic variables, soil properties and plant traits to spatial variability in net CO2 exchange across global forests and grasslands
2021
Agricultural and Forest Meteorology
Vol. 307, pp. 108506 
article
DOI URL 
Zinke, L.A., Evans, P.N., Santos-Medellín, C., Schroeder, A.L., Parks, D.H., Varner, R.K., Rich, V.I., Tyson, G.W. and Emerson, J.B.
Evidence for non-methanogenic metabolisms in globally distributed archaeal clades basal to the Methanomassiliicoccales.
2021
Environmental microbiology
Vol. 23(1), pp. 340-357 
article
DOI  
Zweifel, R., Etzold, S., Basler, D., Bischoff, R., Braun, S., Buchmann, N., Conedera, M., Fonti, P., Gessler, A., Haeni, M., Hoch, G., Kahmen, A., Köchli, R., Maeder, M., Nievergelt, D., Peter, M., Peters, R.L., Schaub, M., Trotsiuk, V., Walthert, L., Wilhelm, M. and Eugster, W.
TreeNet–The Biological Drought and Growth Indicator Network
2021
Frontiers in Forests and Global Change
Vol. 4 
article
DOI URL 
Zweifel, R., Sterck, F., Braun, S., Buchmann, N., Eugster, W., Gessler, A., Häni, M., Peters, R.L., Walthert, L., Wilhelm, M., Ziemi'nska, K. and Etzold, S.
Why trees grow at night
2021
New Phytologist
Vol. 231(6), pp. 2174-2185 
article
DOI URL 
Łakomiec, P., Holst, J., Friborg, T., Crill, P., Rakos, N., Kljun, N., Olsson, P.-O., Eklundh, L., Persson, A. and Rinne, J.
Field-scale CH_4 emission at a subarctic mire with heterogeneous permafrost thaw status
2021
Biogeosciences
Vol. 18(20), pp. 5811-5830 
article
DOI URL 
Alton, P.B.
Representativeness of global climate and vegetation by carbon-monitoring networks; implications for estimates of gross and net primary productivity at biome and global levels
2020
Agricultural and Forest Meteorology 
article
DOI  
de Arellano, J., Ney, P., Hartogensis, O., de Boer, H., van Diepen, K., Emin, D., de Groot, G., Klosterhalfen, A., Langensiepen, M., Matveeva, M., Miranda-Garc$$'$$ia, G., Moene, A.F., Rascher, U., Röckmann, T., Adnew, G., Brüggemann, N., Rothfuss, Y. and Graf, A.
CloudRoots: integration of advanced instrumental techniques and process modelling of sub-hourly and sub-kilometre land--atmosphere interactions
2020
Biogeosciences
Vol. 17(17), pp. 4375-4404 
article
DOI URL 
Arruda, R., Atamanchuk, D., Cronin, M., Steinhoff, T. and Wallace, D.W.R.
At‐sea intercomparison of three underway textlessitextgreaterptextless/itextgreater CO textlesssubtextgreater2textless/subtextgreater systems
2020
Limnology and Oceanography: Methods
Vol. 18(2), pp. 63-76 
article
DOI URL 
Bachy, A., Aubinet, M., Amelynck, C., Schoon, N., Bodson, B., Delaplace, P., De Ligne, A., Digrado, A., du Jardin, P., Fauconnier, M.L., Mozaffar, A., Müller, J.F. and Heinesch, B.
Dynamics and mechanisms of volatile organic compound exchanges in a winter wheat field
2020
Atmospheric Environment
Vol. 221(November 2019), pp. 117105 
article
DOI URL 
Bastos, A., Ciais, P., Friedlingstein, P., Sitch, S., Pongratz, J., Fan, L., Wigneron, J.P., Weber, U., Reichstein, M., Fu, Z., Anthoni, P., Arneth, A., Haverd, V., Jain, A.K., Joetzjer, E., Knauer, J., Lienert, S., Loughran, T., McGuire, P.C., Tian, H., Viovy, N. and Zaehle, S.
Direct and seasonal legacy effects of the 2018 heat wave and drought on European ecosystem productivity
2020
Science Advances
Vol. 6(24), pp. eaba2724 
article
DOI URL 
Bastos, A., Fu, Z., Ciais, P., Friedlingstein, P., Sitch, S., Pongratz, J., Weber, U., Reichstein, M., Anthoni, P., Arneth, A., Haverd, V., Jain, A., Joetzjer, E., Knauer, J., Lienert, S., Loughran, T., McGuire, P.C., Obermeier, W., Padrón, R.S., Shi, H., Tian, H., Viovy, N. and Zaehle, S.
Impacts of extreme summers on European ecosystems: a comparative analysis of 2003, 2010 and 2018
2020
Philosophical Transactions of the Royal Society B: Biological Sciences
Vol. 375(1810), pp. 20190507 
article
DOI URL 
Becker, M., Olsen, A., Landschützer, P., Omar, A., Rehder, G., Rödenbeck, C. and Skjelvan, I.
The northern European shelf as increasing net sink for CO2
2020
Biogeosciences Discussions, pp. 1-28 
article
DOI  
Beillouin, D., Schauberger, B., Bastos, A., Ciais, P. and Makowski, D.
Impact of extreme weather conditions on European crop production in 2018
2020
Philosophical Transactions of the Royal Society B: Biological Sciences
Vol. 375(1810), pp. 20190510 
article
DOI URL 
Bergström, A.K., Jonsson, A., Isles, P.D.F., Creed, I.F. and Lau, D.C.P.
Changes in nutritional quality and nutrient limitation regimes of phytoplankton in response to declining N deposition in mountain lakes
2020
Aquatic Sciences
Vol. 82(2), pp. 1-16 
article
DOI URL 
Bolduc, B., Hodgkins, S.B., Varner, R.K., Crill, P.M., McCalley, C.K., Chanton, J.P., Tyson, G.W., Riley, W.J., Palace, M., Duhaime, M.B., Hough, M.A., Saleska, S.R., Sullivan, M.B. and Rich, V.I.
The IsoGenie database: An interdisciplinary data management solution for ecosystems biology and environmental research
2020
PeerJ
Vol. 8(ii), pp. 1-30 
article
DOI  
Botter, M., Zeeman, M., Burlando, P. and Fatichi, S.
Impacts of fertilization on grassland productivity and water quality across the European Alps: insights from a mechanistic model
2020
Biogeosciences Discussions
Vol. 2020, pp. 1-35 
article
DOI URL 
Bowring, S.P.K., Lauerwald, R., Guenet, B., Zhu, D., Guimberteau, M., Regnier, P., Tootchi, A., Ducharne, A. and Ciais, P.
ORCHIDEE MICT-LEAK (r5459), a global model for the production, transport, and transformation of dissolved organic carbon from Arctic permafrost regions - Part 2: Model evaluation over the Lena River basin
2020
Geoscientific Model Development
Vol. 13(2), pp. 507-520 
article
DOI  
Bridgman, M.J., Lomax, B.H. and Sjögersten, S.
Impacts of Elevated Atmospheric CO2 and Plant Species Composition on Methane Emissions from Subarctic Wetlands
2020
Wetlands
Vol. 40(3), pp. 609-618 
article
DOI  
Brogi, C., Huisman, J.A., Herbst, M., Weihermüller, L., Klosterhalfen, A., Montzka, C., Reichenau, T.G. and Vereecken, H.
Simulation of spatial variability in crop leaf area index and yield using agroecosystem modeling and geophysics-based quantitative soil information
2020
Vadose Zone Journal
Vol. 19(1), pp. 1-24 
article
DOI  
Broullón, D., Pérez, F.F., Velo, A., Hoppema, M., Olsen, A., Takahashi, T., Key, R.M., Tanhua, T., Santana-Casiano, J.M. and Kozyr, A.
A global monthly climatology of oceanic total dissolved inorganic carbon: a neural network approach
2020
Earth System Science Data
Vol. 12(3), pp. 1725-1743 
article
DOI URL 
Byrne, B., Liu, J., Lee, M., Baker, I., Bowman, K.W., Deutscher, N.M., Feist, D.G., Griffith, D.W.T., Iraci, L.T., Kiel, M., Kimball, J.S., Miller, C.E., Morino, I., Parazoo, N.C., Petri, C., Roehl, C.M., Sha, M.K., Strong, K., Velazco, V.A., Wennberg, P.O. and Wunch, D.
Improved Constraints on Northern Extratropical CO 2 Fluxes Obtained by Combining Surface‐Based and Space‐Based Atmospheric CO 2 Measurements
2020
Journal of Geophysical Research: Atmospheres
Vol. 125(15) 
article
DOI  
Cai, J., Xu, K., Zhu, Y., Hu, F. and Li, L.
Prediction and analysis of net ecosystem carbon exchange based on gradient boosting regression and random forest
2020
Applied Energy
Vol. 262 
article
DOI  
Calders, K., Adams, J., Armston, J., Bartholomeus, H., Bauwens, S., Bentley, L.P., Chave, J., Danson, F.M., Demol, M., Disney, M., Gaulton, R., Krishna Moorthy, S.M., Levick, S.R., Saarinen, N., Schaaf, C., Stovall, A., Terryn, L., Wilkes, P. and Verbeeck, H.
Terrestrial laser scanning in forest ecology: Expanding the horizon
2020
Remote Sensing of Environment
Vol. 251, pp. 112102 
article
DOI URL 
Cao, Z., Yang, W., Zhao, Y., Guo, X., Yin, Z., Du, C., Zhao, H. and Dai, M.
Diagnosis of CO2 dynamics and fluxes in global coastal oceans
2020
National Science Review
Vol. 7(4), pp. 786-797 
article
DOI URL 
Carrière, S.D., Martin-StPaul, N.K., Cakpo, C.B., Patris, N., Gillon, M., Chalikakis, K., Doussan, C., Olioso, A., Babic, M., Jouineau, A., Simioni, G. and Davi, H.
The role of deep vadose zone water in tree transpiration during drought periods in karst settings – Insights from isotopic tracing and leaf water potential
2020
Science of the Total Environment
Vol. 699, pp. 134332 
article
DOI  
Carrière, S.D., Ruffault, J., Pimont, F., Doussan, C., Simioni, G., Chalikakis, K., Limousin, J.M., Scotti, I., Courdier, F., Cakpo, C.B., Davi, H. and Martin-StPaul, N.K.
Impact of local soil and subsoil conditions on inter-individual variations in tree responses to drought: insights from Electrical Resistivity Tomography
2020
Science of the Total Environment
Vol. 698, pp. 134247 
article
DOI  
Carroll, D., Menemenlis, D., Adkins, J.F., Bowman, K.W., Brix, H., Dutkiewicz, S., Fenty, I., Gierach, M.M., Hill, C., Jahn, O., Landschützer, P., Lauderdale, J.M., Liu, J., Manizza, M., Naviaux, J.D., Rödenbeck, C., Schimel, D.S., Van der Stocken, T. and Zhang, H.
The ECCO‐Darwin Data‐assimilative Global Ocean Biogeochemistry Model: Estimates of Seasonal to Multi‐decadal Surface Ocean pCO 2 and Air‐sea CO 2 Flux
2020
Journal of Advances in Modeling Earth Systems 
article
DOI URL 
Chai, F., Johnson, K.S., Claustre, H., Xing, X., Wang, Y., Boss, E., Riser, S., Fennel, K., Schofield, O. and Sutton, A.
Monitoring ocean biogeochemistry with autonomous platforms
2020
Nature Reviews Earth & Environment
Vol. 1(6), pp. 315-326 
article
DOI URL 
Chave, J., Piponiot, C., Maréchaux, I., de Foresta, H., Larpin, D., Fischer, F.J., Derroire, G., Vincent, G. and Hérault, B.
Slow rate of secondary forest carbon accumulation in the Guianas compared with the rest of the Neotropics
2020
Ecological Applications
Vol. 30(1) 
article
DOI  
Chen, X., Maignan, F., Viovy, N., Bastos, A., Goll, D., Wu, J., Liu, L., Yue, C., Peng, S., Yuan, W., da Conceição, A.C., O'Sullivan, M. and Ciais, P.
Novel Representation of Leaf Phenology Improves Simulation of Amazonian Evergreen Forest Photosynthesis in a Land Surface Model
2020
Journal of Advances in Modeling Earth Systems
Vol. 12(1) 
article
DOI  
Ciais, P., Wang, Y., Andrew, R., Bréon, F.M., Chevallier, F., Broquet, G., Nabuurs, G.J., Peters, G., McGrath, M., Meng, W., Zheng, B. and Tao, S.
Biofuel burning and human respiration bias on satellite estimates of fossil fuel CO 2 emissions
2020
Environmental Research Letters
Vol. 15(7), pp. 74036 
article
DOI URL 
Collalti, A., Ibrom, A., Stockmarr, A., Cescatti, A., Alkama, R., Fernández-Martínez, M., Matteucci, G., Sitch, S., Friedlingstein, P., Ciais, P., Goll, D.S., Nabel, J.E.M.S., Pongratz, J., Arneth, A., Haverd, V. and Prentice, I.C.
Forest production efficiency increases with growth temperature
2020
Nature Communications
Vol. 11(1) 
article
DOI URL 
Cristofanelli, P., Arduini, J., Calzolari, F., Giostra, U., Bonasoni, P. and Maione, M.
First Evidences of Methyl Chloride (CH3Cl) Transport from the Northern Italy Boundary Layer during Summer 2017
2020
Atmosphere
Vol. 11(3), pp. 238 
article
DOI URL 
Dañobeitia, J.J., Pouliquen, S., Johannessen, T., Basset, A., Cannat, M., Pfeil, B.G., Fredella, M.I., Materia, P., Gourcuff, C., Magnifico, G., Delory, E., del Rio Fernandez, J., Rodero, I., Beranzoli, L., Nardello, I., Iudicone, D., Carval, T., Gonzalez Aranda, J.M., Petihakis, G., Blandin, J., Kutsch, W.L., Rintala, J.-M., Gates, A.R. and Favali, P.
Toward a Comprehensive and Integrated Strategy of the European Marine Research Infrastructures for Ocean Observations
2020
Frontiers in Marine Science
Vol. 7, pp. 180 
article
DOI URL 
De Gruyter, J., Weedon, J.T., Bazot, S., Dauwe, S., Fernandez-Garberí, P.-R., Geisen, S., De La Motte, L.G., Heinesch, B., Janssens, I.A., Leblans, N., Manise, T., Ogaya, R., Löfvenius, M.O., Peñuelas, J., Sigurdsson, B.D., Vincent, G. and Verbruggen, E.
Patterns of local, intercontinental and interseasonal variation of soil bacterial and eukaryotic microbial communities
2020
FEMS Microbiology Ecology
Vol. 96(3) 
article
DOI URL 
Dobi'nski, W.
Permafrost active layer
2020
Earth-Science Reviews
Vol. 208(May) 
article
DOI  
Doney, S.C., Busch, D.S., Cooley, S.R. and Kroeker, K.J.
The Impacts of Ocean Acidification on Marine Ecosystems and Reliant Human Communities
2020
Annual Review of Environment and Resources
Vol. 45(1) 
article
DOI  
Eller, C.B., Rowland, L., Mencuccini, M., Rosas, T., Williams, K., Harper, A., Medlyn, B.E., Wagner, Y., Klein, T., Teodoro, G.S., Oliveira, R.S., Matos, I.S., Rosado, B.H., Fuchs, K., Wohlfahrt, G., Montagnani, L., Meir, P., Sitch, S. and Cox, P.M.
Stomatal optimization based on xylem hydraulics (SOX) improves land surface model simulation of vegetation responses to climate
2020
New Phytologist
Vol. 226(6), pp. 1622-1637 
article
DOI  
El-Madany, T.S., Carrara, A., Martín, M.P., Moreno, G., Kolle, O., Pacheco-Labrador, J., Weber, U., Wutzler, T., Reichstein, M. and Migliavacca, M.
Drought and heatwave impacts on semi-arid ecosystems' carbon fluxes along a precipitation gradient
2020
Philosophical Transactions of the Royal Society B: Biological Sciences
Vol. 375(1810), pp. 20190519 
article
DOI URL 
Fersch, B., Senatore, A., Adler, B., Arnault, J., Mauder, M., Schneider, K., Völksch, I. and Kunstmann, H.
High-resolution fully coupled atmospheric-hydrological modeling: A cross-compartment regional water and energy cycle evaluation
2020
Hydrology and Earth System Sciences
Vol. 24(5), pp. 2457-2481 
article
DOI  
Fisher, J.B., Lee, B., Purdy, A.J., Halverson, G.H., Dohlen, M.B., Cawse-Nicholson, K., Wang, A., Anderson, R.G., Aragon, B., Arain, M.A., Baldocchi, D.D., Baker, J.M., Barral, H., Bernacchi, C.J., Bernhofer, C., Biraud, S.C., Bohrer, G., Brunsell, N., Cappelaere, B., Castro-Contreras, S., Chun, J., Conrad, B.J., Cremonese, E., Demarty, J., Desai, A.R., De Ligne, A., Foltýnová, L., Goulden, M.L., Griffis, T.J., Grünwald, T., Johnson, M.S., Kang, M., Kelbe, D., Kowalska, N., Lim, J.H., Maïnassara, I., McCabe, M.F., Missik, J.E.C., Mohanty, B.P., Moore, C.E., Morillas, L., Morrison, R., Munger, J.W., Posse, G., Richardson, A.D., Russell, E.S., Ryu, Y., Sanchez-Azofeifa, A., Schmidt, M., Schwartz, E., Sharp, I., Šigut, L., Tang, Y., Hulley, G., Anderson, M., Hain, C., French, A., Wood, E. and Hook, S.
ECOSTRESS: NASA's Next Generation Mission to Measure Evapotranspiration From the International Space Station
2020
Water Resources Research
Vol. 56(4), pp. 1-20 
article
DOI  
Flechard, C.R., Ibrom, A., Skiba, U.M., de Vries, W., van Oijen, M., Cameron, D.R., Dise, N.B., Korhonen, J.F.J., Buchmann, N., Legout, A., Simpson, D., Sanz, M.J., Aubinet, M., Loustau, D., Montagnani, L., Neirynck, J., Janssens, I.A., Pihlatie, M., Kiese, R., Siemens, J., Francez, A.-J., Augustin, J., Varlagin, A., Olejnik, J., Juszczak, R., Aurela, M., Berveiller, D., Chojnicki, B.H., Dämmgen, U., Delpierre, N., Djuricic, V., Drewer, J., Dufrêne, E., Eugster, W., Fauvel, Y., Fowler, D., Frumau, A., Granier, A., Gross, P., Hamon, Y., Helfter, C., Hensen, A., Horváth, L., Kitzler, B., Kruijt, B., Kutsch, W.L., Lobo-do-Vale, R., Lohila, A., Longdoz, B., Marek, M.V., Matteucci, G., Mitosinkova, M., Moreaux, V., Neftel, A., Ourcival, J.-M., Pilegaard, K., Pita, G., Sanz, F., Schjoerring, J.K., Sebastià, M.-T., Tang, Y.S., Uggerud, H., Urbaniak, M., van Dijk, N., Vesala, T., Vidic, S., Vincke, C., Weidinger, T., Zechmeister-Boltenstern, S., Butterbach-Bahl, K., Nemitz, E. and Sutton, M.A.
Carbon-nitrogen interactions in European forests and semi-natural vegetation; Part 1: Fluxes and budgets of carbon, nitrogen and greenhouse gases from ecosystem monitoring and modelling
2020
Biogeosciences
Vol. 17(6), pp. 1583-1620 
article
DOI URL 
Flechard, C.R., van Oijen, M., Cameron, D.R., de Vries, W., Ibrom, A., Buchmann, N., Dise, N.B., Janssens, I.A., Neirynck, J., Montagnani, L., Varlagin, A., Loustau, D., Legout, A., Ziembli'nska, K., Aubinet, M., Aurela, M., Chojnicki, B.H., Drewer, J., Eugster, W., Francez, A.-J., Juszczak, R., Kitzler, B., Kutsch, W.L., Lohila, A., Longdoz, B., Matteucci, G., Moreaux, V., Neftel, A., Olejnik, J., Sanz, M.J., Siemens, J., Vesala, T., Vincke, C., Nemitz, E., Zechmeister-Boltenstern, S., Butterbach-Bahl, K., Skiba, U.M. and Sutton, M.A.
Carbon-nitrogen interactions in European forests and semi-natural vegetation; Part 2: Untangling climatic, edaphic, management and nitrogen deposition effects on carbon sequestration potentials
2020
Biogeosciences
Vol. 17(6), pp. 1621-1654 
article
DOI URL 
Ford, D.A.
Assessing the role and consistency of satellite observation products in global physical–biogeochemical ocean reanalysis
2020
Ocean Science
Vol. 16(4), pp. 875-893 
article
DOI URL 
Fourrier, M., Coppola, L., Claustre, H., D'Ortenzio, F., Sauzède, R. and Gattuso, J.-P.
A Regional Neural Network Approach to Estimate Water-Column Nutrient Concentrations and Carbonate System Variables in the Mediterranean Sea: CANYON-MED
2020
Frontiers in Marine Science
Vol. 7 
article
DOI URL 
Fu, Z., Ciais, P., Bastos, A., Stoy, P.C., Yang, H., Green, J.K., Wang, B., Yu, K., Huang, Y., Knohl, A., Šigut, L., Gharun, M., Cuntz, M., Arriga, N., Roland, M., Peichl, M., Migliavacca, M., Cremonese, E., Varlagin, A., Brümmer, C., Gourlez de la Motte, L., Fares, S., Buchmann, N., El-Madany, T.S., Pitacco, A., Vendrame, N., Li, Z., Vincke, C., Magliulo, E. and Koebsch, F.
Sensitivity of gross primary productivity to climatic drivers during the summer drought of 2018 in Europe
2020
Philosophical Transactions of the Royal Society B: Biological Sciences
Vol. 375(1810), pp. 20190747 
article
DOI URL 
Gallego, M.A., Timmermann, A., Friedrich, T. and Zeebe, R.E.
Anthropogenic Intensification of Surface Ocean Interannual pCO textlesssubtextgreater2textless/subtextgreater Variability
2020
Geophysical Research Letters
Vol. 47(13) 
article
DOI URL 
Gharun, M., Hörtnagl, L., Paul-Limoges, E., Ghiasi, S., Feigenwinter, I., Burri, S., Marquardt, K., Etzold, S., Zweifel, R., Eugster, W. and Buchmann, N.
Physiological response of Swiss ecosystems to 2018 drought across plant types and elevation
2020
Philosophical Transactions of the Royal Society B: Biological Sciences
Vol. 375(1810), pp. 20190521 
article
DOI URL 
Ghirardo, A., Lindstein, F., Koch, K., Buegger, F., Schloter, M., Albert, A., Michelsen, A., Winkler, J.B., Schnitzler, J.P. and Rinnan, R.
Origin of volatile organic compound emissions from subarctic tundra under global warming
2020
Global Change Biology
Vol. 26(3), pp. 1908-1925 
article
DOI  
Gourlez de la Motte, L., Beauclaire, Q., Heinesch, B., Cuntz, M., Foltýnová, L., Šigut, L., Kowalska, N., Manca, G., Ballarin, I.G., Vincke, C., Roland, M., Ibrom, A., Lousteau, D., Siebicke, L., Neiryink, J. and Longdoz, B.
Non-stomatal processes reduce gross primary productivity in temperate forest ecosystems during severe edaphic drought
2020
Philosophical Transactions of the Royal Society B: Biological Sciences
Vol. 375(1810), pp. 20190527 
article
DOI URL 
Graf, A., Klosterhalfen, A., Arriga, N., Bernhofer, C., Bogena, H., Bornet, F., Brüggemann, N., Brümmer, C., Buchmann, N., Chi, J., Chipeaux, C., Cremonese, E., Cuntz, M., Dušek, J., El-Madany, T.S., Fares, S., Fischer, M., Foltýnová, L., Gharun, M., Ghiasi, S., Gielen, B., Gottschalk, P., Grünwald, T., Heinemann, G., Heinesch, B., Heliasz, M., Holst, J., Hörtnagl, L., Ibrom, A., Ingwersen, J., Jurasinski, G., Klatt, J., Knohl, A., Koebsch, F., Konopka, J., Korkiakoski, M., Kowalska, N., Kremer, P., Kruijt, B., Lafont, S., Léonard, J., De Ligne, A., Longdoz, B., Loustau, D., Magliulo, V., Mammarella, I., Manca, G., Mauder, M., Migliavacca, M., Mölder, M., Neirynck, J., Ney, P., Nilsson, M., Paul-Limoges, E., Peichl, M., Pitacco, A., Poyda, A., Rebmann, C., Roland, M., Sachs, T., Schmidt, M., Schrader, F., Siebicke, L., Šigut, L., Tuittila, E.-S., Varlagin, A., Vendrame, N., Vincke, C., Völksch, I., Weber, S., Wille, C., Wizemann, H.-D., Zeeman, M. and Vereecken, H.
Altered energy partitioning across terrestrial ecosystems in the European drought year 2018
2020
Philosophical Transactions of the Royal Society B: Biological Sciences
Vol. 375(1810), pp. 20190524 
article
DOI URL 
Griebel, A., Metzen, D., Pendall, E., Burba, G. and Metzger, S.
Generating Spatially Robust Carbon Budgets From Flux Tower Observations
2020
Geophysical Research Letters
Vol. 47(3) 
article
DOI  
Grunicke, S., Queck, R. and Bernhofer, C.
Long-term investigation of forest canopy rainfall interception for a spruce stand
2020
Agricultural and Forest Meteorology
Vol. 292-293(February), pp. 108125 
article
DOI URL 
Hari, V., Rakovec, O., Markonis, Y., Hanel, M. and Kumar, R.
Increased future occurrences of the exceptional 2018–2019 Central European drought under global warming
2020
Scientific Reports
Vol. 10(1), pp. 12207 
article
DOI URL 
Hartmann, E., Schulz, J.P., Seibert, R., Schmidt, M., Zhang, M., Luterbacher, J. and Tölle, M.H.
Impact of environmental conditions on grass phenology in the regional climate model COSMO-CLM
2020
Atmosphere
Vol. 11(12), pp. 1-19 
article
DOI  
Haverd, V., Smith, B., Canadell, J.G., Cuntz, M., Mikaloff‐Fletcher, S., Farquhar, G., Woodgate, W., Briggs, P.R. and Trudinger, C.M.
Higher than expected CO 2 fertilization inferred from leaf to global observations
2020
Global Change Biology
Vol. 26(4), pp. 2390-2402 
article
DOI  
Helbig, M., Waddington, J.M., Alekseychik, P., Amiro, B., Aurela, M., Barr, A.G., Black, T.A., Carey, S.K., Chen, J., Chi, J., Desai, A.R., Dunn, A., Euskirchen, E.S., Flanagan, L.B., Friborg, T., Garneau, M., Grelle, A., Harder, S., Heliasz, M., Humphreys, E.R., Ikawa, H., Isabelle, P.E., Iwata, H., Jassal, R., Korkiakoski, M., Kurbatova, J., Kutzbach, L., Lapshina, E., Lindroth, A., Löfvenius, M.O., Lohila, A., Mammarella, I., Marsh, P., Moore, P.A., Maximov, T., Nadeau, D.F., Nicholls, E.M., Nilsson, M.B., Ohta, T., Peichl, M., Petrone, R.M., Prokushkin, A., Quinton, W.L., Roulet, N., Runkle, B.R.K., Sonnentag, O., Strachan, I.B., Taillardat, P., Tuittila, E.S., Tuovinen, J.P., Turner, J., Ueyama, M., Varlagin, A., Vesala, T., Wilmking, M., Zyrianov, V. and Schulze, C.
The biophysical climate mitigation potential of boreal peatlands during the growing season
2020
Environmental Research Letters
Vol. 15(10) 
article
DOI  
Helbig, M., Waddington, J.M., Alekseychik, P., Amiro, B.D., Aurela, M., Barr, A.G., Black, T.A., Blanken, P.D., Carey, S.K., Chen, J., Chi, J., Desai, A.R., Dunn, A., Euskirchen, E.S., Flanagan, L.B., Forbrich, I., Friborg, T., Grelle, A., Harder, S., Heliasz, M., Humphreys, E.R., Ikawa, H., Isabelle, P.E., Iwata, H., Jassal, R., Korkiakoski, M., Kurbatova, J., Kutzbach, L., Lindroth, A., Löfvenius, M.O., Lohila, A., Mammarella, I., Marsh, P., Maximov, T., Melton, J.R., Moore, P.A., Nadeau, D.F., Nicholls, E.M., Nilsson, M.B., Ohta, T., Peichl, M., Petrone, R.M., Petrov, R., Prokushkin, A., Quinton, W.L., Reed, D.E., Roulet, N.T., Runkle, B.R., Sonnentag, O., Strachan, I.B., Taillardat, P., Tuittila, E.S., Tuovinen, J.P., Turner, J., Ueyama, M., Varlagin, A., Wilmking, M., Wofsy, S.C. and Zyrianov, V.
Increasing contribution of peatlands to boreal evapotranspiration in a warming climate
2020
Nature Climate Change
Vol. 10(6), pp. 555-560 
article
DOI  
Henley, S.F., Cavan, E.L., Fawcett, S.E., Kerr, R., Monteiro, T., Sherrell, R.M., Bowie, A.R., Boyd, P.W., Barnes, D.K.A., Schloss, I.R., Marshall, T., Flynn, R. and Smith, S.
Changing Biogeochemistry of the Southern Ocean and Its Ecosystem Implications
2020
Frontiers in Marine Science
Vol. 7, pp. 581 
article
DOI URL 
Hobeichi, S., Abramowitz, G. and Evans, J.
Conserving Land–Atmosphere Synthesis Suite (CLASS)
2020
Journal of Climate
Vol. 33(5), pp. 1821-1844 
article
DOI URL 
Horemans, J.A., Janssens, I.A., Gielen, B., Roland, M., Deckmyn, G., Verstraeten, A., Neirynck, J. and Ceulemans, R.
Weather, pollution and biotic factors drive net forest - atmosphere exchange of CO2 at different temporal scales in a temperate-zone mixed forest
2020
AGRICULTURAL AND FOREST METEOROLOGY
Vol. 291 
article
DOI  
Hough, M., McClure, A., Bolduc, B., Dorrepaal, E., Saleska, S., Klepac-Ceraj, V. and Rich, V.
Biotic and Environmental Drivers of Plant Microbiomes Across a Permafrost Thaw Gradient
2020
Frontiers in Microbiology
Vol. 11(May), pp. 1-18 
article
DOI  
Hrachowitz, M., Stockinger, M., Coenders-Gerrits, M., van der Ent, R., Bogena, H., Lücke, A. and Stumpp, C.
Deforestation reduces the vegetation-accessible water storage in the unsaturated soil and affects catchment travel time distributions and young water fractions
2020
Hydrology and Earth System Sciences Discussions
Vol. 2020, pp. 1-43 
article
DOI URL 
Huang, J., Desai, A.R., Zhu, J., Hartemink, A.E., Stoy, P.C., Loheide, S.P., Bogena, H.R., Zhang, Y., Zhang, Z. and Arriaga, F.
Retrieving Heterogeneous Surface Soil Moisture at 100 m Across the Globe via Fusion of Remote Sensing and Land Surface Parameters
2020
Frontiers in Water
Vol. 2(October) 
article
DOI  
ICOS, ERIC
ICOS Handbook
2020
, pp. 1-150 
book
URL 
Jakobi, J., Huisman, J.A., Schrön, M., Fiedler, J., Brogi, C., Vereecken, H. and Bogena, H.R.
Error Estimation for Soil Moisture Measurements With Cosmic Ray Neutron Sensing and Implications for Rover Surveys
2020
Frontiers in Water
Vol. 2(May), pp. 1-15 
article
DOI  
Janardanan, R., Maksyutov, S., Tsuruta, A., Wang, F., Tiwari, Y.K., Valsala, V., Ito, A., Yoshida, Y., Kaiser, J.W., Janssens-Maenhout, G., Arshinov, M., Sasakawa, M., Tohjima, Y., Worthy, D.E.J., Dlugokencky, E.J., Ramonet, M., Arduini, J., Lavric, J.V., Piacentino, S., Krummel, P.B., Langenfelds, R.L., Mammarella, I. and Matsunaga, T.
Country-Scale Analysis of Methane Emissions with a High-Resolution Inverse Model Using GOSAT and Surface Observations
2020
Remote Sensing
Vol. 12(3), pp. 375 
article
DOI URL 
Jansen, J., F. Thornton, B., Cortés, A., Snöälv, J., Wik, M., MacIntyre, S. and Crill, P.M.
Drivers of diffusive CH4 emissions from shallow subarctic lakes on daily to multi-year timescales
2020
Biogeosciences
Vol. 17(7), pp. 1911-1932 
article
DOI  
Jansen, J., Thornton, B.F., Wik, M., MacIntyre, S. and Crill, P.M.
Temperature Proxies as a Solution to Biased Sampling of Lake Methane Emissions
2020
Geophysical Research Letters
Vol. 47(14) 
article
DOI  
Janssens-Maenhout, G., Pinty, B., Dowell, M., Zunker, H., Andersson, E., Balsamo, G., Bézy, J.-L., Brunhes, T., Bösch, H., Bojkov, B., Brunner, D., Buchwitz, M., Crisp, D., Ciais, P., Counet, P., Dee, D., Denier van der Gon, H., Dolman, H., Drinkwater, M., Dubovik, O., Engelen, R., Fehr, T., Fernandez, V., Heimann, M., Holmlund, K., Houweling, S., Husband, R., Juvyns, O., Kentarchos, A., Landgraf, J., Lang, R., Löscher, A., Marshall, J., Meijer, Y., Nakajima, M., Palmer, P.I., Peylin, P., Rayner, P., Scholze, M., Sierk, B., Tamminen, J. and Veefkind, P.
Towards an operational anthropogenic CO2 emissions monitoring and verification support capacity
2020
Bulletin of the American Meteorological Society
Vol. preprint(2020) 
article
DOI URL 
Järveoja, J., Nilsson, M.B., Crill, P.M. and Peichl, M.
Bimodal diel pattern in peatland ecosystem respiration rebuts uniform temperature response
2020
Nature Communications
Vol. 11(1), pp. 4255 
article
DOI URL 
Jiang, T., Wang, D., Meng, B., Chi, J., Laudon, H. and Liu, J.
The concentrations and characteristics of dissolved organic matter in high-latitude lakes determine its ambient reducing capacity
2020
Water Research
Vol. 169, pp. 115217 
article
DOI URL 
Jung, M., Schwalm, C., Migliavacca, M., Walther, S., Camps-Valls, G., Koirala, S., Anthoni, P., Besnard, S., Bodesheim, P., Carvalhais, N., Chevallier, F., Gans, F., Goll, D.S., Haverd, V., Köhler, P., Ichii, K., Jain, A.K., Liu, J., Lombardozzi, D., Nabel, J.E.M.S., Nelson, J.A., O&apos, Sullivan, M., Pallandt, M., Papale, D., Peters, W., Pongratz, J., Rödenbeck, C., Sitch, S., Tramontana, G., Walker, A., Weber, U. and Reichstein, M.
Scaling carbon fluxes from eddy covariance sites to globe: synthesis and evaluation of the FLUXCOM approach
2020
Biogeosciences
Vol. 17(5), pp. 1343-1365 
article
DOI URL 
Kaikkonen, L., Enberg, S., Blomster, J., Luhtanen, A.-M., Autio, R. and Rintala, J.-M.
Autumn to spring microbial community in the northern Baltic Sea: temporal variability in bacterial, viral and nanoflagellate abundance during the cold-water season
2020
Polar Biology 
article
DOI URL 
Kammer, J., Décuq, C., Baisnée, D., Ciuraru, R., Lafouge, F., Buysse, P., Bsaibes, S., Henderson, B., Cristescu, S.M., Benabdallah, R., Chandra, V., Durand, B., Fanucci, O., Petit, J.E., Truong, F., Bonnaire, N., Sarda-Estève, R., Gros, V. and Loubet, B.
Characterization of particulate and gaseous pollutants from a French dairy and sheep farm
2020
Science of the Total Environment
Vol. 712, pp. 135598 
article
DOI  
Kannenberg, S.A., Bowling, D.R. and Anderegg, W.R.
Hot moments in ecosystem fluxes: High GPP anomalies exert outsized influence on the carbon cycle and are differentially driven by moisture availability across biomes
2020
Environmental Research Letters
Vol. 15(5) 
article
DOI  
Kitz, F., Spielmann, F.M., Hammerle, A., Kolle, O., Migliavacca, M., Moreno, G., Ibrom, A., Krasnov, D., Noe, S.M. and Wohlfahrt, G.
Soil COS Exchange: A Comparison of Three European Ecosystems
2020
Global Biogeochemical Cycles
Vol. 34(4) 
article
DOI  
Koebsch, F., Gottschalk, P., Beyer, F., Wille, C., Jurasinski, G. and Sachs, T.
The impact of occasional drought periods on vegetation spread and greenhouse gas exchange in rewetted fens
2020
Philosophical Transactions of the Royal Society B: Biological Sciences
Vol. 375(1810), pp. 20190685 
article
DOI URL 
Koebsch, F., Sonnentag, O., Järveoja, J., Peltoniemi, M., Alekseychik, P., Aurela, M., Arslan, A.N., Dinsmore, K., Gianelle, D., Helfter, C., Jackowicz-Korczynski, M., Korrensalo, A., Leith, F., Linkosalmi, M., Lohila, A., Lund, M., Maddison, M., Mammarella, I., Mander, Ü., Minkkinen, K., Pickard, A., Pullens, J.W.M., Tuittila, E.S., Nilsson, M.B. and Peichl, M.
Refining the role of phenology in regulating gross ecosystem productivity across European peatlands
2020
Global Change Biology
Vol. 26(2), pp. 876-887 
article
DOI  
Korkiakoski, M., Ojanen, P., Penttilä, T., Minkkinen, K., Sarkkola, S., Rainne, J., Laurila, T. and Lohila, A.
Impact of partial harvest on CH4 and N2O balances of a drained boreal peatland forest
2020
Agricultural and Forest Meteorology
Vol. 295(March), pp. 108168 
article
DOI URL 
Korrensalo, A., Mehtätalo, L., Alekseychik, P., Uljas, S., Mammarella, I., Vesala, T. and Tuittila, E.S.
Varying Vegetation Composition, Respiration and Photosynthesis Decrease Temporal Variability of the CO2 Sink in a Boreal Bog
2020
Ecosystems
Vol. 23(4), pp. 842-858 
article
DOI  
Kowalska, N., Šigut, L., Stojanović, M., Fischer, M., Kyselova, I. and Pavelka, M.
Analysis of floodplain forest sensitivity to drought
2020
Philosophical Transactions of the Royal Society B: Biological Sciences
Vol. 375(1810), pp. 20190518 
article
DOI URL 
Kozii, N., Haahti, K., Tor-Ngern, P., Chi, J., Maher Hasselquist, E., Laudon, H., Launiainen, S., Oren, R., Peichl, M., rgen Wallerman, J. and Hasselquist, N.J.
Partitioning growing season water balance within a forested boreal catchment using sap flux, eddy covariance, and a process-based model
2020
Hydrology and Earth System Sciences
Vol. 24(6), pp. 2999-3014 
article
DOI  
Krich, C., Runge, J., Miralles, D.G., Migliavacca, M., Perez-Priego, O., El-Madany, T., Carrara, A. and Mahecha, M.D.
Estimating causal networks in biosphere-atmosphere interaction with the PCMCI approach
2020
Biogeosciences
Vol. 17(4), pp. 1033-1061 
article
DOI  
Kuhry, P., Barta, J., Blok, D., Elberling, B., Faucherre, S., Hugelius, G., Jørgensen, C.J., Richter, A., ŠantrÅ̄čková, H. and Weiss, N.
Lability classification of soil organic matter in the northern permafrost region
2020
Biogeosciences
Vol. 17(2), pp. 361-379 
article
DOI  
L. Tunnicliffe, R., L. Ganesan, A., J. Parker, R., Boesch, H., Gedney, N., Poulter, B., Zhang, Z., Walter, D., Rigby, M., Henne, S., Young, D. and O'Doherty, S.
Quantifying sources of Brazil's CH4 emissions between 2010 and 2018 from satellite data
2020
Atmospheric Chemistry and Physics
Vol. 20(21), pp. 13041-13067 
article
DOI  
Languille, B., Gros, V., Petit, J.E., Honoré, C., Baudic, A., Perrussel, O., Foret, G., Michoud, V., Truong, F., Bonnaire, N., Sarda-Estève, R., Delmotte, M., Feron, A., Maisonneuve, F., Gaimoz, C., Formenti, P., Kotthaus, S., Haeffelin, M. and Favez, O.
Wood burning: A major source of Volatile Organic Compounds during wintertime in the Paris region
2020
Science of the Total Environment
Vol. 711, pp. 135055 
article
DOI  
Lansu, E.M., van Heerwaarden, C.C., Stegehuis, A.I. and Teuling, A.J.
Atmospheric Aridity and Apparent Soil Moisture Drought in European Forest During Heat Waves
2020
Geophysical Research Letters
Vol. 47(6) 
article
DOI  
Le Quéré, C., Jackson, R.B., Jones, M.W., Smith, A.J.P., Abernethy, S., Andrew, R.M., De-Gol, A.J., Willis, D.R., Shan, Y., Canadell, J.G., Friedlingstein, P., Creutzig, F. and Peters, G.P.
Temporary reduction in daily global CO2 emissions during the COVID-19 forced confinement
2020
Nature Climate Change
Vol. 10(7), pp. 647-653 
article
DOI URL 
Lefèvre, N., Tyaquiçã, P., Veleda, D., Perruche, C. and van Gennip, S.J.
Amazon River propagation evidenced by a CO2 decrease at 8°N, 38°W in September 2013
2020
Journal of Marine Systems
Vol. 211 
article
DOI  
Legge, O., Johnson, M., Hicks, N., Jickells, T., Diesing, M., Aldridge, J., Andrews, J., Artioli, Y., Bakker, D.C., Burrows, M.T., Carr, N., Cripps, G., Felgate, S.L., Fernand, L., Greenwood, N., Hartman, S., Kröger, S., Lessin, G., Mahaffey, C., Mayor, D.J., Parker, R., Queirós, A.M., Shutler, J.D., Silva, T., Stahl, H., Tinker, J., Underwood, G.J., Van Der Molen, J., Wakelin, S., Weston, K. and Williamson, P.
Carbon on the Northwest European Shelf: Contemporary Budget and Future Influences
2020
Frontiers in Marine Science
Vol. 7, pp. 143 
article
DOI URL 
Lembrechts, J.J., Aalto, J., Ashcroft, M.B., De Frenne, P., Kopecký, M., Lenoir, J., Luoto, M., Maclean, I.M., Roupsard, O., Fuentes-Lillo, E., García, R.A., Pellissier, L., Pitteloud, C., Alatalo, J.M., Smith, S.W., Björk, R.G., Muffler, L., Ratier Backes, A., Cesarz, S., Gottschall, F., Okello, J., Urban, J., Plichta, R., Svátek, M., Phartyal, S.S., Wipf, S., Eisenhauer, N., Pușcaș, M., Turtureanu, P.D., Varlagin, A., Dimarco, R.D., Jump, A.S., Randall, K., Dorrepaal, E., Larson, K., Walz, J., Vitale, L., Svoboda, M., Finger Higgens, R., Halbritter, A.H., Curasi, S.R., Klupar, I., Koontz, A., Pearse, W.D., Simpson, E., Stemkovski, M., Jessen Graae, B., Vedel Sørensen, M., Høye, T.T., Fernández Calzado, M.R., Lorite, J., Carbognani, M., Tomaselli, M., Forte, T.G., Petraglia, A., Haesen, S., Somers, B., Van Meerbeek, K., Björkman, M.P., Hylander, K., Merinero, S., Gharun, M., Buchmann, N., Dolezal, J., Matula, R., Thomas, A.D., Bailey, J.J., Ghosn, D., Kazakis, G., de Pablo, M.A., Kemppinen, J., Niittynen, P., Rew, L., Seipel, T., Larson, C., Speed, J.D., Ardö, J., Cannone, N., Guglielmin, M., Malfasi, F., Bader, M.Y., Canessa, R., Stanisci, A., Kreyling, J., Schmeddes, J., Teuber, L., Aschero, V., Čiliak, M., Máliš, F., De Smedt, P., Govaert, S., Meeussen, C., Vangansbeke, P., Gigauri, K., Lamprecht, A., Pauli, H., Steinbauer, K., Winkler, M., Ueyama, M., Nuñez, M.A., Ursu, T.M., Haider, S., Wedegärtner, R.E., Smiljanic, M., Trouillier, M., Wilmking, M., Altman, J., Brůna, J., Hederová, L., Macek, M., Man, M., Wild, J., Vittoz, P., Pärtel, M., Barančok, P., Kanka, R., Kollár, J., Palaj, A., Barros, A., Mazzolari, A.C., Bauters, M., Boeckx, P., Benito Alonso, J.L., Zong, S., Di Cecco, V., Sitková, Z., Tielbörger, K., van den Brink, L., Weigel, R., Homeier, J., Dahlberg, C.J., Medinets, S., Medinets, V., De Boeck, H.J., Portillo-Estrada, M., Verryckt, L.T., Milbau, A., Daskalova, G.N., Thomas, H.J., Myers-Smith, I.H., Blonder, B., Stephan, J.G., Descombes, P., Zellweger, F., Frei, E.R., Heinesch, B., Andrews, C., Dick, J., Siebicke, L., Rocha, A., Senior, R.A., Rixen, C., Jimenez, J.J., Boike, J., Pauchard, A., Scholten, T., Scheffers, B., Klinges, D., Basham, E.W., Zhang, J., Zhang, Z., Géron, C., Fazlioglu, F., Candan, O., Sallo Bravo, J., Hrbacek, F., Laska, K., Cremonese, E., Haase, P., Moyano, F.E., Rossi, C. and Nijs, I.
SoilTemp: A global database of near-surface temperature
2020
Global Change Biology 
article
DOI  
Leppä, K., Korkiakoski, M., Nieminen, M., Laiho, R., Hotanen, J.P., Kieloaho, A.J., Korpela, L., Laurila, T., Lohila, A., Minkkinen, K., Mäkipää, R., Ojanen, P., Pearson, M., Penttilä, T., Tuovinen, J.P. and Launiainen, S.
Vegetation controls of water and energy balance of a drained peatland forest: Responses to alternative harvesting practices
2020
Agricultural and Forest Meteorology
Vol. 295(April), pp. 108198 
article
DOI URL 
Leseurre, C., Lo Monaco, C., Reverdin, G., Metzl, N., Fin, J., Olafsdottir, S. and Racapé, V.
Ocean carbonate system variability in the North Atlantic Subpolar surface water (1993-2017)
2020
Biogeosciences
Vol. 17(9), pp. 2553-2577 
article
DOI  
Levin, I., Karstens, U., Eritt, M., Maier, F., Arnold, S., Rzesanke, D., Hammer, S., Ramonet, M., Vítková, G., Conil, S., Heliasz, M., Kubistin, D. and Lindauer, M.
A dedicated flask sampling strategy developed for Integrated Carbon Observation System (ICOS) stations based on CO<sub>2</sub> and CO measurements and Stochastic Time-Inverted Lagrangian Transport (STILT) footprint modelling
2020
Atmospheric Chemistry and Physics
Vol. 20(18), pp. 11161-11180 
article
DOI URL 
Levy, P., Drewer, J., Jammet, M., Leeson, S., Friborg, T., Skiba, U. and van Oijen, M.
Inference of spatial heterogeneity in surface fluxes from eddy covariance data: A case study from a subarctic mire ecosystem
2020
Agricultural and Forest Meteorology
Vol. 280(August 2019), pp. 107783 
article
DOI URL 
Li, X., Wahlroos, O., Haapanala, S., Pumpanen, J., Vasander, H., Ojala, A., Vesala, T. and Mammarella, I.
Carbon dioxide and methane fluxes from different surface types in a created urban wetland
2020
Biogeosciences
Vol. 17(13), pp. 3409-3425 
article
DOI  
Li, X. and Xiao, J.
Global climatic controls on interannual variability of ecosystem productivity: Similarities and differences inferred from solar-induced chlorophyll fluorescence and enhanced vegetation index
2020
Agricultural and Forest Meteorology 
article
DOI  
Lian, X., Piao, S., Li, L.Z.X., Li, Y., Huntingford, C., Ciais, P., Cescatti, A., Janssens, I.A., Peñuelas, J., Buermann, W., Chen, A., Li, X., Myneni, R.B., Wang, X., Wang, Y., Yang, Y., Zeng, Z., Zhang, Y. and McVicar, T.R.
Summer soil drying exacerbated by earlier spring greening of northern vegetation
2020
Science Advances
Vol. 6(1), pp. eaax0255 
article
DOI  
Lin, H., Tu, C., Fang, J., Gioli, B., Loubet, B., Gruening, C., Zhou, G., Beringer, J., Huang, J., Dušek, J., Liddell, M., Buysse, P., Shi, P., Song, Q., Han, S., Magliulo, V., Li, Y. and Grace, J.
Forests buffer thermal fluctuation better than non-forests
2020
Agricultural and Forest Meteorology 
article
DOI  
Lindroth, A., Holst, J., Linderson, M.-L., Aurela, M., Biermann, T., Heliasz, M., Chi, J., Ibrom, A., Kolari, P., Klemedtsson, L., Krasnova, A., Laurila, T., Lehner, I., Lohila, A., Mammarella, I., Mölder, M., Löfvenius, M.O., Peichl, M., Pilegaard, K., Soosar, K., Vesala, T., Vestin, P., Weslien, P. and Nilsson, M.
Effects of drought and meteorological forcing on carbon and water fluxes in Nordic forests during the dry summer of 2018
2020
Philosophical Transactions of the Royal Society B: Biological Sciences
Vol. 375(1810), pp. 20190516 
article
DOI URL 
Liu, N., Michelsen, A. and Rinnan, R.
Vegetation and soil responses to added carbon and nutrients remain six years after discontinuation of long-term treatments
2020
Science of the Total Environment
Vol. 722, pp. 137885 
article
DOI URL 
Louarn, G., Chabbi, A. and Gastal, F.
Nitrogen concentration in the upper leaves of the canopy is a reliable indicator of plant N nutrition in both pure and mixed grassland swards
2020
Grass and Forage Science
Vol. 75(1), pp. 127-133 
article
DOI  
Macovei, V.A., Hartman, S.E., Schuster, U., Torres-Valdés, S., Moore, C.M. and Sanders, R.J.
Impact of physical and biological processes on temporal variations of the ocean carbon sink in the mid-latitude North Atlantic (2002–2016)
2020
Progress in Oceanography
Vol. 180, pp. 102223 
article
DOI  
Maksyutov, S., Oda, T., Saito, M., Janardanan, R., Belikov, D., Kaiser, W., Zhuravlev, R., Ganshin, A., Valsala, V.K., Andrews, A., Chmura, L., Dlugokencky, E., Haszpra, L., Langenfelds, R.L., Machida, T., Nakazawa, T., Ramonet, M., Sweeney, C. and Worthy, D.
Technical note: A high-resolution inverse modelling technique for estimating surface CO2 fluxes based on the NIES-TM-FLEXPART coupled transport model and its adjoint
2020
Atmospheric Chemistry and Physics 
article
DOI URL 
Martínez, B., Gilabert, M.A., Sánchez-Ruiz, S., Campos-Taberner, M., García-Haro, F.J., Brümmer, C., Carrara, A., Feig, G., Grünwald, T., Mammarella, I. and Tagesson, T.
Evaluation of the LSA-SAF gross primary production product derived from SEVIRI/MSG data (MGPP)
2020
ISPRS Journal of Photogrammetry and Remote Sensing
Vol. 159(November 2019), pp. 220-236 
article
DOI URL 
McColl, K.A. and Rigden, A.J.
Emergent Simplicity of Continental Evapotranspiration
2020
Geophysical Research Letters
Vol. 47(6) 
article
DOI  
McKinley, G.A., Fay, A.R., Eddebbar, Y.A., Gloege, L. and Lovenduski, N.S.
External Forcing Explains Recent Decadal Variability of the Ocean Carbon Sink
2020
AGU Advances
Vol. 1(2) 
article
DOI URL 
Melton, J.R., Arora, V.K., Wisernig-Cojoc, E., Seiler, C., Fortier, M., Chan, E. and Teckentrup, L.
CLASSIC v1.0: The open-source community successor to the Canadian Land Surface Scheme (CLASS) and the Canadian Terrestrial Ecosystem Model (CTEM)-Part 1: Model framework and site-level performance
2020
Geoscientific Model Development
Vol. 13(6), pp. 2825-2850 
article
DOI  
Miettinen, H., Pumpanen, J., Rantakari, M. and Ojala, A.
Carbon dynamics in a Boreal land-stream-lake continuum during the spring freshet of two hydrologically contrasting years
2020
Biogeochemistry
Vol. 148(1), pp. 91-109 
article
DOI  
Mobilia, M., Schmidt, M. and Longobardi, A.
Modelling actual evapotranspiration seasonal variability by meteorological data-based models
2020
Hydrology
Vol. 7(3), pp. 1-27 
article
DOI  
Montzka, C., Brogi, C., Mengen, D., Matveeva, M., Baum, S., Schüttemeyer, D., Bayat, B., Bogena, H., Coccia, A., Masalias, G., Graf, V., Jakobi, J., Jonard, F., Ma, Y., Mattia, F., Palmisano, D., Rascher, U., Satalino, G., Jagdhuber, T., Fluhrer, A., Schumacher, M., Schmidt, M. and Vereecken, H.
Sarsense: A C- and L-Band SAR Rehearsal Campaign in Germany in Preparation for ROSE-L
2020
IGARSS 2020 - 2020 IEEE International Geoscience and Remote Sensing Symposium, pp. 2137-2140 
inproceedings
DOI  
Moreaux, V., Longdoz, B., Berveiller, D., Delpierre, N., Dufrene, E., Bonnefond, J.-M., Chipeaux, C., Joffre, R., Limousin, J.-M., Ourcival, J.-M., Klumpp, K., Darsonville, O., Brut, A., Tallec, T., Ceschia, E., Panthou, G. and Loustau, D.
Environmental control of land-atmosphere CO2 fluxes from temperate ecosystems: a statistical approach based on homogenized time series from five land-use types
2020
TELLUS SERIES B-CHEMICAL AND PHYSICAL METEOROLOGY
Vol. 72(1), pp. 1-25 
article
DOI  
Moreaux, V., Martel, S., Bosc, A., Picart, D., Achat, D., Moisy, C., Aussenac, R., Chipeaux, C., Bonnefond, J.-M., Figueres, S., Trichetl, P., Vezy, R., Badeau, V., Longdoz, B., Granier, A., Roupsard, O., Nicolas, M., Pilegaard, K., Matteucci, G., Jolivet, C., Black, A.T., Picard, O. and Loustau, D.
Energy, water and carbon exchanges in managed forest ecosystems: description, sensitivity analysis and evaluation of the INRAE GO plus model, version 3.0
2020
GEOSCIENTIFIC MODEL DEVELOPMENT
Vol. 13(12), pp. 5973-6009 
article
DOI  
Müller, M., Graf, P., Meyer, J., Pentina, A., Brunner, D., Perez-Cruz, F., Hüglin, C. and Emmenegger, L.
Integration and calibration of non-dispersive infrared (NDIR) CO2 low-cost sensors and their operation in a sensor network covering Switzerland
2020
Atmospheric Measurement Techniques
Vol. 13(7), pp. 3815-3834 
article
DOI URL 
Mund, M., Herbst, M., Knohl, A., Matthäus, B., Schumacher, J., Schall, P., Siebicke, L., Tamrakar, R. and Ammer, C.
It is not just a 'trade-off': indications for sink- and source-limitation to vegetative and regenerative growth in an old-growth beech forest
2020
New Phytologist
Vol. 226(1), pp. 111-125 
article
DOI  
Nelson, J.A., Pérez-Priego, O., Zhou, S., Poyatos, R., Zhang, Y., Blanken, P.D., Gimeno, T.E., Wohlfahrt, G., Desai, A.R., Gioli, B., Limousin, J.M., Bonal, D., Paul-Limoges, E., Scott, R.L., Varlagin, A., Fuchs, K., Montagnani, L., Wolf, S., Delpierre, N., Berveiller, D., Gharun, M., Belelli Marchesini, L., Gianelle, D., Šigut, L., Mammarella, I., Siebicke, L., Andrew Black, T., Knohl, A., Hörtnagl, L., Magliulo, V., Besnard, S., Weber, U., Carvalhais, N., Migliavacca, M., Reichstein, M. and Jung, M.
Ecosystem transpiration and evaporation: Insights from three water flux partitioning methods across FLUXNET sites
2020
Global Change Biology
Vol. 26(12), pp. 6916-6930 
article
DOI  
Nezami, S., Khoramshahi, E., Nevalainen, O., Pölönen, I. and Honkavaara, E.
Tree species classification of drone hyperspectral and RGB imagery with deep learning convolutional neural networks
2020
Remote Sensing
Vol. 12(7) 
article
DOI  
Nickless, A., Scholes, R.J., Vermeulen, A., Beck, J., López-Ballesteros, A., Ardö, J., Karstens, U., Rigby, M., Kasurinen, V., Pantazatou, K., Jorch, V. and Kutsch, W.
Greenhouse gas observation network design for Africa
2020
Tellus B: Chemical and Physical Meteorology
Vol. 72(1), pp. 1-30 
article
DOI URL 
Olid, C., Klaminder, J., Monteux, S., Johansson, M. and Dorrepaal, E.
Decade of experimental permafrost thaw reduces turnover of young carbon and increases losses of old carbon, without affecting the net carbon balance
2020
Global Change Biology
Vol. 26(10), pp. 5886-5898 
article
DOI URL 
Ouyang, Z., Qi, D., Chen, L., Takahashi, T., Zhong, W., DeGrandpre, M.D., Chen, B., Gao, Z., Nishino, S., Murata, A., Sun, H., Robbins, L.L., Jin, M. and Cai, W.J.
Sea-ice loss amplifies summertime decadal CO2 increase in the western Arctic Ocean
2020
Nature Climate Change
Vol. 10(7), pp. 678-684 
article
DOI URL 
Papale, D.
Ideas and perspectives: enhancing the impact of the FLUXNET network of eddy covariance sites
2020
Biogeosciences
Vol. 17(22), pp. 5587-5598 
article
DOI  
Pastorello, G., Trotta, C., Canfora, E., Chu, H., Christianson, D., Cheah, Y.-W., Poindexter, C., Chen, J., Elbashandy, A., Humphrey, M., Isaac, P., Polidori, D., Ribeca, A., van Ingen, C., Zhang, L., Amiro, B., Ammann, C., Arain, M.A., Ardö, J., Arkebauer, T., Arndt, S.K., Arriga, N., Aubinet, M., Aurela, M., Baldocchi, D., Barr, A., Beamesderfer, E., Marchesini, L.B., Bergeron, O., Beringer, J., Bernhofer, C., Berveiller, D., Billesbach, D., Black, T.A., Blanken, P.D., Bohrer, G., Boike, J., Bolstad, P.V., Bonal, D., Bonnefond, J.-M., Bowling, D.R., Bracho, R., Brodeur, J., Brümmer, C., Buchmann, N., Burban, B., Burns, S.P., Buysse, P., Cale, P., Cavagna, M., Cellier, P., Chen, S., Chini, I., Christensen, T.R., Cleverly, J., Collalti, A., Consalvo, C., Cook, B.D., Cook, D., Coursolle, C., Cremonese, E., Curtis, P.S., D'Andrea, E., da Rocha, H., Dai, X., Davis, K.J., De Cinti, B., de Grandcourt, A., De Ligne, A., De Oliveira, R.C., Delpierre, N., Desai, A.R., Di Bella, C.M., di Tommasi, P., Dolman, H., Domingo, F., Dong, G., Dore, S., Duce, P., Dufrêne, E., Dunn, A., Dušek, J., Eamus, D., Eichelmann, U., ElKhidir, H.A.M., Eugster, W., Ewenz, C.M., Ewers, B., Famulari, D., Fares, S., Feigenwinter, I., Feitz, A., Fensholt, R., Filippa, G., Fischer, M., Frank, J., Galvagno, M., Gharun, M., Gianelle, D., Gielen, B., Gioli, B., Gitelson, A., Goded, I., Goeckede, M., Goldstein, A.H., Gough, C.M., Goulden, M.L., Graf, A., Griebel, A., Gruening, C., Grünwald, T., Hammerle, A., Han, S., Han, X., Hansen, B.U., Hanson, C., Hatakka, J., He, Y., Hehn, M., Heinesch, B., Hinko-Najera, N., Hörtnagl, L., Hutley, L., Ibrom, A., Ikawa, H., Jackowicz-Korczynski, M., Janouš, D., Jans, W., Jassal, R., Jiang, S., Kato, T., Khomik, M., Klatt, J., Knohl, A., Knox, S., Kobayashi, H., Koerber, G., Kolle, O., Kosugi, Y., Kotani, A., Kowalski, A., Kruijt, B., Kurbatova, J., Kutsch, W.L., Kwon, H., Launiainen, S., Laurila, T., Law, B., Leuning, R., Li, Y., Liddell, M., Limousin, J.-M., Lion, M., Liska, A.J., Lohila, A., López-Ballesteros, A., López-Blanco, E., Loubet, B., Loustau, D., Lucas-Moffat, A., Lüers, J., Ma, S., Macfarlane, C., Magliulo, V., Maier, R., Mammarella, I., Manca, G., Marcolla, B., Margolis, H.A., Marras, S., Massman, W., Mastepanov, M., Matamala, R., Matthes, J.H., Mazzenga, F., McCaughey, H., McHugh, I., McMillan, A.M.S., Merbold, L., Meyer, W., Meyers, T., Miller, S.D., Minerbi, S., Moderow, U., Monson, R.K., Montagnani, L., Moore, C.E., Moors, E., Moreaux, V., Moureaux, C., Munger, J.W., Nakai, T., Neirynck, J., Nesic, Z., Nicolini, G., Noormets, A., Northwood, M., Nosetto, M., Nouvellon, Y., Novick, K., Oechel, W., Olesen, J.E., Ourcival, J.-M., Papuga, S.A., Parmentier, F.-J., Paul-Limoges, E., Pavelka, M., Peichl, M., Pendall, E., Phillips, R.P., Pilegaard, K., Pirk, N., Posse, G., Powell, T., Prasse, H., Prober, S.M., Rambal, S., Rannik, Ü., Raz-Yaseef, N., Reed, D., de Dios, V.R., Restrepo-Coupe, N., Reverter, B.R., Roland, M., Sabbatini, S., Sachs, T., Saleska, S.R., Sánchez-Cañete, E.P., Sanchez-Mejia, Z.M., Schmid, H.P., Schmidt, M., Schneider, K., Schrader, F., Schroder, I., Scott, R.L., Sedlák, P., Serrano-Ortíz, P., Shao, C., Shi, P., Shironya, I., Siebicke, L., Šigut, L., Silberstein, R., Sirca, C., Spano, D., Steinbrecher, R., Stevens, R.M., Sturtevant, C., Suyker, A., Tagesson, T., Takanashi, S., Tang, Y., Tapper, N., Thom, J., Tiedemann, F., Tomassucci, M., Tuovinen, J.-P., Urbanski, S., Valentini, R., van der Molen, M., van Gorsel, E., van Huissteden, K., Varlagin, A., Verfaillie, J., Vesala, T., Vincke, C., Vitale, D., Vygodskaya, N., Walker, J.P., Walter-Shea, E., Wang, H., Weber, R., Westermann, S., Wille, C., Wofsy, S., Wohlfahrt, G., Wolf, S., Woodgate, W., Li, Y., Zampedri, R., Zhang, J., Zhou, G., Zona, D., Agarwal, D., Biraud, S., Torn, M. and Papale, D.
The FLUXNET2015 dataset and the ONEFlux processing pipeline for eddy covariance data
2020
Scientific Data
Vol. 7(1), pp. 225 
article
DOI URL 
Patzner, M.S., Mueller, C.W., Malusova, M., Baur, M., Nikeleit, V., Scholten, T., Hoeschen, C., Byrne, J.M., Borch, T., Kappler, A. and Bryce, C.
Iron mineral dissolution releases iron and associated organic carbon during permafrost thaw
2020
Nature Communications
Vol. 11(1), pp. 1-11 
article
DOI URL 
Penuelas, J., Janssens, I.A., Ciais, P., Obersteiner, M. and Sardans, J.
Anthropogenic global shifts in biospheric N and P concentrations and ratios and their impacts on biodiversity, ecosystem productivity, food security, and human health
2020
Global Change Biology
Vol. 26(4), pp. 1962-1985 
article
DOI  
Perryman, C.R., McCalley, C.K., Malhotra, A., Fahnestock, M.F., Kashi, N.N., Bryce, J.G., Giesler, R. and Varner, R.K.
Thaw Transitions and Redox Conditions Drive Methane Oxidation in a Permafrost Peatland
2020
Journal of Geophysical Research: Biogeosciences
Vol. 125(3), pp. 1-15 
article
DOI  
Peters, R.L., von Arx, G., Nievergelt, D., Ibrom, A., Stillhard, J., Trotsiuk, V., Mazurkiewicz, A. and Babst, F.
Axial changes in wood functional traits have limited net effects on stem biomass increment in European beech (Fagus sylvatica)
2020
Tree physiology
Vol. 40(4), pp. 498-510 
article
DOI  
Peters, W., Bastos, A., Ciais, P. and Vermeulen, A.
A historical, geographical and ecological perspective on the 2018 European summer drought
2020
Philosophical Transactions of the Royal Society B: Biological Sciences
Vol. 375(1810), pp. 20190505 
article
DOI URL 
Piao, S., Wang, X., Wang, K., Li, X., Bastos, A., Canadell, J.G., Ciais, P., Friedlingstein, P. and Sitch, S.
Interannual variation of terrestrial carbon cycle: Issues and perspectives
2020
Global Change Biology
Vol. 26(1), pp. 300-318 
article
DOI  
Piilo, S.R., Korhola, A., Heiskanen, L., Tuovinen, J.P., Aurela, M., Juutinen, S., Marttila, H., Saari, M., Tuittila, E.S., Turunen, J. and Väliranta, M.M.
Spatially varying peatland initiation, Holocene development, carbon accumulation patterns and radiative forcing within a subarctic fen
2020
Quaternary Science Reviews
Vol. 248 
article
DOI  
Pilegaard, K. and Ibrom, A.
Net carbon ecosystem exchange during 24 years in the SorøBeech Forest–relations to phenology and climate
2020
Tellus, Series B: Chemical and Physical Meteorology
Vol. 72(1), pp. 1-17 
article
DOI URL 
Pioli, S., Sarneel, J., Thomas, H.J.D., Domene, X., Andrés, P., Hefting, M., Reitz, T., Laudon, H., Sandén, T., Piscová, V., Aurela, M. and Brusetti, L.
Linking plant litter microbial diversity to microhabitat conditions, environmental gradients and litter mass loss: Insights from a European study using standard litter bags
2020
Soil Biology and Biochemistry
Vol. 144(November 2019) 
article
DOI  
Portillo-Estrada, M., Ariza-Carricondo, C. and Ceulemans, R.
Outburst of senescence-related VOC emissions from a bioenergy poplar plantation
2020
Plant Physiology and Biochemistry
Vol. 148, pp. 324-332 
article
DOI  
Prendin, A.L., Carrer, M., Karami, M., Hollesen, J., Bjerregaard Pedersen, N., Pividori, M., Treier, U.A., Westergaard-Nielsen, A., Elberling, B. and Normand, S.
Immediate and carry-over effects of insect outbreaks on vegetation growth in West Greenland assessed from cells to satellite
2020
Journal of Biogeography
Vol. 47(1), pp. 87-100 
article
DOI  
Rahmati, M., Groh, J., Graf, A., Pütz, T., Vanderborght, J. and Vereecken, H.
On the impact of increasing drought on the relationship between soil water content and evapotranspiration of a grassland
2020
Vadose Zone Journal
Vol. 19(1), pp. 1-20 
article
DOI  
Ramonet, M., Ciais, P., Apadula, F., Bartyzel, J., Bastos, A., Bergamaschi, P., Blanc, P.E., Brunner, D., Caracciolo di Torchiarolo, L., Calzolari, F., Chen, H., Chmura, L., Colomb, A., Conil, S., Cristofanelli, P., Cuevas, E., Curcoll, R., Delmotte, M., di Sarra, A., Emmenegger, L., Forster, G., Frumau, A., Gerbig, C., Gheusi, F., Hammer, S., Haszpra, L., Hatakka, J., Hazan, L., Heliasz, M., Henne, S., Hensen, A., Hermansen, O., Keronen, P., Kivi, R., Komínková, K., Kubistin, D., Laurent, O., Laurila, T., Lavric, J.V., Lehner, I., Lehtinen, K.E.J., Leskinen, A., Leuenberger, M., Levin, I., Lindauer, M., Lopez, M., Myhre, C.L., Mammarella, I., Manca, G., Manning, A., Marek, M.V., Marklund, P., Martin, D., Meinhardt, F., Mihalopoulos, N., Mölder, M., Morgui, J.A., Necki, J., O'Doherty, S., O'Dowd, C., Ottosson, M., Philippon, C., Piacentino, S., Pichon, J.M., Plass-Duelmer, C., Resovsky, A., Rivier, L., Rodó, X., Sha, M.K., Scheeren, H.A., Sferlazzo, D., Spain, T.G., Stanley, K.M., Steinbacher, M., Trisolino, P., Vermeulen, A., Vítková, G., Weyrauch, D., Xueref-Remy, I., Yala, K. and Yver Kwok, C.
The fingerprint of the summer 2018 drought in Europe on ground-based atmospheric CO 2 measurements
2020
Philosophical Transactions of the Royal Society B: Biological Sciences
Vol. 375(1810), pp. 20190513 
article
DOI URL 
Randazzo, N.A., Michalak, A.M. and Desai, A.R.
Synoptic Meteorology Explains Temperate Forest Carbon Uptake
2020
Journal of Geophysical Research: Biogeosciences
Vol. 125(2) 
article
DOI  
Rannik, Ü., Vesala, T., Peltola, O., Novick, K.A., Aurela, M., Järvi, L., Montagnani, L., Mölder, M., Peichl, M., Pilegaard, K. and Mammarella, I.
Impact of coordinate rotation on eddy covariance fluxes at complex sites
2020
Agricultural and Forest Meteorology
Vol. 287(December 2019), pp. 107940 
article
DOI URL 
Räsänen, M., Merbold, L., Vakkari, V., Aurela, M., Laakso, L., Beukes, J.P., Van Zyl, P.G., Josipovic, M., Feig, G., Pellikka, P., Rinne, J. and Katul, G.G.
Root-zone soil moisture variability across African savannas: From pulsed rainfall to land-cover switches
2020
Ecohydrology
Vol. 13(5), pp. 1-20 
article
DOI  
Rasmussen, L.H., Michelsen, A., Ladegaard-Pedersen, P., Nielsen, C.S. and Elberling, B.
Arctic soil water chemistry in dry and wet tundra subject to snow addition, summer warming and herbivory simulation
2020
Soil Biology and Biochemistry
Vol. 141(May 2019), pp. 107676 
article
DOI URL 
Ravn, N.R., Elberling, B. and Michelsen, A.
Arctic soil carbon turnover controlled by experimental snow addition, summer warming and shrub removal
2020
Soil Biology and Biochemistry
Vol. 142(April 2019), pp. 107698 
article
DOI URL 
Reichenau, T.G., Korres, W., Schmidt, M., Graf, A., Welp, G., Meyer, N., Stadler, A., Brogi, C. and Schneider, K.
A comprehensive dataset of vegetation states, fluxes of matter and energy, weather, agricultural management, and soil properties from intensively monitored crop sites in western Germany
2020

Vol. 12(4)Earth System Science Data, pp. 2333-2364 
book
DOI  
Reichl, B.G. and Deike, L.
Contribution of Sea‐State Dependent Bubbles to Air‐Sea Carbon Dioxide Fluxes
2020
Geophysical Research Letters
Vol. 47(9) 
article
DOI URL 
Reyer, C.P.O., Silveyra Gonzalez, R., Dolos, K., Hartig, F., Hauf, Y., Noack, M., Lasch-Born, P., Rötzer, T., Pretzsch, H., Meesenburg, H., Fleck, S., Wagner, M., Bolte, A., Sanders, T.G.M., Kolari, P., Mäkelä, A., Vesala, T., Mammarella, I., Pumpanen, J., Collalti, A., Collalti, A., Trotta, C., Matteucci, G., D'Andrea, E., Foltýnová, L., Krejza, J., Ibrom, A., Pilegaard, K., Loustau, D., Bonnefond, J.M., Berbigier, P., Picart, D., Lafont, S., Dietze, M., Cameron, D., Vieno, M., Tian, H., Palacios-Orueta, A., Cicuendez, V., Recuero, L., Wiese, K., Büchner, M., Lange, S., Volkholz, J., Kim, H., Horemans, J.A., Bohn, F., Steinkamp, J., Chikalanov, A., Weedon, G.P., Sheffield, J., Babst, F., Babst, F., Vega Del Valle, I., Suckow, F., Martel, S., Mahnken, M., Gutsch, M. and Frieler, K.
The PROFOUND Database for evaluating vegetation models and simulating climate impacts on European forests
2020
Earth System Science Data
Vol. 12(2), pp. 1295-1320 
article
DOI  
Rinne, J., Tuovinen, J.-P., Klemedtsson, L., Aurela, M., Holst, J., Lohila, A., Weslien, P., Vestin, P., Łakomiec, P., Peichl, M., Tuittila, E.-S., Heiskanen, L., Laurila, T., Li, X., Alekseychik, P., Mammarella, I., Ström, L., Crill, P. and Nilsson, M.B.
Effect of the 2018 European drought on methane and carbon dioxide exchange of northern mire ecosystems
2020
Philosophical Transactions of the Royal Society B: Biological Sciences
Vol. 375(1810), pp. 20190517 
article
DOI URL 
Rocher-Ros, G., Harms, T.K., Sponseller, R.A., Väisänen, M., Mörth, C.M. and Giesler, R.
Metabolism overrides photo-oxidation in CO2 dynamics of Arctic permafrost streams
2020
Limnology and Oceanography, pp. 1-13 
article
DOI  
Rocher-Ros, G., Sponseller, R.A., Bergström, A.K., Myrstener, M. and Giesler, R.
Stream metabolism controls diel patterns and evasion of CO2 in Arctic streams
2020
Global Change Biology
Vol. 26(3), pp. 1400-1413 
article
DOI  
Rödenbeck, C., Zaehle, S., Keeling, R. and Heimann, M.
The European carbon cycle response to heat and drought as seen from atmospheric CO 2 data for 1999–2018
2020
Philosophical Transactions of the Royal Society B: Biological Sciences
Vol. 375(1810), pp. 20190506 
article
DOI URL 
Saarela, T., Rissanen, A.J., Ojala, A., Pumpanen, J., Aalto, S.L., Tiirola, M., Vesala, T. and Jäntti, H.
CH4 oxidation in a boreal lake during the development of hypolimnetic hypoxia
2020
Aquatic Sciences
Vol. 82(2) 
article
DOI  
Saunois, M., Stavert, A.R., Poulter, B., Bousquet, P., Canadell, J.G., Jackson, R.B., Raymond, P.A., Dlugokencky, E.J., Houweling, S., Patra, P.K., Ciais, P., Arora, V.K., Bastviken, D., Bergamaschi, P., Blake, D.R., Brailsford, G., Bruhwiler, L., Carlson, K.M., Carrol, M., Castaldi, S., Chandra, N., Crevoisier, C., Crill, P.M., Covey, K., Curry, C.L., Etiope, G., Frankenberg, C., Gedney, N., Hegglin, M.I., Höglund-Isaksson, L., Hugelius, G., Ishizawa, M., Ito, A., Janssens-Maenhout, G., Jensen, K.M., Joos, F., Kleinen, T., Krummel, P.B., Langenfelds, R.L., Laruelle, G.G., Liu, L., Machida, T., Maksyutov, S., McDonald, K.C., McNorton, J., Miller, P.A., Melton, J.R., Morino, I., Müller, J., Murguia-Flores, F., Naik, V., Niwa, Y., Noce, S., O'Doherty, S., Parker, R.J., Peng, C., Peng, S., Peters, G.P., Prigent, C., Prinn, R., Ramonet, M., Regnier, P., Riley, W.J., Rosentreter, J.A., Segers, A., Simpson, I.J., Shi, H., Smith, S.J., Steele, L.P., Thornton, B.F., Tian, H., Tohjima, Y., Tubiello, F.N., Tsuruta, A., Viovy, N., Voulgarakis, A., Weber, T.S., van Weele, M., van der Werf, G.R., Weiss, R.F., Worthy, D., Wunch, D., Yin, Y., Yoshida, Y., Zhang, W., Zhang, Z., Zhao, Y., Zheng, B., Zhu, Q., Zhu, Q. and Zhuang, Q.
The Global Methane Budget 2000–2017
2020
Earth System Science Data
Vol. 12(3), pp. 1561-1623 
article
DOI URL 
Schindler, D. and Kolbe, S.
Assessment of the response of a scots pine tree to effective wind loading
2020
Forests
Vol. 11(2) 
article
DOI  
Schneuwly, J. and Ammann, C.
Large regional differences of soil water limitation effect on ozone induced yield loss for wheat and potato in Switzerland
2020
Science of the Total Environment
Vol. 718 
article
DOI  
Schrader, F., Erisman, J.W. and Brümmer, C.
Towards a coupled paradigm of NH3-CO2 biosphere–atmosphere exchange modelling
2020
Global Change Biology
Vol. 26(9), pp. 4654-4663 
article
DOI  
Schuldt, B., Buras, A., Arend, M., Vitasse, Y., Beierkuhnlein, C., Damm, A., Gharun, M., Grams, T.E., Hauck, M., Hajek, P., Hartmann, H., Hiltbrunner, E., Hoch, G., Holloway-Phillips, M., Körner, C., Larysch, E., Lübbe, T., Nelson, D.B., Rammig, A., Rigling, A., Rose, L., Ruehr, N.K., Schumann, K., Weiser, F., Werner, C., Wohlgemuth, T., Zang, C.S. and Kahmen, A.
A first assessment of the impact of the extreme 2018 summer drought on Central European forests
2020
Basic and Applied Ecology
Vol. 45, pp. 86-103 
article
DOI  
Seco, R., Holst, T., Sillesen Matzen, M., Westergaard-Nielsen, A., Li, T., Simin, T., Jansen, J., Crill, P., Friborg, T., Rinne, J. and Rinnan, R.
Volatile organic compound fluxes in a subarctic peatland and lake
2020
Atmospheric Chemistry and Physics
Vol. 20(21), pp. 13399-13416 
article
DOI  
Seelmann, K., Steinhoff, T., Aßmann, S. and Körtzinger, A.
Enhance Ocean Carbon Observations: Successful Implementation of a Novel Autonomous Total Alkalinity Analyzer on a Ship of Opportunity
2020
Frontiers in Marine Science
Vol. 7(December), pp. 1-18 
article
DOI  
Sgrigna, G., Baldacchini, C., Dreveck, S., Cheng, Z. and Calfapietra, C.
Relationships between air particulate matter capture efficiency and leaf traits in twelve tree species from an Italian urban-industrial environment
2020
Science of the Total Environment
Vol. 718 
article
DOI  
Shapkalijevski, M.M., Viana, S., Boone, A., Rodier, Q. and Moigne, P.L.
Introducing a roughness-sublayer in the vegetation-atmosphere coupling of HARMONIE-AROME
2020
(Harman 2012), pp. 82-90 
article
 
Shutler, J.D., Wanninkhof, R., Nightingale, P.D., Woolf, D.K., Bakker, D.C., Watson, A., Ashton, I., Holding, T., Chapron, B., Quilfen, Y., Fairall, C., Schuster, U., Nakajima, M. and Donlon, C.J.
Satellites will address critical science priorities for quantifying ocean carbon
2020
Frontiers in Ecology and the Environment
Vol. 18(1), pp. 27-35 
article
DOI URL 
Silfver, T., Heiskanen, L., Aurela, M., Myller, K., Karhu, K., Meyer, N., Tuovinen, J.P., Oksanen, E., Rousi, M. and Mikola, J.
Insect herbivory dampens Subarctic birch forest C sink response to warming
2020
Nature Communications
Vol. 11(1), pp. 1-9 
article
DOI URL 
Silyakova, A., Jansson, P., Serov, P., Ferré, B., Pavlov, A.K., Hattermann, T., Graves, C.A., Platt, S.M., Myhre, C.L., Gründger, F. and Niemann, H.
Physical controls of dynamics of methane venting from a shallow seep area west of Svalbard
2020
Continental Shelf Research
Vol. 194, pp. 104030 
article
DOI  
Simioni, G., Marie, G., Davi, H., Martin-St Paul, N. and Huc, R.
Natural forest dynamics have more influence than climate change on the net ecosystem production of a mixed Mediterranean forest
2020
Ecological Modelling
Vol. 416, pp. 108921 
article
DOI  
Simmonds, P.G., Rigby, M., Manning, A.J., Park, S., Stanley, K.M., McCulloch, A., Henne, S., Graziosi, F., Maione, M., Arduini, J., Reimann, S., Vollmer, M.K., Mühle, J., O'Doherty, S., Young, D., Krummel, P.B., Fraser, P.J., Weiss, R.F., Salameh, P.K., Harth, C.M., Park, M.-K., Park, H., Arnold, T., Rennick, C., Steele, L.P., Mitrevski, B., Wang, R.H.J. and Prinn, R.G.
The increasing atmospheric burden of the greenhouse gas sulfur hexafluoride (SF6)
2020
Atmospheric Chemistry and Physics
Vol. 20(12), pp. 7271-7290 
article
DOI URL 
Smith, N.E., Kooijmans, L.M.J., Koren, G., van Schaik, E., van der Woude, A.M., Wanders, N., Ramonet, M., Xueref-Remy, I., Siebicke, L., Manca, G., Brümmer, C., Baker, I.T., Haynes, K.D., Luijkx, I.T. and Peters, W.
Spring enhancement and summer reduction in carbon uptake during the 2018 drought in northwestern Europe
2020
Philosophical Transactions of the Royal Society B: Biological Sciences
Vol. 375(1810), pp. 20190509 
article
DOI URL 
Song, C., Luan, J., Xu, X., Ma, M., Aurela, M., Lohila, A., Mammarella, I., Alekseychik, P., Tuittila, E.S., Gong, W., Chen, X., Meng, X. and Yuan, W.
A Microbial Functional Group-Based CH4 Model Integrated Into a Terrestrial Ecosystem Model: Model Structure, Site-Level Evaluation, and Sensitivity Analysis
2020
Journal of Advances in Modeling Earth Systems
Vol. 12(4) 
article
DOI  
Song, R., Muller, J.P., Kharbouche, S., Yin, F., Woodgate, W., Kitchen, M., Roland, M., Arriga, N., Meyer, W., Koerber, G., Bonal, D., Burban, B., Knohl, A., Siebicke, L., Buysse, P., Loubet, B., Leonardo, M., Lerebourg, C. and Gobron, N.
Validation of space-based albedo products from upscaled tower-based measurements over heterogeneous and homogeneous landscapes
2020
Remote Sensing
Vol. 12(5) 
article
DOI  
Spank, U., Hehn, M., Keller, P., Koschorreck, M. and Bernhofer, C.
A Season of Eddy-Covariance Fluxes Above an Extensive Water Body Based on Observations from a Floating Platform
2020
Boundary-Layer Meteorology
Vol. 174(3), pp. 433-464 
article
DOI  
Stocker, M., Darroch, L., Krahl, R., Habermann, T., Devaraju, A., Schwardmann, U., D'Onofrio, C. and Häggström, I.
Persistent Identification of Instruments
2020
Data Science Journal
Vol. 19 
article
DOI URL 
Sulpis, O., Lauvset, S.K. and Hagens, M.
Current estimates of K<sub>1</sub>* and K<sub>2</sub>* appear inconsistent with measured CO<sub>2</sub> system parameters in cold oceanic regions
2020
Ocean Science
Vol. 16(4), pp. 847-862 
article
DOI URL 
Super, I., Dellaert, S.N.C., Visschedijk, A.J.H. and Denier van der Gon, H.A.C.
Uncertainty analysis of a European high-resolution emission inventory of CO2 and CO to support inverse modelling and network design
2020
Atmospheric Chemistry and Physics
Vol. 20(3), pp. 1795-1816 
article
DOI URL 
Tagesson, T., Schurgers, G., Horion, S., Ciais, P., Tian, F., Brandt, M., Ahlström, A., Wigneron, J.P., Ardö, J., Olin, S., Fan, L., Wu, Z. and Fensholt, R.
Recent divergence in the contributions of tropical and boreal forests to the terrestrial carbon sink
2020
Nature Ecology and Evolution
Vol. 4(2), pp. 202-209 
article
DOI  
Thompson, R.L., Broquet, G., Gerbig, C., Koch, T., Lang, M., Monteil, G., Munassar, S., Nickless, A., Scholze, M., Ramonet, M., Karstens, U., van Schaik, E., Wu, Z. and Rödenbeck, C.
Changes in net ecosystem exchange over Europe during the 2018 drought based on atmospheric observations
2020
Philosophical Transactions of the Royal Society B: Biological Sciences
Vol. 375(1810), pp. 20190512 
article
DOI URL 
Tian, X., Minunno, F., Cao, T., Peltoniemi, M., Kalliokoski, T. and Mäkelä, A.
Extending the range of applicability of the semi‐empirical ecosystem flux model PRELES for varying forest types and climate
2020
Global Change Biology
Vol. 26(5), pp. 2923-2943 
article
DOI URL 
Tiemoko, D.T., Yoroba, F., Paris, J.-D., Diawara, A., Berchet, A., Pison, I., Riandet, A. and Ramonet, M.
Source–Receptor Relationships and Cluster Analysis of CO2, CH4, and CO Concentrations in West Africa: The Case of Lamto in Côte d'Ivoire
2020
Atmosphere
Vol. 11(9), pp. 903 
article
DOI URL 
Tramontana, G., Migliavacca, M., Jung, M., Reichstein, M., Keenan, T.F., Camps-Valls, G., Ogee, J., Verrelst, J. and Papale, D.
Partitioning net carbon dioxide fluxes into photosynthesis and respiration using neural networks
2020
Global Change Biology
Vol. 26(9), pp. 5235-5253 
article
DOI  
Trotsiuk, V., Hartig, F., Cailleret, M., Babst, F., Forrester, D.I., Baltensweiler, A., Buchmann, N., Bugmann, H., Gessler, A., Gharun, M., Minunno, F., Rigling, A., Rohner, B., Stillhard, J., Thürig, E., Waldner, P., Ferretti, M., Eugster, W. and Schaub, M.
Assessing the response of forest productivity to climate extremes in Switzerland using model–data fusion
2020
Global Change Biology
Vol. 26(4), pp. 2463-2476 
article
DOI URL 
Ueyama, M., Ichii, K., Kobayashi, H., Kumagai, T., Beringer, J., Merbold, L., Euskirchen, E.S., Hirano, T., Belelli Marchesini, L., Baldocchi, D., Saitoh, T.M., Mizoguchi, Y., Ono, K., Kim, J., Varlagin, A., Kang, M., Shimizu, T., Kosugi, Y., Bret-Harte, M.S.(D., Machimura, T., Matsuura, Y., Ohta, T., Takagi, K., Takanashi, S. and Yasuda, Y.
Inferring CO2 fertilization effect based on global monitoring land-atmosphere exchange with a theoretical model
2020
Environmental Research Letters 
article
DOI  
Väisänen, M., Krab, E.J., Monteux, S., Teuber, L.M., Gavazov, K., Weedon, J.T., Keuper, F. and Dorrepaal, E.
Meshes in mesocosms control solute and biota exchange in soils: A step towards disentangling (a)biotic impacts on the fate of thawing permafrost
2020
Applied Soil Ecology
Vol. 151(February), pp. 103537 
article
DOI URL 
Van Der Graaf, S.C., Kranenburg, R., Segers, A.J., Schaap, M. and Willem Erisman, J.
Satellite-derived leaf area index and roughness length information for surface-atmosphere exchange modelling: A case study for reactive nitrogen deposition in north-western Europe using LOTOS-EUROS v2.0
2020
Geoscientific Model Development
Vol. 13(5), pp. 2451-2474 
article
DOI  
Verreyken, B., Amelynck, C., Brioude, J., Muller, J.F., Schoon, N., Kumps, N., Colomb, A., Metzger, J.M., Lee, C.F., Koenig, T.K., Volkamer, R. and Stavrakou, T.
Characterisation of African biomass burning plumes and impacts on the atmospheric composition over the south-west Indian Ocean
2020
Atmospheric Chemistry and Physics
Vol. 20(23), pp. 14821-14845 
article
DOI  
Vestin, P., Mölder, M., Kljun, N., Cai, Z., Hasan, A., Holst, J., Klemedtsson, L. and Lindroth, A.
Impacts of Clear-Cutting of a Boreal Forest on Carbon Dioxide, Methane and Nitrous Oxide Fluxes
2020
Forests
Vol. 11(9), pp. 961 
article
DOI URL 
Vezy, R., le Maire, G., Christina, M., Georgiou, S., Imbach, P., Hidalgo, H.G., Alfaro, E.J., Blitz-Frayret, C., Charbonnier, F., Lehner, P., Loustau, D. and Roupsard, O.
DynACof: A process-based model to study growth, yield and ecosystem services of coffee agroforestry systems
2020
Environmental Modelling and Software
Vol. 124, pp. 104609 
article
DOI  
Vitale, D., Fratini, G., Bilancia, M., Nicolini, G., Sabbatini, S. and Papale, D.
A robust data cleaning procedure for eddy covariance flux measurements
2020
Biogeosciences
Vol. 17(6), pp. 1367-1391 
article
DOI URL 
Waliser, D., Gleckler, P.J., Ferraro, R., Taylor, K.E., Ames, S., Biard, J., Bosilovich, M.G., Brown, O., Chepfer, H., Cinquini, L., Durack, P.J., Eyring, V., Mathieu, P.-P., Lee, T., Pinnock, S., Potter, G.L., Rixen, M., Saunders, R., Schulz, J., Thépaut, J.-N. and Tuma, M.
Observations for Model Intercomparison Project (Obs4MIPs): status for CMIP6
2020
Geoscientific Model Development
Vol. 13(7), pp. 2945-2958 
article
DOI URL 
Walker, A.P., De Kauwe, M.G., Bastos, A., Belmecheri, S., Georgiou, K., Keeling, R.F., McMahon, S.M., Medlyn, B.E., Moore, D.J.P., Norby, R.J., Zaehle, S., Anderson‐Teixeira, K.J., Battipaglia, G., Brienen, R.J.W., Cabugao, K.G., Cailleret, M., Campbell, E., Canadell, J.G., Ciais, P., Craig, M.E., Ellsworth, D.S., Farquhar, G.D., Fatichi, S., Fisher, J.B., Frank, D.C., Graven, H., Gu, L., Haverd, V., Heilman, K., Heimann, M., Hungate, B.A., Iversen, C.M., Joos, F., Jiang, M., Keenan, T.F., Knauer, J., Körner, C., Leshyk, V.O., Leuzinger, S., Liu, Y., MacBean, N., Malhi, Y., McVicar, T.R., Penuelas, J., Pongratz, J., Powell, A.S., Riutta, T., Sabot, M.E.B., Schleucher, J., Sitch, S., Smith, W.K., Sulman, B., Taylor, B., Terrer, C., Torn, M.S., Treseder, K.K., Trugman, A.T., Trumbore, S.E., Mantgem, P.J., Voelker, S.L., Whelan, M.E. and Zuidema, P.A.
Integrating the evidence for a terrestrial carbon sink caused by increasing atmospheric CO 2
2020
New Phytologist, pp. nph.16866 
article
DOI URL 
Wang, S., Garcia, M., Ibrom, A. and Bauer-Gottwein, P.
Temporal interpolation of land surface fluxes derived from remote sensing - Results with an unmanned aerial system
2020
Hydrology and Earth System Sciences
Vol. 24(7), pp. 3643-3661 
article
DOI  
Watson, A.J., Schuster, U., Shutler, J.D., Holding, T., Ashton, I.G.C., Landschützer, P., Woolf, D.K. and Goddijn-Murphy, L.
Revised estimates of ocean-atmosphere CO2 flux are consistent with ocean carbon inventory
2020
Nature Communications
Vol. 11(1), pp. 4422 
article
DOI URL 
Westergaard-Nielsen, A., Balstr m, T., Treier, U.A., Normand, S. and Elberling, B.
Estimating meltwater retention and associated nitrate redistribution during snowmelt in an Arctic tundra landscape
2020
Environmental Research Letters
Vol. 15(3) 
article
DOI  
Wester-Larsen, L., Kramshøj, M., Albers, C.N. and Rinnan, R.
Biogenic Volatile Organic Compounds in Arctic Soil: A Field Study of Concentrations and Variability With Vegetation Cover
2020
Journal of Geophysical Research: Biogeosciences
Vol. 125(7), pp. 1-15 
article
DOI  
Wiekenkamp, I., Huisman, J.A., Bogena, H.R. and Vereecken, H.
Effects of deforestation on water flow in the vadose zone
2020
Water (Switzerland)
Vol. 12(1) 
article
DOI  
Wigneron, J.P., Fan, L., Ciais, P., Bastos, A., Brandt, M., Chave, J., Saatchi, S., Baccini, A. and Fensholt, R.
Tropical forests did not recover from the strong 2015–2016 El Niño event
2020
Science Advances
Vol. 6(6), pp. eaay4603 
article
DOI  
Wimart-Rousseau, C., Lajaunie-Salla, K., Marrec, P., Wagener, T., Raimbault, P., Lagadec, V., Lafont, M., Garcia, N., Diaz, F., Pinazo, C., Yohia, C., Garcia, F., Xueref-Remy, I., Blanc, P.-E., Armengaud, A. and Lefèvre, D.
Temporal variability of the carbonate system and air-sea CO2 exchanges in a Mediterranean human-impacted coastal site
2020
Estuarine, Coastal and Shelf Science
Vol. 236, pp. 106641 
article
DOI URL 
Wintjen, P., Ammann, C., Schrader, F. and Brümmer, C.
Correcting high-frequency losses of reactive nitrogen flux measurements
2020
Atmospheric Measurement Techniques
Vol. 13(6), pp. 2923-2948 
article
DOI  
Xiao, M., Yu, Z., Kong, D., Gu, X., Mammarella, I., Montagnani, L., Arain, M.A., Merbold, L., Magliulo, V., Lohila, A., Buchmann, N., Wolf, S., Gharun, M., Hörtnagl, L., Beringer, J. and Gioli, B.
Stomatal response to decreased relative humidity constrains the acceleration of terrestrial evapotranspiration
2020
Environmental Research Letters
Vol. 15(9) 
article
DOI  
Yang, S., Zhang, J., Zhang, S., Wang, J., Bai, Y., Yao, F. and Guo, H.
The potential of remote sensing-based models on global water-use efficiency estimation: An evaluation and intercomparison of an ecosystem model (BESS) and algorithm (MODIS) using site level and upscaled eddy covariance data
2020
Agricultural and Forest Meteorology
Vol. 287 
article
DOI  
Yu, L., Harris, E., Henne, S., Eggleston, S., Steinbacher, M., Emmenegger, L., Zellweger, C. and Mohn, J.
The isotopic composition of atmospheric nitrous oxide observed at the high-altitude research station Jungfraujoch, Switzerland
2020
Atmospheric Chemistry and Physics
Vol. 20(11), pp. 6495-6519 
article
DOI URL 
Zhang, H., Goll, D.S., Wang, Y.P., Ciais, P., Wieder, W.R., Abramoff, R., Huang, Y., Guenet, B., Prescher, A.K., Viscarra Rossel, R.A., Barré, P., Chenu, C., Zhou, G. and Tang, X.
Microbial dynamics and soil physicochemical properties explain large-scale variations in soil organic carbon
2020
Global Change Biology
Vol. 26(4), pp. 2668-2685 
article
DOI  
Zhang, H., Väliranta, M., Piilo, S., Amesbury, M.J., Aquino‐López, M.A., Roland, T.P., Salminen‐Paatero, S., Paatero, J., Lohila, A. and Tuittila, E.
Decreased carbon accumulation feedback driven by climate‐induced drying of two southern boreal bogs over recent centuries
2020
Global Change Biology
Vol. 26(4), pp. 2435-2448 
article
DOI  
Zhang, W., Yu, G., Chen, Z., Zhang, L., Wang, Q., Zhang, Y., He, H., Han, L., Chen, S., Han, S., Li, Y., Sha, L., Shi, P., Wang, H., Wang, Y., Xiang, W., Yan, J., Zhang, Y., Zona, D., Arain, M.A., Maximov, T., Oechel, W. and Kosugi, Y.
Attribute parameter characterized the seasonal variation of gross primary productivity (αGPP): Spatiotemporal variation and influencing factors
2020
Agricultural and Forest Meteorology
Vol. 280 
article
DOI  
Zhang, Y., Bastos, A., Maignan, F., Goll, D., Boucher, O., Li, L., Cescatti, A., Vuichard, N., Chen, X., Ammann, C., Altaf Arain, M., Andrew Black, T., Chojnicki, B., Kato, T., Mammarella, I., Montagnani, L., Roupsard, O., Sanz, M.J., Siebicke, L., Urbaniak, M., Primo Vaccari, F., Wohlfahrt, G., Woodgate, W. and Ciais, P.
Modeling the impacts of diffuse light fraction on photosynthesis in ORCHIDEE (v5453) land surface model
2020
Geoscientific Model Development
Vol. 13(11), pp. 5401-5423 
article
DOI  
Zhang, Y., Commane, R., Zhou, S., Williams, A.P. and Gentine, P.
Light limitation regulates the response of autumn terrestrial carbon uptake to warming
2020
Nature Climate Change 
article
DOI  
Zhang, Z., Zhang, Y., Porcar-Castell, A., Joiner, J., Guanter, L., Yang, X., Migliavacca, M., Ju, W., Sun, Z., Chen, S., Martini, D., Zhang, Q., Li, Z., Cleverly, J., Wang, H. and Goulas, Y.
Reduction of structural impacts and distinction of photosynthetic pathways in a global estimation of GPP from space-borne solar-induced chlorophyll fluorescence
2020
Remote Sensing of Environment
Vol. 240 
article
DOI  
Zweifel, R., Etzold, S., Sterck, F., Gessler, A., Anfodillo, T., Mencuccini, M., von Arx, G., Lazzarin, M., Haeni, M., Feichtinger, L., Meusburger, K., Knuesel, S., Walthert, L., Salmon, Y., Bose, A.K., Schoenbeck, L., Hug, C., De Girardi, N., Giuggiola, A., Schaub, M. and Rigling, A.
Determinants of legacy effects in pine trees – implications from an irrigation‐stop experiment
2020
New Phytologist
Vol. 227(4), pp. 1081-1096 
article
DOI URL 
Acosta, M., Dušek, J., Chamizo, S., Serrano-Ortiz, P. and Pavelka, M.
Autumnal fluxes of CH4 and CO2 from Mediterranean reed wetland based on eddy covariance and chamber methods
2019
Catena
Vol. 183, pp. 104191 
article
DOI  
Agustí-Panareda, A., Diamantakis, M., Massart, S., Chevallier, F., Muñoz-Sabater, J., Barré, J., Curcoll, R., Engelen, R., Langerock, B., Law, R.M., Loh, Z., Morguí, J.A., Parrington, M., Peuch, V.H., Ramonet, M., Roehl, C., Vermeulen, A.T., Warneke, T. and Wunch, D.
Modelling CO2 weather-why horizontal resolution matters
2019
Atmospheric Chemistry and Physics
Vol. 19(11), pp. 7347-7376 
article
DOI URL 
Alice Courtois, E., Stahl, C., Burban, B., Van Den Berge, J., Berveiller, D., Bréchet, L., Larned Soong, J., Arriga, N., Peñuelas, J. and August Janssens, I.
Automatic high-frequency measurements of full soil greenhouse gas fluxes in a tropical forest
2019
Biogeosciences
Vol. 16(3), pp. 785-796 
article
DOI  
Alves, M., Music, B., Nadeau, D.F. and Anctil, F.
Comparing the Performance of the Maximum Entropy Production Model With a Land Surface Scheme in Simulating Surface Energy Fluxes
2019
Journal of Geophysical Research: Atmospheres
Vol. 124(6), pp. 3279-3300 
article
DOI  
Araujo, M., Noriega, C., Medeiros, C., Lefèvre, N., Ibánhez, J.S.P., Flores Montes, M., da Silva, A.C. and Santos, M.d.L.
On the variability in the CO2 system and water productivity in the western tropical Atlantic off North and Northeast Brazil
2019
Journal of Marine Systems
Vol. 189, pp. 62-77 
article
DOI  
Ariza-Carricondo, C., Di Mauro, F., De Beeck, M.O., Roland, M., Gielen, B., Vitale, D., Ceulemans, R. and Papale, D.
A comparison of different methods for assessing leaf area index in four canopy types
2019
Central European Forestry Journal
Vol. 65(2), pp. 67-80 
article
DOI  
Baeten, L., Bruelheide, H., van der Plas, F., Kambach, S., Ratcliffe, S., Jucker, T., Allan, E., Ampoorter, E., Barbaro, L., Bastias, C.C., Bauhus, J., Benavides, R., Bonal, D., Bouriaud, O., Bussotti, F., Carnol, M., Castagneyrol, B., Charbonnier, Y., Chećko, E., Coomes, D.A., Dahlgren, J., Dawud, S.M., De Wandeler, H., Domisch, T., Finér, L., Fischer, M., Fotelli, M., Gessler, A., Grossiord, C., Guyot, V., Hättenschwiler, S., Jactel, H., Jaroszewicz, B., Joly, F.X., Koricheva, J., Lehtonen, A., Müller, S., Muys, B., Nguyen, D., Pollastrini, M., Radoglou, K., Raulund-Rasmussen, K., Ruiz-Benito, P., Selvi, F., Stenlid, J., Valladares, F., Vesterdal, L., Verheyen, K., Wirth, C., Zavala, M.A. and Scherer-Lorenzen, M.
Identifying the tree species compositions that maximize ecosystem functioning in European forests
2019
Journal of Applied Ecology
Vol. 56(3), pp. 733-744 
article
DOI  
Balzarolo, M., Valdameri, N., Fu, Y.H., Schepers, L., Janssens, I.A. and Campioli, M.
Different determinants of radiation use efficiency in cold and temperate forests
2019
Global Ecology and Biogeography
Vol. 28(11), pp. 1649-1667 
article
DOI  
Bange, H.W., Arévalo-Martínez, D.L., de la Paz, M., Farías, L., Kaiser, J., Kock, A., Law, C.S., Rees, A.P., Rehder, G., Tortell, P.D., Upstill-Goddard, R.C. and Wilson, S.T.
A harmonized nitrous oxide (N 2 O) ocean observation network for the 21st century
2019
Frontiers in Marine Science
Vol. 6(APR) 
article
DOI  
Bastos, A., Ciais, P., Chevallier, F., Rödenbeck, C., Ballantyne, A.P., Maignan, F., Yin, Y., Fernández-Martínez, M., Friedlingstein, P., Peñuelas, J., Piao, S.L., Sitch, S., Smith, W.K., Wang, X., Zhu, Z., Haverd, V., Kato, E., Jain, A.K., Lienert, S., Lombardozzi, D., Nabel, J.E.M.S., Peylin, P., Poulter, B. and Zhu, D.
Contrasting effects of CO2 fertilization, land-use change and warming on seasonal amplitude of Northern Hemisphere CO2 exchange
2019
Atmospheric Chemistry and Physics
Vol. 19(19), pp. 12361-12375 
article
DOI  
Bechtold, M., De Lannoy, G.J.M., Koster, R.D., Reichle, R.H., Mahanama, S.P., Bleuten, W., Bourgault, M.A., Brümmer, C., Burdun, I., Desai, A.R., Devito, K., Grünwald, T., Grygoruk, M., Humphreys, E.R., Klatt, J., Kurbatova, J., Lohila, A., Munir, T.M., Nilsson, M.B., Price, J.S., Röhl, M., Schneider, A. and Tiemeyer, B.
PEAT-CLSM: A Specific Treatment of Peatland Hydrology in the NASA Catchment Land Surface Model
2019
Journal of Advances in Modeling Earth Systems
Vol. 11(7), pp. 2130-2162 
article
DOI URL 
Berger, C., Bieri, M., Bradshaw, K., Brümmer, C., Clemen, T., Hickler, T., Kutsch, W.L., Lenfers, U.A., Martens, C., Midgley, G.F., Mukwashi, K., Odipo, V., Scheiter, S., Schmullius, C., Baade, J., du Toit, J.C.O., Scholes, R.J., Smit, I.P.J., Stevens, N. and Twine, W.
Linking scales and disciplines: an interdisciplinary cross-scale approach to supporting climate-relevant ecosystem management
2019
Climatic Change
Vol. 156(1), pp. 139-150 
article
URL 
Berhanu, T.A., Hoffnagle, J., Rella, C., Kimhak, D., Nyfeler, P. and Leuenberger, M.
High-precision atmospheric oxygen measurement comparisons between a newly built CRDS analyzer and existing measurement techniques
2019
Atmospheric Measurement Techniques
Vol. 12(12), pp. 6803-6826 
article
DOI  
Berhongaray, G., Cotrufo, F.M., Janssens, I.A. and Ceulemans, R.
Below-ground carbon inputs contribute more than above-ground inputs to soil carbon accrual in a bioenergy poplar plantation
2019
Plant and Soil
Vol. 434(1-2), pp. 363-378 
article
DOI  
Besnard, S., Carvalhais, N., Altaf Arain, M., Black, A., Brede, B., Buchmann, N., Chen, J., Clevers, J.G.P.W., Dutrieux, L.P., Gans, F., Herold, M., Jung, M., Kosugi, Y., Knohl, A., Law, B.E., Paul-Limoges, E., Lohila, A., Merbold, L., Roupsard, O., Valentini, R., Wolf, S., Zhang, X. and Reichstein, M.
Memory effects of climate and vegetation affecting net ecosystem CO2 fluxes in global forests
2019
PLoS ONE
Vol. 14(2), pp. e0211510 
article
DOI  
Bigeard, G., Coudert, B., Chirouze, J., Er-Raki, S., Boulet, G., Ceschia, E. and Jarlan, L.
Ability of a soil-vegetation-atmosphere transfer model and a two-source energy balance model to predict evapotranspiration for several crops and climate conditions
2019
Hydrology and Earth System Sciences
Vol. 23(12), pp. 5033-5058 
article
DOI  
Billesbach, D.P., Chan, S.W., Cook, D.R., Papale, D., Bracho-Garrillo, R., Verfallie, J., Vargas, R. and Biraud, S.C.
Effects of the Gill-Solent WindMaster-Pro "w-boost" firmware bug on eddy covariance fluxes and some simple recovery strategies
2019
Agricultural and Forest Meteorology
Vol. 265, pp. 145-151 
article
DOI  
Bowring, S.P.K., Lauerwald, R., Guenet, B., Zhu, D., Guimberteau, M., Tootchi, A., Ducharne, A. and Ciais, P.
ORCHIDEE MICT-LEAK (r5459), a global model for the production, transport, and transformation of dissolved organic carbon from Arctic permafrost regions - Part 1: Rationale, model description, and simulation protocol
2019
Geoscientific Model Development
Vol. 12(8), pp. 3503-3521 
article
DOI  
Box, J.E., Colgan, W.T., Christensen, T.R., Schmidt, N.M., Lund, M., Parmentier, F.J.W., Brown, R., Bhatt, U.S., Euskirchen, E.S., Romanovsky, V.E., Walsh, J.E., Overland, J.E., Wang, M., Corell, R.W., Meier, W.N., Wouters, B., Mernild, S., Mård, J., Pawlak, J. and Olsen, M.S.
Key indicators of Arctic climate change: 1971-2017
2019
Environmental Research Letters
Vol. 14(4), pp. 45010 
article
DOI  
Brændholt, A., Ibrom, A., Ambus, P., Larsen, K.S. and Pilegaard, K.
Combining a quantum cascade laser spectrometer with an automated closed-chamber system for δ13C measurements of forest soil, tree stem and tree root CO2 fluxess
2019
Forests
Vol. 10(5), pp. 432 
article
DOI  
Brown, M.S., Munro, D.R., Feehan, C.J., Sweeney, C., Ducklow, H.W. and Schofield, O.M.
Enhanced oceanic CO2 uptake along the rapidly changing West Antarctic Peninsula
2019

Vol. 9(9)Nature Climate Change, pp. 678-683 
misc
DOI URL 
Buchen, C., Roobroeck, D., Augustin, J., Behrendt, U., Boeckx, P. and Ulrich, A.
High N2O consumption potential of weakly disturbed fen mires with dissimilar denitrifier community structure
2019
Soil Biology and Biochemistry
Vol. 130, pp. 63-72 
article
DOI URL 
Burri, S., Haeler, E., Eugster, W., Haeni, M., Etzold, S., Walthert, L., Braun, S. and Zweifel, R.
How did Swiss forest trees respond to the hot summer 2015?
2019
Erde
Vol. 150(4), pp. 214-229 
article
DOI  
Bushinsky, S.M., Landschützer, P., Rödenbeck, C., Gray, A.R., Baker, D., Mazloff, M.R., Resplandy, L., Johnson, K.S. and Sarmiento, J.L.
Reassessing Southern Ocean Air‐Sea CO textlesssubtextgreater2textless/subtextgreater Flux Estimates With the Addition of Biogeochemical Float Observations
2019
Global Biogeochemical Cycles
Vol. 33(11), pp. 1370-1388 
article
DOI URL 
Bushinsky, S.M., Takeshita, Y. and Williams, N.L.
Observing Changes in Ocean Carbonate Chemistry: Our Autonomous Future
2019

Vol. 5(3)Current Climate Change Reports, pp. 207-220 
misc
DOI URL 
Byrne, A., Jones, B., Strong, D., Journal, A., Byrne, B., Jones, D.B.A., Strong, K., Polavarapu, S.M., Harper, A.B., Baker, D.F. and Maksyutov, S.
On what scales can GOSAT flux inversions constrain anomalies in terrestrial ecosystems? A NOTE ON VERSIONS On what scales can GOSAT flux inversions constrain anomalies in terrestrial ecosystems?
2019
Atmos. Chem. Phys
Vol. 19, pp. 13017-13035 
article
DOI URL 
Campbell, J.L. and Laudon, H.
Carbon response to changing winter conditions in northern regions: Current understanding and emerging research needs
2019
Environmental Reviews
Vol. 27(4), pp. 545-566 
article
DOI URL 
Campeau, A., Bishop, K., Amvrosiadi, N., Billett, M.F., Garnett, M.H., Laudon, H., Öquist, M.G. and Wallin, M.B.
Current forest carbon fixation fuels stream CO 2 emissions
2019
Nature Communications
Vol. 10(1), pp. 1876 
article
DOI URL 
Capotondi, A., Jacox, M., Bowler, C., Kavanaugh, M., Lehodey, P., Barrie, D., Brodie, S., Chaffron, S., Cheng, W., Dias, D.F., Eveillard, D., Guidi, L., Iudicone, D., Lovenduski, N.S., Nye, J.A., Ortiz, I., Pirhalla, D., Pozo Buil, M., Saba, V., Sheridan, S., Siedlecki, S., Subramanian, A., de Vargas, C., Di Lorenzo, E., Doney, S.C., Hermann, A.J., Joyce, T., Merrifield, M., Miller, A.J., Not, F. and Pesant, S.
Observational Needs Supporting Marine Ecosystems Modeling and Forecasting: From the Global Ocean to Regional and Coastal Systems
2019

Vol. 6Frontiers in Marine Science, pp. 623 
misc
DOI URL 
Carter, B.R., Williams, N.L., Evans, W., Fassbender, A.J., Barbero, L., Hauri, C., Feely, R.A. and Sutton, A.J.
Time of Detection as a Metric for Prioritizing Between Climate Observation Quality, Frequency, and Duration
2019
Geophysical Research Letters
Vol. 46(7), pp. 3853-3861 
article
DOI URL 
Cernusak, L.A., Haverd, V., Brendel, O., Le Thiec, D., Guehl, J.M. and Cuntz, M.
Robust Response of Terrestrial Plants to Rising CO2
2019
Trends in Plant Science
Vol. 24(7), pp. 578-586 
article
DOI  
Chen, J.M., Ju, W., Ciais, P., Viovy, N., Liu, R., Liu, Y. and Lu, X.
Vegetation structural change since 1981 significantly enhanced the terrestrial carbon sink
2019
Nature Communications
Vol. 10(1) 
article
DOI  
Chen, Y., Shen, W., Gao, S., Zhang, K., Wang, J. and Huang, N.
Estimating deciduous broadleaf forest gross primary productivity by remote sensing data using a random forest regression model
2019
Journal of Applied Remote Sensing
Vol. 13(3), pp. 1-17 
article
DOI URL 
Chi, J., Nilsson, M.B., Kljun, N., Wallerman, J., Fransson, J.E.S., Laudon, H., Lundmark, T. and Peichl, M.
The carbon balance of a managed boreal landscape measured from a tall tower in northern Sweden
2019
Agricultural and Forest Meteorology
Vol. 274, pp. 29-41 
article
DOI URL 
Chiesa, M., Bignotti, L., Finco, A., Marzuoli, R. and Gerosa, G.
Size-resolved aerosol fluxes above a broadleaved deciduous forest
2019
Agricultural and Forest Meteorology
Vol. 279, pp. 107757 
article
DOI  
Ciais, P., Tan, J., Wang, X., Roedenbeck, C., Chevallier, F., Piao, S.L., Moriarty, R., Broquet, G., Le Quéré, C., Canadell, J.G., Peng, S., Poulter, B., Liu, Z. and Tans, P.
Five decades of northern land carbon uptake revealed by the interhemispheric CO2 gradient
2019
Nature
Vol. 568(7751), pp. 221-225 
article
DOI URL 
Collalti, A., Thornton, P.E., Cescatti, A., Rita, A., Borghetti, M., Nolè, A., Trotta, C., Ciais, P. and Matteucci, G.
The sensitivity of the forest carbon budget shifts across processes along with stand development and climate change
2019
Ecological Applications
Vol. 29(2) 
article
DOI  
Conil, S., Helle, J., Langrene, L., Laurent, O., Delmotte, M. and Ramonet, M.
Continuous atmospheric CO2, CH4 and CO measurements at the Observatoire Pérenne de l'Environnement (OPE) station in France from 2011 to 2018
2019
Atmospheric Measurement Techniques
Vol. 12(12), pp. 6361-6383 
article
DOI  
Conte, A., Fares, S., Salvati, L., Savi, F., Matteucci, G., Mazzenga, F., Spano, D., Sirca, C., Marras, S., Galvagno, M., Cremonese, E. and Montagnani, L.
Ecophysiological Responses to Rainfall Variability in Grassland and Forests Along a Latitudinal Gradient in Italy
2019
Frontiers in Forests and Global Change
Vol. 2 
article
DOI  
Couldrey, M.P., Oliver, K.I.C., Yool, A., Halloran, P.R. and Achterberg, E.P.
Drivers of 21textlesssuptextgreatersttextless/suptextgreater Century carbon cycle variability in the North Atlantic Ocean
2019
Biogeosciences Discussions, pp. 1-33 
article
DOI  
Crabbe, R.A., Janouš, D., DaÅ™enová, E. and Pavelka, M.
Exploring the potential of LANDSAT-8 for estimation of forest soil CO 2 efflux
2019
International Journal of Applied Earth Observation and Geoinformation
Vol. 77, pp. 42-52 
article
DOI  
Creamean, J.M., Mignani, C., Bukowiecki, N. and Conen, F.
Using freezing spectra characteristics to identify ice-nucleating particle populations during the winter in the Alps
2019
Atmospheric Chemistry and Physics
Vol. 19(12), pp. 8123-8140 
article
DOI URL 
Crowell, S., Baker, D., Schuh, A., Basu, S., Jacobson, A.R., Chevallier, F., Liu, J., Deng, F., Feng, L., Mckain, K., Chatterjee, A., Miller, J.B., Stephens, B.B., Eldering, A., Crisp, D., Schimel, D., Nassar, R., O'dell, C.W., Oda, T., Sweeney, C., Palmer, P.I. and Jones, D.B.A.
The 2015-2016 carbon cycle as seen from OCO-2 and the global in situ network
2019
Atmos. Chem. Phys
Vol. 19, pp. 9797-9831 
article
DOI URL 
Cui, W. and Chui, T.F.M.
Temporal and spatial variations of energy balance closure across FLUXNET research sites
2019
Agricultural and Forest Meteorology
Vol. 271, pp. 12-21 
article
DOI  
Dangal, S.R.S., Tian, H., Xu, R., Chang, J., Canadell, J.G., Ciais, P., Pan, S., Yang, J. and Zhang, B.
Global Nitrous Oxide Emissions From Pasturelands and Rangelands: Magnitude, Spatiotemporal Patterns, and Attribution
2019
Global Biogeochemical Cycles
Vol. 33(2), pp. 200-222 
article
DOI  
Darenova, E., Dušek, J. and Mžourková-Macalková, L.
Are the hydrophobic membrane tubes suitable for instantaneous soil CO 2 concentration measurements?
2019

Vol. 48(02)Indian Journal of Geo Marine Sciences, pp. 223-227 
techreport
 
Darenova, E., Szatniewska, J., Acosta, M. and Pavelka, M.
Variability of stem CO2 efflux response to temperature over the diel period
2019
Tree Physiology
Vol. 39(5), pp. 877-887 
article
DOI  
Davis, R.E., Talley, L.D., Roemmich, D., Owens, W.B., Rudnick, D.L., Toole, J., Weller, R., McPhaden, M.J. and Barth, J.A.
100 Years of Progress in Ocean Observing Systems
2019
Meteorological Monographs
Vol. 59, pp. 3.1-3.46 
article
DOI URL 
De Marco, A., Proietti, C., Anav, A., Ciancarella, L., D'Elia, I., Fares, S., Fornasier, M.F., Fusaro, L., Gualtieri, M., Manes, F., Marchetto, A., Mircea, M., Paoletti, E., Piersanti, A., Rogora, M., Salvati, L., Salvatori, E., Screpanti, A., Vialetto, G., Vitale, M. and Leonardi, C.
Impacts of air pollution on human and ecosystem health, and implications for the National Emission Ceilings Directive: Insights from Italy
2019
Environment International
Vol. 125, pp. 320-333 
article
DOI  
DeCola, P., Tarasova, O., Brunner, D., Maksyutov, S., Manning, A., Vogel, F., Gurney, K., Turnbull, J., Zavala-Araiza, D., Kort, E., Robinson, R., Canadell, P., Ciais, P., Vladu, F., Houweling, S., Lauvaux, T., Mueller, K., Vermeulen, A.(L.U. and Al., E.
An Integrated Global Greenhouse Gas Information System (IG3IS) Science Implementation Plane - GAW Report No. 245
2019
, pp. 62School: WMO 
techreport
URL 
Deirmendjian, L., Anschutz, P., Morel, C., Mollier, A., Augusto, L., Loustau, D., Cotovicz, L.C., Buquet, D., Lajaunie, K., Chaillou, G., Voltz, B., Charbonnier, C., Poirier, D. and Abril, G.
Importance of the vegetation-groundwater-stream continuum to understand transformation of biogenic carbon in aquatic systems – A case study based on a pine-maize comparison in a lowland sandy watershed (Landes de Gascogne, SW France)
2019
Science of the Total Environment
Vol. 661, pp. 613-629 
article
DOI  
Delon, C., Galy-Lacaux, C., Serça, D., Personne, E., Mougin, E., Adon, M., Le Dantec, V., Loubet, B., Fensholt, R. and Tagesson, T.
Modelling land-atmosphere daily exchanges of NO, NH3, and CO2 in a semi-arid grazed ecosystem in Senegal
2019
Biogeosciences
Vol. 16(9), pp. 2049-2077 
article
DOI  
Denvil-Sommer, A., Gehlen, M., Vrac, M. and Mejia, C.
LSCE-FFNN-v1: a two-step neural network model for the reconstruction of surface ocean <i>p</i>CO<sub>2</sub> over the global ocean
2019
Geoscientific Model Development
Vol. 12(5), pp. 2091-2105 
article
DOI URL 
DeVries, T., Le Quéré, C., Andrews, O., Berthet, S., Hauck, J., Ilyina, T., Landschützer, P., Lenton, A., Lima, I.D., Nowicki, M., Schwinger, J. and Séférian, R.
Decadal trends in the ocean carbon sink
2019
Proceedings of the National Academy of Sciences of the United States of America
Vol. 116(24), pp. 11646-11651 
article
DOI URL 
Djomo, S.N., De Groote, T., Gobin, A., Ceulemans, R. and Janssens, I.A.
Combining a land surface model with life cycle assessment for identifying the optimal management of short rotation coppice in Belgium
2019
Biomass and Bioenergy
Vol. 121, pp. 78-88 
article
DOI  
Draper, C. and Reichle, R.H.
Assimilation of satellite soil moisture for improved atmospheric reanalyses
2019
Monthly Weather Review
Vol. 147(6), pp. 2163-2188 
article
DOI  
Druel, A., Ciais, P., Krinner, G. and Peylin, P.
Modeling the Vegetation Dynamics of Northern Shrubs and Mosses in the ORCHIDEE Land Surface Model
2019
Journal of Advances in Modeling Earth Systems
Vol. 11(7), pp. 2020-2035 
article
DOI  
Drushka, K., Asher, W.E., Sprintall, J., Gille, S.T. and Hoang, C.
Global patterns of submesoscale surface salinity variability
2019
Journal of Physical Oceanography
Vol. 49(7), pp. 1669-1685 
article
DOI URL 
Dumortier, P., Aubinet, M., Lebeau, F., Naiken, A. and Heinesch, B.
Point source emission estimation using eddy covariance: Validation using an artificial source experiment
2019
Agricultural and Forest Meteorology
Vol. 266-267, pp. 148-156 
article
DOI URL 
Efren, L.B., Exbrayat, J.F., Lund, M., Christensen, T.R., Tamstorf, M.P., Slevin, D., Hugelius, G., Bloom, A.A. and Williams, M.
Evaluation of terrestrial pan-Arctic carbon cycling using a data-assimilation system
2019
Earth System Dynamics
Vol. 10(2), pp. 233-255 
article
DOI  
Esquivel-Muelbert, A., Baker, T.R., Dexter, K.G., Lewis, S.L., Brienen, R.J.W., Feldpausch, T.R., Lloyd, J., Monteagudo-Mendoza, A., Arroyo, L., Álvarez-Dávila, E., Higuchi, N., Marimon, B.S., Marimon-Junior, B.H., Silveira, M., Vilanova, E., Gloor, E., Malhi, Y., Chave, J., Barlow, J., Bonal, D., Davila Cardozo, N., Erwin, T., Fauset, S., Hérault, B., Laurance, S., Poorter, L., Qie, L., Stahl, C., Sullivan, M.J.P., ter Steege, H., Vos, V.A., Zuidema, P.A., Almeida, E., Almeida de Oliveira, E., Andrade, A., Vieira, S.A., Aragão, L., Araujo-Murakami, A., Arets, E., Aymard C, G.A., Baraloto, C., Camargo, P.B., Barroso, J.G., Bongers, F., Boot, R., Camargo, J.L., Castro, W., Chama Moscoso, V., Comiskey, J., Cornejo Valverde, F., Lola da Costa, A.C., del Aguila Pasquel, J., Di Fiore, A., Fernanda Duque, L., Elias, F., Engel, J., Flores Llampazo, G., Galbraith, D., Herrera Fernández, R., Honorio Coronado, E., Hubau, W., Jimenez-Rojas, E., Lima, A.J.N., Umetsu, R.K., Laurance, W., Lopez-Gonzalez, G., Lovejoy, T., Aurelio Melo Cruz, O., Morandi, P.S., Neill, D., Núñez Vargas, P., Pallqui Camacho, N.C., Parada Gutierrez, A., Pardo, G., Peacock, J., Peña-Claros, M., Peñuela-Mora, M.C., Petronelli, P., Pickavance, G.C., Pitman, N., Prieto, A., Quesada, C., Ramírez-Angulo, H., Réjou-Méchain, M., Restrepo Correa, Z., Roopsind, A., Rudas, A., Salomão, R., Silva, N., Silva Espejo, J., Singh, J., Stropp, J., Terborgh, J., Thomas, R., Toledo, M., Torres-Lezama, A., Valenzuela Gamarra, L., van de Meer, P.J., van der Heijden, G., van der Hout, P., Vasquez Martinez, R., Vela, C., Vieira, I.C.G. and Phillips, O.L.
Compositional response of Amazon forests to climate change
2019
Global Change Biology
Vol. 25(1), pp. 39-56 
article
DOI  
Fan, L., Wigneron, J.P., Ciais, P., Chave, J., Brandt, M., Fensholt, R., Saatchi, S.S., Bastos, A., Al-Yaari, A., Hufkens, K., Qin, Y., Xiao, X., Chen, C., Myneni, R.B., Fernandez-Moran, R., Mialon, A., Rodriguez-Fernandez, N.J., Kerr, Y., Tian, F. and Peñuelas, J.
Satellite-observed pantropical carbon dynamics
2019
Nature Plants
Vol. 5(9), pp. 944-951 
article
DOI  
Fares, S., Alivernini, A., Conte, A. and Maggi, F.
Ozone and particle fluxes in a Mediterranean forest predicted by the AIRTREE model
2019
Science of the Total Environment
Vol. 682, pp. 494-504 
article
DOI  
Fennel, K., Alin, S., Barbero, L., Evans, W., Bourgeois, T., Cooley, S., Dunne, J., Feely, R.A., Hernandez-Ayon, J.M., Hu, X., Lohrenz, S., Muller-Karger, F., Najjar, R., Robbins, L., Shadwick, E., Siedlecki, S., Steiner, N., Sutton, A., Turk, D., Vlahos, P. and Wang, Z.A.
Carbon cycling in the North American coastal ocean: a synthesis
2019
Biogeosciences
Vol. 16(6), pp. 1281-1304 
article
DOI URL 
Fernández-Martínez, M., Sardans, J., Chevallier, F., Ciais, P., Obersteiner, M., Vicca, S., Canadell, J.G., Bastos, A., Friedlingstein, P., Sitch, S., Piao, S.L., Janssens, I.A. and Peñuelas, J.
Global trends in carbon sinks and their relationships with CO2 and temperature
2019
Nature Climate Change
Vol. 9(1), pp. 73-79 
article
DOI  
Fischer, F.J., Maréchaux, I. and Chave, J.
Improving plant allometry by fusing forest models and remote sensing
2019
New Phytologist
Vol. 223(3), pp. 1159-1165 
article
DOI  
Fitzky, A.C., Sandén, H., Karl, T., Fares, S., Calfapietra, C., Grote, R., Saunier, A. and Rewald, B.
The Interplay Between Ozone and Urban Vegetation—BVOC Emissions, Ozone Deposition, and Tree Ecophysiology
2019
Frontiers in Forests and Global Change
Vol. 2 
article
DOI  
Freeman, N.M., Munro, D.R., Sprintall, J., Mazloff, M.R., Purkey, S., Rosso, I., DeRanek, C.A. and Sweeney, C.
The Observed Seasonal Cycle of Macronutrients in Drake Passage: Relationship to Fronts and Utility as a Model Metric
2019
Journal of Geophysical Research: Oceans
Vol. 124(7), pp. 4763-4783 
article
DOI URL 
Frey, M., Sha, M.K., Hase, F., Kiel, M., Blumenstock, T., Harig, R., Surawicz, G., Deutscher, N.M., Shiomi, K., Franklin, J.E., Bösch, H., Chen, J., Grutter, M., Ohyama, H., Sun, Y., Butz, A., Mengistu Tsidu, G., Ene, D., Wunch, D., Cao, Z., Garcia, O., Ramonet, M., Vogel, F. and Orphal, J.
Building the COllaborative Carbon Column Observing Network (COCCON): Long-term stability and ensemble performance of the EM27/SUN Fourier transform spectrometer
2019
Atmospheric Measurement Techniques
Vol. 12(3), pp. 1513-1530 
article
DOI  
Friedlingstein, P., Jones, M.W., O'Sullivan, M., Andrew, R.M., Hauck, J., Peters, G.P., Peters, W., Pongratz, J., Sitch, S., Le Quéré, C., DBakker, O.C.E., Canadell1, J.G., Ciais1, P., Jackson, R.B., Anthoni1, P., Barbero, L., Bastos, A., Bastrikov, V., Becker, M., Bopp, L., Buitenhuis, E., Chandra, N., Chevallier, F., Chini, L.P., Currie, K.I., Feely, R.A., Gehlen, M., Gilfillan, D., Gkritzalis, T., Goll, D.S., Gruber, N., Gutekunst, S., Harris, I., Haverd, V., Houghton, R.A., Hurtt, G., Ilyina, T., Jain, A.K., Joetzjer, E., Kaplan, J.O., Kato, E., Goldewijk, K.K., Korsbakken, J.I., Landschützer, P., Lauvset, S.K., Lefèvre, N., Lenton, A., Lienert, S., Lombardozzi, D., Marland, G., McGuire, P.C., Melton, J.R., Metzl, N., Munro, D.R., Nabel, J.E.M.S., Nakaoka, S.I., Neill, C., Omar, A.M., Ono, T., Peregon, A., Pierrot, D., Poulter, B., Rehder, G., Resplandy, L., Robertson, E., Rödenbeck, C., Séférian, R., Schwinger, J., Smith, N., Tans, P.P., Tian, H., Tilbrook, B., Tubiello, F.N., Van Der Werf, G.R., Wiltshire, A.J. and Zaehle, S.
Global carbon budget 2019
2019
Earth System Science Data
Vol. 11(4), pp. 1783-1838 
article
DOI URL 
Fröb, F., Olsen, A., Becker, M., Chafik, L., Johannessen, T., Reverdin, G. and Omar, A.
Wintertime fCO 2 Variability in the Subpolar North Atlantic Since 2004
2019
Geophysical Research Letters
Vol. 46(3), pp. 1580-1590 
article
DOI URL 
Geng, M.S., Christensen, J.H. and Christensen, T.R.
Potential future methane emission hot spots in Greenland
2019
Environmental Research Letters
Vol. 14(3), pp. 35001 
article
DOI  
Giemsa, E., Jacobeit, J., Ries, L. and Hachinger, S.
Investigating regional source and sink patterns of Alpine CO2 and CH4 concentrations based on a back trajectory receptor model
2019
Environmental Sciences Europe
Vol. 31(1), pp. 49 
article
DOI URL 
Gonzaga Gomez, L., Loubet, B., Lafouge, F., Ciuraru, R., Buysse, P., Durand, B., Gueudet, J.C., Fanucci, O., Fortineau, A., Zurfluh, O., Decuq, C., Kammer, J., Duprix, P., Bsaibes, S., Truong, F., Gros, V. and Boissard, C.
Comparative study of biogenic volatile organic compounds fluxes by wheat, maize and rapeseed with dynamic chambers over a short period in northern France
2019
Atmospheric Environment
Vol. 214, pp. 116855 
article
DOI  
Gourlez de la Motte, L., Dumortier, P., Beckers, Y., Bodson, B., Heinesch, B. and Aubinet, M.
Herd position habits can bias net CO 2 ecosystem exchange estimates in free range grazed pastures
2019
Agricultural and Forest Meteorology
Vol. 268, pp. 156-168 
article
DOI  
Gregor, L., Lebehot, A.D., Kok, S. and Scheel Monteiro, P.M.
A comparative assessment of the uncertainties of global surface ocean CO<sub>2</sub> estimates using a machine-learning ensemble (CSIR-ML6 version 2019a) – have we hit the wall?
2019
Geoscientific Model Development
Vol. 12(12), pp. 5113-5136 
article
DOI URL 
Grossiord, C., Christoffersen, B., Alonso-Rodríguez, A.M., Anderson-Teixeira, K., Asbjornsen, H., Aparecido, L.M.T., Carter Berry, Z., Baraloto, C., Bonal, D., Borrego, I., Burban, B., Chambers, J.Q., Christianson, D.S., Detto, M., Faybishenko, B., Fontes, C.G., Fortunel, C., Gimenez, B.O., Jardine, K.J., Kueppers, L., Miller, G.R., Moore, G.W., Negron-Juarez, R., Stahl, C., Swenson, N.G., Trotsiuk, V., Varadharajan, C., Warren, J.M., Wolfe, B.T., Wei, L., Wood, T.E., Xu, C. and McDowell, N.G.
Precipitation mediates sap flux sensitivity to evaporative demand in the neotropics
2019
Oecologia
Vol. 191(3), pp. 519-530 
article
DOI  
Gruber, N., Landschützer, P. and Lovenduski, N.S.
The Variable Southern Ocean Carbon Sink
2019
Annual Review of Marine Science
Vol. 11(1), pp. 159-186 
article
DOI URL 
Haro, K., Ouarma, I., Nana, B., Bere, A., Tubreoumya, G.C., Kam, S.Z., Laville, P., Loubet, B. and Koulidiati, J.
Assessment of CH4 and CO2 surface emissions from Polesgo's landfill (Ouagadougou, Burkina Faso) based on static chamber method
2019
Advances in Climate Change Research
Vol. 10(3), pp. 181-191 
article
DOI  
Hartman, S.E., Humphreys, M.P., Kivimäe, C., Woodward, E.M.S., Kitidis, V., McGrath, T., Hydes, D.J., Greenwood, N., Hull, T., Ostle, C., Pearce, D.J., Sivyer, D., Stewart, B.M., Walsham, P., Painter, S.C., McGovern, E., Harris, C., Griffiths, A., Smilenova, A., Clarke, J., Davis, C., Sanders, R. and Nightingale, P.
Seasonality and spatial heterogeneity of the surface ocean carbonate system in the northwest European continental shelf
2019
Progress in Oceanography
Vol. 177, pp. 101909 
article
DOI  
Hastie, A., Lauerwald, R., Ciais, P. and Regnier, P.
Aquatic carbon fluxes dampen the overall variation of net ecosystem productivity in the Amazon basin: An analysis of the interannual variability in the boundless carbon cycle
2019
Global Change Biology
Vol. 25(6), pp. 2094-2111 
article
DOI  
Hayes, F., Mills, G., Alonso, R., González-Fernández, I., Coyle, M., Grünhage, L., Gerosa, G., Karlsson, P.E. and Marzuoli, R.
A Site-Specific Analysis of the Implications of a Changing Ozone Profile and Climate for Stomatal Ozone Fluxes in Europe
2019
Water, Air, and Soil Pollution
Vol. 230(1) 
article
DOI  
Haynes, K.D., Baker, I.T., Denning, A.S., Wolf, S., Wohlfahrt, G., Kiely, G., Minaya, R.C. and Haynes, J.M.
Representing Grasslands Using Dynamic Prognostic Phenology Based on Biological Growth Stages: Part 2. Carbon Cycling
2019
Journal of Advances in Modeling Earth Systems
Vol. 11(12), pp. 4440-4465 
article
DOI  
He, Y., Peng, S., Liu, Y., Li, X., Wang, K., Ciais, P., Arain, M.A., Fang, Y., Fisher, J.B., Goll, D., Hayes, D., Huntzinger, D.N., Ito, A., Jain, A.K., Janssens, I.A., Mao, J., Matteo, C., Michalak, A.M., Peng, C., Peñuelas, J., Poulter, B., Qin, D., Ricciuto, D.M., Schaefer, K., Schwalm, C.R., Shi, X., Tian, H., Vicca, S., Wei, Y., Zeng, N. and Zhu, Q.
Global vegetation biomass production efficiency constrained by models and observations
2019
Global Change Biology
Vol. 26(3), pp. 1474-1484 
article
DOI  
Helfter, C., Mullinger, N., Vieno, M., O'Doherty, S., Ramonet, M., Palmer, P.I. and Nemitz, E.
Country-scale greenhouse gas budgets using shipborne measurements: A case study for the UK and Ireland
2019
Atmospheric Chemistry and Physics
Vol. 19(5), pp. 3043-3063 
article
DOI  
Hemes, K.S., Chamberlain, S.D., Eichelmann, E., Anthony, T., Valach, A., Kasak, K., Szutu, D., Verfaillie, J., Silver, W.L. and Baldocchi, D.D.
Assessing the carbon and climate benefit of restoring degraded agricultural peat soils to managed wetlands
2019
Agricultural and Forest Meteorology
Vol. 268, pp. 202-214 
article
DOI  
Holding, T., Ashton, I.G., Shutler, J.D., Land, P.E., Nightingale, P.D., Rees, A.P., Brown, I., Piolle, J.F., Kock, A., Bange, H.W., Woolf, D.K., Goddijn-Murphy, L., Pereira, R., Paul, F., Girard-Ardhuin, F., Chapron, B., Rehder, G., Ardhuin, F. and Donlon, C.J.
The fluxengine air-sea gas flux toolbox: Simplified interface and extensions for in situ analyses and multiple sparingly soluble gases
2019
Ocean Science
Vol. 15(6), pp. 1707-1728 
article
DOI  
Horemans, J.A., Arriga, N. and Ceulemans, R.
Greenhouse gas budget of a poplar bioenergy plantation in Belgium: CO2 uptake outweighs CH4 and N2O emissions
2019
GCB Bioenergy
Vol. 11(12), pp. 1435-1443 
article
DOI  
van der Horst, S.V.J., Pitman, A.J., De Kauwe, M.G., Ukkola, A., Abramowitz, G. and Isaac, P.
How representative are FLUXNET measurements of surface fluxes during temperature extremes?
2019
Biogeosciences
Vol. 16(8), pp. 1829-1844 
article
DOI URL 
Huang, M., Piao, S., Ciais, P., Peñuelas, J., Wang, X., Keenan, T.F., Peng, S., Berry, J.A., Wang, K., Mao, J., Alkama, R., Cescatti, A., Cuntz, M., De Deurwaerder, H., Gao, M., He, Y., Liu, Y., Luo, Y., Myneni, R.B., Niu, S., Shi, X., Yuan, W., Verbeeck, H., Wang, T., Wu, J. and Janssens, I.A.
Air temperature optima of vegetation productivity across global biomes
2019
Nature Ecology and Evolution
Vol. 3(5), pp. 772-779 
article
DOI  
Huang, W., Raza, S.A., Mirzov, O. and Harrie, L.
Assessment and Benchmarking of Spatially Enabled RDF Stores for the Next Generation of Spatial Data Infrastructure
2019
ISPRS International Journal of Geo-Information
Vol. 8(7), pp. 310 
article
DOI URL 
Huang, X., Xiao, J. and Ma, M.
Evaluating the Performance of Satellite-Derived Vegetation Indices for Estimating Gross Primary Productivity Using FLUXNET Observations across the Globe
2019
Remote Sensing
Vol. 11(15), pp. 1823 
article
DOI URL 
Hurdebise, Q., Aubinet, M., Heinesch, B. and Vincke, C.
Increasing temperatures over an 18-year period shortens growing season length in a beech (Fagus sylvatica L.)-dominated forest
2019
Annals of Forest Science
Vol. 76(3) 
article
DOI  
Ivakhov, V.M., Paramonova, N.N., Privalov, V.I., Zinchenko, A.V., Loskutova, M.A., Makshtas, A.P., Kustov, V.Y., Laurila, T., Aurela, M. and Asmi, E.
Atmospheric Concentration of Carbon Dioxide at Tiksi and Cape Baranov Stations in 2010–2017
2019
Russian Meteorology and Hydrology
Vol. 44(4), pp. 291-299 
article
DOI  
Jakovljević, T., Marchetto, A., Lovreškov, L., Potočić, N., Seletković, I., Indir, K., Jelić, G., Butorac, L., Zgrablić, Ž., De Marco, A., Simioni, G., Ognjenović, M. and Jurinjak Tušek, A.
Assessment of Atmospheric Deposition and Vitality Indicators in Mediterranean Forest Ecosystems
2019
Sustainability
Vol. 11(23), pp. 6805 
article
DOI  
Järvi, L., Havu, M., Ward, H.C., Bellucco, V., McFadden, J.P., Toivonen, T., Heikinheimo, V., Kolari, P., Riikonen, A. and Grimmond, C.S.B.
Spatial Modeling of Local-Scale Biogenic and Anthropogenic Carbon Dioxide Emissions in Helsinki
2019
Journal of Geophysical Research: Atmospheres
Vol. 124(15), pp. 8363-8384 
article
DOI  
Jauhiainen, J., Alm, J., Bjarnadottir, B., Callesen, I., Christiansen, J.R., Clarke, N., Dalsgaard, L., He, H., Jordan, S., Kazanavičiute, V., Klemedtsson, L., Lauren, A., Lazdins, A., Lehtonen, A., Lohila, A., Lupikis, A., Mander, Ü., Minkkinen, K., Kasimir, Å., Olsson, M., Ojanen, P., Óskarsson, H., Sigurdsson, B.D., Søgaard, G., Soosaar, K., Vesterdal, L. and Laiho, R.
Reviews and syntheses: Greenhouse gas exchange data from drained organic forest soils-A review of current approaches and recommendations for future research
2019
Biogeosciences
Vol. 16(23), pp. 4687-4703 
article
DOI  
Jiang, L.Q., Carter, B.R., Feely, R.A., Lauvset, S.K. and Olsen, A.
Surface ocean pH and buffer capacity: past, present and future
2019
Scientific Reports
Vol. 9(1) 
article
DOI  
Jiang, P., Liu, H., Piao, S., Ciais, P., Wu, X., Yin, Y. and Wang, H.
Enhanced growth after extreme wetness compensates for post-drought carbon loss in dry forests
2019
Nature Communications
Vol. 10(1) 
article
DOI  
Jiang, Z.P., Yuan, J., Hartman, S.E. and Fan, W.
Enhancing the observing capacity for the surface ocean by the use of Volunteer Observing Ship
2019
Acta Oceanologica Sinica
Vol. 38(7), pp. 114-120 
article
DOI URL 
Jung, M., Koirala, S., Weber, U., Ichii, K., Gans, F., Camps-Valls, G., Papale, D., Schwalm, C., Tramontana, G. and Reichstein, M.
The FLUXCOM ensemble of global land-atmosphere energy fluxes
2019
Scientific Data
Vol. 6(1), pp. 74 
article
DOI URL 
Juráň, S., Šigut, L., Holub, P., Fares, S., Klem, K., Grace, J. and Urban, O.
Ozone flux and ozone deposition in a mountain spruce forest are modulated by sky conditions
2019
Science of the Total Environment
Vol. 672, pp. 296-304 
article
DOI  
Kadavý, J., Adamec, Z., Uherková, B., Kneifl, M., Knott, R., Kučera, A., Friedl, M., DaÅ™enová, E., Skládanka, J. and Drápela, K.
Growth response of sessile oak and European hornbeam to traditional coppice-with-standards management
2019
Forests
Vol. 10(6), pp. 515 
article
DOI  
Keenan, T.F., Migliavacca, M., Papale, D., Baldocchi, D., Reichstein, M., Torn, M. and Wutzler, T.
Widespread inhibition of daytime ecosystem respiration
2019
Nature Ecology and Evolution
Vol. 3(3), pp. 407-415 
article
DOI URL 
Keppler, L. and Landschützer, P.
Regional Wind Variability Modulates the Southern Ocean Carbon Sink
2019
Scientific Reports
Vol. 9(1), pp. 1-10 
article
DOI URL 
Khatiwala, S., Schmittner, A. and Muglia, J.
Air-sea disequilibrium enhances ocean carbon storage during glacial periods
2019
Science Advances
Vol. 5(6), pp. eaaw4981 
article
DOI URL 
Kitidis, V., Shutler, J.D., Ashton, I., Warren, M., Brown, I., Findlay, H., Hartman, S.E., Sanders, R., Humphreys, M., Kivimäe, C., Greenwood, N., Hull, T., Pearce, D., McGrath, T., Stewart, B.M., Walsham, P., McGovern, E., Bozec, Y., Gac, J.P., van Heuven, S.M.A.C., Hoppema, M., Schuster, U., Johannessen, T., Omar, A., Lauvset, S.K., Skjelvan, I., Olsen, A., Steinhoff, T., Körtzinger, A., Becker, M., Lefevre, N., Diverrès, D., Gkritzalis, T., Cattrijsse, A., Petersen, W., Voynova, Y.G., Chapron, B., Grouazel, A., Land, P.E., Sharples, J. and Nightingale, P.D.
Winter weather controls net influx of atmospheric CO2 on the north-west European shelf
2019
Scientific Reports
Vol. 9(1) 
article
DOI  
Kiuru, P., Ojala, A., Mammarella, I., Heiskanen, J., Erkkilä, K.M., Miettinen, H., Vesala, T. and Huttula, T.
Applicability and consequences of the integration of alternative models for CO2 transfer velocity into a process-based lake model
2019
Biogeosciences
Vol. 16(17), pp. 3297-3317 
article
DOI  
Kivimäki, E., Lindqvist, H., Hakkarainen, J., Laine, M., Sussmann, R., Tsuruta, A., Detmers, R., Deutscher, N.M., Dlugokencky, E.J., Hase, F., Hasekamp, O., Kivi, R., Morino, I., Notholt, J., Pollard, D.F., Roehl, C., Schneider, M., Sha, M.K., Velazco, V.A., Warneke, T., Wunch, D., Yoshida, Y. and Tamminen, J.
Evaluation and analysis of the seasonal cycle and variability of the trend from GOSAT methane retrievals
2019
Remote Sensing
Vol. 11(7) 
article
DOI  
Klosterhalfen, A., Graf, A., Brüggemann, N., Drüe, C., Esser, O., González-Dugo, M.P., Heinemann, G., Jacobs, C.M.J., Mauder, M., Moene, A.F., Ney, P., Pütz, T., Rebmann, C., Rodríguez, M.R., Scanlon, T.M., Schmidt, M., Steinbrecher, R., Thomas, C.K., Valler, V., Zeeman, M.J. and Vereecken, H.
Source partitioning of H2O and CO2 fluxes based on high-frequency eddy covariance data: A comparison between study sites
2019
Biogeosciences
Vol. 16(6), pp. 1111-1132 
article
DOI  
Klosterhalfen, A., Moene, A.F., Schmidt, M., Scanlon, T.M., Vereecken, H. and Graf, A.
Sensitivity analysis of a source partitioning method for H2O and CO2 fluxes based on high frequency eddy covariance data: Findings from field data and large eddy simulations
2019
Agricultural and Forest Meteorology
Vol. 265, pp. 152-170 
article
DOI  
Knox, S.H., Jackson, R.B., Poulter, B., McNicol, G., Fluet-Chouinard, E., Zhang, Z., Hugelius, G., Bousquet, P., Canadell, J.G., Saunois, M., Papale, D., Chu, H., Keenan, T.F., Baldocchi, D., Torn, M.S., Mammarella, I., Trotta, C., Aurela, M., Bohrer, G., Campbell, D.I., Cescatti, A., Chamberlain, S., Chen, J., Chen, W., Dengel, S., Desai, A.R., Euskirchen, E., Friborg, T., Gasbarra, D., Goded, I., Goeckede, M., Heimann, M., Helbig, M., Hirano, T., Hollinger, D.Y., Iwata, H., Kang, M., Klatt, J., Krauss, K.W., Kutzbach, L., Lohila, A., Mitra, B., Morin, T.H., Nilsson, M.B., Niu, S., Noormets, A., Oechel, W.C., Peichl, M., Peltola, O., Reba, M.L., Richardson, A.D., Runkle, B.R.K., Ryu, Y., Sachs, T., Schäfer, K.V.R., Schmid, H.P., Shurpali, N., Sonnentag, O., Tang, A.C.I., Ueyama, M., Vargas, R., Vesala, T., Ward, E.J., Windham-Myers, L., Wohlfahrt, G. and Zona, D.
FluXNET-CH4 synthesis activity objectives, observations, and future directions
2019
Bulletin of the American Meteorological Society
Vol. 100(12), pp. 2607-2632 
article
DOI URL 
Kohonen, K.-M., Kolari, P., Kooijmans, L.M., Chen, H., Seibt, U., Sun, W. and Mammarella, I.
Towards standardized processing of eddy covariance flux measurements of carbonyl sulfide
2019
Atmospheric Measurement Techniques Discussions, pp. 1-30 
article
DOI  
Kondo, M., Patra, P.K., Sitch, S., Friedlingstein, P., Poulter, B., Chevallier, F., Ciais, P., Canadell, J.G., Bastos, A., Lauerwald, R., Calle, L., Ichii, K., Anthoni, P., Arneth, A., Haverd, V., Jain, A.K., Kato, E., Kautz, M., Law, R.M., Lienert, S., Lombardozzi, D., Maki, T., Nakamura, T., Peylin, P., Rödenbeck, C., Zhuravlev, R., Saeki, T., Tian, H., Zhu, D. and Ziehn, T.
State of the science in reconciling top-down and bottom-up approaches for terrestrial CO2 budget
2019
Global Change Biology
Vol. 26(3), pp. 1068-1084 
article
DOI  
Kondrik, D., Kazakov, E. and Pozdnyakov, D.
A synthetic satellite dataset of the spatio-temporal distributions of <i>Emiliania huxleyi</i> blooms and their impacts on Arctic and sub-Arctic marine environments (1998–2016)
2019
Earth System Science Data
Vol. 11(1), pp. 119-128 
article
DOI URL 
Kooijmans, L.M.J., Sun, W., Aalto, J., Erkkilä, K.M., Maseyk, K., Seibt, U., Vesala, T., Mammarella, I. and Chen, H.
Influences of light and humidity on carbonyl sulfide-based estimates of photosynthesis
2019
Proceedings of the National Academy of Sciences of the United States of America
Vol. 116(7), pp. 2470-2475 
article
DOI  
Koren, G., Schneider, L., van der Velde, I.R., van Schaik, E., Gromov, S.S., Adnew, G.A., Mrozek Martino, D.J., Hofmann, M.E.G., Liang, M.-C., Mahata, S., Bergamaschi, P., van der Laan-Luijkx, I.T., Krol, M.C., Röckmann, T. and Peters, W.
Global 3-D Simulations of the Triple Oxygen Isotope Signature Δ textlesssuptextgreater17textless/suptextgreater O in Atmospheric CO textlesssubtextgreater2textless/subtextgreater
2019
Journal of Geophysical Research: Atmospheres
Vol. 124(15), pp. 8808-8836 
article
DOI URL 
Korkiakoski, M., Tuovinen, J.P., Penttilä, T., Sarkkola, S., Ojanen, P., Minkkinen, K., Rainne, J., Laurila, T. and Lohila, A.
Greenhouse gas and energy fluxes in a boreal peatland forest after clear-cutting
2019
Biogeosciences
Vol. 16(19), pp. 3703-3723 
article
DOI  
Kosonen, Z., Schnyder, E., Hiltbrunner, E., Thimonier, A., Schmitt, M., Seitler, E. and Thöni, L.
Current atmospheric nitrogen deposition still exceeds critical loads for sensitive, semi-natural ecosystems in Switzerland
2019
Atmospheric Environment
Vol. 211, pp. 214-225 
article
DOI  
Kozii, N., Haahti, K., Tor-ngern, P., Chi, J., Hasselquist, E.M., Laudon, H., Launiainen, S., Oren, R., Peichl, M., Wallerman, J. and Hasselquist, N.
Partitioning the forest water balance within a boreal catchment using sapflux, eddy covariance and process-based model
2019
Hydrology and Earth System Sciences Discussions, pp. 1-50 
article
DOI  
Krupková, L., Havránková, K., Krejza, J., Sedlák, P. and Marek, M.V.
Impact of water scarcity on spruce and beech forests
2019
Journal of Forestry Research
Vol. 30(3), pp. 899-909 
article
DOI  
Kulmala, L., Pumpanen, J., Kolari, P., Dengel, S., Berninger, F., Köster, K., Matkala, L., Vanhatalo, A., Vesala, T. and Bäck, J.
Inter- and intra-annual dynamics of photosynthesis differ between forest floor vegetation and tree canopy in a subarctic Scots pine stand
2019
Agricultural and Forest Meteorology
Vol. 271, pp. 1-11 
article
DOI  
Lagergren, F., Jönsson, A.M., Linderson, H. and Lindroth, A.
Time shift between net and gross CO2 uptake and growth derived from tree rings in pine and spruce
2019
Trees - Structure and Function
Vol. 33(3), pp. 765-776 
article
DOI URL 
Landschützer, P., Ilyina, T. and Lovenduski, N.S.
Detecting Regional Modes of Variability in Observation‐Based Surface Ocean textlessitextgreaterptextless/itextgreater CO textlesssubtextgreater2textless/subtextgreater
2019
Geophysical Research Letters
Vol. 46(5), pp. 2670-2679 
article
DOI URL 
Langvall, O. and Ottosson Löfvenius, M.
Long-term standardized forest phenology in Sweden: a climate change indicator
2019
International Journal of Biometeorology 
article
DOI URL 
Le Traon, P.Y., Reppucci, A., Alvarez Fanjul, E., Aouf, L., Behrens, A., Belmonte, M., Bentamy, A., Bertino, L., Brando, V.E., Kreiner, M.B., Benkiran, M., Carval, T., Ciliberti, S.A., Claustre, H., Clementi, E., Coppini, G., Cossarini, G., De Alfonso Alonso-Muñoyerro, M., Delamarche, A., Dibarboure, G., Dinessen, F., Drevillon, M., Drillet, Y., Faugere, Y., Fernández, V., Fleming, A., Garcia-Hermosa, M.I., Sotillo, M.G., Garric, G., Gasparin, F., Giordan, C., Gehlen, M., Gregoire, M.L., Guinehut, S., Hamon, M., Harris, C., Hernandez, F., Hinkler, J.B., Hoyer, J., Karvonen, J., Kay, S., King, R., Lavergne, T., Lemieux-Dudon, B., Lima, L., Mao, C., Martin, M.J., Masina, S., Melet, A., Buongiorno Nardelli, B., Nolan, G., Pascual, A., Pistoia, J., Palazov, A., Piolle, J.F., Pujol, M.I., Pequignet, A.C., Peneva, E., Pérez Gómez, B., Petit de la Villeon, L., Pinardi, N., Pisano, A., Pouliquen, S., Reid, R., Remy, E., Santoleri, R., Siddorn, J., She, J., Staneva, J., Stoffelen, A., Tonani, M., Vandenbulcke, L., von Schuckmann, K., Volpe, G., Wettre, C. and Zacharioudaki, A.
From Observation to Information and Users: The Copernicus Marine Service Perspective
2019
Frontiers in Marine Science
Vol. 6, pp. 234 
article
DOI URL 
Lebehot, A.D., Halloran, P.R., Watson, A.J., McNeall, D., Ford, D.A., Landschützer, P., Lauvset, S.K. and Schuster, U.
Reconciling Observation and Model Trends in North Atlantic Surface CO2
2019
Global Biogeochemical Cycles
Vol. 33(10), pp. 1204-1222 
article
DOI  
Lefèvre, N., Veleda, D., Tyaquiçã, P., Perruche, C., Diverrès, D. and Ibánhez, J.S.P.
Basin-Scale Estimate of the Sea-Air CO2 Flux During the 2010 Warm Event in the Tropical North Atlantic
2019
Journal of Geophysical Research: Biogeosciences
Vol. 124(4), pp. 973-986 
article
DOI  
Leufen, L.H. and Schädler, G.
Calculating the turbulent fluxes in the atmospheric surface layer with neural networks
2019
Geoscientific Model Development
Vol. 12(5), pp. 2033-2047 
article
DOI URL 
Li, H., Ilyina, T., Müller, W.A. and Landschützer, P.
Predicting the variable ocean carbon sink
2019
Science Advances
Vol. 5(4), pp. eaav6471 
article
DOI URL 
Li, S., Yuan, W., Ciais, P., Viovy, N., Ito, A., Jia, B. and Zhu, D.
Benchmark estimates for aboveground litterfall data derived from ecosystem models
2019
Environmental Research Letters
Vol. 14(8), pp. 84020 
article
DOI  
Li, X. and Xiao, J.
Mapping photosynthesis solely from solar-induced chlorophyll fluorescence: A global, fine-resolution dataset of gross primary production derived from OCO-2
2019
Remote Sensing
Vol. 11(21), pp. 2563 
article
DOI URL 
Lian, J., Bréon, F.M., Broquet, G., Scott Zaccheo, T., Dobler, J., Ramonet, M., Staufer, J., Santaren, D., Xueref-Remy, I. and Ciais, P.
Analysis of temporal and spatial variability of atmospheric CO2 concentration within Paris from the GreenLITEâ"¢ laser imaging experiment
2019
Atmospheric Chemistry and Physics
Vol. 19(22), pp. 13809-13825 
article
DOI  
Lin, C., Gentine, P., Frankenberg, C., Zhou, S., Kennedy, D. and Li, X.
Evaluation and mechanism exploration of the diurnal hysteresis of ecosystem fluxes
2019
Agricultural and Forest Meteorology
Vol. 278 
article
DOI  
Lin, M., Malyshev, S., Shevliakova, E., Paulot, F., Horowitz, L.W., Fares, S., Mikkelsen, T.N. and Zhang, L.
Sensitivity of Ozone Dry Deposition to Ecosystem-Atmosphere Interactions: A Critical Appraisal of Observations and Simulations
2019
Global Biogeochemical Cycles
Vol. 33(10), pp. 1264-1288 
article
DOI  
Liu, Y., Piao, S., Gasser, T., Ciais, P., Yang, H., Wang, H., Keenan, T.F., Huang, M., Wan, S., Song, J., Wang, K., Janssens, I.A., Peñuelas, J., Huntingford, C., Wang, X., Altaf Arain, M., Fang, Y., Fisher, J.B., Huang, M., Huntzinger, D.N., Ito, A., Jain, A.K., Mao, J., Michalak, A.M., Peng, C., Poulter, B., Schwalm, C., Shi, X., Tian, H., Wei, Y., Zeng, N., Zhu, Q. and Wang, T.
Field-experiment constraints on the enhancement of the terrestrial carbon sink by CO2 fertilization
2019
Nature Geoscience
Vol. 12(10), pp. 809-814 
article
DOI  
Liu, Z., Chen, L., Smith, N.G., Yuan, W., Chen, X., Zhou, G., Alam, S.A., Lin, K., Zhao, T., Zhou, P., Chu, C., Ma, H. and Liu, J.
Global divergent responses of primary productivity to water, energy, and co2
2019
Environmental Research Letters
Vol. 14(12) 
article
DOI  
Lognoul, M., Debacq, A., De Ligne, A., Dumont, B., Manise, T., Bodson, B., Heinesch, B. and Aubinet, M.
N 2 O flux short-term response to temperature and topsoil disturbance in a fertilized crop: An eddy covariance campaign
2019
Agricultural and Forest Meteorology
Vol. 271, pp. 193-206 
article
DOI  
Lovenduski, N.S., Yeager, S.G., Lindsay, K. and Long, M.C.
Predicting near-term variability in ocean carbon uptake
2019
Earth System Dynamics
Vol. 10(1), pp. 45-57 
article
DOI URL 
Lupon, A., Denfeld, B.A., Laudon, H., Leach, J., Karlsson, J. and Sponseller, R.A.
Groundwater inflows control patterns and sources of greenhouse gas emissions from streams
2019
Limnology and Oceanography
Vol. 64(4), pp. 1545-1557 
article
DOI URL 
Machacova, K., Vainio, E., Urban, O. and Pihlatie, M.
Seasonal dynamics of stem N2O exchange follow the physiological activity of boreal trees
2019
Nature Communications
Vol. 10(1) 
article
DOI  
Macovei, V.A., Torres-Valdés, S., Hartman, S.E., Schuster, U., Moore, C.M., Brown, P.J., Hydes, D.J. and Sanders, R.J.
Temporal Variability in the Nutrient Biogeochemistry of the Surface North Atlantic: 15 Years of Ship of Opportunity Data
2019
Global Biogeochemical Cycles
Vol. 33(12), pp. 1674-1692 
article
DOI  
Mader, S.
Plant trees for the planet: the potential of forests for climate change mitigation and the major drivers of national forest area
2019
Mitigation and Adaptation Strategies for Global Change 
article
DOI  
Maes, W.H., Gentine, P., Verhoest, N.E. and Miralles, D.G.
Potential evaporation at eddy-covariance sites across the globe
2019
Hydrology and Earth System Sciences
Vol. 23(2), pp. 925-948 
article
DOI  
Mäkelä, J., Knauer, J., Aurela, M., Black, A., Heimann, M., Kobayashi, H., Lohila, A., Mammarella, I., Margolis, H., Markkanen, T., Susiluoto, J., Thum, T., Viskari, T., Zaehle, S. and Aalto, T.
Parameter calibration and stomatal conductance formulation comparison for boreal forests with adaptive population importance sampler in the land surface model JSBACH
2019
Geoscientific Model Development
Vol. 12(9), pp. 4075-4098 
article
DOI  
Mäki, M., Aaltonen, H., Heinonsalo, J., Hellén, H., Pumpanen, J. and Bäck, J.
Boreal forest soil is a significant and diverse source of volatile organic compounds
2019
Plant and Soil
Vol. 441(1-2), pp. 89-110 
article
DOI  
Männistö, E., Korrensalo, A., Alekseychik, P., Mammarella, I., Peltola, O., Vesala, T. and Tuittila, E.S.
Multi-year methane ebullition measurements from water and bare peat surfaces of a patterned boreal bog
2019
Biogeosciences
Vol. 16(11), pp. 2409-2421 
article
DOI  
Martinez, M.A., Woodcroft, B.J., Ignacio Espinoza, J.C., Zayed, A.A., Singleton, C.M., Boyd, J.A., Li, Y.F., Purvine, S., Maughan, H., Hodgkins, S.B., Anderson, D., Sederholm, M., Temperton, B., Bolduc, B., Saleska, S.R., Tyson, G.W. and Rich, V.I.
Discovery and ecogenomic context of a global Caldiserica-related phylum active in thawing permafrost, Candidatus Cryosericota phylum nov., Ca. Cryosericia class nov., Ca. Cryosericales ord. nov., Ca. Cryosericaceae fam. nov., comprising the four species Cryosericum septentrionale gen. nov. sp. nov., Ca. C. hinesii sp. nov., Ca. C. odellii sp. nov., Ca. C. terrychapinii sp. nov.
2019
Systematic and Applied Microbiology
Vol. 42(1), pp. 54-66 
article
DOI  
Massmann, A., Gentine, P. and Lin, C.
When Does Vapor Pressure Deficit Drive or Reduce Evapotranspiration?
2019
Journal of Advances in Modeling Earth Systems
Vol. 11(10), pp. 3305-3320 
article
DOI  
McGloin, R., Šigut, L., Fischer, M., Foltýnová, L., Chawla, S., Trnka, M., Pavelka, M. and Marek, M.V.
Available Energy Partitioning During Drought at Two Norway Spruce Forests and a European Beech Forest in Central Europe
2019
Journal of Geophysical Research: Atmospheres
Vol. 124(7), pp. 3726-3742 
article
DOI  
Metzl, N.
A canary in the Southern Ocean
2019

Vol. 9(9)Nature Climate Change, pp. 651-652 
misc
DOI URL 
Monteil, G., Broquet, G., Scholze, M., Lang, M., Karstens, U., Gerbig, C., Koch, F.-T., Smith, N., Thompson, R., White, E., Meesters, A., Ciais, P., Ganesan, A., Manning, A., Mischurow, M., Peters, W., Peylin, P., Tarniewicz, J., Rigby, M., Rödenbeck, C., Vermeulen, A. and Walton, E.
The regional EUROpean atmospheric transport inversion COMparison, EUROCOM: first results on European wide terrestrial carbon fluxes for the period 2006–2015
2019
Atmospheric Chemistry and Physics Discussions, pp. 1-40 
article
DOI  
Morel, X., Decharme, B., Delire, C., Krinner, G., Lund, M., Hansen, B.U. and Mastepanov, M.
A New Process-Based Soil Methane Scheme: Evaluation Over Arctic Field Sites With the ISBA Land Surface Model
2019
Journal of Advances in Modeling Earth Systems
Vol. 11(1), pp. 293-326 
article
DOI  
Morgan, E.J., Lavric, J.V., Arévalo-Martínez, D.L., Bange, H.W., Steinhoff, T., Seifert, T. and Heimann, M.
Air–sea fluxes of greenhouse gases and oxygen in the northern Benguela Current region during upwelling events
2019
Biogeosciences
Vol. 16(20), pp. 4065-4084 
article
DOI URL 
Mortelmans, J., Deneudt, K., Cattrijsse, A., Beauchard, O., Daveloose, I., Vyverman, W., Vanaverbeke, J., Timmermans, K., Peene, J., Roose, P., Knockaert, M., Chou, L., Sanders, R., Stinchcombe, M., Kimpe, P., Lammens, S., Theetaert, H., Gkritzalis, T., Hernandez, F. and Mees, J.
Nutrient, pigment, suspended matter and turbidity measurements in the Belgian part of the North Sea
2019
Scientific Data
Vol. 6(1) 
article
DOI  
Nangini, C., Peregon, A., Ciais, P., Weddige, U., Vogel, F., Wang, J., Bréon, F.M., Bachra, S., Wang, Y., Gurney, K., Yamagata, Y., Appleby, K., Telahoun, S., Canadell, J.G., Grübler, A., Dhakal, S. and Creutzig, F.
A global dataset of co2 emissions and ancillary data related to emissions for 343 cities
2019
Scientific Data
Vol. 6(1) 
article
DOI  
Natali, S.M., Watts, J.D., Rogers, B.M., Potter, S., Ludwig, S.M., Selbmann, A.K., Sullivan, P.F., Abbott, B.W., Arndt, K.A., Birch, L., Björkman, M.P., Bloom, A.A., Celis, G., Christensen, T.R., Christiansen, C.T., Commane, R., Cooper, E.J., Crill, P., Czimczik, C., Davydov, S., Du, J., Egan, J.E., Elberling, B., Euskirchen, E.S., Friborg, T., Genet, H., Göckede, M., Goodrich, J.P., Grogan, P., Helbig, M., Jafarov, E.E., Jastrow, J.D., Kalhori, A.A.M., Kim, Y., Kimball, J.S., Kutzbach, L., Lara, M.J., Larsen, K.S., Lee, B.Y., Liu, Z., Loranty, M.M., Lund, M., Lupascu, M., Madani, N., Malhotra, A., Matamala, R., McFarland, J., McGuire, A.D., Michelsen, A., Minions, C., Oechel, W.C., Olefeldt, D., Parmentier, F.J.W., Pirk, N., Poulter, B., Quinton, W., Rezanezhad, F., Risk, D., Sachs, T., Schaefer, K., Schmidt, N.M., Schuur, E.A.G., Semenchuk, P.R., Shaver, G., Sonnentag, O., Starr, G., Treat, C.C., Waldrop, M.P., Wang, Y., Welker, J., Wille, C., Xu, X., Zhang, Z., Zhuang, Q. and Zona, D.
Large loss of CO2 in winter observed across the northern permafrost region
2019
Nature Climate Change
Vol. 9(11), pp. 852-857 
article
DOI  
Nelson, R.R. and O'Dell, C.W.
The impact of improved aerosol priors on near-infrared measurements of carbon dioxide
2019
Atmospheric Measurement Techniques
Vol. 12(3), pp. 1495-1512 
article
DOI  
Ney, P., Graf, A., Bogena, H., Diekkrüger, B., Drüe, C., Esser, O., Heinemann, G., Klosterhalfen, A., Pick, K., Pütz, T., Schmidt, M., Valler, V. and Vereecken, H.
CO2 fluxes before and after partial deforestation of a Central European spruce forest
2019
Agricultural and Forest Meteorology
Vol. 274, pp. 61-74 
article
DOI  
Nichol, C.J., Drolet, G., Porcar-Castell, A., Wade, T., Sabater, N., Middleton, E.M., MacLellan, C., Levula, J., Mammarella, I., Vesala, T. and Atherton, J.
Diurnal and seasonal solar induced chlorophyll fluorescence and photosynthesis in a boreal scots pine canopy
2019
Remote Sensing
Vol. 11(3) 
article
DOI  
Nijp, J.J., Metselaar, K., Limpens, J., Bartholomeus, H.M., Nilsson, M.B., Berendse, F. and van der Zee, S.E.
High-resolution peat volume change in a northern peatland: Spatial variability, main drivers, and impact on ecohydrology
2019
Ecohydrology
Vol. 12(6) 
article
DOI  
Nilsson, E., Rutgersson, A., Dingwell, A., Björkqvist, J.V., Pettersson, H., Axell, L., Nyberg, J. and Strömstedt, E.
Characterization of wave energy potential for the Baltic Sea with focus on the Swedish exclusive economic zone
2019
Energies
Vol. 12(5), pp. 793 
article
DOI URL 
Nisbet, E.G., Manning, M.R., Dlugokencky, E.J., Fisher, R.E., Lowry, D., Michel, S.E., Myhre, C.L., Platt, S.M., Allen, G., Bousquet, P., Brownlow, R., Cain, M., France, J.L., Hermansen, O., Hossaini, R., Jones, A.E., Levin, I., Manning, A.C., Myhre, G., Pyle, J.A., Vaughn, B.H., Warwick, N.J. and White, J.W.C.
Very Strong Atmospheric Methane Growth in the 4 Years 2014–2017: Implications for the Paris Agreement
2019
Global Biogeochemical Cycles
Vol. 33(3), pp. 318-342 
article
DOI  
Omar, A.M., Thomas, H., Olsen, A., Becker, M., Skjelvan, I. and Reverdin, G.
Trends of Ocean Acidification and pCO2 in the Northern North Sea, 2003–2015
2019
Journal of Geophysical Research: Biogeosciences
Vol. 124(10), pp. 3088-3103 
article
DOI  
Othoniel, B., Rugani, B., Heijungs, R., Beyer, M., Machwitz, M. and Post, P.
An improved life cycle impact assessment principle for assessing the impact of land use on ecosystem services
2019
Science of the Total Environment
Vol. 693 
article
DOI  
Palacz, A., Telszewski, M., Rehder, G. and Bittig, H.
Training the Next Generation of Marine Biogeochemists
2019
Eos
Vol. 100 
article
DOI  
Palmer, P.I., Wilson, E.L., L. Villanueva, G., Liuzzi, G., Feng, L., DiGregorio, A.J., Mao, J., Ott, L. and Duncan, B.
Potential improvements in global carbon flux estimates from a network of laser heterodyne radiometer measurements of column carbon dioxide
2019
Atmospheric Measurement Techniques
Vol. 12(4), pp. 2579-2594 
article
DOI URL 
Pandey, S., Houweling, S., Krol, M., Aben, I., Nechita‐Banda, N., Thoning, K., Röckmann, T., Yin, Y., Segers, A. and Dlugokencky, E.J.
Influence of Atmospheric Transport on Estimates of Variability in the Global Methane Burden
2019
Geophysical Research Letters
Vol. 46(4), pp. 2302-2311 
article
DOI URL 
Peaucelle, M., Bacour, C., Ciais, P., Vuichard, N., Kuppel, S., Peñuelas, J., Belelli Marchesini, L., Blanken, P.D., Buchmann, N., Chen, J., Delpierre, N., Desai, A.R., Dufrene, E., Gianelle, D., Gimeno-Colera, C., Gruening, C., Helfter, C., Hörtnagl, L., Ibrom, A., Joffre, R., Kato, T., Kolb, T.E., Law, B., Lindroth, A., Mammarella, I., Merbold, L., Minerbi, S., Montagnani, L., Šigut, L., Sutton, M., Varlagin, A., Vesala, T., Wohlfahrt, G., Wolf, S., Yakir, D. and Viovy, N.
Covariations between plant functional traits emerge from constraining parameterization of a terrestrial biosphere model
2019
Global Ecology and Biogeography
Vol. 28(9), pp. 1351-1365 
article
DOI  
Peaucelle, M., Ciais, P., Maignan, F., Nicolas, M., Cecchini, S. and Viovy, N.
Representing explicit budburst and senescence processes for evergreen conifers in global models
2019
Agricultural and Forest Meteorology
Vol. 266-267, pp. 97-108 
article
DOI  
Peaucelle, M., Janssens, I.A., Stocker, B.D., Descals Ferrando, A., Fu, Y.H., Molowny-Horas, R., Ciais, P. and Peñuelas, J.
Spatial variance of spring phenology in temperate deciduous forests is constrained by background climatic conditions
2019
Nature Communications
Vol. 10(1) 
article
DOI  
Peltola, O., Vesala, T., Gao, Y., Räty, O., Alekseychik, P., Aurela, M., Chojnicki, B., Desai, A.R., Dolman, A.J., Euskirchen, E.S., Friborg, T., Göckede, M., Helbig, M., Humphreys, E., Jackson, R.B., Jocher, G., Joos, F., Klatt, J., Knox, S.H., Kowalska, N., Kutzbach, L., Lienert, S., Lohila, A., Mammarella, I., Nadeau, D.F., Nilsson, M.B., Oechel, W.C., Peichl, M., Pypker, T., Quinton, W., Rinne, J., Sachs, T., Samson, M., Schmid, H.P., Sonnentag, O., Wille, C., Zona, D. and Aalto, T.
Monthly gridded data product of northern wetland methane emissions based on upscaling eddy covariance observations
2019
Earth System Science Data
Vol. 11(3), pp. 1263-1289 
article
DOI URL 
Petzold, A., Asmi, A., Vermeulen, A., Pappalardo, G., Bailo, D., Schaap, D., Glaves, H.M., Bundke, U. and Zhao, Z.
ENVRI-FAIR - Interoperable Environmental FAIR Data and Services for Society, Innovation and Research
2019
2019 15th International Conference on eScience (eScience), pp. 277-280 
inproceedings
DOI URL 
Pierrot, D., Steinhoff, T. and Oceanographic, A.
Installation of Autonomous Underway pCO2 Instruments onboard Ships of Opportunity
2019

Vol. OAR-AOML-5(April)NOAA Technical Report, pp. 31 
misc
DOI  
Pisso, I., Sollum, E., Grythe, H., Kristiansen, N.I., Cassiani, M., Eckhardt, S., Arnold, D., Morton, D., Thompson, R.L., Groot Zwaaftink, C.D., Evangeliou, N., Sodemann, H., Haimberger, L., Henne, S., Brunner, D., Burkhart, J.F., Fouilloux, A., Brioude, J., Philipp, A., Seibert, P. and Stohl, A.
The Lagrangian particle dispersion model FLEXPART version 10.4
2019
Geoscientific Model Development
Vol. 12(12), pp. 4955-4997 
article
DOI URL 
Proietti, C., Anav, A., Vitale, M., Fares, S., Fornasier, M.F., Screpanti, A., Salvati, L., Paoletti, E., Sicard, P. and De Marco, A.
A new wetness index to evaluate the soil water availability influence on gross primary production of european forests
2019
Climate
Vol. 7(3), pp. 42 
article
DOI  
Puche, N., Senapati, N., Flechard, C.R., Klumpp, K., Kirschbaum, M.U.F. and Chabbi, A.
Modeling carbon and water fluxes of managed grasslands: Comparing flux variability and net carbon budgets between grazed and mowed systems
2019
Agronomy
Vol. 9(4), pp. 183 
article
DOI  
Räsänen, A., Aurela, M., Juutinen, S., Kumpula, T., Lohila, A., Penttilä, T. and Virtanen, T.
Detecting northern peatland vegetation patterns at ultra-high spatial resolution
2019
Remote Sensing in Ecology and Conservation 
article
DOI  
Räsänen, A., Juutinen, S., Aurela, M. and Virtanen, T.
Predicting aboveground biomass in Arctic landscapes using very high spatial resolution satellite imagery and field sampling
2019
International Journal of Remote Sensing
Vol. 40(3), pp. 1175-1199 
article
DOI  
Räsänen, A., Juutinen, S., Tuittila, E.S., Aurela, M. and Virtanen, T.
Comparing ultra-high spatial resolution remote-sensing methods in mapping peatland vegetation
2019
Journal of Vegetation Science
Vol. 30(5), pp. 1016-1026 
article
DOI  
Réjou-Méchain, M., Barbier, N., Couteron, P., Ploton, P., Vincent, G., Herold, M., Mermoz, S., Saatchi, S., Chave, J., de Boissieu, F., Féret, J.B., Takoudjou, S.M. and Pélissier, R.
Upscaling Forest Biomass from Field to Satellite Measurements: Sources of Errors and Ways to Reduce Them
2019
Surveys in Geophysics
Vol. 40(4), pp. 881-911 
article
DOI  
Ribas-Ribas, M., Battaglia, G., Humphreys, M.P. and Wurl, O.
Impact of Nonzero Intercept Gas Transfer Velocity Parameterizations on Global and Regional Ocean–Atmosphere CO2 Fluxes
2019
Geosciences
Vol. 9(5), pp. 230 
article
DOI URL 
Riihimäki, H., Luoto, M. and Heiskanen, J.
Estimating fractional cover of tundra vegetation at multiple scales using unmanned aerial systems and optical satellite data
2019
Remote Sensing of Environment
Vol. 224, pp. 119-132 
article
DOI URL 
Rineau, F., Malina, R., Beenaerts, N., Arnauts, N., Bardgett, R.D., Berg, M.P., Boerema, A., Bruckers, L., Clerinx, J., Davin, E.L., De Boeck, H.J., De Dobbelaer, T., Dondini, M., De Laender, F., Ellers, J., Franken, O., Gilbert, L., Gudmundsson, L., Janssens, I.A., Johnson, D., Lizin, S., Longdoz, B., Meire, P., Meremans, D., Milbau, A., Moretti, M., Nijs, I., Nobel, A., Pop, I.S., Puetz, T., Reyns, W., Roy, J., Schuetz, J., Seneviratne, S.I., Smith, P., Solmi, F., Staes, J., Thiery, W., Thijs, S., Vanderkelen, I., Van Landuyt, W., Verbruggen, E., Witters, N., Zscheischler, J. and Vangronsveld, J.
Towards more predictive and interdisciplinary climate change ecosystem experiments
2019
Nature Climate Change
Vol. 9(11), pp. 809-816 
article
DOI  
Rosíková, J., Darenova, E., Kučera, A., VolaÅ™ík, D. and Vranová, V.
Effect of different dolomitic limestone dosages on soil respiration in a mid-altitudinal Norway spruce stand
2019
IForest
Vol. 12(4), pp. 357-365 
article
DOI  
Šálek, M. and Szabó-Takács, B.
Comparison of SAFNWC/MSG satellite cloud type with Vaisala CL51 ceilometer-detected cloud base layer using the sky condition algorithm and Vaisala BL-View software
2019
Atmosphere
Vol. 10(6), pp. 316 
article
DOI  
Sastri, A.R., Christian, J.R., Achterberg, E.P., Atamanchuk, D., Buck, J.J.H., Bresnahan, P., Duke, P.J., Evans, W., Gonski, S.F., Johnson, B., Juniper, S.K., Mihaly, S., Miller, L.A., Morley, M., Murphy, D., Nakaoka, S.-i., Ono, T., Parker, G., Simpson, K. and Tsunoda, T.
Perspectives on in situ Sensors for Ocean Acidification Research
2019
Frontiers in Marine Science
Vol. 6, pp. 653 
article
DOI URL 
Schepaschenko, D., Chave, J., Phillips, O.L., Lewis, S.L., Davies, S.J., Réjou-Méchain, M., Sist, P., Scipal, K., Perger, C., Herault, B., Labrière, N., Hofhansl, F., Affum-Baffoe, K., Aleinikov, A., Alonso, A., Amani, C., Araujo-Murakami, A., Armston, J., Arroyo, L., Ascarrunz, N., Azevedo, C., Baker, T., Bałazy, R., Bedeau, C., Berry, N., Bilous, A.M., Bilous, S.Y., Bissiengou, P., Blanc, L., Bobkova, K.S., Braslavskaya, T., Brienen, R., Burslem, D.F.R.P., Condit, R., Cuni-Sanchez, A., Danilina, D., Del Castillo Torres, D., Derroire, G., Descroix, L., Sotta, E.D., D'Oliveira, M.V.N., Dresel, C., Erwin, T., Evdokimenko, M.D., Falck, J., Feldpausch, T.R., Foli, E.G., Foster, R., Fritz, S., Garcia-Abril, A.D., Gornov, A., Gornova, M., Gothard-Bassébé, E., Gourlet-Fleury, S., Guedes, M., Hamer, K.C., Susanty, F.H., Higuchi, N., Coronado, E.N., Hubau, W., Hubbell, S., Ilstedt, U., Ivanov, V.V., Kanashiro, M., Karlsson, A., Karminov, V.N., Killeen, T., Koffi, J.C.K., Konovalova, M., Kraxner, F., Krejza, J., Krisnawati, H., Krivobokov, L.V., Kuznetsov, M.A., Lakyda, I., Lakyda, P.I., Licona, J.C., Lucas, R.M., Lukina, N., Lussetti, D., Malhi, Y., Manzanera, J.A., Marimon, B., Junior, B.H.M., Martinez, R.V., Martynenko, O.V., Matsala, M., Matyashuk, R.K., Mazzei, L., Memiaghe, H., Mendoza, C., Mendoza, A.M., Moroziuk, O.V., Mukhortova, L., Musa, S., Nazimova, D.I., Okuda, T., Oliveira, L.C., Ontikov, P.V., Osipov, A.F., Pietsch, S., Playfair, M., Poulsen, J., Radchenko, V.G., Rodney, K., Rozak, A.H., Ruschel, A., Rutishauser, E., See, L., Shchepashchenko, M., Shevchenko, N., Shvidenko, A., Silveira, M., Singh, J., Sonké, B., Souza, C., Stere'nczak, K., Stonozhenko, L., Sullivan, M.J.P., Szatniewska, J., Taedoumg, H., Ter Steege, H., Tikhonova, E., Toledo, M., Trefilova, O.V., Valbuena, R., Gamarra, L.V., Vasiliev, S., Vedrova, E.F., Verhovets, S.V., Vidal, E., Vladimirova, N.A., Vleminckx, J., Vos, V.A., Vozmitel, F.K., Wanek, W., West, T.A.P., Woell, H., Woods, J.T., Wortel, V., Yamada, T., Nur Hajar, Z.S. and Zo-Bi, I.C.
The Forest Observation System, building a global reference dataset for remote sensing of forest biomass
2019
Scientific data
Vol. 6(1), pp. 198 
article
DOI  
Scholze, M., Kaminski, T., Knorr, W., Voßbeck, M., Wu, M., Ferrazzoli, P., Kerr, Y., Mialon, A., Richaume, P., Rodríguez-Fernández, N., Vittucci, C., Wigneron, J., Mecklenburg, S. and Drusch, M.
Mean European Carbon Sink Over 2010–2015 Estimated by Simultaneous Assimilation of Atmospheric CO 2 , Soil Moisture, and Vegetation Optical Depth
2019
Geophysical Research Letters
Vol. 46(23), pp. 13796-13803 
article
DOI URL 
Silva, B.J., Gaspar, F.L., Tyaquiçã, P., Lefèvre, N. and Flores Montes, M.J.
Carbon chemistry variability around a tropical archipelago
2019
Marine and Freshwater Research
Vol. 70(6), pp. 767-780 
article
DOI  
Smith, S.R., Alory, G., Andersson, A., Asher, W., Baker, A., Berry, D.I., Drushka, K., Figurskey, D., Freeman, E., Holthus, P., Jickells, T., Kleta, H., Kent, E.C., Kolodziejczyk, N., Kramp, M., Loh, Z., Poli, P., Schuster, U., Steventon, E., Swart, S., Tarasova, O., De La Villéon, L.P. and Shiffer, N.V.
Ship-based contributions to global ocean, weather, and climate observing systems
2019

Vol. 6(JUL)Frontiers in Marine Science, pp. 434 
misc
DOI URL 
Sofie Lansø, A., Luke Smallman, T., Heile Christensen, J., Williams, M., Pilegaard, K., Sorensen, L.L. and Geels, C.
Simulating the atmospheric CO2 concentration across the heterogeneous landscape of Denmark using a coupled atmosphere-biosphere mesoscale model system
2019
Biogeosciences
Vol. 16(7), pp. 1505-1524 
article
DOI  
Song, J., Wan, S., Piao, S., Hui, D., Hovenden, M.J., Ciais, P., Liu, Y., Liu, Y., Zhong, M., Zheng, M., Ma, G., Zhou, Z. and Ru, J.
Elevated CO 2 does not stimulate carbon sink in a semi-arid grassland
2019
Ecology Letters
Vol. 22(3), pp. 458-468 
article
DOI  
Soussana, J.F., Lutfalla, S., Ehrhardt, F., Rosenstock, T., Lamanna, C., Havlík, P., Richards, M., Wollenberg, E.(L., Chotte, J.L., Torquebiau, E., Ciais, P., Smith, P. and Lal, R.
Matching policy and science: Rationale for the '4 per 1000 - soils for food security and climate' initiative
2019
Soil and Tillage Research
Vol. 188, pp. 3-15 
article
DOI  
Spielmann, F.M., Wohlfahrt, G., Hammerle, A., Kitz, F., Migliavacca, M., Alberti, G., Ibrom, A., El-Madany, T.S., Gerdel, K., Moreno, G., Kolle, O., Karl, T., Peressotti, A. and Delle Vedove, G.
Gross Primary Productivity of Four European Ecosystems Constrained by Joint CO2 and COS Flux Measurements
2019
Geophysical Research Letters
Vol. 46(10), pp. 5284-5293 
article
DOI  
Steinhoff, T., Gkritzalis, T., Lauvset, S.K., Jones, S., Schuster, U., Olsen, A., Becker, M., Bozzano, R., Brunetti, F., Cantoni, C., Cardin, V., Diverrès, D., Fiedler, B., Fransson, A., Giani, M., Hartman, S., Hoppema, M., Jeansson, E., Johannessen, T., Kitidis, V., Körtzinger, A., Landa, C., Lefèvre, N., Luchetta, A., Naudts, L., Nightingale, P.D., Omar, A.M., Pensieri, S., Pfeil, B., Castaño-Primo, R., Rehder, G., Rutgersson, A., Sanders, R., Schewe, I., Siena, G., Skjelvan, I., Soltwedel, T., van Heuven, S. and Watson, A.
Constraining the Oceanic Uptake and Fluxes of Greenhouse Gases by Building an Ocean Network of Certified Stations: The Ocean Component of the Integrated Carbon Observation System, ICOS-Oceans
2019
Frontiers in Marine Science
Vol. 6 
article
DOI URL 
Stella, P., Loubet, B., de Berranger, C., Charrier, X., Ceschia, E., Gerosa, G., Finco, A., Lamaud, E., Serça, D., George, C. and Ciuraru, R.
Soil ozone deposition: Dependence of soil resistance to soil texture
2019
Atmospheric Environment
Vol. 199, pp. 202-209 
article
DOI  
Stocker, B.D., Zscheischler, J., Keenan, T.F., Prentice, I.C., Seneviratne, S.I. and Peñuelas, J.
Drought impacts on terrestrial primary production underestimated by satellite monitoring
2019
Nature Geoscience
Vol. 12(4), pp. 264-270 
article
DOI  
Stoy, P.C., El-Madany, T.S., Fisher, J.B., Gentine, P., Gerken, T., Good, S.P., Klosterhalfen, A., Liu, S., Miralles, D.G., Perez-Priego, O., Rigden, A.J., Skaggs, T.H., Wohlfahrt, G., Anderson, R.G., Coenders-Gerrits, A.M.J., Jung, M., Maes, W.H., Mammarella, I., Mauder, M., Migliavacca, M., Nelson, J.A., Poyatos, R., Reichstein, M., Scott, R.L. and Wolf, S.
Reviews and syntheses: Turning the challenges of partitioning ecosystem evaporation and transpiration into opportunities
2019
Biogeosciences
Vol. 16(19), pp. 3747-3775 
article
DOI  
Su, Y., Liu, L., Wu, J., Chen, X., Shang, J., Ciais, P., Zhou, G., Lafortezza, R., Wang, Y., Yuan, W., Wang, Y., Zhang, H., Huang, G. and Huang, N.
Quantifying the biophysical effects of forests on local air temperature using a novel three-layered land surface energy balance model
2019
Environment International
Vol. 132, pp. 105080 
article
DOI  
Super, I., Denier van der Gon, H.A., Dellaert, S.N. and Peters, W.
Optimizing a dynamic fossil fuel CO2 emission model with CTDAS (v1.0) for an urban area using atmospheric observations of CO2, CO, NOx, and SO2
2019
Geoscientific Model Development Discussions, pp. 1-38 
article
DOI  
Svensson, N., Arnqvist, J., Bergström, H., Rutgersson, A. and Sahlée, E.
Measurements and modelling of offshorewind profiles in a Semi-Enclosed Sea
2019
Atmosphere
Vol. 10(4) 
article
DOI  
Svensson, N., Bergström, H., Rutgersson, A. and Sahlée, E.
Modification of the Baltic Sea wind field by land-sea interaction
2019
Wind Energy
Vol. 22(6), pp. 764-779 
article
DOI URL 
Tallec, T., Brut, A., Joly, L., Dumelié, N., Serça, D., Mordelet, P., Claverie, N., Legain, D., Barrié, J., Decarpenterie, T., Cousin, J., Zawilski, B., Ceschia, E., Guérin, F. and Le Dantec, V.
N2O flux measurements over an irrigated maize crop: A comparison of three methods
2019
Agricultural and Forest Meteorology
Vol. 264, pp. 56-72 
article
DOI  
Tang, A.C., Stoy, P.C., Hirata, R., Musin, K.K., Aeries, E.B., Wenceslaus, J., Shimizu, M. and Melling, L.
The exchange of water and energy between a tropical peat forest and the atmosphere: Seasonal trends and comparison against other tropical rainforests
2019
Science of the Total Environment
Vol. 683, pp. 166-174 
article
DOI  
Tanhua, T., Pouliquen, S., Hausman, J., O'Brien, K.M., Bricher, P., de Bruin, T., Buck, J.J., Burger, E.F., Carval, T., Casey, K.S., Diggs, S., Giorgetti, A., Glaves, H., Harscoat, V., Kinkade, D., Muelbert, J.H., Novellino, A., Pfeil, B.G., Pulsifer, P., Van de Putte, A.P., Robinson, E., Shaap, D., Smirnov, A., Smith, N., Snowden, D.P., Spears, T., Stall, S., Tacoma, M., Thijsse, P., Tronstad, S., Vandenberghe, T., Wengren, M., Wyborn, L. and Zhao, Z.
Ocean FAIR data services
2019
Frontiers in Marine Science
Vol. 6(JUL) 
article
DOI  
Tebaldini, S., Ho Tong Minh, D., Mariotti d'Alessandro, M., Villard, L., Le Toan, T. and Chave, J.
The Status of Technologies to Measure Forest Biomass and Structural Properties: State of the Art in SAR Tomography of Tropical Forests
2019
Surveys in Geophysics
Vol. 40(4), pp. 779-801 
article
DOI  
Thanh Duc, N., Silverstein, S., Wik, M., Crill, P., Bastviken, D. and Varner, R.K.
Greenhouse gas flux studies: An automated online system for gas emission measurements in aquatic environments
2019
Hydrology and Earth System Sciences Discussions, pp. 1-18 
article
DOI  
Tian, H., Yang, J., Xu, R., Lu, C., Canadell, J.G., Davidson, E.A., Jackson, R.B., Arneth, A., Chang, J., Ciais, P., Gerber, S., Ito, A., Joos, F., Lienert, S., Messina, P., Olin, S., Pan, S., Peng, C., Saikawa, E., Thompson, R.L., Vuichard, N., Winiwarter, W., Zaehle, S. and Zhang, B.
Global soil nitrous oxide emissions since the preindustrial era estimated by an ensemble of terrestrial biosphere models: Magnitude, attribution, and uncertainty
2019
Global Change Biology
Vol. 25(2), pp. 640-659 
article
DOI  
Tilbrook, B., Jewett, E.B., DeGrandpre, M.D., Hernandez-Ayon, J.M., Feely, R.A., Gledhill, D.K., Hansson, L., Isensee, K., Kurz, M.L., Newton, J.A., Siedlecki, S.A., Chai, F., Dupont, S., Graco, M., Calvo, E., Greeley, D., Kapsenberg, L., Lebrec, M., Pelejero, C., Schoo, K.L. and Telszewski, M.
An Enhanced Ocean Acidification Observing Network: From People to Technology to Data Synthesis and Information Exchange
2019
Frontiers in Marine Science
Vol. 6(JUN), pp. 337 
article
DOI URL 
Tiralla, N., Panferov, O., Kreilein, H., Olchev, A., Ali, A.A. and Knohl, A.
Quantification of leaf emisivities of forest species: Effects on modeled energy and matter fluxes in forest ecosystems
2019
Geography, Environment, Sustainability
Vol. 12(2), pp. 245-258 
article
DOI  
Tsuruta, A., Aalto, T., Backman, L., Krol, M.C., Peters, W., Lienert, S., Joos, F., Miller, P.A., Zhang, W., Laurila, T., Hatakka, J., Leskinen, A., Lehtinen, K.E.J., Peltola, O., Vesala, T., Levula, J., Dlugokencky, E., Heimann, M., Kozlova, E., Aurela, M., Lohila, A., Kauhaniemi, M. and Gomez-Pelaez, A.J.
Methane budget estimates in Finland from the CarbonTracker Europe-CH4 data assimilation system
2019
Tellus, Series B: Chemical and Physical Meteorology
Vol. 71(1), pp. 1-20 
article
DOI  
Tuovinen, J.P., Aurela, M., Hatakka, J., Räsänen, A., Virtanen, T., Mikola, J., Ivakhov, V., Kondratyev, V. and Laurila, T.
Interpreting eddy covariance data from heterogeneous Siberian tundra: Land-cover-specific methane fluxes and spatial representativeness
2019
Biogeosciences
Vol. 16(2), pp. 255-274 
article
DOI  
Vernet, M., Geibert, W., Hoppema, M., Brown, P.J., Haas, C., Hellmer, H.H., Jokat, W., Jullion, L., Mazloff, M., Bakker, D.C.E., Brearley, J.A., Croot, P., Hattermann, T., Hauck, J., Hillenbrand, C.D., Hoppe, C.J.M., Huhn, O., Koch, B.P., Lechtenfeld, O.J., Meredith, M.P., Naveira Garabato, A.C., Nöthig, E.M., Peeken, I., Rutgers van der Loeff, M.M., Schmidtko, S., Schröder, M., Strass, V.H., Torres-Valdés, S. and Verdy, A.
The Weddell Gyre, Southern Ocean: Present Knowledge and Future Challenges
2019
Reviews of Geophysics
Vol. 57(3), pp. 623-708 
article
DOI  
Vincent-Barbaroux, C., Berveiller, D., Lelarge-Trouverie, C., Maia, R., Máguas, C., Pereira, J., Chaves, M.M. and Damesin, C.
Carbon-use strategies in stem radial growth of two oak species, one Temperate deciduous and one Mediterranean evergreen: what can be inferred from seasonal variations in the δ13C of the current year ring?
2019
Tree physiology
Vol. 39(8), pp. 1329-1341 
article
DOI  
Vitale, D., Bilancia, M. and Papale, D.
A multiple imputation strategy for eddy covariance data
2019
Journal of Environmental Informatics
Vol. 34(2), pp. 68-87 
article
DOI  
Vitale, D., Bilancia, M. and Papale, D.
Modelling random uncertainty of eddy covariance flux measurements
2019
Stochastic Environmental Research and Risk Assessment
Vol. 33(3), pp. 725-746 
article
DOI  
Vogel, F.R., Frey, M., Staufer, J., Hase, F., Broquet, G., Xueref-Remy, I., Chevallier, F., Ciais, P., Sha, M.K., Chelin, P., Jeseck, P., Janssen, C., Té, Y., Groß, J., Blumenstock, T., Tu, Q. and Orphal, J.
XCO2 in an emission hot-spot region: The COCCON Paris campaign 2015
2019
Atmospheric Chemistry and Physics
Vol. 19(5), pp. 3271-3285 
article
DOI  
Voigt, C., Marushchak, M.E., Mastepanov, M., Lamprecht, R.E., Christensen, T.R., Dorodnikov, M., Jackowicz-Korczy'nski, M., Lindgren, A., Lohila, A., Nykänen, H., Oinonen, M., Oksanen, T., Palonen, V., Treat, C.C., Martikainen, P.J. and Biasi, C.
Ecosystem carbon response of an Arctic peatland to simulated permafrost thaw
2019
Global Change Biology
Vol. 25(5), pp. 1746-1764 
article
DOI  
Wang, S., Garcia, M., Bauer-Gottwein, P., Jakobsen, J., Zarco-Tejada, P.J., Bandini, F., Paz, V.S. and Ibrom, A.
High spatial resolution monitoring land surface energy, water and CO2 fluxes from an Unmanned Aerial System
2019
Remote Sensing of Environment
Vol. 229, pp. 14-31 
article
DOI  
Wang, Y., Ciais, P., Broquet, G., Bréon, F.M., Oda, T., Lespinas, F., Meijer, Y., Loescher, A., Janssens-Maenhout, G., Zheng, B., Xu, H., Tao, S., Gurney, K.R., Roest, G., Santaren, D. and Su, Y.
A global map of emission clumps for future monitoring of fossil fuel CO2 emissions from space
2019
Earth System Science Data
Vol. 11(2), pp. 687-703 
article
DOI  
Wanninkhof, R., Pickers, P.A., Omar, A.M., Sutton, A., Murata, A., Olsen, A., Stephens, B.B., Tilbrook, B., Munro, D., Pierrot, D., Rehder, G., Santana-Casiano, J.M., Müller, J.D., Trinanes, J., Tedesco, K., O'Brien, K., Currie, K., Barbero, L., Telszewski, M., Hoppema, M., Ishii, M., González-Dávila, M., Bates, N.R., Metzl, N., Suntharalingam, P., Feely, R.A., ichiro Nakaoka, S., Lauvset, S.K., Takahashi, T., Steinhoff, T. and Schuster, U.
A surface ocean CO2 reference network, SOCONET and associated marine boundary layer CO2 measurements
2019
Frontiers in Marine Science
Vol. 6(JUL) 
article
DOI  
Wanninkhof, R., Triñanes, J., Park, G., Gledhill, D. and Olsen, A.
Large Decadal Changes in Air‐Sea CO textlesssubtextgreater2textless/subtextgreater Fluxes in the Caribbean Sea
2019
Journal of Geophysical Research: Oceans
Vol. 124(10), pp. 6960-6982 
article
DOI URL 
White, E.D., Rigby, M., Lunt, M.F., Luke Smallman, T., Comyn-Platt, E., Manning, A.J., Ganesan, A.L., O'Doherty, S., Stavert, A.R., Stanley, K., Williams, M., Levy, P., Ramonet, M., Forster, G.L., Manning, A.C. and Palmer, P.I.
Quantifying the UK's carbon dioxide flux: An atmospheric inverse modelling approach using a regional measurement network
2019
Atmospheric Chemistry and Physics
Vol. 19(7), pp. 4345-4365 
article
DOI  
Woolf, D., Shutler, J., Goddijn‐Murphy, L., Watson, A., Chapron, B., Nightingale, P., Donlon, C., Piskozub, J., Yelland, M., Ashton, I., Holding, T., Schuster, U., Girard‐Ardhuin, F., Grouazel, A., Piolle, J., Warren, M., Wrobel‐Niedzwiecka, I., Land, P., Torres, R., Prytherch, J., Moat, B., Hanafin, J., Ardhuin, F. and Paul, F.
Key Uncertainties in the Recent Air‐Sea Flux of CO textlesssubtextgreater2textless/subtextgreater
2019
Global Biogeochemical Cycles
Vol. 33(12), pp. 1548-1563 
article
DOI URL 
Wu, W., Gong, C., Li, X., Guo, H. and Zhang, L.
An online deep convolutional model of gross primary productivity and net ecosystem exchange estimation for global forests
2019
IEEE Journal of Selected Topics in Applied Earth Observations and Remote Sensing
Vol. 12(12), pp. 5178-5188 
article
DOI  
Xia, J., Yuan, W., Lienert, S., Joos, F., Ciais, P., Viovy, N., ping Wang, Y., Wang, X., Zhang, H., Chen, Y. and Tian, X.
Global Patterns in Net Primary Production Allocation Regulated by Environmental Conditions and Forest Stand Age: A Model-Data Comparison
2019
Journal of Geophysical Research: Biogeosciences
Vol. 124(7), pp. 2039-2059 
article
DOI  
Xu, X., Du, H., Fan, W., Hu, J., Mao, F. and Dong, H.
Long-term trend in vegetation gross primary production, phenology and their relationships inferred from the FLUXNET data
2019
Journal of Environmental Management
Vol. 246, pp. 605-616 
article
DOI URL 
Yang, W., Kobayashi, H., Wang, C., Shen, M., Chen, J., Matsushita, B., Tang, Y., Kim, Y., Bret-Harte, M.S., Zona, D., Oechel, W. and Kondoh, A.
A semi-analytical snow-free vegetation index for improving estimation of plant phenology in tundra and grassland ecosystems
2019
Remote Sensing of Environment
Vol. 228, pp. 31-44 
article
DOI  
Yuan, W., Zheng, Y., Piao, S., Ciais, P., Lombardozzi, D., Wang, Y., Ryu, Y., Chen, G., Dong, W., Hu, Z., Jain, A.K., Jiang, C., Kato, E., Li, S., Lienert, S., Liu, S., Nabel, J.E.M.S., Qin, Z., Quine, T., Sitch, S., Smith, W.K., Wang, F., Wu, C., Xiao, Z. and Yang, S.
Increased atmospheric vapor pressure deficit reduces global vegetation growth
2019
Science Advances
Vol. 5(8), pp. eaax1396 
article
DOI  
Zeeman, M.J., Shupe, H., Baessler, C. and Ruehr, N.K.
Productivity and vegetation structure of three differently managed temperate grasslands
2019
Agriculture, Ecosystems and Environment
Vol. 270-271, pp. 129-148 
article
DOI  
Zellweger, C., Steinbrecher, R., Laurent, O., Lee, H., Kim, S., Emmenegger, L., Steinbacher, M. and Buchmann, B.
Recent advances in measurement techniques for atmospheric carbon monoxide and nitrous oxide observations
2019
Atmospheric Measurement Techniques
Vol. 12(11), pp. 5863-5878 
article
DOI  
Zhang, W., Jansson, P.E., Sigsgaard, C., McConnell, A., Jammet, M.M., Westergaard-Nielsen, A., Lund, M., Friborg, T., Michelsen, A. and Elberling, B.
Model-data fusion to assess year-round CO2 fluxes for an arctic heath ecosystem in West Greenland (69°N)
2019
Agricultural and Forest Meteorology
Vol. 272-273, pp. 176-186 
article
DOI  
Zhang, Y., Goll, D., Bastos, A., Balkanski, Y., Boucher, O., Cescatti, A., Collier, M., Gasser, T., Ghattas, J., Li, L., Piao, S., Viovy, N., Zhu, D. and Ciais, P.
Increased Global Land Carbon Sink Due to Aerosol-Induced Cooling
2019
Global Biogeochemical Cycles
Vol. 33(3), pp. 439-457 
article
DOI  
Zhao, W.L., Gentine, P., Reichstein, M., Zhang, Y., Zhou, S., Wen, Y., Lin, C., Li, X. and Qiu, G.Y.
Physics-Constrained Machine Learning of Evapotranspiration
2019
Geophysical Research Letters
Vol. 46(24), pp. 14496-14507 
article
DOI  
Zhao, Y., Saunois, M., Bousquet, P., Lin, X., Berchet, A., Hegglin, M.I., Canadell, J.G., Jackson, R.B., Hauglustaine, D.A., Szopa, S., Stavert, A.R., Abraham, N.L., Archibald, A.T., Bekki, S., Deushi, M., Jöckel, P., Josse, B., Kinnison, D., Kirner, O., Marécal, V., O'connor, F.M., Plummer, D.A., Revell, L.E., Rozanov, E., Stenke, A., Strode, S., Tilmes, S., Dlugokencky, E.J. and Zheng, B.
Inter-model comparison of global hydroxyl radical (OH) distributions and their impact on atmospheric methane over the 2000-2016 period
2019
Atmos. Chem. Phys
Vol. 19, pp. 13701-13723 
article
DOI URL 
Zheng, B., Chevallier, F., Yin, Y., Ciais, P., Fortems-Cheiney, A., Deeter, M.N., Parker, R.J., Wang, Y., Worden, H.M. and Zhao, Y.
Global atmospheric carbon monoxide budget 2000-2017 inferred from multi-species atmospheric inversions
2019
Earth System Science Data
Vol. 11(3), pp. 1411-1436 
article
DOI  
Zhou, M., Langerock, B., Sha, M.K., Kumps, N., Hermans, C., Petri, C., Warneke, T., Chen, H., Metzger, J.M., Kivi, R., Heikkinen, P., Ramonet, M. and De Mazière, M.
Retrieval of atmospheric CH4 vertical information from ground-based FTS near-infrared spectra
2019
Atmospheric Measurement Techniques
Vol. 12(11), pp. 6125-6141 
article
DOI  
Zhou, M., Langerock, B., Vigouroux, C., Kumar Sha, M., Hermans, C., Metzger, J.M., Chen, H., Ramonet, M., Kivi, R., Heikkinen, P., Smale, D., Pollard, D.F., Jones, N., Velazco, V.A., García, O.E., Schneider, M., Palm, M., Warneke, T. and De Mazière, M.
TCCON and NDACC XCO measurements: Difference, discussion and application
2019
Atmospheric Measurement Techniques
Vol. 12(11), pp. 5979-5995 
article
DOI  
Zhu, G., Zhang, K., Chen, H., Wang, Y., Su, Y., Zhang, Y. and Ma, J.
Development and evaluation of a simple hydrologically based model for terrestrial evapotranspiration simulations
2019
Journal of Hydrology
Vol. 577 
article
DOI  
Zhu, P., Zhuang, Q., Welp, L., Ciais, P., Heimann, M., Peng, B., Li, W., Bernacchi, C., Roedenbeck, C. and Keenan, T.F.
Recent warming has resulted in smaller gains in net carbon uptake in northern high latitudes
2019
Journal of Climate
Vol. 32(18), pp. 5849-5863 
article
DOI  
Ziegler, C., Coste, S., Stahl, C., Delzon, S., Levionnois, S., Cazal, J., Cochard, H., Esquivel-Muelbert, A., Goret, J.Y., Heuret, P., Jaouen, G., Santiago, L.S. and Bonal, D.
Large hydraulic safety margins protect Neotropical canopy rainforest tree species against hydraulic failure during drought
2019
Annals of Forest Science
Vol. 76(4) 
article
DOI  
Ziembli'nska, K., Urbaniak, M., Dukat, P. and Olejnik, J.
Measurements of co2 fluxes at non-ideal eddy covariance sites
2019
Journal of Visualized Experiments
Vol. 2019(148) 
article
DOI  
Zöll, U., Lucas-Moffat, A.M., Wintjen, P., Schrader, F., Beudert, B. and Brümmer, C.
Is the biosphere-atmosphere exchange of total reactive nitrogen above forest driven by the same factors as carbon dioxide? An analysis using artificial neural networks
2019
Atmospheric Environment
Vol. 206, pp. 108-118 
article
DOI  
Achat, D.L., Martel, S., Picart, D., Moisy, C., Augusto, L., Bakker, M.R. and Loustau, D.
Modelling the nutrient cost of biomass harvesting under different silvicultural and climate scenarios in production forests
2018
Forest Ecology and Management
Vol. 429, pp. 642-653 
article
DOI  
Acosta, M., Darenova, E., Krupková, L. and Pavelka, M.
Seasonal and inter-annual variability of soil CO2 efflux in a Norway spruce forest over an eight-year study
2018
Agricultural and Forest Meteorology
Vol. 256-257, pp. 93-103 
article
DOI  
Aguilos, M., Hérault, B., Burban, B., Wagner, F. and Bonal, D.
What drives long-term variations in carbon flux and balance in a tropical rainforest in French Guiana?
2018
Agricultural and Forest Meteorology
Vol. 253-254, pp. 114-123 
article
DOI  
Aguilos, M., Stahl, C., Burban, B., Hérault, B., Courtois, E., Coste, S., Wagner, F., Ziegler, C., Takagi, K. and Bonal, D.
Interannual and seasonal variations in ecosystem transpiration and water use efficiency in a tropical rainforest
2018
Forests
Vol. 10(1), pp. 14 
article
DOI  
Alekseychik, P., Mammarella, I., Lindroth, A., Lohila, A., Aurela, M., Laurila, T., Kasurinen, V., Lund, M., Rinne, J., Nilsson, M.B., Peichl, M., Minkkinen, K., Shurpali, N.J., Tuittila, E.S., Martikainen, P.J., Tuovinen, J.P. and Vesala, T.
Surface energy exchange in pristine and managed boreal peatlands
2018
Mires and Peat
Vol. 21 
article
DOI  
Alivernini, A., Fares, S., Ferrara, C. and Chianucci, F.
An objective image analysis method for estimation of canopy attributes from digital cover photography
2018
Trees - Structure and Function
Vol. 32(3), pp. 713-723 
article
DOI  
Al-Yaari, A., Dayau, S., Chipeaux, C., Aluome, C., Kruszewski, A., Loustau, D. and Wigneron, J.P.
The AQUI soil moisture network for satellite microwave remote sensing validation in South-Western France
2018
Remote Sensing
Vol. 10(11), pp. 1839 
article
DOI  
Ameli, A.A. and Craig, J.R.
Semi-analytical 3D solution for assessing radial collector well pumping impacts on groundwater-surface water interaction
2018
Hydrology Research
Vol. 49(1), pp. 17-26 
article
DOI  
Andersen, T., Scheeren, B., Peters, W. and Chen, H.
A UAV-based active AirCore system for measurements of greenhouse gases
2018
Atmospheric Measurement Techniques
Vol. 11(5), pp. 2683-2699 
article
DOI  
Arrouays, D., Saby, N.P.A., Boukir, H., Jolivet, C., Ratié, C., Schrumpf, M., Merbold, L., Gielen, B., Gogo, S., Delpierre, N., Vincent, G., Klumpp, K. and Loustau, D.
Soil sampling and preparation for monitoring soil carbon
2018
International Agrophysics
Vol. 32(4), pp. 633-643 
article
DOI URL 
Arzoumanian, E., Vogel, F.R., Bastos, A., Gaynullin, B., Laurent, O., Ramonet, M. and Ciais, P.
Characterization of lower-cost medium precision atmospheric COsub2/sub monitoring systems for urban areas using commercial NDIR sensors
2018
Atmospheric Measurement Techniques Discussions, pp. 1-22 
article
DOI  
Assan, S., Vogel, F.R., Gros, V., Baudic, A., Staufer, J. and Ciais, P.
Can we separate industrial CH4 emission sources from atmospheric observations? - A test case for carbon isotopes, PMF and enhanced APCA
2018
Atmospheric Environment
Vol. 187, pp. 317-327 
article
DOI  
Aubinet, M., Hurdebise, Q., Chopin, H., Debacq, A., De Ligne, A., Heinesch, B., Manise, T. and Vincke, C.
Inter-annual variability of Net Ecosystem Productivity for a temperate mixed forest: A predominance of carry-over effects?
2018
Agricultural and Forest Meteorology
Vol. 262, pp. 340-353 
article
DOI  
Bachy, A., Aubinet, M., Amelynck, C., Schoon, N., Bodson, B., Moureaux, C., Delaplace, P., De Ligne, A. and Heinesch, B.
Methanol exchange dynamics between a temperate cropland soil and the atmosphere
2018
Atmospheric Environment
Vol. 176, pp. 229-239 
article
DOI URL 
Ballantyne, A.P., Ciais, P. and Miller, J.B.
Cautious Optimism and Incremental Goals Toward Stabilizing Atmospheric CO2
2018
Earth's Future
Vol. 6(12), pp. 1632-1637 
article
DOI  
Balsamo, G., Agusti-Panareda, A., Albergel, C., Arduini, G., Beljaars, A., Bidlot, J., Bousserez, N., Boussetta, S., Brown, A., Buizza, R., Buontempo, C., Chevallier, F., Choulga, M., Cloke, H., Cronin, M.F., Dahoui, M., Rosnay, P.D., Dirmeyer, P.A., Drusch, M., Dutra, E., Ek, M.B., Gentine, P., Hewitt, H., Keeley, S.P.E., Kerr, Y., Kumar, S., Lupu, C., Mahfouf, J.F., McNorton, J., Mecklenburg, S., Mogensen, K., Muñoz-Sabater, J., Orth, R., Rabier, F., Reichle, R., Ruston, B., Pappenberger, F., Sandu, I., Seneviratne, S.I., Tietsche, S., Trigo, I.F., Uijlenhoet, R., Wedi, N., Woolway, R.I. and Zeng, X.
Satellite and in situ observations for advancing global earth surface modelling: A review
2018
Remote Sensing
Vol. 10(12), pp. 2038 
article
DOI  
Barba, J., Cueva, A., Bahn, M., Barron-Gafford, G.A., Bond-Lamberty, B., Hanson, P.J., Jaimes, A., Kulmala, L., Pumpanen, J., Scott, R.L., Wohlfahrt, G. and Vargas, R.
Comparing ecosystem and soil respiration: Review and key challenges of tower-based and soil measurements
2018
Agricultural and Forest Meteorology
Vol. 249, pp. 434-443 
article
DOI  
Barskov, K.V., Glazunov, A.V., Repina, I.A., Stepanenko, V.M., Lykossov, V.N. and Mammarella, I.
On the Applicability of Similarity Theory for the Stable Atmospheric Boundary Layer over Complex Terrain
2018
Izvestiya - Atmospheric and Ocean Physics
Vol. 54(5), pp. 462-471 
article
DOI  
Bastos, A., Peregon, A., Gani, É.A., Khudyaev, S., Yue, C., Li, W., Gouveia, C.M. and Ciais, P.
Influence of high-latitude warming and land-use changes in the early 20th century northern Eurasian CO2 sink
2018
Environmental Research Letters
Vol. 13(6), pp. 65014 
article
DOI  
Basu, S., Baker, D.F., Chevallier, F., Patra, P.K., Liu, J. and Miller, J.B.
The impact of transport model differences on CO2 surface flux estimates from OCO-2 retrievals of column average CO2
2018
Atmospheric Chemistry and Physics
Vol. 18(10), pp. 7189-7215 
article
DOI  
Beaudoin, N., Gallois, N., Viennot, P., Le Bas, C., Puech, T., Schott, C., Buis, S. and Mary, B.
Evaluation of a spatialized agronomic model in predicting yield and N leaching at the scale of the Seine-Normandie Basin
2018
Environmental Science and Pollution Research
Vol. 25(24), pp. 23529-23558 
article
DOI  
Bergamaschi, P., Karstens, U., Manning, A.J., Saunois, M., Tsuruta, A., Berchet, A., Vermeulen, A.T., Arnold, T., Janssens-Maenhout, G., Hammer, S., Levin, I., Schmidt, M., Ramonet, M., Lopez, M., Lavric, J., Aalto, T., Chen, H., Feist, D.G., Gerbig, C., Haszpra, L., Hermansen, O., Manca, G., Moncrieff, J., Meinhardt, F., Necki, J., Galkowski, M., O'Doherty, S., Paramonova, N., Scheeren, H.A., Steinbacher, M. and Dlugokencky, E.
Inverse modelling of European CH4 emissions during 2006-2012 using different inverse models and reassessed atmospheric observations
2018
Atmospheric Chemistry and Physics
Vol. 18(2), pp. 901-920 
article
DOI  
Besnard, S., Carvalhais, N., Arain, M.A., Black, A., De Bruin, S., Buchmann, N., Cescatti, A., Chen, J., Clevers, J.G.P.W., Desai, A.R., Gough, C.M., Havrankova, K., Herold, M., Hörtnagl, L., Jung, M., Knohl, A., Kruijt, B., Krupkova, L., Law, B.E., Lindroth, A., Noormets, A., Roupsard, O., Steinbrecher, R., Varlagin, A., Vincke, C. and Reichstein, M.
Quantifying the effect of forest age in annual net forest carbon balance
2018
Environmental Research Letters
Vol. 13(12), pp. 124018 
article
DOI  
Bodesheim, P., Jung, M., Gans, F., Mahecha, M.D. and Reichstein, M.
Upscaled diurnal cycles of land–atmosphere fluxes: a new global half-hourly data product
2018
Earth System Science Data
Vol. 10(3), pp. 1327-1365 
article
DOI URL 
Bogena, H.R., Montzka, C., Huisman, J.A., Graf, A., Schmidt, M., Stockinger, M., von Hebel, C., Hendricks-Franssen, H.J., van der Kruk, J., Tappe, W., Lücke, A., Baatz, R., Bol, R., Groh, J., Pütz, T., Jakobi, J., Kunkel, R., Sorg, J. and Vereecken, H.
The TERENO-Rur Hydrological Observatory: A Multiscale Multi-Compartment Research Platform for the Advancement of Hydrological Science
2018
Vadose Zone Journal
Vol. 17(1), pp. 180055 
article
DOI  
Borsdorff, T., Aan De Brugh, J., Hu, H., Hasekamp, O., Sussmann, R., Rettinger, M., Hase, F., Gross, J., Schneider, M., Garcia, O., Stremme, W., Grutter, M., Feist, D.G., Arnold, S.G., De Mazière, M., Kumar Sha, M., Pollard, D.F., Kiel, M., Roehl, C., Wennberg, P.O., Toon, G.C. and Landgraf, J.
Mapping carbon monoxide pollution from space down to city scales with daily global coverage
2018
Atmospheric Measurement Techniques
Vol. 11(10), pp. 5507-5518 
article
DOI  
Brændholt, A., Ibrom, A., Larsen, K.S. and Pilegaard, K.
Partitioning of ecosystem respiration in a beech forest
2018
Agricultural and Forest Meteorology
Vol. 252, pp. 88-98 
article
DOI  
Buermann, W., Forkel, M., O'Sullivan, M., Sitch, S., Friedlingstein, P., Haverd, V., Jain, A.K., Kato, E., Kautz, M., Lienert, S., Lombardozzi, D., Nabel, J.E., Tian, H., Wiltshire, A.J., Zhu, D., Smith, W.K. and Richardson, A.D.
Widespread seasonal compensation effects of spring warming on northern plant productivity
2018
Nature
Vol. 562(7725), pp. 110-114 
article
DOI  
Byrne, B., Wunch, D., Jones, D.B.A., Strong, K., Deng, F., Baker, I., Köhler, P., Frankenberg, C., Joiner, J., Arora, V.K., Badawy, B., Harper, A.B., Warneke, T., Petri, C., Kivi, R. and Roehl, C.M.
Evaluating GPP and Respiration Estimates Over Northern Midlatitude Ecosystems Using Solar-Induced Fluorescence and Atmospheric CO textlesssubtextgreater2textless/subtextgreater Measurements
2018
Journal of Geophysical Research: Biogeosciences
Vol. 123(9), pp. 2976-2997 
article
DOI URL 
Cameron, D., Flechard, C. and Van Oijen, M.
Calibrating a process-based forest model with a rich observational dataset at 22 European forest sites
2018
Biogeosciences Discussions, pp. 1-42 
article
DOI URL 
Camino-Serrano, M., Guenet, B., Luyssaert, S., Ciais, P., Bastrikov, V., De Vos, B., Gielen, B., Gleixner, G., Jornet-Puig, A., Kaiser, K., Kothawala, D., Lauerwald, R., Peñuelas, J., Schrumpf, M., Vicca, S., Vuichard, N., Walmsley, D. and Janssens, I.A.
ORCHIDEE-SOM: Modeling soil organic carbon (SOC) and dissolved organic carbon (DOC) dynamics along vertical soil profiles in Europe
2018
Geoscientific Model Development
Vol. 11(3), pp. 937-957 
article
DOI  
Campeau, A., Bishop, K., Nilsson, M.B., Klemedtsson, L., Laudon, H., Leith, F.I., Öquist, M. and Wallin, M.B.
Stable Carbon Isotopes Reveal Soil-Stream DIC Linkages in Contrasting Headwater Catchments
2018
Journal of Geophysical Research: Biogeosciences
Vol. 123(1), pp. 149-167 
article
DOI URL 
Carrara, A., Kolari, P., De Beeck, M.O., Arriga, N., Berveiller, D., Dengel, S., Ibrom, A., Merbold, L., Rebmann, C., Sabbatini, S., Serrano-Ortíz, P. and Biraud, S.C.
Radiation measurements at ICOS ecosystem stations
2018
International Agrophysics
Vol. 32(4), pp. 589-605 
article
DOI URL 
Chen, L., Dirmeyer, P.A., Guo, Z. and Schultz, N.M.
Pairing FLUXNET sites to validate model representations of land-use/land-cover change
2018
Hydrology and Earth System Sciences
Vol. 22(1), pp. 111-125 
article
DOI  
Ciavatta, S., Brewin, R.J.W., Skákala, J., Polimene, L., de Mora, L., Artioli, Y. and Allen, J.I.
Assimilation of Ocean-Color Plankton Functional Types to Improve Marine Ecosystem Simulations
2018
Journal of Geophysical Research: Oceans
Vol. 123(2), pp. 834-854 
article
DOI  
Collalti, A., Trotta, C., Keenan, T.F., Ibrom, A., Bond-Lamberty, B., Grote, R., Vicca, S., Reyer, C.P.O., Migliavacca, M., Veroustraete, F., Anav, A., Campioli, M., Scoccimarro, E., Šigut, L., Grieco, E., Cescatti, A. and Matteucci, G.
Thinning Can Reduce Losses in Carbon Use Efficiency and Carbon Stocks in Managed Forests Under Warmer Climate
2018
Journal of Advances in Modeling Earth Systems
Vol. 10(10), pp. 2427-2452 
article
DOI  
Colomb A., C.S.D.M.H.M.H.O.H.J.….Y.-K.C.
ICOS Atmospheric Greenhouse Gas Mole Fractions of CO2, CH4, CO, 14CO2 and Meteorological Observations 2016-2018, final quality controlled Level 2 data.
2018
Icos Eric 
misc
DOI  
Conen, F., Bukowiecki, N., Gysel, M., Steinbacher, M., Fischer, A. and Reimann, S.
Low number concentration of ice nucleating particles in an aged smoke plume
2018
Quarterly Journal of the Royal Meteorological Society
Vol. 144(715), pp. 1991-1994 
article
DOI  
Darenova, E., Acosta, M., Pokorny, R. and Pavelka, M.
Variability in temperature dependence of stem CO 2 efflux from Norway spruce trees
2018
Tree Physiology
Vol. 38(9), pp. 1333-1344 
article
DOI  
Dayalu, A., William Munger, J., Wofsy, S.C., Wang, Y., Nehrkorn, T., Zhao, Y., McElroy, M.B., Nielsen, C.P. and Luus, K.
Assessing biotic contributions to CO2 fluxes in northern China using the Vegetation, Photosynthesis and Respiration Model (VPRM-China) and observations from 2005 to 2009
2018
Biogeosciences
Vol. 15(21), pp. 6713-6729 
article
DOI  
De Beeck, M.O., Gielen, B., Merbold, L., Ayres, E., Serrano-Ortiz, P., Acosta, M., Pavelka, M., Montagnani, L., Nilsson, M., Klemedtsson, L., Vincke, C., De Ligne, A., Moureaux, C., Mara'non-Jimenez, S., Saunders, M., Mereu, S. and Hörtnagl, L.
Soil-meteorological measurements at ICOS monitoring stations in terrestrial ecosystems
2018
International Agrophysics
Vol. 32(4), pp. 619-631 
article
DOI URL 
Denfeld, B.A., Klaus, M., Laudon, H., Sponseller, R.A. and Karlsson, J.
Carbon Dioxide and Methane Dynamics in a Small Boreal Lake During Winter and Spring Melt Events
2018
Journal of Geophysical Research: Biogeosciences
Vol. 123(8), pp. 2527-2540 
article
DOI  
Dengel, S., Graf, A., Grünwald, T., Hehn, M., Kolari, P., Löfvenius, M.O., Merbold, L., Nicolini, G. and Pavelka, M.
Standardized precipitation measurements within ICOS: Rain, snowfall and snow depth: A review
2018
International Agrophysics
Vol. 32(4), pp. 607-617 
article
DOI URL 
Denvil-Sommer, A., Gehlen, M., Vrac, M. and Mejia, C.
FFNN-LSCE: A two-step neural network model for the reconstruction of surface ocean pCOsub2/sub over the Global Ocean
2018
Geoscientific Model Development Discussions, pp. 1-27 
article
DOI  
Digrado, A., De La Motte, L.G., Bachy, A., Mozaffar, A., Schoon, N., Bussotti, F., Amelynck, C., Dalcq, A.C., Fauconnier, M.L., Aubinet, M., Heinesch, B., Du Jardin, P. and Delaplace, P.
Decrease in the photosynthetic performance of temperate grassland species does not lead to a decline in the gross primary production of the ecosystem
2018
Frontiers in Plant Science
Vol. 9 
article
DOI URL 
Dirmeyer, P.A., Chen, L., Wu, J., Shin, C.-S., Huang, B., Cash, B.A., Bosilovich, M.G., Mahanama, S., Koster, R.D., Santanello, J.A., Ek, M.B., Balsamo, G., Dutra, E. and Lawrence, D.M.
Verification of Land–Atmosphere Coupling in Forecast Models, Reanalyses, and Land Surface Models Using Flux Site Observations
2018
Journal of Hydrometeorology
Vol. 19(2), pp. 375-392 
article
DOI URL 
Draper, C.S., Reichle, R.H. and Koster, R.D.
Assessment of MERRA-2 Land Surface Energy Flux Estimates
2018
Journal of Climate
Vol. 31(2), pp. 671-691 
article
DOI URL 
Du Toit, A.
Permafrost thawing and carbon metabolism
2018
Nature Reviews Microbiology
Vol. 16(9), pp. 519 
article
DOI  
Du, E. and de Vries, W.
Nitrogen-induced new net primary production and carbon sequestration in global forests
2018
Environmental Pollution
Vol. 242, pp. 1476-1487 
article
DOI URL 
Ducker, J.A., Holmes, C.D., Keenan, T.F., Fares, S., Goldstein, A.H., Mammarella, I., William Munger, J. and Schnell, J.
Synthetic ozone deposition and stomatal uptake at flux tower sites
2018
Biogeosciences
Vol. 15(17), pp. 5395-5413 
article
DOI  
Dušek, J., Acosta, M., Stellner, S., Šigut, L. and Pavelka, M.
Consumption of atmospheric methane by soil in a lowland broadleaf mixed forest
2018
Plant, Soil and Environment
Vol. 64(8), pp. 400-406 
article
DOI  
Duveiller, G., Hooker, J. and Cescatti, A.
A dataset mapping the potential biophysical effects of vegetation cover change
2018
Scientific Data
Vol. 5 
article
DOI  
Ehrhardt, F., Soussana, J.F., Bellocchi, G., Grace, P., McAuliffe, R., Recous, S., Sándor, R., Smith, P., Snow, V., de Antoni Migliorati, M., Basso, B., Bhatia, A., Brilli, L., Doltra, J., Dorich, C.D., Doro, L., Fitton, N., Giacomini, S.J., Grant, B., Harrison, M.T., Jones, S.K., Kirschbaum, M.U.F., Klumpp, K., Laville, P., Léonard, J., Liebig, M., Lieffering, M., Martin, R., Massad, R.S., Meier, E., Merbold, L., Moore, A.D., Myrgiotis, V., Newton, P., Pattey, E., Rolinski, S., Sharp, J., Smith, W.N., Wu, L. and Zhang, Q.
Assessing uncertainties in crop and pasture ensemble model simulations of productivity and N2O emissions
2018
Global Change Biology
Vol. 24(2), pp. e603-e616 
article
DOI URL 
Emerson, J.B., Roux, S., Brum, J.R., Bolduc, B., Woodcroft, B.J., Jang, H.B., Singleton, C.M., Solden, L.M., Naas, A.E., Boyd, J.A., Hodgkins, S.B., Wilson, R.M., Trubl, G., Li, C., Frolking, S., Pope, P.B., Wrighton, K.C., Crill, P.M., Chanton, J.P., Saleska, S.R., Tyson, G.W., Rich, V.I. and Sullivan, M.B.
Host-linked soil viral ecology along a permafrost thaw gradient
2018
Nature Microbiology
Vol. 3(8), pp. 870-880 
article
DOI  
Ericson, Y., Falck, E., Chierici, M., Fransson, A., Kristiansen, S., Platt, S.M., Hermansen, O. and Myhre, C.L.
Temporal Variability in Surface Water pCO2 in Adventfjorden (West Spitsbergen) With Emphasis on Physical and Biogeochemical Drivers
2018
Journal of Geophysical Research: Oceans
Vol. 123(7), pp. 4888-4905 
article
DOI  
Erkkilä, K.M., Ojala, A., Bastviken, D., Biermann, T., Heiskanen, J., Lindroth, A., Peltola, O., Rantakari, M., Vesala, T. and Mammarella, I.
Methane and carbon dioxide fluxes over a lake: Comparison between eddy covariance, floating chambers and boundary layer method
2018
Biogeosciences
Vol. 15(2), pp. 429-445 
article
DOI URL 
Faiola, C.L., Buchholz, A., Kari, E., Yli-Pirilä, P., Holopainen, J.K., Kivimäenpää, M., Miettinen, P., Worsnop, D.R., Lehtinen, K.E.J., Guenther, A.B. and Virtanen, A.
Terpene Composition Complexity Controls Secondary Organic Aerosol Yields from Scots Pine Volatile Emissions
2018
Scientific Reports
Vol. 8(1) 
article
DOI  
Famiglietti, C.A., Fisher, J.B., Halverson, G. and Borbas, E.E.
Global Validation of MODIS Near-Surface Air and Dew Point Temperatures
2018
Geophysical Research Letters
Vol. 45(15), pp. 7772-7780 
article
DOI  
Fares, S., Conte, A. and Chabbi, A.
Ozone flux in plant ecosystems: new opportunities for long-term monitoring networks to deliver ozone-risk assessments
2018
Environmental Science and Pollution Research
Vol. 25(9), pp. 8240-8248 
article
DOI  
Fassbender, A.J., Rodgers, K.B., Palevsky, H.I. and Sabine, C.L.
Seasonal Asymmetry in the Evolution of Surface Ocean pCO2 and pH Thermodynamic Drivers and the Influence on Sea-Air CO2 Flux
2018
Global Biogeochemical Cycles
Vol. 32(10), pp. 1476-1497 
article
DOI  
Fay, A.R., Lovenduski, N.S., Mckinley, G.A., Munro, D.R., Sweeney, C., Gray, A.R., Landschützer, P., Stephens, B.B., Takahashi, T. and Williams, N.
Utilizing the Drake Passage Time-series to understand variability and change in subpolar Southern Ocean pCO 2
2018
Biogeosciences
Vol. 15, pp. 3841-3855 
article
DOI URL 
Finco, A., Coyle, M., Nemitz, E., Marzuoli, R., Chiesa, M., Loubet, B., Fares, S., Diaz-Pines, E., Gasche, R. and Gerosa, G.
Characterization of ozone deposition to a mixed oak-hornbeam forest - Flux measurements at five levels above and inside the canopy and their interactions with nitric oxide
2018
Atmospheric Chemistry and Physics
Vol. 18(24), pp. 17945-17961 
article
DOI  
Fischer, M., Zenone, T., Trnka, M., Orság, M., Montagnani, L., Ward, E.J., Tripathi, A.M., Hlavinka, P., Seufert, G., Žalud, Z., King, J.S. and Ceulemans, R.
Water requirements of short rotation poplar coppice: Experimental and modelling analyses across Europe
2018
Agricultural and Forest Meteorology
Vol. 250-251, pp. 343-360 
article
DOI URL 
Franz, D., Acosta, M., Altimir, N., Arriga, N., Arrouays, D., Aubinet, M., Aurela, M., Ayres, E., López-Ballesteros, A., Barbaste, M., Berveiller, D., Biraud, S., Boukir, H., Brown, T., Brömmer, C., Buchmann, N., Burba, G., Carrara, A., Cescatti, A., Ceschia, E., Clement, R., Cremonese, E., Crill, P., Darenova, E., Dengel, S., D'Odorico, P., Filippa, G., Fleck, S., Fratini, G., Fuß, R., Gielen, B., Gogo, S., Grace, J., Graf, A., Grelle, A., Gross, P., Grönwald, T., Haapanala, S., Hehn, M., Heinesch, B., Heiskanen, J., Herbst, M., Herschlein, C., Hörtnagl, L., Hufkens, K., Ibrom, A., Jolivet, C., Joly, L., Jones, M., Kiese, R., Klemedtsson, L., Kljun, N., Klumpp, K., Kolari, P., Kolle, O., Kowalski, A., Kutsch, W., Laurila, T., De Ligne, A., Linder, S., Lindroth, A., Lohila, A., Longdoz, B., Mammarella, I., Manise, T., Jiménez, S.M., Matteucci, G., Mauder, M., Meier, P., Merbold, L., Mereu, S., Metzger, S., Migliavacca, M., Mölder, M., Montagnani, L., Moureaux, C., Nelson, D., Nemitz, E., Nicolini, G., Nilsson, M.B., De Beeck, M.O.M., Osborne, B., Löfvenius, M.O., Pavelka, M., Peichl, M., Peltola, O., Pihlatie, M., Pitacco, A., Pokorný, R., Pumpanen, J., Ratié, C., Rebmann, C., Roland, M., Sabbatini, S., Saby, N.P.A., Saunders, M., Schmid, H.P., Schrumpf, M., Sedlák, P., Ortiz, P.S., Siebicke, L., Šigut, L., Silvennoinen, H., Simioni, G., Skiba, U., Sonnentag, O., Soudani, K., Soulé, P., Steinbrecher, R., Tallec, T., Thimonier, A., Tuittila, E.S., Tuovinen, J.P., Vestin, P., Vincent, G., Vincke, C., Vitale, D., Waldner, P., Weslien, P., Wingate, L., Wohlfahrt, G., Zahniser, M. and Vesala, T.
Towards long-Term standardised carbon and greenhouse gas observations for monitoring Europe's terrestrial ecosystems: A review
2018
International Agrophysics
Vol. 32(4), pp. 439-455 
article
DOI URL 
Fratini, G., Sabbatini, S., Ediger, K., Riensche, B., Burba, G., Nicolini, G., Vitale, D. and Papale, D.
Eddy covariance flux errors due to random and systematic timing errors during data acquisition
2018
Biogeosciences
Vol. 15(17), pp. 5473-5487 
article
DOI  
Fusaro, L., Mereu, S., Salvatori, E., Agliari, E., Fares, S. and Manes, F.
Modeling ozone uptake by urban and peri-urban forest: a case study in the Metropolitan City of Rome
2018
Environmental Science and Pollution Research
Vol. 25(9), pp. 8190-8205 
article
DOI  
García, O.E., Schneider, M., Ertl, B., Sepúlveda, E., Borger, C., Diekmann, C., Wiegele, A., Hase, F., Barthlott, S., Blumenstock, T., Raffalski, U., Gómez-Peláez, A., Steinbacher, M., Ries, L. and De Frutos, A.M.
The MUSICA IASI CH4 and N2O products and their comparison to HIPPO, GAW and NDACC FTIR references
2018
Atmospheric Measurement Techniques
Vol. 11(7), pp. 4171-4215 
article
DOI  
Gevaert, A.I., Miralles, D.G., de Jeu, R.A., Schellekens, J. and Dolman, A.J.
Soil Moisture-Temperature Coupling in a Set of Land Surface Models
2018
Journal of Geophysical Research: Atmospheres
Vol. 123(3), pp. 1481-1498 
article
DOI  
Gielen, B., Acosta, M., Altimir, N., Buchmann, N., Cescatti, A., Ceschia, E., Fleck, S., Hörtnagl, L., Klumpp, K., Kolari, P., Lohila, A., Loustau, D., Mara'non-Jimenez, S., Manise, T., Matteucci, G., Merbold, L., Metzger, C., Moureaux, C., Montagnani, L., Nilsson, M.B., Osborne, B., Papale, D., Pavelka, M., Saunders, M., Simioni, G., Soudani, K., Sonnentag, O., Tallec, T., Tuittila, E.S., Peichl, M., Pokorny, R., Vincke, C. and Wohlfahrt, G.
Ancillary vegetation measurements at ICOS ecosystem stations
2018
International Agrophysics
Vol. 32(4), pp. 645-664 
article
DOI URL 
Goris, N., Tjiputra, J.F., Olsen, A., Schwinger, J., Lauvset, S.K. and Jeansson, E.
Constraining projection-based estimates of the future North Atlantic carbon uptake
2018
Journal of Climate
Vol. 31(10), pp. 3959-3978 
article
DOI URL 
Gourlez de la Motte, L., Mamadou, O., Beckers, Y., Bodson, B., Heinesch, B. and Aubinet, M.
Rotational and continuous grazing does not affect the total net ecosystem exchange of a pasture grazed by cattle but modifies CO2 exchange dynamics
2018
Agriculture, Ecosystems and Environment
Vol. 253, pp. 157-165 
article
DOI URL 
Gregor, L., Kok, S. and Monteiro, P.M.S.
Interannual drivers of the seasonal cycle of CO<sub>2</sub> in the Southern Ocean
2018
Biogeosciences
Vol. 15(8), pp. 2361-2378 
article
DOI URL 
Groh, J., Slawitsch, V., Herndl, M., Graf, A., Vereecken, H. and Pütz, T.
Determining dew and hoar frost formation for a low mountain range and alpine grassland site by weighable lysimeter
2018
Journal of Hydrology
Vol. 563, pp. 372-381 
article
DOI  
Groot Zwaaftink, C.D., Henne, S., Thompson, R.L., Dlugokencky, E.J., Machida, T., Paris, J.D., Sasakawa, M., Segers, A., Sweeney, C. and Stohl, A.
Three-dimensional methane distribution simulated with FLEXPART 8-CTM-1.1 constrained with observation data
2018
Geoscientific Model Development
Vol. 11(11), pp. 4469-4487 
article
DOI  
Grossiord, C., Sevanto, S., Bonal, D., Borrego, I., Dawson, T.E., Ryan, M., Wang, W. and McDowell, N.G.
Prolonged warming and drought modify belowground interactions for water among coexisting plants
2018
Tree Physiology
Vol. 39(1), pp. 55-63 
article
DOI  
Gu, C., Ma, J., Zhu, G., Yang, H., Zhang, K., Wang, Y. and Gu, C.
Partitioning evapotranspiration using an optimized satellite-based ET model across biomes
2018
Agricultural and Forest Meteorology
Vol. 259, pp. 355-363 
article
DOI  
Hari, P., Noe, S., Dengel, S., Elbers, J., Gielen, B., Kerminen, V.M., Kruijt, B., Kulmala, L., Lindroth, A., Mammarella, I., Petäjä, T., Schurgers, G., Vanhatalo, A., Kulmala, M. and Bäck, J.
Prediction of photosynthesis in Scots pine ecosystems across Europe by a needle-level theory
2018
Atmospheric Chemistry and Physics
Vol. 18(18), pp. 13321-13328 
article
DOI  
Hauck, J.
Unsteady seasons in the sea
2018
Nature Climate Change
Vol. 8(2), pp. 97-98 
article
DOI  
He, Y.C., Tjiputra, J., Langehaug, H.R., Jeansson, E., Gao, Y., Schwinger, J. and Olsen, A.
A Model-Based Evaluation of the Inverse Gaussian Transit-Time Distribution Method for Inferring Anthropogenic Carbon Storage in the Ocean
2018
Journal of Geophysical Research: Oceans
Vol. 123(3), pp. 1777-1800 
article
DOI  
Henson, S.A., Humphreys, M.P., Land, P.E., Shutler, J.D., Goddijn-Murphy, L. and Warren, M.
Controls on Open-Ocean North Atlantic ΔpCO2 at Seasonal and Interannual Time Scales Are Different
2018
Geophysical Research Letters
Vol. 45(17), pp. 9067-9076 
article
DOI  
Hobeichi, S., Abramowitz, G., Evans, J. and Ukkola, A.
Derived Optimal Linear Combination Evapotranspiration (DOLCE): A global gridded synthesis et estimate
2018
Hydrology and Earth System Sciences
Vol. 22(2), pp. 1317-1336 
article
DOI  
Hodgkins, S.B., Richardson, C.J., Dommain, R., Wang, H., Glaser, P.H., Verbeke, B., Winkler, B.R., Cobb, A.R., Rich, V.I., Missilmani, M., Flanagan, N., Ho, M., Hoyt, A.M., Harvey, C.F., Vining, S.R., Hough, M.A., Moore, T.R., Richard, P.J.H., De La Cruz, F.B., Toufaily, J., Hamdan, R., Cooper, W.T. and Chanton, J.P.
Tropical peatland carbon storage linked to global latitudinal trends in peat recalcitrance
2018
Nature Communications
Vol. 9(1) 
article
DOI  
Honkanen, M., Tuovinen, J.P., Laurila, T., Mäkelä, T., Hatakka, J., Kielosto, S. and Laakso, L.
Measuring turbulent CO2 fluxes with a closed-path gas analyzer in a marine environment
2018
Atmospheric Measurement Techniques
Vol. 11(9), pp. 5335-5350 
article
DOI  
Hooghiem, J.J.D., De Vries, M., Been, H.A., Heikkinen, P., Kivi, R. and Chen, H.
LISA: A lightweight stratospheric air sampler
2018
Atmospheric Measurement Techniques
Vol. 11(12), pp. 6785-6801 
article
DOI  
Hufkens, K., Filippa, G., Cremonese, E., Migliavacca, M., D'Odorico, P., Peichl, M., Gielen, B., Hörtnagl, L., Soudani, K., Papale, D., Rebmann, C., Brown, T. and Wingate, L.
Assimilating phenology datasets automatically across ICOS ecosystem stations
2018
International Agrophysics
Vol. 32(4), pp. 677-687 
article
DOI URL 
Ibraim, E., Wolf, B., Harris, E., Gasche, R., Wei, J., Yu, L., Kiese, R., Eggleston, S., Butterbach-Bahl, K., Zeeman, M., Tuzson, B., Emmenegger, L., Six, J., Henne, S. and Mohn, J.
Attribution of Nsub2/subO sources in a grassland soil with laser spectroscopy based isotopocule analysis
2018
Biogeosciences Discussions, pp. 1-27 
article
DOI  
Järveoja, J., Nilsson, M.B., Gažovič, M., Crill, P.M. and Peichl, M.
Partitioning of the net CO2 exchange using an automated chamber system reveals plant phenology as key control of production and respiration fluxes in a boreal peatland
2018
Global Change Biology
Vol. 24(8), pp. 3436-3451 
article
DOI  
Järvi, L., Rannik, U., Kokkonen, T.V., Kurppa, M., Karppinen, A., Kouznetsov, R.D., Rantala, P., Vesala, T. and Wood, C.R.
Uncertainty of eddy covariance flux measurements over an urban area based on two towers
2018
Atmospheric Measurement Techniques
Vol. 11(10), pp. 5421-5438 
article
DOI  
Jiskra, M., Sonke, J.E., Obrist, D., Bieser, J., Ebinghaus, R., Myhre, C.L., Pfaffhuber, K.A., Wängberg, I., Kyllönen, K., Worthy, D., Martin, L.G., Labuschagne, C., Mkololo, T., Ramonet, M., Magand, O. and Dommergue, A.
A vegetation control on seasonal variations in global atmospheric mercury concentrations
2018
Nature Geoscience
Vol. 11(4), pp. 244-250 
article
DOI  
Jocher, G., Marshall, J., Nilsson, M.B., Linder, S., De Simon, G., Hörnlund, T., Lundmark, T., Näsholm, T., Ottosson Löfvenius, M., Tarvainen, L., Wallin, G. and Peichl, M.
Impact of Canopy Decoupling and Subcanopy Advection on the Annual Carbon Balance of a Boreal Scots Pine Forest as Derived From Eddy Covariance
2018
Journal of Geophysical Research: Biogeosciences
Vol. 123(2), pp. 303-325 
article
DOI URL 
Juráň, S., Edwards-Jonášová, M., Cudlín, P., Zapletal, M., Šigut, L., Grace, J. and Urban, O.
Prediction of ozone effects on net ecosystem production of Norway spruce forest
2018
IForest
Vol. 11(6), pp. 743-750 
article
DOI  
Jurevics, A., Peichl, M. and Egnell, G.
Stand volume production in the subsequent stand during three decades remains unaffected by slash and stump harvest in Nordic forests
2018
Forests
Vol. 9(12), pp. 770 
article
DOI  
Kaisermann, A., Ogée, J., Sauze, J., Wohl, S., Jones, S.P., Gutierrez, A. and Wingate, L.
Disentangling the rates of carbonyl sulfide (COS) production and consumption and their dependency on soil properties across biomes and land use types
2018
Atmospheric Chemistry and Physics
Vol. 18(13), pp. 9425-9440 
article
DOI  
Kamp, J., Skov, H., Jensen, B. and Sørensen, L.L.
Fluxes of gaseous elemental mercury (GEM) in the High Arctic during atmospheric mercury depletion events (AMDEs)
2018
Atmospheric Chemistry and Physics
Vol. 18(9), pp. 6923-6938 
article
DOI  
Katul, G., Mammarella, I., Grönholm, T. and Vesala, T.
A Structure Function Model Recovers the Many Formulations for Air-Water Gas Transfer Velocity
2018
Water Resources Research
Vol. 54(9), pp. 5905-5920 
article
DOI  
Katul, G., Peltola, O., Grönholm, T., Launiainen, S., Mammarella, I. and Vesala, T.
Ejective and Sweeping Motions Above a Peatland and Their Role in Relaxed-Eddy-Accumulation Measurements and Turbulent Transport Modelling
2018
Boundary-Layer Meteorology
Vol. 169(2), pp. 163-184 
article
DOI  
Kiese, R., Fersch, B., Baessler, C., Brosy, C., Butterbach-Bahl, K., Chwala, C., Dannenmann, M., Fu, J., Gasche, R., Grote, R., Jahn, C., Klatt, J., Kunstmann, H., Mauder, M., Rödiger, T., Smiatek, G., Soltani, M., Steinbrecher, R., Völksch, I., Werhahn, J., Wolf, B., Zeeman, M. and Schmid, H.P.
The TERENO Pre-Alpine Observatory: Integrating Meteorological, Hydrological, and Biogeochemical Measurements and Modeling
2018
Vadose Zone Journal
Vol. 17(1), pp. 180060 
article
DOI  
Kisel'Ák, J., Dušek, J. and Stehlík, M.
Recurrence of CH 4 and CO 2 emissions measured by a non-steady state flow-through chamber system
2018

Vol. 2046AIP Conference Proceedings 
inproceedings
DOI  
Kiuru, P., Ojala, A., Mammarella, I., Heiskanen, J., Kämäräinen, M., Vesala, T. and Huttula, T.
Effects of Climate Change on CO2 Concentration and Efflux in a Humic Boreal Lake: A Modeling Study
2018
Journal of Geophysical Research: Biogeosciences
Vol. 123(7), pp. 2212-2233 
article
DOI  
Knauer, J., El-Madany, T.S., Zaehle, S. and Migliavacca, M.
Bigleaf—An R package for the calculation of physical and physiological ecosystem properties from eddy covariance data
2018
PLoS ONE
Vol. 13(8) 
article
DOI  
Knauer, J., Zaehle, S., Medlyn, B.E., Reichstein, M., Williams, C.A., Migliavacca, M., De Kauwe, M.G., Werner, C., Keitel, C., Kolari, P., Limousin, J. and Linderson, M.
Towards physiologically meaningful water‐use efficiency estimates from eddy covariance data
2018
Global Change Biology
Vol. 24(2), pp. 694-710 
article
DOI URL 
Kokkonen, T.V., Grimmond, C.S., Christen, A., Oke, T.R. and Järvi, L.
Changes to the Water Balance Over a Century of Urban Development in Two Neighborhoods: Vancouver, Canada
2018
Water Resources Research
Vol. 54(9), pp. 6625-6642 
article
DOI  
Kokkonen, T.V., Grimmond, C.S., Räty, O., Ward, H.C., Christen, A., Oke, T.R., Kotthaus, S. and Järvi, L.
Sensitivity of Surface Urban Energy and Water Balance Scheme (SUEWS) to downscaling of reanalysis forcing data
2018
Urban Climate
Vol. 23, pp. 36-52 
article
DOI  
Kondrik, D., Kazakov, E. and Pozdnyakov, D.
A synthetic satellite dataset of iE. huxleyi/i spatio-temporal distributions and their impacts on Arctic and Subarctic marine environments (1998–2016)
2018
Earth System Science Data Discussions, pp. 1-17 
article
DOI  
Korrensalo, A., Kettunen, L., Laiho, R., Alekseychik, P., Vesala, T., Mammarella, I. and Tuittila, E.S.
Boreal bog plant communities along a water table gradient differ in their standing biomass but not their biomass production
2018
Journal of Vegetation Science
Vol. 29(2), pp. 136-146 
article
DOI  
Korrensalo, A., Männistö, E., Alekseychik, P., Mammarella, I., Rinne, J., Vesala, T. and Tuittila, E.S.
Small spatial variability in methane emission measured from a wet patterned boreal bog
2018
Biogeosciences
Vol. 15(6), pp. 1749-1761 
article
DOI  
Köster, E., Köster, K., Berninger, F., Prokushkin, A., Aaltonen, H., Zhou, X. and Pumpanen, J.
Changes in fluxes of carbon dioxide and methane caused by fire in Siberian boreal forest with continuous permafrost
2018
Journal of Environmental Management
Vol. 228, pp. 405-415 
article
DOI  
Köster, K., Köster, E., Berninger, F., Heinonsalo, J. and Pumpanen, J.
Contrasting effects of reindeer grazing on CO2, CH4, and N2O fluxes originating from the northern boreal forest floor
2018
Land Degradation and Development
Vol. 29(2), pp. 374-381 
article
DOI  
Kountouris, P., Gerbig, C., Rödenbeck, C., Karstens, U., Frank Koch, T. and Heimann, M.
Technical Note: Atmospheric CO2 inversions on the mesoscale using data-driven prior uncertainties: Methodology and system evaluation
2018
Atmospheric Chemistry and Physics
Vol. 18(4), pp. 3027-3045 
article
DOI  
Kountouris, P., Gerbig, C., Rödenbeck, C., Karstens, U., Koch, T.F. and Heimann, M.
Atmospheric CO2 inversions on the mesoscale using data-driven prior uncertainties: Quantification of the European terrestrial CO2 fluxes
2018
Atmospheric Chemistry and Physics
Vol. 18(4), pp. 3047-3064 
article
DOI URL 
Kovalets, I., Avila, R., Mölder, M., Kovalets, S. and Lindroth, A.
Verification of a One-Dimensional Model of CO 2 Atmospheric Transport Inside and Above a Forest Canopy Using Observations at the Norunda Research Station
2018
Boundary-Layer Meteorology
Vol. 168(1), pp. 103-126 
article
DOI  
Kuhn, M., Lundin, E.J., Giesler, R., Johansson, M. and Karlsson, J.
Emissions from thaw ponds largely offset the carbon sink of northern permafrost wetlands
2018
Scientific Reports
Vol. 8(1) 
article
DOI  
Kunz, M., Lavric, J., Gerbig, C., Tans, P., Neff, D., Hummelgärd, C., Martin, H., Rödjegärd, H., Wrenger, B. and Heimann, M.
COCAP: A carbon dioxide analyser for small unmanned aircraft systems
2018
Atmospheric Measurement Techniques
Vol. 11(3), pp. 1833-1849 
article
DOI  
Landschützer, P., Gruber, N., Bakker, D.C., Stemmler, I. and Six, K.D.
Strengthening seasonal marine CO2 variations due to increasing atmospheric CO2
2018
Nature Climate Change
Vol. 8(2), pp. 146-150 
article
DOI URL 
Laruelle, G.G., Cai, W.J., Hu, X., Gruber, N., Mackenzie, F.T. and Regnier, P.
Continental shelves as a variable but increasing global sink for atmospheric carbon dioxide
2018
Nature Communications
Vol. 9(1) 
article
DOI  
Laudon, H. and Sponseller, R.A.
How landscape organization and scale shape catchment hydrology and biogeochemistry: insights from a long-term catchment study
2018
Wiley Interdisciplinary Reviews: Water
Vol. 5(2), pp. e1265 
article
DOI  
Le Quéré, C., Andrew, R.M., Friedlingstein, P., Sitch, S., Pongratz, J., Manning, A.C., Ivar Korsbakken, J., Peters, G.P., Canadell, J.G., Jackson, R.B., Boden, T.A., Tans, P.P., Andrews, O.D., Arora, V.K., Bakker, D.C.E., Barbero, L., Becker, M., Betts, R.A., Bopp, L., Chevallier, F., Chini, L.P., Ciais, P., Cosca, C.E., Cross, J., Currie, K., Gasser, T., Harris, I., Hauck, J., Haverd, V., Houghton, R.A., Hunt, C.W., Hurtt, G., Ilyina, T., Jain, A.K., Kato, E., Kautz, M., Keeling, R.F., Klein Goldewijk, K., Körtzinger, A., Landschützer, P., Lefèvre, N., Lenton, A., Lienert, S., Lima, I., Lombardozzi, D., Metzl, N., Millero, F., Monteiro, P.M.S., Munro, D.R., Nabel, J.E.M.S., Nakaoka, S.I., Nojiri, Y., Antonio Padin, X., Peregon, A., Pfeil, B., Pierrot, D., Poulter, B., Rehder, G., Reimer, J., Rödenbeck, C., Schwinger, J., Séférian, R., Skjelvan, I., Stocker, B.D., Tian, H., Tilbrook, B., Tubiello, F.N., Laan-Luijkx, I.T., Werf, G.R., Van Heuven, S., Viovy, N., Vuichard, N., Walker, A.P., Watson, A.J., Wiltshire, A.J., Zaehle, S. and Zhu, D.
Global Carbon Budget 2017
2018
Earth System Science Data
Vol. 10(1), pp. 405-448 
article
DOI URL 
Ledesma, J.L.J., Futter, M.N., Blackburn, M., Lidman, F., Grabs, T., Sponseller, R.A., Laudon, H., Bishop, K.H. and Köhler, S.J.
Towards an Improved Conceptualization of Riparian Zones in Boreal Forest Headwaters
2018
Ecosystems
Vol. 21(2), pp. 297-315 
article
DOI  
Leip, A., Skiba, U., Vermeulen, A. and Thompson, R.L.
A complete rethink is needed on how greenhouse gas emissions are quantified for national reporting
2018
Atmospheric Environment
Vol. 174, pp. 237-240 
article
DOI URL 
Leufen, L.H. and Schädler, G.
Calculating the turbulent fluxes in the atmospheric surface layer with neural networks
2018
Geoscientific Model Development Discussions, pp. 1-22 
article
DOI  
Li, H. and Ilyina, T.
Current and Future Decadal Trends in the Oceanic Carbon Uptake Are Dominated by Internal Variability
2018
Geophysical Research Letters
Vol. 45(2), pp. 916-925 
article
DOI  
Lin, C., Gentine, P., Huang, Y., Guan, K., Kimm, H. and Zhou, S.
Diel ecosystem conductance response to vapor pressure deficit is suboptimal and independent of soil moisture
2018
Agricultural and Forest Meteorology
Vol. 250-251, pp. 24-34 
article
DOI  
Lindroth, A., Holst, J., Heliasz, M., Vestin, P., Lagergren, F., Biermann, T., Cai, Z. and Mölder, M.
Effects of low thinning on carbon dioxide fluxes in a mixed hemiboreal forest
2018
Agricultural and Forest Meteorology
Vol. 262, pp. 59-70 
article
DOI  
López-Ballesteros, A., Beck, J., Bombelli, A., Grieco, E., Lorencová, E.K., Merbold, L., Brümmer, C., Hugo, W., Scholes, R., VačkáÅ™, D., Vermeulen, A., Acosta, M., Butterbach-Bahl, K., Helmschrot, J., Kim, D.G., Jones, M., Jorch, V., Pavelka, M., Skjelvan, I. and Saunders, M.
Towards a feasible and representative pan-African research infrastructure network for GHG observations
2018
Environmental Research Letters
Vol. 13(8) 
article
DOI URL 
López-Ballesteros, A., Oyonarte, C., Kowalski, A.S., Serrano-Ortiz, P., Sánchez-Cañete, E.P., Moya, M.R. and Domingo, F.
Can land degradation drive differences in the C exchange of two similar semiarid ecosystems?
2018
Biogeosciences
Vol. 15(1), pp. 263-278 
article
DOI  
López-Blanco, E., Lund, M., Christensen, T.R., Tamstorf, M.P., Smallman, T.L., Slevin, D., Westergaard-Nielsen, A., Hansen, B.U., Abermann, J. and Williams, M.
Plant Traits are Key Determinants in Buffering the Meteorological Sensitivity of Net Carbon Exchanges of Arctic Tundra
2018
Journal of Geophysical Research: Biogeosciences
Vol. 123(9), pp. 2675-2694 
article
DOI  
Loustau, D., Altimir, N., Barbaste, M., Gielen, B., Jiménez, S.M., Klumpp, K., Linder, S., Matteucci, G., Merbold, L., De Beek, M.O., Soulé, P., Thimonier, A., Vincke, C. and Waldner, P.
Sampling and collecting foliage elements for the determination of the foliar nutrients in ICOS ecosystem stations
2018
International Agrophysics
Vol. 32(4), pp. 665-676 
article
DOI URL 
Lucas-Moffat, A.M., Huth, V., Augustin, J., Brümmer, C., Herbst, M. and Kutsch, W.L.
Towards pairing plot and field scale measurements in managed ecosystems: Using eddy covariance to cross-validate CO2 fluxes modeled from manual chamber campaigns
2018
Agricultural and Forest Meteorology
Vol. 256-257, pp. 362-378 
article
DOI  
Lund, M.
Uncovering the unknown - Climate interactions in a changing arctic tundra
2018
Environmental Research Letters
Vol. 13(6), pp. 61001 
article
DOI  
Lundström, J., Öhman, K. and Laudon, H.
Comparing buffer zone alternatives in forest planning using a decision support system
2018
Scandinavian Journal of Forest Research
Vol. 33(5), pp. 493-501 
article
DOI  
Malhotra, A., Moore, T.R., Limpens, J. and Roulet, N.T.
Post-thaw variability in litter decomposition best explained by microtopography at an ice-rich permafrost peatland
2018
Arctic, Antarctic, and Alpine Research
Vol. 50(1), pp. e1415622 
article
DOI  
Martínez, B., Sanchez-Ruiz, S., Gilabert, M.A., Moreno, A., Campos-Taberner, M., García-Haro, F.J., Trigo, I.F., Aurela, M., Brümmer, C., Carrara, A., De Ligne, A., Gianelle, D., Grünwald, T., Limousin, J.M., Lohila, A., Mammarella, I., Sottocornola, M., Steinbrecher, R. and Tagesson, T.
Retrieval of daily gross primary production over Europe and Africa from an ensemble of SEVIRI/MSG products
2018
International Journal of Applied Earth Observation and Geoinformation
Vol. 65, pp. 124-136 
article
DOI URL 
Mauder, M., Genzel, S., Fu, J., Kiese, R., Soltani, M., Steinbrecher, R., Zeeman, M., Banerjee, T., De Roo, F. and Kunstmann, H.
Evaluation of energy balance closure adjustment methods by independent evapotranspiration estimates from lysimeters and hydrological simulations
2018
Hydrological Processes
Vol. 32(1), pp. 39-50 
article
DOI  
Mauder, M. and Zeeman, M.J.
Field intercomparison of prevailing sonic anemometers
2018
Atmospheric Measurement Techniques
Vol. 11(1), pp. 249-263 
article
DOI URL 
McGloin, R., Šigut, L., Havránková, K., Dušek, J., Pavelka, M. and Sedlák, P.
Energy balance closure at a variety of ecosystems in Central Europe with contrasting topographies
2018
Agricultural and Forest Meteorology
Vol. 248, pp. 418-431 
article
DOI URL 
Menegat, A., Milberg, P., Nilsson, A.T.S., Andersson, L. and Vico, G.
Soil water potential and temperature sum during reproductive growth control seed dormancy in Alopecurus myosuroides Huds.
2018
Ecology and Evolution
Vol. 8(14), pp. 7186-7194 
article
DOI  
Meredith, L.K., Boye, K., Youngerman, C., Whelan, M., Ogée, J., Sauze, J. and Wingate, L.
Coupled Biological and Abiotic Mechanisms Driving Carbonyl Sulfide Production in Soils
2018
Soil Systems
Vol. 2(3), pp. 37 
article
DOI  
Mongwe, N.P., Vichi, M. and Monteiro, P.M.S.
The seasonal cycle of <i>p</i>CO<sub>2</sub> and CO<sub>2</sub> fluxes in the Southern Ocean: diagnosing anomalies in CMIP5 Earth system models
2018
Biogeosciences
Vol. 15(9), pp. 2851-2872 
article
DOI URL 
Montagnani, L., Grünwald, T., Kowalski, A., Mammarella, I., Merbold, L., Metzger, S., Sedlák, P. and Siebicke, L.
Estimating the storage term in eddy covariance measurements: The ICOS methodology
2018
International Agrophysics
Vol. 32(4), pp. 551-567 
article
DOI URL 
Mozaffar, A., Schoon, N., Bachy, A., Digrado, A., Heinesch, B., Aubinet, M., Fauconnier, M.L., Delaplace, P., du Jardin, P. and Amelynck, C.
Biogenic volatile organic compound emissions from senescent maize leaves and a comparison with other leaf developmental stages
2018
Atmospheric Environment
Vol. 176, pp. 71-81 
article
DOI URL 
Munier, S. and Aires, F.
A new global method of satellite dataset merging and quality characterization constrained by the terrestrial water budget
2018
Remote Sensing of Environment
Vol. 205, pp. 119-130 
article
DOI  
Mzobe, P., Berggren, M., Pilesjö, P., Lundin, E., Olefeldt, D., Roulet, N.T. and Persson, A.
Dissolved organic carbon in streams within a subarctic catchment analysed using a GIS/ remote sensing approach
2018
PLoS ONE
Vol. 13(7), pp. e0199608 
article
DOI  
Nemitz, E., Mammarella, I., Ibrom, A., Aurela, M., Burba, G.G., Dengel, S., Gielen, B., Grelle, A., Heinesch, B., Herbst, M., Hörtnagl, L., Klemedtsson, L., Lindroth, A., Lohila, A., McDermitt, D.K., Meier, P., Merbold, L., Nelson, D., Nicolini, G., Nilsson, M.B., Peltola, O., Rinne, J. and Zahniser, M.
Standardisation of eddy-covariance flux measurements of methane and nitrous oxide
2018
International Agrophysics
Vol. 32(4), pp. 517-549 
article
DOI URL 
Ney, P. and Graf, A.
High-Resolution Vertical Profile Measurements for Carbon Dioxide and Water Vapour Concentrations Within and Above Crop Canopies
2018
Boundary-Layer Meteorology
Vol. 166(3), pp. 449-473 
article
DOI  
Nicolini, G., Aubinet, M., Feigenwinter, C., Heinesch, B., Lindroth, A., Mamadou, O., Moderow, U., Mölder, M., Montagnani, L., Rebmann, C. and Papale, D.
Impact of CO2 storage flux sampling uncertainty on net ecosystem exchange measured by eddy covariance
2018
Agricultural and Forest Meteorology
Vol. 248, pp. 228-239 
article
DOI URL 
Nielsen, C.S., Hasselquist, N.J., Nilsson, M.B., Öquist, M., Järveoja, J. and Peichl, M.
A Novel Approach for High-Frequency in-situ Quantification of Methane Oxidation in Peatlands
2018
Soil Systems
Vol. 3(1), pp. 4 
article
DOI URL 
Nilsson, E., Bergström, H., Rutgersson, A., Podgrajsek, E., Wallin, M.B., Bergström, G., Dellwik, E., Landwehr, S. and Ward, B.
Evaluating humidity and sea salt disturbances on CO2 flux measurements
2018
Journal of Atmospheric and Oceanic Technology
Vol. 35(4), pp. 859-875 
article
DOI  
Oosterwijk, A., Henzing, B. and Järvi, L.
On the application of spectral corrections to particle flux measurements
2018
Environmental Science: Nano
Vol. 5(10), pp. 2315-2324 
article
DOI  
Osterwalder, S., Sommar, J., Åkerblom, S., Jocher, G., Fritsche, J., Nilsson, M.B., Bishop, K. and Alewell, C.
Comparative study of elemental mercury flux measurement techniques over a Fennoscandian boreal peatland
2018
Atmospheric Environment
Vol. 172, pp. 16-25 
article
DOI  
Palace, M., Herrick, C., DelGreco, J., Finnell, D., Garnello, A.J., McCalley, C., McArthur, K., Sullivan, F. and Varner, R.K.
Determining subarctic peatland vegetation using an unmanned aerial system (UAS)
2018
Remote Sensing
Vol. 10(9), pp. 1498 
article
DOI  
Palmer, P.I., O&apos, Doherty, S., Allen, G., Bower, K., Bösch, H., Chipperfield, M.P., Connors, S., Dhomse, S., Feng, L., Finch, D.P., Gallagher, M.W., Gloor, E., Gonzi, S., Harris, N.R.P., Helfter, C., Humpage, N., Kerridge, B., Knappett, D., Jones, R.L., Le Breton, M., Lunt, M.F., Manning, A.J., Matthiesen, S., Muller, J.B.A., Mullinger, N., Nemiitz, E., O&apos, Shea, S., Parker, R.J., Percival, C.J., Pitt, J., Riddick, S.N., Rigby, M., Sembhi, H., Siddans, R., Skelton, R.L., Smith, P., Sonderfeld, H., Stanley, K., Stavert, A.R., Wenger, A., White, E., Wilson, C. and Young, D.
A measurement-based verification framework for UK greenhouse gas emissions: an overview of the Greenhouse gAs Uk and Global Emissions (GAUGE) project
2018
Atmospheric Chemistry and Physics Discussions, pp. 1-52 
article
DOI URL 
Palonen, V., Pumpanen, J., Kulmala, L., Levin, I., Heinonsalo, J. and Vesala, T.
Seasonal and diurnal variations in atmospheric and soil air 14CO2 in a boreal scots pine forest
2018

Vol. 60(1)Radiocarbon, pp. 283-297 
misc
DOI  
Pavelka, M., Acosta, M., Kiese, R., Altimir, N., Brümmer, C., Crill, P., Darenova, E., Fuß, R., Gielen, B., Graf, A., Klemedtsson, L., Lohila, A., Longdoz, B., Lindroth, A., Nilsson, M., Jiménez, S.M., Merbold, L., Montagnani, L., Peichl, M., Pihlatie, M., Pumpanen, J., Ortiz, P.S., Silvennoinen, H., Skiba, U., Vestin, P., Weslien, P., Janous, D. and Kutsch, W.
Standardisation of chamber technique for CO 2 , N 2 O and CH 4 fluxes measurements from terrestrial ecosystems
2018
International Agrophysics
Vol. 32(4), pp. 569-587 
article
DOI URL 
Peichl, M., Gažovič, M., Vermeij, I., De Goede, E., Sonnentag, O., Limpens, J. and Nilsson, M.B.
Peatland vegetation composition and phenology drive the seasonal trajectory of maximum gross primary production
2018
Scientific Reports
Vol. 8(1) 
article
DOI  
Peltola, O., Raivonen, M., Li, X. and Vesala, T.
Technical note: Comparison of methane ebullition modelling approaches used in terrestrial wetland models
2018
Biogeosciences
Vol. 15(3), pp. 937-951 
article
DOI  
Peltoniemi, M., Aurela, M., Böttcher, K., Kolari, P., Loehr, J., Hokkanen, T., Karhu, J., Linkosalmi, M., Tanis, C.M., Metsämäki, S., Tuovinen, J.P., Vesala, T. and Arslan, A.N.
Networked web-cameras monitor congruent seasonal development of birches with phenological field observations
2018
Agricultural and Forest Meteorology
Vol. 249, pp. 335-347 
article
DOI  
Peltoniemi, M., Aurela, M., Böttcher, K., Kolari, P., Loehr, J., Karhu, J., Linkosalmi, M., Tanis, C.M., Tuovinen, J.P. and Arslan, A.N.
Webcam network and image database for studies of phenological changes of vegetation and snow cover in Finland, image time series from 2014 to 2016
2018
Earth System Science Data
Vol. 10(1), pp. 173-184 
article
DOI  
Pereira, R., Ashton, I., Sabbaghzadeh, B., Shutler, J.D. and Upstill-Goddard, R.C.
Reduced air-sea CO2 exchange in the Atlantic Ocean due to biological surfactants
2018
Nature Geoscience
Vol. 11(7), pp. 492-496 
article
DOI URL 
Perretti, A.R., de Albergaria-Barbosa, A.C.R., Kerr, R. and da Cunha, L.C.
Ocean acidification studies and the uncertainties relevance on measurements of marine carbonate system properties
2018

Vol. 66(2)Brazilian Journal of Oceanography, pp. 234-242 
misc
DOI URL 
Person, R., Aumont, O. and Lévy, M.
The biological pump and seasonal variability of pCO 2 in the southern ocean: Exploring the role of diatom adaptation to Low Iron
2018
Journal of Geophysical Research: Oceans
Vol. 123(5), pp. 3204-3226 
article
DOI URL 
Peters, W., van der Velde, I.R., van Schaik, E., Miller, J.B., Ciais, P., Duarte, H.F., van der Laan-Luijkx, I.T., van der Molen, M.K., Scholze, M., Schaefer, K., Vidale, P.L., Verhoef, A., WÃ¥rlind, D., Zhu, D., Tans, P.P., Vaughn, B. and White, J.W.C.
Increased water-use efficiency and reduced CO2 uptake by plants during droughts at a continental scale
2018
Nature Geoscience
Vol. 11(10), pp. 744-748 
article
URL 
Pison, I., Berchet, A., Saunois, M., Bousquet, P., Broquet, G., Conil, S., Delmotte, M., Ganesan, A., Laurent, O., Martin, D., O'Doherty, S., Ramonet, M., Spain, T.G., Vermeulen, A. and Kwok, C.Y.
How a European network may help with estimating methane emissions on the French national scale
2018
Atmospheric Chemistry and Physics
Vol. 18(5), pp. 3779-3798 
article
DOI  
Platt, S., Eckhardt, S., Ferré, B., Fisher, R., Hermansen, O., Jansson, P., Lowry, D., Nisbet, E., Pisso, I., Schmidbauer, N., Silyakova, A., Stohl, A., Svendby, T., Vadakkepuliyambatta, S., Mienert, J. and Lund Myhre, C.
Methane at svalbard and over the european arctic ocean
2018
Atmospheric Chemistry and Physics
Vol. 18(23), pp. 17207-17224 
article
DOI  
Portillo-Estrada, M., Zenone, T., Arriga, N. and Ceulemans, R.
Contribution of volatile organic compound fluxes to the ecosystem carbon budget of a poplar short-rotation plantation
2018
GCB Bioenergy
Vol. 10(6), pp. 405-414 
article
DOI  
Post, H., Franssen, H.J.H., Han, X., Baatz, R., Montzka, C., Schmidt, M. and Vereecken, H.
Evaluation and uncertainty analysis of regional-scale CLM4.5 net carbon flux estimates
2018
Biogeosciences
Vol. 15(1), pp. 187-208 
article
DOI URL 
Prinn, R.G., Weiss, R.F., Arduini, J., Arnold, T., Langley Dewitt, H., Fraser, P.J., Ganesan, A.L., Gasore, J., Harth, C.M., Hermansen, O., Kim, J., Krummel, P.B., Li, S., Loh, Z.M., Lunder, C.R., Maione, M., Manning, A.J., Miller, B.R., Mitrevski, B., Mühle, J., O'Doherty, S., Park, S., Reimann, S., Rigby, M., Saito, T., Salameh, P.K., Schmidt, R., Simmonds, P.G., Paul Steele, L., Vollmer, M.K., Wang, R.H., Yao, B., Yokouchi, Y., Young, D. and Zhou, L.
History of chemically and radiatively important atmospheric gases from the Advanced Global Atmospheric Gases Experiment (AGAGE)
2018
Earth System Science Data
Vol. 10(2), pp. 985-1018 
article
DOI  
Provenzale, M., Ojala, A., Heiskanen, J., Erkkilä, K.M., Mammarella, I., Hari, P. and Vesala, T.
High-frequency productivity estimates for a lake from free-water CO2 concentration measurements
2018
Biogeosciences
Vol. 15(7), pp. 2021-2032 
article
DOI  
Qiu, C., Zhu, D., Ciais, P., Guenet, B., Krinner, G., Peng, S., Aurela, M., Bernhofer, C., Brümmer, C., Bret-Harte, S., Chu, H., Chen, J., Desai, A.R., Dušek, J., Euskirchen, E.S., Fortuniak, K., Flanagan, L.B., Friborg, T., Grygoruk, M., Gogo, S., Grünwald, T., Hansen, B.U., Holl, D., Humphreys, E., Hurkuck, M., Kiely, G., Klatt, J., Kutzbach, L., Largeron, C., Laggoun-Défarge, F., Lund, M., Lafleur, P.M., Li, X., Mammarella, I., Merbold, L., Nilsson, M.B., Olejnik, J., Ottosson-Löfvenius, M., Oechel, W., Parmentier, F.J.W., Peichl, M., Pirk, N., Peltola, O., Pawlak, W., Rasse, D., Rinne, J., Shaver, G., Peter Schmid, H., Sottocornola, M., Steinbrecher, R., Sachs, T., Urbaniak, M., Zona, D. and Ziemblinska, K.
ORCHIDEE-PEAT (revision 4596), a model for northern peatland CO2, water, and energy fluxes on daily to annual scales
2018
Geoscientific Model Development
Vol. 11(2), pp. 497-519 
article
DOI URL 
Quade, M., Brüggemann, N., Graf, A., Vanderborght, J., Vereecken, H. and Rothfuss, Y.
Investigation of Kinetic Isotopic Fractionation of Water During Bare Soil Evaporation
2018
Water Resources Research
Vol. 54(9), pp. 6909-6928 
article
DOI  
Quéré, C., Andrew, R., Friedlingstein, P., Sitch, S., Hauck, J., Pongratz, J., Pickers, P., Ivar Korsbakken, J., Peters, G., Canadell, J., Arneth, A., Arora, V., Barbero, L., Bastos, A., Bopp, L., Ciais, P., Chini, L., Ciais, P., Doney, S., Gkritzalis, T., Goll, D., Harris, I., Haverd, V., Hoffman, F., Hoppema, M., Houghton, R., Hurtt, G., Ilyina, T., Jain, A., Johannessen, T., Jones, C., Kato, E., Keeling, R., Klein Goldewijk, K., Landschützer, P., Lefèvre, N., Lienert, S., Liu, Z., Lombardozzi, D., Metzl, N., Munro, D., Nabel, J., Nakaoka, S.I., Neill, C., Olsen, A., Ono, T., Patra, P., Peregon, A., Peters, W., Peylin, P., Pfeil, B., Pierrot, D., Poulter, B., Rehder, G., Resplandy, L., Robertson, E., Rocher, M., Rödenbeck, C., Schuster, U., Skjelvan, I., Séférian, R., Skjelvan, I., Steinhoff, T., Sutton, A., Tans, P., Tian, H., Tilbrook, B., Tubiello, F., Van Der Laan-Luijkx, I., Van Der Werf, G., Viovy, N., Walker, A., Wiltshire, A., Wright, R., Zaehle, S. and Zheng, B.
Global Carbon Budget 2018
2018
Earth System Science Data
Vol. 10(4), pp. 2141-2194 
article
DOI  
Racapé, V., Zunino, P., Mercier, H., Lherminier, P., Bopp, L., Pérèz, F.F. and Gehlen, M.
Transport and storage of anthropogenic C in the North Atlantic Subpolar Ocean
2018
Biogeosciences
Vol. 15(14), pp. 4661-4682 
article
DOI  
Rebmann, C., Aubinet, M., Schmid, H., Arriga, N., Aurela, M., Burba, G., Clement, R., De Ligne, A., Fratini, G., Gielen, B., Grace, J., Graf, A., Gross, P., Haapanala, S., Herbst, M., Hörtnagl, L., Ibrom, A., Joly, L., Kljun, N., Kolle, O., Kowalski, A., Lindroth, A., Loustau, D., Mammarella, I., Mauder, M., Merbold, L., Metzger, S., Mölder, M., Montagnani, L., Papale, D., Pavelka, M., Peichl, M., Roland, M., Serrano-Ortiz, P., Siebicke, L., Steinbrecher, R., Tuovinen, J.P., Vesala, T., Wohlfahrt, G. and Franz, D.
ICOS eddy covariance flux-station site setup: A review
2018
International Agrophysics
Vol. 32(4), pp. 471-494 
article
DOI URL 
Ricaud, P., Zbinden, R., Catoire, V., Brocchi, V., Dulac, F., Hamonou, E., Canonici, J.C., El Amraoui, L., Massart, S., Piguet, B., Dayan, U., Nabat, P., Sciare, J., Ramonet, M., Delmotte, M., Di Sarra, A., Sferlazzo, D., Di Iorio, T., Piacentino, S., Cristofanelli, P., Mihalopoulos, N., Kouvarakis, G., Pikridas, M., Savvides, C., Mamouri, R.E., Nisantzi, A., Hadjimitsis, D., Attié, J.L., Ferré, H., Kangah, Y., Jaidan, N., Guth, J., Jacquet, P., Chevrier, S., Robert, C., Bourdon, A., Bourdinot, J.F., Etienne, J.C., Krysztofiak, G. and Theron, P.
The GLAM airborne campaign across the Mediterranean Basin
2018
Bulletin of the American Meteorological Society
Vol. 99(2), pp. 361-380 
article
DOI URL 
Rinne, J., Tuittila, E.S., Peltola, O., Li, X., Raivonen, M., Alekseychik, P., Haapanala, S., Pihlatie, M., Aurela, M., Mammarella, I. and Vesala, T.
Temporal Variation of Ecosystem Scale Methane Emission From a Boreal Fen in Relation to Temperature, Water Table Position, and Carbon Dioxide Fluxes
2018
Global Biogeochemical Cycles
Vol. 32(7), pp. 1087-1106 
article
DOI  
Robinson, N.P., Allred, B.W., Smith, W.K., Jones, M.O., Moreno, A., Erickson, T.A., Naugle, D.E. and Running, S.W.
Terrestrial primary production for the conterminous United States derived from Landsat 30 m and MODIS 250 m
2018
Remote Sensing in Ecology and Conservation
Vol. 4(3), pp. 264-280 
article
DOI  
Rödenbeck, C., Zaehle, S., Keeling, R. and Heimann, M.
How does the terrestrial carbon exchange respond to inter-Annual climatic variations? A quantification based on atmospheric CO2 data
2018
Biogeosciences
Vol. 15(8), pp. 2481-2498 
article
DOI  
Roobaert, A., Laruelle, G.G., Landschützer, P. and Regnier, P.
Uncertainty in the global oceanic CO2 uptake induced by wind forcing: Quantification and spatial analysis
2018
Biogeosciences
Vol. 15(6), pp. 1701-1720 
article
DOI  
Sabbatini, S., Mammarella, I., Arriga, N., Fratini, G., Graf, A., Hörtnagl, L., Ibrom, A., Longdoz, B., Mauder, M., Merbold, L., Metzger, S., Montagnani, L., Pitacco, A., Rebmann, C., Sedlák, P., Šigut, L., Vitale, D. and Papale, D.
Eddy covariance raw data processing for CO 2 and energy fluxes calculation at ICOS ecosystem stations
2018
International Agrophysics
Vol. 32(4), pp. 495-515 
article
DOI URL 
Santalahti, M., Sun, H., Sietiö, O.M., Köster, K., Berninger, F., Laurila, T., Pumpanen, J. and Heinonsalo, J.
Reindeer grazing alter soil fungal community structure and litter decomposition related enzyme activities in boreal coniferous forests in Finnish Lapland
2018
Applied Soil Ecology
Vol. 132, pp. 74-82 
article
DOI  
Saunders, M., Dengel, S., Kolari, P., Moureaux, C., Montagnani, L., Ceschia, E., Altimir, N., López-Ballesteros, A., Mara'non-Jimenez, S., Acosta, M., Klumpp, K., Gielen, B., De Beeck, M.O., Hörtnagl, L., Merbold, L., Osborne, B., Grünwald, T., Arrouays, D., Boukir, H., Saby, N., Nicolini, G., Papale, D. and Jones, M.
Importance of reporting ancillary site characteristics, and management and disturbance information at ICOS stations
2018
International Agrophysics
Vol. 32(4), pp. 457-469 
article
DOI URL 
Siewert, M.B.
High-resolution digital mapping of soil organic carbon in permafrost terrain using machine learning: A case study in a sub-Arctic peatland environment
2018
Biogeosciences
Vol. 15(6), pp. 1663-1682 
article
DOI  
Singleton, C.M., McCalley, C.K., Woodcroft, B.J., Boyd, J.A., Evans, P.N., Hodgkins, S.B., Chanton, J.P., Frolking, S., Crill, P.M., Saleska, S.R., Rich, V.I. and Tyson, G.W.
Methanotrophy across a natural permafrost thaw environment
2018
ISME Journal
Vol. 12(10), pp. 2544-2558 
article
DOI  
Skogen, M.D., Hjøllo, S.S., Sandø, A.B. and Tjiputra, J.
Future ecosystem changes in the Northeast Atlantic: a comparison between a global and a regional model system
2018
ICES Journal of Marine Science
Vol. 75(7), pp. 2355-2369 
article
DOI  
Sponseller, R.A., Blackburn, M., Nilsson, M.B. and Laudon, H.
Headwater Mires Constitute a Major Source of Nitrogen (N) to Surface Waters in the Boreal Landscape
2018
Ecosystems
Vol. 21(1), pp. 31-44 
article
DOI  
Sprenger, M., Tetzlaff, D., Buttle, J., Carey, S.K., McNamara, J.P., Laudon, H., Shatilla, N.J. and Soulsby, C.
Storage, mixing, and fluxes of water in the critical zone across northern environments inferred by stable isotopes of soil water
2018
Hydrological Processes
Vol. 32(12), pp. 1720-1737 
article
DOI  
Sprenger, M., Tetzlaff, D., Buttle, J., Laudon, H., Leistert, H., Mitchell, C.P.J., Snelgrove, J., Weiler, M. and Soulsby, C.
Measuring and Modeling Stable Isotopes of Mobile and Bulk Soil Water
2018
Vadose Zone Journal
Vol. 17(1), pp. 170149 
article
DOI  
Stocker, M., Paasonen, P., Fiebig, M., Zaidan, M.A. and Hardisty, A.
Curating Scientific Information in Knowledge Infrastructures
2018
 
article
DOI URL 
Sun, W., Kooijmans, L.M., Maseyk, K., Chen, H., Mammarella, I., Vesala, T., Levula, J., Keskinen, H. and Seibt, U.
Soil fluxes of carbonyl sulfide (COS), carbon monoxide, and carbon dioxide in a boreal forest in southern Finland
2018
Atmospheric Chemistry and Physics
Vol. 18(2), pp. 1363-1378 
article
DOI  
Sun, Z., Wang, X., Yamamoto, H., Tani, H., Zhong, G. and Yin, S.
An attempt to introduce atmospheric CO2 concentration data to estimate the gross primary production by the terrestrial biosphere and analyze its effects
2018
Ecological Indicators
Vol. 84, pp. 218-234 
article
DOI  
Susiluoto, J., Raivonen, M., Backman, L., Laine, M., Makela, J., Peltola, O., Vesala, T. and Aalto, T.
Calibrating the sqHIMMELI v1.0 wetland methane emission model with hierarchical modeling and adaptive MCMC
2018
Geoscientific Model Development
Vol. 11(3), pp. 1199-1228 
article
DOI  
Tamrakar, R., Rayment, M.B., Moyano, F., Mund, M. and Knohl, A.
Implications of structural diversity for seasonal and annual carbon dioxide fluxes in two temperate deciduous forests
2018
Agricultural and Forest Meteorology
Vol. 263, pp. 465-476 
article
DOI  
Tang, J., Yurova, A.Y., Schurgers, G., Miller, P.A., Olin, S., Smith, B., Siewert, M.B., Olefeldt, D., Pilesjö, P. and Poska, A.
Drivers of dissolved organic carbon export in a subarctic catchment: Importance of microbial decomposition, sorption-desorption, peatland and lateral flow
2018
Science of the Total Environment
Vol. 622-623, pp. 260-274 
article
DOI  
Tiwari, T., Sponseller, R.A. and Laudon, H.
Extreme Climate Effects on Dissolved Organic Carbon Concentrations During Snowmelt
2018
Journal of Geophysical Research: Biogeosciences
Vol. 123(4), pp. 1277-1288 
article
DOI  
Trubl, G., Jang, H.B., Roux, S., Emerson, J.B., Solonenko, N., Vik, D.R., Solden, L., Ellenbogen, J., Runyon, A.T., Bolduc, B., Woodcroft, B.J., Saleska, S.R., Tyson, G.W., Wrighton, K.C., Sullivan, M.B. and Rich, V.I.
Soil Viruses Are Underexplored Players in Ecosystem Carbon Processing
2018
mSystems
Vol. 3(5) 
article
DOI  
Tudoroiu, M., Genesio, L., Gioli, B., Schume, H., Knohl, A., Brümmer, C. and Miglietta, F.
Solar dimming above temperate forests and its impact on local climate
2018
Environmental Research Letters
Vol. 13(6) 
article
DOI  
Ukkola, A.M., Pitman, A.J., Donat, M.G., De Kauwe, M.G. and Angélil, O.
Evaluating the Contribution of Land-Atmosphere Coupling to Heat Extremes in CMIP5 Models
2018
Geophysical Research Letters
Vol. 45(17), pp. 9003-9012 
article
DOI  
Van Der Velde, I.R., Miller, J.B., Van Der Molen, M.K., Tans, P.P., Vaughn, B.H., White, J.W.C., Schaefer, K. and Peters, W.
The CarbonTracker Data Assimilation System for CO 2 and δ 13 C (CTDAS-C13 v1.0): retrieving information on land-atmosphere exchange processes
2018
Geosci. Model Dev
Vol. 11, pp. 283-304 
article
DOI URL 
Vanbeveren, S.P.P., De Francesco, F., Ceulemans, R. and Spinelli, R.
Productivity of mechanized whip harvesting with the Stemster MkIII in a short-rotation coppice established on farmland
2018
Biomass and Bioenergy
Vol. 108, pp. 323-329 
article
DOI URL 
Vezy, R., Christina, M., Roupsard, O., Nouvellon, Y., Duursma, R., Medlyn, B., Soma, M., Charbonnier, F., Blitz-Frayret, C., Stape, J.L., Laclau, J.P., de Melo Virginio Filho, E., Bonnefond, J.M., Rapidel, B., Do, F.C., Rocheteau, A., Picart, D., Borgonovo, C., Loustau, D. and le Maire, G.
Measuring and modelling energy partitioning in canopies of varying complexity using MAESPA model
2018
Agricultural and Forest Meteorology
Vol. 253-254, pp. 203-217 
article
DOI  
Von Buttlar, J., Zscheischler, J., Rammig, A., Sippel, S., Reichstein, M., Knohl, A., Jung, M., Menzer, O., Altaf Arain, M., Buchmann, N., Cescatti, A., Gianelle, D., Kiely, G., Law, B.E., Magliulo, V., Margolis, H., McCaughey, H., Merbold, L., Migliavacca, M., Montagnani, L., Oechel, W., Pavelka, M., Peichl, M., Rambal, S., Raschi, A., Scott, R.L., Vaccari, F.P., Van Gorsel, E., Varlagin, A., Wohlfahrt, G. and Mahecha, M.D.
Impacts of droughts and extreme-temperature events on gross primary production and ecosystem respiration: A systematic assessment across ecosystems and climate zones
2018
Biogeosciences
Vol. 15(5), pp. 1293-1318 
article
DOI URL 
Walther, S., Guanter, L., Heim, B., Jung, M., Duveiller, G., Wolanin, A. and Sachs, T.
Assessing the dynamics of vegetation productivity in circumpolar regions with different satellite indicators of greenness and photosynthesis
2018
Biogeosciences
Vol. 15(20), pp. 6221-6256 
article
DOI  
Wang, C., Chen, J., Tang, Y., Black, T.A. and Zhu, K.
A Novel Method for Removing Snow Melting-Induced Fluctuation in GIMMS NDVI3g Data for Vegetation Phenology Monitoring: A Case Study in Deciduous Forests of North America
2018
IEEE Journal of Selected Topics in Applied Earth Observations and Remote Sensing
Vol. 11(3), pp. 800-807 
article
DOI  
Wang, M., Chen, Y., Wu, X. and Bai, Y.
Forest-Type-Dependent Water Use Efficiency Trends Across the Northern Hemisphere
2018
Geophysical Research Letters
Vol. 45(16), pp. 8283-8293 
article
DOI  
Wang, S., Ibrom, A., Bauer-Gottwein, P. and Garcia, M.
Incorporating diffuse radiation into a light use efficiency and evapotranspiration model: An 11-year study in a high latitude deciduous forest
2018
Agricultural and Forest Meteorology
Vol. 248, pp. 479-493 
article
DOI  
Wang, S., Lu, X., Cheng, X., Li, X., Peichl, M. and Mammarella, I.
Limitations and challenges of MODIS-derived phenological metrics across different landscapes in pan-Arctic regions
2018
Remote Sensing
Vol. 10(11), pp. 1784 
article
DOI  
Wang, Y., Broquet, G., Ciais, P., Chevallier, F., Vogel, F., Wu, L., Yin, Y., Wang, R. and Tao, S.
Potential of European 14CO2 observation network to estimate the fossil fuel CO2 emissions via atmospheric inversions
2018
Atmospheric Chemistry and Physics
Vol. 18(6), pp. 4229-4250 
article
DOI  
Webster, C. and Jonas, T.
Influence of canopy shading and snow coverage on effective albedo in a snow-dominated evergreen needleleaf forest
2018
Remote Sensing of Environment
Vol. 214, pp. 48-58 
article
DOI  
Weiss, R.F., Levin, I. and Meijer, Y.J.
Atmospheric monitoring and inverse modelling for verification of greenhouse gas inventories Tracking biosphere C emissions with radiocarbon measurements in northern Wisconsin View project Modelling and Informing Low-Emission Strategies View project
2018
School: Publications Office of the European Union, Luxembourg 
techreport
DOI URL 
Woodcroft, B.J., Singleton, C.M., Boyd, J.A., Evans, P.N., Emerson, J.B., Zayed, A.A.F., Hoelzle, R.D., Lamberton, T.O., McCalley, C.K., Hodgkins, S.B., Wilson, R.M., Purvine, S.O., Nicora, C.D., Li, C., Frolking, S., Chanton, J.P., Crill, P.M., Saleska, S.R., Rich, V.I. and Tyson, G.W.
Genome-centric view of carbon processing in thawing permafrost
2018
Nature
Vol. 560(7716), pp. 49-54 
article
DOI  
Wu, K., Lauvaux, T., Davis, K.J., Deng, A., Lopez Coto, I., Gurney, K.R. and Patarasuk, R.
Joint inverse estimation of fossil fuel and biogenic CO2 fluxes in an urban environment: An observing system simulation experiment to assess the impact of multiple uncertainties
2018
Elem Sci Anth
Vol. 6(1), pp. 17 
article
DOI URL 
Wu, L., Hristov, T. and Rutgersson, A.
Vertical profiles of wave-coherent momentum flux and velocity variances in the marine atmospheric boundary layer
2018
Journal of Physical Oceanography
Vol. 48(3), pp. 625-641 
article
DOI  
Wu, X., Liu, H., Li, X., Ciais, P., Babst, F., Guo, W., Zhang, C., Magliulo, V., Pavelka, M., Liu, S., Huang, Y., Wang, P., Shi, C. and Ma, Y.
Differentiating drought legacy effects on vegetation growth over the temperate Northern Hemisphere
2018
Global Change Biology
Vol. 24(1), pp. 504-516 
article
DOI URL 
Wutzler, T., Lucas-Moffat, A., Migliavacca, M., Knauer, J., Sickel, K., Šigut, L., Menzer, O. and Reichstein, M.
Basic and extensible post-processing of eddy covariance flux data with REddyProc
2018
Biogeosciences
Vol. 15(16), pp. 5015-5030 
article
DOI  
Xueref-Remy, I., Dieudonné, E., Vuillemin, C., Lopez, M., Lac, C., Schmidt, M., Delmotte, M., Chevallier, F., Ravetta, F., Perrussel, O., Ciais, P., Bréon, F.M., Broquet, G., Ramonet, M., Gerard Spain, T. and Ampe, C.
Diurnal, synoptic and seasonal variability of atmospheric CO2 in the Paris megacity area
2018
Atmospheric Chemistry and Physics
Vol. 18(5), pp. 3335-3362 
article
DOI URL 
Yasunaka, S., Siswanto, E., Olsen, A., Hoppema, M., Watanabe, E., Fransson, A., Chierici, M., Murata, A., Lauvset, S.K., Wanninkhof, R., Takahashi, T., Kosugi, N., Omar, A.M., Van Heuven, S. and Mathis, J.T.
Arctic Ocean CO2 uptake: An improved multiyear estimate of the air-sea CO2 flux incorporating chlorophyll a concentrations
2018
Biogeosciences
Vol. 15(6), pp. 1643-1661 
article
DOI  
Yazidi, A.E., Ramonet, M., Ciais, P., Broquet, G., Pison, I., Abbaris, A., Brunner, D., Conil, S., Delmotte, M., Gheusi, F., Guerin, F., Hazan, L., Kachroudi, N., Kouvarakis, G., Mihalopoulos, N., Rivier, L. and Serça, D.
Identification of spikes associated with local sources in continuous time series of atmospheric CO, CO2 and CH4
2018
Atmospheric Measurement Techniques
Vol. 11(3), pp. 1599-1614 
article
DOI  
Yuan, Y., Ries, L., Petermeier, H., Steinbacher, M., Gómez-Pelaéz, A.J., Leuenberger, M.C., Schumacher, M., Trickl, T., Couret, C., Meinhardt, F. and Menzel, A.
Adaptive selection of diurnal minimum variation: A statistical strategy to obtain representative atmospheric CO2 data and its application to European elevated mountain stations
2018
Atmospheric Measurement Techniques
Vol. 11(3), pp. 1501-1514 
article
DOI  
Zhang, W., Jansson, P.E., Schurgers, G., Hollesen, J., Lund, M., Abermann, J. and Elberling, B.
Process-Oriented Modeling of a High Arctic Tundra Ecosystem: Long-Term Carbon Budget and Ecosystem Responses to Interannual Variations of Climate
2018
Journal of Geophysical Research: Biogeosciences
Vol. 123(4), pp. 1178-1196 
article
DOI  
Zhang, Y., Joiner, J., Hamed Alemohammad, S., Zhou, S. and Gentine, P.
A global spatially contiguous solar-induced fluorescence (CSIF) dataset using neural networks
2018
Biogeosciences
Vol. 15(19), pp. 5779-5800 
article
DOI  
Zhang, Y., Xiao, X., Zhang, Y., Wolf, S., Zhou, S., Joiner, J., Guanter, L., Verma, M., Sun, Y., Yang, X., Paul-Limoges, E., Gough, C.M., Wohlfahrt, G., Gioli, B., van der Tol, C., Yann, N., Lund, M. and de Grandcourt, A.
On the relationship between sub-daily instantaneous and daily total gross primary production: Implications for interpreting satellite-based SIF retrievals
2018
Remote Sensing of Environment
Vol. 205, pp. 276-289 
article
DOI  
Zhou, M., Langerock, B., Vigouroux, C., Sha, M.K., Ramonet, M., Delmotte, M., Mahieu, E., Bader, W., Hermans, C., Kumps, N., Metzger, J.M., Duflot, V., Wang, Z., Palm, M. and De Mazière, M.
Atmospheric CO and CH4 time series and seasonal variations on Reunion Island from ground-based in situ and FTIR (NDACC and TCCON) measurements
2018
Atmospheric Chemistry and Physics
Vol. 18(19), pp. 13881-13901 
article
DOI  
Zweifel, R. and Sterck, F.
A Conceptual Tree Model Explaining Legacy Effects on Stem Growth
2018
Frontiers in Forests and Global Change
Vol. 1 
article
DOI  
Acosta, M., Darenova, E., Dušek, J. and Pavelka, M.
Soil carbon dioxide fluxes in a mixed floodplain forest in the Czech Republic
2017
European Journal of Soil Biology
Vol. 82, pp. 35-42 
article
DOI URL 
Acosta, M., Juszczak, R., Chojnicki, B., Pavelka, M., Havránková, K., Lesny, J., Krupková, L., Urbaniak, M., Machačová, K. and Olejnik, J.
CO2 Fluxes from Different Vegetation Communities on a Peatland Ecosystem
2017
Wetlands
Vol. 37(3), pp. 423-435 
article
DOI  
Ala-aho, P., Tetzlaff, D., McNamara, J.P., Laudon, H., Kormos, P. and Soulsby, C.
Modeling the isotopic evolution of snowpack and snowmelt: Testing a spatially distributed parsimonious approach
2017
Water Resources Research
Vol. 53(7), pp. 5813-5830 
article
DOI URL 
Alam, S.A., Huang, J.G., Stadt, K.J., Comeau, P.G., Dawson, A., Gea-Izquierdo, G., Aakala, T., Hölttä, T., Vesala, T., Mäkelä, A. and Berninger, F.
Effects of competition, drought stress and photosynthetic productivity on the radial growth of white spruce in western Canada
2017
Frontiers in Plant Science
Vol. 8 
article
DOI  
Alekseychik, P., Mammarella, I., Karpov, D., Dengel, S., Terentieva, I., Sabrekov, A., Glagolev, M. and Lapshina, E.
Net ecosystem exchange and energy fluxes measured with the eddy covariance technique in a western Siberian bog
2017
Atmospheric Chemistry and Physics
Vol. 17(15), pp. 9333-9345 
article
DOI  
Alekseychik, P.K., Korrensalo, A., Mammarella, I., Vesala, T. and Tuittila, E.S.
Relationship between aerodynamic roughness length and bulk sedge leaf area index in a mixed-species boreal mire complex
2017
Geophysical Research Letters
Vol. 44(11), pp. 5836-5843 
article
DOI URL 
Ameli, A.A.
Controls on subsurface transport of sorbing contaminant
2017
Hydrology Research
Vol. 48(5), pp. 1226-1239 
article
DOI URL 
Ameli, A.A., Beven, K., Erlandsson, M., Creed, I.F., McDonnell, J.J. and Bishop, K.
Primary weathering rates, water transit times, and concentration-discharge relations: A theoretical analysis for the critical zone
2017
Water Resources Research
Vol. 53(1), pp. 942-960 
article
DOI URL 
Amvrosiadi, N., Bishop, K. and Seibert, J.
Soil moisture storage estimation based on steady vertical fluxes under equilibrium
2017
Journal of Hydrology
Vol. 553, pp. 798-804 
article
DOI URL 
Amvrosiadi, N., Seibert, J., Grabs, T. and Bishop, K.
Water storage dynamics in a till hillslope: the foundation for modeling flows and turnover times
2017
Hydrological Processes
Vol. 31(1), pp. 4-14 
article
DOI URL 
Andriamandroso, A.L.H., Lebeau, F., Beckers, Y., Froidmont, E., Dufrasne, I., Heinesch, B., Dumortier, P., Blanchy, G., Blaise, Y. and Bindelle, J.
Development of an open-source algorithm based on inertial measurement units (IMU) of a smartphone to detect cattle grass intake and ruminating behaviors
2017
Computers and Electronics in Agriculture
Vol. 139, pp. 126-137 
article
DOI URL 
Arnone, V., González-Dávila, M. and Magdalena Santana-Casiano, J.
CO2 fluxes in the South African coastal region
2017
Marine Chemistry
Vol. 195, pp. 41-49 
article
DOI  
Arriga, N., Rannik, Ü., Aubinet, M., Carrara, A., Vesala, T. and Papale, D.
Experimental validation of footprint models for eddy covariance CO2 flux measurements above grassland by means of natural and artificial tracers
2017
Agricultural and Forest Meteorology
Vol. 242, pp. 75-84 
article
DOI URL 
Arslan, A.N., Tanis, C.M., Metsämäki, S., Aurela, M., Böttcher, K., Linkosalmi, M. and Peltoniemi, M.
Automated webcam monitoring of fractional snow cover in northern boreal conditions
2017
Geosciences (Switzerland)
Vol. 7(3), pp. 55 
article
DOI URL 
Askne, J.I.H., Soja, M.J. and Ulander, L.M.H.
Biomass estimation in a boreal forest from TanDEM-X data, lidar DTM, and the interferometric water cloud model
2017
Remote Sensing of Environment
Vol. 196, pp. 265-278 
article
DOI URL 
Auvinen, M., Järvi, L., Hellsten, A., Rannik, Ü. and Vesala, T.
Numerical framework for the computation of urban flux footprints employing large-eddy simulation and Lagrangian stochastic modeling
2017
Geoscientific Model Development
Vol. 10(11), pp. 4187-4205 
article
DOI URL 
Baccini, A., Walker, W., Carvalho, L., Farina, M., Sulla-Menashe, D. and Houghton, R.A.
Tropical forests are a net carbon source based on aboveground measurements of gain and loss
2017
Science
Vol. 358(6360), pp. 230-234 
article
DOI URL 
Bamberger, I., Oney, B., Brunner, D., Henne, S., Leuenberger, M., Buchmann, N. and Eugster, W.
Observations of Atmospheric Methane and Carbon Dioxide Mixing Ratios: Tall-Tower or Mountain-Top Stations?
2017
Boundary-Layer Meteorology
Vol. 164(1), pp. 135-159 
article
DOI URL 
Barnes, A.D., Allen, K., Kreft, H., Corre, M.D., Jochum, M., Veldkamp, E., Clough, Y., Daniel, R., Darras, K., Denmead, L.H., Farikhah Haneda, N., Hertel, D., Knohl, A., Kotowska, M.M., Kurniawan, S., Meijide, A., Rembold, K., Edho Prabowo, W., Schneider, D., Tscharntke, T. and Brose, U.
Direct and cascading impacts of tropical land-use change on multi-trophic biodiversity
2017
Nature Ecology and Evolution
Vol. 1(10), pp. 1511-1519 
article
DOI  
Berhanu, T.A., Szidat, S., Brunner, D., Satar, E., Schanda, R., Nyfeler, P., Battaglia, M., Steinbacher, M., Hammer, S. and Leuenberger, M.
Estimation of the fossil fuel component in atmospheric CO2 based on radiocarbon measurements at the Beromünster tall tower, Switzerland
2017
Atmospheric Chemistry and Physics
Vol. 17(17), pp. 10753-10766 
article
DOI URL 
Berhongaray, G., Verlinden, M.S., Broeckx, L.S., Janssens, I.A. and Ceulemans, R.
Soil carbon and belowground carbon balance of a short-rotation coppice: assessments from three different approaches
2017
GCB Bioenergy
Vol. 9(2), pp. 299-313 
article
DOI URL 
Bidleman, T.F., Brorström-Lundén, E., Hansson, K., Laudon, H., Nygren, O. and Tysklind, M.
Atmospheric Transport and Deposition of Bromoanisoles Along a Temperate to Arctic Gradient
2017
Environmental Science and Technology
Vol. 51(19), pp. 10974-10982 
article
DOI URL 
Bidleman, T.F., Laudon, H., Nygren, O., Svanberg, S. and Tysklind, M.
Chlorinated pesticides and natural brominated anisoles in air at three northern Baltic stations
2017
Environmental Pollution
Vol. 225, pp. 381-389 
article
DOI URL 
Blackburn, M., Ledesma, J.L.J., Näsholm, T., Laudon, H. and Sponseller, R.A.
Evaluating hillslope and riparian contributions to dissolved nitrogen (N) export from a boreal forest catchment
2017
Journal of Geophysical Research: Biogeosciences
Vol. 122(2), pp. 324-339 
article
DOI URL 
Bloemen, J., Fichot, R., Horemans, J.A., Broeckx, L.S., Verlinden, M.S., Zenone, T. and Ceulemans, R.
Water use of a multigenotype poplar short-rotation coppice from tree to stand scale
2017
GCB Bioenergy
Vol. 9(2), pp. 370-384 
article
DOI URL 
Blomquist, B.W., Brumer, S.E., Fairall, C.W., Huebert, B.J., Zappa, C.J., Brooks, I.M., Yang, M., Bariteau, L., Prytherch, J., Hare, J.E., Czerski, H., Matei, A. and Pascal, R.W.
Wind Speed and Sea State Dependencies of Air-Sea Gas Transfer: Results From the High Wind Speed Gas Exchange Study (HiWinGS)
2017
Journal of Geophysical Research: Oceans
Vol. 122(10), pp. 8034-8062 
article
DOI URL 
Boese, S., Jung, M., Carvalhais, N. and Reichstein, M.
The importance of radiation for semiempirical water-use efficiency models
2017
Biogeosciences
Vol. 14(12), pp. 3015-3026 
article
DOI URL 
Bogena, H., Franssen, H.-J.H., Montzka, C. and Vereecken, H.
A Blueprint for a Distributed Terrestrial Ecosystem Research Infrastructure
2017
Terrestrial Ecosystem Research Infrastructures, pp. 279-303 
incollection
DOI  
Bréchet, L., Le Dantec, V., Ponton, S., Goret, J.Y., Sayer, E., Bonal, D., Freycon, V., Roy, J. and Epron, D.
Short- and Long-term Influence of Litter Quality and Quantity on Simulated Heterotrophic Soil Respiration in a Lowland Tropical Forest
2017
Ecosystems
Vol. 20(6), pp. 1190-1204 
article
DOI URL 
Brümmer, C., Lyshede, B., Lempio, D., Delorme, J.P., Rüffer, J.J., Fuß, R., Moffat, A.M., Hurkuck, M., Ibrom, A., Ambus, P., Flessa, H. and Kutsch, W.L.
Gas chromatography vs. quantum cascade laser-based N2O flux measurements using a novel chamber design
2017
Biogeosciences
Vol. 14(6), pp. 1365-1381 
article
DOI URL 
Burrows, R.M., Laudon, H., McKie, B.G. and Sponseller, R.A.
Seasonal resource limitation of heterotrophic biofilms in boreal streams
2017
Limnology and Oceanography
Vol. 62(1), pp. 164-176 
article
DOI URL 
Buschmann, M., Deutscher, N.M., Palm, M., Warneke, T., Weinzierl, C. and Notholt, J.
The arctic seasonal cycle of total column CO2 and CH4 from ground-based solar and lunar FTIR absorption spectrometry
2017
Atmospheric Measurement Techniques
Vol. 10(7), pp. 2397-2411 
article
DOI  
Buysse, P., Bodson, B., Debacq, A., De Ligne, A., Heinesch, B., Manise, T., Moureaux, C. and Aubinet, M.
Carbon budget measurement over 12 years at a crop production site in the silty-loam region in Belgium
2017
Agricultural and Forest Meteorology
Vol. 246, pp. 241-255 
article
DOI URL 
Bye, I.J., North, P.R.J., Los, S.O., Kljun, N., Rosette, J.A.B., Hopkinson, C., Chasmer, L. and Mahoney, C.
Estimating forest canopy parameters from satellite waveform LiDAR by inversion of the FLIGHT three-dimensional radiative transfer model
2017
Remote Sensing of Environment
Vol. 188, pp. 177-189 
article
DOI URL 
Cai, Z., Jönsson, P., Jin, H. and Eklundh, L.
Performance of smoothing methods for reconstructing NDVI time-series and estimating vegetation phenology from MODIS data
2017
Remote Sensing
Vol. 9(12), pp. 1271 
article
DOI URL 
Campeau, A., Bishop, K.H., Billett, M.F., Garnett, M.H., Laudon, H., Leach, J.A., Nilsson, M.B., Öquist, M.G. and Wallin, M.B.
Aquatic export of young dissolved and gaseous carbon from a pristine boreal fen: Implications for peat carbon stock stability
2017
Global Change Biology
Vol. 23(12), pp. 5523-5536 
article
DOI URL 
Campeau, A., Wallin, M.B., Giesler, R., Löfgren, S., Mörth, C.M., Schiff, S., Venkiteswaran, J.J. and Bishop, K.
Multiple sources and sinks of dissolved inorganic carbon across Swedish streams, refocusing the lens of stable C isotopes
2017
Scientific Reports
Vol. 7(1), pp. 9158 
article
DOI URL 
Chen, L., Huang, J.G., Alam, S.A., Zhai, L., Dawson, A., Stadt, K.J. and Comeau, P.G.
Drought causes reduced growth of trembling aspen in western Canada
2017
Global Change Biology
Vol. 23(7), pp. 2887-2902 
article
DOI  
Combe, M., de Wit, A.J.W., Vilà-Guerau de Arellano, J., van der Molen, M.K., Magliulo, V. and Peters, W.
Grain Yield Observations Constrain Cropland CO2 Fluxes Over Europe
2017
Journal of Geophysical Research: Biogeosciences
Vol. 122(12), pp. 3238-3259 
article
DOI URL 
Darenova, E., Holub, P., Krupkova, L. and Pavelka, M.
Effect of repeated spring drought and summer heavy rain on managed grassland biomass production and CO2 efflux
2017
Journal of Plant Ecology
Vol. 10(3), pp. 476-485 
article
DOI URL 
Delogu, E., Le Dantec, V., Mordelet, P., Ceschia, E., Aubinet, M., Buysse, P. and Pattey, E.
Improved methodology to quantify the temperature sensitivity of the soil heterotrophic respiration in croplands
2017
Geoderma
Vol. 296, pp. 18-29 
article
DOI URL 
Delpierre, N., Guillemot, J., Dufrêne, E., Cecchini, S. and Nicolas, M.
Tree phenological ranks repeat from year to year and correlate with growth in temperate deciduous forests
2017
Agricultural and Forest Meteorology
Vol. 234-235, pp. 1-10 
article
DOI URL 
Demuzere, M., Harshan, S., Järvi, L., Roth, M., Grimmond, C.S.B., Masson, V., Oleson, K.W., Velasco, E. and Wouters, H.
Impact of urban canopy models and external parameters on the modelled urban energy balance in a tropical city
2017
Quarterly Journal of the Royal Meteorological Society
Vol. 143(704), pp. 1581-1596 
article
DOI URL 
Deng, J., McCalley, C.K., Frolking, S., Chanton, J., Crill, P., Varner, R., Tyson, G., Rich, V., Hines, M., Saleska, S.R. and Li, C.
Adding stable carbon isotopes improves model representation of the role of microbial communities in peatland methane cycling
2017
Journal of Advances in Modeling Earth Systems
Vol. 9(2), pp. 1412-1430 
article
DOI URL 
Digrado, A., Bachy, A., Mozaffar, A., Schoon, N., Bussotti, F., Amelynck, C., Dalcq, A.C., Fauconnier, M.L., Aubinet, M., Heinesch, B., du Jardin, P. and Delaplace, P.
Long-term measurements of chlorophyll a fluorescence using the JIP-test show that combined abiotic stresses influence the photosynthetic performance of the perennial ryegrass (Lolium perenne) in a managed temperate grassland
2017
Physiologia Plantarum
Vol. 161(3), pp. 355-371 
article
DOI URL 
Dinsmore, K.J., Drewer, J., Levy, P.E., George, C., Lohila, A., Aurela, M. and Skiba, U.M.
Growing season CH4 and N2O fluxes from a subarctic landscape in northern Finland; From chamber to landscape scale
2017
Biogeosciences
Vol. 14(4), pp. 799-815 
article
DOI URL 
Dobler, J.T., Zaccheo, T.S., Pernini, T.G., Blume, N., Broquet, G., Vogel, F., Ramonet, M., Braun, M., Staufer, J., Ciais, P. and Botos, C.
Demonstration of spatial greenhouse gas mapping using laser absorption spectrometers on local scales
2017
Journal of Applied Remote Sensing
Vol. 11(1), pp. 14002 
article
DOI URL 
Dumortier, P., Aubinet, M., Beckers, Y., Chopin, H., Debacq, A., Gourlez de la Motte, L., Jérôme, E., Wilmus, F. and Heinesch, B.
Methane balance of an intensively grazed pasture and estimation of the enteric methane emissions from cattle
2017
Agricultural and Forest Meteorology
Vol. 232, pp. 527-535 
article
DOI URL 
Dušek, J., Hudecová, Š. and Stellner, S.
Extreme precipitation and long-term precipitation changes in a Central European sedge-grass marsh in the context of flood occurrence
2017
Hydrological Sciences Journal
Vol. 62(11), pp. 1796-1808 
article
DOI URL 
Etchanchu, J., Rivalland, V., Gascoin, S., Cros, J., Tallec, T., Brut, A. and Boulet, G.
Effects of high spatial and temporal resolution Earth observations on simulated hydrometeorological variables in a cropland (southwestern France)
2017
Hydrology and Earth System Sciences
Vol. 21(11), pp. 5693-5708 
article
DOI URL 
Fassbender, A.J., Sabine, C.L. and Palevsky, H.I.
Nonuniform ocean acidification and attenuation of the ocean carbon sink
2017
Geophysical Research Letters
Vol. 44(16), pp. 8404-8413 
article
DOI URL 
Fay, A.R. and McKinley, G.A.
Correlations of surface ocean pCO textlesssubtextgreater2textless/subtextgreater to satellite chlorophyll on monthly to interannual timescales
2017
Global Biogeochemical Cycles
Vol. 31(3), pp. 436-455 
article
DOI URL 
Feng, E.Y., Koeve, W., Keller, D.P. and Oschlies, A.
Model-Based Assessment of the CO textlesssubtextgreater2textless/subtextgreater Sequestration Potential of Coastal Ocean Alkalinization
2017
Earth's Future
Vol. 5(12), pp. 1252-1266 
article
DOI URL 
Feng, S., Trnka, M., Hayes, M. and Zhang, Y.
Why do different drought indices show distinct future drought risk outcomes in the U.S. Great Plains?
2017
Journal of Climate
Vol. 30(1), pp. 265-278 
article
DOI URL 
Fernández-Martínez, M., Vicca, S., Janssens, I.A., Ciais, P., Obersteiner, M., Bartrons, M., Sardans, J., Verger, A., Canadell, J.G., Chevallier, F., Wang, X., Bernhofer, C., Curtis, P.S., Gianelle, D., Grünwald, T., Heinesch, B., Ibrom, A., Knohl, A., Laurila, T., Law, B.E., Limousin, J.M., Longdoz, B., Loustau, D., Mammarella, I., Matteucci, G., Monson, R.K., Montagnani, L., Moors, E.J., Munger, J.W., Papale, D., Piao, S.L. and Peñuelas, J.
Atmospheric deposition, CO2, and change in the land carbon sink
2017
Scientific Reports
Vol. 7(1), pp. 9632 
article
DOI URL 
Fisher, R.E., France, J.L., Lowry, D., Lanoisellé, M., Brownlow, R., Pyle, J.A., Cain, M., Warwick, N., Skiba, U.M., Drewer, J., Dinsmore, K.J., Leeson, S.R., Bauguitte, S.J.B., Wellpott, A., O'Shea, S.J., Allen, G., Gallagher, M.W., Pitt, J., Percival, C.J., Bower, K., George, C., Hayman, G.D., Aalto, T., Lohila, A., Aurela, M., Laurila, T., Crill, P.M., McCalley, C.K. and Nisbet, E.G.
Measurement of the 13C isotopic signature of methane emissions from northern European wetlands
2017
Global Biogeochemical Cycles
Vol. 31(3), pp. 605-623 
article
DOI URL 
Ford, D. and Barciela, R.
Global marine biogeochemical reanalyses assimilating two different sets of merged ocean colour products
2017
Remote Sensing of Environment
Vol. 203, pp. 40-54 
article
DOI URL 
Franklin, O., Cambui, C.A., Gruffman, L., Palmroth, S., Oren, R. and Näsholm, T.
The carbon bonus of organic nitrogen enhances nitrogen use efficiency of plants
2017
Plant Cell and Environment
Vol. 40(1), pp. 25-35 
article
DOI URL 
Fransson, A., Chierici, M., Skjelvan, I., Olsen, A., Assmy, P., Peterson, A.K., Spreen, G. and Ward, B.
Effects of sea‐ice and biogeochemical processes and storms on under‐ice water textlessitextgreaterftextless/itextgreater CO textlesssubtextgreater2textless/subtextgreater during the winter‐spring transition in the high textlessscptextgreaterAtextless/scptextgreater rctic textlessscptextgreaterOtextless/scptextgreater cean: Implications for sea‐air CO textlesssubtextgreater2textless/subtextgreater fluxes
2017
Journal of Geophysical Research: Oceans
Vol. 122(7), pp. 5566-5587 
article
DOI URL 
Fu, H., Zhu, J., Wang, C., Wang, H. and Zhao, R.
Underlying topography estimation over forest areas using high-resolution P-band single-baseline polInSAR data
2017
Remote Sensing
Vol. 9(4), pp. 363 
article
DOI URL 
Fu, Z., Stoy, P.C., Luo, Y., Chen, J., Sun, J., Montagnani, L., Wohlfahrt, G., Rahman, A.F., Rambal, S., Bernhofer, C., Wang, J., Shirkey, G. and Niu, S.
Climate controls over the net carbon uptake period and amplitude of net ecosystem production in temperate and boreal ecosystems
2017
Agricultural and Forest Meteorology
Vol. 243, pp. 9-18 
article
DOI URL 
Gao, Y., Markkanen, T., Aurela, M., Mammarella, I., Thum, T., Tsuruta, A., Yang, H. and Aalto, T.
Response of water use efficiency to summer drought in a boreal Scots pine forest in Finland
2017
Biogeosciences
Vol. 14(18), pp. 4409-4422 
article
DOI URL 
Garrett, L.E., Spreitzer, G.M. and Bacevice, P.A.
Co-constructing a Sense of Community at Work: The Emergence of Community in Coworking Spaces
2017
Organization Studies
Vol. 38(6), pp. 821-842 
article
DOI  
Gałka, M., Szal, M., Watson, E.J., Gallego-Sala, A., Amesbury, M.J., Charman, D.J., Roland, T.P., Edward Turner, T. and Swindles, G.T.
Vegetation Succession, Carbon Accumulation and Hydrological Change in Subarctic Peatlands, Abisko, Northern Sweden
2017
Permafrost and Periglacial Processes
Vol. 28(4), pp. 589-604 
article
DOI URL 
Gharamti, M.E., Tjiputra, J., Bethke, I., Samuelsen, A., Skjelvan, I., Bentsen, M. and Bertino, L.
Ensemble data assimilation for ocean biogeochemical state and parameter estimation at different sites
2017
Ocean Modelling
Vol. 112, pp. 65-89 
article
DOI  
Gim, H.J., Park, S.K., Kang, M., Thakuri, B.M., Kim, J. and Ho, C.H.
An improved parameterization of the allocation of assimilated carbon to plant parts in vegetation dynamics for Noah-MP
2017
Journal of Advances in Modeling Earth Systems
Vol. 9(4), pp. 1776-1794 
article
DOI  
González-Dávila, M., Santana Casiano, J.M. and Machín, F.
Changes in the partial pressure of carbon dioxide in the Mauritanian–Cap Vert upwelling region between 2005 and 2012
2017
Biogeosciences
Vol. 14(17), pp. 3859-3871 
article
DOI URL 
Gottselig, N., Amelung, W., Kirchner, J.W., Bol, R., Eugster, W., Granger, S.J., Hernández-Crespo, C., Herrmann, F., Keizer, J.J., Korkiakoski, M., Laudon, H., Lehner, I., Löfgren, S., Lohila, A., Macleod, C.J.A., Mölder, M., Müller, C., Nasta, P., Nischwitz, V., Paul-Limoges, E., Pierret, M.C., Pilegaard, K., Romano, N., Sebastià, M.T., Stähli, M., Voltz, M., Vereecken, H., Siemens, J. and Klumpp, E.
Elemental Composition of Natural Nanoparticles and Fine Colloids in European Forest Stream Waters and Their Role as Phosphorus Carriers
2017
Global Biogeochemical Cycles
Vol. 31(10), pp. 1592-1607 
article
DOI URL 
Graven, H., Allison, C.E., Etheridge, D.M., Hammer, S., Keeling, R.F., Levin, I., Meijer, H.A.J., Rubino, M., Tans, P.P., Trudinger, C.M., Vaughn, B.H. and White, J.W.C.
Compiled records of carbon isotopes in atmospheric CO2 for historical simulations in CMIP6
2017
Geoscientific Model Development
Vol. 10(12), pp. 4405-4417 
article
DOI URL 
Gregor, L., Kok, S. and Monteiro, P.M.S.
Empirical methods for the estimation of Southern Ocean CO<sub>2</sub>: support vector and random forest regression
2017
Biogeosciences
Vol. 14(23), pp. 5551-5569 
article
DOI URL 
Guillemot, J., Francois, C., Hmimina, G., Dufrêne, E., Martin-StPaul, N.K., Soudani, K., Marie, G., Ourcival, J.M. and Delpierre, N.
Environmental control of carbon allocation matters for modelling forest growth
2017
New Phytologist
Vol. 214(1), pp. 180-193 
article
DOI URL 
Haeni, M., Zweifel, R., Eugster, W., Gessler, A., Zielis, S., Bernhofer, C., Carrara, A., Grünwald, T., Havránková, K., Heinesch, B., Herbst, M., Ibrom, A., Knohl, A., Lagergren, F., Law, B.E., Marek, M., Matteucci, G., McCaughey, J.H., Minerbi, S., Montagnani, L., Moors, E., Olejnik, J., Pavelka, M., Pilegaard, K., Pita, G., Rodrigues, A., Sanz Sánchez, M.J., Schelhaas, M.J., Urbaniak, M., Valentini, R., Varlagin, A., Vesala, T., Vincke, C., Wu, J. and Buchmann, N.
Winter respiratory C losses provide explanatory power for net ecosystem productivity
2017
Journal of Geophysical Research: Biogeosciences
Vol. 122(1), pp. 243-260 
article
DOI URL 
Halmeenmäki, E., Heinonsalo, J., Putkinen, A., Santalahti, M., Fritze, H. and Pihlatie, M.
Above- and belowground fluxes of methane from boreal dwarf shrubs and Pinus sylvestris seedlings
2017
Plant and Soil
Vol. 420(1-2), pp. 361-373 
article
DOI  
Hammer, S., Friedrich, R., Kromer, B., Cherkinsky, A., Lehman, S.J., Meijer, H.A.J., Nakamura, T., Palonen, V., Reimer, R.W., Smith, A.M., Southon, J.R., Szidat, S., Turnbull, J. and Uchida, M.
Compatibility of Atmospheric 14CO2 Measurements: Comparing the Heidelberg Low-Level Counting Facility to International Accelerator Mass Spectrometry (AMS) Laboratories
2017
Radiocarbon
Vol. 59(3), pp. 875-883 
article
DOI URL 
Hansen, K., Personne, E., Skjøth, C.A., Loubet, B., Ibrom, A., Jensen, R., Sørensen, L.L. and Boegh, E.
Investigating sources of measured forest-atmosphere ammonia fluxes using two-layer bi-directional modelling
2017
Agricultural and Forest Meteorology
Vol. 237-238, pp. 80-94 
article
DOI URL 
He, L., Chen, J.M., Croft, H., Gonsamo, A., Luo, X., Liu, J., Zheng, T., Liu, R. and Liu, Y.
Nitrogen Availability Dampens the Positive Impacts of CO2 Fertilization on Terrestrial Ecosystem Carbon and Water Cycles
2017
Geophysical Research Letters
Vol. 44(22), pp. 11,590-11,600 
article
DOI  
Hofmann, M.E.G., Horváth, B., Schneider, L., Peters, W., Schützenmeister, K. and Pack, A.
Atmospheric measurements of Δ17O in CO2 in Göttingen, Germany reveal a seasonal cycle driven by biospheric uptake
2017
Geochimica et Cosmochimica Acta
Vol. 199, pp. 143-163 
article
DOI URL 
Horemans, J.A., Henrot, A., Delire, C., Kollas, C., Lasch-Born, P., Reyer, C., Suckow, F., Ois, L.F. and Ceulemans, R.
Combining multiple statistical methods to evaluate the performance of process-based vegetation models across three forest stands
2017
Central European Forestry Journal
Vol. 63(4), pp. 153-172 
article
DOI URL 
Horemans, J.A., Van Gaelen, H., Raes, D., Zenone, T. and Ceulemans, R.
Can the agricultural AquaCrop model simulate water use and yield of a poplar short-rotation coppice?
2017
GCB Bioenergy
Vol. 9(6), pp. 1151-1164 
article
DOI URL 
Hu, Z., Wu, G., Zhang, L., Li, S., Zhu, X., Zheng, H., Zhang, L., Sun, X. and Yu, G.
Modeling and partitioning of regional evapotranspiration using a satellite-driven water-carbon coupling model
2017
Remote Sensing
Vol. 9(1) 
article
DOI  
Hurdebise, Q., Heinesch, B., De Ligne, A., Vincke, C. and Aubinet, M.
Impact of canopy aerodynamic distance spatial and temporal variability on long term eddy covariance measurements
2017
Agricultural and Forest Meteorology
Vol. 247, pp. 131-138 
article
DOI URL 
Ibánhez, J.S.P., Flores, M. and Lefèvre, N.
Collapse of the tropical and subtropical North Atlantic CO2 sink in boreal spring of 2010
2017
Scientific Reports
Vol. 7, pp. 41694 
article
DOI URL 
Jammet, M., Dengel, S., Kettner, E., Parmentier, F.J.W., Wik, M., Crill, P. and Friborg, T.
Year-round CH4 and CO2 flux dynamics in two contrasting freshwater ecosystems of the subarctic
2017
Biogeosciences
Vol. 14(22), pp. 5189-5216 
article
DOI URL 
Järvi, L., Grimmond, C.S.B., McFadden, J.P., Christen, A., Strachan, I.B., Taka, M., Warsta, L. and Heimann, M.
Warming effects on the urban hydrology in cold climate regions
2017
Scientific Reports
Vol. 7(1), pp. 5833 
article
DOI URL 
Jin, H., Jönsson, A.M., Bolmgren, K., Langvall, O. and Eklundh, L.
Disentangling remotely-sensed plant phenology and snow seasonality at northern Europe using MODIS and the plant phenology index
2017
Remote Sensing of Environment
Vol. 198, pp. 203-212 
article
DOI URL 
Jocher, G., Ottosson Löfvenius, M., De Simon, G., Hörnlund, T., Linder, S., Lundmark, T., Marshall, J., Nilsson, M.B., Näsholm, T., Tarvainen, L., Öquist, M. and Peichl, M.
Apparent winter CO2 uptake by a boreal forest due to decoupling
2017
Agricultural and Forest Meteorology
Vol. 232, pp. 23-34 
article
DOI URL 
Jones, E.M., Hoppema, M., Strass, V., Hauck, J., Salt, L., Ossebaar, S., Klaas, C., van Heuven, S.M.A.C., Wolf-Gladrow, D., Stöven, T. and de Baar, H.J.W.
Mesoscale features create hotspots of carbon uptake in the Antarctic Circumpolar Current
2017
Deep-Sea Research Part II: Topical Studies in Oceanography
Vol. 138, pp. 39-51 
article
DOI URL 
Jonsson, M., Burrows, R.M., Lidman, J., Fältström, E., Laudon, H. and Sponseller, R.A.
Land use influences macroinvertebrate community composition in boreal headwaters through altered stream conditions
2017
Ambio
Vol. 46(3), pp. 311-323 
article
DOI URL 
Jung, M., Reichstein, M., Schwalm, C.R., Huntingford, C., Sitch, S., Ahlström, A., Arneth, A., Camps-Valls, G., Ciais, P., Friedlingstein, P., Gans, F., Ichii, K., Jain, A.K., Kato, E., Papale, D., Poulter, B., Raduly, B., Rödenbeck, C., Tramontana, G., Viovy, N., Wang, Y.P., Weber, U., Zaehle, S. and Zeng, N.
Compensatory water effects link yearly global land CO 2 sink changes to temperature
2017
Nature
Vol. 541(7638), pp. 516-520 
article
DOI URL 
Juráň, S., Pallozzi, E., Guidolotti, G., Fares, S., Šigut, L., Calfapietra, C., Alivernini, A., Savi, F., VečeÅ™ová, K., Křůmal, K., VečeÅ™a, Z. and Urban, O.
Fluxes of biogenic volatile organic compounds above temperate Norway spruce forest of the Czech Republic
2017
Agricultural and Forest Meteorology
Vol. 232, pp. 500-513 
article
DOI URL 
Kitidis, V., Brown, I., Hardman-Mountford, N. and Lefèvre, N.
Surface ocean carbon dioxide during the Atlantic Meridional Transect (1995–2013); evidence of ocean acidification
2017
Progress in Oceanography
Vol. 158, pp. 65-75 
article
DOI URL 
Klosterhalfen, A., Herbst, M., Weihermüller, L., Graf, A., Schmidt, M., Stadler, A., Schneider, K., Subke, J.A., Huisman, J.A. and Vereecken, H.
Multi-site calibration and validation of a net ecosystem carbon exchange model for croplands
2017
Ecological Modelling
Vol. 363, pp. 137-156 
article
DOI URL 
Koirala, S., Jung, M., Reichstein, M., de Graaf, I.E.M., Camps-Valls, G., Ichii, K., Papale, D., Ráduly, B., Schwalm, C.R., Tramontana, G. and Carvalhais, N.
Global distribution of groundwater-vegetation spatial covariation
2017
Geophysical Research Letters
Vol. 44(9), pp. 4134-4142 
article
DOI URL 
Kooijmans, L.M.J., Maseyk, K., Seibt, U., Sun, W., Vesala, T., Mammarella, I., Kolari, P., Aalto, J., Franchin, A., Vecchi, R., Valli, G. and Chen, H.
Canopy uptake dominates nighttime carbonyl sulfide fluxes in a boreal forest
2017
Atmospheric Chemistry and Physics
Vol. 17(18), pp. 11453-11465 
article
DOI URL 
Korkiakoski, M., Tuovinen, J.P., Aurela, M., Koskinen, M., Minkkinen, K., Ojanen, P., Penttilä, T., Rainne, J., Laurila, T. and Lohila, A.
Methane exchange at the peatland forest floor - Automatic chamber system exposes the dynamics of small fluxes
2017
Biogeosciences
Vol. 14(7), pp. 1947-1967 
article
DOI URL 
Korrensalo, A., Alekseychik, P., Hájek, T., Rinne, J., Vesala, T., Mehtätalo, L., Mammarella, I. and Tuittila, E.S.
Species-specific temporal variation in photosynthesis as a moderator of peatland carbon sequestration
2017
Biogeosciences
Vol. 14(2), pp. 257-269 
article
DOI URL 
Köster, E., Köster, K., Berninger, F., Aaltonen, H., Zhou, X. and Pumpanen, J.
Carbon dioxide, methane and nitrous oxide fluxes from a fire chronosequence in subarctic boreal forests of Canada
2017
Science of the Total Environment
Vol. 601-602, pp. 895-905 
article
DOI  
Kozii, N., Laudon, H., Ottosson-Löfvenius, M. and Hasselquist, N.J.
Increasing water losses from snow captured in the canopy of boreal forests: A case study using a 30Â year data set
2017
Hydrological Processes
Vol. 31(20), pp. 3558-3567 
article
DOI URL 
Krüger, J.P., Conen, F., Leifeld, J. and Alewell, C.
Palsa Uplift Identified by Stable Isotope Depth Profiles and Relation of δ15N to C/N Ratio
2017
Permafrost and Periglacial Processes
Vol. 28(2), pp. 485-492 
article
DOI URL 
Krupková, L., Marková, I., Havránková, K., Pokorný, R., Urban, O., Šigut, L., Pavelka, M., Cienciala, E. and Marek, M.V.
Comparison of different approaches of radiation use efficiency of biomass formation estimation in Mountain Norway spruce
2017
Trees - Structure and Function
Vol. 31(1), pp. 325-337 
article
DOI URL 
Lansø, A.S., Sørensen, L.L., Christensen, J.H., Rutgersson, A. and Geels, C.
The influence of short-term variability in surface water pCO2 on modelled air-sea CO2 exchange
2017
Tellus, Series B: Chemical and Physical Meteorology
Vol. 69(1), pp. 1302670 
article
DOI URL 
Laruelle, G.G., Landschützer, P., Gruber, N., Tison, J.-L., Delille, B. and Regnier, P.
Global high-resolution monthly <i>p</i>CO<sub>2</sub> climatology for the coastal ocean derived from neural network interpolation
2017
Biogeosciences
Vol. 14(19), pp. 4545-4561 
article
DOI URL 
Laudon, H., Spence, C., Buttle, J., Carey, S.K., McDonnell, J.J., McNamara, J.P., Soulsby, C. and Tetzlaff, D.
Save northern high-latitude catchments
2017
Nature Geoscience
Vol. 10(5), pp. 324-325 
article
DOI URL 
Laufs, S., Cazaunau, M., Stella, P., Kurtenbach, R., Cellier, P., Mellouki, A., Loubet, B. and Kleffmann, J.
Diurnal fluxes of HONO above a crop rotation
2017
Atmospheric Chemistry and Physics
Vol. 17(11), pp. 6907-6923 
article
DOI URL 
Leach, J.A., Lidberg, W., Kuglerová, L., Peralta-Tapia, A., Ågren, A. and Laudon, H.
Evaluating topography-based predictions of shallow lateral groundwater discharge zones for a boreal lake-stream system
2017
Water Resources Research
Vol. 53(7), pp. 5420-5437 
article
DOI URL 
Ledesma, J.L.J. and Futter, M.N.
Gridded climate data products are an alternative to instrumental measurements as inputs to rainfall–runoff models
2017
Hydrological Processes
Vol. 31(18), pp. 3283-3293 
article
DOI URL 
Lefèvre, N., Montes, M.F., Gaspar, F.L., Rocha, C., Jiang, S., De Araújo, M.C. and Severino Pino Ibánhez, J.
Net heterotrophy in the Amazon continental shelf changes rapidly to a sink of CO2 in the outer Amazon plume
2017
Frontiers in Marine Science
Vol. 4(SEP) 
article
DOI URL 
Lefèvre, N., da Silva Dias, F.J., de Torres, A.R., Noriega, C., Araujo, M., de Castro, A.C.L., Rocha, C., Jiang, S. and Ibánhez, J.S.P.
A source of CO2 to the atmosphere throughout the year in the Maranhense continental shelf (2°30'S, Brazil)
2017
Continental Shelf Research
Vol. 141, pp. 38-50 
article
DOI URL 
Levin, I., Schmithüsen, D. and Vermeulen, A.
Assessment of 222radon progeny loss in long tubing based on static filter measurements in the laboratory and in the field
2017
Atmospheric Measurement Techniques
Vol. 10(4), pp. 1313-1321 
article
DOI URL 
Li, W., Ciais, P., Peng, S., Yue, C., Wang, Y., Thurner, M., Saatchi, S.S., Arneth, A., Avitabile, V., Carvalhais, N., Harper, A.B., Kato, E., Koven, C., Liu, Y.Y., Nabel, J.E.M.S., Pan, Y., Pongratz, J., Poulter, B., Pugh, T.A.M., Santoro, M., Sitch, S., Stocker, B.D., Viovy, N., Wiltshire, A., Yousefpour, R. and Zaehle, S.
Land-use and land-cover change carbon emissions between 1901 and 2012 constrained by biomass observations
2017

Vol. 14(22)Biogeosciences, pp. 5053-5067 
misc
DOI  
Liang, A., Gong, W., Han, G. and Xiang, C.
Comparison of satellite-observed XCO2 from GOSAT, OCO-2, and ground-based TCCON
2017
Remote Sensing
Vol. 9(10) 
article
DOI  
Liang, A., Han, G., Gong, W., Yang, J. and Xiang, C.
Comparison of global XCO2 concentrations from OCO-2 with TCCON data in terms of latitude zones
2017
IEEE Journal of Selected Topics in Applied Earth Observations and Remote Sensing
Vol. 10(6), pp. 2491-2498 
article
DOI  
Lidberg, W., Nilsson, M., Lundmark, T. and Ågren, A.M.
Evaluating preprocessing methods of digital elevation models for hydrological modelling
2017
Hydrological Processes
Vol. 31(26), pp. 4660-4668 
article
DOI URL 
Lidman, F., Boily, Å., Laudon, H. and Köhler, S.J.
From soil water to surface water-how the riparian zone controls element transport from a boreal forest to a stream
2017
Biogeosciences
Vol. 14(12), pp. 3001-3014 
article
DOI URL 
Lidman, J., Jonsson, M., Burrows, R.M., Bundschuh, M. and Sponseller, R.A.
Composition of riparian litter input regulates organic matter decomposition: Implications for headwater stream functioning in a managed forest landscape
2017
Ecology and Evolution
Vol. 7(4), pp. 1068-1077 
article
DOI URL 
Lim, H., Oren, R., Linder, S., From, F., Nordin, A., Fahlvik, N., Lundmark, T. and Näsholm, T.
Annual climate variation modifies nitrogen induced carbon accumulation of Pinus sylvestris forests
2017
Ecological Applications
Vol. 27(6), pp. 1838-1851 
article
DOI URL 
Lin, D., Zhu, J., Fu, H., Xie, Q. and Zhang, B.
A TSVD-based method for forest height inversion from single-baseline polInSAR data
2017
Applied Sciences (Switzerland)
Vol. 7(5), pp. 435 
article
DOI URL 
Liu, W.T. and Xie, X.
Space Observation of Carbon Dioxide Partial Pressure at Ocean Surface
2017
IEEE Journal of Selected Topics in Applied Earth Observations and Remote Sensing
Vol. 10(12), pp. 5472-5484 
article
DOI  
Liu, Y., Gruber, N. and Brunner, D.
Spatiotemporal patterns of the fossil-fuel CO2 signal in central Europe: Results from a high-resolution atmospheric transport model
2017
Atmospheric Chemistry and Physics
Vol. 17(22), pp. 14145-14169 
article
DOI URL 
Lognoul, M., Theodorakopoulos, N., Hiel, M.P., Regaert, D., Broux, F., Heinesch, B., Bodson, B., Vandenbol, M. and Aubinet, M.
Impact of tillage on greenhouse gas emissions by an agricultural crop and dynamics of N2O fluxes: Insights from automated closed chamber measurements
2017
Soil and Tillage Research
Vol. 167, pp. 80-89 
article
DOI URL 
Mahecha, M., Gans, F., Sippel, S., Donges, J., Kaminski, T., Metzger, S., Migliavacca, M., Papale, D., Rammig, A. and Zscheischler, J.
Detecting impacts of extreme events with ecological in situ monitoring networks
2017
Biogeosciences
Vol. 14(18), pp. 4255-4277 
article
DOI URL 
Manno, C., Bednaršek, N., Tarling, G.A., Peck, V.L., Comeau, S., Adhikari, D., Bakker, D.C., Bauerfeind, E., Bergan, A.J., Berning, M.I., Buitenhuis, E., Burridge, A.K., Chierici, M., Flöter, S., Fransson, A., Gardner, J., Howes, E.L., Keul, N., Kimoto, K., Kohnert, P., Lawson, G.L., Lischka, S., Maas, A., Mekkes, L., Oakes, R.L., Pebody, C., Peijnenburg, K.T., Seifert, M., Skinner, J., Thibodeau, P.S., Wall-Palmer, D. and Ziveri, P.
Shelled pteropods in peril: Assessing vulnerability in a high CO2 ocean
2017

Vol. 169Earth-Science Reviews, pp. 132-145 
misc
DOI  
Marková, I., Janouš, D. and Nezval, O.
Temperature conditions at the mountain study site of Bílý KÅ™íž (the Beskids Mts.) during the past 20 years
2017
Beskydy
Vol. 10(1-2), pp. 113-122 
article
DOI URL 
McKinley, G.A., Fay, A.R., Lovenduski, N.S. and Pilcher, D.J.
Natural Variability and Anthropogenic Trends in the Ocean Carbon Sink
2017
Annual Review of Marine Science
Vol. 9(1), pp. 125-150 
article
DOI URL 
van Meeningen, Y., Wang, M., Karlsson, T., Seifert, A., Schurgers, G., Rinnan, R. and Holst, T.
Isoprenoid emission variation of Norway spruce across a European latitudinal transect
2017
Atmospheric Environment
Vol. 170, pp. 45-57 
article
DOI URL 
Moffat, A.M. and Brümmer, C.
Improved parameterization of the commonly used exponential equation for calculating soil-atmosphere exchange fluxes from closed-chamber measurements
2017
Agricultural and Forest Meteorology
Vol. 240-241, pp. 18-25 
article
DOI URL 
Mondav, R., McCalley, C.K., Hodgkins, S.B., Frolking, S., Saleska, S.R., Rich, V.I., Chanton, J.P. and Crill, P.M.
Microbial network, phylogenetic diversity and community membership in the active layer across a permafrost thaw gradient
2017
Environmental Microbiology
Vol. 19(8), pp. 3201-3218 
article
DOI URL 
Montzka, C., Bogena, H.R., Zreda, M., Monerris, A., Morrison, R., Muddu, S. and Vereecken, H.
Validation of spaceborne and modelled surface soil moisture products with Cosmic-Ray Neutron Probes
2017
Remote Sensing
Vol. 9(2), pp. 103 
article
DOI URL 
Mozaffar, A., Schoon, N., Digrado, A., Bachy, A., Delaplace, P., du Jardin, P., Fauconnier, M.L., Aubinet, M., Heinesch, B. and Amelynck, C.
Methanol emissions from maize: Ontogenetic dependence to varying light conditions and guttation as an additional factor constraining the flux
2017
Atmospheric Environment
Vol. 152, pp. 405-417 
article
DOI URL 
Musavi, T., Migliavacca, M., Reichstein, M., Kattge, J., Wirth, C., Black, T.A., Janssens, I., Knohl, A., Loustau, D., Roupsard, O., Varlagin, A., Rambal, S., Cescatti, A., Gianelle, D., Kondo, H., Tamrakar, R. and Mahecha, M.D.
Stand age and species richness dampen interannual variation of ecosystem-level photosynthetic capacity
2017
Nature Ecology and Evolution
Vol. 1(2), pp. 48 
article
DOI URL 
Napoly, A., Boone, A., Samuelsson, P., Gollvik, S., Martin, E., Seferian, R., Carrer, D., Decharme, B. and Jarlan, L.
The interactions between soil-biosphere-atmosphere (ISBA) land surface model multi-energy balance (MEB) option in SURFEXv8 - Part 2: Introduction of a litter formulation and model evaluation for local-scale forest sites
2017
Geoscientific Model Development
Vol. 10(4), pp. 1621-1644 
article
DOI URL 
Nezval, O. and Pavelka, M.
Microclimate changes in a spruce stand and meadow ecosystem during a solar eclipse in the Czech Republic
2017
Weather
Vol. 72(3), pp. 67-72 
article
DOI URL 
Nguyen, V.X., Guerra Torres, C.P., Yadav, S., Pavelka, M. and Marek, M.V.
Wind characteristics of CzeCOS's ecosystem station Bílý KÅ™íž
2017
Beskydy
Vol. 10(1-2), pp. 33-40 
article
DOI URL 
Nicolini, G., Fratini, G., Avilov, V., Kurbatova, J.A., Vasenev, I. and Valentini, R.
Performance of eddy-covariance measurements in fetch-limited applications
2017
Theoretical and Applied Climatology
Vol. 127(3-4), pp. 829-840 
article
DOI URL 
Nijp, J.J., Metselaar, K., Limpens, J., Teutschbein, C., Peichl, M., Nilsson, M.B., Berendse, F. and van der Zee, S.E.
Including hydrological self-regulating processes in peatland models: Effects on peatmoss drought projections
2017
Science of the Total Environment
Vol. 580, pp. 1389-1400 
article
DOI  
Normand, A.E., Smith, A.N., Clark, M.W., Long, J.R. and Reddy, K.R.
Chemical Composition of Soil Organic Matter in a Subarctic Peatland: Influence of Shifting Vegetation Communities
2017
Soil Science Society of America Journal
Vol. 81(1), pp. 41-49 
article
DOI URL 
Oney, B., Gruber, N., Henne, S., Leuenberger, M. and Brunner, D.
A CO-based method to determine the regional biospheric signal in atmospheric CO2
2017
Tellus, Series B: Chemical and Physical Meteorology
Vol. 69(1), pp. 1353388 
article
DOI URL 
Oni, S.K., Mieres, F., Futter, M.N. and Laudon, H.
Soil temperature responses to climate change along a gradient of upland–riparian transect in boreal forest
2017
Climatic Change
Vol. 143(1-2), pp. 27-41 
article
DOI URL 
Osterwalder, S., Bishop, K., Alewell, C., Fritsche, J., Laudon, H., Åkerblom, S. and Nilsson, M.B.
Mercury evasion from a boreal peatland shortens the timeline for recovery from legacy pollution
2017
Scientific Reports
Vol. 7(1), pp. 16022 
article
DOI URL 
Palmqvist, K., Franklin, O. and Näsholm, T.
Symbiosis constraints: Strong mycobiont control limits nutrient response in lichens
2017
Ecology and Evolution
Vol. 7(18), pp. 7420-7433 
article
DOI URL 
Parard, G., Rutgersson, A., Parampil, S.R. and Alexandre Charantonis, A.
The potential of using remote sensing data to estimate air–sea CO2 exchange in the Baltic Sea
2017
Earth System Dynamics
Vol. 8(4), pp. 1093-1106 
article
DOI URL 
Pastorello, G., Gunter, D., Chu, H., Christianson, D., Trotta, C., Canfora, E., Faybishenko, B., Cheah, Y.W., Beekwilder, N., Chan, S., Dengel, S., Keenan, T., O'brien, F., Elbashandy, A., Poindexter, C., Humphrey, M., Papale, D. and Agarwal, D.
Hunting data rogues at scale: Data quality control for observational data in research infrastructures
2017
Proceedings - 13th IEEE International Conference on eScience, eScience 2017, pp. 446-447 
inproceedings
DOI URL 
Patra, P.K., Crisp, D., Kaiser, J.W., Wunch, D., Saeki, T., Ichii, K., Sekiya, T., Wennberg, P.O., Feist, D.G., Pollard, D.F., Griffith, D.W., Velazco, V.A., De Maziere, M., Sha, M.K., Roehl, C., Chatterjee, A. and Ishijima, K.
The Orbiting Carbon Observatory (OCO-2) tracks 2-3 peta-gram increase in carbon release to the atmosphere during the 2014-2016 El Niño
2017
Scientific Reports
Vol. 7(1) 
article
DOI  
Persson, H.J. and Fransson, J.E.S.
Comparison between TanDEM-X- and ALS-based estimation of aboveground biomass and tree height in boreal forests
2017
Scandinavian Journal of Forest Research
Vol. 32(4), pp. 306-319 
article
DOI URL 
Poltera, Y., Martucci, G., Collaud Coen, M., Hervo, M., Emmenegger, L., Henne, S., Brunner, D. and Haefele, A.
PathfinderTURB: An automatic boundary layer algorithm. Development, validation and application to study the impact on in situ measurements at the Jungfraujoch
2017
Atmospheric Chemistry and Physics
Vol. 17(16), pp. 10051-10070 
article
DOI  
Post, H., Vrugt, J.A., Fox, A., Vereecken, H. and Hendricks Franssen, H.J.
Estimation of Community Land Model parameters for an improved assessment of net carbon fluxes at European sites
2017
Journal of Geophysical Research: Biogeosciences
Vol. 122(3), pp. 661-689 
article
DOI URL 
Pulliainen, J., Aurela, M., Laurila, T., Aalto, T., Takala, M., Salminen, M., Kulmala, M., Barr, A., Heimann, M., Lindroth, A., Laaksonen, A., Derksen, C., Mäkelä, A., Markkanen, T., Lemmetyinen, J., Susiluoto, J., Dengel, S., Mammarella, I., Tuovinen, J.P. and Vesala, T.
Early snowmelt significantly enhances boreal springtime carbon uptake
2017
Proceedings of the National Academy of Sciences of the United States of America
Vol. 114(42), pp. 11081-11086 
article
DOI URL 
Raivonen, M., Smolander, S., Backman, L., Susiluoto, J., Aalto, T., Markkanen, T., Mäkelä, J., Rinne, J., Peltola, O., Aurela, M., Lohila, A., Tomasic, M., Li, X., Larmola, T., Juutinen, S., Tuittila, E.S., Heimann, M., Sevanto, S., Kleinen, T., Brovkin, V. and Vesala, T.
HIMMELI v1.0: HelsinkI Model of MEthane buiLd-up and emIssion for peatlands
2017
Geoscientific Model Development
Vol. 10(12), pp. 4665-4691 
article
DOI URL 
Rodrigues, A., Vanbeveren, S.P.P., Costa, M. and Ceulemans, R.
Relationship between soil chemical composition and potential fuel quality of biomass from poplar short rotation coppices in Portugal and Belgium
2017
Biomass and Bioenergy
Vol. 105, pp. 66-72 
article
DOI URL 
Salomón, R.L., Limousin, J.M., Ourcival, J.M., Rodríguez-Calcerrada, J. and Steppe, K.
Stem hydraulic capacitance decreases with drought stress: implications for modelling tree hydraulics in the Mediterranean oak Quercus ilex
2017
Plant Cell and Environment
Vol. 40(8), pp. 1379-1391 
article
DOI URL 
Saunois, M., Bousquet, P., Poulter, B., Peregon, A., Ciais, P., Canadell, J.G., Dlugokencky, E.J., Etiope, G., Bastviken, D., Houweling, S., Janssens-Maenhout, G., Tubiello, F.N., Castaldi, S., Jackson, R.B., Alexe, M., Arora, V.K., Beerling, D.J., Bergamaschi, P., Blake, D.R., Brailsford, G., Bruhwiler, L., Kim, S., Kleinen, T., Krummel, P., Lamarque, J.-F., Langenfelds, R., Locatelli, R., Machida, T., Maksyutov, S., Melton, J.R., Morino, I., Naik, V., O'doherty, S., Parmentier, F.-J.W., Patra, P.K., Peng, C., Peng, S., Peters, G.P., Pison, I., Prinn, R., Ramonet, M., Riley, W.J., Saito, M., Santini, M., Schroeder, R., Simpson, I.J., Spahni, R., Takizawa, A., Thornton, B.F., Tian, H., Tohjima, Y., Viovy, N., Voulgarakis, A., Weiss, R., Wilton, D.J., Wiltshire, A., Worthy, D., Wunch, D., Xu, X., Yoshida, Y., Zhang, B., Zhang, Z. and Zhu, Q.
Variability and quasi-decadal changes in the methane budget over the period 2000-2012
2017
Christian Frankenberg
Vol. 17, pp. 11135-11161 
article
DOI URL 
Schlund, M., Scipal, K. and Davidson, M.W.J.
Forest classification and impact of BIOMASS resolution on forest area and aboveground biomass estimation
2017
International Journal of Applied Earth Observation and Geoinformation
Vol. 56, pp. 65-76 
article
DOI URL 
Schmithüsen, D., Chambers, S., Fischer, B., Gilge, S., Hatakka, J., Kazan, V., Neubert, R., Paatero, J., Ramonet, M., Schlosser, C., Schmid, S., Vermeulen, A. and Levin, I.
A European-wide 222radon and 222radon progeny comparison study
2017
Atmospheric Measurement Techniques
Vol. 10(4), pp. 1299-1312 
article
DOI URL 
Scholze, M., Buchwitz, M., Dorigo, W., Guanter, L. and Quegan, S.
Reviews and syntheses: Systematic Earth observations for use in terrestrial carbon cycle data assimilation systems
2017
Biogeosciences
Vol. 14, pp. 3401-3429 
article
DOI URL 
Schrön, M., Köhli, M., Scheiffele, L., Iwema, J., Bogena, H.R., Lv, L., Martini, E., Baroni, G., Rosolem, R., Weimar, J., Mai, J., Cuntz, M., Rebmann, C., Oswald, S.E., Dietrich, P., Schmidt, U. and Zacharias, S.
Improving calibration and validation of cosmic-ray neutron sensors in the light of spatial sensitivity
2017
Hydrology and Earth System Sciences
Vol. 21(10), pp. 5009-5030 
article
DOI  
Shi, H., Li, L., Eamus, D., Huete, A., Cleverly, J., Tian, X., Yu, Q., Wang, S., Montagnani, L., Magliulo, V., Rotenberg, E., Pavelka, M. and Carrara, A.
Assessing the ability of MODIS EVI to estimate terrestrial ecosystem gross primary production of multiple land cover types
2017
Ecological Indicators
Vol. 72, pp. 153-164 
article
DOI URL 
Shirai, T., Ishizawa, M., Zhuravlev, R., Ganshin, A., Belikov, D., Saito, M., Oda, T., Valsala, V., Gomez-Pelaez, A.J., Langenfelds, R. and Maksyutov, S.
A decadal inversion of CO2 using the Global Eulerian–Lagrangian Coupled Atmospheric model (GELCA): sensitivity to the ground-based observation network
2017
Tellus B: Chemical and Physical Meteorology
Vol. 69(1), pp. 1291158 
article
DOI URL 
Soja, M.J., Askne, J.I.H. and Ulander, L.M.H.
Estimation of Boreal Forest Properties from TanDEM-X Data Using Inversion of the Interferometric Water Cloud Model
2017
IEEE Geoscience and Remote Sensing Letters
Vol. 14(7), pp. 997-1001 
article
DOI URL 
Super, I., Denier van der Gon, H.A.C., Visschedijk, A.J.H., Moerman, M.M., Chen, H., van der Molen, M.K. and Peters, W.
Interpreting continuous in-situ observations of carbon dioxide and carbon monoxide in the urban port area of Rotterdam
2017
Atmospheric Pollution Research
Vol. 8(1), pp. 174-187 
article
DOI URL 
Tetzlaff, D., Carey, S.K., McNamara, J.P., Laudon, H. and Soulsby, C.
The essential value of long-term experimental data for hydrology and water management
2017
Water Resources Research
Vol. 53(4), pp. 2598-2604 
article
DOI URL 
Theodorakopoulos, N., Lognoul, M., Degrune, F., Broux, F., Regaert, D., Muys, C., Heinesch, B., Bodson, B., Aubinet, M. and Vandenbol, M.
Increased expression of bacterial amoA during an N2O emission peak in an agricultural field
2017
Agriculture, Ecosystems and Environment
Vol. 236, pp. 212-220 
article
DOI URL 
Thum, T., MacBean, N., Peylin, P., Bacour, C., Santaren, D., Longdoz, B., Loustau, D. and Ciais, P.
The potential benefit of using forest biomass data in addition to carbon and water flux measurements to constrain ecosystem model parameters: Case studies at two temperate forest sites
2017
Agricultural and Forest Meteorology
Vol. 234-235, pp. 48-65 
article
DOI URL 
Thum, T., Zaehle, S., Köhler, P., Aalto, T., Aurela, M., Guanter, L., Kolari, P., Laurila, T., Lohila, A., Magnani, F., Van Der Tol, C. and Markkanen, T.
Modelling sun-induced fluorescence and photosynthesis with a land surface model at local and regional scales in northern Europe
2017
Biogeosciences
Vol. 14(7), pp. 1969-1984 
article
DOI URL 
Tiwari, T., Lidman, F., Laudon, H., Lidberg, W. and Ågren, A.M.
GIS-based prediction of stream chemistry using landscape composition, wet areas, and hydrological flow pathways
2017
Journal of Geophysical Research: Biogeosciences
Vol. 122(1), pp. 65-79 
article
DOI URL 
Tsuruta, A., Aalto, T., Backman, L., Hakkarainen, J., Van Der Laan-Luijkx, I.T., Krol, M.C., Spahni, R., Houweling, S., Laine, M., Dlugokencky, E., Gomez-Pelaez, A.J., Van Der Schoot, M., Langenfelds, R., Ellul, R., Arduini, J., Apadula, F., Gerbig, C., Feist, D.G., Kivi, R., Yoshida, Y. and Peters, W.
Global methane emission estimates for 2000-2012 from CarbonTracker Europe-CH4 v1.0
2017
Geoscientific Model Development
Vol. 10(3), pp. 1261-1289 
article
DOI URL 
Vaglio, G.L., Pirotti, F., Callegari, M., Chen, Q., Cuozzo, G., Lingua, E., Notarnicola, C. and Papale, D.
Potential of ALOS2 and NDVI to estimate forest above-ground biomass, and comparison with lidar-derived estimates
2017
Remote Sensing
Vol. 9(1), pp. 18 
article
DOI URL 
Van Der Laan-Luijkx, I.T., Van Der Velde, I.R., Van Der Veen, E., Tsuruta, A., Stanislawska, K., Babenhauserheide, A., Fang Zhang, H., Liu, Y., He, W., Chen, H., Masarie, K.A., Krol, M.C. and Peters, W.
The CarbonTracker Data Assimilation Shell (CTDAS) v1.0: Implementation and global carbon balance 2001-2015
2017
Geoscientific Model Development
Vol. 10(7), pp. 2785-2800 
article
DOI URL 
Vanbeveren, S.P.P., Magagnotti, N. and Spinelli, R.
Increasing the value recovery from short-rotation coppice harvesting
2017
BioResources
Vol. 12(1), pp. 696-703 
article
DOI URL 
Vanbeveren, S.P.P., Spinelli, R., Eisenbies, M., Schweier, J., Mola-Yudego, B., Magagnotti, N., Acuna, M., Dimitriou, I. and Ceulemans, R.
Mechanised harvesting of short-rotation coppices
2017
Renewable and Sustainable Energy Reviews
Vol. 76, pp. 90-104 
article
DOI URL 
Vanden Broucke, S. and Van Lipzig, N.
Do convection-permitting models improve the representation of the impact of LUC?
2017
Climate Dynamics
Vol. 49(7-8), pp. 2749-2763 
article
DOI  
Veloso, A., Mermoz, S., Bouvet, A., Le Toan, T., Planells, M., Dejoux, J.F. and Ceschia, E.
Understanding the temporal behavior of crops using Sentinel-1 and Sentinel-2-like data for agricultural applications
2017
Remote Sensing of Environment
Vol. 199, pp. 415-426 
article
DOI  
Ventrillard, I., Xueref-Remy, I., Schmidt, M., Yver Kwok, C., Faïn, X. and Romanini, D.
Comparison of optical-feedback cavity-enhanced absorption spectroscopy and gas chromatography for ground-based and airborne measurements of atmospheric CO concentration
2017
Atmospheric Measurement Techniques
Vol. 10(5), pp. 1803-1812 
article
DOI URL 
Verryckt, L.T., Op De Beeck, M., Neirynck, J., Gielen, B., Roland, M. and Janssens, I.A.
No impact of tropospheric ozone on the gross primary productivity of a Belgian pine forest
2017
Biogeosciences
Vol. 14(7), pp. 1839-1855 
article
DOI URL 
Vitali, V., Büntgen, U. and Bauhus, J.
Silver fir and Douglas fir are more tolerant to extreme droughts than Norway spruce in south-western Germany
2017
Global Change Biology
Vol. 23(12), pp. 5108-5119 
article
DOI URL 
de Vries, W., Posch, M., Simpson, D. and Reinds, G.J.
Modelling long-term impacts of changes in climate, nitrogen deposition and ozone exposure on carbon sequestration of European forest ecosystems
2017
Science of The Total Environment
Vol. 605-606, pp. 1097-1116 
article
DOI URL 
Vuolo, R.M., Loubet, B., Mascher, N., Gueudet, J.C., Durand, B., Laville, P., Zurfluh, O., Ciuraru, R., Stella, P. and Trebs, I.
Nitrogen oxides and ozone fluxes from an oilseed-rape management cycle: The influence of cattle slurry application
2017
Biogeosciences
Vol. 14(8), pp. 2225-2244 
article
DOI  
Wällstedt, T., Björkvald, L., Laudon, H., Borg, H. and Mörth, C.M.
Landscape control on the hydrogeochemistry of As, Co and Pb in a boreal stream network
2017
Geochimica et Cosmochimica Acta
Vol. 211, pp. 194-213 
article
DOI URL 
Wang, Y., Broquet, G., Ciais, P., Chevallier, F., Vogel, F., Kadygrov, N., Wu, L., Yin, Y., Wang, R. and Tao, S.
Estimation of observation errors for large-scale atmospheric inversion of CO 2 emissions from fossil fuel combustion
2017
Tellus B: Chemical and Physical Meteorology
Vol. 69(1), pp. 1325723 
article
DOI URL 
Wang, Z., Warneke, T., Deutscher, N.M., Notholt, J., Karstens, U., Saunois, M., Schneider, M., Sussmann, R., Sembhi, H., Griffith, D.W.T., Pollard, D.F., Kivi, R., Petri, C., Velazco, V.A., Ramonet, M. and Chen, H.
Contributions of the troposphere and stratosphere to CH4 model biases
2017
Atmospheric Chemistry and Physics
Vol. 17(21), pp. 13283-13295 
article
DOI URL 
Williams, N.L., Juranek, L.W., Feely, R.A., Johnson, K.S., Sarmiento, J.L., Talley, L.D., Dickson, A.G., Gray, A.R., Wanninkhof, R., Russell, J.L., Riser, S.C. and Takeshita, Y.
Calculating surface ocean pCO textlesssubtextgreater2textless/subtextgreater from biogeochemical Argo floats equipped with pH: An uncertainty analysis
2017
Global Biogeochemical Cycles
Vol. 31(3), pp. 591-604 
article
DOI URL 
Wilson, R.M., Tfaily, M.M., Rich, V.I., Keller, J.K., Bridgham, S.D., Zalman, C.M., Meredith, L., Hanson, P.J., Hines, M., Pfeifer-Meister, L., Saleska, S.R., Crill, P., Cooper, W.T., Chanton, J.P. and Kostka, J.E.
Hydrogenation of organic matter as a terminal electron sink sustains high CO2:CH4 production ratios during anaerobic decomposition
2017
Organic Geochemistry
Vol. 112, pp. 22-32 
article
DOI URL 
Wohlfahrt, G. and Galvagno, M.
Revisiting the choice of the driving temperature for eddy covariance CO2 flux partitioning
2017
Agricultural and Forest Meteorology
Vol. 237-238, pp. 135-142 
article
DOI URL 
Wolf, B., Chwala, C., Fersch, B., Garvelmann, J., Junkermann, W., Zeeman, M.J., Angerer, A., Adler, B., Beck, C., Brosy, C., Brugggger, P., Emeis, S., Dannenmann, M., De Roo, F., Diaz-Pines, E., Haas, E., Hagen, M., Hajnsek, I., Jacobeit, J., Jagdhuber, T., Kalthoff, N., Kiese, R., Kunstmann, H., Kosak, O., Krieg, R., Malchow, C., Mauder, M., Merz, R., Notarnicola, C., Philipp, A., Reif, W., Reineke, S., Rödiger, T., Ruehr, N., Schäfer, K., Schrön, M., Senatore, A., Shupe, H., Völksch, I., Wanninger, C., Zacharias, S. and Schmid, H.P.
The scalex campaign: Scale-crossing land surface and boundary layer processes in the TERENO-prealpine observatory
2017
Bulletin of the American Meteorological Society
Vol. 98(6), pp. 1217-1234 
article
DOI URL 
Wu, L., Rutgersson, A. and Nilsson, E.
Atmospheric boundary layer turbulence closure scheme for wind-following swell conditions
2017
Journal of the Atmospheric Sciences
Vol. 74(7), pp. 2363-2382 
article
DOI URL 
Wu, L., Sproson, D., Sahlée, E. and Rutgersson, A.
Surface Wave Impact When Simulating Midlatitude Storm Development
2017
Journal of Atmospheric and Oceanic Technology
Vol. 34(1), pp. 233-248 
article
DOI URL 
Wunch, D., Wennberg, P.O., Osterman, G., Fisher, B., Naylor, B., Roehl, M.C., O'Dell, C., Mandrake, L., Viatte, C., Kiel, M., Griffith, D.W., Deutscher, N.M., Velazco, V.A., Notholt, J., Warneke, T., Petri, C., De Maziere, M., Sha, M.K., Sussmann, R., Rettinger, M., Pollard, D., Robinson, J., Morino, I., Uchino, O., Hase, F., Blumenstock, T., Feist, D.G., Arnold, S.G., Strong, K., Mendonca, J., Kivi, R., Heikkinen, P., Iraci, L., Podolske, J., Hillyard, P., Kawakami, S., Dubey, M.K., Parker, H.A., Sepulveda, E., García, O.E., Te, Y., Jeseck, P., Gunson, M.R., Crisp, D. and Eldering, A.
Comparisons of the Orbiting Carbon Observatory-2 (OCO-2) XCO2 measurements with TCCON
2017

Vol. 10(6)Atmospheric Measurement Techniques, pp. 2209-2238 
misc
DOI  
Xie, Q., Zhu, J., Wang, C., Fu, H., Lopez-Sanchez, J.M. and Ballester-Berman, J.D.
A modified dual-baseline PolInSAR method for forest height estimation
2017
Remote Sensing
Vol. 9(8), pp. 1-17 
article
DOI URL 
Yao, Y., Liang, S., Li, X., Chen, J., Liu, S., Jia, K., Zhang, X., Xiao, Z., Fisher, J.B., Mu, Q., Pan, M., Liu, M., Cheng, J., Jiang, B., Xie, X., Grünwald, T., Bernhofer, C. and Roupsard, O.
Improving global terrestrial evapotranspiration estimation using support vector machine by integrating three process-based algorithms
2017
Agricultural and Forest Meteorology
Vol. 242, pp. 55-74 
article
DOI URL 
Yao, Y., Liang, S., Li, X., Zhang, Y., Chen, J., Jia, K., Zhang, X., Fisher, J.B., Wang, X., Zhang, L., Xu, J., Shao, C., Posse, G., Li, Y., Magliulo, V., Varlagin, A., Moors, E.J., Boike, J., Macfarlane, C., Kato, T., Buchmann, N., Billesbach, D.P., Beringer, J., Wolf, S., Papuga, S.A., Wohlfahrt, G., Montagnani, L., Ardö, J., Paul-Limoges, E., Emmel, C., Hörtnagl, L., Sachs, T., Gruening, C., Gioli, B., López-Ballesteros, A., Steinbrecher, R. and Gielen, B.
Estimation of high-resolution terrestrial evapotranspiration from Landsat data using a simple Taylor skill fusion method
2017
Journal of Hydrology
Vol. 553, pp. 508-526 
article
DOI URL 
Yuan, Y., Ries, L., Petermeier, H., Steinbacher, M., Gómez-Peláez, A.J., Leuenberger, M.C., Schumacher, M., Trickl, T., Couret, C., Meinhardt, F. and Menzel, A.
Adaptive Baseline Finder, a statistical data selection strategy to identify atmospheric COsub2/sub baseline levels and its application to European elevated mountain stations
2017
Atmospheric Measurement Techniques Discussions, pp. 1-27 
article
DOI URL 
Zeng, J., Matsunaga, T., Saigusa, N., Shirai, T., Nakaoka, S.-i. and Tan, Z.-H.
Technical note: Evaluation of three machine learning models for surface ocean CO<sub>2</sub> mapping
2017
Ocean Science
Vol. 13(2), pp. 303-313 
article
DOI URL 
Zhang, Z., Zhang, R., Cescatti, A., Wohlfahrt, G., Buchmann, N., Zhu, J., Chen, G., Moyano, F., Pumpanen, J., Hirano, T., Takagi, K. and Merbold, L.
Effect of climate warming on the annual terrestrial net ecosystem CO2 exchange globally in the boreal and temperate regions
2017
Scientific Reports
Vol. 7(1), pp. 3108 
article
DOI URL 
Zhao, J., Peichl, M. and Nilsson, M.B.
Long-term enhanced winter soil frost alters growing season CO2 fluxes through its impact on vegetation development in a boreal peatland
2017
Global Change Biology
Vol. 23(8), pp. 3139-3153 
article
DOI URL 
Zribi, M., Motte, E., Fanise, P. and Zouaoui, W.
Low-Cost GPS Receivers for the Monitoring of Sunflower Cover Dynamics
2017
Journal of Sensors
Vol. 2017 
article
DOI  
Zscheischler, J., Mahecha, M.D., Avitabile, V., Calle, L., Carvalhais, N., Ciais, P., Gans, F., Gruber, N., Hartmann, J., Herold, M., Ichii, K., Jung, M., Landschützer, P., Laruelle, G.G., Lauerwald, R., Papale, D., Peylin, P., Poulter, B., Ray, D., Regnier, P., Rödenbeck, C., Roman-Cuesta, R.M., Schwalm, C., Tramontana, G., Tyukavina, A., Valentini, R., Van Der Werf, G., West, T.O., Wolf, J.E. and Reichstein, M.
Reviews and syntheses: An empirical spatiotemporal description of the global surface-atmosphere carbon fluxes: Opportunities and data limitations
2017
Biogeosciences
Vol. 14(15), pp. 3685-3703 
article
DOI URL 
Ago, E.E., Agbossou, E.K., Cohard, J.M., Galle, S. and Aubinet, M.
Response of CO2 fluxes and productivity to water availability in two contrasting ecosystems in northern Benin (West Africa)
2016
Annals of Forest Science
Vol. 73(2), pp. 483-500 
article
DOI URL 
Agustí-Panareda, A., Sebastien, M., Chevallier, F., Balsamo, G., Boussetta, S., Dutra, E. and Beljaars, A.
A biogenic CO2 flux adjustment scheme for the mitigation of large-scale biases in global atmospheric CO2 analyses and forecasts
2016
Atmospheric Chemistry and Physics
Vol. 16, pp. 10399-10418 
article
DOI URL 
Alden, C.B., Miller, J.B., Gatti, L.V., Gloor, M.M., Guan, K., Michalak, A.M., van der Laan-Luijkx, I.T., Touma, D., Andrews, A., Basso, L.S., Correia, C.S.C., Domingues, L.G., Joiner, J., Krol, M.C., Lyapustin, A.I., Peters, W., Shiga, Y.P., Thoning, K., van der Velde, I.R., van Leeuwen, T.T., Yadav, V. and Diffenbaugh, N.S.
Regional atmospheric CO2 inversion reveals seasonal and geographic differences in Amazon net biome exchange
2016
Global change biology
Vol. 22(10), pp. 3427-3443 
article
DOI URL 
Andersson, A., Rutgersson, A. and Sahlée, E.
Using eddy covariance to estimate air-sea gas transfer velocity for oxygen
2016
Journal of Marine Systems
Vol. 159, pp. 67-75 
article
DOI URL 
Ashton, I.G., Shutler, J.D., Land, P.E., Woolf, D.K. and Quartly, G.D.
A Sensitivity Analysis of the Impact of Rain on Regional and Global Sea-Air Fluxes of CO2
2016
PLOS ONE
Vol. 11(9), pp. e0161105 
article
DOI URL 
Aubinet, M., Joly, L., Loustau, D., De Ligne, A., Chopin, H., Cousin, J., Chauvin, N., Decarpenterie, T. and Gross, P.
Dimensioning IRGA gas sampling systems: Laboratory and field experiments
2016
Atmospheric Measurement Techniques
Vol. 9(3), pp. 1361-1367 
article
DOI URL 
Ayalneh Berhanu, T., Satar, E., Schanda, R., Nyfeler, P., Moret, H., Brunner, D., Oney, B. and Leuenberger, M.
Measurements of greenhouse gases at Beromünster tall-tower station in Switzerland
2016
Atmospheric Measurement Techniques
Vol. 9(6), pp. 2603-2614 
article
DOI URL 
Bachy, A., Aubinet, M., Schoon, N., Amelynck, C., Bodson, B., Moureaux, C. and Heinesch, B.
Are BVOC exchanges in agricultural ecosystems overestimated? Insights from fluxes measured in a maize field over a whole growing season
2016
Atmospheric Chemistry and Physics
Vol. 16(8), pp. 5343-5356 
article
DOI URL 
Bakker, D.C.E., Pfeil, B., Landa, C.S., Metzl, N., O'Brien, K.M., Olsen, A., Smith, K., Cosca, C., Harasawa, S., Jones, S.D., Nakaoka, S.I., Nojiri, Y., Schuster, U., Steinhoff, T., Sweeney, C., Takahashi, T., Tilbrook, B., Wada, C., Wanninkhof, R., Alin, S.R., Balestrini, C.F., Barbero, L., Bates, N.R., Bianchi, A.A., Bonou, F., Boutin, J., Bozec, Y., Burger, E.F., Cai, W.J., Castle, R.D., Chen, L., Chierici, M., Currie, K., Evans, W., Featherstone, C., Feely, R.A., Fransson, A., Goyet, C., Greenwood, N., Gregor, L., Hankin, S., Hardman-Mountford, N.J., Harlay, J., Hauck, J., Hoppema, M., Humphreys, M.P., Hunt, C.W., Huss, B., Ibánhez, J.S.P., Johannessen, T., Keeling, R., Kitidis, V., Körtzinger, A., Kozyr, A., Krasakopoulou, E., Kuwata, A., Landschützer, P., Lauvset, S.K., Lefèvre, N., Lo Monaco, C., Manke, A., Mathis, J.T., Merlivat, L., Millero, F.J., Monteiro, P.M.S., Munro, D.R., Murata, A., Newberger, T., Omar, A.M., Ono, T., Paterson, K., Pearce, D., Pierrot, D., Robbins, L.L., Saito, S., Salisbury, J., Schlitzer, R., Schneider, B., Schweitzer, R., Sieger, R., Skjelvan, I., Sullivan, K.F., Sutherland, S.C., Sutton, A.J., Tadokoro, K., Telszewski, M., Tuma, M., Van Heuven, S.M.A.C., Vandemark, D., Ward, B., Watson, A.J. and Xu, S.
A multi-decade record of high-quality fCO2 data in version 3 of the Surface Ocean CO2 Atlas (SOCAT)
2016
Earth System Science Data
Vol. 8(2), pp. 383-413 
article
DOI URL 
Balch, W.M., Bates, N.R., Lam, P.J., Twining, B.S., Rosengard, S.Z., Bowler, B.C., Drapeau, D.T., Garley, R., Lubelczyk, L.C., Mitchell, C. and Rauschenberg, S.
Factors regulating the Great Calcite Belt in the Southern Ocean and its biogeochemical significance
2016
Global Biogeochemical Cycles
Vol. 30(8), pp. 1124-1144 
article
DOI URL 
Balzarolo, M., Vicca, S., Nguy-Robertson, A.L., Bonal, D., Elbers, J.A., Fu, Y.H., Grünwald, T., Horemans, J.A., Papale, D., Peñuelas, J., Suyker, A. and Veroustraete, F.
Matching the phenology of Net Ecosystem Exchange and vegetation indices estimated with MODIS and FLUXNET in-situ observations
2016
Remote Sensing of Environment
Vol. 174, pp. 290-300 
article
DOI URL 
Batenburg, A.M., Popa, M.E., Vermeulen, A.T., van den Bulk, W.C.M., Jongejan, P.A.C., Fisher, R.E., Lowry, D., Nisbet, E.G. and Röckmann, T.
Observations of molecular hydrogen mixing ratio and stable isotopic composition at the Cabauw tall tower in the Netherlands
2016
Atmospheric Environment
Vol. 147, pp. 98-108 
article
DOI URL 
Becker, M., Andersen, N., Erlenkeuser, H., Humphreys, M.P., Tanhua, T. and Körtzinger, A.
An internally consistent dataset of δ13C-DIC in the North Atlantic Ocean - NAC13v1
2016
Earth System Science Data
Vol. 8(2), pp. 559-770 
article
DOI URL 
Belviso, S., Marco Reiter, I., Loubet, B., Gros, V., Lathière, J., Montagne, D., Delmotte, M., Ramonet, M., Kalogridis, C., Lebegue, B., Bonnaire, N., Kazan, V., Gauquelin, T., Fernandez, C. and Genty, B.
A top-down approach of surface carbonyl sulfide exchange by a Mediterranean oak forest ecosystem in southern France
2016
Atmospheric Chemistry and Physics
Vol. 16(23), pp. 14909-14923 
article
DOI URL 
Bertolini, T., Flechard, C.R., Fattore, F., Nicolini, G., Stefani, P., Materia, S., Valentini, R., Vaglio Laurin, G. and Castaldi, S.
DRY and BULK atmospheric nitrogen deposition to a West-African humid forest exposed to terrestrial and oceanic sources
2016
Agricultural and Forest Meteorology
Vol. 218-219, pp. 184-195 
article
DOI URL 
Bogena, H.R.
TERENO: German network of terrestrial environmental observatories
2016
Journal of large-scale research facilities JLSRF
Vol. 2, pp. A52 
article
DOI URL 
Bonou, F.K., Noriega, C., Lefèvre, N. and Araujo, M.
Distribution of CO2 parameters in the Western Tropical Atlantic Ocean
2016
Dynamics of Atmospheres and Oceans
Vol. 73, pp. 47-60 
article
DOI  
Bourgeois, T., Orr, J.C., Resplandy, L., Terhaar, J., Ethé, C., Gehlen, M. and Bopp, L.
Coastal-ocean uptake of anthropogenic carbon
2016
Biogeosciences
Vol. 13(14), pp. 4167-4185 
article
DOI URL 
Bozhinova, D., Palstra, S.W.L., van Der Molen, M.K., Krol, M.C., Meijer, H.A.J. and Peters, W.
Three years of Δ14CO2 observations from maize leaves in the Netherlands and Western Europe
2016
Radiocarbon
Vol. 58(3), pp. 459-478 
article
DOI URL 
Brilli, F., Gioli, B., Fares, S., Terenzio, Z., Zona, D., Gielen, B., Loreto, F., Janssens, I.A. and Ceulemans, R.
Rapid leaf development drives the seasonal pattern of volatile organic compound (VOC) fluxes in a 'coppiced' bioenergy poplar plantation
2016
Plant Cell and Environment
Vol. 39(3), pp. 539-555 
article
DOI URL 
Campioli, M., Malhi, Y., Vicca, S., Luyssaert, S., Papale, D., Peñuelas, J., Reichstein, M., Migliavacca, M., Arain, M.A. and Janssens, I.A.
Evaluating the convergence between eddy-covariance and biometric methods for assessing carbon budgets of forests
2016
Nature Communications
Vol. 7, pp. 13717 
article
DOI URL 
Chambers, S.D., Williams, A.G., Conen, F., Griffiths, A.D., Reimann, S., Steinbacher, M., Krummel, P.B., Steele, L.P., van der Schoot, M.V., Galbally, I.E., Molloy, S.B. and Barnes, J.E.
Towards a universal "Baseline" characterisation of air masses for high- and low-altitude observing stations using radon-222
2016
Aerosol and Air Quality Research
Vol. 16(3), pp. 885-899 
article
DOI URL 
Chen, Y., Ryder, J., Bastrikov, V., McGrath, M.J., Naudts, K., Otto, J., Ottlé, C., Peylin, P., Polcher, J., Valade, A., Black, A., Elbers, J.A., Moors, E., Foken, T., Van Gorsel, E., Haverd, V., Heinesch, B., Tiedemann, F., Knohl, A., Launiainen, S., Loustau, D., Ogeé, J., Vessala, T. and Luyssaert, S.
Evaluating the performance of land surface model ORCHIDEE-CAN v1.0 on water and energy flux estimation with a single-and multi-layer energy budget scheme
2016
Geoscientific Model Development
Vol. 9(9), pp. 2951-2972 
article
DOI URL 
Chiesi, M., Chirici, G., Marchetti, M., Hasenauer, H., Moreno, A., Knohl, A., Matteucci, G., Pilegaard, K., Granier, A., Longdoz, B. and Maselli, F.
Testing the applicability of BIOME-BGC to simulate beech gross primary production in Europe using a new continental weather dataset
2016
Annals of Forest Science
Vol. 73(3), pp. 713-727 
article
DOI URL 
Chirici, G., Chiesi, M., Corona, P., Salvati, R., Papale, D., Fibbi, L., Sirca, C., Spano, D., Duce, P., Marras, S., Matteucci, G., Cescatti, A. and Maselli, F.
Estimating daily forest carbon fluxes using a combination of ground and remotely sensed data
2016
Journal of Geophysical Research: Biogeosciences
Vol. 121(2), pp. 266-279 
article
DOI URL 
Chiti, T., Certini, G., Forte, C., Papale, D. and Valentini, R.
Radiocarbon-Based Assessment of Heterotrophic Soil Respiration in Two Mediterranean Forests
2016
Ecosystems
Vol. 19(1), pp. 62-72 
article
DOI  
Ciavatta, S., Kay, S., Saux-Picart, S., Butenschön, M. and Allen, J.I.
Decadal reanalysis of biogeochemical indicators and fluxes in the North West European shelf-sea ecosystem
2016
Journal of Geophysical Research: Oceans
Vol. 121(3), pp. 1824-1845 
article
DOI  
Collalti, A., Marconi, S., Ibrom, A., Trotta, C., Anav, A., D'andrea, E., Matteucci, G., Montagnani, L., Gielen, B., Mammarella, I., Grünwald, T., Knohl, A., Berninger, F., Zhao, Y., Valentini, R. and Santini, M.
Validation of 3D-CMCC Forest Ecosystem Model (v.5.1) against eddy covariance data for 10 European forest sites
2016
Geoscientific Model Development
Vol. 9(2), pp. 479-504 
article
DOI URL 
Combe, M., de Arellano, J.V.G., Ouwersloot, H.G. and Peters, W.
Plant water-stress parameterization determines the strength of land-atmosphere coupling
2016
Agricultural and Forest Meteorology
Vol. 217, pp. 61-73 
article
DOI URL 
Couldrey, M.P., Oliver, K.I.C., Yool, A., Halloran, P.R. and Achterberg, E.P.
On which timescales do gas transfer velocities control North Atlantic CO 2 flux variability?
2016
Global Biogeochemical Cycles
Vol. 30(5), pp. 787-802 
article
DOI URL 
Cowan, N.J., Levy, P.E., Famulari, D., Anderson, M., Drewer, J., Carozzi, M., Reay, D.S. and Skiba, U.M.
The influence of tillage on Nsub2/subO fluxes from an intensively managed grazed grassland in Scotland
2016
Biogeosciences Discussions, pp. 1-22 
article
DOI URL 
Creamer, R.E., Stone, D., Berry, P. and Kuiper, I.
Measuring respiration profiles of soil microbial communities across Europe using MicroRespâ"¢ method
2016
Applied Soil Ecology
Vol. 97, pp. 36-43 
article
DOI URL 
Dong, F., Li, Y., Wang, B., Huang, W., Shi, Y. and Dong, W.
Global air-sea CO2 flux in 22 CMIP5 models: Multiyear mean and interannual variability
2016
Journal of Climate
Vol. 29(7), pp. 2407-2431 
article
DOI URL 
Dupuy, E., Morino, I., Deutscher, N.M., Yoshida, Y., Uchino, O., Connor, B.J., De Mazière, M., Griffith, D.W., Hase, F., Heikkinen, P., Hillyard, P.W., Iraci, L.T., Kawakami, S., Kivi, R., Matsunaga, T., Notholt, J., Petri, C., Podolske, J.R., Pollard, D.F., Rettinger, M., Roehl, C.M., Sherlock, V., Sussmann, R., Toon, G.C., Velazco, V.A., Warneke, T., Wennberg, P.O., Wunch, D. and Yokota, T.
Comparison of XH2O retrieved from GOSAT short-wavelength infrared spectra with observations from the TCCON network
2016
Remote Sensing
Vol. 8(5) 
article
DOI  
Eyring, V., Righi, M., Lauer, A., Evaldsson, M., Wenzel, S., Jones, C., Anav, A., Andrews, O., Cionni, I., Davin, E.L., Deser, C., Ehbrecht, C., Friedlingstein, P., Gleckler, P., Gottschaldt, K.-D., Hagemann, S., Juckes, M., Kindermann, S., Krasting, J., Kunert, D., Levine, R., Loew, A., Mäkelä, J., Martin, G., Mason, E., Phillips, A.S., Read, S., Rio, C., Roehrig, R., Senftleben, D., Sterl, A., van Ulft, L.H., Walton, J., Wang, S. and Williams, K.D.
ESMValTool (v1.0) – a community diagnostic and performance metrics tool for routine evaluation of Earth system models in CMIP
2016
Geoscientific Model Development
Vol. 9(5), pp. 1747-1802 
article
DOI URL 
Faußer, A.C., Dušek, J., Čížková, H. and Kazda, M.
Diurnal dynamics of oxygen and carbon dioxide concentrations in shoots and rhizomes of a perennial in a constructed wetland indicate down-regulation of below ground oxygen consumption
2016
AoB PLANTS
Vol. 8 
article
DOI  
Feng, L., Palmer, P.I., Parker, R.J., Deutscher, N.M., Feist, D.G., Kivi, R., Morino, I. and Sussmann, R.
Estimates of European uptake of CO2 inferred from GOSAT XCO2 retrievals: Sensitivity to measurement bias inside and outside Europe
2016
Atmospheric Chemistry and Physics
Vol. 16(3), pp. 1289-1302 
article
DOI  
Fiedler, B., Grundle, D.S., Schütte, F., Karstensen, J., Löscher, C.R., Hauss, H., Wagner, H., Loginova, A., Kiko, R., Silva, P., Tanhua, T. and Körtzinger, A.
Oxygen utilization and downward carbon flux in an oxygen-depleted eddy in the eastern tropical North Atlantic
2016
Biogeosciences
Vol. 13(19), pp. 5633-5647 
article
DOI URL 
Forkel, M., Carvalhais, N., Rödenbeck, C., Keeling, R., Heimann, M., Thonicke, K., Zaehle, S. and Reichstein, M.
Enhanced seasonal CO2 exchange caused by amplified plant productivity in northern ecosystems
2016
Science
Vol. 351(6274), pp. 696-699 
article
DOI URL 
Francisco, R., Stone, D., Creamer, R.E., Sousa, J.P. and Morais, P.V.
European scale analysis of phospholipid fatty acid composition of soils to establish operating ranges
2016
Applied Soil Ecology
Vol. 97, pp. 49-60 
article
DOI URL 
Gao, Y., Markkanen, T., Thum, T., Aurela, M., Lohila, A., Mammarella, I., Kämäraïnen, M., Hagemann, S. and Aalto, T.
Assessing various drought indicators in representing summer drought in boreal forests in Finland
2016
Hydrology and Earth System Sciences
Vol. 20(1), pp. 175-191 
article
DOI  
Gebauer, R., Vanbeveren, S.P.P., VolaÅ™ík, D., Plichta, R. and Ceulemans, R.
Petiole and leaf traits of poplar in relation to parentage and biomass yield
2016
Forest Ecology and Management
Vol. 362, pp. 1-9 
article
DOI URL 
Gerbig, C., Rödenbeck, C., Karstens, U. and Heimann, M.
Atmospheric CO 2 inversions at the mesoscale using data driven Panagiotis Kountouris
2016
Atmos. Chem. Phys. Discuss 
article
DOI  
Glazunov, A., Rannik, Ü., Stepanenko, V., Lykosov, V., Auvinen, M., Vesala, T. and Mammarella, I.
Large-eddy simulation and stochastic modeling of Lagrangian particles for footprint determination in the stable boundary layer
2016
Geoscientific Model Development
Vol. 9(9), pp. 2925-2949 
article
DOI  
Görres, C.M., Kammann, C. and Ceulemans, R.
Automation of soil flux chamber measurements: Potentials and pitfalls
2016
Biogeosciences
Vol. 13(6), pp. 1949-1966 
article
DOI URL 
Gourlez de la Motte, L., Jérôme, E., Mamadou, O., Beckers, Y., Bodson, B., Heinesch, B. and Aubinet, M.
Carbon balance of an intensively grazed permanent grassland in southern Belgium
2016
Agricultural and Forest Meteorology
Vol. 228-229, pp. 370-383 
article
DOI URL 
Griffiths, R.I., Thomson, B.C., Plassart, P., Gweon, H.S., Stone, D., Creamer, R.E., Lemanceau, P. and Bailey, M.J.
Mapping and validating predictions of soil bacterial biodiversity using European and national scale datasets
2016
Applied Soil Ecology
Vol. 97, pp. 61-68 
article
DOI URL 
Gundale, M.J., Nilsson, M.C., Pluchon, N. and Wardle, D.A.
The effect of biochar management on soil and plant community properties in a boreal forest
2016
GCB Bioenergy
Vol. 8(4), pp. 777-789 
article
DOI URL 
Hasper, T.B., Wallin, G., Lamba, S., Hall, M., Jaramillo, F., Laudon, H., Linder, S., Medhurst, J.L., Räntfors, M., Sigurdsson, B.D. and Uddling, J.
Water use by Swedish boreal forests in a changing climate
2016
Functional Ecology
Vol. 30(5), pp. 690-699 
article
DOI URL 
Haughton, N., Abramowitz, G., Pitman, A.J., Or, D., Best, M.J., Johnson, H.R., Balsamo, G., Boone, A., Cuntz, M., Decharme, B., Dirmeyer, P.A., Dong, J., Ek, M., Guo, Z., Haverd, V., van den Hurk, B.J.J., Nearing, G.S., Pak, B., Santanello, J.A., Stevens, L.E. and Vuichard, N.
The plumbing of land surface models: Is poor performance a result of methodology or data quality?
2016
Journal of Hydrometeorology
Vol. 17(6), pp. 1705-1723 
article
DOI URL 
Hazan, L., Tarniewicz, J., Ramonet, M., Laurent, O. and Abbaris, A.
Automatic processing of atmospheric CO2 and CH4 mole fractions at the ICOS Atmosphere Thematic Centre
2016
Atmospheric Measurement Techniques
Vol. 9(9), pp. 4719-4736 
article
DOI URL 
Hellström, M., Vermeulen, A., Mirzov, O., Sabbatini, S., Vitale, D., Papale, D., Tarniewicz, J., Hazan, L., Rivier, L., Jones, S.D., Pfeil, B. and Johannessen, T.
Near Real Time Data Processing In ICOS RI
2016
Zenodo 
inproceedings
DOI  
Hendriksen, N.B., Creamer, R.E., Stone, D. and Winding, A.
Soil exo-enzyme activities across Europe-The influence of climate, land-use and soil properties
2016
Applied Soil Ecology
Vol. 97, pp. 44-48 
article
DOI URL 
Henne, S., Brunner, D., Oney, B., Leuenberger, M., Eugster, W., Bamberger, I., Meinhardt, F., Steinbacher, M. and Emmenegger, L.
Validation of the Swiss methane emission inventory by atmospheric observations and inverse modelling
2016
Atmospheric Chemistry and Physics
Vol. 16(6), pp. 3683-3710 
article
DOI URL 
Hervo, M., Poltera, Y. and Haefele, A.
An empirical method to correct for temperature-dependent variations in the overlap function of CHM15k ceilometers
2016
Atmospheric Measurement Techniques
Vol. 9(7), pp. 2947-2959 
article
DOI  
Hingerl, L., Kunstmann, H., Wagner, S., Mauder, M., Bliefernicht, J. and Rigon, R.
Spatio-temporal variability of water and energy fluxes – a case study for a mesoscale catchment in pre-alpine environment
2016
Hydrological Processes
Vol. 30(21), pp. 3804-3823 
article
DOI URL 
Hurkuck, M., Brümmer, C. and Kutsch, W.L.
Near-neutral carbon dioxide balance at a seminatural, temperate bog ecosystem
2016
Journal of Geophysical Research: Biogeosciences
Vol. 121(2), pp. 370-384 
article
DOI URL 
Ibánhez, J.S.P., Araujo, M. and Lefèvre, N.
The overlooked tropical oceanic CO textlesssubtextgreater2textless/subtextgreater sink
2016
Geophysical Research Letters
Vol. 43(8), pp. 3804-3812 
article
DOI URL 
Inoue, M., Morino, I., Uchino, O., Nakatsuru, T., Yoshida, Y., Yokota, T., Wunch, D., Wennberg, P.O., Roehl, C.M., Griffith, D.W., Velazco, V.A., Deutscher, N.M., Warneke, T., Notholt, J., Robinson, J., Sherlock, V., Hase, F., Blumenstock, T., Rettinger, M., Sussmann, R., Kyrö, E., Kivi, R., Shiomi, K., Kawakami, S., De Mazière, M., Arnold, S.G., Feist, D.G., Barrow, E.A., Barney, J., Dubey, M., Schneider, M., Iraci, L.T., Podolske, J.R., Hillyard, P.W., Machida, T., Sawa, Y., Tsuboi, K., Matsueda, H., Sweeney, C., Tans, P.P., Andrews, A.E., Biraud, S.C., Fukuyama, Y., Pittman, J.V., Kort, E.A. and Tanaka, T.
Bias corrections of GOSAT SWIR XCO2 and XCH4 with TCCON data and their evaluation using aircraft measurement data
2016
Atmospheric Measurement Techniques
Vol. 9(8), pp. 3491-3512 
article
DOI  
Inoue, M., Morino, I., Uchino, O., Nakatsuru, T., Yoshida, Y., Yokota, T., Wunch, D., Wennberg, P.O., Roehl, C.M., Griffith, D.W.T., Velazco, V.A., Deutscher, N.M., Warneke, T., Notholt, J., Robinson, J., Sherlock, V., Hase, F., Blumenstock, T., Rettinger, M., Sussmann, R., Kyrö, E., Kivi, R., Shiomi, K., Kawakami, S., De Mazière, M., Arnold, S.G., Feist, D.G., Barrow, E.A., Barney, J., Dubey, M., Schneider, M., Iraci, L., Podolske, J.R., Hillyard, P., Machida, T., Sawa, Y., Tsuboi, K., Matsueda, H., Sweeney, C., Tans, P.P., Andrews, A.E., Biraud, S.C., Fukuyama, Y., Pittman, J.V., Kort, E.A. and Tanaka, T.
Bias corrections of GOSAT SWIR XCOsub2/sub and XCHsub4/sub with TCCON data and their evaluation using aircraft measurement data
2016
Atmospheric Measurement Techniques Discussions, pp. 1-49 
article
DOI URL 
Ishizawa, M., Mabuchi, K., Shirai, T., Inoue, M., Morino, I., Uchino, O., Yoshida, Y., Belikov, D. and Maksyutov, S.
Inter-annual variability of summertime CO 2 exchange in Northern Eurasia inferred from GOSAT XCO 2
2016
Environmental Research Letters
Vol. 11(10), pp. 105001 
article
DOI URL 
Ito, R.G., Garcia, C.A.E. and Tavano, V.M.
Net sea-air CO2 fluxes and modelled pCO2 in the southwestern subtropical Atlantic continental shelf during spring 2010 and summer 2011
2016
Continental Shelf Research
Vol. 119, pp. 68-84 
article
DOI  
Jiang, F., Chen, J.M., Zhou, L., Ju, W., Zhang, H., Machida, T., Ciais, P., Peters, W., Wang, H., Chen, B., Liu, L., Zhang, C., Matsueda, H. and Sawa, Y.
A comprehensive estimate of recent carbon sinks in China using both top-down and bottom-up approaches
2016
Scientific Reports
Vol. 6(1), pp. 22130 
article
DOI URL 
Jones, C.D., Arora, V., Friedlingstein, P., Bopp, L., Brovkin, V., Dunne, J., Graven, H., Hoffman, F., Ilyina, T., John, J.G., Jung, M., Kawamiya, M., Koven, C., Pongratz, J., Raddatz, T., Randerson, J. and Zaehle, S.
The C4MIP experimental protocol for CMIP6
2016
Geoscientific Model Development Discussions, pp. 1-52 
article
DOI  
Kanakidou, M., Myriokefalitakis, S., Daskalakis, N., Fanourgakis, G., Nenes, A., Baker, A.R., Tsigaridis, K. and Mihalopoulos, N.
Past, Present, and Future Atmospheric Nitrogen Deposition
2016
Journal of the Atmospheric Sciences
Vol. 73(5), pp. 2039-2047 
article
DOI URL 
Karsisto, P., Fortelius, C., Demuzere, M., Grimmond, C.S., Oleson, K.W., Kouznetsov, R., Masson, V. and Järvi, L.
Seasonal surface urban energy balance and wintertime stability simulated using three land-surface models in the high-latitude city Helsinki
2016
Quarterly Journal of the Royal Meteorological Society
Vol. 142(694), pp. 401-417 
article
DOI  
Kasurinen, V., Alfredsen, K., Ojala, A., Pumpanen, J., Weyhenmeyer, G.A., Futter, M.N., Laudon, H. and Berninger, F.
Modeling nonlinear responses of DOC transport in boreal catchments in Sweden
2016
Water Resources Research
Vol. 52(7), pp. 4970-4989 
article
DOI  
Kessler, A. and Tjiputra, J.
The Southern Ocean as a constraint to reduce uncertainty in future ocean carbon sinks
2016
Earth System Dynamics
Vol. 7(2), pp. 295-312 
article
DOI URL 
Kieloaho, A.J., Pihlatie, M., Dominguez Carrasco, M., Kanerva, S., Parshintsev, J., Riekkola, M.L., Pumpanen, J. and Heinonsalo, J.
Stimulation of soil organic nitrogen pool: The effect of plant and soil organic matter degrading enzymes
2016
Soil Biology and Biochemistry
Vol. 96, pp. 97-106 
article
DOI  
Kiendler-Scharr, A., Mensah, A.A., Friese, E., Topping, D., Nemitz, E., Prevot, A.S.H., Äijälä, M., Allan, J., Canonaco, F., Canagaratna, M., Carbone, S., Crippa, M., Dall Osto, M., Day, D.A., De Carlo, P., Di Marco, C.F., Elbern, H., Eriksson, A., Freney, E., Hao, L., Herrmann, H., Hildebrandt, L., Hillamo, R., Jimenez, J.L., Laaksonen, A., McFiggans, G., Mohr, C., O'Dowd, C., Otjes, R., Ovadnevaite, J., Pandis, S.N., Poulain, L., Schlag, P., Sellegri, K., Swietlicki, E., Tiitta, P., Vermeulen, A., Wahner, A., Worsnop, D. and Wu, H.C.
Ubiquity of organic nitrates from nighttime chemistry in the European submicron aerosol
2016
Geophysical Research Letters
Vol. 43(14), pp. 7735-7744 
article
DOI URL 
Koffi, E.N., Bergamaschi, P., Karstens, U., Krol, M., Segers, A., Schmidt, M., Levin, I., Vermeulen, A.T., Fisher, R.E., Kazan, V., Klein Baltink, H., Lowry, D., Manca, G., Meijer, H.A.J., Moncrieff, J., Pal, S., Ramonet, M., Scheeren, H.A. and Williams, A.G.
Evaluation of the boundary layer dynamics of the TM5 model over Europe
2016
Geoscientific Model Development
Vol. 9(9), pp. 3137-3160 
article
DOI URL 
Kooijmans, L.M.J., Uitslag, N.A.M., Zahniser, M.S., Nelson, D.D., Montzka, S.A. and Chen, H.
Continuous and high-precision atmospheric concentration measurements of COS, CO2, CO and H2O using a quantum cascade laser spectrometer (QCLS)
2016
Atmospheric Measurement Techniques
Vol. 9(11), pp. 5293-5314 
article
DOI URL 
Korrensalo, A., Hájek, T., Vesala, T., Mehtätalo, L. and Tuittila, E.S.
Variation in photosynthetic properties among bog plants
2016
Botany
Vol. 94(12), pp. 1127-1139 
article
DOI  
Kuglerová, L., Dynesius, M., Laudon, H. and Jansson, R.
Relationships Between Plant Assemblages and Water Flow Across a Boreal Forest Landscape: A Comparison of Liverworts, Mosses, and Vascular Plants
2016
Ecosystems
Vol. 19(1), pp. 170-184 
article
DOI URL 
van der Laan, S., Manohar, S.N., Vermeulen, A.T., Bosveld, F.C., Meijer, H.A.J., Manning, A.C., van der Molen, M.K. and van der Laan-Luijkx, I.T.
Inferring sup222/supRadon soil fluxes from ambient sup222/supRadon activity and eddy covariance measurements of COsub2/sub
2016
Atmospheric Measurement Techniques Discussions
Vol. 2016, pp. 1-18 
article
DOI  
Landschützer, P., Gruber, N. and Bakker, D.C.
Decadal variations and trends of the global ocean carbon sink
2016
Global Biogeochemical Cycles
Vol. 30(10), pp. 1396-1417 
article
DOI URL 
Lappalainen, H.K., Kerminen, V.M., Petäjä, T., Kurten, T., Baklanov, A., Shvidenko, A., Bäck, J., Vihma, T., Alekseychik, P., Andreae, M.O., Arnold, S.R., Arshinov, M., Asmi, E., Belan, B., Bobylev, L., Chalov, S., Cheng, Y., Chubarova, N., De Leeuw, G., Ding, A., Dobrolyubov, S., Dubtsov, S., Dyukarev, E., Elansky, N., Eleftheriadis, K., Esau, I., Filatov, N., Flint, M., Fu, C., Glezer, O., Gliko, A., Heimann, M., Holtslag, A.A., Hõrrak, U., Janhunen, J., Juhola, S., Järvi, L., Järvinen, H., Kanukhina, A., Konstantinov, P., Kotlyakov, V., Kieloaho, A.J., Komarov, A.S., Kujansuu, J., Kukkonen, I., Duplissy, E.M., Laaksonen, A., Laurila, T., Lihavainen, H., Lisitzin, A., Mahura, A., Makshtas, A., Mareev, E., Mazon, S., Matishov, D., Melnikov, V., Mikhailov, E., Moisseev, D., Nigmatulin, R., Noe, S.M., Ojala, A., Pihlatie, M., Popovicheva, O., Pumpanen, J., Regerand, T., Repina, I., Shcherbinin, A., Shevchenko, V., Sipilä, M., Skorokhod, A., Spracklen, D.V., Su, H., Subetto, D.A., Sun, J., Terzhevik, A.Y., Timofeyev, Y., Troitskaya, Y., Tynkkynen, V.P., Kharuk, V.I., Zaytseva, N., Zhang, J., Viisanen, Y., Vesala, T., Hari, P., Christen Hansson, H., Matvienko, G.G., Kasimov, N.S., Guo, H., Bondur, V., Zilitinkevich, S. and Kulmala, M.
Pan-Eurasian Experiment (PEEX): Towards a holistic understanding of the feedbacks and interactions in the land-Atmosphere-ocean-society continuum in the northern Eurasian region
2016
Atmospheric Chemistry and Physics
Vol. 16(22), pp. 14421-14461 
article
DOI  
Launiainen, S., Katul, G.G., Kolari, P., Lindroth, A., Lohila, A., Aurela, M., Varlagin, A., Grelle, A. and Vesala, T.
Do the energy fluxes and surface conductance of boreal coniferous forests in Europe scale with leaf area?
2016
Global Change Biology
Vol. 22(12), pp. 4096-4113 
article
DOI  
Le Quéré, C., Andrew, R.M., Canadell, J.G., Sitch, S., Ivar Korsbakken, J., Peters, G.P., Manning, A.C., Boden, T.A., Tans, P.P., Houghton, R.A., Keeling, R.F., Alin, S., Andrews, O.D., Anthoni, P., Barbero, L., Bopp, L., Chevallier, F., Chini, L.P., Ciais, P., Currie, K., Delire, C., Doney, S.C., Friedlingstein, P., Gkritzalis, T., Harris, I., Hauck, J., Haverd, V., Hoppema, M., Klein Goldewijk, K., Jain, A.K., Kato, E., Körtzinger, A., Landschützer, P., Lefèvre, N., Lenton, A., Lienert, S., Lombardozzi, D., Melton, J.R., Metzl, N., Millero, F., Monteiro, P.M.S., Munro, D.R., Nabel, J.E.M.S., Nakaoka, S.I., O'Brien, K., Olsen, A., Omar, A.M., Ono, T., Pierrot, D., Poulter, B., Rödenbeck, C., Salisbury, J., Schuster, U., Schwinger, J., Séférian, R., Skjelvan, I., Stocker, B.D., Sutton, A.J., Takahashi, T., Tian, H., Tilbrook, B., Van Der Laan-Luijkx, I.T., Van Der Werf, G.R., Viovy, N., Walker, A.P., Wiltshire, A.J. and Zaehle, S.
Global Carbon Budget 2016
2016
Earth System Science Data
Vol. 8(2), pp. 605-649 
article
DOI URL 
Leach, J.A., Larsson, A., Wallin, M.B., Nilsson, M.B. and Laudon, H.
Twelve year interannual and seasonal variability of stream carbon export from a boreal peatland catchment
2016
Journal of Geophysical Research: Biogeosciences
Vol. 121(7), pp. 1851-1866 
article
DOI  
Legout, A., van der Heijden, G., Jaffrain, J., Boudot, J.-P. and Ranger, J.
Tree species effects on solution chemistry and major element fluxes: A case study in the Morvan (Breuil, France)
2016
Forest Ecology and Management
Vol. 378, pp. 244-258 
article
DOI URL 
Li, H., Ilyina, T., Müller, W.A. and Sienz, F.
Decadal predictions of the North Atlantic CO2 uptake
2016
Nature Communications
Vol. 7(1), pp. 1-7 
article
DOI URL 
Li, T., Raivonen, M., Alekseychik, P., Aurela, M., Lohila, A., Zheng, X., Zhang, Q., Wang, G., Mammarella, I., Rinne, J., Yu, L., Xie, B., Vesala, T. and Zhang, W.
Importance of vegetation classes in modeling CH4 emissions from boreal and subarctic wetlands in Finland
2016
Science of the Total Environment
Vol. 572, pp. 1111-1122 
article
DOI  
Li, W., Ciais, P., Wang, Y., Peng, S., Broquet, G., Ballantyne, A.P., Canadell, J.G., Cooper, L., Friedlingstein, P., Le Quéré, C., Myneni, R.B., Peters, G.P., Piao, S. and Pongratz, J.
Reducing uncertainties in decadal variability of the global carbon budget with multiple datasets
2016
Proceedings of the National Academy of Sciences of the United States of America
Vol. 113(46), pp. 13104-13108 
article
DOI URL 
Logue, J.B., Stedmon, C.A., Kellerman, A.M., Nielsen, N.J., Andersson, A.F., Laudon, H., Lindström, E.S. and Kritzberg, E.S.
Experimental insights into the importance of aquatic bacterial community composition to the degradation of dissolved organic matter
2016
ISME Journal
Vol. 10(3), pp. 533-545 
article
DOI URL 
Lohila, A., Aalto, T., Aurela, M., Hatakka, J., Tuovinen, J.P., Kilkki, J., Penttilä, T., Vuorenmaa, J., Hänninen, P., Sutinen, R., Viisanen, Y. and Laurila, T.
Large contribution of boreal upland forest soils to a catchment-scale CH4 balance in a wet year
2016
Geophysical Research Letters
Vol. 43(6), pp. 2946-2953 
article
DOI  
Machacova, K., Bäck, J., Vanhatalo, A., Halmeenmäki, E., Kolari, P., Mammarella, I., Pumpanen, J., Acosta, M., Urban, O. and Pihlatie, M.
Pinus sylvestris as a missing source of nitrous oxide and methane in boreal forest
2016
Scientific Reports
Vol. 6 
article
DOI  
Mamadou, O., Gourlez de la Motte, L., De Ligne, A., Heinesch, B. and Aubinet, M.
Sensitivity of the annual net ecosystem exchange to the cospectral model used for high frequency loss corrections at a grazed grassland site
2016
Agricultural and Forest Meteorology
Vol. 228-229, pp. 360-369 
article
DOI URL 
Mammarella, I., Peltola, O., Nordbo, A. and Järvi, L.
Quantifying the uncertainty of eddy covariance fluxes due to the use of different software packages and combinations of processing steps in two contrasting ecosystems
2016
Atmospheric Measurement Techniques
Vol. 9(10), pp. 4915-4933 
article
DOI  
Mammarella, I., Peltola, O., Nordbo, A., Järvi, L. and Rannik, Ü.
EddyUH: an advanced software package for eddy covariance flux calculation for a wide range of instrumentation and ecosystems
2016
Atmospheric Measurement Techniques Discussions, pp. 1-33 
article
DOI URL 
Massart, S., Agusti-Panareda, A., Heymann, J., Buchwitz, M., Chevallier, F., Reuter, M., Hilker, M., Burrows, J.P., Deutscher, N.M., Feist, D.G., Hase, F., Sussmann, R., Desmet, F., Dubey, M.K., Griffith, D.W., Kivi, R., Petri, C., Schneider, M. and Velazco, V.A.
Ability of the 4-D-Var analysis of the GOSAT BESD XCO2 retrievals to characterize atmospheric CO2 at large and synoptic scales
2016
Atmospheric Chemistry and Physics
Vol. 16(3), pp. 1653-1671 
article
DOI  
Mathijssen, P.J., Väliranta, M., Korrensalo, A., Alekseychik, P., Vesala, T., Rinne, J. and Tuittila, E.S.
Reconstruction of Holocene carbon dynamics in a large boreal peatland complex, southern Finland
2016
Quaternary Science Reviews
Vol. 142, pp. 1-15 
article
DOI  
McKinley, G.A., Pilcher, D.J., Fay, A.R., Lindsay, K., Long, M.C. and Lovenduski, N.S.
Timescales for detection of trends in the ocean carbon sink
2016
Nature
Vol. 530(7591), pp. 469-472 
article
DOI URL 
Medinets, S., Gasche, R., Skiba, U., Schindlbacher, A., Kiese, R. and Butterbach-Bahl, K.
Cold season soil NO fluxes from a temperate forest: drivers and contribution to annual budgets
2016
Environmental Research Letters
Vol. 11(11), pp. 114012 
article
DOI URL 
Metzger, C., Nilsson, M.B., Peichl, M. and Jansson, P.E.
Parameter interactions and sensitivity analysis for modelling carbon heat and water fluxes in a natural peatland, using CoupModel v5
2016

Vol. 9(12)Geoscientific Model Development, pp. 4313-4338 
misc
DOI  
Molina-Herrera, S., Haas, E., Klatt, S., Kraus, D., Augustin, J., Magliulo, V., Tallec, T., Ceschia, E., Ammann, C., Loubet, B., Skiba, U., Jones, S., Brümmer, C., Butterbach-Bahl, K. and Kiese, R.
A modeling study on mitigation of N2O emissions and NO3 leaching at different agricultural sites across Europe using LandscapeDNDC
2016
Science of the Total Environment
Vol. 553, pp. 128-140 
article
DOI URL 
Moussa, H., Benallal, M.A., Goyet, C. and Lefèvre, N.
Satellite-derived CO2 fugacity in surface seawater of the tropical Atlantic Ocean using a feedforward neural network
2016
International Journal of Remote Sensing
Vol. 37(3), pp. 580-598 
article
DOI URL 
Müller, D., Bange, H.W., Warneke, T., Rixen, T., Müller, M., Mujahid, A. and Notholt, J.
Nitrous oxide and methane in two tropical estuaries in a peat-dominated region of North-western Borneo
2016
Biogeosciences Discussions, pp. 1-28 
article
DOI URL 
Müller, D., Warneke, T., Rixen, T., Müller, M., Mujahid, A., Bange, H.W. and Notholt, J.
Fate of terrestrial organic carbon and associated CO2 and CO emissions from two Southeast Asian estuaries
2016
Biogeosciences
Vol. 13(3), pp. 691-705 
article
DOI URL 
Musavi, T., Migliavacca, M., van de Weg, M.J., Kattge, J., Wohlfahrt, G., van Bodegom, P.M., Reichstein, M., Bahn, M., Carrara, A., Domingues, T.F., Gavazzi, M., Gianelle, D., Gimeno, C., Granier, A., Gruening, C., Havránková, K., Herbst, M., Hrynkiw, C., Kalhori, A., Kaminski, T., Klumpp, K., Kolari, P., Longdoz, B., Minerbi, S., Montagnani, L., Moors, E., Oechel, W.C., Reich, P.B., Rohatyn, S., Rossi, A., Rotenberg, E., Varlagin, A., Wilkinson, M., Wirth, C. and Mahecha, M.D.
Potential and limitations of inferring ecosystem photosynthetic capacity from leaf functional traits
2016
Ecology and Evolution
Vol. 6(20), pp. 7352-7366 
article
DOI  
Nair, R.K.F., Perks, M.P., Weatherall, A., Baggs, E.M. and Mencuccini, M.
Does canopy nitrogen uptake enhance carbon sequestration by trees?
2016
Global Change Biology
Vol. 22(2), pp. 875-888 
article
DOI URL 
Necki, J.M., Gałkowski, M., Chmura, Ł., Gerbig, C., Zimnoch, M., Zieba, D., Bartyzel, J., Wołkowicz, W. and Róża'nski, K.
Regional representativeness of CH4 and N2O mixing ratio measurements at high-altitude mountain station Kasprowy Wierch, southern Poland
2016
Aerosol and Air Quality Research
Vol. 16(3), pp. 568-580 
article
DOI URL 
Obersteiner, F., Bönisch, H. and Engel, A.
An automated gas chromatography time-of-flight mass spectrometry instrument for the quantitative analysis of halocarbons in air
2016
Atmospheric Measurement Techniques
Vol. 9(1), pp. 179-194 
article
DOI URL 
Osterwalder, S., Fritsche, J., Alewell, C., Schmutz, M., Nilsson, M.B., Jocher, G., Sommar, J., Rinne, J. and Bishop, K.
A dual-inlet, single detector relaxed eddy accumulation system for long-term measurement of mercury flux
2016
Atmospheric Measurement Techniques
Vol. 9(2), pp. 509-524 
article
DOI  
Parard, G., Charantonis, A.A. and Rutgersson, A.
Using satellite data to estimate partial pressure of CO textlesssubtextgreater2textless/subtextgreater in the Baltic Sea
2016
Journal of Geophysical Research: Biogeosciences
Vol. 121(3), pp. 1002-1015 
article
DOI URL 
Petäjä, T., O'Connor, E.J., Moisseev, D., Sinclair, V.A., Manninen, A.J., Väänänen, R., Von Lerber, A., Thornton, J.A., Nicoll, K., Petersen, W., Chandrasekar, V., Smith, J.N., Winkler, P.M., KrüGer, O., Hakola, H., Timonen, H., Brus, D., Laurila, T., Asmi, E., Riekkola, M.L., Mona, L., Massoli, P., Engelmann, R., Komppula, M., Wang, J., Kuang, C., BäCk, J., Virtanen, A., Levula, J., Ritsche, M. and Hickmon, N.
A field campaign to elucidate the impact of biogenic aerosols on clouds and climate
2016
Bulletin of the American Meteorological Society
Vol. 97(10), pp. 1909-1928 
article
DOI  
Pihlatie, M., Rannik, Haapanala, S., Peltola, O., Shurpali, N., Martikainen, P.J., Lind, S., Hyvönen, N., Virkajärvi, P., Zahniser, M. and Mammarella, I.
Seasonal and diurnal variation in CO fluxes from an agricultural bioenergy crop
2016
Biogeosciences Discussions
Vol. 2016, pp. 1-27 
article
DOI URL 
Qu, W., Bogena, H.R., Huisman, J.A., Schmidt, M., Kunkel, R., Weuthen, A., Schiedung, H., Schilling, B., Sorg, J. and Vereecken, H.
The integrated water balance and soil data set of the Rollesbroich hydrological observatory
2016
Earth System Science Data
Vol. 8(2), pp. 517-529 
article
DOI URL 
Rannik, Ü., Peltola, O. and Mammarella, I.
Random uncertainties of flux measurements by the eddy covariance technique
2016
Atmospheric Measurement Techniques Discussions, pp. 1-31 
article
DOI URL 
Rannik, Ü., Zhou, L., Zhou, P., Gierens, R., Mammarella, I., Sogachev, A. and Boy, M.
Aerosol dynamics within and above forest in relation to turbulent transport and dry deposition
2016
Atmospheric Chemistry and Physics
Vol. 16(5), pp. 3145-3160 
article
DOI  
Rantala, P., Järvi, L., Taipale, R., Laurila, T.K., Patokoski, J., Kajos, M.K., Kurppa, M., Haapanala, S., Siivola, E., Petäjä, T., Ruuskanen, T.M. and Rinne, J.
Anthropogenic and biogenic influence on VOC fluxes at an urban background site in Helsinki, Finland
2016
Atmospheric Chemistry and Physics
Vol. 16(12), pp. 7981-8007 
article
DOI  
Rérolle, V., Ruiz-Pino, D., Rafizadeh, M., Loucaides, S., Papadimitriou, S., Mowlem, M. and Chen, J.
Measuring pH in the Arctic Ocean: Colorimetric method or SeaFET?
2016
Methods in Oceanography
Vol. 17, pp. 32-49 
article
DOI  
Riikonen, A., Järvi, L. and Nikinmaa, E.
Environmental and crown related factors affecting street tree transpiration in Helsinki, Finland
2016
Urban Ecosystems
Vol. 19(4), pp. 1693-1715 
article
DOI  
RÓzANSKI, K., Chmura, L., Gałkowski, M., NÈtextcopyrightCKI, J., Zimnoch, M., Bartyzel, J. and O'doherty, S.
Monitoring of Greenhouse Gases in the Atmosphere-A Polish Perspective
2016
Papers on Global Change IGBP
Vol. 23(1), pp. 111-126 
article
DOI URL 
Rutgers, M., Wouterse, M., Drost, S.M., Breure, A.M., Mulder, C., Stone, D., Creamer, R.E., Winding, A. and Bloem, J.
Monitoring soil bacteria with community-level physiological profiles using Biologâ"¢ ECO-plates in the Netherlands and Europe
2016
Applied Soil Ecology
Vol. 97, pp. 23-35 
article
DOI URL 
Sabbatini, S., Arriga, N., Bertolini, T., Castaldi, S., Chiti, T., Consalvo, C., Njakou Djomo, S., Gioli, B., Matteucci, G. and Papale, D.
Greenhouse gas balance of cropland conversion to bioenergy poplar short-rotation coppice
2016
Biogeosciences
Vol. 13(1), pp. 95-113 
article
DOI URL 
Santalahti, M., Sun, H., Jumpponen, A., Pennanen, T. and Heinonsalo, J.
Vertical and seasonal dynamics of fungal communities in boreal Scots pine forest soil
2016
FEMS Microbiology Ecology
Vol. 92(11), pp. fiw170 
article
DOI  
Satar, E., Berhanu, T.A., Brunner, D., Henne, S. and Leuenberger, M.
Continuous CO2/CH4/CO measurements (2012-2014) at Beromunster tall tower station in Switzerland
2016
Biogeosciences
Vol. 13(9), pp. 2623-2635 
article
DOI URL 
Schaefer, H., Fletcher, S.E., Veidt, C., Lassey, K.R., Brailsford, G.W., Bromley, T.M., Dlugokencky, E.J., Michel, S.E., Miller, J.B., Levin, I., Lowe, D.C., Martin, R.J., Vaughn, B.H. and White, J.W.C.
A 21st-century shift from fossil-fuel to biogenic methane emissions indicated by 13CH4
2016
Science
Vol. 352(6281), pp. 80-84 
article
DOI URL 
Schibig, M.F., Mahieu, E., Henne, S., Lejeune, B. and Leuenberger, M.C.
Intercomparison of in situ NDIR and column FTIR measurements of CO2 at Jungfraujoch
2016
Atmospheric Chemistry and Physics
Vol. 16(15), pp. 9935-9949 
article
DOI URL 
Senapati, N., Jansson, P.E., Smith, P. and Chabbi, A.
Modelling heat, water and carbon fluxes in mown grassland under multi-objective and multi-criteria constraints
2016
Environmental Modelling and Software
Vol. 80, pp. 201-224 
article
DOI  
Serrano-Ortiz, P., Sánchez-Cañete, E.P., Olmo, F.J., Metzger, S., Pérez-Priego, O., Carrara, A., Alados-Arboledas, L. and Kowalski, A.S.
Surface-Parallel Sensor Orientation for Assessing Energy Balance Components on Mountain Slopes
2016
Boundary-Layer Meteorology
Vol. 158(3), pp. 489-499 
article
DOI URL 
Shurpali, N.J., Rannik, Ü., Jokinen, S., Lind, S., Biasi, C., Mammarella, I., Peltola, O., Pihlatie, M., Hyvönen, N., Räty, M., Haapanala, S., Zahniser, M., Virkajärvi, P., Vesala, T. and Martikainen, P.J.
Neglecting diurnal variations leads to uncertainties in terrestrial nitrous oxide emissions
2016
Scientific Reports
Vol. 6 
article
DOI  
Shutler, J.D., Land, P.E., Piolle, J.F., Woolf, D.K., Goddijn-Murphy, L., Paul, F., Girard-Ardhuin, F., Chapron, B. and Donlon, C.J.
FluxEngine: A flexible processing system for calculating atmosphere-ocean carbon dioxide gas fluxes and climatologies
2016
Journal of Atmospheric and Oceanic Technology
Vol. 33(4), pp. 741-756 
article
DOI URL 
Simmonds, P.G., Rigby, M., Manning, A.J., Lunt, M.F., O'Doherty, S., McCulloch, A., Fraser, P.J., Henne, S., Vollmer, M.K., Mühle, J., Weiss, R.F., Salameh, P.K., Young, D., Reimann, S., Wenger, A., Arnold, T., Harth, C.M., Krummel, P.B., Steele, L.P., Dunse, B.L., Miller, B.R., Lunder, C.R., Hermansen, O., Schmidbauer, N., Saito, T., Yokouchi, Y., Park, S., Li, S., Yao, B., Zhou, L.X., Arduini, J., Maione, M., Wang, R.H.J., Ivy, D. and Prinn, R.G.
Global and regional emissions estimates of 1,1-difluoroethane (HFC-152a, CH3CHF2) from in situ and air archive observations
2016
Atmospheric Chemistry and Physics
Vol. 16(1), pp. 365-382 
article
DOI URL 
Soubie, R., Heinesch, B., Granier, A., Aubinet, M. and Vincke, C.
Evapotranspiration assessment of a mixed temperate forest by four methods: Eddy covariance, soil water budget, analytical and model
2016
Agricultural and Forest Meteorology
Vol. 228-229, pp. 191-204 
article
DOI URL 
Spank, U., Köstner, B., Moderow, U., Grünwald, T. and Bernhofer, C.
Surface conductance of five different crops based on 10 years of eddy-covariance measurements
2016
Meteorologische Zeitschrift
Vol. 25(3), pp. 251-256 
article
DOI URL 
Sperlich, P., Uitslag, N.A.M., Richter, J.M., Rothe, M., Geilmann, H., van der Veen, C., Röckmann, T., Blunier, T. and Brand, W.A.
Development and evaluation of a suite of isotope reference gases for methane in air
2016
Atmospheric Measurement Techniques Discussions, pp. 1-24 
article
DOI URL 
Stepanenko, V., Mammarella, I., Ojala, A., Miettinen, H., Lykosov, V. and Vesala, T.
LAKE 2.0: A model for temperature, methane, carbon dioxide and oxygen dynamics in lakes
2016
Geoscientific Model Development
Vol. 9(5), pp. 1977-2006 
article
DOI  
Stone, D., Blomkvist, P., Hendriksen, N.B., Bonkowski, M., Jørgensen, H.B., Carvalho, F., Dunbar, M.B., Gardi, C., Geisen, S., Griffiths, R., Hug, A.S., Jensen, J., Laudon, H., Mendes, S., Morais, P.V., Orgiazzi, A., Plassart, P., Römbke, J., Rutgers, M., Schmelz, R.M., Sousa, J.P., Steenbergen, E., Suhadolc, M., Winding, A., Zupan, M., Lemanceau, P. and Creamer, R.E.
A method of establishing a transect for biodiversity and ecosystem function monitoring across Europe
2016
Applied Soil Ecology
Vol. 97, pp. 3-11 
article
DOI URL 
Sun, H., Santalahti, M., Pumpanen, J., Köster, K., Berninger, F., Raffaello, T., Asiegbu, F.O. and Heinonsalo, J.
Bacterial community structure and function shift across a northern boreal forest fire chronosequence
2016
Scientific Reports
Vol. 6 
article
DOI  
Thompson, R.L., Patra, P.K., Chevallier, F., Maksyutov, S., Law, R.M., Ziehn, T., Van Der Laan-Luijkx, I.T., Peters, W., Ganshin, A., Zhuravlev, R., Maki, T., Nakamura, T., Shirai, T., Ishizawa, M., Saeki, T., Machida, T., Poulter, B., Canadell, J.G. and Ciais, P.
Top-down assessment of the Asian carbon budget since the mid 1990s
2016
Nature Communications
Vol. 7, pp. 10724 
article
DOI URL 
Tian, H., Lu, C., Ciais, P., Michalak, A.M., Canadell, J.G., Saikawa, E., Huntzinger, D.N., Gurney, K.R., Sitch, S., Zhang, B., Yang, J., Bousquet, P., Bruhwiler, L., Chen, G., Dlugokencky, E., Friedlingstein, P., Melillo, J., Pan, S., Poulter, B., Prinn, R., Saunois, M., Schwalm, C.R. and Wofsy, S.C.
The terrestrial biosphere as a net source of greenhouse gases to the atmosphere
2016
Nature
Vol. 531(7593), pp. 225-228 
article
DOI URL 
Tramontana, G., Jung, M., Schwalm, C.R., Ichii, K., Camps-Valls, G., Ráduly, B., Reichstein, M., Arain, M.A., Cescatti, A., Kiely, G., Merbold, L., Serrano-Ortiz, P., Sickert, S., Wolf, S. and Papale, D.
Predicting carbon dioxide and energy fluxes across global FLUXNET sites with regression algorithms
2016
Biogeosciences
Vol. 13(14), pp. 4291-4313 
article
DOI URL 
Van Der Molen, M.K., De Jeu, R.A.M., Wagner, W., Van Der Velde, I.R., Kolari, P., Kurbatova, J., Varlagin, A., Maximov, T.C., Kononov, A.V., Ohta, T., Kotani, A., Krol, M.C. and Peters, W.
The effect of assimilating satellite-derived soil moisture data in SiBCASA on simulated carbon fluxes in Boreal Eurasia
2016
Hydrology and Earth System Sciences
Vol. 20(2), pp. 605-624 
article
DOI URL 
Vanbeveren, S.P.P., Gebauer, R., Plichta, R., VolaÅ™ík, D. and Ceulemans, R.
Nutrients and energy in proleptic branches and leaves of poplar under a short-rotation coppice
2016
Biomass and Bioenergy
Vol. 85, pp. 271-277 
article
DOI URL 
Vardag, S.N., Hammer, S. and Levin, I.
Evaluation of 4 years of continuous δ13C(CO2) data using a moving Keeling plot method
2016
Biogeosciences
Vol. 13(14), pp. 4237-4251 
article
DOI  
Vicca, S., Balzarolo, M., Filella, I., Granier, A., Herbst, M., Knohl, A., Longdoz, B., Mund, M., Nagy, Z., Pintér, K., Rambal, S., Verbesselt, J., Verger, A., Zeileis, A., Zhang, C. and Peñuelas, J.
Remotely-sensed detection of effects of extreme droughts on gross primary production
2016
Scientific Reports
Vol. 6(1), pp. 28269 
article
DOI URL 
Walter, S., Kock, A., Steinhoff, T., Fiedler, B., Fietzek, P., Kaiser, J., Krol, M., Popa, M.E., Chen, Q., Tanhua, T. and Röckmann, T.
Isotopic evidence for biogenic molecular hydrogen production in the Atlantic Ocean
2016
Biogeosciences
Vol. 13(1), pp. 323-340 
article
DOI URL 
Wolf, S., Keenan, T.F., Fisher, J.B., Baldocchi, D.D., Desai, A.R., Richardson, A.D., Scott, R.L., Law, B.E., Litvak, M.E., Brunsell, N.A., Peters, W. and Van Der Laan-Luijkx, I.T.
Warm spring reduced carbon cycle impact of the 2012 US summer drought
2016
Proceedings of the National Academy of Sciences of the United States of America
Vol. 113(21), pp. 5880-5885 
article
DOI URL 
Wrobel, I. and Piskozub, J.
Effect of gas-transfer velocity parameterization choice on air–sea CO<sub>2</sub> fluxes in the North Atlantic Ocean and the European Arctic
2016
Ocean Science
Vol. 12(5), pp. 1091-1103 
article
DOI URL 
Wu, X., Vuichard, N., Ciais, P., Viovy, N., De Noblet-Ducoudré, N., Wang, X., Magliulo, V., Wattenbach, M., Vitale, L., Di Tommasi, P., Moors, E.J., Jans, W., Elbers, J., Ceschia, E., Tallec, T., Bernhofer, C., Grünwald, T., Moureaux, C., Manise, T., Ligne, A., Cellier, P., Loubet, B., Larmanou, E. and Ripoche, D.
ORCHIDEE-CROP (v0), a new process-based agro-land surface model: Model description and evaluation over Europe
2016
Geoscientific Model Development
Vol. 9(2), pp. 857-873 
article
DOI URL 
Yasunaka, S., Murata, A., Watanabe, E., Chierici, M., Fransson, A., van Heuven, S., Hoppema, M., Ishii, M., Johannessen, T., Kosugi, N., Lauvset, S.K., Mathis, J.T., Nishino, S., Omar, A.M., Olsen, A., Sasano, D., Takahashi, T. and Wanninkhof, R.
Mapping of the air–sea CO2 flux in the Arctic Ocean and its adjacent seas: Basin-wide distribution and seasonal to interannual variability
2016
Polar Science
Vol. 10(3), pp. 323-334 
article
DOI  
Zellweger, C., Emmenegger, L., Firdaus, M., Hatakka, J., Heimann, M., Kozlova, E., Gerard Spain, T., Steinbacher, M., Van Der Schoot, M.V. and Buchmann, B.
Assessment of recent advances in measurement techniques for atmospheric carbon dioxide and methane observations
2016
Atmospheric Measurement Techniques
Vol. 9(9), pp. 4737-4757 
article
DOI URL 
Zenone, T., Hendriks, C., Brilli, F., Fransen, E., Gioli, B., Portillo-Estrada, M., Schaap, M. and Ceulemans, R.
Interaction between isoprene and ozone fluxes in a poplar plantation and its impact on air quality at the European level
2016
Scientific Reports
Vol. 6(1), pp. 32676 
article
DOI URL 
Zenone, T., Zona, D., Gelfand, I., Gielen, B., Camino-Serrano, M. and Ceulemans, R.
CO2 uptake is offset by CH4 and N2O emissions in a poplar short-rotation coppice
2016
GCB Bioenergy
Vol. 8(3), pp. 524-538 
article
DOI URL 
Zhao, J., Peichl, M. and Nilsson, M.B.
Enhanced winter soil frost reduces methane emission during the subsequent growing season in a boreal peatland
2016
Global Change Biology
Vol. 22(2), pp. 750-762 
article
DOI  
Zhao, J., Peichl, M., Öquist, M. and Nilsson, M.B.
Gross primary production controls the subsequent winter CO2 exchange in a boreal peatland
2016

Vol. 22(12)Global Change Biology, pp. 4028-4037 
misc
DOI  
Zhou, M., Dils, B., Wang, P., Detmers, R., Yoshida, Y., O'Dell, C.W., Feist, D.G., Velazco, V.A., Schneider, M. and De Mazière, M.
Validation of TANSO-FTS/GOSAT XCO2 and XCH4 glint mode retrievals using TCCON data from near-ocean sites
2016
Atmospheric Measurement Techniques
Vol. 9(3), pp. 1415-1430 
article
DOI  
Ziembli'nska, K., Urbaniak, M., Chojnicki, B.H., Black, T.A., Niu, S. and Olejnik, J.
Net ecosystem productivity and its environmental controls in a mature Scots pine stand in north-western Poland
2016
Agricultural and Forest Meteorology
Vol. 228-229, pp. 60-72 
article
DOI  
Zweifel, R.
Radial stem variations - a source of tree physiological information not fully exploited yet
2016
Plant, Cell and Environment
Vol. 39(2), pp. 231-232 
article
DOI URL 
Zweifel, R., Haeni, M., Buchmann, N. and Eugster, W.
Are trees able to grow in periods of stem shrinkage?
2016
New Phytologist
Vol. 211(3), pp. 839-849 
article
DOI URL 
Aalto, T., Hatakka, J., Kouznetsov, R. and Stanislawska, K.
Background and anthropogenic influences on atmospheric co 2 concentrations measured at Pallas: comparison of two models for tracing air mass history
2015
 
techreport
URL 
Ago, E.E., Serça, D., Agbossou, E.K., Galle, S. and Aubinet, M.
Carbon dioxide fluxes from a degraded woodland in West Africa and their responses to main environmental factors
2015
Carbon Balance and Management
Vol. 10(1), pp. 22 
article
DOI URL 
Ågren, A.M., Lidberg, W. and Ring, E.
Mapping temporal dynamics in a forest stream network-implications for riparian forest management
2015
Forests
Vol. 6(9), pp. 2982-3001 
article
DOI URL 
Åkerblom, S., Meili, M. and Bishop, K.
Organic matter in rain: An overlooked influence on mercury deposition
2015
Environmental Science and Technology Letters
Vol. 2(4), pp. 128-132 
article
DOI URL 
Alberti, G., Vicca, S., Inglima, I., Belelli-Marchesini, L., Genesio, L., Miglietta, F., Marjanovic, H., Martinez, C., Matteucci, G., D'Andrea, E., Peressotti, A., Petrella, F., Rodeghiero, M. and Cotrufo, M.F.
Soil C:N stoichiometry controls carbon sink partitioning between above-ground tree biomass and soil organic matter in high fertility forests
2015
iForest - Biogeosciences and Forestry
Vol. 8(2), pp. 195-206 
article
DOI URL 
Alexe, M., Bergamaschi, P., Segers, A., Detmers, R., Butz, A., Hasekamp, O., Guerlet, S., Parker, R., Boesch, H., Frankenberg, C., Scheepmaker, R.A., Dlugokencky, E., Sweeney, C., Wofsy, S.C. and Kort, E.A.
Inverse modelling of CH4 emissions for 2010-2011 using different satellite retrieval products from GOSAT and SCIAMACHY
2015
Atmospheric Chemistry and Physics
Vol. 15(1), pp. 113-133 
article
DOI URL 
Ali, G., Tetzlaff, D., Mcdonnell, J.J., Soulsby, C., Carey, S., Laudon, H., Mcguire, K., Buttle, J., Seibert, J. and Shanley, J.
Comparison of threshold hydrologic response across northern catchments
2015
Hydrological Processes
Vol. 29(16), pp. 3575-3591 
article
DOI URL 
Allin, S.J., Laube, J.C., Witrant, E., Kaiser, J., McKenna, E., Dennis, P., Mulvaney, R., Capron, E., Martinerie, P., Röckmann, T., Blunier, T., Schwander, J., Fraser, P.J., Langenfelds, R.L. and Sturges, W.T.
Chlorine isotope composition in chlorofluorocarbons CFC-11, CFC-12 and CFC-113 in firn, stratospheric and tropospheric air
2015
Atmospheric Chemistry and Physics
Vol. 15(12), pp. 6867-6877 
article
DOI URL 
Alory, G., Delcroix, T., Téchiné, P., Diverrès, D., Varillon, D., Cravatte, S., Gouriou, Y., Grelet, J., Jacquin, S., Kestenare, E., Maes, C., Morrow, R., Perrier, J., Reverdin, G. and Roubaud, F.
The French contribution to the voluntary observing ships network of sea surface salinity
2015
Deep Sea Research Part I: Oceanographic Research Papers
Vol. 105, pp. 1-18 
article
DOI  
Anav, A., Friedlingstein, P., Beer, C., Ciais, P., Harper, A., Jones, C., Murray-Tortarolo, G., Papale, D., Parazoo, N.C., Peylin, P., Piao, S., Sitch, S., Viovy, N., Wiltshire, A. and Zhao, M.
Spatiotemporal patterns of terrestrial gross primary production: A review
2015
Reviews of Geophysics
Vol. 53(3), pp. 785-818 
article
DOI URL 
Arévalo-Martínez, D.L., Kock, A., Löscher, C.R., Schmitz, R.A. and Bange, H.W.
Massive nitrous oxide emissions from the tropical South Pacific Ocean
2015
Nature Geoscience
Vol. 8(7), pp. 530-533 
article
DOI URL 
Arévalo-Martínez, D.L., Kock, A., Löscher, C.R., Schmitz, R.A., Stramma, L. and Bange, H.W.
Influence of mesoscale eddies on the distribution of nitrous oxide in the eastern tropical South Pacific
2015
Biogeosciences Discussions
Vol. 12(12), pp. 9243-9273 
article
DOI URL 
Arruda, R., Calil, P.H.R., Bianchi, A.A., Doney, S.C., Gruber, N., Lima, I. and Turi, G.
Air-sea CO<sub>2</sub> fluxes and the controls on ocean surface <i>p</i>CO<sub>2</sub> seasonal variability in the coastal and open-ocean southwestern Atlantic Ocean: a modeling study
2015
Biogeosciences
Vol. 12(19), pp. 5793-5809 
article
DOI URL 
Baatz, R., Bogena, H.R., Hendricks Franssen, H.J., Huisman, J.A., Montzka, C. and Vereecken, H.
An empirical vegetation correction for soil water content quantification using cosmic ray probes
2015
Water Resources Research
Vol. 51(4), pp. 2030-2046 
article
DOI URL 
Babenhauserheide, A., Basu, S., Houweling, S., Peters, W. and Butz, A.
Comparing the CarbonTracker and M5-4DVar data assimilation systems for CO2 surface flux inversions
2015
Atmospheric Chemistry and Physics
Vol. 15(17), pp. 9747-9763 
article
DOI URL 
Ballantyne, A.P., Andres, R., Houghton, R., Stocker, B.D., Wanninkhof, R., Anderegg, W., Cooper, L.A., DeGrandpre, M., Tans, P.P., Miller, J.B., Alden, C. and White, J.W.C.
Audit of the global carbon budget: estimate errors and their impact on uptake uncertainty
2015
Biogeosciences
Vol. 12(8), pp. 2565-2584 
article
DOI URL 
Balzarolo, M., Vescovo, L., Hammerle, A., Gianelle, D., Papale, D., Tomelleri, E. and Wohlfahrt, G.
On the relationship between ecosystem-scale hyperspectral reflectance and CO2 exchange in European mountain grasslands
2015
Biogeosciences
Vol. 12(10), pp. 3089-3108 
article
DOI URL 
Barton, L., Wolf, B., Rowlings, D., Scheer, C., Kiese, R., Grace, P., Stefanova, K. and Butterbach-Bahl, K.
Sampling frequency affects estimates of annual nitrous oxide fluxes
2015
Scientific Reports
Vol. 5, pp. 15912 
article
DOI URL 
Bergamaschi, P., Corazza, M., Karstens, U., Athanassiadou, M., Thompson, R.L., Pison, I., Manning, A.J., Bousquet, P., Segers, A., Vermeulen, A.T., Janssens-Maenhout, G., Schmidt, M., Ramonet, M., Meinhardt, F., Aalto, T., Haszpra, L., Moncrieff, J., Popa, M.E., Lowry, D., Steinbacher, M., Jordan, A., O'Doherty, S., Piacentino, S. and Dlugokencky, E.
Top-down estimates of European CH4 and N2O emissions based on four different inverse models
2015
Atmospheric Chemistry and Physics
Vol. 15(2), pp. 715-736 
article
DOI URL 
Berggren, M., Bergström, A.K. and Karlsson, J.
Intraspecific autochthonous and allochthonous resource use by zooplankton in a humic lake during the transitions between winter, summer and fall
2015
PLoS ONE
Vol. 10(3), pp. e0120575 
article
DOI URL 
Berhongaray, G. and Ceulemans, R.
Neglected carbon pools and fluxes in the soil balance of short-rotation woody biomass crops
2015
Biomass and Bioenergy
Vol. 73, pp. 62-66 
article
DOI URL 
Berhongaray, G., Verlinden, M.S., Broeckx, L.S. and Ceulemans, R.
Changes in belowground biomass after coppice in two Populus genotypes
2015
Forest Ecology and Management
Vol. 337, pp. 1-10 
article
DOI URL 
Biavati, G., Feist, D.G., Gerbig, C. and Kretschmer, R.
Error estimation for localized signal properties: Application to atmospheric mixing height retrievals
2015
Atmospheric Measurement Techniques
Vol. 8(10), pp. 4215-4230 
article
DOI  
Bidleman, T., Agosta, K., Andersson, A., Brorström-Lundén, E., Haglund, P., Hansson, K., Laudon, H., Newton, S., Nygren, O., Ripszam, M., Tysklind, M. and Wiberg, K.
Atmospheric pathways of chlorinated pesticides and natural bromoanisoles in the northern Baltic Sea and its catchment
2015
Ambio
Vol. 44(S3), pp. 472-483 
article
DOI URL 
Bishop, K. and Seibert, J.
A primer for hydrology: The beguiling simplicity of Water's journey from rain to stream at 30
2015
Hydrological Processes
Vol. 29(16), pp. 3443-3446 
article
DOI URL 
Bogena, H.R., Bol, R., Borchard, N., Brüggemann, N., Diekkrüger, B., Drüe, C., Groh, J., Gottselig, N., Huisman, J.A., Lücke, A., Missong, A., Neuwirth, B., Pütz, T., Schmidt, M., Stockinger, M., Tappe, W., Weihermüller, L., Wiekenkamp, I. and Vereecken, H.
A terrestrial observatory approach to the integrated investigation of the effects of deforestation on water, energy, and matter fluxes
2015
Science China Earth Sciences
Vol. 58(1), pp. 61-75 
article
DOI URL 
Bonne, J.L., Steen-Larsen, H.C., Risi, C., Werner, M., Sodemann, H., Lacour, J.L., Fettweis, X., Cesana, G., Delmotte, M., Cattani, O., Vallelonga, P., Kjær, H.A., Clerbaux, C., Sveinbjörnsdóttir, Á.E. and Masson-Delmotte, V.
The summer 2012 Greenland heat wave: In situ and remote sensing observations of water vapor isotopic composition during an atmospheric river event
2015
Journal of Geophysical Research
Vol. 120(7), pp. 2970-2989 
article
DOI  
Bosco, S., Volpi, I., o Di Nasso, N.N., Triana, F., Roncucci, N., Tozzini, C., Villani, R., Laville, P., Neri, S., Mattei, F., Virgili, G., Nuvoli, S., Fabbrini, L. and Bonari, E.
LIFE+IPNOA mobile prototype for the monitoring of soil N2O emissions from arable crops: First-year results on durum wheat
2015
Italian Journal of Agronomy
Vol. 10(3), pp. 124-131 
article
DOI URL 
Brix, H., Menemenlis, D., Hill, C., Dutkiewicz, S., Jahn, O., Wang, D., Bowman, K. and Zhang, H.
Using Green's Functions to initialize and adjust a global, eddying ocean biogeochemistry general circulation model
2015
Ocean Modelling
Vol. 95, pp. 1-14 
article
DOI URL 
Brown, P.J., Jullion, L., Landschützer, P., Bakker, D.C.E., Naveira Garabato, A.C., Meredith, M.P., Torres-Valdés, S., Watson, A.J., Hoppema, M., Loose, B., Jones, E.M., Telszewski, M., Jones, S.D. and Wanninkhof, R.
Carbon dynamics of the Weddell Gyre, Southern Ocean
2015
Global Biogeochemical Cycles
Vol. 29(3), pp. 288-306 
article
DOI URL 
Brutsaert, W.
A generalized complementary principle with physical constraints for land-surface evaporation
2015
Water Resources Research
Vol. 51(10), pp. 8087-8093 
article
DOI  
Burrows, R.M., Hotchkiss, E.R., Jonsson, M., Laudon, H., Mckie, B.G. and Sponseller, R.A.
Nitrogen limitation of heterotrophic biofilms in boreal streams
2015
Freshwater Biology
Vol. 60(7), pp. 1237-1251 
article
DOI URL 
Bužková, R., Acosta, M., Dařenová, E., Pokorný, R. and Pavelka, M.
Environmental factors influencing the relationship between stem CO2 efflux and sap flow
2015
Trees - Structure and Function
Vol. 29(2), pp. 333-343 
article
DOI  
Campioli, M., Vicca, S., Luyssaert, S., Bilcke, J., Ceschia, E., Chapin, F.S., Ciais, P., Fernández-Martínez, M., Malhi, Y., Obersteiner, M., Olefeldt, D., Papale, D., Piao, S.L., Peñuelas, J., Sullivan, P.F., Wang, X., Zenone, T. and Janssens, I.A.
Biomass production efficiency controlled by management in temperate and boreal ecosystems
2015
Nature Geoscience
Vol. 8(11), pp. 843-846 
article
DOI URL 
Chen, Z., Yu, G., Zhu, X., Wang, Q., Niu, S. and Hu, Z.
Covariation between gross primary production and ecosystem respiration across space and the underlying mechanisms: A global synthesis
2015
Agricultural and Forest Meteorology
Vol. 203, pp. 180-190 
article
DOI  
Combe, M., Vilà-Guerau De Arellano, J., Ouwersloot, H.G., Jacobs, C.M.J. and Peters, W.
Two perspectives on the coupled carbon, water and energy exchange in the planetary boundary layer
2015
Biogeosciences
Vol. 12(1), pp. 103-123 
article
DOI URL 
Creed, I.F., McKnight, D.M., Pellerin, B.A., Green, M.B., Bergamaschi, B.A., Aiken, G.R., Burns, D.A., Findlay, S.E.G., Shanley, J.B., Striegl, R.G., Aulenbach, B.T., Clow, D.W., Laudon, H., McGlynn, B.L., McGuire, K.J., Smith, R.A. and Stackpoole, S.M.
The river as a chemostat: Fresh perspectives on dissolved organic matter flowing down the river continuum
2015
Canadian Journal of Fisheries and Aquatic Sciences
Vol. 72(8), pp. 1272-1285 
article
DOI URL 
Danehpash, S.
Evaluation of Standards and Techniques for Retrieval of Geospatial Raster Data  A study for the ICOS Carbon Portal
2015
Student thesis series INES; (2015) 
techreport
URL 
De Groote, T., Zona, D., Broeckx, L.S., Verlinden, M.S., Luyssaert, S., Bellassen, V., Vuichard, N., Ceulemans, R., Gobin, A. and Janssens, I.A.
ORCHIDEE-SRC v1.0: An extension of the land surface model ORCHIDEE for simulating short rotation coppice poplar plantations
2015
Geoscientific Model Development
Vol. 8(5), pp. 1461-1471 
article
DOI URL 
Dvorská, A., Sedlák, P., Schwarz, J., Fusek, M., Hanuš, V., Vodička, P. and Trusina, J.
Atmospheric station KÅ™ešín u Pacova, Czech Republic – a Central European research infrastructure for studying greenhouse gases, aerosols and air quality
2015
Advances in Science and Research
Vol. 12(1), pp. 79-83 
article
DOI URL 
Eder, F., Schmidt, M., Damian, T., Träumner, K. and Mauder, M.
Mesoscale eddies affect near-surface turbulent exchange: Evidence from lidar and tower measurements
2015
Journal of Applied Meteorology and Climatology
Vol. 54(1), pp. 189-206 
article
DOI URL 
Eklöf, K., Kraus, A., Futter, M., Schelker, J., Meili, M., Boyer, E.W. and Bishop, K.
Parsimonious Model for Simulating Total Mercury and Methylmercury in Boreal Streams Based on Riparian Flow Paths and Seasonality
2015
Environmental Science and Technology
Vol. 49(13), pp. 7851-7859 
article
DOI URL 
El Kasmioui, O., Verbruggen, A. and Ceulemans, R.
The 2013 reforms of the Flemish renewable electricity support: Missed opportunities
2015
Renewable Energy
Vol. 83, pp. 905-917 
article
DOI URL 
Erhagen, B., Ilstedt, U. and Nilsson, M.B.
Temperature sensitivity of heterotrophic soil CO2 production increases with increasing carbon substrate uptake rate
2015
Soil Biology and Biochemistry
Vol. 80, pp. 45-52 
article
DOI URL 
Eugster, W. and Merbold, L.
Eddy covariance for quantifying trace gas fluxes from soils
2015
Soil
Vol. 1(1), pp. 187-205 
article
DOI URL 
Eyer, S., Tuzson, B., Popa, M.E., van der Veen, C., Röckmann, T., Rothe, M., Brand, W.A., Fisher, R., Lowry, D., Nisbet, E.G., Brennwald, M.S., Harris, E., Zellweger, C., Emmenegger, L., Fischer, H. and Mohn, J.
Real-time analysis of δ 13 C- and δD-CH 4 in ambient air with laser spectroscopy: method development and first intercomparison results
2015
Atmospheric Measurement Techniques Discussions
Vol. 8(8), pp. 8925-8970 
article
DOI URL 
Fang, Z., Bogena, H., Kollet, S., Koch, J. and Vereecken, H.
Spatio-temporal validation of long-term 3D hydrological simulations of a forested catchment using empirical orthogonal functions and wavelet coherence analysis
2015
Journal of Hydrology
Vol. 529, pp. 1754-1767 
article
DOI URL 
Fichot, R., Brignolas, F., Cochard, H. and Ceulemans, R.
Vulnerability to drought-induced cavitation in poplars: Synthesis and future opportunities
2015
Plant, Cell and Environment
Vol. 38(7), pp. 1233-1251 
article
DOI URL 
Filipovic, M., Laudon, H., McLachlan, M.S. and Berger, U.
Mass Balance of Perfluorinated Alkyl Acids in a Pristine Boreal Catchment
2015
Environmental Science and Technology
Vol. 49(20), pp. 12127-12135 
article
DOI URL 
Ganesan, A.L., Manning, A.J., Grant, A., Young, D., Oram, D.E., Sturges, W.T., Moncrieff, J.B. and O'Doherty, S.
Quantifying methane and nitrous oxide emissions from the UK and Ireland using a national-scale monitoring network
2015
Atmospheric Chemistry and Physics
Vol. 15(11), pp. 6393-6406 
article
DOI URL 
Gebauer, R., Čermák, J., Plichta, R., Špinlerová, Z., Urban, J., VolaÅ™ík, D. and Ceulemans, R.
Within-canopy variation in needle morphology and anatomy of vascular tissues in a sparse Scots pine forest
2015
Trees - Structure and Function
Vol. 29(5), pp. 1447-1457 
article
DOI URL 
Gebler, S., Hendricks Franssen, H.J., Pütz, T., Post, H., Schmidt, M. and Vereecken, H.
Actual evapotranspiration and precipitation measured by lysimeters: A comparison with eddy covariance and tipping bucket
2015
Hydrology and Earth System Sciences
Vol. 19(5), pp. 2145-2161 
article
DOI URL 
Goddijn-Murphy, L.M., Woolf, D.K., Land, P.E., Shutler, J.D. and Donlon, C.
The OceanFlux Greenhouse Gases methodology for deriving a sea surface climatology of CO<sub>2</sub> fugacity in support of air–sea gas flux studies
2015
Ocean Science
Vol. 11(4), pp. 519-541 
article
DOI URL 
Goffin, S., Wylock, C., Haut, B., Maier, M., Longdoz, B. and Aubinet, M.
Modeling soil CO2 production and transport to investigate the intra-day variability of surface efflux and soil CO2 concentration measurements in a Scots Pine Forest (Pinus Sylvestris, L.)
2015
Plant and Soil
Vol. 390(1-2), pp. 195-211 
article
DOI URL 
Gouttevin, I., Lehning, M., Jonas, T., Gustafsson, D. and Mölder, M.
A two-layer canopy model with thermal inertia for an improved snowpack energy balance below needleleaf forest (model SNOWPACK, version 3.2.1, revision 741)
2015
Geoscientific Model Development
Vol. 8(8), pp. 2379-2398 
article
DOI URL 
Graziosi, F., Arduini, J., Furlani, F., Giostra, U., Kuijpers, L.J.M., Montzka, S.A., Miller, B.R., O'Doherty, S.J., Stohl, A., Bonasoni, P. and Maione, M.
European emissions of HCFC-22 based on eleven years of high frequency atmospheric measurements and a Bayesian inversion method
2015
Atmospheric Environment
Vol. 112, pp. 196-207 
article
DOI URL 
Hahmann, A.N., Vincent, C.L., Peña, A., Lange, J. and Hasager, C.B.
Wind climate estimation using WRF model output: Method and model sensitivities over the sea
2015
International Journal of Climatology
Vol. 35(12), pp. 3422-3439 
article
DOI URL 
Hari, P., Petäjä, T., Bäck, J., Kerminen, V.-M., Lappalainen, H.K., Vihma, T., Laurila, T., Viisanen, Y., Vesala, T. and Kulmala, M.
Conceptual design of a measurement network of the global change
2015
Atmospheric Chemistry and Physics Discussions
Vol. 15(15), pp. 21063-21093 
article
DOI URL 
Hartman, S.E., Jiang, Z.-P., Turk, D., Lampitt, R.S., Frigstad, H., Ostle, C. and Schuster, U.
Biogeochemical variations at the Porcupine Abyssal Plain sustained Observatory in the northeast Atlantic Ocean, from weekly to inter-annual timescales
2015
Biogeosciences
Vol. 12(3), pp. 845-853 
article
DOI URL 
Haszpra, L., Barcza, Z., Haszpra, T., Pátkai, Z.S. and Davis, K.J.
How well do tall-tower measurements characterize the CO2 mole fraction distribution in the planetary boundary layer?
2015
Atmospheric Measurement Techniques
Vol. 8(4), pp. 1657-1671 
article
DOI URL 
Hausmann, P., Sussmann, R. and Smale, D.
Contribution of oil and natural gas production to renewed increase of atmospheric methane (2007-2014): Top-down estimate from ethane and methane column observations
2015
Atmospheric Chemistry and Physics Discussions
Vol. 15(24), pp. 35991-36028 
article
DOI URL 
Heinonsalo, J., Sun, H., Santalahti, M., Bäcklund, K., Hari, P. and Pumpanen, J.
Evidences on the ability of mycorrhizal genus Piloderma to use organic nitrogen and deliver it to Scots pine
2015
PLoS ONE
Vol. 10(7) 
article
DOI  
Heiskanen, J.J., Mammarella, I., Ojala, A., Stepanenko, V., Erkkilä, K.M., Miettinen, H., Sandström, H., Eugster, W., Leppäranta, M., Järvinen, H., Vesala, T. and Nordbo, A.
Effects of water clarity on lake stratification and lake-atmosphere heat exchange
2015
Journal of Geophysical Research
Vol. 120(15), pp. 7412-7428 
article
DOI URL 
Hellsten, A., Luukkonen, S.M., Steinfeld, G., Kanani-Sühring, F., Markkanen, T., Järvi, L., Lento, J., Vesala, T. and Raasch, S.
Footprint Evaluation for Flux and Concentration Measurements for an Urban-Like Canopy with Coupled Lagrangian Stochastic and Large-Eddy Simulation Models
2015
Boundary-Layer Meteorology
Vol. 157(2), pp. 191-217 
article
DOI URL 
Henriksson, N., Tarvainen, L., Lim, H., Tor-Ngern, P., Palmroth, S., Oren, R., Marshall, J. and Näsholm, T.
Stem compression reversibly reduces phloem transport in Pinus sylvestris trees
2015
Tree Physiology
Vol. 35(10), pp. 1075-1085 
article
DOI URL 
Herbst, M., Mund, M., Tamrakar, R. and Knohl, A.
Differences in carbon uptake and water use between a managed and an unmanaged beech forest in central Germany
2015
Forest Ecology and Management
Vol. 355, pp. 101-108 
article
DOI URL 
Hoker, J., Obersteiner, F., Bönisch, H. and Engel, A.
Comparison of GC/time-of-flight MS with GC/quadrupole MS for halocarbon trace gas analysis
2015
Atmospheric Measurement Techniques
Vol. 8(5), pp. 2195-2206 
article
DOI URL 
Holding, J.M., Duarte, C.M., Sanz-Martín, M., Mesa, E., Arrieta, J.M., Chierici, M., Hendriks, I.E., García-Corral, L.S., Regaudie-De-Gioux, A., Delgado, A., Reigstad, M., Wassmann, P. and Agustí, S.
Temperature dependence of CO2-enhanced primary production in the European Arctic Ocean
2015
Nature Climate Change
Vol. 5(12), pp. 1079-1082 
article
DOI URL 
Hu, G., Jia, L. and Menenti, M.
Comparison of MOD16 and LSA-SAF MSG evapotranspiration products over Europe for 2011
2015
Remote Sensing of Environment
Vol. 156, pp. 510-526 
article
DOI URL 
Hytteborn, J.K., Temnerud, J., Alexander, R.B., Boyer, E.W., Futter, M.N., Fröberg, M., Dahné, J. and Bishop, K.H.
Patterns and predictability in the intra-annual organic carbon variability across the boreal and hemiboreal landscape
2015
Science of the Total Environment
Vol. 520, pp. 260-269 
article
DOI URL 
Ibánhez, J.S.P., Diverrès, D., Araujo, M. and Lefèvre, N.
Seasonal and interannual variability of sea-air CO textlesssubtextgreater2textless/subtextgreater fluxes in the tropical Atlantic affected by the Amazon River plume
2015
Global Biogeochemical Cycles
Vol. 29(10), pp. 1640-1655 
article
DOI URL 
Jantze, E.J., Laudon, H., Dahlke, H.E. and Lyon, S.W.
Spatial Variability of Dissolved Organic and Inorganic Carbon in Subarctic Headwater Streams
2015
Arctic, Antarctic, and Alpine Research
Vol. 47(3), pp. 529-546 
article
DOI URL 
Johansson, S., Carlqvist, K., Kataria, R., Ulvcrona, T., Bergsten, U., Arshadi, M., Galbe, M. and Lidén, G.
Implications of differences in macromolecular composition of stem fractions for processing of Scots pine
2015
Wood Science and Technology
Vol. 49(5), pp. 1037-1054 
article
DOI URL 
Jones, S.D., Le Quéré, C., Rödenbeck, C., Manning, A.C. and Olsen, A.
A statistical gap-filling method to interpolate global monthly surface ocean carbon dioxide data
2015
Journal of Advances in Modeling Earth Systems
Vol. 7(4), pp. 1554-1575 
article
DOI URL 
Kadygrov, N., Broquet, G., Chevallier, F., Rivier, L., Gerbig, C. and Ciais, P.
On the potential of the ICOS atmospheric CO2 measurement network for estimating the biogenic CO2 budget of Europe
2015
Atmospheric Chemistry and Physics
Vol. 15(22), pp. 12765-12787 
article
DOI URL 
Karstens, U., Schwingshackl, C., Schmithüsen, D. and Levin, I.
A process-based 222radon flux map for Europe and its comparison to long-term observations
2015
Atmospheric Chemistry and Physics
Vol. 15(22), pp. 12845-12865 
article
DOI URL 
Karstensen, J., Fiedler, B., Schütte, F., Brandt, P., Körtzinger, A., Fischer, G., Zantopp, R., Hahn, J., Visbeck, M. and Wallace, D.
Open ocean dead zones in the tropical North Atlantic Ocean
2015
Biogeosciences
Vol. 12(8), pp. 2597-2605 
article
DOI URL 
Kilkki, J., tuula Aalto, Hatakka, J., harri Portin and tuomas Laurila
atmospheric co 2 observations at Finnish urban and rural sites
2015
 
techreport
URL 
Köchy, M., Don, A., Van Der Molen, M.K. and Freibauer, A.
Global distribution of soil organic carbon – Part 2: Certainty of changes related to land use and climate
2015
SOIL
Vol. 1(1), pp. 367-380 
article
DOI  
Kothawala, D.N., Ji, X., Laudon, H., Ågren, A.M., Futter, M.N., Köhler, S.J. and Tranvik, L.J.
The relative influence of land cover, hydrology, and in-stream processing on the composition of dissolved organic matter in boreal streams
2015
Journal of Geophysical Research G: Biogeosciences
Vol. 120(8), pp. 1491-1505 
article
DOI URL 
Kugler, F., Lee, S.K., Hajnsek, I. and Papathanassiou, K.P.
Forest Height Estimation by Means of Pol-InSAR Data Inversion: The Role of the Vertical Wavenumber
2015
IEEE Transactions on Geoscience and Remote Sensing
Vol. 53(10), pp. 5294-5311 
article
DOI URL 
Kuglerova, L., Jansson, R., Sponseller, R.A., Laudon, H. and Malm-Renöfält, B.
Local and regional processes determine plant species richness in a river-network metacommunity
2015
Ecology
Vol. 96(2), pp. 381-391 
article
DOI URL 
Kurppa, M., Nordbo, A., Haapanala, S. and Järvi, L.
Effect of seasonal variability and land use on particle number and COtextlessinftextgreater2textless/inftextgreater exchange in Helsinki, Finland
2015
Urban Climate
Vol. 13, pp. 94-109 
article
DOI  
Kutsch, W.L. and Kolari, P.
Data quality and the role of nutrients in forest carbon-use efficiency
2015
Nature Climate Change
Vol. 5(11), pp. 959-960 
article
DOI URL 
Lam, N., Nathanson, M., Lundgren, N., Rehnström, R. and Lyon, S.W.
A Cost-Effective Laser Scanning Method for Mapping Stream Channel Geometry and Roughness
2015
Journal of the American Water Resources Association
Vol. 51(5), pp. 1211-1220 
article
DOI URL 
Landschützer, P., Gruber, N., Haumann, F.A., Rödenbeck, C., Bakker, D.C.E., Van Heuven, S., Hoppema, M., Metzl, N., Sweeney, C., Takahashi, T., Tilbrook, B. and Wanninkhof, R.
The reinvigoration of the Southern Ocean carbon sink
2015
Science
Vol. 349(6253), pp. 1221-1224 
article
DOI URL 
Langer, M., Westermann, S., Walter Anthony, K., Wischnewski, K. and Boike, J.
Frozen ponds: Production and storage of methane during the Arctic winter in a lowland tundra landscape in northern Siberia, Lena River delta
2015
Biogeosciences
Vol. 12(4), pp. 977-990 
article
DOI URL 
Langford, B., Acton, W., Ammann, C., Valach, A. and Nemitz, E.
Eddy-covariance data with low signal-to-noise ratio: Time-lag determination, uncertainties and limit of detection
2015
Atmospheric Measurement Techniques
Vol. 8(10), pp. 4197-4213 
article
DOI  
Lauvset, S.K., Gruber, N., Landschützer, P., Olsen, A. and Tjiputra, J.
Trends and drivers in global surface ocean pH over the past 3 decades
2015
Biogeosciences
Vol. 12(5), pp. 1285-1298 
article
DOI URL 
Patricia Laville, Simone Neri, David Continanza, Luca Ferrante Vero, Simona Bosco and Giorgio Virgili
Cross-Validation of a Mobile N2O Flux Prototype (IPNOA) Using Micrometeorological and Chamber Methods
2015
Journal of Energy and Power Engineering
Vol. 9(4) 
article
DOI URL 
Le Quéré, C., Moriarty, R., Andrew, R.M., Canadell, J.G., Sitch, S., Korsbakken, J.I., Friedlingstein, P., Peters, G.P., Andres, R.J., Boden, T.A., Houghton, R.A., House, J.I., Keeling, R.F., Tans, P., Arneth, A., Bakker, D.C.E., Barbero, L., Bopp, L., Chang, J., Chevallier, F., Chini, L.P., Ciais, P., Fader, M., Feely, R.A., Gkritzalis, T., Harris, I., Hauck, J., Ilyina, T., Jain, A.K., Kato, E., Kitidis, V., Klein Goldewijk, K., Koven, C., Landschützer, P., Lauvset, S.K., Lefèvre, N., Lenton, A., Lima, I.D., Metzl, N., Millero, F., Munro, D.R., Murata, A., S. Nabel, J.E.M., Nakaoka, S., Nojiri, Y., O'Brien, K., Olsen, A., Ono, T., Pérez, F.F., Pfeil, B., Pierrot, D., Poulter, B., Rehder, G., Rödenbeck, C., Saito, S., Schuster, U., Schwinger, J., Séférian, R., Steinhoff, T., Stocker, B.D., Sutton, A.J., Takahashi, T., Tilbrook, B., Van Der Laan-Luijkx, I.T., Van Der Werf, G.R., Van Heuven, S., Vandemark, D., Viovy, N., Wiltshire, A., Zaehle, S. and Zeng, N.
Global Carbon Budget 2015
2015
Earth System Science Data
Vol. 7(2), pp. 349-396 
article
DOI URL 
Le Quéré, C., Moriarty, R., Andrew, R.M., Peters, G.P., Ciais, P., Friedlingstein, P., Jones, S.D., Sitch, S., Tans, P., Arneth, A., Boden, T.A., Bopp, L., Bozec, Y., Séférian, R., Segschneider, J., Steinhoff, T., Stocker, B.D., Sutton, A.J., Takahashi, T., Tilbrook, B., Van Der Werf, G.R., Viovy, N., Wang, Y.-P., Wanninkhof, R., Wiltshire, A. and Zeng, N.
Global carbon budget 2014
2015
Earth Syst. Sci. Data
Vol. 7, pp. 20 
article
DOI URL 
Lebegue, B., Schmidt, M., Ramonet, M., Wastine, B., Yver Kwok, C., Laurent, O., Belviso, S., Guemri, A., Philippon, C., Smith, J., Conil, S., Jost, H.J. and Crosson, E.R.
Comparison of nitrous oxide (N 2 O) analyzers for high-precision measurements of atmospheric mole fractions
2015
Atmospheric Measurement Techniques Discussions
Vol. 8(10), pp. 10937-10982 
article
DOI URL 
Ledesma, J.L.J., Grabs, T., Bishop, K.H., Schiff, S.L. and Köhler, S.J.
Potential for long-term transfer of dissolved organic carbon from riparian zones to streams in boreal catchments
2015
Global Change Biology
Vol. 21(8), pp. 2963-2979 
article
DOI URL 
Legge, O.J., Bakker, D.C.E., Johnson, M.T., Meredith, M.P., Venables, H.J., Brown, P.J. and Lee, G.A.
The seasonal cycle of ocean-atmosphere CO textlesssubtextgreater2textless/subtextgreater flux in Ryder Bay, west Antarctic Peninsula
2015
Geophysical Research Letters
Vol. 42(8), pp. 2934-2942 
article
DOI URL 
Leith, F.I., Dinsmore, K.J., Wallin, M.B., Billett, M.F., Heal, K.V., Laudon, H., Öquist, M.G. and Bishop, K.
Carbon dioxide transport across the hillslope-riparian-stream continuum in a boreal headwater catchment
2015
Biogeosciences
Vol. 12(6), pp. 1881-1902 
article
DOI URL 
Li, T., Zhang, W., Zhang, Q., Lu, Y., Wang, G., Niu, Z., Raivonen, M. and Vesala, T.
Impacts of climate and reclamation on temporal variations in CH4 emissions from different wetlands in China: From 1950 to 2010
2015
Biogeosciences
Vol. 12(23), pp. 6853-6868 
article
DOI  
Lin, X., Indira, N.K., Ramonet, M., Delmotte, M., Ciais, P., Bhatt, B.C., Reddy, M.V., Angchuk, D., Balakrishnan, S., Jorphail, S., Dorjai, T., Mahey, T.T., Patnaik, S., Begum, M., Brenninkmeijer, C., Durairaj, S., Kirubagaran, R., Schmidt, M., Swathi, P.S., Vinithkumar, N.V., Yver Kwok, C. and Gaur, V.K.
Long-lived atmospheric trace gases measurements in flask samples from three stations in India
2015
Atmospheric Chemistry and Physics
Vol. 15(17), pp. 9819-9849 
article
DOI URL 
Lindfors, L., Hölttä, T., Lintunen, A., Porcar-Castell, A., Nikinmaa, E. and Juurola, E.
Dynamics of leaf gas exchange, chlorophyll fluorescence and stem diameter changes during freezing and thawing of Scots pine seedlings
2015
Tree Physiology
Vol. 35(12), pp. 1314-1324 
article
DOI  
Lindqvist, H., O'Dell, C.W., Basu, S., Boesch, H., Chevallier, F., Deutscher, N., Feng, L., Fisher, B., Hase, F., Inoue, M., Kivi, R., Morino, I., Palmer, P.I., Parker, R., Schneider, M., Sussmann, R. and Yoshida, Y.
Does GOSAT capture the true seasonal cycle of carbon dioxide?
2015
Atmospheric Chemistry and Physics
Vol. 15(22), pp. 13023-13040 
article
DOI URL 
Locatelli, R., Bousquet, P., Hourdin, F., Saunois, M., Cozic, A., Couvreux, F., Grandpeix, J.Y., Lefebvre, M.P., Rio, C., Bergamaschi, P., Chambers, S.D., Karstens, U., Kazan, V., Van Der Laan, S., Meijer, H.A.J., Moncrieff, J., Ramonet, M., Scheeren, H.A., Schlosser, C., Schmidt, M., Vermeulen, A. and Williams, A.G.
Atmospheric transport and chemistry of trace gases in LMDz5B: Evaluation and implications for inverse modelling
2015
Geoscientific Model Development
Vol. 8(2), pp. 129-150 
article
DOI URL 
Lohila, A., Tuovinen, J.-P., Hatakka, J., Aurela, M. and Vuorenmaa, J.
Carbon dioxide and energy fluxes over a northern boreal lake
2015
 
techreport
 
Lopez, M., Schmidt, M., Ramonet, M., Bonne, J.L., Colomb, A., Kazan, V., Laj, P. and Pichon, J.M.
Three years of semicontinuous greenhouse gas measurements at the Puy de Dôme station (central France)
2015
Atmospheric Measurement Techniques
Vol. 8(9), pp. 3941-3958 
article
DOI URL 
Lunt, M.F., Rigby, M., Ganesan, A.L., Manning, A.J., Prinn, R.G., O'Doherty, S., Mühle, J., Harth, C.M., Salameh, P.K., Arnold, T., Weiss, R.F., Saito, T., Yokouchi, Y., Krummel, P.B., Steele, L.P., Fraser, P.J., Li, S., Park, S., Reimann, S., Vollmer, M.K., Lunder, C., Hermansen, O., Schmidbauer, N., Maione, M., Arduini, J., Young, D. and Simmonds, P.G.
Reconciling reported and unreported HFC emissions with atmospheric observations
2015
Proceedings of the National Academy of Sciences of the United States of America
Vol. 112(19), pp. 5927-5931 
article
DOI URL 
Lyon, S.W., Nathanson, M., Lam, N., Dahlke, H.E., Rutzinger, M., Kean, J.W. and Laudon, H.
Can low-resolution airborne laser scanning data be used to model stream rating curves?
2015
Water (Switzerland)
Vol. 7(4), pp. 1324-1339 
article
DOI URL 
Ma, M., Wang, D., Du, H., Sun, T., Zhao, Z. and Wei, S.
Atmospheric mercury deposition and its contribution of the regional atmospheric transport to mercury pollution at a national forest nature reserve, southwest China
2015
Environmental Science and Pollution Research
Vol. 22(24), pp. 20007-20018 
article
DOI URL 
Maaroufi, N.I., Nordin, A., Hasselquist, N.J., Bach, L.H., Palmqvist, K. and Gundale, M.J.
Anthropogenic nitrogen deposition enhances carbon sequestration in boreal soils
2015
Global Change Biology
Vol. 21(8), pp. 3169-3180 
article
DOI URL 
Mammarella, I., Nordbo, A., Rannik, Ü., Haapanala, S., Levula, J., Laakso, H., Ojala, A., Peltola, O., Heiskanen, J., Pumpanen, J. and Vesala, T.
Carbon dioxide and energy fluxes over a small boreal lake in Southern Finland
2015
Journal of Geophysical Research G: Biogeosciences
Vol. 120(7), pp. 1296-1314 
article
DOI URL 
Marrec, P., Cariou, T., Macé, E., Morin, P., Salt, L.A., Vernet, M., Taylor, B., Paxman, K. and Bozec, Y.
Dynamics of air–sea CO<sub>2</sub> fluxes in the northwestern European shelf based on voluntary observing ship and satellite observations
2015
Biogeosciences
Vol. 12(18), pp. 5371-5391 
article
DOI URL 
Matteucci, M., Gruening, C., Goded Ballarin, I., Seufert, G. and Cescatti, A.
Components, drivers and temporal dynamics of ecosystem respiration in a Mediterranean pine forest
2015
Soil Biology and Biochemistry
Vol. 88, pp. 224-235 
article
DOI  
Monteiro, P.M., Gregor, L., Lévy, M., Maenner, S., Sabine, C.L. and Swart, S.
Intraseasonal variability linked to sampling alias in air-sea CO2 fluxes in the Southern Ocean
2015
Geophysical Research Letters
Vol. 42(20), pp. 8507-8514 
article
DOI  
Nauta, A.L., Heijmans, M.M.P.D., Blok, D., Limpens, J., Elberling, B., Gallagher, A., Li, B., Petrov, R.E., Maximov, T.C., Van Huissteden, J. and Berendse, F.
Permafrost collapse after shrub removal shifts tundra ecosystem to a methane source
2015
Nature Climate Change
Vol. 5(1), pp. 67-70 
article
DOI URL 
Nijp, J.J., Limpens, J., Metselaar, K., Peichl, M., Nilsson, M.B., van der Zee, S.E. and Berendse, F.
Rain events decrease boreal peatland net CO2 uptake through reduced light availability
2015
Global Change Biology
Vol. 21(6), pp. 2309-2320 
article
DOI  
Nordbo, A., Karsisto, P., Matikainen, L., Wood, C.R. and Järvi, L.
Urban surface cover determined with airborne lidar at 2m resolution - Implications for surface energy balance modelling
2015
Urban Climate
Vol. 13, pp. 52-72 
article
DOI  
Ostler, A., Sussmann, R., Patra, P.K., Wennberg, P.O., Deutscher, N.M., Griffith, D.W.T., Blumenstock, T., Hase, F., Kivi, R., Warneke, T., Wang, Z., De Mazière, M., Robinson, J. and Ohyama, H.
The imprint of stratospheric transport on column-averaged methane
2015
Atmospheric Chemistry and Physics Discussions
Vol. 15(14), pp. 20395-20447 
article
DOI URL 
Pal, S., Lopez, M., Schmidt, M., Ramonet, M., Gibert, F., Xueref-Remy, I. and Ciais, P.
Investigation of the atmospheric boundary layer depth variability and its impact on the 222Rn concentration at a rural site in France
2015
Journal of Geophysical Research
Vol. 120(2), pp. 623-643 
article
DOI URL 
Papale, D., Black, T.A., Carvalhais, N., Cescatti, A., Chen, J., Jung, M., Kiely, G., Lasslop, G., Mahecha, M.D., Margolis, H., Merbold, L., Montagnani, L., Moors, E., Olesen, J.E., Reichstein, M., Tramontana, G., Van Gorsel, E., Wohlfahrt, G. and Ráduly, B.
Effect of spatial sampling from European flux towers for estimating carbon and water fluxes with artificial neural networks
2015
Journal of Geophysical Research: Biogeosciences
Vol. 120(10), pp. 1941-1957 
article
DOI  
Parard, G., Charantonis, A.A. and Rutgerson, A.
Remote sensing the sea surface CO2 of the Baltic Sea using the SOMLO methodology
2015
Biogeosciences
Vol. 12(11), pp. 3369-3384 
article
DOI URL 
Parker, R.J., Boesch, H., Byckling, K., Webb, A.J., Palmer, P.I., Feng, L., Bergamaschi, P., Chevallier, F., Notholt, J., Deutscher, N., Warneke, T., Hase, F., Sussmann, R., Kawakami, S., Kivi, R., Griffith, D.W.T. and Velazco, V.
Assessing 5 years of GOSAT Proxy XCH4 data and associated uncertainties
2015
Atmospheric Measurement Techniques
Vol. 8(11), pp. 4785-4801 
article
DOI URL 
de la Paz, M., Huertas, I.E., Flecha, S., Ríos, A.F. and Pérez, F.F.
Nitrous oxide and methane in Atlantic and Mediterranean waters in the Strait of Gibraltar: Air-sea fluxes and inter-basin exchange
2015
Progress in Oceanography
Vol. 138, pp. 18-31 
article
DOI URL 
Peltola, O., Hensen, A., Belelli Marchesini, L., Helfter, C., Bosveld, F.C., van den Bulk, W.C.M., Haapanala, S., van Huissteden, J., Laurila, T., Lindroth, A., Nemitz, E., Röckmann, T., Vermeulen, A.T. and Mammarella, I.
Studying the spatial variability of methane flux with five eddy covariance towers of varying height
2015
Agricultural and Forest Meteorology
Vol. 214-215, pp. 456-472 
article
DOI  
Peralta-Tapia, A., Sponseller, R.A., Ågren, A., Tetzlaff, D., Soulsby, C. and Laudon, H.
Scale-dependent groundwater contributions influence patterns of winter baseflow stream chemistry in boreal catchments
2015
Journal of Geophysical Research: Biogeosciences
Vol. 120(5), pp. 847-858 
article
DOI URL 
Peralta-Tapia, A., Sponseller, R.A., Tetzlaff, D., Soulsby, C. and Laudon, H.
Connecting precipitation inputs and soil flow pathways to stream water in contrasting boreal catchments
2015
Hydrological Processes
Vol. 29(16), pp. 3546-3555 
article
DOI URL 
Pérez-Priego, O., López-Ballesteros, A., Sánchez-Cañete, E.P., Serrano-Ortiz, P., Kutzbach, L., Domingo, F., Eugster, W. and Kowalski, A.S.
Analysing uncertainties in the calculation of fluxes using whole-plant chambers: random and systematic errors
2015
Plant and Soil
Vol. 393(1-2), pp. 229-244 
article
DOI  
Personne, E., Tardy, F., Génermont, S., Decuq, C., Gueudet, J.C., Mascher, N., Durand, B., Masson, S., Lauransot, M., Fléchard, C., Burkhardt, J. and Loubet, B.
Investigating sources and sinks for ammonia exchanges between the atmosphere and a wheat canopy following slurry application with trailing hose
2015
Agricultural and Forest Meteorology
Vol. 207, pp. 11-23 
article
DOI URL 
Petrescu, A.M.R., Lohila, A., Tuovinen, J.P., Baldocchi, D.D., Desai, A.R., Roulet, N.T., Vesala, T., Dolman, A.J., Oechel, W.C., Marcolla, B., Friborg, T., Rinne, J., Matthes, J.H., Merbold, L., Meijide, A., Kiely, G., Sottocornola, M., Sachs, T., Zona, D., Varlagin, A., Lai, D.Y.F., Veenendaal, E., Parmentier, F.J.W., Skiba, U., Lund, M., Hensen, A., Van Huissteden, J., Flanagan, L.B., Shurpali, N.J., Grünwald, T., Humphreys, E.R., Jackowicz-Korczy'nski, M., Aurela, M.A., Laurila, T., Grüning, C., Corradi, C.A.R., Schrier-Uijl, A.P., Christensen, T.R., Tamstorf, M.P., Mastepanov, M., Martikainen, P.J., Verma, S.B., Bernhofer, C. and Cescatti, A.
The uncertain climate footprint of wetlands under human pressure
2015
Proceedings of the National Academy of Sciences of the United States of America
Vol. 112(15), pp. 4594-4599 
article
DOI URL 
Post, H., Hendricks Franssen, H.J., Graf, A., Schmidt, M. and Vereecken, H.
Uncertainty analysis of eddy covariance CO2 flux measurements for different EC tower distances using an extended two-tower approach
2015
Biogeosciences
Vol. 12(4), pp. 1205-1221 
article
DOI URL 
Potier, E., Ogée, J., Jouanguy, J., Lamaud, E., Stella, P., Personne, E., Durand, B., Mascher, N. and Loubet, B.
Multilayer modelling of ozone fluxes on winter wheat reveals large deposition on wet senescing leaves
2015
Agricultural and Forest Meteorology
Vol. 211-212, pp. 58-71 
article
DOI  
Raivonen, M., Mäkiranta, P., Lohila, A., Juutinen, S., Vesala, T. and Tuittila, E.S.
A simple CO2 exchange model simulates the seasonal leaf area development of peatland sedges
2015
Ecological Modelling
Vol. 314, pp. 32-43 
article
DOI  
Rantakari, M., Heiskanen, J., Mammarella, I., Tulonen, T., Linnaluoma, J., Kankaala, P. and Ojala, A.
Different Apparent Gas Exchange Coefficients for CO2 and CH4: Comparing a Brown-Water and a Clear-Water Lake in the Boreal Zone during the Whole Growing Season
2015
Environmental Science and Technology
Vol. 49(19), pp. 11388-11394 
article
DOI URL 
Rhoderick, G.C., Hall, B.D., Harth, C.M., Kim, J.S., Lee, J., Montzka, S.A., Mühle, J., Reimann, S., Vollmer, M.K. and Weiss, R.F.
Comparison of halocarbon measurements in an atmospheric dry whole air sampleInter-comparison of halocarbons in an atmospheric dry whole air sample
2015
Elementa
Vol. 3, pp. 75 
article
DOI URL 
Richter, F., Döring, C., Jansen, M., Panferov, O., Spank, U. and Bernhofer, C.
How to predict hydrological effects of local land use change: How the vegetation parameterisation for short rotation coppices influences model results
2015
Hydrology and Earth System Sciences
Vol. 19(8), pp. 3457-3474 
article
DOI URL 
Rödenbeck, C., Bakker, D.C., Gruber, N., Iida, Y., Jacobson, A.R., Jones, S., Landschützer, P., Metzl, N., Nakaoka, S., Olsen, A., Park, G.H., Peylin, P., Rodgers, K.B., Sasse, T.P., Schuster, U., Shutler, J.D., Valsala, V., Wanninkhof, R. and Zeng, J.
Data-based estimates of the ocean carbon sink variability - First results of the Surface Ocean pCO2 Mapping intercomparison (SOCOM)
2015
Biogeosciences
Vol. 12(23), pp. 7251-7278 
article
DOI  
Roland, M., Vicca, S., Bahn, M., Ladreiter-Knauss, T., Schmitt, M. and Janssens, I.A.
Importance of nondiffusive transport for soil CO2 efflux in a temperate mountain grassland
2015
Journal of Geophysical Research: Biogeosciences
Vol. 120(3), pp. 502-512 
article
DOI  
Santoro, M., Eriksson, L.E.B. and Fransson, J.E.S.
Reviewing ALOS PALSAR backscatter observations for stem volume retrieval in Swedish forest
2015
Remote Sensing
Vol. 7(4), pp. 4290-4317 
article
DOI URL 
Schelker, J., Sponseller, R., Ring, E., Högbom, L., Löfgren, S. and Laudon, H.
Nitrogen export from a boreal stream network following forest harvesting: seasonal nitrate removal and conservative export of organic forms
2015
Biogeosciences Discussions
Vol. 12(15), pp. 12061-12089 
article
DOI URL 
Schibig, M.F., Steinbacher, M., Buchmann, B., Van Der Laan-Luijkx, I.T., Van Der Laan, S., Ranjan, S. and Leuenberger, M.C.
Comparison of continuous in situ CO2 observations at Jungfraujoch using two different measurement techniques
2015
Atmospheric Measurement Techniques
Vol. 8(1), pp. 57-68 
article
DOI URL 
Schneider, B., Buecker, S., Kaitala, S., Maunula, P. and Wasmund, N.
Characteristics of the spring/summer production in the Mecklenburg Bight (Baltic Sea) as revealed by long-term pCO2 data
2015
Oceanologia
Vol. 57(4), pp. 375-385 
article
DOI URL 
Schoenenberger, F., Vollmer, M.K., Rigby, M., Hill, M., Fraser, P.J., Krummel, P.B., Langenfelds, R.L., Rhee, T.S., Peter, T. and Reimann, S.
First observations, trends, and emissions of HCFC-31 (CH2ClF) in the global atmosphere
2015
Geophysical Research Letters
Vol. 42(18), pp. 7817-7824 
article
DOI URL 
Schurgers, G., Lagergren, F., Mölder, M. and Lindroth, A.
The importance of micrometeorological variations for photosynthesis and transpiration in a boreal coniferous forest
2015
Biogeosciences
Vol. 12(1), pp. 237-256 
article
DOI URL 
Siegenthaler, A., Welch, B., Pangala, S.R., Peacock, M. and Gauci, V.
Technical Note: Semi-rigid chambers for methane gas flux measurements on tree-stems
2015
Biogeosciences Discussions
Vol. 12(18), pp. 16019-16048 
article
DOI URL 
Song, J., Fan, W., Li, S. and Zhou, M.
Impact of Surface Waves on the Steady Near-Surface Wind Profiles over the Ocean
2015
Boundary-Layer Meteorology
Vol. 155(1), pp. 111-127 
article
DOI URL 
Štroch, M., Materová, Z., Vrábl, D., Karlický, V., Šigut, L., Nezval, J. and Špunda, V.
Protective effect of UV-A radiation during acclimation of the photosynthetic apparatus to UV-B treatment
2015
Plant Physiology and Biochemistry
Vol. 96, pp. 90-96 
article
DOI  
Sun, H., Santalahti, M., Pumpanen, J., Köster, K., Berninger, F., Raffaello, T., Jumpponen, A., Asiegbu, F.O. and Heinonsalo, J.
Fungal community shifts in structure and function across a boreal forest fire chronosequence
2015
Applied and Environmental Microbiology
Vol. 81(22), pp. 7869-7880 
article
DOI  
Sundqvist, E., Mölder, M., Crill, P., Kljun, N. and Lindroth, A.
Methane exchange in a boreal forest estimated by gradient method
2015
Tellus, Series B: Chemical and Physical Meteorology
Vol. 67(1) 
article
DOI URL 
Sundqvist, E., Persson, A., Kljun, N., Vestin, P., Chasmer, L., Hopkinson, C. and Lindroth, A.
Upscaling of methane exchange in a boreal forest using soil chamber measurements and high-resolution LiDAR elevation data
2015
Agricultural and Forest Meteorology
Vol. 214-215, pp. 393-401 
article
DOI URL 
Temnerud, J., von Brömssen, C., Fölster, J., Buffam, I., Andersson, J.-O., Nyberg, L. and Bishop, K.
Map-based prediction of organic carbon in headwaters streams improved by downstream observations from the river outlet
2015
Biogeosciences Discussions
Vol. 12(12), pp. 9005-9041 
article
DOI URL 
Tetzlaff, D., Buttle, J., Carey, S.K., van Huijgevoort, M.H.J., Laudon, H., Mcnamara, J.P., Mitchell, C.P.J., Spence, C., Gabor, R.S. and Soulsby, C.
A preliminary assessment of water partitioning and ecohydrological coupling in northern headwaters using stable isotopes and conceptual runoff models
2015
Hydrological Processes
Vol. 29(25), pp. 5153-5173 
article
DOI URL 
Tetzlaff, D., Buttle, J., Carey, S.K., Mcguire, K., Laudon, H. and Soulsby, C.
Tracer-based assessment of flow paths, storage and runoff generation in northern catchments: A review
2015
Hydrological Processes
Vol. 29(16), pp. 3475-3490 
article
DOI URL 
Thornton, B.F., Wik, M. and Crill, P.M.
Climate-forced changes in available energy and methane bubbling from subarctic lakes
2015
Geophysical Research Letters
Vol. 42(6), pp. 1936-1942 
article
DOI URL 
Tortell, P.D., Bittig, H.C., Körtzinger, A., Jones, E.M. and Hoppema, M.
Biological and physical controls on N2, O2, and CO2 distributions in contrasting Southern Ocean surface waters
2015
Global Biogeochemical Cycles
Vol. 29(7), pp. 994-1013 
article
DOI URL 
Tramontana, G., Ichii, K., Camps-Valls, G., Tomelleri, E. and Papale, D.
Uncertainty analysis of gross primary production upscaling using Random Forests, remote sensing and eddy covariance data
2015
Remote Sensing of Environment
Vol. 168, pp. 360-373 
article
DOI URL 
Tupek, B., Minkkinen, K., Pumpanen, J., Vesala, T. and Nikinmaa, E.
CH4 and N2O dynamics in the boreal forest-mire ecotone
2015
Biogeosciences
Vol. 12(2), pp. 281-297 
article
DOI  
Turner, A.J., Jacob, D.J., Wecht, K.J., Maasakkers, J.D., Lundgren, E., Andrews, A.E., Biraud, S.C., Boesch, H., Bowman, K.W., Deutscher, N.M., Dubey, M.K., Griffith, D.W.T., Hase, F., Kuze, A., Notholt, J., Ohyama, H., Parker, R., Payne, V.H., Sussmann, R., Sweeney, C., Velazco, V.A., Warneke, T., Wennberg, P.O. and Wunch, D.
Estimating global and North American methane emissions with high spatial resolution using GOSAT satellite data
2015
Atmospheric Chemistry and Physics
Vol. 15(12), pp. 7049-7069 
article
DOI URL 
Van Asperen, H., Warneke, T., Sabbatini, S., Nicolini, G., Papale, D. and Notholt, J.
The role of photo- And thermal degradation for CO2 and CO fluxes in an arid ecosystem
2015
Biogeosciences
Vol. 12(13), pp. 4161-4174 
article
DOI URL 
Van Der Laan-Luijkx, I.T., Van Der Velde, I.R., Krol, M.C., Gatti, L.V., Domingues, L.G., Correia, C.S.C., Miller, J.B., Gloor, M., Van Leeuwen, T.T., Kaiser, J.W., Wiedinmyer, C., Basu, S., Clerbaux, C. and Peters, W.
Response of the Amazon carbon balance to the 2010 drought derived with CarbonTracker South America
2015
Global Biogeochemical Cycles
Vol. 29(7), pp. 1092-1108 
article
DOI URL 
Vanbeveren, S.P.P., Schweier, J., Berhongaray, G. and Ceulemans, R.
Operational short rotation woody crop plantations: Manual or mechanised harvesting?
2015
Biomass and Bioenergy
Vol. 72, pp. 8-18 
article
DOI URL 
Vardag, S.N., Gerbig, C., Janssens-Maenhout, G. and Levin, I.
Estimation of continuous anthropogenic CO2: Model-based evaluation of CO2, CO, δ13C(CO2) and Δ14C(CO2) tracer methods
2015
Atmospheric Chemistry and Physics
Vol. 15(22), pp. 12705-12729 
article
DOI URL 
Vardag, S.N., Hammer, S., Sabasch, M., Griffith, D.W.T. and Levin, I.
First continuous measurements of δ18O-CO2 in air with a Fourier transform infrared spectrometer
2015
Atmospheric Measurement Techniques
Vol. 8(2), pp. 579-592 
article
DOI URL 
Vargas, A., Arnold, D., Adame, J.A., Grossi, C., Hernández-Ceballos, M.A. and Bolivar, J.P.
Analysis of the vertical radon structure at the spanish "El arenosillo" tower station
2015
Journal of Environmental Radioactivity
Vol. 139, pp. 1-17 
article
DOI URL 
Verlinden, M.S., Broeckx, L.S. and Ceulemans, R.
First vs. second rotation of a poplar short rotation coppice: Above-ground biomass productivity and shoot dynamics
2015
Biomass and Bioenergy
Vol. 73, pp. 174-185 
article
DOI URL 
Verlinden, M.S., Fichot, R., Broeckx, L.S., Vanholme, B., Boerjan, W. and Ceulemans, R.
Carbon isotope compositions (δ13C) of leaf, wood and holocellulose differ among genotypes of poplar and between previous land uses in a short-rotation biomass plantation
2015
Plant, Cell and Environment
Vol. 38(1), pp. 144-156 
article
DOI URL 
Vinciková, H., Hanuš, J. and Pechar, L.
Spectral reflectance is a reliable water-quality estimator for small, highly turbid wetlands
2015
Wetlands Ecology and Management
Vol. 23(5), pp. 933-946 
article
DOI  
Vollmer, M.K., Reimann, S., Hill, M. and Brunner, D.
First observations of the fourth generation synthetic halocarbons HFC-1234yf, HFC-1234ze(E), and HCFC-1233zd(E) in the atmosphere
2015
Environmental Science and Technology
Vol. 49(5), pp. 2703-2708 
article
DOI URL 
Vollmer, M.K., Rhee, T.S., Rigby, M., Hofstetter, D., Hill, M., Schoenenberger, F. and Reimann, S.
Modern inhalation anesthetics: Potent greenhouse gases in the global atmosphere
2015
Geophysical Research Letters
Vol. 42(5), pp. 1606-1611 
article
DOI URL 
Vollmer, M.K., Rigby, M., Laube, J.C., Henne, S., Rhee, T.S., Gooch, L.J., Wenger, A., Young, D., Steele, L.P., Langenfelds, R.L., Brenninkmeijer, C.A.M., Wang, J.L., Ou-Yang, C.F., Wyss, S.A., Hill, M., Oram, D.E., Krummel, P.B., Schoenenberger, F., Zellweger, C., Fraser, P.J., Sturges, W.T., O'Doherty, S. and Reimann, S.
Abrupt reversal in emissions and atmospheric abundance of HCFC-133a (CF3CH2Cl)
2015
Geophysical Research Letters
Vol. 42(20), pp. 8702-8710 
article
DOI URL 
Vuichard, N. and Papale, D.
Filling the gaps in meteorological continuous data measured at FLUXNET sites with ERA-Interim reanalysis
2015
Earth System Science Data
Vol. 7(2), pp. 157-171 
article
DOI URL 
Wingate, L., Ogeé, J., Cremonese, E., Filippa, G., Mizunuma, T., Migliavacca, M., Moisy, C., Wilkinson, M., Moureaux, C., Wohlfahrt, G., Hammerle, A., Hörtnagl, L., Gimeno, C., Porcar-Castell, A., Galvagno, M., Nakaji, T., Morison, J., Kolle, O., Knohl, A., Kutsch, W., Kolari, P., Nikinmaa, E., Ibrom, A., Gielen, B., Eugster, W., Balzarolo, M., Papale, D., Klumpp, K., Köstner, B., Grünwald, T., Joffre, R., Ourcival, J.M., Hellstrom, M., Lindroth, A., George, C., Longdoz, B., Genty, B., Levula, J., Heinesch, B., Sprintsin, M., Yakir, D., Manise, T., Guyon, D., Ahrends, H., Plaza-Aguilar, A., Guan, J.H. and Grace, J.
Interpreting canopy development and physiology using a European phenology camera network at flux sites
2015
Biogeosciences
Vol. 12(20), pp. 5995-6015 
article
DOI URL 
Wohlfahrt, G., Amelynck, C., Ammann, C., Arneth, A., Bamberger, I., Goldstein, A.H., Gu, L., Guenther, A., Hansel, A., Heinesch, B., Holst, T., Hörtnagl, L., Karl, T., Laffineur, Q., Neftel, A., Mckinney, K., Munger, J.W., Pallardy, S.G., Schade, G.W., Seco, R. and Schoon, N.
An ecosystem-scale perspective of the net land methanol flux: Synthesis of micrometeorological flux measurements
2015
Atmospheric Chemistry and Physics
Vol. 15(13), pp. 7413-7427 
article
DOI URL 
Yver Kwok, C., Laurent, O., Guemri, A., Philippon, C., Wastine, B., Rella, C.W., Vuillemin, C., Truong, F., Delmotte, M., Kazan, V., Darding, M., Lebègue, B., Kaiser, C., Xueref-Rémy, I. and Ramonet, M.
Comprehensive laboratory and field testing of cavity ring-down spectroscopy analyzers measuring H2O, CO2, CH4 and CO
2015
Atmospheric Measurement Techniques
Vol. 8(9), pp. 3867-3892 
article
DOI URL 
Zazzeri, G., Lowry, D., Fisher, R.E., France, J.L., Lanoisellé, M. and Nisbet, E.G.
Plume mapping and isotopic characterisation of anthropogenic methane sources
2015
Atmospheric Environment
Vol. 110, pp. 151-162 
article
DOI URL 
Zeng, J., Nojiri, Y., Nakaoka, S.-i., Nakajima, H. and Shirai, T.
Surface ocean CO textlesssubtextgreater2textless/subtextgreater in 1990-2011 modelled using a feed-forward neural network
2015
Geoscience Data Journal
Vol. 2(1), pp. 47-51 
article
DOI URL 
Zenone, T., Fischer, M., Arriga, N., Broeckx, L.S., Verlinden, M.S., Vanbeveren, S., Zona, D. and Ceulemans, R.
Biophysical drivers of the carbon dioxide, water vapor, and energy exchanges of a short-rotation poplar coppice
2015
Agricultural and Forest Meteorology
Vol. 209-210, pp. 22-35 
article
DOI URL 
Zhang, L.X., Zhou, D.C., Fan, J.W. and Hu, Z.M.
Comparison of four light use efficiency models for estimating terrestrial gross primary production
2015
Ecological Modelling
Vol. 300, pp. 30-39 
article
DOI  
Zhao, Z., Martin, P., Grosso, P., Los, W., De Laat, C., Jeffrey, K., Hardisty, A., Vermeulen, A., Castelli, D., Legre, Y. and Kutsch, W.
Reference model guided system design and implementation for interoperable environmental research infrastructures
2015
Proceedings - 11th IEEE International Conference on eScience, eScience 2015, pp. 551-556 
inproceedings
DOI URL 
Ago, E.E., Agbossou, E.K., Galle, S., Cohard, J.M., Heinesch, B. and Aubinet, M.
Long term observations of carbon dioxide exchange over cultivated savanna under a Sudanian climate in Benin (West Africa)
2014
Agricultural and Forest Meteorology
Vol. 197, pp. 13-25 
article
DOI URL 
Agustí-Panareda, A., Massart, S., Chevallier, F., Boussetta, S., Balsamo, G., Beljaars, A., Ciais, P., Deutscher, N.M., Engelen, R., Jones, L., Kivi, R., Paris, J.-D., Peuch, V.-H., Sherlock, V., Vermeulen, A.T., Wennberg, P.O. and Wunch, D.
Forecasting global atmospheric CO 2
2014
Atmospheric Chemistry and Physics Discussions
Vol. 14(9), pp. 13909-13962 
article
DOI URL 
Arnold, T., Ivy, D.J., Harth, C.M., Vollmer, M.K., Mühle, J., Salameh, P.K., Paul Steele, L., Krummel, P.B., Wang, R.H.J., Young, D., Lunder, C.R., Hermansen, O., Rhee, T.S., Kim, J., Reimann, S., O'Doherty, S., Fraser, P.J., Simmonds, P.G., Prinn, R.G. and Weiss, R.F.
HFC-43-10mee atmospheric abundances and global emission estimates
2014
Geophysical Research Letters
Vol. 41(6), pp. 2228-2235 
article
DOI URL 
Baatz, R., Bogena, H.R., Hendricks Franssen, H.J., Huisman, J.A., Qu, W., Montzka, C. and Vereecken, H.
Calibration of a catchment scale cosmic-ray probe network: A comparison of three parameterization methods
2014
Journal of Hydrology
Vol. 516, pp. 231-244 
article
DOI URL 
Babst, F., Bouriaud, O., Papale, D., Gielen, B., Janssens, I.A., Nikinmaa, E., Ibrom, A., Wu, J., Bernhofer, C., Köstner, B., Grünwald, T., Seufert, G., Ciais, P. and Frank, D.
Above-ground woody carbon sequestration measured from tree rings is coherent with net ecosystem productivity at five eddy-covariance sites
2014
New Phytologist
Vol. 201(4), pp. 1289-1303 
article
DOI URL 
Bakker, D.C.E., Pfeil, B., Smith, K., Hankin, S., Olsen, A., Alin, S.R., Cosca, C., Harasawa, S., Kozyr, A., Nojiri, Y., O'Brien, K.M., Schuster, U., Telszewski, M., Tilbrook, B., Wada, C., Akl, J., Barbero, L., Bates, N.R., Boutin, J., Bozec, Y., Cai, W.J., Castle, R.D., Chavez, F.P., Chen, L., Chierici, M., Currie, K., De Baar, H.J.W., Evans, W., Feely, R.A., Fransson, A., Gao, Z., Hales, B., Hardman-Mountford, N.J., Hoppema, M., Huang, W.J., Hunt, C.W., Huss, B., Ichikawa, T., Johannessen, T., Jones, E.M., Jones, S.D., Jutterström, S., Kitidis, V., Körtzinger, A., Landschützer, P., Lauvset, S.K., Lefèvre, N., Manke, A.B., Mathis, J.T., Merlivat, L., Metzl, N., Murata, A., Newberger, T., Omar, A.M., Ono, T., Park, G.H., Paterson, K., Pierrot, D., Ríos, A.F., Sabine, C.L., Saito, S., Salisbury, J., S. Sarma, V.V.S., Schlitzer, R., Sieger, R., Skjelvan, I., Steinhoff, T., Sullivan, K.F., Sun, H., Sutton, A.J., Suzuki, T., Sweeney, C., Takahashi, T., Tjiputra, J., Tsurushima, N., C. Van Heuven, S.M.A., Vandemark, D., Vlahos, P., Wallace, D.W.R., Wanninkhof, R. and Watson, A.J.
An update to the surface ocean CO2 atlas (SOCAT version 2)
2014
Earth System Science Data
Vol. 6(1), pp. 69-90 
article
DOI URL 
Balzarolo, M., Boussetta, S., Balsamo, G., Beljaars, A., Maignan, F., Calvet, J.C., Lafont, S., Barbu, A., Poulter, B., Chevallier, F., Szczypta, C. and Papale, D.
Evaluating the potential of large-scale simulations to predict carbon fluxes of terrestrial ecosystems over a European eddy covariance network
2014
Biogeosciences
Vol. 11(10), pp. 2661-2678 
article
DOI URL 
Bonne, J.L., Masson-Delmotte, V., Cattani, O., Delmotte, M., Risi, C., Sodemann, H. and Steen-Larsen, H.C.
The isotopic composition of water vapour and precipitation in Ivittuut, southern Greenland
2014
Atmospheric Chemistry and Physics
Vol. 14(9), pp. 4419-4439 
article
DOI  
Bozhinova, D., Van Der Molen, M.K., Van Der Velde, I.R., Krol, M.C., Van Der Laan, S., Meijer, H.A.J. and Peters, W.
Simulating the integrated summertime δ14CO2 signature from anthropogenic emissions over Western Europe
2014
Atmospheric Chemistry and Physics
Vol. 14(14), pp. 7273-7290 
article
DOI URL 
Brilli, F., Gioli, B., Ciccioli, P., Zona, D., Loreto, F., Janssens, I.A. and Ceulemans, R.
Proton Transfer Reaction Time-of-Flight Mass Spectrometric (PTR-TOF-MS) determination of volatile organic compounds (VOCs) emitted from a biomass fire developed under stable nocturnal conditions
2014
Atmospheric Environment
Vol. 97, pp. 54-67 
article
DOI URL 
Brilli, F., Gioli, B., Zona, D., Pallozzi, E., Zenone, T., Fratini, G., Calfapietra, C., Loreto, F., Janssens, I.A. and Ceulemans, R.
Simultaneous leaf- and ecosystem-level fluxes of volatile organic compounds from a poplar-based SRC plantation
2014
Agricultural and Forest Meteorology
Vol. 187, pp. 22-35 
article
DOI URL 
Broeckx, L.S., Fichot, R., Verlinden, M.S. and Ceulemans, R.
Seasonal variations in photosynthesis, intrinsic water-use efficiency and stable isotope composition of poplar leaves in a short-rotation plantation
2014
Tree Physiology
Vol. 34(7), pp. 701-715 
article
DOI URL 
Broeckx, L.S., Verlinden, M.S., Berhongaray, G., Zona, D., Fichot, R. and Ceulemans, R.
The effect of a dry spring on seasonal carbon allocation and vegetation dynamics in a poplar bioenergy plantation
2014
GCB Bioenergy
Vol. 6(5), pp. 473-487 
article
DOI URL 
Budishchev, A., Mi, Y., Van Huissteden, J., Belelli-Marchesini, L., Schaepman-Strub, G., Parmentier, F.J.W., Fratini, G., Gallagher, A., Maximov, T.C. and Dolman, A.J.
Evaluation of a plot-scale methane emission model using eddy covariance observations and footprint modelling
2014
Biogeosciences
Vol. 11(17), pp. 4651-4664 
article
DOI URL 
Camino-Serrano, M., Gielen, B., Luyssaert, S., Ciais, P., Vicca, S., Guenet, B., Vos, B.D., Cools, N., Ahrens, B., Altaf Arain, M., Borken, W., Clarke, N., Clarkson, B., Cummins, T., Don, A., Pannatier, E.G., Laudon, H., Moore, T., Nieminen, T.M., Nilsson, M.B., Peichl, M., Schwendenmann, L., Siemens, J. and Janssens, I.
Linking variability in soil solution dissolved organic carbon to climate, soil type, and vegetation type
2014
Global Biogeochemical Cycles
Vol. 28(5), pp. 497-509 
article
DOI URL 
Churakova (Sidorova), O.V., Eugster, W., Zielis, S., Cherubini, P., Etzold, S., Saurer, M., Siegwolf, R. and Buchmann, N.
Increasing relevance of spring temperatures for Norway spruce trees in Davos, Switzerland, after the 1950s
2014
Trees - Structure and Function
Vol. 28(1), pp. 183-191 
article
DOI URL 
Cowan, N.J., Famulari, D., Levy, P.E., Anderson, M., Reay, D.S. and Skiba, U.M.
Investigating uptake of N2O in agricultural soils using a high-precision dynamic chamber method
2014
Atmospheric Measurement Techniques
Vol. 7(12), pp. 4455-4462 
article
DOI URL 
Deng, F., Jones, D.B.A., Henze, D.K., Bousserez, N., Bowman, K.W., Fisher, J.B., Nassar, R., O'Dell, C., Wunch, D., Wennberg, P.O., Kort, E.A., Wofsy, S.C., Blumenstock, T., Deutscher, N.M., Griffith, D.W.T., Hase, F., Heikkinen, P., Sherlock, V., Strong, K., Sussmann, R. and Warneke, T.
Inferring regional sources and sinks of atmospheric CO2 from GOSAT XCO2 data
2014
Atmospheric Chemistry and Physics
Vol. 14(7), pp. 3703-3727 
article
DOI URL 
Deng, J., Li, C., Frolking, S., Zhang, Y., Bäckstrand, K. and Crill, P.
Assessing effects of permafrost thaw on C fluxes based on multiyear modeling across a permafrost thaw gradient at Stordalen, Sweden
2014
Biogeosciences
Vol. 11(17), pp. 4753-4770 
article
DOI URL 
Dils, B., Buchwitz, M., Reuter, M., Schneising, O., Boesch, H., Parker, R., Guerlet, S., Aben, I., Blumenstock, T., Burrows, J.P., Butz, A., Deutscher, N.M., Frankenberg, C., Hase, F., Hasekamp, O.P., Heymann, J., De Mazière, M., Notholt, J., Sussmann, R., Warneke, T., Griffith, D., Sherlock, V. and Wunch, D.
The greenhouse gas climate change initiative (GHG-CCI): Comparative validation of GHG-CCI SCIAMACHY/ENVISAT and TANSO-FTS/GOSAT CO2 and CH4 retrieval algorithm products with measurements from the TCCON
2014
Atmospheric Measurement Techniques
Vol. 7(6), pp. 1723-1744 
article
DOI URL 
Drolet, G., Wade, T., Nichol, C.J., MacLellan, C., Levula, J., Porcar-Castell, A., Nikinmaa, E. and Vesala, T.
A temperature-controlled spectrometer system for continuous and unattended measurements of canopy spectral radiance and reflectance
2014
International Journal of Remote Sensing
Vol. 35(5), pp. 1769-1785 
article
DOI  
Ershadi, A., Mccabe, M.F., Evans, J.P., Chaney, N.W. and Wood, E.F.
Multi-site evaluation of terrestrial evaporation models using FLUXNET data
2014
Agricultural and Forest Meteorology
Vol. 187, pp. 46-61 
article
DOI URL 
Etminan, M., Highwood, E.J., Laube, J.C., McPheat, R., Marston, G., Shine, K.P. and Smith, K.M.
Infrared absorption spectra, radiative efficiencies, and global warming potentials of newly-detected halogenated compounds: CFC-113a, CFC-112 and HCFC-133a
2014
Atmosphere
Vol. 5(3), pp. 473-483 
article
DOI URL 
Etzold, S., Waldner, P., Thimonier, A., Schmitt, M. and Dobbertin, M.
Tree growth in Swiss forests between 1995 and 2010 in relation to climate and stand conditions: Recent disturbances matter
2014
Forest Ecology and Management
Vol. 311, pp. 41-55 
article
DOI URL 
Eyer, S., Stadie, N.P., Borgschulte, A., Emmenegger, L. and Mohn, J.
Methane preconcentration by adsorption: A methodology for materials and conditions selection
2014
Adsorption
Vol. 20(5-6), pp. 657-666 
article
DOI URL 
Fady, B., Benard, A., Pichot, C., Peiffer, M., Leban, J.M. and Dreyer, E.
The open data debate: A need for accessible and shared data in forest science
2014
Annals of Forest Science
Vol. 71(5), pp. 523-525 
article
DOI URL 
Fernández-Martínez, M., Vicca, S., Janssens, I.A., Sardans, J., Luyssaert, S., Campioli, M., Chapin, F.S., Ciais, P., Malhi, Y., Obersteiner, M., Papale, D., Piao, S.L., Reichstein, M., Rodà, F. and Peñuelas, J.
Nutrient availability as the key regulator of global forest carbon balance
2014
Nature Climate Change
Vol. 4(6), pp. 471-476 
article
DOI URL 
Fietzek, P., Fiedler, B., Steinhoff, T. and Körtzinger, A.
In situ quality assessment of a novel underwater pCO 2 sensor based on membrane equilibration and NDIR spectrometry
2014
Journal of Atmospheric and Oceanic Technology
Vol. 31(1), pp. 181-196 
article
DOI URL 
Fraser, A., Palmer, P.I., Feng, L., Bösch, H., Parker, R., Dlugokencky, E.J., Krummel, P.B. and Langenfelds, R.L.
Estimating regional fluxes of CO 2 and CH 4 using space-borne observations of XCH 4 : XCO 2
2014
Atmospheric Chemistry and Physics Discussions
Vol. 14(11), pp. 15867-15894 
article
DOI URL 
Fraser, P.J., Dunse, B.L., Manning, A.J., Walsh, S., Wang, R.H.J., Krummel, P.B., Steele, L.P., Porter, L.W., Allison, C., O'Doherty, S., Simmonds, P.G., Mühle, J., Weiss, R.F. and Prinn, R.G.
Australian carbon tetrachloride emissions in a global context
2014
Environmental Chemistry
Vol. 11(1), pp. 77-88 
article
DOI URL 
Fratini, G., McDermitt, D.K. and Papale, D.
Eddy-covariance flux errors due to biases in gas concentration measurements: Origins, quantification and correction
2014
Biogeosciences
Vol. 11(4), pp. 1037-1051 
article
DOI URL 
Galli, A., Guerlet, S., Butz, A., Aben, I., Suto, H., Kuze, A., Deutscher, N.M., Notholt, J., Wunch, D., Wennberg, P.O., Griffith, D.W.T., Hasekamp, O. and Landgraf, J.
The impact of spectral resolution on satellite retrieval accuracy of CO2 and CH4
2014
Atmospheric Measurement Techniques
Vol. 7(4), pp. 1105-1119 
article
DOI URL 
Goffin, S., Aubinet, M., Maier, M., Plain, C., Schack-Kirchner, H. and Longdoz, B.
Characterization of the soil CO2 production and its carbon isotope composition in forest soil layers using the flux-gradient approach
2014
Agricultural and Forest Meteorology
Vol. 188, pp. 45-57 
article
DOI URL 
Graf, A., Bogena, H.R., Drüe, C., Hardelauf, H., Pütz, T., Heinemann, G. and Vereecken, H.
Spatiotemporal relations between water budget components and soil water content in a forested tributary catchment
2014
Water Resources Research
Vol. 50(6), pp. 4837-4857 
article
DOI URL 
Griffiths, A.D., Conen, F., Weingartner, E., Zimmermann, L., Chambers, S.D., Williams, A.G. and Steinbacher, M.
Surface-to-mountaintop transport characterised by radon observations at the Jungfraujoch
2014
Atmospheric Chemistry and Physics
Vol. 14(23), pp. 12763-12779 
article
DOI URL 
GROTE, R., MORFOPOULOS, C., NIINEMETS, Ü.L.O., ZHIHONG, SUN, KEENAN, T.F., PACIFICO, F. and BUTLER, T.I.M.
A fully integrated isoprenoid emissions model coupling emissions to photosynthetic characteristics
2014
Plant, Cell & Environment
Vol. 37(8), pp. 1965-1980 
article
DOI URL 
Gundale, M.J., From, F., Bach, L.H. and Nordin, A.
Anthropogenic nitrogen deposition in boreal forests has a minor impact on the global carbon cycle
2014
Global Change Biology
Vol. 20(1), pp. 276-286 
article
DOI URL 
Hall, B.D., Engel, A., Mühle, J., Elkins, J.W., Artuso, F., Atlas, E., Aydin, M., Blake, D., Brunke, E.G., Chiavarini, S., Fraser, P.J., Happell, J., Krummel, P.B., Levin, I., Loewenstein, M., Maione, M., Montzka, S.A., O'Doherty, S., Reimann, S., Rhoderick, G., Saltzman, E.S., Scheel, H.E., Steele, L.P., Vollmer, M.K., Weiss, R.F., Worthy, D. and Yokouchi, Y.
Results from the International Halocarbons in Air Comparison Experiment (IHALACE)
2014
Atmospheric Measurement Techniques
Vol. 7(2), pp. 469-490 
article
DOI URL 
Heiskanen, J.J., Mammarella, I., Haapanala, S., Pumpanen, J., Vesala, T., Macintyre, S. and Ojala, A.
Effects of cooling and internal wave motions on gas transfer coefficients in a boreal lake
2014
Tellus, Series B: Chemical and Physical Meteorology
Vol. 66(1) 
article
DOI URL 
Hirsikko, A., O'Connor, E.J., Komppula, M., Korhonen, K., Pfüller, A., Giannakaki, E., Wood, C.R., Bauer-Pfundstein, M., Poikonen, A., Karppinen, T., Lonka, H., Kurri, M., Heinonen, J., Moisseev, D., Asmi, E., Aaltonen, V., Nordbo, A., Rodriguez, E., Lihavainen, H., Laaksonen, A., Lehtinen, K.E.J., Laurila, T., Petäjä, T., Kulmala, M. and Viisanen, Y.
Observing wind, aerosol particles, cloud and precipitation: Finland's new ground-based remote-sensing network
2014
Atmospheric Measurement Techniques
Vol. 7(5), pp. 1351-1375 
article
DOI URL 
Hommeltenberg, J., Schmid, H.P., Drösler, M. and Werle, P.
Can a bog drained for forestry be a stronger carbon sink than a natural bog forest?
2014
Biogeosciences
Vol. 11(13), pp. 3477-3493 
article
DOI URL 
Hünerbein, A., Deneke, H., Macke, A., Ebell, K. and Görsdorf, U.
Combining the perspective of satellite- and ground-based observations to analyze cloud frontal systems
2014
Journal of Applied Meteorology and Climatology
Vol. 53(11), pp. 2538-2552 
article
DOI  
Järvi, L., Grimmond, C.S., Taka, M., Nordbo, A., Setälä, H. and Strachan, I.B.
Development of the Surface Urban Energy and Water Balance Scheme (SUEWS) for cold climate cities
2014
Geoscientific Model Development
Vol. 7(4), pp. 1691-1711 
article
DOI  
Järvi, L., Nordbo, A., Rannik, Ü., Haapanala, S., Mammarella, I. and Pihlatie, M.
Urban nitrous-oxide fluxes measured using the eddy-covariance technique in Helsinki, Finland
2014
 
techreport
 
JérÔme, E., Beckers, Y., Bodson, B., Heinesch, B., Moureaux, C. and Aubinet, M.
Impact of grazing on carbon dioxide exchanges in an intensively managed Belgian grassland
2014
Agriculture, Ecosystems and Environment
Vol. 194, pp. 7-16 
article
DOI URL 
eija Juurola, J Korhonen, J.F. and markku Kulmala
Janne levula 8) , laura riuttanen 1) , ella-maria Kyrö 1) , ivaylo Dzhedzhev 5) , eero nikinmaa 2) , timo vesala 1)
2014
 
techreport
 
Kasurinen, V., Alfredsen, K., Kolari, P., Mammarella, I., Alekseychik, P., Rinne, J., Vesala, T., Bernier, P., Boike, J., Langer, M., Belelli Marchesini, L., van Huissteden, K., Dolman, H., Sachs, T., Ohta, T., Varlagin, A., Rocha, A., Arain, A., Oechel, W., Lund, M., Grelle, A., Lindroth, A., Black, A., Aurela, M., Laurila, T., Lohila, A. and Berninger, F.
Latent heat exchange in the boreal and arctic biomes
2014
Global Change Biology
Vol. 20(11), pp. 3439-3456 
article
DOI URL 
Kolari, P., Chan, T., Porcar-Castell, A., Bäck, J., Nikinmaa, E. and Juurola, E.
Field and controlled environment measurements show strong seasonal acclimation in photosynthesis and respiration potential in boreal Scots pine
2014
Frontiers in Plant Science
Vol. 5(DEC) 
article
DOI  
Kretschmer, R., Gerbig, C., Karstens, U., Biavati, G., Vermeulen, A., Vogel, F., Hammer, S. and Totsche, K.U.
Impact of optimized mixing heights on simulated regional atmospheric transport of CO2
2014
Atmospheric Chemistry and Physics
Vol. 14(14), pp. 7149-7172 
article
DOI URL 
Kulmala, L., Aaltonen, H., Berninger, F., Kieloaho, A.J., Levula, J., Bäck, J., Hari, P., Kolari, P., Korhonen, J.F.J., Kulmala, M., Nikinmaa, E., Pihlatie, M., Vesala, T. and Pumpanen, J.
Changes in biogeochemistry and carbon fluxes in a boreal forest after the clear-cutting and partial burning of slash
2014
Agricultural and Forest Meteorology
Vol. 188, pp. 33-44 
article
DOI URL 
Landschützer, P., Gruber, N., Bakker, D.C. and Schuster, U.
Recent variability of the global ocean carbon sink
2014
Global Biogeochemical Cycles
Vol. 28(9), pp. 927-949 
article
DOI URL 
Laruelle, G.G., Lauerwald, R., Pfeil, B. and Regnier, P.
Regionalized global budget of the CO2 exchange at the air-water interface in continental shelf seas
2014
Global Biogeochemical Cycles
Vol. 28(11), pp. 1199-1214 
article
DOI  
Laube, J.C., Newland, M.J., Hogan, C., Brenninkmeijer, C.A.M., Fraser, P.J., Martinerie, P., Oram, D.E., Reeves, C.E., Röckmann, T., Schwander, J., Witrant, E. and Sturges, W.T.
Newly detected ozone-depleting substances in the atmosphere
2014
Nature Geoscience
Vol. 7(4), pp. 266-269 
article
DOI URL 
Le Quéré, C., Peters, G.P., Andres, R.J., Andrew, R.M., Boden, T.A., Ciais, P., Friedlingstein, P., Houghton, R.A., Marland, G., Moriarty, R., Sitch, S., Tans, P., Arneth, A., Arvanitis, A., Bakker, D.C.E., Bopp, L., Canadell, J.G., Chini, L.P., Doney, S.C., Harper, A., Harris, I., House, J.I., Jain, A.K., Jones, S.D., Kato, E., Keeling, R.F., Klein Goldewijk, K., Körtzinger, A., Koven, C., Lefèvre, N., Maignan, F., Omar, A., Ono, T., Park, G.H., Pfeil, B., Poulter, B., Raupach, M.R., Regnier, P., Rödenbeck, C., Saito, S., Schwinger, J., Segschneider, J., Stocker, B.D., Takahashi, T., Tilbrook, B., Van Heuven, S., Viovy, N., Wanninkhof, R., Wiltshire, A. and Zaehle, S.
Global carbon budget 2013
2014
Earth System Science Data
Vol. 6(1), pp. 235-263 
article
DOI URL 
LEGOUT, A., HANSSON, K., VAN DER HEIJDEN, G., LACLAU, J.-P., AUGUSTO, L. and RANGER, J.
Fertilité chimique des sols forestiers : concepts de base
2014
Revue Forestière Française(4), pp. Fr.], ISSN 0035 
article
DOI URL 
Lintunen, A., Lindfors, L., Kolari, P., Juurola, E., Nikinmaa, E. and Hölttä, T.
Bursts of CO2 released during freezing offer a new perspective on avoidance of winter embolism in trees
2014
Annals of Botany
Vol. 114(8), pp. 1711-1718 
article
DOI  
Luyssaert, S., Jammet, M., Stoy, P.C., Estel, S., Pongratz, J., Ceschia, E., Churkina, G., Don, A., Erb, K., Ferlicoq, M., Gielen, B., Grünwald, T., Houghton, R.A., Klumpp, K., Knohl, A., Kolb, T., Kuemmerle, T., Laurila, T., Lohila, A., Loustau, D., McGrath, M.J., Meyfroidt, P., Moors, E.J., Naudts, K., Novick, K., Otto, J., Pilegaard, K., Pio, C.A., Rambal, S., Rebmann, C., Ryder, J., Suyker, A.E., Varlagin, A., Wattenbach, M. and Dolman, A.J.
Land management and land-cover change have impacts of similar magnitude on surface temperature
2014
Nature Climate Change
Vol. 4(5), pp. 389-393 
article
DOI URL 
Masarie, K.A., Peters, W., Jacobson, A.R. and Tans, P.P.
ObsPack: A framework for the preparation, delivery, and attribution of atmospheric greenhouse gas measurements
2014
Earth System Science Data
Vol. 6(2), pp. 375-384 
article
DOI URL 
Maselli, F., Papale, D., Chiesi, M., Matteucci, G., Angeli, L., Raschi, A. and Seufert, G.
Operational monitoring of daily evapotranspiration by the combination of MODIS NDVI and ground meteorological data: Application and evaluation in Central Italy
2014
Remote Sensing of Environment
Vol. 152, pp. 279-290 
article
DOI URL 
McCalley, C.K., Woodcroft, B.J., Hodgkins, S.B., Wehr, R.A., Kim, E.H., Mondav, R., Crill, P.M., Chanton, J.P., Rich, V.I., Tyson, G.W. and Saleska, S.R.
Methane dynamics regulated by microbial community response to permafrost thaw
2014
Nature
Vol. 514(7253), pp. 478-481 
article
DOI URL 
Mizunuma, T., Mencuccini, M., Wingate, L., Ogée, J., Nichol, C. and Grace, J.
Sensitivity of colour indices for discriminating leaf colours from digital photographs
2014
Methods in Ecology and Evolution
Vol. 5(10), pp. 1078-1085 
article
DOI  
Nisbet, E.G., Dlugokencky, E.J. and Bousquet, P.
Methane on the rise - Again
2014
Science
Vol. 343(6170), pp. 493-495 
article
DOI URL 
Nordbo, A., Kekäläinen, P., Siivola, E., Mammarella, I., Timonen, J. and Vesala, T.
Sorption-caused attenuation and delay of water vapor signals in eddy-covariance sampling tubes and filters
2014
Journal of Atmospheric and Oceanic Technology
Vol. 31(12), pp. 2629-2649 
article
DOI  
O'Doherty, S., Rigby, M., Mühle, J., Ivy, D.J., Miller, B.R., Young, D., Simmonds, P.G., Reimann, S., Vollmer, M.K., Krummel, P.B., Fraser, P.J., Steele, L.P., Dunse, B., Salameh, P.K., Harth, C.M., Arnold, T., Weiss, R.F., Kim, J., Park, S., Li, S., Lunder, C., Hermansen, O., Schmidbauer, N., Zhou, L.X., Yao, B., Wang, R.H.J., Manning, A.J. and Prinn, R.G.
Global emissions of HFC-143a (CH3CF3) and HFC-32 (CH2F2) from in situ and air archive atmospheric observations
2014
Atmospheric Chemistry and Physics
Vol. 14(17), pp. 9249-9258 
article
DOI URL 
O'Shea, S.J., Allen, G., Fleming, Z.L., Bauguitte, S.J.B., Percival, C.J., Gallagher, M.W., Lee, J., Helfter, C. and Nemitz, E.
Area fluxes of carbon dioxide, methane, and carbon monoxide derived from airborne measurements around Greater London: A case study during summer 2012
2014
Journal of Geophysical Research
Vol. 119(8), pp. 4940-4952 
article
DOI URL 
Olascoaga, B., eija Juurola, Pinho, P., Lukeš, P., liisa Halonen, eero Nikinmaa, Bäck, J. and Porcar-Castell, A.
Seasonal variation in the reflectance of photosynthetically active radiation from epicuticular waxes of Scots pine (Pinus sylvestris) needles
2014
 
techreport
 
Öquist, M.G., Bishop, K., Grelle, A., Klemedtsson, L., Köhler, S.J., Laudon, H., Lindroth, A., Ottosson Löfvenius, M., Wallin, M.B. and Nilsson, M.B.
The Full Annual Carbon Balance of Boreal Forests Is Highly Sensitive to Precipitation
2014
Environmental Science and Technology Letters
Vol. 1(7), pp. 315-319 
article
DOI URL 
Ostler, A., Sussmann, R., Rettinger, M., Deutscher, N.M., Dohe, S., Hase, F., Jones, N. and Palm, M.
Multistation intercomparison of column-averaged methane from NDACC and TCCON: Impact of dynamical variability
2014
Atmospheric Measurement Techniques
Vol. 7(12), pp. 4081-4101 
article
DOI URL 
Otto, J., Berveiller, D., Bréon, F.M., Delpierre, N., Geppert, G., Granier, A., Jans, W., Knohl, A., Kuusk, A., Longdoz, B., Moors, E., Mund, M., Pinty, B., Schelhaas, M.J. and Luyssaert, S.
Forest summer albedo is sensitive to species and thinning: How should we account for this in Earth system models?
2014
Biogeosciences
Vol. 11(8), pp. 2411-2427 
article
DOI URL 
Palatella, L., Rana, G. and Vitale, D.
Towards a Flux-Partitioning Procedure Based on the Direct Use of High-Frequency Eddy-Covariance Data
2014
Boundary-Layer Meteorology
Vol. 153(2), pp. 327-337 
article
DOI  
Pastorello, G., Agarwal, D., Papale, D., Samak, T., Trotta, C., Ribeca, A., Poindexter, C., Faybishenko, B., Gunter, D., Hollowgrass, R. and Canfora, E.
Observational data patterns for time series data quality assessment
2014

Vol. 1Proceedings - 2014 IEEE 10th International Conference on eScience, eScience 2014, pp. 271-278 
inproceedings
DOI URL 
Peichl, M., Sonnentag, O. and Nilsson, M.B.
Bringing Color into the Picture: Using Digital Repeat Photography to Investigate Phenology Controls of the Carbon Dioxide Exchange in a Boreal Mire
2014
Ecosystems
Vol. 18(1), pp. 115-131 
article
DOI  
Peltola, O., Hensen, A., Helfter, C., Belelli Marchesini, L., Bosveld, F.C., Van Den Bulk, W.C.M., Elbers, J.A., Haapanala, S., Holst, J., Laurila, T., Lindroth, A., Nemitz, E., Röckmann, T., Vermeulen, A.T. and Mammarella, I.
Evaluating the performance of commonly used gas analysers for methane eddy covariance flux measurements: the InGOS inter-comparison field experiment
2014
Biogeosciences
Vol. 11(12), pp. 3163-3186 
article
DOI URL 
Pumpanen, J., Lindén, A., Miettinen, H., Kolari, P., Ilvesniemi, H., Mammarella, I., Hari, P., Nikinmaa, E., Heinonsalo, J., Bäck, J., Ojala, A., Berninger, F. and Vesala, T.
Precipitation and net ecosystem exchange are the most important drivers of DOC flux in upland boreal catchments
2014
Journal of Geophysical Research: Biogeosciences
Vol. 119(9), pp. 1861-1878 
article
DOI URL 
Rannik, Ü., Haapanala, S., Shurpali, N.J., Mammarella, I., Lind, S., Hyvönen, N., Peltola, O., Zahniser, M., Martikainen, P.J. and Vesala, T.
Intercomparison of fast response commercial gas analysers for nitrous oxide flux measurements under field conditions
2014
Biogeosciences Discussions
Vol. 11(8), pp. 11747-11783 
article
DOI URL 
Reuter, M., Buchwitz, M., Hilker, M., Heymann, J., Schneising, O., Pillai, D., Bovensmann, H., Burrows, J.P., Bösch, H., Parker, R., Butz, A., Hasekamp, O., O'Dell, C.W., Yoshida, Y., Gerbig, C., Nehrkorn, T., Deutscher, N.M., Warneke, T., Notholt, J., Hase, F., Kivi, R., Sussmann, R., Machida, T., Matsueda, H. and Sawa, Y.
Satellite-inferred European carbon sink larger than expected
2014
Atmospheric Chemistry and Physics
Vol. 14(24), pp. 13739-13753 
article
DOI URL 
Rey, A., Belelli-Marchesini, L., Etiope, G., Papale, D., Canfora, E., Valentini, R. and Pegoraro, E.
Partitioning the net ecosystem carbon balance of a semiarid steppe into biological and geological components
2014
Biogeochemistry
Vol. 118(1-3), pp. 83-101 
article
DOI URL 
Rödenbeck, C., Bakker, D.C., Metzl, N., Olsen, A., Sabine, C., Cassar, N., Reum, F., Keeling, R.F. and Heimann, M.
Interannual sea-air CO2 flux variability from an observation-driven ocean mixed-layer scheme
2014
Biogeosciences
Vol. 11(17), pp. 4599-4613 
article
DOI URL 
RÓŻAŃSKI, K., NECKI, J., CHMURA, Ł., ŚLIWKA, I., ZIMNOCH, M., BIELEWSKI, J., GAŁKOWSKI, M., BARTYZEL, J. and ROSIEK, J.
Anthropogenic changes of CO2, CH4, N2O, CFCl3, CF2Cl2, CCl2FCClF2, CHCl3, CH3CCl3, CCl4, SF6 and SF5CF3 mixing ratios in the atmosphere over southern Poland
2014
Geological Quarterly 
article
DOI URL 
Saad, K.M., Wunch, D., Toon, G.C., Bernath, P., Boone, C., Connor, B., Deutscher, N.M., Griffith, D.W.T., Kivi, R., Notholt, J., Roehl, C., Schneider, M., Sherlock, V. and Wennberg, P.O.
Derivation of tropospheric methane from TCCON CH4and HF total column observations
2014
Atmospheric Measurement Techniques
Vol. 7(9), pp. 2907-2918 
article
DOI URL 
Saikawa, E., Prinn, R.G., Dlugokencky, E., Ishijima, K., Dutton, G.S., Hall, B.D., Langenfelds, R., Tohjima, Y., Machida, T., Manizza, M., Rigby, M., O'Doherty, S., Patra, P.K., Harth, C.M., Weiss, R.F., Krummel, P.B., Van Der Schoot, M., Fraser, P.J., Steele, L.P., Aoki, S., Nakazawa, T. and Elkins, J.W.
Global and regional emissions estimates for N2O
2014
Atmospheric Chemistry and Physics
Vol. 14(9), pp. 4617-4641 
article
DOI URL 
Schneider, B., Gülzow, W., Sadkowiak, B. and Rehder, G.
Detecting sinks and sources of CO2 and CH4 by ferrybox-based measurements in the Baltic Sea: Three case studies
2014
Journal of Marine Systems
Vol. 140(PA), pp. 13-25 
article
DOI URL 
Séférian, R., Ribes, A. and Bopp, L.
Detecting the anthropogenic influences on recent changes in ocean carbon uptake
2014
Geophysical Research Letters
Vol. 41(16), pp. 5968-5977 
article
DOI URL 
Senapati, N., Chabbi, A., Gastal, F., Smith, P., Mascher, N., Loubet, B., Cellier, P. and Naisse, C.
Net carbon storage measured in a mowed and grazed temperate sown grassland shows potential for carbon sequestration under grazed system
2014
Carbon Management
Vol. 5(2), pp. 131-144 
article
DOI  
Sepúlveda, E., Schneider, M., Hase, F., Barthlott, S., Dubravica, D., García, O.E., Gomez-Pelaez, A., González, Y., Guerra, J.C., Gisi, M., Kohlhepp, R., Dohe, S., Blumenstock, T., Strong, K., Weaver, D., Palm, M., Sadeghi, A., Deutscher, N.M., Warneke, T., Notholt, J., Jones, N., Griffith, D.W.T., Smale, D., Brailsford, G.W., Robinson, J., Meinhardt, F., Steinbacher, M., Aalto, T. and Worthy, D.
Tropospheric CH4 signals as observed by NDACC FTIR at globally distributed sites and comparison to GAW surface in situ measurements
2014
Atmospheric Measurement Techniques
Vol. 7(7), pp. 2337-2360 
article
DOI URL 
Smallman, T.L., Williams, M. and Moncrieff, J.B.
Can seasonal and interannual variation in landscape CO2 fluxes be detected by atmospheric observations of CO2 concentrations made at a tall tower?
2014
Biogeosciences
Vol. 11(3), pp. 735-747 
article
DOI URL 
Stepanenko, V., Jöhnk, K.D., Machulskaya, E., Perroud, M., Subin, Z., Nordbo, A., Mammarella, I. and Mironov, D.
Simulation of surface energy fluxes and stratification of a small boreal lake by a set of one-dimensional models
2014
Tellus, Series A: Dynamic Meteorology and Oceanography
Vol. 66(1) 
article
DOI  
Sundqvist, E., Vestin, P., Crill, P., Persson, T. and Lindroth, A.
Short-term effects of thinning, clear-cutting and stump harvesting on methane exchange in a boreal forest
2014
Biogeosciences
Vol. 11(21), pp. 6095-6105 
article
DOI URL 
Takahashi, T., Sutherland, S.C., Chipman, D.W., Goddard, J.G. and Ho, C.
Climatological distributions of pH, pCO2, total CO2, alkalinity, and CaCO3 saturation in the global surface ocean, and temporal changes at selected locations
2014
Marine Chemistry
Vol. 164, pp. 95-125 
article
DOI  
Tang, J., Luyssaert, S., Richardson, A.D., Kutsch, W. and Janssens, I.A.
Steeper declines in forest photosynthesis than respiration explain age-driven decreases in forest growth
2014
Proceedings of the National Academy of Sciences of the United States of America
Vol. 111(24), pp. 8856-8860 
article
DOI URL 
Tang, X., Li, H., Desai, A.R., Nagy, Z., Luo, J., Kolb, T.E., Olioso, A., Xu, X., Yao, L., Kutsch, W., Pilegaard, K., Köstner, B. and Ammann, C.
How is water-use efficiency of terrestrial ecosystems distributed and changing on Earth?
2014
Scientific Reports
Vol. 4(1), pp. 7483 
article
DOI URL 
Thompson, R.L., Chevallier, F., Crotwell, A.M., Dutton, G., Langenfelds, R.L., Prinn, R.G., Weiss, R.F., Tohjima, Y., Nakazawa, T., Krummel, P.B., Steele, L.P., Fraser, P., O'Doherty, S., Ishijima, K. and Aoki, S.
Nitrous oxide emissions 1999 to 2009 from a global atmospheric inversion
2014
Atmospheric Chemistry and Physics
Vol. 14(4), pp. 1801-1817 
article
DOI URL 
Thompson, R.L., Ishijima, K., Saikawa, E., Corazza, M., Karstens, U., Patra, P.K., Bergamaschi, P., Chevallier, F., Dlugokencky, E., Prinn, R.G., Weiss, R.F., O'Doherty, S., Fraser, P.J., Steele, L.P., Krummel, P.B., Vermeulen, A., Tohjima, Y., Jordan, A., Haszpra, L., Steinbacher, M., Van Der Laan, S., Aalto, T., Meinhardt, F., Popa, M.E., Moncrieff, J. and Bousquet, P.
TransCom N2O model inter-comparison, Part II: Atmospheric inversion estimates of N2O emissions
2014
Atmospheric Chemistry and Physics Discussions
Vol. 14(4), pp. 5271-5321 
article
DOI URL 
Thompson, R.L., Patra, P.K., Ishijima, K., Saikawa, E., Corazza, M., Karstens, U., Wilson, C., Bergamaschi, P., Dlugokencky, E., Sweeney, C., Prinn, R.G., Weiss, R.F., O&apos, Doherty, S., Fraser, P.J., Steele, L.P., Krummel, P.B., Saunois, M., Chipperfield, M. and Bousquet, P.
TransCom N 2 O model inter-comparison – Part 1: Assessing the influence of transport and surface fluxes on tropospheric N 2 O variability
2014

Vol. 14(2)Atmospheric Chemistry and Physics Discussions, pp. 2307-2362 
book
DOI URL 
Tjiputra, J.F., Olsen, A., Bopp, L., Lenton, A., Pfeil, B., Roy, T., Segschneider, J., Totterdell, I. and Heinze, C.
Long-term surface pCO2 trends from observations and models
2014
Tellus, Series B: Chemical and Physical Meteorology
Vol. 66(1), pp. 23083 
article
DOI URL 
Turi, G., Lachkar, Z. and Gruber, N.
Spatiotemporal variability and drivers of <i>p</i>CO<sub>2</sub> and air–sea CO<sub>2</sub> fluxes in the California Current System: an eddy-resolving modeling study
2014
Biogeosciences
Vol. 11(3), pp. 671-690 
article
DOI URL 
Ulfsbo, A., Cassar, N., Korhonen, M., Van Heuven, S., Hoppema, M., Kattner, G. and Anderson, L.G.
Late summer net community production in the central Arctic Ocean using multiple approaches
2014
Global Biogeochemical Cycles
Vol. 28(10), pp. 1129-1148 
article
DOI URL 
Valentini, R., Arneth, A., Bombelli, A., Castaldi, S., Cazzolla Gatti, R., Chevallier, F., Ciais, P., Grieco, E., Hartmann, J., Henry, M., Houghton, R.A., Jung, M., Kutsch, W.L., Malhi, Y., Mayorga, E., Merbold, L., Murray-Tortarolo, G., Papale, D., Peylin, P., Poulter, B., Raymond, P.A., Santini, M., Sitch, S., Vaglio Laurin, G., Van Der Werf, G.R., Williams, C.A. and Scholes, R.J.
A full greenhouse gases budget of africa: Synthesis, uncertainties, and vulnerabilities
2014
Biogeosciences
Vol. 11(2), pp. 381-407 
article
DOI URL 
Van Der Velde, I.R., Miller, J.B., Schaefer, K., Van Der Werf, G.R., Krol, M.C. and Peters, W.
Terrestrial cycling of 13CO2 by photosynthesis, respiration, and biomass burning in SiBCASA
2014
Biogeosciences
Vol. 11(23), pp. 6553-6571 
article
DOI URL 
Vardag, S.N., Hammer, S., O'Doherty, S., Spain, T.G., Wastine, B., Jordan, A. and Levin, I.
Comparisons of continuous atmospheric CH4, CO2 and N2O measurements - Results from a travelling instrument campaign at Mace Head
2014
Atmospheric Chemistry and Physics
Vol. 14(16), pp. 8403-8418 
article
DOI URL 
de Vries, W., Du, E. and Butterbach-Bahl, K.
Short and long-term impacts of nitrogen deposition on carbon sequestration by forest ecosystems
2014
Current Opinion in Environmental Sustainability
Vol. 9-10, pp. 90-104 
article
DOI URL 
Wang, G., Dai, M., Shen, S.S.P., Bai, Y. and Xu, Y.
Quantifying uncertainty sources in the gridded data of sea surface CO 2 partial pressure
2014
Journal of Geophysical Research: Oceans
Vol. 119(8), pp. 5181-5189 
article
DOI URL 
Wang, Z., Deutscher, N.M., Warneke, T., Notholt, J., Dils, B., Griffith, D.W.T., Schmidt, M., Ramonet, M. and Gerbig, C.
Retrieval of tropospheric column-averaged CH4 mole fraction by solar absorption FTIR-spectrometry using N2O as a proxy
2014
Atmospheric Measurement Techniques
Vol. 7(10), pp. 3295-3305 
article
DOI URL 
Weaver, C., Kiemle, C., Kawa, S.R., Aalto, T., Necki, J., Steinbacher, M., Arduini, J., Apadula, F., Berkhout, H. and Hatakka, J.
Retrieval of methane source strengths in Europe using a simple modeling approach to assess the potential of spaceborne lidar observations
2014
Atmospheric Chemistry and Physics
Vol. 14(5), pp. 2625-2637 
article
DOI URL 
Wecht, K.J., Jacob, D.J., Sulprizio, M.P., Santoni, G.W., Wofsy, S.C., Parker, R., Bösch, H. and Worden, J.
Spatially resolving methane emissions in California: Constraints from the CalNex aircraft campaign and from present (GOSAT, TES) and future (TROPOMI, geostationary) satellite observations
2014
Atmospheric Chemistry and Physics
Vol. 14(15), pp. 8173-8184 
article
DOI URL 
Wei, S., Yi, C., Hendrey, G., Eaton, T., Rustic, G., Wang, S., Liu, H., Krakauer, N.Y., Wang, W., Desai, A.R., Montagnani, L., Tha Paw U, K., Falk, M., Black, A., Bernhofer, C., Grünwald, T., Laurila, T., Cescatti, A., Moors, E., Bracho, R. and Valentini, R.
Data-based perfect-deficit approach to understanding climate extremes and forest carbon assimilation capacity
2014
Environmental Research Letters
Vol. 9(6), pp. 65002 
article
DOI URL 
Yuan, W., Cai, W., Liu, S., Dong, W., Chen, J., Arain, M.A., Blanken, P.D., Cescatti, A., Wohlfahrt, G., Georgiadis, T., Genesio, L., Gianelle, D., Grelle, A., Kiely, G., Knohl, A., Liu, D., Marek, M.V., Merbold, L., Montagnani, L., Panferov, O., Peltoniemi, M., Rambal, S., Raschi, A., Varlagin, A. and Xia, J.
Vegetation-specific model parameters are not required for estimating gross primary production
2014
Ecological Modelling
Vol. 292, pp. 1-10 
article
DOI URL 
Zeng, J., Nojiri, Y., Landschützer, P., Telszewski, M. and Nakaoka, S.
A global surface ocean fCO2 climatology based on a feed-forward neural network
2014
Journal of Atmospheric and Oceanic Technology
Vol. 31(8), pp. 1838-1849 
article
DOI URL 
Zhang, H.F., Chen, B.Z., van der Laan-Luijkx, I.T., Machida, T., Matsueda, H., Sawa, Y., Fukuyama, Y., Langenfelds, R., Van Der Schoot, M., Xu, G., Yan, J.W., Cheng, M.L., Zhou, L.X., Tans, P.P. and Peters, W.
Estimating Asian terrestrial carbon fluxes from CONTRAIL aircraft and surface CO2 observations for the period 2006-2010
2014
Atmospheric Chemistry and Physics
Vol. 14(11), pp. 5807-5824 
article
DOI URL 
Zhang, H.F., Chen, B.Z., Van Der Laan-Luijkx, I.T., Chen, J., Xu, G., Yan, J.W., Zhou, L.X., Fukuyama, Y., Tans, P.P. and Peters, W.
Net terrestrial CO2 exchange over China during 2001–2010 estimated with an ensemble data assimilation system for atmospheric CO2
2014
Journal of Geophysical Research
Vol. 119(6), pp. 3500-3515 
article
DOI URL 
Zielis, S., Etzold, S., Zweifel, R., Eugster, W., Haeni, M. and Buchmann, N.
NEP of a Swiss subalpine forest is significantly driven not only by current but also by previous year's weather
2014
Biogeosciences
Vol. 11(6), pp. 1627-1635 
article
DOI URL 
Zona, D., Gioli, B., Fares, S., De Groote, T., Pilegaard, K., Ibrom, A. and Ceulemans, R.
Environmental controls on ozone fluxes in a poplar plantation in Western Europe
2014
Environmental Pollution
Vol. 184, pp. 201-210 
article
DOI URL 
Alekseychik, P., Mammarella, I., Launiainen, S., Rannik, Ü. and Vesala, T.
Evolution of the nocturnal decoupled layer in a pine forest canopy
2013
Agricultural and Forest Meteorology
Vol. 174-175, pp. 15-27 
article
DOI URL 
Arévalo-Martínez, D.L., Beyer, M., Krumbholz, M., Piller, I., Kock, A., Steinhoff, T., Körtzinger, A. and Bange, H.W.
A new method for continuous measurements of oceanic and atmospheric N 2O, CO and CO2: Performance of off-axis integrated cavity output spectroscopy (OA-ICOS) coupled to non-dispersive infrared detection (NDIR)
2013
Ocean Science
Vol. 9(6), pp. 1071-1087 
article
DOI URL 
Arias-Navarro, C., Díaz-Pinés, E., Kiese, R., Rosenstock, T.S., Rufino, M.C., Stern, D., Neufeldt, H., Verchot, L.V. and Butterbach-Bahl, K.
Gas pooling: A sampling technique to overcome spatial heterogeneity of soil carbon dioxide and nitrous oxide fluxes
2013
Soil Biology and Biochemistry
Vol. 67, pp. 20-23 
article
DOI URL 
Barr, A.G., Richardson, A.D., Hollinger, D.Y., Papale, D., Arain, M.A., Black, T.A., Bohrer, G., Dragoni, D., Fischer, M.L., Gu, L., Law, B.E., Margolis, H.A., Mccaughey, J.H., Munger, J.W., Oechel, W. and Schaeffer, K.
Use of change-point detection for friction-velocity threshold evaluation in eddy-covariance studies
2013
Agricultural and Forest Meteorology
Vol. 171-172, pp. 31-45 
article
DOI URL 
Berchet, A., Pison, I., Chevallier, F., Bousquet, P., Conil, S., Geever, M., Laurila, T., LavriÄ, J., Lopez, M., Moncrieff, J., Necki, J., Ramonet, M., Schmidt, M., Steinbacher, M. and Tarniewicz, J.
Towards better error statistics for atmospheric inversions of methane surface fluxes
2013
Atmospheric Chemistry and Physics
Vol. 13(14), pp. 7115-7132A 
article
DOI URL 
Berhongaray, G., El Kasmioui, O. and Ceulemans, R.
Comparative analysis of harvesting machines onan operational high-density short rotation woody crop (SRWC) culture: One-process versus two-process harvest operation
2013
Biomass and Bioenergy
Vol. 58, pp. 333-342 
article
DOI URL 
Berhongaray, G., Janssens, I.A., King, J.S. and Ceulemans, R.
Fine root biomass and turnover of two fast-growing poplar genotypes in a short-rotation coppice culture
2013
Plant and Soil
Vol. 373(1-2), pp. 269-283 
article
DOI URL 
Berhongaray, G., King, J.S., Janssens, I.A. and Ceulemans, R.
An optimized fine root sampling methodology balancing accuracy and time investment
2013
Plant and Soil
Vol. 366(1-2), pp. 351-361 
article
DOI URL 
Bhullar, G.S., Iravani, M., Edwards, P.J. and Olde Venterink, H.
Methane transport and emissions from soil as affected by water table and vascular plants
2013
BMC Ecology
Vol. 13(1), pp. 32 
article
DOI URL 
Boesch, H., Deutscher, N.M., Warneke, T., Byckling, K., Cogan, A.J., Griffith, D.W.T., Notholt, J., Parker, R.J. and Wang, Z.
HDO/H2O ratio retrievals from GOSAT
2013
Atmospheric Measurement Techniques
Vol. 6(3), pp. 599-612 
article
DOI URL 
Boussetta, S., Balsamo, G., Beljaars, A., Panareda, A.A., Calvet, J.C., Jacobs, C., Van Den Hurk, B., Viterbo, P., Lafont, S., Dutra, E., Jarlan, L., Balzarolo, M., Papale, D. and Van Der Werf, G.
Natural land carbon dioxide exchanges in the ECMWF integrated forecasting system: Implementation and offline validation
2013
Journal of Geophysical Research Atmospheres
Vol. 118(12), pp. 5923-5946 
article
DOI URL 
Bozhinova, D., Combe, M., Palstra, S.W.L., Meijer, H.A.J., Krol, M.C. and Peters, W.
The importance of crop growth modeling to interpret the Δ14CO2 signature of annual plants
2013
Global Biogeochemical Cycles
Vol. 27(3), pp. 792-803 
article
DOI URL 
Broquet, G., Chevallier, F., BrÉon, F.M., Kadygrov, N., Alemanno, M., Apadula, F., Hammer, S., Haszpra, L., Meinhardt, F., Morguí, J.A., Necki, J., Piacentino, S., Ramonet, M., Schmidt, M., Thompson, R.L., Vermeulen, A.T., Yver, C. and Ciais, P.
Regional inversion of CO2 ecosystem fluxes from atmospheric measurements: Reliability of the uncertainty estimates
2013
Atmospheric Chemistry and Physics
Vol. 13(17), pp. 9039-9056 
article
DOI URL 
Buysse, P., Goffin, S., Carnol, M., Malchair, S., Debacq, A., Longdoz, B. and Aubinet, M.
Short-term temperature impact on soil heterotrophic respiration in limed agricultural soil samples
2013
Biogeochemistry
Vol. 112(1-3), pp. 441-455 
article
DOI URL 
Buysse, P., Roisin, C. and Aubinet, M.
Fifty years of contrasted residue management of an agricultural crop: Impacts on the soil carbon budget and on soil heterotrophic respiration
2013
Agriculture, Ecosystems and Environment
Vol. 167, pp. 52-59 
article
DOI URL 
Buysse, P., Schnepf-Kiss, A.C., Carnol, M., Malchair, S., Roisin, C. and Aubinet, M.
Fifty years of crop residue management have a limited impact on soil heterotrophic respiration
2013
Agricultural and Forest Meteorology
Vol. 180, pp. 102-111 
article
DOI URL 
Cameron, D.R., Van Oijen, M., Werner, C., Butterbach-Bahl, K., Grote, R., Haas, E., Heuvelink, G.B.M., Kiese, R., Kros, J., Kuhnert, M., Leip, A., Reinds, G.J., Reuter, H.I., Schelhaas, M.J., De Vries, W. and Yeluripati, J.
Environmental change impacts on the C- and N-cycle of European forests: a model comparison study
2013
Biogeosciences
Vol. 10(3), pp. 1751-1773 
article
DOI URL 
Danielewska, A., Clarke, N., Olejnik, J., Hansen, K., de Vries, W., Lundin, L., Tuovinen, J.P., Fischer, R., Urbaniak, M. and Paoletti, E.
A meta-database comparison from various European research and monitoring networks dedicated to forest sites
2013
IForest
Vol. 6(JANUARY 2013), pp. 1-9 
article
DOI URL 
Danielewska, A., Paoletti, E., Clarke, N., Olejnik, J., Urbaniak, M., Baran, M., Siedlecki, P., Hansen, K., Lundin, L., de Vries, W., Mikkelsen, T.N., Dillen, S. and Fischer, R.
Towards integration of research and monitoring at forest ecosystems in Europe
2013
Forest Systems
Vol. 22(3), pp. 535-545 
article
DOI URL 
Deng, F., Chen, J.M., Pan, Y., Peters, W., Birdsey, R., McCullough, K. and Xiao, J.
The use of forest stand age information in an atmospheric CO2 inversion applied to North America
2013
Biogeosciences
Vol. 10(8), pp. 5335-5348 
article
DOI URL 
Dengel, S., Zona, D., Sachs, T., Aurela, M., Jammet, M., Parmentier, F.J.W., Oechel, W. and Vesala, T.
Testing the applicability of neural networks as a gap-filling method using CH4 flux data from high latitude wetlands
2013
Biogeosciences
Vol. 10(12), pp. 8185-8200 
article
DOI URL 
El Kasmioui, O. and Ceulemans, R.
Financial Analysis of the Cultivation of Short Rotation Woody Crops for Bioenergy in Belgium: Barriers and Opportunities
2013
Bioenergy Research
Vol. 6(1), pp. 336-350 
article
DOI URL 
Fiedler, B., Fietzek, P., Vieira, N., Silva, P., Bittig, H.C. and Körtzinger, A.
In situ CO2 and O2 measurements on a profiling float
2013
Journal of Atmospheric and Oceanic Technology
Vol. 30(1), pp. 112-126 
article
DOI URL 
Flechard, C.R., Massad, R.-S., Loubet, B., Personne, E., Simpson, D., Bash, J.O., Cooter, E.J., Nemitz, E. and Sutton, M.A.
Advances in understanding, models and parameterizations of biosphere-atmosphere ammonia exchange
2013
Biogeosciences
Vol. 10(7), pp. 5183-5225 
article
DOI URL 
Fleischer, K., Rebel, K.T., Van Der Molen, M.K., Erisman, J.W., Wassen, M.J., Van Loon, E.E., Montagnani, L., Gough, C.M., Herbst, M., Janssens, I.A., Gianelle, D. and Dolman, A.J.
The contribution of nitrogen deposition to the photosynthetic capacity of forests
2013
Global Biogeochemical Cycles
Vol. 27(1), pp. 187-199 
article
DOI URL 
Fraser, A., Palmer, P.I., Feng, L., Boesch, H., Cogan, A., Parker, R., Dlugokencky, E.J., Fraser, P.J., Krummel, P.B., Langenfelds, R.L., O'Doherty, S., Prinn, R.G., Steele, L.P., Van Der Schoot, M. and Weiss, R.F.
Estimating regional methane surface fluxes: The relative importance of surface and GOSAT mole fraction measurements
2013
Atmospheric Chemistry and Physics
Vol. 13(11), pp. 5697-5713 
article
DOI URL 
Gielen, B., De Vos, B., Campioli, M., Neirynck, J., Papale, D., Verstraeten, A., Ceulemans, R. and Janssens, I.A.
Biometric and eddy covariance-based assessment of decadal carbon sequestration of a temperate Scots pine forest
2013
Agricultural and Forest Meteorology
Vol. 174-175, pp. 135-143 
article
DOI URL 
Grossi, C., Curcoll, R., Morguí, J.A., Àgueda, A., Ealo, M., Occhipinti, P., Nofuentes, M., Sánchez-García, L., Batet, O., Vargas, A., Vermeulen, A.T. and Rodó, X.
H15-92: Application of atmospheric transport models at the new atmospheric EBRE delta station (Climadat Network) in Eastern Spain
2013
Proceedings of the 15th International Conference on Harmonisation within Atmospheric Dispersion Modelling for Regulatory Purposes, HARMO 2013, pp. 705-709 
inproceedings
 
Guerlet, S., Butz, A., Schepers, D., Basu, S., Hasekamp, O.P., Kuze, A., Yokota, T., Blavier, J.F., Deutscher, N.M., Griffith, D.W.T., Hase, F., Kyro, E., Morino, I., Sherlock, V., Sussmann, R., Galli, A. and Aben, I.
Impact of aerosol and thin cirrus on retrieving and validating XCO 2 from GOSAT shortwave infrared measurements
2013
Journal of Geophysical Research Atmospheres
Vol. 118(10), pp. 4887-4905 
article
DOI URL 
Gülzow, W., Rehder, G., Deimling, J.S.V., Seifert, T. and Tóth, Z.
One year of continuous measurements constraining methane emissions from the Baltic Sea to the atmosphere using a ship of opportunity
2013
Biogeosciences
Vol. 10(1), pp. 81-99 
article
DOI URL 
Hammer, S., Griffith, D.W.T., Konrad, G., Vardag, S., Caldow, C. and Levin, I.
Assessment of a multi-species in situ FTIR for precise atmospheric greenhouse gas observations
2013
Atmospheric Measurement Techniques
Vol. 6(5), pp. 1153-1170 
article
DOI URL 
Hammer, S., Konrad, G., Vermeulen, A.T., Laurent, O., Delmotte, M., Jordan, A., Hazan, L., Conil, S. and Levin, I.
Feasibility study of using a "travelling" CO2 and CH4 instrument to validate continuous in situ measurement stations
2013
Atmospheric Measurement Techniques
Vol. 6(5), pp. 1201-1216 
article
DOI URL 
Hansen, K., Sørensen, L.L., Hertel, O., Geels, C., Skjøth, C.A., Jensen, B. and Boegh, E.
Ammonia emissions from deciduous forest after leaf fall
2013
Biogeosciences
Vol. 10(7), pp. 4577-4589 
article
DOI URL 
Hase, F., Drouin, B.J., Roehl, C.M., Toon, G.C., Wennberg, P.O., Wunch, D., Blumenstock, T., Desmet, F., Feist, D.G., Heikkinen, P., De Mazière, M., Rettinger, M., Robinson, J., Schneider, M., Sherlock, V., Sussmann, R., Té, Y., Warneke, T. and Weinzierl, C.
Calibration of sealed HCl cells used for TCCON instrumental line shape monitoring
2013
Atmospheric Measurement Techniques
Vol. 6(12), pp. 3527-3537 
article
DOI URL 
Hensen, A., Skiba, U. and Famulari, D.
Low cost and state of the art methods to measure nitrous oxide emissions
2013
Environmental Research Letters
Vol. 8(2), pp. 25022 
article
DOI URL 
Hmimina, G., Dufrêne, E., Pontailler, J.Y., Delpierre, N., Aubinet, M., Caquet, B., de Grandcourt, A., Burban, B., Flechard, C., Granier, A., Gross, P., Heinesch, B., Longdoz, B., Moureaux, C., Ourcival, J.M., Rambal, S., Saint André, L. and Soudani, K.
Evaluation of the potential of MODIS satellite data to predict vegetation phenology in different biomes: An investigation using ground-based NDVI measurements
2013
Remote Sensing of Environment
Vol. 132, pp. 145-158 
article
DOI URL 
Huotari, J., Haapanala, S., Pumpanen, J., Vesala, T. and Ojala, A.
Efficient gas exchange between a boreal river and the atmosphere
2013
Geophysical Research Letters
Vol. 40(21), pp. 5683-5686 
article
DOI URL 
Jiang, F., Wang, H.W., Chen, J.M., Zhou, L.X., Ju, W.M., Ding, A.J., Liu, L.X. and Peters, W.
Nested atmospheric inversion for the terrestrial carbon sources and sinks in China
2013
Biogeosciences
Vol. 10(8), pp. 5311-5324 
article
DOI URL 
Juszczak, R.
Biases in methane chamber measurements in peatlands
2013
International Agrophysics
Vol. 27(2), pp. 159-168 
article
DOI URL 
Juszczak, R. and Augustin, J.
Exchange of the greenhouse gases methane and nitrous oxide between the atmosphere and a temperate peatland in Central Europe
2013
Wetlands
Vol. 33(5), pp. 895-907 
article
DOI URL 
King, J.S., Ceulemans, R., Albaugh, J.M., Dillen, S.Y., Domec, J.-C., Fichot, R., Fischer, M., Leggett, Z., Sucre, E., Trnka, M. and Zenone, T.
The Challenge of Lignocellulosic Bioenergy in a Water-Limited World
2013
BioScience
Vol. 63(2), pp. 102-117 
article
DOI URL 
Kirschke, S., Bousquet, P., Ciais, P., Saunois, M., Canadell, J.G., Dlugokencky, E.J., Bergamaschi, P., Bergmann, D., Blake, D.R., Bruhwiler, L., Cameron-Smith, P., Castaldi, S., Chevallier, F., Feng, L., Fraser, A., Heimann, M., Hodson, E.L., Houweling, S., Josse, B., Fraser, P.J., Krummel, P.B., Lamarque, J.F., Langenfelds, R.L., Le Quéré, C., Naik, V., O'doherty, S., Palmer, P.I., Pison, I., Plummer, D., Poulter, B., Prinn, R.G., Rigby, M., Ringeval, B., Santini, M., Schmidt, M., Shindell, D.T., Simpson, I.J., Spahni, R., Steele, L.P., Strode, S.A., Sudo, K., Szopa, S., Van Der Werf, G.R., Voulgarakis, A., Van Weele, M., Weiss, R.F., Williams, J.E. and Zeng, G.
Three decades of global methane sources and sinks
2013
Nature Geoscience
Vol. 6(10), pp. 813-823 
article
DOI URL 
Korhonen, J.F.J., Pihlatie, M., Pumpanen, J., Aaltonen, H., Hari, P., Levula, J., Kieloaho, A.J., Nikinmaa, E., Vesala, T. and Ilvesniemi, H.
Nitrogen balance of a boreal Scots pine forest
2013
Biogeosciences
Vol. 10(2), pp. 1083-1095 
article
DOI URL 
Kowalska, N., Chojnicki, B.H., Rinne, J., Haapanala, S., Siedlecki, P., Urbaniak, M., Juszczak, R. and Olejnik, J.
Measurements of methane emission from a temperate wetland by the eddy covariance method
2013
International Agrophysics
Vol. 27(3), pp. 283-290 
article
DOI URL 
Krol, M., Peters, W., Hooghiemstra, P., George, M., Clerbaux, C., Hurtmans, D., McInerney, D., Sedano, F., Bergamaschi, P., El Hajj, M., Kaiser, J.W., Fisher, D., Yershov, V. and Muller, J.P.
How much CO was emitted by the 2010 fires around Moscow?
2013
Atmospheric Chemistry and Physics
Vol. 13(9), pp. 4737-4747 
article
DOI URL 
Laffineur, Q., Aubinet, M., Schoon, N., Amelynck, C., Müller, J.F., Dewulf, J., Steppe, K. and Heinesch, B.
Impact of diffuse light on isoprene and monoterpene emissions from amixed temperate forest
2013
Atmospheric Environment
Vol. 74, pp. 385-392 
article
DOI URL 
Le Quéré, C., Andres, R.J., Boden, T., Conway, T., Houghton, R.A., House, J.I., Marland, G., Peters, G.P., Van Der Werf, G.R., Ahlström, A., Andrew, R.M., Bopp, L., Canadell, J.G., Ciais, P., Doney, S.C., Enright, C., Friedlingstein, P., Huntingford, C., Jain, A.K., Jourdain, C., Kato, E., Keeling, R.F., Klein Goldewijk, K., Levis, S., Levy, P., Lomas, M., Poulter, B., Raupach, M.R., Schwinger, J., Sitch, S., Stocker, B.D., Viovy, N., Zaehle, S. and Zeng, N.
The global carbon budget 1959-2011
2013
Earth System Science Data
Vol. 5(1), pp. 165-185 
article
DOI URL 
Lenton, A., Tilbrook, B., Law, R.M., Bakker, D., Doney, S.C., Gruber, N., Ishii, M., Hoppema, M., Lovenduski, N.S., Matear, R.J., McNeil, B.I., Metzl, N., Fletcher, S.E., Monteiro, P.M.S., Rödenbeck, C., Sweeney, C. and Takahashi, T.
Sea-air CO2 fluxes in the Southern Ocean for the period 1990-2009
2013
Biogeosciences
Vol. 10(6), pp. 4037-4054 
article
DOI URL 
Levin, I., Kromer, B. and Hammer, S.
Atmospheric δ14CO2 trend in Western European background air from 2000 to 2012
2013
Tellus, Series B: Chemical and Physical Meteorology
Vol. 65(1) 
article
DOI  
Loubet, B., Cellier, P., Fléchard, C., Zurfluh, O., Irvine, M., Lamaud, E., Stella, P., Roche, R., Durand, B., Flura, D., Masson, S., Laville, P., Garrigou, D., Personne, E., Chelle, M. and Castell, J.F.
Investigating discrepancies in heat, CO2 fluxes and O3 deposition velocity over maize as measured by the eddy-covariance and the aerodynamic gradient methods
2013
Agricultural and Forest Meteorology
Vol. 169, pp. 35-50 
article
DOI URL 
Luo, G.J., Kiese, R., Wolf, B. and Butterbach-Bahl, K.
Effects of soil temperature and moisture on methane uptake and nitrous oxide emissions across three different ecosystem types
2013
Biogeosciences
Vol. 10(5), pp. 3205-3219 
article
DOI URL 
Maksyutov, S., Takagi, H., Valsala, V.K., Saito, M., Oda, T., Saeki, T., Belikov, D.A., Saito, R., Ito, A., Yoshida, Y., Morino, I., Uchino, O., Andres, R.J. and Yokota, T.
Regional CO2 flux estimates for 2009-2010 based on GOSAT and ground-based CO2 observations
2013
Atmospheric Chemistry and Physics
Vol. 13(18), pp. 9351-9373 
article
DOI URL 
Manohar, S.N., Meijer, H.A.J. and Herber, M.A.
Radon flux maps for the Netherlands and Europe using terrestrial gamma radiation derived from soil radionuclides
2013
Atmospheric Environment
Vol. 81, pp. 399-412 
article
DOI URL 
Manrique-Suñén, A., Nordbo, A., Balsamo, G., Beljaars, A. and Mammarella, I.
Representing land surface heterogeneity: Offline analysis of the tiling method
2013
Journal of Hydrometeorology
Vol. 14(3), pp. 850-867 
article
DOI  
Maselli, F., Argenti, G., Chiesi, M., Angeli, L. and Papale, D.
Simulation of grassland productivity by the combination of ground and satellite data
2013
Agriculture, Ecosystems and Environment
Vol. 165, pp. 163-172 
article
DOI URL 
Mauder, M., Cuntz, M., Drüe, C., Graf, A., Rebmann, C., Schmid, H.P., Schmidt, M. and Steinbrecher, R.
A strategy for quality and uncertainty assessment of long-term eddy-covariance measurements
2013
Agricultural and Forest Meteorology
Vol. 169, pp. 122-135 
article
DOI URL 
Melaas, E.K., Richardson, A.D., Friedl, M.A., Dragoni, D., Gough, C.M., Herbst, M., Montagnani, L. and Moors, E.
Using FLUXNET data to improve models of springtime vegetation activity onset in forest ecosystems
2013
Agricultural and Forest Meteorology
Vol. 171-172, pp. 46-56 
article
DOI URL 
Mencuccini, M., Hölttä, T., Sevanto, S. and Nikinmaa, E.
Concurrent measurements of change in the bark and xylem diameters of trees reveal a phloem-generated turgor signal
2013
New Phytologist
Vol. 198(4), pp. 1143-1154 
article
DOI  
Mizunuma, T., Wilkinson, M., L. Eaton, E., Mencuccini, M., I. L. Morison, J. and Grace, J.
The relationship between carbon dioxide uptake and canopy colour from two camera systems in a deciduous forest in southern England
2013
Functional Ecology
Vol. 27(1), pp. 196-207 
article
DOI  
Njakou Djomo, S., El Kasmioui, O., De Groote, T., Broeckx, L.S., Verlinden, M.S., Berhongaray, G., Fichot, R., Zona, D., Dillen, S.Y., King, J.S., Janssens, I.A. and Ceulemans, R.
Energy and climate benefits of bioelectricity from low-input short rotation woody crops on agricultural land over a two-year rotation
2013
Applied Energy
Vol. 111, pp. 862-870 
article
DOI URL 
Nordbo, A., Järvi, L., Haapanala, S., Moilanen, J. and Vesala, T.
Intra-City Variation in Urban Morphology and Turbulence Structure in Helsinki, Finland
2013
Boundary-Layer Meteorology
Vol. 146(3), pp. 469-496 
article
DOI  
Nordbo, A. and Katul, G.
A Wavelet-Based Correction Method for Eddy-Covariance High-Frequency Losses in Scalar Concentration Measurements
2013
Boundary-Layer Meteorology
Vol. 146(1), pp. 81-102 
article
DOI  
Nordbo, A., Kekäläinen, P., Siivola, E., Lehto, R., Vesala, T. and Timonen, J.
Tube transport of water vapor with condensation and desorption
2013
Applied Physics Letters
Vol. 102(19) 
article
DOI  
O'Shea, S.J., Bauguitte, S.J.B., Gallagher, M.W., Lowry, D. and Percival, C.J.
Development of a cavity-enhanced absorption spectrometer for airborne measurements of CH4and CO2
2013
Atmospheric Measurement Techniques
Vol. 6(5), pp. 1095-1109 
article
DOI URL 
Oshchepkov, S., Bril, A., Yokota, T., Wennberg, P.O., Deutscher, N.M., Wunch, D., Toon, G.C., Yoshida, Y., O'Dell, C.W., Crisp, D., Miller, C.E., Frankenberg, C., Butz, A., Aben, I., Guerlet, S., Hasekamp, O., Boesch, H., Cogan, A., Parker, R., Griffith, D., Macatangay, R., Notholt, J., Sussmann, R., Rettinger, M., Sherlock, V., Robinson, J., Kyrö, E., Heikkinen, P., Feist, D.G., Morino, I., Kadygrov, N., Belikov, D., Maksyutov, S., Matsunaga, T., Uchino, O. and Watanabe, H.
Effects of atmospheric light scattering on spectroscopic observations of greenhouse gases from space. Part 2: Algorithm intercomparison in the GOSAT data processing for CO2 retrievals over TCCON sites
2013
Journal of Geophysical Research Atmospheres
Vol. 118(3), pp. 1493-1512 
article
DOI URL 
Oshchepkov, S., Bril, A., Yokota, T., Yoshida, Y., Blumenstock, T., Deutscher, N.M., Dohe, S., MacAtangay, R., Morino, I., Notholt, J., Rettinger, M., Petri, C., Schneider, M., Sussman, R., Uchino, O., Velazco, V., Wunch, D. and Belikov, D.
Simultaneous retrieval of atmospheric CO2 and light path modification from space-based spectroscopic observations of greenhouse gases: Methodology and application to GOSAT measurements over TCCON sites
2013
Applied Optics
Vol. 52(6), pp. 1339-1350 
article
DOI URL 
Pal, S., Haeffelin, M. and Batchvarova, E.
Exploring a geophysical process-based attribution technique for the determination of the atmospheric boundary layer depth using aerosol lidar and near-surface meteorological measurements
2013
Journal of Geophysical Research Atmospheres
Vol. 118(16), pp. 9277-9295 
article
DOI  
Peltola, O., Mammarella, I., Haapanala, S., Burba, G. and Vesala, T.
Field intercomparison of four methane gas analyzers suitable for eddy covariance flux measurements
2013
Biogeosciences
Vol. 10(6), pp. 3749-3765 
article
DOI URL 
Pérez-Priego, O., Serrano-Ortiz, P., Sánchez-Cañete, E.P., Domingo, F. and Kowalski, A.S.
Isolating the effect of subterranean ventilation on CO2 emissions from drylands to the atmosphere
2013
Agricultural and Forest Meteorology
Vol. 180, pp. 194-202 
article
DOI  
Peylin, P., Law, R.M., Gurney, K.R., Chevallier, F., Jacobson, A.R., Maki, T., Niwa, Y., Patra, P.K., Peters, W., Rayner, P.J., Rödenbeck, C., Van Der Laan-Luijkx, I.T. and Zhang, X.
Global atmospheric carbon budget: Results from an ensemble of atmospheric CO2 inversions
2013
Biogeosciences
Vol. 10(10), pp. 6699-6720 
article
DOI URL 
Pfeil, B., Olsen, A., Bakker, D.C.E., Hankin, S., Koyuk, H., Kozyr, A., Malczyk, J., Manke, A., Metzl, N., Sabine, C.L., Akl, J., Alin, S.R., Bates, N., Bellerby, R.G.J., Borges, A., Boutin, J., Brown, P.J., Cai, W.J., Chavez, F.P., Chen, A., Cosca, C., Fassbender, A.J., Feely, R.A., González-Dávila, M., Goyet, C., Hales, B., Hardman-Mountford, N., Heinze, C., Hood, M., Hoppema, M., Hunt, C.W., Hydes, D., Ishii, M., Johannessen, T., Jones, S.D., Key, R.M., Körtzinger, A., Landschützer, P., Lauvset, S.K., Lefèvre, N., Lenton, A., Lourantou, A., Merlivat, L., Midorikawa, T., Mintrop, L., Miyazaki, C., Murata, A., Nakadate, A., Nakano, Y., Nakaoka, S., Nojiri, Y., Omar, A.M., Padin, X.A., Park, G.H., Paterson, K., Perez, F.F., Pierrot, D., Poisson, A., Ríos, A.F., Santana-Casiano, J.M., Salisbury, J., Sarma, V.V.S.S., Schlitzer, R., Schneider, B., Schuster, U., Sieger, R., Skjelvan, I., Steinhoff, T., Suzuki, T., Takahashi, T., Tedesco, K., Telszewski, M., Thomas, H., Tilbrook, B., Tjiputra, J., Vandemark, D., Veness, T., Wanninkhof, R., Watson, A.J., Weiss, R., Wong, C.S. and Yoshikawa-Inoue, H.
A uniform, quality controlled Surface Ocean CO2 Atlas (SOCAT)
2013
Earth System Science Data
Vol. 5(1), pp. 125-143 
article
DOI URL 
Pieterse, G., Krol, M.C., Batenburg, A.M., M. Brenninkmeijer, C.A., Popa, M.E., O'Doherty, S., Grant, A., Steele, L.P., Krummel, P.B., Langenfelds, R.L., Wang, H.J., Vermeulen, A.T., Schmidt, M., Yver, C., Jordan, A., Engel, A., Fisher, R.E., Lowry, D., Nisbet, E.G., Reimann, S., Vollmer, M.K., Steinbacher, M., Hammer, S., Forster, G., Sturges, W.T. and Röckmann, T.
Reassessing the variability in atmospheric H 2 using the two-way nested TM5 model
2013
Journal of Geophysical Research: Atmospheres
Vol. 118(9), pp. 3764-3780 
article
DOI URL 
Pita, G., Gielen, B., Zona, D., Rodrigues, A., Rambal, S., Janssens, I.A. and Ceulemans, R.
Carbon and water vapor fluxes over four forests in two contrasting climatic zones
2013
Agricultural and Forest Meteorology
Vol. 180, pp. 211-224 
article
DOI URL 
Reichstein, M., Bahn, M., Ciais, P., Frank, D., Mahecha, M.D., Seneviratne, S.I., Zscheischler, J., Beer, C., Buchmann, N., Frank, D.C., Papale, D., Rammig, A., Smith, P., Thonicke, K., Van Der Velde, M., Vicca, S., Walz, A. and Wattenbach, M.
Climate extremes and the carbon cycle
2013
Nature
Vol. 500(7462), pp. 287-295 
article
DOI URL 
Rella, C.W., Chen, H., Andrews, A.E., Filges, A., Gerbig, C., Hatakka, J., Karion, A., Miles, N.L., Richardson, S.J., Steinbacher, M., Sweeney, C., Wastine, B. and Zellweger, C.
High accuracy measurements of dry mole fractions of carbon dioxide and methane in humid air
2013
Atmospheric Measurement Techniques
Vol. 6(3), pp. 837-860 
article
DOI URL 
Sabine, C.L., Hankin, S., Koyuk, H., Bakker, D.C.E., Pfeil, B., Olsen, A., Metzl, N., Kozyr, A., Fassbender, A., Manke, A., Malczyk, J., Akl, J., Alin, S.R., Bellerby, R.G.J., Borges, A., Boutin, J., Brown, P.J., Cai, W.J., Chavez, F.P., Chen, A., Cosca, C., Feely, R.A., González-Dávila, M., Goyet, C., Hardman-Mountford, N., Heinze, C., Hoppema, M., Hunt, C.W., Hydes, D., Ishii, M., Johannessen, T., Key, R.M., Körtzinger, A., Landschützer, P., Lauvset, S.K., Lefèvre, N., Lenton, A., Lourantou, A., Merlivat, L., Midorikawa, T., Mintrop, L., Miyazaki, C., Murata, A., Nakadate, A., Nakano, Y., Nakaoka, S., Nojiri, Y., Omar, A.M., Padin, X.A., Park, G.H., Paterson, K., Perez, F.F., Pierrot, D., Poisson, A., Ríos, A.F., Salisbury, J., Santana-Casiano, J.M., S. Sarma, V.V.S., Schlitzer, R., Schneider, B., Schuster, U., Sieger, R., Skjelvan, I., Steinhoff, T., Suzuki, T., Takahashi, T., Tedesco, K., Telszewski, M., Thomas, H., Tilbrook, B., Vandemark, D., Veness, T., Watson, A.J., Weiss, R., Wong, C.S. and Yoshikawa-Inoue, H.
Surface Ocean CO2 Atlas (SOCAT) gridded data products
2013
Earth System Science Data
Vol. 5(1), pp. 145-153 
article
DOI URL 
Simmonds, P.G., Manning, A.J., Athanassiadou, M., Scaife, A.A., Derwent, R.G., O'Doherty, S., Harth, C.M., Weiss, R.F., Dutton, G.S., Hall, B.D., Sweeney, C. and Elkins, J.W.
Interannual fluctuations in the seasonal cycle of nitrous oxide and chlorofluorocarbons due to the Brewer-Dobson circulation
2013
Journal of Geophysical Research Atmospheres
Vol. 118(19), pp. 10694-10706 
article
DOI URL 
Šimpraga, M., Verbeeck, H., Bloemen, J., Vanhaecke, L., Demarcke, M., Joó, E., Pokorska, O., Amelynck, C., Schoon, N., Dewulf, J., Van Langenhove, H., Heinesch, B., Aubinet, M. and Steppe, K.
Vertical canopy gradient in photosynthesis and monoterpenoid emissions: An insight into the chemistry and physiology behind
2013
Atmospheric Environment
Vol. 80, pp. 85-95 
article
DOI URL 
Stoy, P.C., Mauder, M., Foken, T., Marcolla, B., Boegh, E., Ibrom, A., Arain, M.A., Arneth, A., Aurela, M., Bernhofer, C., Cescatti, A., Dellwik, E., Duce, P., Gianelle, D., van Gorsel, E., Kiely, G., Knohl, A., Margolis, H., Mccaughey, H., Merbold, L., Montagnani, L., Papale, D., Reichstein, M., Saunders, M., Serrano-Ortiz, P., Sottocornola, M., Spano, D., Vaccari, F. and Varlagin, A.
A data-driven analysis of energy balance closure across FLUXNET research sites: The role of landscape scale heterogeneity
2013
Agricultural and Forest Meteorology
Vol. 171-172, pp. 137-152 
article
DOI URL 
Sussmann, R., Ostler, A., Forster, F., Rettinger, M., Deutscher, N.M., Griffith, D.W.T., Hannigan, J.W., Jones, N. and Patra, P.K.
First intercalibration of column-averaged methane from the total carbon column observing network and the network climate for the detection of atmospheric composition change
2013
Atmospheric Measurement Techniques
Vol. 6(2), pp. 397-418 
article
DOI URL 
Teuling, A.J., Van Loon, A.F., Seneviratne, S.I., Lehner, I., Aubinet, M., Heinesch, B., Bernhofer, C., Grünwald, T., Prasse, H. and Spank, U.
Evapotranspiration amplifies European summer drought
2013
Geophysical Research Letters
Vol. 40(10), pp. 2071-2075 
article
DOI URL 
Unger, N., Harper, K., Zheng, Y., Kiang, N.Y., Aleinov, I., Arneth, A., Schurgers, G., Amelynck, C., Goldstein, A., Guenther, A., Heinesch, B., Hewitt, C.N., Karl, T., Laffineur, Q., Langford, B., McKinney, K.A., Misztal, P., Potosnak, M., Rinne, J., Pressley, S., Schoon, N. and Serça, D.
Photosynthesis-dependent isoprene emission from leaf to planet in a global carbon-chemistry-climate model
2013
Atmospheric Chemistry and Physics
Vol. 13(20), pp. 10243-10269 
article
DOI URL 
Van Der Laan-Luijkx, I.T., Van Der Laan, S., Uglietti, C., Schibig, M.F., Neubert, R.E.M., Meijer, H.A.J., Brand, W.A., Jordan, A., Richter, J.M., Rothe, M. and Leuenberger, M.C.
Atmospheric CO2, δ(O2/N2) and δ13CO2 measurements at Jungfraujoch, Switzerland: Results from a flask sampling intercomparison program
2013
Atmospheric Measurement Techniques
Vol. 6(7), pp. 1805-1815 
article
DOI URL 
Van Der Velde, I.R., Miller, J.B., Schaefer, K., Masarie, K.A., Denning, S., White, J.W.C., Tans, P.P., Krol, M.C. and Peters, W.
Biosphere model simulations of interannual variability in terrestrial 13C/12C exchange
2013
Global Biogeochemical Cycles
Vol. 27(3), pp. 637-649 
article
DOI URL 
Van Leeuwen, T.T., Peters, W., Krol, M.C. and Van Der Werf, G.R.
Dynamic biomass burning emission factors and their impact on atmospheric CO mixing ratios
2013
Journal of Geophysical Research Atmospheres
Vol. 118(12), pp. 6797-6815 
article
DOI URL 
Vargas, R., Sonnentag, O., Abramowitz, G., Carrara, A., Chen, J.M., Ciais, P., Correia, A., Keenan, T.F., Kobayashi, H., Ourcival, J.M., Papale, D., Pearson, D., Pereira, J.S., Piao, S., Rambal, S. and Baldocchi, D.D.
Drought Influences the Accuracy of Simulated Ecosystem Fluxes: A Model-Data Meta-analysis for Mediterranean Oak Woodlands
2013
Ecosystems
Vol. 16(5), pp. 749-764 
article
DOI URL 
Verlinden, M.S., Broeckx, L.S., Van den Bulcke, J., Van Acker, J. and Ceulemans, R.
Comparative study of biomass determinants of 12 poplar (Populus) genotypes in a high-density short-rotation culture
2013
Forest Ecology and Management
Vol. 307, pp. 101-111 
article
DOI URL 
Verlinden, M.S., Broeckx, L.S., Wei, H. and Ceulemans, R.
Soil CO2 efflux in a bioenergy plantation with fast-growing Populus trees - influence of former land use, inter-row spacing and genotype
2013
Plant and Soil
Vol. 369(1-2), pp. 631-644 
article
DOI URL 
Vogel, F.R., Thiruchittampalam, B., Theloke, J., Kretschmer, R., Gerbig, C., Hammer, S. and Levin, I.
Can we evaluate a fine-grained emission model using high-resolution atmospheric transport modelling and regional fossil fuel CO2 observations?
2013
Tellus, Series B: Chemical and Physical Meteorology
Vol. 65(1), pp. 18681 
article
DOI URL 
Vondrák, J. and Kubásek, J.
Algal stacks and fungal stacks as adaptations to high light in lichens
2013
Lichenologist
Vol. 45(1), pp. 115-124 
article
DOI  
Wang, K., Liu, C., Zheng, X., Pihlatie, M., Li, B., Haapanala, S., Vesala, T., Liu, H., Wang, Y., Liu, G. and Hu, F.
Comparison between eddy covariance and automatic chamber techniques for measuring net ecosystem exchange of carbon dioxide in cotton and wheat fields
2013
Biogeosciences
Vol. 10(11), pp. 6865-6877 
article
DOI  
Wang, K., Zheng, X., Pihlatie, M., Vesala, T., Liu, C., Haapanala, S., Mammarella, I., Rannik, Ü. and Liu, H.
Comparison between static chamber and tunable diode laser-based eddy covariance techniques for measuring nitrous oxide fluxes from a cotton field
2013
Agricultural and Forest Meteorology
Vol. 171-172, pp. 9-19 
article
DOI URL 
van der Werf, G.R., Peters, W., van Leeuwen, T.T. and Giglio, L.
What could have caused pre-industrial biomass burning emissions to exceed current rates?
2013
Climate of the Past
Vol. 9(1), pp. 289-306 
article
DOI URL 
Wood, C.R., Järvi, L., Kouznetsov, R.D., Nordbo, A., Joffre, S., Drebs, A., Vihma, T., Hirsikko, A., Suomi, I., Fortelius, C., O'Connor, E., Moiseev, D., Haapanala, S., Moilanen, J., Kangas, M., Karppinen, A., Vesala, T. and Kukkonen, J.
An overview of the urban boundary layer atmosphere network in Helsinki
2013

Vol. 94(11)Bulletin of the American Meteorological Society, pp. 1675-1690 
misc
DOI  
Wood, C.R., Kouznetsov, R.D., Gierens, R., Nordbo, A., Jä rvi, L., Kallistratova, M.A. and Kukkonen, J.
On the temperature structure parameter and sensible heat flux over helsinki from sonic anemometry and scintillometry
2013
Journal of Atmospheric and Oceanic Technology
Vol. 30(8), pp. 1604-1615 
article
DOI  
Wu, C., Chen, J.M., Black, T.A., Price, D.T., Kurz, W.A., Desai, A.R., Gonsamo, A., Jassal, R.S., Gough, C.M., Bohrer, G., Dragoni, D., Herbst, M., Gielen, B., Berninger, F., Vesala, T., Mammarella, I., Pilegaard, K. and Blanken, P.D.
Interannual variability of net ecosystem productivity in forests is explained by carbon flux phenology in autumn
2013
Global Ecology and Biogeography
Vol. 22(8), pp. 994-1006 
article
DOI URL 
Yoshida, Y., Kikuchi, N., Morino, I., Uchino, O., Oshchepkov, S., Bril, A., Saeki, T., Schutgens, N., Toon, G.C., Wunch, D., Roehl, C.M., Wennberg, P.O., Griffith, D.W.T., Deutscher, N.M., Warneke, T., Notholt, J., Robinson, J., Sherlock, V., Connor, B., Rettinger, M., Sussmann, R., Ahonen, P., Heikkinen, P., Kyrö, E., Mendonca, J., Strong, K., Hase, F., Dohe, S. and Yokota, T.
Improvement of the retrieval algorithm for GOSAT SWIR XCO2and XCH4and their validation using TCCON data
2013
Atmospheric Measurement Techniques
Vol. 6(6), pp. 1533-1547 
article
DOI URL 
Zona, D., Janssens, I.A., Aubinet, M., Gioli, B., Vicca, S., Fichot, R. and Ceulemans, R.
Corrigendum to " Fluxes of the greenhouse gases (CO2, CH4 and N2O) above a short-rotation poplar plantation after conversion from agricultural land" [Agric. For. Meteorol. 169 (2012) 100-110]
2013
Agricultural and Forest Meteorology
Vol. 169, pp. 211 
article
DOI URL 
Zona, D., Janssens, I.A., Aubinet, M., Gioli, B., Vicca, S., Fichot, R. and Ceulemans, R.
Fluxes of the greenhouse gases (CO2, CH4 and N2O) above a short-rotation poplar plantation after conversion from agricultural land
2013
Agricultural and Forest Meteorology
Vol. 169, pp. 100-110 
article
DOI URL 
Zona, D., Janssens, I.A., Gioli, B., Jungkunst, H.F., Serrano, M.C. and Ceulemans, R.
N2o fluxes of a bio-energy poplar plantation during a two years rotation period
2013
GCB Bioenergy
Vol. 5(5), pp. 536-547 
article
DOI URL 
Baldocchi, D., Reichstein, M., Papale, D., Koteen, L., Vargas, R., Agarwal, D. and Cook, R.
The role of trace gas flux networks in the biogeosciences
2012
Eos
Vol. 93(23), pp. 217-218 
article
DOI URL 
Brunner, D., Henne, S., Keller, C.A., Reimann, S., Vollmer, M.K., O'Doherty, S. and Maione, M.
An extended Kalman-filter for regional scale inverse emission estimation
2012
Atmospheric Chemistry and Physics
Vol. 12(7), pp. 3455-3478 
article
DOI URL 
Burkhardt, J., Basi, S., Pariyar, S. and Hunsche, M.
Stomatal penetration by aqueous solutions - an update involving leaf surface particles
2012
New Phytologist
Vol. 196(3), pp. 774-787 
article
DOI URL 
Cape, J.N., Tang, Y.S., González-Ben&amp, iacute, ez , J.M., Mitošinková, M., Makkonen, U., Jocher, M. and Stolk, A.
Organic nitrogen in precipitation across Europe
2012
Biogeosciences
Vol. 9(11), pp. 4401-4409 
article
DOI URL 
Chevallier, F., Wang, T., Ciais, P., Maignan, F., Bocquet, M., Altaf Arain, M., Cescatti, A., Chen, J., Dolman, A.J., Law, B.E., Margolis, H.A., Montagnani, L. and Moors, E.J.
What eddy-covariance measurements tell us about prior land flux errors in CO textlesssubtextgreater2textless/subtextgreater -flux inversion schemes
2012
Global Biogeochemical Cycles
Vol. 26(1), pp. n/a-n/a 
article
DOI URL 
Fratini, G., Ibrom, A., Arriga, N., Burba, G. and Papale, D.
Corrigendum to "Relative humidity effects on water vapour fluxes measured with closed-path eddy-covariance systems with short sampling lines" [Agric. Forest Meteorol. 165 (2012) 53-63]
2012
Agricultural and Forest Meteorology
Vol. 166-167, pp. 234 
article
DOI URL 
Fratini, G., Ibrom, A., Arriga, N., Burba, G. and Papale, D.
Relative humidity effects on water vapour fluxes measured with closed-path eddy-covariance systems with short sampling lines
2012
Agricultural and Forest Meteorology
Vol. 165, pp. 53-63 
article
DOI URL 
Heymann, J., Bovensmann, H., Buchwitz, M., Burrows, J.P., Deutscher, N.M., Notholt, J., Rettinger, M., Reuter, M., Schneising, O., Sussmann, R. and Warneke, T.
Sciamachy WFM-DOAS XCO2: Reduction of scattering related errors
2012
Atmospheric Measurement Techniques
Vol. 5(10), pp. 2375-2390 
article
DOI URL 
Houweling, S., Badawy, B., Baker, D.F., Basu, S., Belikov, D., Bergamaschi, P., Bousquet, P., Broquet, G., Butler, T., Canadell, J.G., Chen, J., Chevallier, F., Ciais, P., Collatz, J.G., Denning, S., Engelen, R., Enting, I.G., Fischer, M.L., Fraser, A., Gerbig, C., Gloor, M., Jacobson, A.R., Jones, D.B.A., Heimann, M., Khalil, A., Kaminski, T., Kasibhatla, P.S., Krakauer, N.Y., Krol, M., Maki, T., Maksyutov, S., Manning, A., Meesters, A., Miller, J.B., Palmer, P.I., Patra, P., Peters, W., Peylin, P., Poussi, Z., Prather, M.J., Randerson, J.T., Röckmann, T., Rödenbeck, C., Sarmiento, J.L., Schimel, D.S., Scholze, M., Schuh, A., Suntharalingam, P., Takahashi, T., Turnbull, J., Yurganov, L. and Vermeulen, A.
Iconic CO2 time series at risk
2012
Science
Vol. 337(6098), pp. 1038-1040 
article
DOI URL 
Järvi, L., Nordbo, A., Junninen, H., Riikonen, A., Moilanen, J., Nikinmaa, E. and Vesala, T.
Seasonal and annual variation of carbon dioxide surface fluxes in Helsinki, Finland, in 2006-2010
2012
Atmospheric Chemistry and Physics
Vol. 12(18), pp. 8475-8489 
article
DOI  
Jung, M., Reichstein, M., Margolis, H.A., Cescatti, A., Richardson, A.D., Arain, M.A., Arneth, A., Bernhofer, C., Bonal, D., Chen, J., Gianelle, D., Gobron, N., Kiely, G., Kutsch, W., Lasslop, G., Law, B.E., Lindroth, A., Merbold, L., Montagnani, L., Moors, E.J., Papale, D., Sottocornola, M., Vaccari, F. and Williams, C.
Erratum: Global patterns of land-atmosphere fluxes of carbon dioxide, latent heat, and sensible heat derived from eddy covariance, satellite, and meteorological observations (Journal of Geophysical Research G: Biogeosciences (2011) 116 (G00J07) DOI: 10.1029/2010JG001566)
2012
Journal of Geophysical Research G: Biogeosciences
Vol. 117(4), pp. G00J07 
article
DOI URL 
Kovac, D., Navratil, M., Malenovsk, Z., Stroch, M., Spunda, V. and Urban, O.
Reflectance continuum removal spectral index tracking the xanthophyll cycle photoprotective reactions in Norway spruce needles
2012
Functional Plant Biology
Vol. 39(12), pp. 987-998 
article
DOI  
Lasslop, G., Migliavacca, M., Bohrer, G., Reichstein, M., Bahn, M., Ibrom, A., Jacobs, C., Kolari, P., Papale, D., Vesala, T., Wohlfahrt, G. and Cescatti, A.
On the choice of the driving temperature for eddy-covariance carbon dioxide flux partitioning
2012
Biogeosciences
Vol. 9(12), pp. 5243-5259 
article
DOI URL 
Luo, G.J., Brüggemann, N., Wolf, B., Gasche, R., Grote, R. and Butterbach-Bahl, K.
Decadal variability of soil CO sub2/sub , NO, N sub2/sub O, and CH sub4/sub fluxes at the Höglwald Forest, Germany
2012
Biogeosciences
Vol. 9(5), pp. 1741-1763 
article
DOI URL 
Luyssaert, S., Abril, G., Andres, R., Bastviken, D., Bellassen, V., Bergamaschi, P., Bousquet, P., Chevallier, F., Ciais, P., Corazza, M., Dechow, R., Erb, K.H., Etiope, G., Fortems-Cheiney, A., Grassi, G., Hartmann, J., Jung, M., Lathière, J., Lohila, A., Mayorga, E., Moosdorf, N., Njakou, D.S., Otto, J., Papale, D., Peters, W., Peylin, P., Raymond, P., Rödenbeck, C., Saarnio, S., Schulze, E.D., Szopa, S., Thompson, R., Verkerk, P.J., Vuichard, N., Wang, R., Wattenbach, M. and Zaehle, S.
The European land and inland water CO2, CO, CH4 and N2O balance between 2001 and 2005
2012
Biogeosciences
Vol. 9(8), pp. 3357-3380 
article
DOI URL 
Meesters, A.G.C.A., Tolk, L.F., Peters, W., Hutjes, R.W.A., Vellinga, O.S., Elbers, J.A., Vermeulen, A.T., Van Der Laan, S., Neubert, R.E.M., Meijer, H.A.J. and Dolman, A.J.
Inverse carbon dioxide flux estimates for the Netherlands
2012
Journal of Geophysical Research Atmospheres
Vol. 117(20), pp. n/a-n/a 
article
DOI URL 
Milroy, C., Martucci, G., Lolli, S., Loaec, S., Sauvage, L., Xueref-Remy, I., Lavrič, J.V., Ciais, P., Feist, D.G., Biavati, G. and O'Dowd, C.D.
An assessment of pseudo-operational ground-based light detection and ranging sensors to determine the boundary-layer structure in the coastal atmosphere
2012
Advances in Meteorology
Vol. 2012 
article
DOI  
Nordbo, A., Järvi, L., Haapanala, S., Wood, C.R. and Vesala, T.
Fraction of natural area as main predictor of net CO2 emissions from cities
2012
Geophysical Research Letters
Vol. 39(20) 
article
DOI  
Oram, D.E., Mani, F.S., Laube, J.C., Newland, M.J., Reeves, C.E., Sturges, W.T., Penkett, S.A., Brenninkmeijer, C.A.M., Röckmann, T. and Fraser, P.J.
Long-term tropospheric trend of octafluorocyclobutane (c-C4F8 or PFC-318)
2012
Atmospheric Chemistry and Physics
Vol. 12(1), pp. 261-269 
article
DOI URL 
Orza, J.A.G., Cabello, M., Galiano, V., Vermeulen, A.T. and Stein, A.F.
The association between the north atlantic oscillation and the interannual variability of the tropospheric transport pathways in Western Europe
2012

Vol. 200Geophysical Monograph Series, pp. 127-141 
incollection
DOI  
Oshchepkov, S., Bril, A., Yokota, T., Morino, I., Yoshida, Y., Matsunaga, T., Belikov, D., Wunch, D., Wennberg, P., Toon, G., O'Dell, C., Butz, A., Guerlet, S., Cogan, A., Boesch, H., Eguchi, N., Deutscher, N., Griffith, D., MacAtangay, R., Notholt, J., Sussmann, R., Rettinger, M., Sherlock, V., Robinson, J., Kyrö, E., Heikkinen, P., Feist, D.G., Nagahama, T., Kadygrov, N., Maksyutov, S., Uchino, O. and Watanabe, H.
Effects of atmospheric light scattering on spectroscopic observations of greenhouse gases from space: Validation of PPDF-based CO2 retrievals from GOSAT
2012
Journal of Geophysical Research Atmospheres
Vol. 117(12), pp. n/a-n/a 
article
DOI URL 
Petri, C., Warneke, T., Jones, N., Ridder, T., Messerschmidt, J., Weinzierl, T., Geibel, M. and Notholt, J.
Remote sensing of CO2 and CH4 using solar absorption spectrometry with a low resolution spectrometer
2012
Atmospheric Measurement Techniques
Vol. 5(7), pp. 1627-1635 
article
DOI URL 
Pino, D., Vilà-Guerau De Arellano, J., Peters, W., Schröter, J., Van Heerwaarden, C.C. and Krol, M.C.
A conceptual framework to quantify the influence of convective boundary layer development on carbon dioxide mixing ratios
2012
Atmospheric Chemistry and Physics
Vol. 12(6), pp. 2969-2985 
article
DOI URL 
Plancherel, Y., Rodgers, K.B., Key, R.M., Jacobson, A.R. and Sarmiento, J.L.
Role of regression model selection and station distribution on the estimation of oceanic anthropogenic carbon change by eMLR
2012
Biogeosciences Discuss
Vol. 9, pp. 14589-14638 
article
DOI URL 
Rey, A., Belelli-Marchesini, L., Were, A., Serrano-ortiz, P., Etiope, G., Papale, D., Domingo, F. and Pegoraro, E.
Wind as a main driver of the net ecosystem carbon balance of a semiarid Mediterranean steppe in the South East of Spain
2012
Global Change Biology
Vol. 18(2), pp. 539-554 
article
DOI URL 
Rey, A., Etiope, G., Belelli-Marchesini, L., Papale, D. and Valentini, R.
Geologic carbon sources may confound ecosystem carbon balance estimates: Evidence from a semiarid steppe in the southeast of Spain
2012
Journal of Geophysical Research: Biogeosciences
Vol. 117(3), pp. n/a-n/a 
article
DOI URL 
Rödenbeck, C., Keeling, R.F., Bakker, D.C.E., Metzl, N., Olsen, A., Sabine, C. and Heimann, M.
Sea-air CO 2 flux estimated from SOCAT surface-ocean CO 2 partial pressure data and atmospheric CO 2 mixing ratio data
2012
Ocean Science Discussions
Vol. 9(3), pp. 2273-2326 
article
DOI URL 
Saito, R., Patra, P.K., Deutscher, N., Wunch, D., Ishijima, K., Sherlock, V., Blumenstock, T., Dohe, S., Griffith, D., Hase, F., Heikkinen, P., Kyrö, E., MacAtangay, R., Mendonca, J., Messerschmidt, J., Morino, I., Notholt, J., Rettinger, M., Strong, K., Sussmann, R. and Warneke, T.
Technical Note: Latitude-time variations of atmospheric column-average dry air mole fractions of CO 2, CH 4 and N 2O
2012
Atmospheric Chemistry and Physics
Vol. 12(16), pp. 7767-7777 
article
DOI URL 
Sriskantharajah, S., Fisher, R.E., Lowry, D., Aalto, T., Hatakka, J., Aurela, M., Laurila, T., Lohila, A., Kuitunen, E. and Nisbet, E.G.
Stable carbon isotope signatures of methane from a Finnish subarctic wetland
2012
Tellus, Series B: Chemical and Physical Meteorology
Vol. 64(1) 
article
DOI URL 
Sturges, W.T., Oram, D.E., Laube, J.C., Reeves, C.E., Newland, M.J., Hogan, C., Martinerie, P., Witrant, E., Brenninkmeijer, C.A.M., Schuck, T.J. and Fraser, P.J.
Emissions halted of the potent greenhouse gas SF 5CF 3
2012
Atmospheric Chemistry and Physics
Vol. 12(8), pp. 3653-3658 
article
DOI URL 
Tørseth, K., Aas, W., Breivik, K., Fjeraa, A.M., Fiebig, M., Hjellbrekke, A.G., Lund Myhre, C., Solberg, S. and Yttri, K.E.
Introduction to the European Monitoring and Evaluation Programme (EMEP) and observed atmospheric composition change during 1972-2009
2012
Atmospheric Chemistry and Physics
Vol. 12(12), pp. 5447-5481 
article
DOI URL 
Vicca, S., Luyssaert, S., Peñuelas, J., Campioli, M., Chapin, F.S., Ciais, P., Heinemeyer, A., Högberg, P., Kutsch, W.L., Law, B.E., Malhi, Y., Papale, D., Piao, S.L., Reichstein, M., Schulze, E.D. and Janssens, I.A.
Fertile forests produce biomass more efficiently
2012
Ecology Letters
Vol. 15(6), pp. 520-526 
article
DOI URL 
Wang, T., Brender, P., Ciais, P., Piao, S., Mahecha, M.D., Chevallier, F., Reichstein, M., Ottlé, C., Maignan, F., Arain, A., Bohrer, G., Cescatti, A., Kiely, G., Law, B.E., Lutz, M., Montagnani, L., Moors, E., Osborne, B., Panferov, O., Papale, D. and Vaccari, F.P.
State-dependent errors in a land surface model across biomes inferred from eddy covariance observations on multiple timescales
2012
Ecological Modelling
Vol. 246(C), pp. 11-25 
article
DOI URL 
Bonan, G.B., Lawrence, P.J., Oleson, K.W., Levis, S., Jung, M., Reichstein, M., Lawrence, D.M. and Swenson, S.C.
Improving canopy processes in the Community Land Model version 4 (CLM4) using global flux fields empirically inferred from FLUXNET data
2011
Journal of Geophysical Research
Vol. 116(G2) 
article
DOI URL 
Broquet, G., Chevallier, F., Rayner, P., Aulagnier, C., Pison, I., Ramonet, M., Schmidt, M., Vermeulen, A.T. and Ciais, P.
A European summertime CO2 biogenic flux inversion at mesoscale from continuous in situ mixing ratio measurements
2011
Journal of Geophysical Research Atmospheres
Vol. 116(23), pp. D23303 
article
DOI URL 
Bruhn, D., Mikkelsen, T.N., Herbst, M., Kutsch, W.L., Ball, M.C. and Pilegaard, K.
Estimating daytime ecosystem respiration from eddy-flux data
2011
Biosystems
Vol. 103(2), pp. 309-313 
article
DOI URL 
Campioli, M., Gielen, B., Göckede, M., Papale, D., Bouriaud, O. and Granier, A.
Temporal variability of the NPP-GPP ratio at seasonal and interannual time scales in a temperate beech forest
2011
Biogeosciences
Vol. 8(9), pp. 2481-2492 
article
DOI URL 
Chiti, T., Certini, G., Perugini, L., Mastrolonardo, G., Papale, D. and Valentini, R.
Soil carbon dynamics in a Mediterranean forest during the Kyoto Protocol commitment periods
2011
Regional Environmental Change
Vol. 11(2), pp. 371-376 
article
DOI URL 
Clarke, N., Fischer, R., de Vries, W., Lundin, L., Papale, D., Vesala, T., Merilä, P., Matteucci, G., Mirtl, M., Simpson, D. and Paoletti, E.
Availability, accessibility, quality and comparability of monitoring data for European forests for use in air pollution and climate change science
2011
IForest
Vol. 4(AUGUST), pp. 162-166 
article
DOI URL 
Corazza, M., Bergamaschi, P., Vermeulen, A.T., Aalto, T., Haszpra, L., Meinhardt, F., O'Doherty, S., Thompson, R., Moncrieff, J., Popa, E., Steinbacher, M., Jordan, A., Dlugokencky, E., Brühl, C., Krol, M. and Dentener, F.
Inverse modelling of European N2O emissions: Assimilating observations from different networks
2011
Atmospheric Chemistry and Physics
Vol. 11(5), pp. 2381-2398 
article
DOI URL 
Etzold, S., Ruehr, N.K., Zweifel, R., Dobbertin, M., Zingg, A., Pluess, P., Häsler, R., Eugster, W. and Buchmann, N.
The Carbon Balance of Two Contrasting Mountain Forest Ecosystems in Switzerland: Similar Annual Trends, but Seasonal Differences
2011
Ecosystems
Vol. 14(8), pp. 1289-1309 
article
DOI URL 
Fischer, R., Aas, W., de Vries, W., Clarke, N., Cudlin, P., Leaver, D., Lundin, L., Matteucci, G., Matyssek, R., Mikkelsen, T.N., Mirtl, M., Öztürk, Y., Papale, D., Potocic, N., Simpson, D., Tuovinen, J.P., Vesala, T., Wieser, G. and Paoletti, E.
Towards a transnational system of supersites for forest monitoring and research in Europe - An overview on present state and future recommendations
2011
IForest
Vol. 4(AUGUST), pp. 167-171 
article
DOI URL 
Fisher, R.E., Sriskantharajah, S., Lowry, D., Lanoisellé, M., Fowler, C.M.R., James, R.H., Hermansen, O., Lund Myhre, C., Stohl, A., Greinert, J., Nisbet-Jones, P.B.R., Mienert, J. and Nisbet, E.G.
Arctic methane sources: Isotopic evidence for atmospheric inputs
2011
Geophysical Research Letters
Vol. 38(21), pp. n/a-n/a 
article
DOI URL 
Flechard, C.R., Nemitz, E., Smith, R.I., Fowler, D., Vermeulen, A.T., Bleeker, A., Erisman, J.W., Simpson, D., Zhang, L., Tang, Y.S. and Sutton, M.A.
Dry deposition of reactive nitrogen to European ecosystems: a comparison of inferential models across the NitroEurope network
2011
Atmospheric Chemistry and Physics
Vol. 11(6), pp. 2703-2728 
article
DOI URL 
Francez, A.-J., Pinay, G., Josselin, N. and Williams, B.L.
Denitrification triggered by nitrogen addition in Sphagnum magellanicum peat
2011
Biogeochemistry
Vol. 106(3), pp. 435-441 
article
DOI URL 
Gielen, B., Neirynck, J., Luyssaert, S. and Janssens, I.A.
The importance of dissolved organic carbon fluxes for the carbon balance of a temperate Scots pine forest
2011
Agricultural and Forest Meteorology
Vol. 151(3), pp. 270-278 
article
DOI URL 
Goerner, A., Reichstein, M., Tomelleri, E., Hanan, N., Rambal, S., Papale, D., Dragoni, D. and Schmullius, C.
Remote sensing of ecosystem light use efficiency with MODIS-based PRI
2011
Biogeosciences
Vol. 8(1), pp. 189-202 
article
DOI URL 
Huotari, J., Ojala, A., Peltomaa, E., Nordbo, A., Launiainen, S., Pumpanen, J., Rasilo, T., Hari, P. and Vesala, T.
Long-term direct CO2 flux measurements over a boreal lake: Five years of eddy covariance data
2011
Geophysical Research Letters
Vol. 38(18) 
article
DOI  
KINDLER, R., SIEMENS, J.A.N., KAISER, K., WALMSLEY, D.C., BERNHOFER, C., BUCHMANN, N., CELLIER, P., EUGSTER, W., GLEIXNER, G., GRŨNWALD, T., ALEXANDER, HEIM, IBROM, A., JONES, S.K., JONES, M., KLUMPP, K., KUTSCH, W., LARSEN, K.S., LEHUGER, S., LOUBET, B., MCKENZIE, R., MOORS, E., OSBORNE, B., PILEGAARD, K.I.M., REBMANN, C., SAUNDERS, M., SCHMIDT, M.W.I., SCHRUMPF, M., SEYFFERTH, J., SKIBA, U.T.E., SOUSSANA, J.-F., SUTTON, M.A., CINDY, TEFS, VOWINCKEL, B., ZEEMAN, M.J. and KAUPENJOHANN, M.
Dissolved carbon leaching from soil is a crucial component of the net ecosystem carbon balance
2011
Global Change Biology
Vol. 17(2), pp. 1167-1185 
article
DOI URL 
Levin, I., Hammer, S., Eichelmann, E. and Vogel, F.R.
Verification of greenhouse gas emission reductions: The prospect of atmospheric monitoring in polluted areas
2011
Philosophical Transactions of the Royal Society A: Mathematical, Physical and Engineering Sciences
Vol. 369(1943), pp. 1906-1924 
article
DOI  
Limpens, J., Granath, G., Gunnarsson, U., Aerts, R., Bayley, S., Bragazza, L., Bubier, J., Buttler, A., van den Berg, L.J.L., Francez, A.-J., Gerdol, R., Grosvernier, P., Heijmans, M.M.P.D., Hoosbeek, M.R., Hotes, S., Ilomets, M., Leith, I., Mitchell, E.A.D., Moore, T., Nilsson, M.B., Nordbakken, J.-F., Rochefort, L., Rydin, H., Sheppard, L.J., Thormann, M., Wiedermann, M.M., Williams, B.L. and Xu, B.
Climatic modifiers of the response to nitrogen deposition in peat-forming iSphagnum/i mosses: a meta-analysis
2011
New Phytologist
Vol. 191(2), pp. 496-507 
article
DOI URL 
Masarie, K.A., Pétron, G., Andrews, A., Bruhwiler, L., Conway, T.J., Jacobson, A.R., Miller, J.B., Tans, P.P., Worthy, D.E. and Peters, W.
Impact of CO2 measurement bias on CarbonTracker surface flux estimates
2011
Journal of Geophysical Research Atmospheres
Vol. 116(17), pp. D17305 
article
DOI URL 
Migliavacca, M., Reichstein, M., Richardson, A.D., Colombo, R., Sutton, M.A., Lasslop, G., Tomelleri, E., Wohlfahrt, G., Carvalhais, N., Cescatti, A., Mahecha, M.D., Montagnani, L., Papale, D., Zaehle, S., Arain, A., Arneth, A., Black, T.A., Carrara, A., Dore, S., Gianelle, D., Helfter, C., Hollinger, D., Kutsch, W.L., Lafleur, P.M., Nouvellon, Y., Rebmann, C., Humberto, R., Rodeghiero, M., Roupsard, O., Sebastià, M.T., Seufert, G., Soussana, J.F. and Van Der Molen, M.K.
Semiempirical modeling of abiotic and biotic factors controlling ecosystem respiration across eddy covariance sites
2011
Global Change Biology
Vol. 17(1), pp. 390-409 
article
DOI URL 
Pan, Y., Birdsey, R.A., Fang, J., Houghton, R., Kauppi, P.E., Kurz, W.A., Phillips, O.L., Shvidenko, A., Lewis, S.L., Canadell, J.G., Ciais, P., Jackson, R.B., Pacala, S.W., McGuire, A.D., Piao, S., Rautiainen, A., Sitch, S. and Hayes, D.
A Large and Persistent Carbon Sink in the World's Forests
2011
Science
Vol. 333(6045), pp. 988-993 
article
DOI URL 
Peylin, P., Houweling, S., Krol, M.C., Karstens, U., Rödenbeck, C., Geels, C., Vermeulen, A., Badawy, B., Aulagnier, C., Pregger, T., Delage, F., Pieterse, G., Ciais, P. and Heimann, M.
Importance of fossil fuel emission uncertainties over Europe for CO2 modeling: Model intercomparison
2011
Atmospheric Chemistry and Physics
Vol. 11(13),