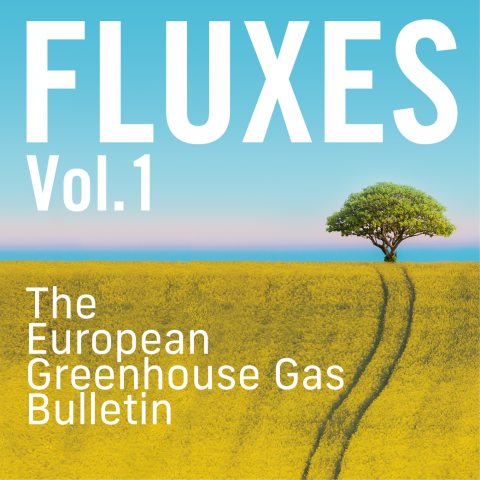 FLUXES, the European Greenhouse Gas Bulletin is a new publication by ICOS, the Integrated Carbon Observation System, which aims at highlighting climate issues to an audience of policymakers, policy advisors, and climate journalists. 

The first volume of FLUXES focuses on regional and year-over-year changes in carbon sinks in Europe. These changing sinks highlight the need to reduce emissions further in order to reach carbon neutrality targets.

> Download FLUXES Vol. 1-2022 here

A large team of researchers from ICOS shows that natural and human factors can cause natural carbon sinks such as forests, crop fields, or parts of the ocean to become carbon emitters. Using data from long-term ground-based observations, the researchers conclude in FLUXES that the natural shifts in carbon concentrations are related, for example, to changes in weather over the years: wet and dry seasons, warm and cold temperatures, as well as more extreme events such as droughts, forest fires, or floods. All these are expected to occur more frequently in the future due to global warming. Further, it is shown in FLUXES how human actions have a direct impact: thinning or clear-cutting forests, or changing agricultural practices change the ecosystem's ability to sink carbon for years.
 
> The press release for FLUXES, the European Greenhouse Gas Bulletin is available here
> Please cite the bulletin as follows:
Kutsch, W., Ciais, P., Becker, M., Cantoni, C., Cristofanelli, P., Delmotte, M., Denier van der Gon, H., Droste, A., Gerosa, G., Gkritzalis, T., Gielen, B., Holst, J., Kubistin, D., Luchetta, A., Ramonet, M., Rehder, G., Rutgersson, A., Steinbacher, M., & Super, I. (2022). Are Carbon Sinks at Risk? FLUXES - The European Greenhouse Gas Bulletin, Volume 1, June 2022. ICOS ERIC. https://doi.org/10.18160/8NKQ-65S1
> Writing teams, by chapter:
(spoken languages for interviews in parenthesis. To book an interview with a writing team member, please send an email to icos-comms@icos-ri.eu)


"Understanding greenhouse gases to support climate action"
Dr Philippe Ciais, Scientist, LSCE (French, English)
Dr Werner L. Kutsch, Director General of ICOS (German, English)


"The importance of CO2 variations for informed climate action"
Dr Michel Ramonet, Atmospheric Senior Scientist, CNRS (French, English) / Lead writer
Dr Paolo Cristofanelli, Senior Scientist, Instituto di scienze dell'atmosfera e del clima (Italian, English)
Dr Marc Delmotte, Research Engineer, CNRS (French, English)
Dr Dagmar Kubistin, Senior Scientist, Deutscher Wetterdienst (German, English)
Dr Martin Steinbacher, Atmospheric Senior Scientist, Swiss Federal Laboratories for Materials Science and Technology (English, German)


"The delicate balance of land carbon sinks"
Dr Bert Gielen, Research Leader, University of Antwerp (Dutch, English) / Lead writer
Dr Jutta Holst, Researcher, Lund University (German, Swedish, English) / Lead writer
Prof. Giacomo Gerosa, Micrometeorologist and ecologist, CNR/Instituto di scienze dell'atmosfera e del clima (Italian, English)


"The ocean, our almost unknown helper"
Dr Meike Becker, Scientist, University of Bergen, Bjerknes Centre for Climate Research (German, English, Norwegian) / Lead writer
Dr Carolina Cantoni, Scientist, CNR-ISMAR / Istituto di Scienze Marine (Italian, English)
Dr Thanos Gkritzalis, Research Engineer, Flanders Marine Institute (VLIZ) (Greek, English)
Dr Anna Luchetta, Senior Scientist, CNR-ISMAR, Istituto di Scienze Marine (Italian, English)
Prof. Dr Gregor Rehder, Marine Biogeochemist, Leibniz-Institute for Baltic Sea Research (IOW) (German, English)
Prof. Anna Rutgersson, Meteorologist, Uppsala University (Swedish, English)


"The unpredictable behaviour of human emissions"
Dr Hugo Denier van der Gon, Principal Scientist, The Netherlands Organisation for Applied Scientific Research (TNO) (Dutch, English)
Dr Arjan Droste, Scientist, The Netherlands Organisation for Applied Scientific Research (TNO) (Dutch, English)
Dr Ingrid Super, Scientist, The Netherlands Organisation for Applied Scientific Research (TNO) (Dutch, English)