Stations pursuing to become part of ICOS Research Infrastructure need to run through station labelling process which takes several months including testing period and training to become familiar with ICOS methodology. Station labelling starts with a formal application that also needs approval by the national government. The station can apply for Class 1 station, Class 2 station, or in the case of ecosystem stations, an Associated station label.
Station classes: Class 1, Class 2 & Associated stations
The Atmosphere and Ecosystem networks include two classes of stations: Class 1 stations are equipped with complete equipment for measuring a full set of predetermined ICOS variables, and Class 2 stations are equipped for measuring a predefined subset of the ICOS variables. Importantly, the standardisation and quality of the data are at same level in both station categories.
In addition, the ICOS Ecosystem network is supplemented by a set of associated stations in which the requirements, in terms of the variables examined and the standards followed, are different from the Class 1 and Class 2 stations. Currently, in the Ocean network, only the term Class 1 is used.
Station labelling
The compliance of the stations to ICOS standards is of utmost importance to the users of ICOS data. To guarantee data reliability and quality across the stations, ICOS has designed a unique quality-assurance process called station labelling. The process has tight criteria that each station has to fulfil, both for the measurements at the stations and for data production. Once the station fulfils all the criteria set for an ICOS station, it receives an ICOS label as a guarantee that the data produced are of the highest quality.
To start the process, a country representative, Focal Point (a national coordinator) or General Assembly delegate officially announces the new station to the Head Office. Each ICOS station must be approved by its host institution and national government. However, before formally applying to become a labelled ICOS station, the interested party is advised to contact the appropriate Thematic Centre to discuss the station in terms of network design and station characteristics.
The steps of the ICOS station labelling process
Station labelling  process ensures common ICOS standards and the data quality. Figure below summarises the process of station labelling.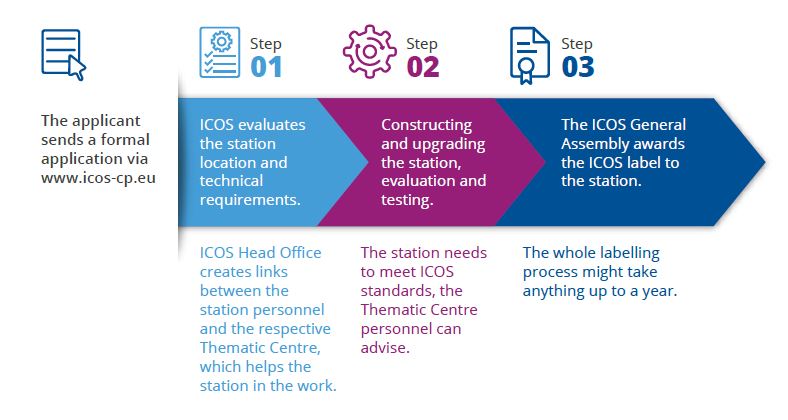 Process for stations to become ICOS labelled
Contacts of ICOS Thematic Centres
Atmosphere Thematic Centre

Dr Leonard Rivier
ICOS Atmosphere Thematic Centre
LSCE-Orme, point courrier 129
CEA-Orme des Merisiers
F-91191 Gif-sur-Yvette, CEDEX
FRANCE
E-mail: leonard.rivier@lsce.ipsl.fr
Ecosystem Thematic Centre

Dr Dario Papale
ICOS Ecosystem Thematic Centre
DIBAF University of Tuscia
Largo dell'Università - Blocco D
01100 Viterbo
ITALY
E-mail: info@icos-etc.eu
Ocean Thematic Centre

Dr Benjamin Pfeil
ICOS Ocean Thematic Centre
Allégaten 70
Postboks 7810
5020 Bergen
NORWAY
E-mail: icos-otc@uni.no