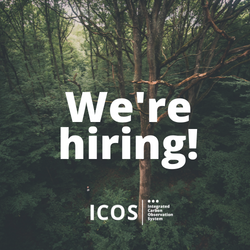 The Integrated Carbon Observation System, ICOS, produces standardized data on greenhouse gases, which is essential in understanding and mitigating climate change.  The data is measured in over 140 stations representing three domains: ecosystems, atmosphere and oceans. Our data is being used by scientists as well by governments and international organizations in their efforts to solve challenges caused by the global warming. ICOS research infrastructure is funded by its European member countries, and has its Head Office in Kumpula, Helsinki. 
ICOS communicates the data and the generated knowledge, for example, to scientists around the globe, to decision makers in EU and in national governments as well as to officials in international organisations. To support outreach to these people, we are now seeking a communications specialist as our new
Communications Specialist / Officer
This professional will work in the ICOS Communications team of four persons, and report to the Head of Communications at ICOS.  In this role, you will:
Maintain and develop ICOS RI web site, creating and updating web content, such as texts, images, subsites and structures. You will also suggest and execute development actions based on the metrics, needs and experiences.
Handle media and communications analytics, e.g. by developing periodical web metrics reporting and statistics, monitoring ICOS media presence for both traditional and social media, as well as preparing other communications analysis if needed.
Communicate and market ICOS' results, data and projects e.g. through producing and distributing e.g. news articles, infographics, written and printed materials, videos and other branded materials both for internal, external and project communications purposes. You will also support ICOS's participation in events.
Plan and create content for social media (e.g. Twitter, Instagram, LinkedIn).
Support in project communications for EU projects that ICOS is involved in, for example, by creating websites and related content, writing stories, sending newsletters, or publishing social media posts.
To succeed in this role
A successful candidate should hold a university degree in a relevant field (for example communications, marketing, environmental science) and at least 3-5 years of experience in communications.
The selected person must be fluent in written and spoken English and possess skills to write journalistic stories and other content, and to produce online and printed materials together with service providers. You need skills in image processing, as well as good skills to use various software, including MS Office, Canva, and Adobe applications. Solid skills in working with online platforms, both in terms of content, structures and usability are important to succeed in this role. An ideal candidate is self-directed, versatile and hands-on communications professional, who grasps complex concepts and is able to turn them to compelling content.
Experience in science communication, in European Union funded (e.g. H2020) projects, and/or knowledge of European environmental research infrastructures are advantages. In non-pandemic times, the position might require occasional travelling.
We offer you
You will be a member of a communications team with good team spirit. Working in a scientific environment offers you a lot of opportunities to grow and learn. You will be part of an international Head Office team in Helsinki while being in contact with people across Europe. Although we don't have a billiards table or free ice-cream in the office, ICOS ERIC offers you good health- and other personnel benefits. We have a hybrid way of working, naturally considering the Covid-restrictions.
This is a full-time, fixed-term position until the end of 2024. However, there is a possibility to extend the contract, depending on availability of external project funding. The salary is around 3700-4000 euros, depending on the experience of the selected person. There is a 6-month trial period. ICOS ERIC is an equal opportunity employer.
The position is located in the ICOS ERIC Head Office in Helsinki, Finland, and we follow the Finnish employment and taxation legislation. Working partly remotely from other EU-country might be an option, subject to e.g. taxation regulations. Working permit in an EU country is required.
To apply   
Send in your application letter and CV through this form, at the latest on the 2nd of January, 2022 at 9 Finnish time (EET). Do include your salary expectation and preferred starting date. When finding a suitable person, we are ready to proceed quickly. Candidates who have applied to the previously opened ENVRI communications position are automatically considered for this place as well.
In questions, please contact Katri Ahlgren by email (katri.ahlgren@icos-ri.eu), or by phone (+358 40 3502557) on Wed 15h Dec at 12-13.30 or on Wed 22 Dec 9-10.30. All times Helsinki time, UTC +2. For further information about ICOS, please visit www.icos-ri.eu.