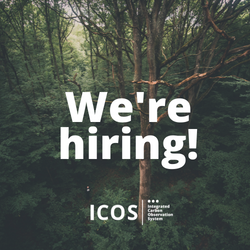 ICOS is working together with other research infrastructures to facilitate better science. The collaboration is organized within an Environmental Research Infrastructure (ENVRI) community, which is supported by the EU-funded project ENVRI-FAIR.
The project results are communicated, among others, to fellow scientists, decision makers, international organisations, and to citizens. To reach these people, we are now seeking an experienced communications specialist as our new  
Communications Specialist / Officer
This experienced professional will work in the ICOS Communications team of four persons, and report to the Head of Communications at ICOS.  In this role, you will:
Carry out the communications of the project. In this role, you will support the project members, and also be part of the project Executive Board.
Update the ENVRI FAIR communication strategy regularly.
Maintain and further develop the ENVRI community branding, website, social media, wiki and community platform, so they keep being recognised as strategic functions and one of the biggest benefits of the collaboration. Your aim will be to increase the environmental RI visibility to ensure the RIs have a stronger, more unified voice towards common stakeholders and users.
Produce materials for the internal and external audiences and contribute to community engagement events and booths at international conferences.
Contribute to ICOS communications activities and strategic planning and possibly to other projects according to your time, interest, and competences.
To succeed in this role
A successful candidate should hold a university degree in a relevant field (for example communications, marketing, environmental science) and have several years of experience in communications. 
The selected person must be fluent in written and spoken English and possess skills to write stories and other content, and to produce online and printed materials together with service providers. An ideal candidate is self-directed, versatile and hands-on communications professional who grasps complex concepts and is able to turn them into compelling content. The person has strong collaboration skills and good presentation skills. Strategic mindset will help achieving our long-term goals. Ability to prioritise your work and tasks within the project is an asset. Experience in science communication, in European Union funded (e.g. H2020) projects, and/or knowledge of European environmental research infrastructures are clear advantages. In non-pandemic times, the position requires some travelling.
We offer you
You will be a member of a communications team with good team spirit. Working in a scientific environment offers you a lot of opportunities to grow and learn. You will be part of an international Head Office team in Helsinki while being in contact with people across Europe. Although we don't have a billiards table or free ice-cream in the office, ICOS ERIC offers you good health- and other personnel benefits. We have a hybrid way of working.
This a full-time, fixed-term position until June 30, 2023. However, there is a possibility to extend the contract, depending on availability of external project funding. The salary is around 3700-4200 euros, depending on the experience of the selected person. There is up to 6-month trial period. ICOS ERIC is an equal opportunity employer. 
The position is located in the ICOS Head Office in Helsinki, Finland. Working partly remotely from other EU-country might be an option, subject to e.g. taxation regulations. Working permit in an EU country is required.
To apply    
Send in your application letter and CV through this form, at the latest on the 7th of December at 16.00. Do include your salary expectation and preferred starting date. When finding a suitable person, we are ready to proceed quickly.
In questions, please contact Katri Ahlgren by email (katri.ahlgren@icos-ri.eu), or by phone (+358 40 3502557) on Mon 22 Nov, at 15-17, Thu 25 Nov at 9-10, or Thu 2 Dec at 10-11.30. All times Helsinki time, UTC +2. For further information about ICOS and ENVRI, please visit www.icos-ri.eu, and www.envri.eu.