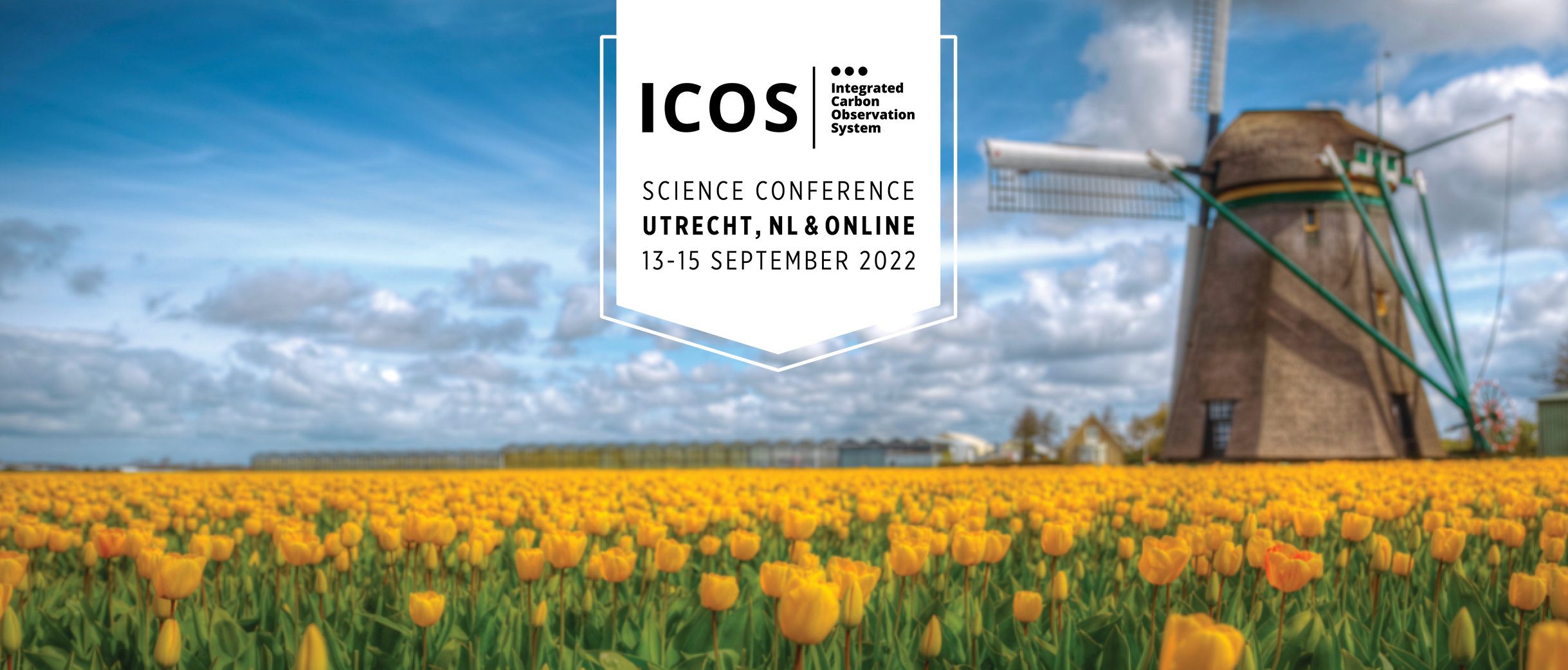 Fancy visiting an ICOS station or seeing the "Green heart" of Holland? Join one of our excursions during the conference stay in Utrecht, the Netherlands. More information on the three excursions can be found below. 

In the region, there are also other related side-events to attend. The 21th WMO/IAEA Meeting on Carbon Dioxide, Other Greenhouse Gases and Related Measurement Techniques GGMT-2022 is arranged 19-21 September and the TRANSCOM 2022 meeting takes place 16-17 September in Wageningen, the Netherlands. More information & registration: www.ggmt2022.online
On Friday 16th September after the conference has finished, three excursions will be organised at an additional cost for those who are interested in visiting ICOS stations. Please note that the capacity of each excursion is limited, and each excursion takes the entire day - hence it is not possible to attend more than one of the excursions. Sign up for the excursion of your choice at the same time when registering for the conference. 
ICOS Science Conference excursions
EXCURSION 1:  ICOS station Cabauw in the 'Green heart' of Holland
Date: Friday 16th September
Cost: 45 €
Capacity: 50 participants max
Departure:  9.00 am

Description: On this one-day excursion we will take you to the 200 m tall KNMI-Cabauw observatory, one of the ICOS atmosphere stations which is much more than that and includes important remote sensing reference work. Next, we will visit the Zegveld Peat meadow innovation centre, one of the places where the Netherlands research programme on peat meadow greenhouse gas emission carries out extensive and detailed measurements on CO2, CH4 and N2O emissions, land subsidence, soil development, under various mitigation schemes. On the route to these stations, you will get to see a perfect cross-section of Holland dealing with water: rivers, iconic windmills of Kinderdijk, the 6 m below sea level Zuidplas polder, and the typical green pastures and canals everywhere.
Program:
9:00 Departure by bus from Utrecht
09:30-12:00 Visit Cabauw
12:00-14:00 Lunch (included) and visit to Kinderdijk windmills
14:00-15:00 Departure to Zegveld with along route views on river flowing up to 6m above the landscape and Green heart of Holland
15:00-17:00 Visit Zegveld experimental farm with GHG EC flux site
17:00-17:30 Return to Utrecht

EXCURSION 2: ICOS Loobos station ***SOLD OUT***
Date: Friday 16th September
Cost: 45 € (covering bus costs and lunch)
Capacity: 30 people

Description: The ICOS site Loobos consists of a flux tower facility over 100 year-old Scots pine (Pinus sylvestris) forest. In 1995, it was primarily developed to determine the long-term uptake and release of CO2 and evapotranspiration of the forest, using the eddy covariance method. Since 2018 Loobos is part of the Dutch large-scale infrastructure Ruisdael and has recently been rebuild. During this excursion you will be able to climb the new tower and see the measurement infrastructure that has been added in the recent years. You need good boots, because part of the excursion is a two-hour hike that takes you through the interesting landscape of the Veluwe.

Program:
10:00 Start in Utrecht
11:00 Arrival Veluwe
13:00 Visit Lobos including lunch
14:00 Return to Utrecht
15:30 Back in Utrecht
EXCURSION 3: Lutjewad station + visit to the 'Menkemaborg' mansion and garden
Date: Friday 16th September
Cost: 45 €
Capacity: 35 people
Description: The tour includes a 2.5 hour bus drive to visit the ICOS coastal station Lutjewad followed by a visit to the 18th century 'Menkemaborg' mansion and gardens (2-3 hours). There will also be an opportunity to have a drink and a snack at the Menkemaborg bar-restaurant (at own expense). Departure back to Utrecht will be around 17:00, arriving in Utrecht around 19:30. The participants are expected to bring their own lunch package.
Program: 
8:30 Touring car departure from Utrecht
11:00 Arival at Lutjewad station
11:00–13:00 Lutjewad station tour and lunch (bring your own)
13:00 Departure for the 'Menkemaborg' mansion
13:30–16:30 Menkemaborg and garden tour
17:00–19:30  Drive back to Utrecht
Sign up for the excursion of your choice at the same time when registering for the conference.