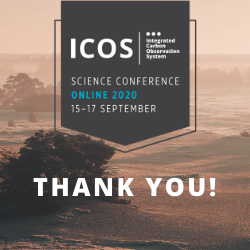 Thank you to everyone who participated or contributed to the 4th ICOS Science Conference last week!
For the first time the 3-day conference was organised entirely virtually – we created a special conference platform to facilitate networking and interaction between the speakers, poster presenters, vendors and participants. With 1040 registered participants from all around the world, and over 200 oral and poster presentations from leading scientists, it was an unmissable event in the climate research calendar!
All the presentation recordings are available on the conference platform until the 29th of September. Presentation slides, with the author permission, will be made available for everyone to view in the upcoming weeks. Click here to watch the conference highlights.
If you have not already, please don't forget to give us conference feedback here.
The next Science Conference will be organised in Utrecht, the Netherlands, in 2022. Hope to see you there!
The Science Conference organising team