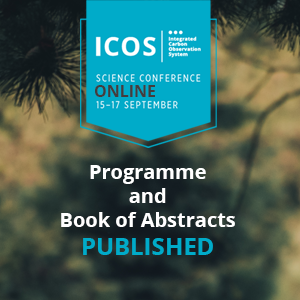 We are pleased to announce that the draft programme and accepted abstracts for the Science Conference 2020 are now available online. Over 200 oral and poster presentations have been accepted and divided into 18 sessions across the three conference days. The programme and book of abstracts are subject to change and will be updated on a regular basis. 
❖ ICOS Science Conference 2020 – Draft Programme at a Glance.pdf
(See the conference programme on our website for the latest updates!)
❖ ICOS Science Conference 2020 – Book of Abstracts.pdf
The conference dates are the same as previously announced, September 15–17, 2020, and due to COVID-19 this year's conference will be organised virtually. In the spirit of open science the conference is also free of charge, but you must register in advance to participate. 
Please note that the accepted presenters have to register by 3rd of September. At least one of the abstract authors has to be registered for the conference, otherwise the presentation will be removed from the programme. The conference will be held on a virtual platform and the extra time is needed for instructions and troubleshooting between the organisers and presenters.
Click here to register
Welcome!
ICOS Conference Organising Team