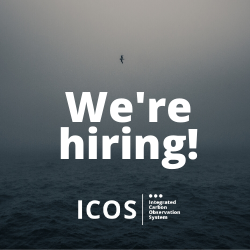 To coordinate and develop the ICOS observation network, we are now looking for:
Observation Network Officer
The observation network officer will work in Unit 2 – Operations and support the Head of Unit in the network coordination and development tasks. The role includes:
    Supporting the stations and partner institutions in administrational matters
    Updating contracts and background information related to station upgrades and other changes
    Maintaining and developing the station network meta-data and contact lists
    Integrating new stations to the network
    Assisting in potential projects related to the observation network
    Supporting the coordination and development of the operations

The observation network officer will be located at the ICOS Head Office in Kumpula, Helsinki. The position is a full-time, fixed-term position until 31.12.2024
To succeed in this role
A successful candidate should hold master's degree in natural sciences (e.g. forest sciences, ecology, environmental sciences, physics), and have basic knowledge and some experience on observational data collected for research. Fluency in written and spoken English is essential. The candidate should have excellent organisational skills, and the flexibility needed to work within an international community. The position may require a limited amount of travel, mainly within Europe.
We offer you
This position is a good lookout place on the operation of an international science related organization.
We will provide you thorough introduction to the tasks, and an opportunity to further develop your skills related to this position.
The salary in this position will be 3800-4000 euros, but own ideas can be expressed. ICOS ERIC also offers extensive health-care and wellbeing related benefits. This position includes six-month trial period. ICOS ERIC is an equal opportunity employer
To apply
Please apply, no later than Sunday 22 March, 2020.  When applying, please include your salary expectation as well as your possible starting date.
In case of questions about the position, please contact Senior Recruitment Consultant Sanni Kröger by phone +358 40 7388031. She is best available Monday to Friday 9-15 CET.