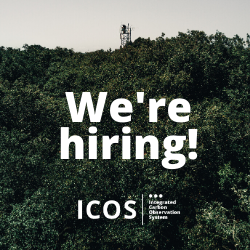 ICOS ERIC is looking for a:
Science Integration Officer (SIO)
The science integration officer shall form a comprehensive view of the ongoing and emerging research based on ICOS data across the three domains (atmosphere, ecosystem, ocean) to enable ICOS to provide timely information on GHG fluxes and the carbon cycle according to the scientific goals outlined in the ICOS Strategy.  In order to achieve these goals, the SIO shall support or lead initiatives of the ICOS academic community (such as joint publications, grant applications and measurement campaigns), participate in the planning of ICOS science conference, coordinate the overall ICOS participation in research projects, and otherwise interact between academic and operational communities within and around ICOS. The SIO will furthermore support the work of the ICOS Scientific Advisory Board.

The science integration officer will be located at the ICOS Head Office in Kumpula, Helsinki. The position is a full-time, fixed-term position until 31.12.2024 The position can be filled as agreed, latest from September 2020.

To succeed in this role
A successful candidate should possess a good knowledge of greenhouse gases and carbon cycles, and have a PhD degree in a related subject. Knowledge of the ICOS-related measurement techniques or methods for utilizing the data are a bonus. We are looking for a person with a broader view on the subject more than a deep specialist of a narrow field.  Furthermore, we are expecting proven managerial and networking skills.  Fluency in written and spoken English is essential. Prior knowledge on research funding and project management is an advantage. The position requires regular traveling to meetings and conferences.

We offer you
This is one of the key positions in ICOS, offering a possibility to develop and make an impact on the direction of the whole ICOS research infrastructure. You get to work as a part of small yet international Head Office team that manages an international research infrastructure with currently 80 academic institutions in 12 countries involved. You will work together with this broad international community of colleagues within ICOS community and beyond.   
The starting salary in this position will be 4600-5000 euros, depending on experience of the candidate. ICOS ERIC also offers extensive health-care and wellbeing related benefits. There is a six-month trial period. ICOS ERIC is an equal opportunity employer.

To apply
Please apply no later than Tuesday 31 March, 2020. When applying, please include your salary expectation as well as your possible starting date.

In case of questions about the position, please send email to Head of Operations unit, Elena Saltikoff elena.saltikoff@icos-ri.eu. She can be reached by phone +358 50 5933791 on Wednesday 11 March 11-14 CET, or Tuesday 17 March 11-14 CET. You can also contact Senior Recruitment Consultant Sanni Kröger, Accountor HR4, by phone +358 407388031. She is best available Monday to Friday 9-15 CET.