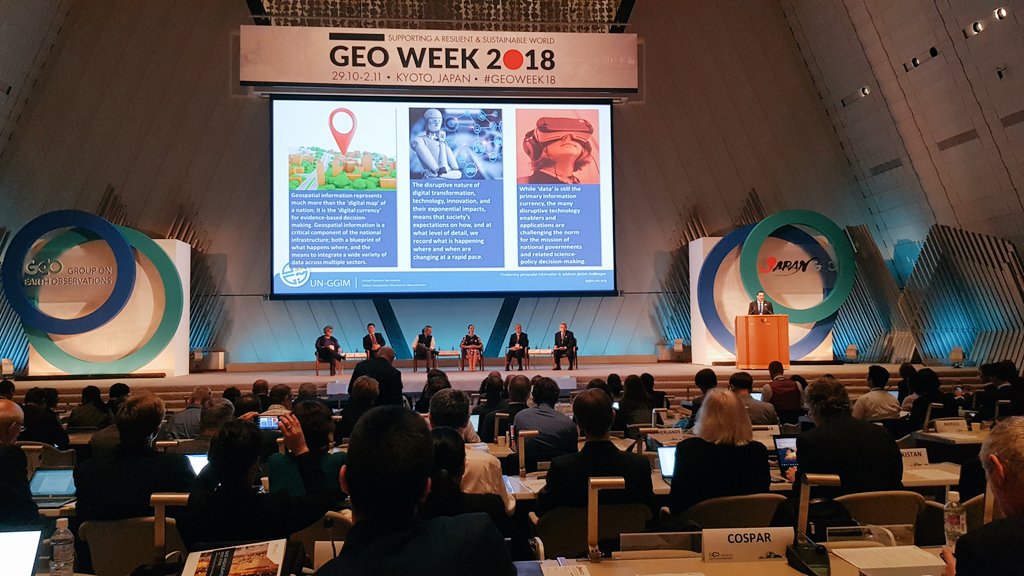 ICOS took part in several side events and exhibition activities at the Group on Earth Observations (GEO) Week 2018 in Kyoto, Japan at the end of October–beginning of November. Throughout the week, ICOS organised and participated in six side events as well as coordinated a booth and displayed a photo exhibition.
The ICOS organised side event called 'Translating the Paris Agreement into observational needs' took place on Tuesday 30th October. The workshop type of an event discussed the needs for observational data and by using the analytical framework, the participants explored some of the essential links between the actors in different groups. The event also examined the links between services and observational data, the access to this data, as well as discussed on the specific expectations set by the upcoming 2019 Refinement of the 2006 IPCC Guidelines for National Greenhouse Gas Inventories and the development of Essential Variables.
ICOS also gave talks in four side events, of which one was titled 'EU Africa cooperation in Earth Observation' promoting the uptake of Earth Observation data in Africa, since ICOS supports the work towards the establishment of a pan-African greenhouse gas observation system and wants to strengthen its contribution to GEO by developing a concept for an integrated research infrastructure network for long-term greenhouse gas monitoring on the African continent.
The ICOS participated side event 'Towards integrated in situ ecosystem observations' discussed about long-term observation of diverse ecosystems delivering knowledge to address issues related to climate change and biodiversity loss (watch the recorded session here). ICOS also gave a talk at the side event called 'Can we have a GEO Initiative on a common approach to Essential Variables?' on Research Infrastructures as data providers for Essential Variables (watch the recorded session here).
In addition, ICOS Director General and Head of the GEO Carbon and Greenhouse Gas Initiative (GEO-C) Secretariat, Dr Werner Kutsch moderated the third GEO session on 'Earth Observations in Support of the Paris Agreement'. As the co-coordinator of the GEO-C and host of its Secretariat, ICOS is fully committed to advance the GEO Work Programme 2017–2019 and especially the priority engagement area related to the Paris Agreement.
The #ICOScapes campaign which highlights the unique landscapes and the work of scientists at 12 ICOS stations through photographs was also displayed at the GEO Exhibition Hall.
Moreover, ICOS coordinated and participated in the European Environmental Research Infrastructure (ENVRI) Community booth at the Exhibition Hall. The booth introduced the research infrastructures within ENVRI and showed examples of their contributions to Global Networks as well as to GEO Flagships and Initiatives. ICOS coordinated ENVRIplus project also organised a side event 'In-Situ observations by European Research Infrastructures for Sustainable Development: The ENVRI approach' where it demonstrated the relevance and importance of in situ data for sustainable development as well as highlighted the contribution that ENVRI can make to Earth Observation efforts and to the GEO community.