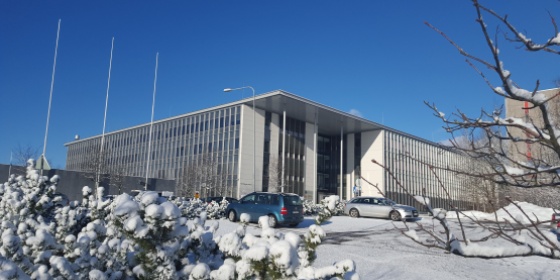 The ICOS ERIC Head Office is currently looking for a Communications and Operations Assistant.
This is a temporary position until 31st December 2017 and it is based in Helsinki.
The Assistant will provide general back office and operational support for the Head Office (e.g. assisting in meeting organisation and related document preparation and archiving, information search, editorial assistance) and assist the Communication Coordinator of ICOS ERIC in the following tasks:
- Contribute to and support day-to-day communication activities
- Help with maintenance of ICOS RI web site including creating and updating multimedia content
- Build up and assist with social media accounts and ICOS LinkedIn group
- Maintain ICOS photo library and internal photo archive
-  Initiate and support ICOS press activities in Finland including liaising with Finnish media
- Monitor ICOS media presence in Finland and internationally
- Maintain ICOS Events calendar
- Support ICOS participation in major events and conferences (Autumn 2016/Spring 2017)
- Build periodical web metrics reporting, statistics and related analyses
- Renew the e-mail lists, address books, group memberships etc.
Selection criteria:
In addition to good secretarial and organisational skills and proficiency in administration the successful candidate should have:
• Proven experience in supporting web activities (creating, editing and updating content)
• Proven experience in production of multi-media and design products, both on-line and printed
• Experience with production of video and infographics for websites
• Experience with digital content analytics
• Experience in major events organization support and other supporting tasks
• Experience in an international working environment
Competencies:
- Excellent communication skills
- Fluency and good writing skills in both English and Finnish
- Good secretarial and organisational skills
- Ability to work under pressure, organising and prioritising tasks in order to meet tight and compelling deadlines
- Ability to work in a team, as well as autonomously and manage own workload
- Flexibility and ability to learn fast
- Advanced IT Skills including MS Office applications such as Word Excel and Power Point as well as various CMS
skills (preferably Drupal)
- Preferably a university of applied sciences degree in Communications, Business Administration or applicable field.
Please note that there is a four-month trial period for the position.
The position can be filled immediately and is temporary until 31.12.2017.
For more details about the position please contact ICOS ERIC Communications Coordinator, Gorana Jerkovic: gorana.jerkovic@icos-ri.eu.
The application together with the CV and other relevant documents should be sent in digital format to: recruitment@icos-ri.eu.
Applications should be addressed to:
ICOS ERIC
Head Office
Coordinating Management Officer
Johanna Lätti
Erik Palménin aukio 1,
FI-00014 Helsinki
The closing date for applications is 15 August 2016 at 16.00 local Helsinki time.