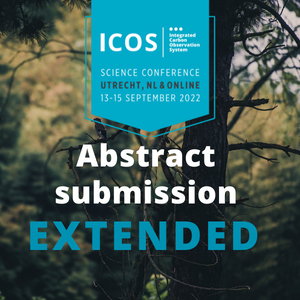 It is our pleasure to announce that the Science Conference abstract submission deadline has been extended until the 25th of April, 2022!
When submitting your abstract you need to choose which session the conference presentation is intended for. The full list of sessions can be viewed on the conference website.
The submitted abstracts will undergo double-anonymous evaluation process offering a great opportunity to shine a spotlight on your research topic, whether you are an established researcher, an early career scientist or a PhD student. 
Thank you to everyone who has already submitted their abstracts, this is shaping up to be a fantastic conference programme!
If you have any questions, contact us at conference@icos-ri.eu.
ICOS Science Conference organising team
#ICOS2022SC