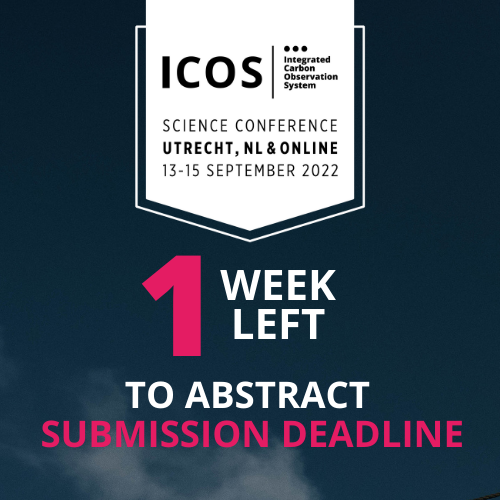 Only one week left to submit you abstract for the 5th ICOS Science Conference! This year, the event will be simultaneously held in person in Utrecht, NL and online on 13th-15th September, 2022. 
The abstract submission deadline is Monday 11th April, 2022 at 11.00 am CEST.
When submitting your abstract you need to choose which session the conference presentation is intended for. We received many interesting and high quality session proposals and have grouped them into seven themes under the overarching conference theme of  "Tracking progress to carbon neutrality".
These themes are:
Terrestrial ecosystems
Marine and aquatic carbon cycling
Fluxes from local to regional scales
Policy, research infrastructures and society
Monitoring, validation and verification
Trace gases
Extreme events
For the full list of session titles and descriptions please visit the Session Themes page. In addition, for the first time this year we have proposed a manufacturers session. This session is for instrument manufacturers to share their latest case studies and technical solutions, and to debate future industry trends and current challenges.
Furthermore, do you dream of becoming a plenary speaker at the conference? The abstracts which receive the highest scores in the double-blind evaluation process will be elevated to plenary status. This offers a great opportunity to shine a spotlight on your research topic, whether you are an established researcher, an early career scientist or a PhD student. 
More information on the registration as well as sponsorship opportunities will be shared soon. This is shaping up to be our most ambitious conference yet, so don't miss out on the opportunity to present your research and network with your colleagues.
If you have any questions, contact us at conference@icos-ri.eu.