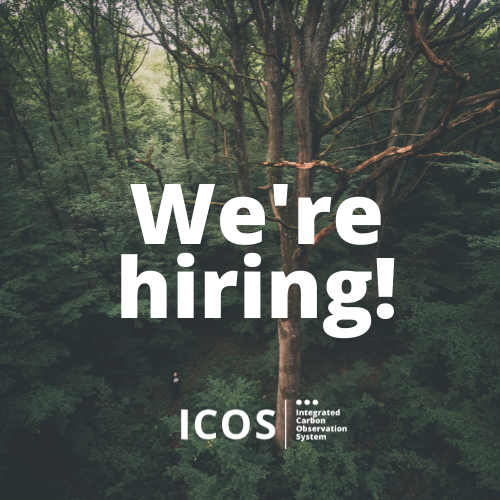 We are organizing an ICOS Science conference in September 2022 in hybrid format: in Utrecht, Netherlands, and online. Mainly related to conference preparations, ICOS is now looking for a Summer Trainee for summer 2022. You will be located in the Head Office in Helsinki, and report to the Head of Operations at ICOS.
Your job includes
•    Assisting with management of conference abstracts and registrations and other data and documents related to roughly 200 scientific presentations, 400 on-site participants and hundreds of online participants
•    Assisting in virtual conference platform management
•    Assisting in Social Media content creation
•    Participating in the organisation of the conference
A successful candidate has
•    Fluency in written and spoken English
•    Systematic and organised ways of working and ability to tolerate also routine tasks.
•    Familiarity with using online systems; such as websites or document management systems•    Some experience and skills in producing content, such as text or pictures to websites and other channels.
•    Good knowledge of Excel and Word.
•    2-3 years of studies in e.g. Communications, business or environmental sciences in a university or in an applied university level.
Experience in organising (online, physical or hybrid) events, familiarity with scientific conferences, and in (online) customer service or light financial tasks are  advantages, as are good organisational skills or  an ability to produce content (both visual and written) for web and social media.
As a person, you have a positive mindset, can-do -attitude and you feel comfortable working in English in an international environment. You are self-oriented and learn new things quickly, especially new digital tools.
We offer you
•    Opportunities to grow and learn and to develop communications and event management together with the team
•    A possibility to use your skills while using your energy for a good cause
•    An international ICOS team with good team spirit and colleagues supporting each other
The position is filled through StaffPoint agency.
Instructions and additional information
Location: Kumpula, Helsinki
Work extent:  Full-time for the summer period, until end of September. The conference takes place 13-15 September and most hectic are the few weeks before it.
Starting date: According to agreement, preferably in late May or early June 2022.
If you recognized yourself and are interested in this position, leave your application here at Staffpoint latest 6 April.
When applying, please include a short motivation letter, CV, salary request, and preferred starting and ending dates. 
For more information about ICOS or the Science Conference, click here.