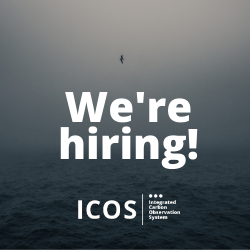 ICOS participates in several EU projects, working together with other organisations to facilitate better science. The results of these projects will be communicated, among others, to decision-makers, international organisations, universities and citizens. To reach these audiences, we are now seeking an expert in external communications as our new  
Communications Specialist (Officer)
This experienced professional will work in the ICOS Communications team of four persons, and report to the Head of Communications at ICOS.  In this role, you will:
Have the responsibility for managing, planning and executing external communications of the RItrainPlus EU project that starts this spring. This also includes the content ownership of the project's comms channels and tools; website, social media, newsletter, etc. 
Deliver internal and external project reports and participate in the planning of the annual communications activities.
Create content both for the project's channels and for ICOS channels, including writing press releases, blogs and other stories, making social media posts, creating digital and printed materials, possibly videos and other innovative use of communication tools. 
Work to raise media interest towards ICOS and in general towards climate change related topics close to ICOS. 
To succeed in this role
A successful candidate should hold a university degree in a relevant field and have a few years of experience particularly in external communications. 
The selected person must be fluent in written and spoken English and possess skills to write press releases and other stories, as well as to produce online and printed material together with service providers. An ideal candidate is self-directed, versatile and hands-on communications professional who grasps complex concepts and is able to turn them to compelling content. We seek for a person who can create captivating stories and bring new ideas to entice the audiences, but on the other hand, can also quickly produce a simple visual for a social media post, or fix an image to go with a story. 
We also expect good skills in MS Office and in social media tools. Experience in web content management tools and the ability to learn digital tools quickly is required. Experience with Adobe Creative Cloud tools is a benefit. 
A good candidate can organise both their own work and prioritize communications work within a project. Experience in research organisations, science communication and/or in European Union funded (e.g. H2020) projects is an advantage. In non-pandemic times, the position requires a limited amount of travelling, mainly in Europe.
We offer you
You will be a member of a small communications team with good team spirit. Working in a scientific environment offers you a lot of opportunities to grow and learn. You will be part of a small and relaxed, yet international Head Office team in Helsinki while being in contact with people across Europe. Although we don't have a billiards table or free ice-cream in the office, ICOS ERIC offers you good health- and other personnel benefits.
This a full-time, fixed-term position until December 31, 2022. However, there is a possibility to extend the contract until 2025, depending on availability of external project funding. The salary will be around 3700-4000 euros based on the experience of the selected person. There is up to 6-month trial period. ICOS ERIC is an equal opportunity employer. 
The position is located in the ICOS Head Office in Helsinki, Finland. At the moment we are all working remotely due to the pandemic. In future, working partly remotely from another EU country might be an option, subject to e.g. taxation regulations.
To Apply
Send in your application letter and CV through this form, at the latest on the 18th of April, 2021. Do include your salary expectation and your preferred starting date. 
In questions, please contact Katri Ahlgren (katri.ahlgren@icos-ri.eu), by phone +358 40 3502557 on the 6th of April at 11.30-13.00 , 8th of April at 15-17 or 14th of April at 15-17.  For further information about ICOS, please visit www.icos-ri.eu.