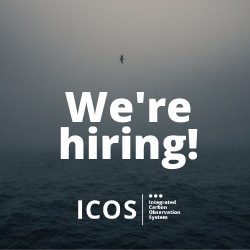 ICOS has a strong observational network producing reliable, high quality data. It is well positioned in the European Research Area and is the European pillar of a global information system on greenhouse gases. It participates in a number of externally funded Horizon 2020 which include interaction with current and future data users and stakeholders. To manage this interaction, ICOS is now looking for a
Project officer 
The project officer will work in Operations Unit and report to the Head of Unit. The role includes assisting in participating and preparing for externally funded projects with tasks such as:
Participating in the mapping of ICOS stakeholders and data users
Contributing to the planning of stakeholder liaison 
Assisting in projects related to the use of ICOS data  
Fact-finding and benchmarking different approaches to the use of GHG data by scientists as well as by governments and international organisations
The project officer will be located at the ICOS Head Office in Kumpula, Helsinki. The position is a full-time, fixed-term position until 31.12.2022, with potential to be renewed depending on availability of external project funding. The position can be filled as agreed, latest from April 2021.
To succeed in this role
A successful candidate should hold a Master's degree in natural sciences (e.g. forest sciences, ecology, environmental sciences, physics, chemistry), have basic knowledge of greenhouse gases and the carbon cycle, and some experience on processing observational data. We appreciate experience in working with Research Infrastructures or other international organisations. Fluency in written and spoken English is essential.  They should have good organisational and administrative skills, and the flexibility needed to work within an international community. The position may require a limited amount of travel, mainly within Europe.
We offer you
This position is a good lookout place on the operation of an international science-related organisation and international projects. You will get to work as a part of small yet international Head Office team, with very good working atmosphere and highly motivated colleagues. Additionally, you will work together with a broad international community of colleagues within ICOS and beyond. 
The salary in this position will be 3600-4000 euros, depending on the experience of the candidate. ICOS ERIC also offers extensive health-care and well-being-related benefits.  There is a six-month trial period. ICOS ERIC is an equal opportunity employer.
To Apply
Please apply no later than 15th of March, 2021, through this form.  When applying, please include your salary expectation.
In questions about the position, please send email to Emmanuel Salmon,  emmanuel.salmon (a) icos-ri.eu.