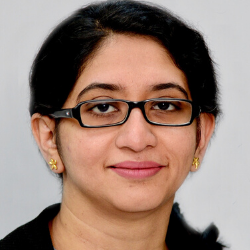 Welcome to Dr Sindu Raj Parampil, the new Science Integration Officer. She will start working at the ICOS Head Office in August 2020.
In her role, Dr Parampil will assist with initiatives of the ICOS academic community and participate in the planning of the science conference. Moreover, she will support ICOS' participation in research projects and the work of the ICOS Scientific Advisory Board.
In 2012, Dr Parampil obtained her PhD in Atmosphere and Ocean Science from the Indian Institute of Science in Bangalore. Her doctoral thesis focused on the variability of air-sea heat and moisture fluxes over the tropical Indian Ocean. Dr Parampil's expertise lies in understanding the interaction between the atmosphere and ocean at different time and space scales. 
During her postdoc at Uppsala University, Dr Parampil began her research on carbon dioxide (CO2). She applied her knowledge of fluxes and satellite data in estimating the air-sea CO2 flux for the Baltic Sea. After moving to Finland, Dr Parampil joined the Greenhouse gases and Satellite methods group in Finnish Meteorological Institute. She uses satellite-derived, atmospheric concentrations of CO2 from NASA's Orbiting Carbon Observatory-2 to investigate oceanic sources and sinks of CO2. 
Dr Parampil is passionate about understanding CO2 variability in the earth system, and its impact on climate change. She also enjoys baking and forest walks with her family. 

We are excited to start working with you, Dr Parampil, and welcome you to the ICOS community.