07 April 2019 to 12 April 2019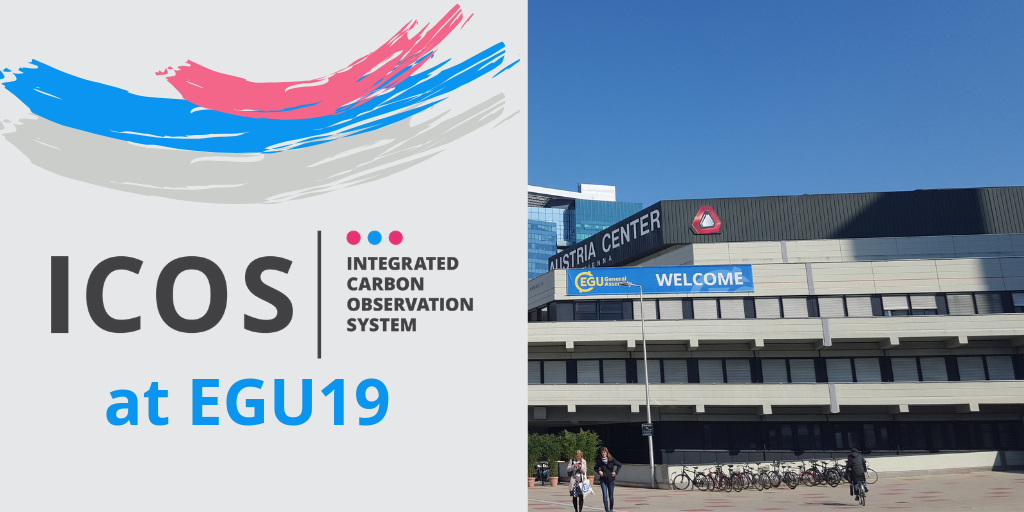 ICOS will participate to the European Geosciences Union General Assembly 2019 (EGU19) again this year. The EGU brings together geoscientists from around the world covering all disciplines of the Earth, planetary and space sciences to one meeting in Vienna, Austria on 7–12 April 2019.
At the EGU, ICOS community members will organise several sessions as well as give a number of oral and poster presentations. ICOS will also be present and give talks at the European Environmental Research Infrastructures (ENVRI) community booth which is located by the venue entrance (booths number 2 & 3). There will be flash talks organised at the booth from Monday until Friday during the lunch-time 12:00-13:30. The talks will present the services and use of data provided by different research infrastructures in the themes of Healthy Air, Extreme events Life below Water, Arctic day, Multi Domain, and Food security.
 
Sessions and oral & poster presentations at EGU19 by the ICOS community:

Mon 8th April
Peatlands under pressure (session)
Convener: Annalea Lohila | Co-conveners: Gareth Clay, Maxim Dorodnikov, Mats Nilsson, Frans-Jan W. Parmentier | More info
Differences in redox potential in peatlands under different drainage regimes (poster)
Markku Koskinen, Michel Vorenhout, Annalea Lohila, Tuomas Laurila, Petra Strakova, and Raija Laiho | More info
 
Tue 9th April
Stable isotopes and novel tracers in biogeochemical and atmospheric research (session)
Convener: Lisa Wingate | Co-conveners: Matthias Cuntz, Jan Kaiser, Alexander Knohl | More info
 
Wed 10th April
Monitoring, assessing and increasing the impact of environmental and the Earth system Research Infrastructures (session)
Convener: Katri Ahlgren | Co-Conveners: Magdalena Brus, Werner Leo Kutsch | More info | Download the flyer
The ICOS impact assessment report – the first impact study of a distributed environmental research infrastructure (oral)
Werner Leo Kutsch, Janna Van Belle, Evi-Carita Riikonen, and Janne-Markus Rintala | More info
ICOS Norway – a carbon cycle infrastructure (poster)
Siv K Lauvset, Cathrine Lund Myhre, Holger Lange, Are Olsen, and Andreas Stohl | More info
A decade of continuous high altitude atmospheric CO2 isotope ratio (δ13C, δ18O) measurements at Jungfraujoch, CH (PICO)
Simone M. Pieber, Béla Tuzson, Dominik Brunner, Stephan Henne, Armin Jordan, Heiko Moossen, Michael Rothe, Martin Steinbacher, and Lukas Emmenegger | More info
Carbon, energy and water fluxes at the forest site 'Hohes Holz' and the grassland 'Am Grossen Bruch' (poster)
Corinna Rebmann, Claudia Schütze, Laura Dienstbach, Inma Garcia Quiros, Sebastian Gimper, and Patrick Schmidt | More info
 
Thu 11th April
The 2018 European drought - scientific observations and societal implications (session)
Convener: Werner Leo Kutsch | Co-Convener: Gregor Rehder | More info | Download the flyer
The fingerprint of the summer 2018 drought in Europe on ground-based atmospheric CO2 measurements (oral)
Michel Ramonet and Alex Vermeulen and the European CO2 station's PI | More info
The impact of the 2018 summer drought on Europe's terrestrial biospheric carbon exchange from combined remote sensing, crop and forest modeling, and atmospheric inversions (oral)
Naomi Smith, Erik van Schaik, Gerbrand Koren, Linda Kooijmans, Ingrid van der Laan-Luijkx, and Wouter Peters | More info
Seasonal hydro-ecological feedbacks during the 2018 drought in Europe (oral)
Ana Bastos, Tammas Loughran, Naomi Smith, Erik van Schaik, Taraka Davies-Barnard, Ryan Padrón Flasher, Pierre Friedlingstein, Stephen Sitch, Julia Pongratz, and Philippe Ciais | More info
Effect of 2018 drought on methane and carbon dioxide fluxes from northern mire ecosystems (oral)
Janne Rinne and the Nordic Mire Drought Team | More info
Contrasting long-term influence of energy and water on global gross primary productivity (poster)
Zhiyong Liu, Lei Chen, Wenping Yuan, Nicholas G. Smith, and Syed Ashraful Alam | More info
Analysis of floodplain forest sensitivity to drought (poster)
Natalia Kowalska, Justyna Szatniewska, Marko Stojanović, Ladislav Šigut, and Marian Pavelka | More info
Effect of the extreme summer 2018 on the carbon and water budgets of a subalpine coniferous forest in Switzerland (poster)
Mana Gharun, Lukas Hörtnagl, Philip Meier, Susanne Burri, Werner Eugster, and Nina Buchmann | More info
Response of net community production to extreme meteorological conditions in spring/summer 2018 (poster)
Gregor Rehder, Jens D. Müller, Henry C. Bittig, Johannes Johansson, Seppo Kaitala, Bengt Karlson, Frank Kaspar, Anna Rutgersson, Bernd Schneider, Herbert Siegel, Simo-Matti Siiriä, Laura Tuomi, and Norbert Wasmund | More info
Forest CH4 and N2O cycles and gas transport processes (session)
Convener: Katerina Machacova | Co-conveners: Martin Maier, Kaido Soosaar, Bernard Longdoz, Mari Pihlatie, Jukka Pumpanen, Nicholas Nickerson | More info
Quality control supporting climate policy and research: Assessing two decades of GAW audit results for N2O and CO (oral)
Christoph Zellweger, Martin Steinbacher, Rainer Steinbrecher, Lukas Emmenegger, and Brigitte Buchmann | More info
Communicating the importance of greenhouse gas observations to a non-scientific audience through the ICOScapes campaign (oral)
Katri Ahlgren, Magdalena Brus, and Mari Keski-Nisula | More info
 
Fri 12th April
Carbon Tracker Switzerland: A high resolution data assimilation system for biospheric CO2 fluxes (poster)
Pavle Arsenovic, Jean-Matthieu Haussaire, Dominik Brunner, and Lukas Emmenegger | More info
Combined balloon, aircraft, surface and remote sensing greenhouse gas measurements at Traînou supersite, France (poster)
Thomas Laemmel, Céline Lett, Mélissa Kouassi, Morgan Lopez, Michel Ramonet, Cyril Crevoisier, François Danis, Caroline Bes, Thorsten Warneke, Christof Petri, Yao Té, Pascal Jeseck, Marc Delmotte, Olivier Laurent, Léonard Rivier, and Philippe Ciais | More info
Scaling terrestrial ecosystem carbon and water response from leaf to continent with observations and simulations (session)
Convener: Mana Gharun | Co-conveners: Benjamin Stocker, Corinna Rebmann, Arthur Geßler | More info
Upscaling forest-atmosphere exchange from tower networks – some challenges and limitations (poster)
Mathias Herbst | More info
Vertical profile observations of greenhouse gases using AirCore and FTIR from the intensive RINGO campaign at Sodankylä, Finland (oral)
Huilin Chen, Joram Hooghiem, Rebecca Brownlow, Rigel Kivi, Pauli Heikkinen, Markus Leuenberger, Peter Nyfeler, Michel Ramonet, Morgan Lopez, Andreas Engel, Thomas Wagenhaeuser, Emma Elvidge, Johannes Laube, Bianca Baier, Colm Sweeney, Thorsten Warneke, Mahesh Kumar Sha, Minqiang Zhou, Cyril Crevoisier, and Francois Danis | More info
Swiss Nitrous Oxide and Methane Emissions Estimated by Inverse Modelling (oral)
Stephan Henne, Joachim Mohn, Markus Leuenberger, Martin Steinbacher, Simon A. Wyss, Lukas Emmenegger, and Dominik W. Brunner | More info

If you wish to include your session to the list, please email to icos-comms (at) icos-ri.eu
Other related sessions:
Advanced Spectroscopic Measurement Techniques for Atmospheric Science
Convener: Weidong Chen | Co-Conveners: Dean Venables, Katherine Manfred, J. Houston Miller, Michelle Bailey | More info
Evaluation, exploitation and enhancement of Arctic observing systems across disciplines
Convener: Roberta Pirazzini | Co-Conveners: Andreas P. Ahlstrøm, Agnieszka Beszczynska-Möller, Mathias Göckede, Stein Sandven | More info