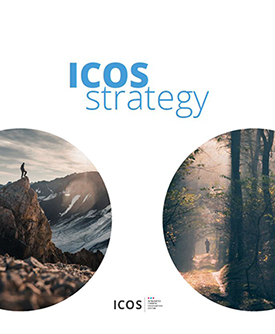 The General Assembly has approved the new ICOS Strategy in May. The strategy will guide our operations until 2030ies. It identifies scientific trends that will influence the future development of the ICOS observations and require future investments in initiatives such as city observatories, understanding the drivers in land and ocean sinks, and terrestrial ecosystem management.
The strategy draws conclusions for the further development of the research infrastructure and provides a vision beyond the next decade that includes:
•    A denser and better spatial coverage of the fully operational ICOS greenhouse gas observation network with fully equipped stations covering atmosphere, terrestrial ecosystems and oceans, which are delivering high quality data that fulfils the requirements of the expanding user base.
•    A vibrant scientific user community that ICOS supports by offering a powerful platform that brings together observational data and analysis products to advance science.
•    Increased societal impact of ICOS through the dissemination of scientific results that fulfill the knowledge needs of Climate Policy.  
•    Well-developed interoperability with the remote sensing community, as well as the scientific communities and agencies work-ing on national inventories of anthropogenic emissions and the global stocktake developed in the framework of the Paris Agreement.
•    Trustful cooperation within the community of European environmental research infrastructures (ENVRI) and globally with fellow research infrastructures in other regions. The goal being for ICOS to be recognized around the world as an excellent model for an in situ observation system on greenhouse gases (GHG), and as the European pillar of the Global GHG Observation system.
The background and framework of ICOS is set within the context of the UN-driven Global Climate Observation System (GCOS), and as a core element of the European Copernicus system.