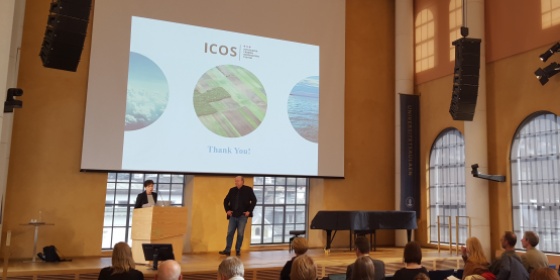 The ICOS Ocean Thematic Centre and ICOS Norway were officially launched at the opening ceremony held on Monday 11th April 2016 in the University Aula in Bergen.
'Finally the ICOS Norway and the OTC became reality. We started to work on this in 2008 and finally we can harvest the seeds from our focused and dedicated work,' said director of the ICOS Ocean Thematic Centre, Prof Truls Johannessen.
The Research Council of Norway has last year rewarded 90 mil NOK funding grant in order to upgrade the Norwegian GHG observation infrastructure over the next five years.
Norway contributes to the ICOS network with two atmospheric, one ecosystem and four marine observation stations, and it is hosting the Ocean Thematic Centre (OTC), together with the United Kingdom, which is expected to officially join ICOS ERIC later this year.
ICOS Norway includes researchers at CICERO, NIVA, SKOG og LANDSKAP and BIOFORSK, together with the Bjerknes Centre for Climate Research.
You can read more about ICOS OTC and ICOS Norway launch at http://www.bjerknes.uib.no/en/article/news/kick-icos-norway-and-otc