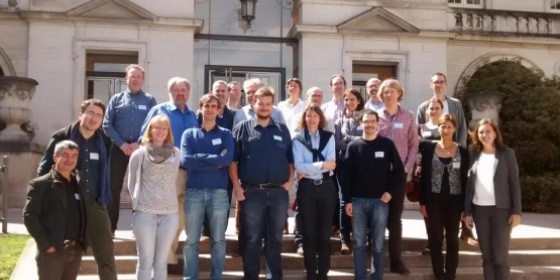 Workshop highlighted the importance of Model-Data Fusion in providing high-quality information on atmospheric greenhouse gases to society in general and specifically to decision makers.
Leading to the Conference of the Parties 21 (COP21) in Paris later in the year, ICOS and NEON have organized two day scientific workshop on Model-Data Fusion, which took place on 21st and 22nd April at Cité Universitaire in Paris. The aim of this workshop was to deeper connect existing and evolving international networks that perform greenhouse gas observations with newest approaches in earth system modelling.
The Model-Data Fusion workshop brought together representatives of ICOS RI and NEON as well as representatives from other observational networks in atmosphere, oceans and terrestrial ecosystems with their data users involved in different modeling techniques to develop integrated knowledge products about the global carbon cycle and greenhouse gases.
Discussions held over two days highlighted the importance of model-data fusion in providing high-quality information on atmospheric greenhouse gas composition and underlying exchange processes to society in general and specifically to decision makers.
Furthermore, from the data side, the importance of establishing ICOS ERIC as a body which will compile and provide quality, detailed, fully traceable and open data was also acknowledged.
Also, number of delegates expressed a need for providing some retrospective, legacy data and establishing data archive as far back in time. Participants also expressed an urgent need to insure long term financing for some of the European observation and research projects such as SOCAT – Surface Ocean CO2 Atlas. Similar issues in regard to research infrastructures exist in the US as well and NEON is currently working towards establishing new system for easier flux data usability in the United States.
The closing workshop session resulted in interesting discussion about role of the outreach, engagement and better communication of the carbon research results in the context of climate mitigation efforts. Carbon Portal director Alex Vermeulen addressed importance of communicating, illustrating and explaining ideas behind the data for both decision makers and broader public.
The results and perspectives from the ICOS-NEON Model-Data Fusion Paris workshop, organized as part of the FP7 COOPEUS project activities, will be passed on to the scientific forum Our Common Future held in Paris in July 2015 and other COP21 related discussions in the coming months. Furthermore, it was agreed that the discussion will be continued at next American Geophysical Union Fall meeting in December.