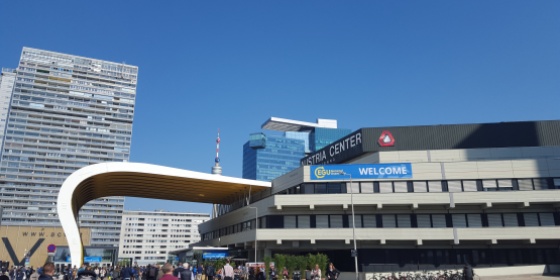 The largest geosciences meeting in Europe, the EGU 2016 General Assembly, took place at the Austria Center Vienna in Vienna, Austria from 17 to 22 April.
This year's EGU General Assembly have yet again brought together thousands of geoscientists from all over the world into one meeting covering all disciplines of the Earth, planetary and space sciences.
The main theme this year was Active Planet so the EGU 2016 addressed some of the aspects of active planet in dedicated lectures, join-in activities, photo competitions, and through movies shown in the Geo Cinema.
The meeting's sessions organized during the EGU week covered a wide range of topics, including volcanology, planetary exploration, the Earth's internal structure and atmosphere, climate, energy, and resources.
ICOS RI community was represented in number of sessions and activities throughout the week. The highlights included:
- Geoethics: theoretical and practical aspects from research integrity to relationships between geosciences and society
- The challenge of developing ethical guidelines for a research infrastructure
- Media: Long-term observations and experiments on climate change impact on ecosystem health and services
- Finding the truth in the noise - potentials and limitations of big ecological datasets for new knowledge generation
- Quantifying greenhouse gas fluxes on local, regional and global scales using atmosphere, ocean and biosphere measurements
- Integrated Research Infrastructures and Services in Geosciences
- Environmental Research Infrastructures providing shared solutions for science and society
- COOP+ project: Promoting the cooperation among international Research Infrastructures to address global environmental challenges
- The Networks of Earth Observation, its coordination and their infrastructures to enhance international geoscience information access, provision and use
For more detasils on these session go to the EGU 2016 website.
This largest geosciences meeting in Europe also hosted an Exhibition and ICOS RI has been actively represented in the ENVRIplus booth.