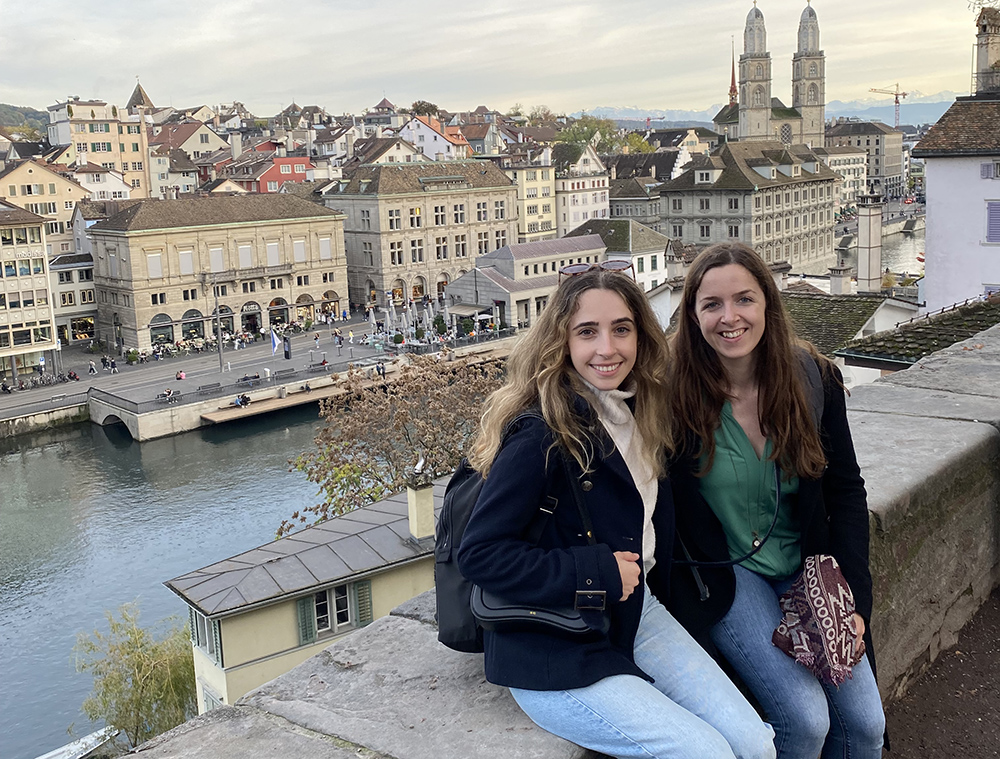 Munich wants to be climate neutral by 2035 and Zurich by 2040 – this puts pressure on the cities to collaborate with civil society, science and business sectors. A recent ICOS Cities case study highlights the importance of transparency, inclusive access and real impact in climate governance in the two cities. 
The cities of Munich and Zurich collaborate intensively around climate governance with civil society, business and the scientific sectors through different platforms. In the climate councils or fora, members of civil society get to give feedback on new policies or basically give their opinion on the climate governance of the city.
"They work together to make climate actions more efficient. However, we saw some challenges in this, such as a need for bigger transparency," says Jessica Dolan, the main writer in the research team in the ICOS Cities project.
"Collaborations with the cities usually start by the snowball method, when you know someone that knows someone that knows someone. This could be improved by a more conscious way of inviting various stakeholders," her research team colleague Barbara Dias Carneiro adds. 
The team also found that the impact on decision making could be improved: 
"Of course, these are new platforms still searching for the right operation mode. But a lot of times the outside stakeholders said to be a bit frustrated by the lack of impact on city climate action plans that they have through these formats," says Dias Carneiro. 

From data to action
The case study also explores how the cities currently use data on emissions in order to meet city climate targets and help measure the impact of various climate actions. The end goal of the survey, is to support the ICOS Cities project scientists to develop tools and services that city decision makers and climate departments actually need to reach the climate goals.
"Oftentimes, we saw that the cities already have access to a lot of information but there's still an uncertainty of how to frame this information to create action. So how can the city understand this vast majority of information and turn it in to concrete climate actions? We did see an impact of climate strikes on how the city planned their climate plants and apparently the strikes also influenced the way society views climate change today in these cities," says Dias.
Adding a political science aspect to a very technical project like ICOS Cities, developing tools and services for greenhouse gas emissions helping cities reach their climate action plans, is important according to Dias:
"We try to build this brief bridge trying to understand what the city wants. What is a sustainable approach and what is a sustainable solution or tool that we can give the city scientist. Something they can implement and use in the future," she adds.
"I hope that in the end we have a tool or service that is designed with the cities in mind, a tool that will really be used in the future and over a long-term basis too. It would be great if the cities would use it to better monitor their goals and also include citizens, perhaps if it's a tool that is easy and can be used by everybody. We could provide a more novice version of a greenhouse gas emission platform where normal citizens can check every day to see that their city is actually doing something and that the city maybe managed to decrease the emissions by this and this much in the last months. Maybe that could help to keep the citizens more motivated and make their own contribution," Dolan says.  
 
Benefits of international networks?
Also, the importance of international networks were put at question in the survey results.
"Organisations like ICLEI and Covenant of Majors ask for a lot of information from the cities, like their current climate plan and maybe their greenhouse gas monitoring reports. They ask for a lot but what are the cities getting in return? This is where ICOS Cities could have a space to fill - we ask things from cities, but we also give something useful right? It's important that we have that win-win relationship". says Dolan.
Instead, city-to-city collaborations seemed to be very important from a comparability point of view - cities can easily learn from each other.
The research team is currently conducting the same case study in Paris and have also started the second phase of interviews in Munich and Zurich, focusing on the use of greenhouse gas data in policy making. The case study was done through interviews with key stakeholders in the target cities. The team consists of Jessica Dolan, Barbara Dias Carneiro, Ana Maria Isidoro Losada, and Miranda Schreurs. 

ICOS Cities is a Horizon 2020 project, bringing together European citizens, policy makers and top scientists in co-designing pioneer greenhouse gas measurement methodologies and services for cities to support climate action. Read more: https://icos-cities.eu/
Source: Dolan, Jessica. (2023). Complex interactions on the path to net zero: Multi-level climate governance in Munich and Zurich. Master's Thesis.  June 20, 2023,