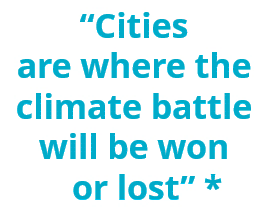 ICOS is coordinating an EU H2020 project proposal on developing greenhouse gas measurements in cities. The call includes at least one pilot city, in which a pilot observatory can be built. We are now seeking this pilot city through an open nomination process. Applications for cities should be sent at the latest on 27th of November, 2020.
Accurate and robust observation-based methods for quantifying greenhouse gas emissions and sinks in urban areas are important tools for policy and societal stakeholders. To mitigate climate change through emission reductions, estimates of emission baselines and changes are required. ICOS' strategy is to further develop relevant methods for urban greenhouse gas measurements. Therefore, we are very grateful the European Commission has included the instrumentation of at least one pilot city observatory in its latest H2020 call 'European Research Infrastructures capacities and services to address European Green Deal challenges' (ID: LC-GD-9-1-2020, part (b) Enhancing European research infrastructures for greenhouse gases observation in and around cities).  
A pilot city to demonstrate measurements, methods and data
ICOS ERIC is going to coordinate a proposal in this framework. We are now seeking a city for the pilot implementation of at least one representative urban site. The idea is to combine a broad range of measuring and modelling approaches in the pilot city to demonstrate the ability to integrate complementary measurement systems, data and methods for a detailed and reliable estimation of urban greenhouse gas fluxes.
We will select this city (or these cities) during the process of the proposal writing and want to ensure a clear and transparent selection. We assume that the entire process of a city nomination will be triggered by the local scientific community in the respective city. However, we will also welcome initiatives coming out of a city administration. Nevertheless, it is important to have a strong local scientific community to be involved.
City selection during proposal writing, by end of 2020
The city selection process starts with a screening based on basic information on potential cities. Should a scientific community be interested to propose a potential city, please inform ICOS Head Office asap.
If both a city and its local scientific community consider to be a candidate for the pilot, we'll ask them to fill out two more detailed questionnaires – one about the city, one about the local scientific community.  The questionnaires, including further instructions and referral letters from the Coordinator are downloadable here. 
The two documents should be sent to ICOS Head Office via email by Friday, 27 November 2020. Please send your email to city-pilot@icos-ri.eu.
We will organise the evaluation of the candidate cities within two weeks thereafter. The decision will be made transparently and based of the criteria defined in the questionnaire. We will ask external experts to support us. We are intending to complete the city selection by early December. The deadline of the H2020 call is in January 2021.
We expect this project will provide answers on how we should measure the city emissions, so the information created will be useful for cities when they decide on their climate actions in the future.  We are looking for good cooperation and new insights across a wide variety of project participants.
* Quote by Patricia Espinosa, Executive Secretary of the U.N. Framework Convention on Climate Change (UNFCCC), in April 2018 during a conference of city and government officials in Germany.