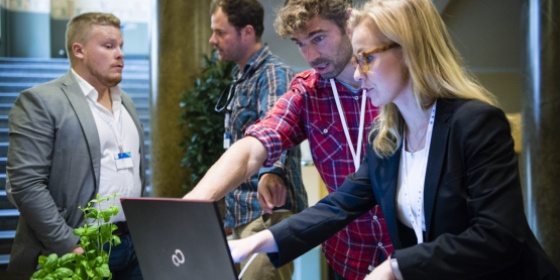 We are pleased to announce that the following positions are open in the ICOS ERIC Head Office:
Scientific Integration and Liaison Officer (SILO)
International Cooperation and High-Level Dialogue Officer (ICO)

Tasks:
SILO will be part of the 'Operations' Unit focusing on operational management of the RI, external cooperation, scientific usage of ICOS products by users, implementation of new developments. SILO follows the scientific progress and discussion in the field of greenhouse gas research and will be responsible for the organisation of the biannual ICOS Science Conference and other workshops and training events organised by ICOS ERIC. SILO will be responsible for the preparation and management of externally funded projects supporting the further development of ICOS RI. In 2017-2020 one of the major tasks of SILO will be to coordinate the H2020 funded project 'Readiness of ICOS for Necessities of integrated Global Observations' (RINGO) as a project director. Furthermore, SILO represents ICOS HO in international scientific programs and initiatives (e.g. GEO, GCOS, Future Earth, or JPI Climate).
ICO will directly support the Director General of ICOS ERIC in two new H2020 projects with focus on developing a long-term strategy for ICOS ('European Research Infrastructures in the International Landscape' RISCAPE and 'Supporting EU-African Cooperation on Research Infrastructures for Food Security and Greenhouse Gas Observations', SEACRIFOG). This includes mapping the international landscape of environmental research infrastructures and developing a global cooperation strategy and establishing a high-level dialogue platform with international organisations. ICO supports the Director General in developing of a common research agenda to fill observational gaps on Carbon, GHG and aerosols in Africa and a network with funding organisations to realize a respective agenda.
Profiles:
Successful candidates should hold a university degree and have international expertise in the field of environmental research and experience in the field of research infrastructures. SILO should have a stronger scientific profile and outstanding skills to interact within the international science community. For ICO diplomatic skills in organizing High-Level Policy Dialogues are as essential as the ability to represent ICOS and other environmental Research Infrastructures in global integration activities.
Extensive travelling will be expected in the framework of both positions. Candidates should have a high degree of motivation and ability to work in a team with a common strategic and experience in planning and organizing meetings and workshops. Furthermore, they should have outstanding social skills and capability to interact in an international environment. Fluency in English is a basic requirement.
The SILO position will be filled as a permanent and the ICO is a temporary position until 31. December 2019. Both positions are expected to start as soon as the position is filled, preferably on 1 February 2017. There is a four-month trial period. The starting salary range will be 4600 – 4800 euros but own salary expectation can be given.
ICOS ERIC is an equal opportunity employer.
It is possible to apply for both positions in one application but a clear preference should be given. Further information can be acquired via email to the address recruitment@icos-ri.eu.
Applications should be in English with clear identification of the position(s) applied for and should be addressed to:
ICOS Head Office
Director General Dr. Werner Kutsch
Erik Palménin aukio 1,
FI-00560 Helsinki
To apply for Scientific Integration and Liaison Officer (SILO) position, visit: https://accountor.emply.net/recruitment/vacancyAd.aspx?publishingId=7d277b74-5834-45a5-84e6-2392eecd0f15
To apply for International Cooperation and High-Level Dialogue Officer (ICO) position, visit: https://accountor.emply.net/recruitment/vacancyAd.aspx?publishingId=744ae2d1-0aeb-4198-be70-6402d20691d2

The closing date for applications is 2. January 2017 at 15.45 local Helsinki time.