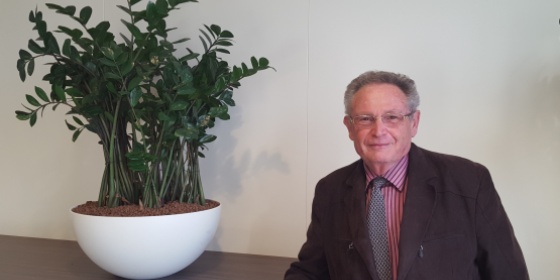 In the week of ICOS ERIC first year anniversary, ICOS ERIC General Assembly had its 3rd meeting in The Hague, Netherlands. It was attended by the representatives of the 12 member and observer countries as well as newly established ICOS ERIC Scientific Advisory Board. We used this opportunity to talk with the ICOS ERIC General Assembly Chair and a member of the European Academy of Sciences EURASC, Jean-Marie Flaud about ICOS ERIC first operational year and the future vision.
Q: As a Chair, how would you summarize ICOS ERIC's first year?
The first ICOS year has been a year of success. Firstly, it was tough to organise the whole thing because there are many countries which are involved, with different systems – financial system, administration system, and so on. So, to arrive to the ICOS ERIC meant a lot of work and it's really an achievement. It's not yet finished, but really the basis of the infrastructure has been built and it's working. The atmosphere part is a little bit more advanced, as compared to the others. The ocean segment started a bit later, but the whole thing is working. The ICOS measurements – greenhouse gases in the atmosphere, those emitted by the agriculture, forests, meadows, in the ocean and so on- represent an ensemble which is really important for the overall measurements of greenhouse gases and understanding where are these greenhouse gases coming from and where are they trapped. So, setting up ICOS ERIC was really an important step and it's working really well in my opinion.
Q: How do you see ICOS ERIC's and ICOS RI's position in European and global context?
Greenhouse gases is a global problem as you need measurements, not only in Europe, but also in China, America, and all the countries. The point is that in Europe, there were measurements of greenhouse gases before, but each country was doing its own measurements. And they were using different systems of measurement. So, to compare two measurements was extremely difficult. The good thing about ICOS is that it has standards so that the same measurements are made by the same type of instruments. In that way you can compare measurements from England, Sweden, France, Denmark…so, it's really a great achievement. In my view, it's important to now extent those measurements towards East European countries. We now only have Czech Republic, but it would be nice to have Hungary, Romania, Poland, and so on. And the goal is to measure all over Europe.
The second point is that, as a global system, we'd have to discuss and work with the American greenhouse gases measurement systems as well as China, Japan, Africa and so on. At the moment, the situation in Africa is not that easy as well as in South America. But I think that ICOS is a basic brick in the overall global measurements system.
Another point I would like to underline, is that there are also CO2 measurements by satellites. These satellite measurements are covering the whole globe and ICOS should include those measurements which could be a great help in understanding what's going on with the greenhouse gases in the world.
Q: In your opinion, what should be a long term strategy for ICOS?
As far as Europe is concerned, I would like to see all countries in ICOS. ICOS is already making measurements in the southern hemisphere. For example, in La Reunion, there's a Belgium station who is making measurements for ICOS. And it's been discussed a possibility that maybe South Africa may join the ICOS system which would be great as well. There are also measurements for the ETC in Guyana. So, measuring in Europe is really important, but if we can, it would be good to have measurements in different latitudes and longitudes. What I see for an interesting future of ICOS, is cooperating for measurements in Africa.
I'm sure that ICOS will live for at least the next 25 years. That's the minimum. But most likely much longer than that because if you followed the COP21 and COP22, we are making progress but it's not that fast. So, I'm pretty sure that measurements of greenhouse gases are really necessary for the future. It's important to check emissions per country as, at the moment, they are not as precise as they should be. With the ICOS infrastructure and satellites we can provide high-precision measurements to support the national policies on greenhouse gas emissions.